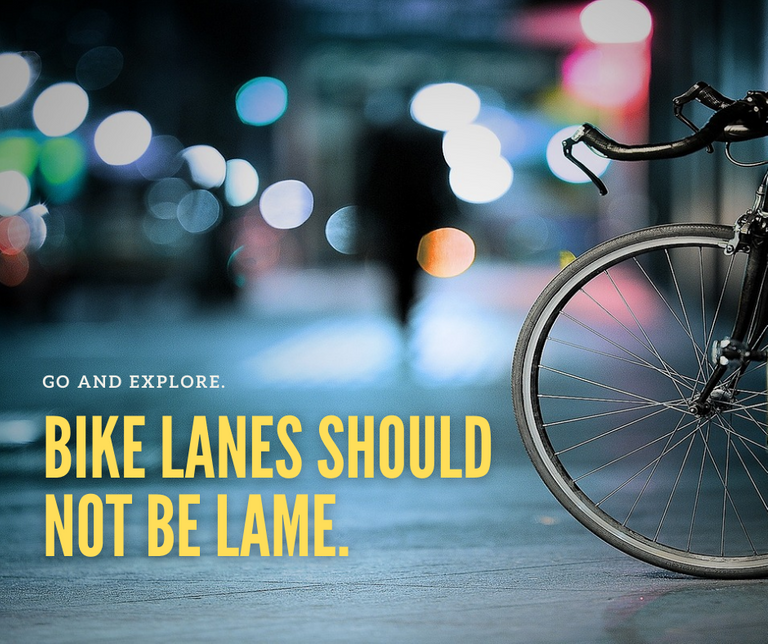 We know that cycling is good for our health and the climate. During a pandemic, the bicycle became a secure mode of transportation. Governments in many cities created pop-up or permanent bike lanes and altered road networks to have room for bikes. I think these improvements will be permanent. As cities shut down due to pandemics, public transportation became restricted. We switched to bicycles.
Cycling has the potential to become staple transportation everywhere if it has adequate infrastructure. I want to emphasize more on better infrastructure. A few kilometers of bike lanes in the city with no clever links and poorly planned are not very useful for promoting bike use. It just adds to the traffic. It is what I think the bike lanes in my locality. It is just for trends and not properly thought out. It helps the bikers in some ways but narrows the roads.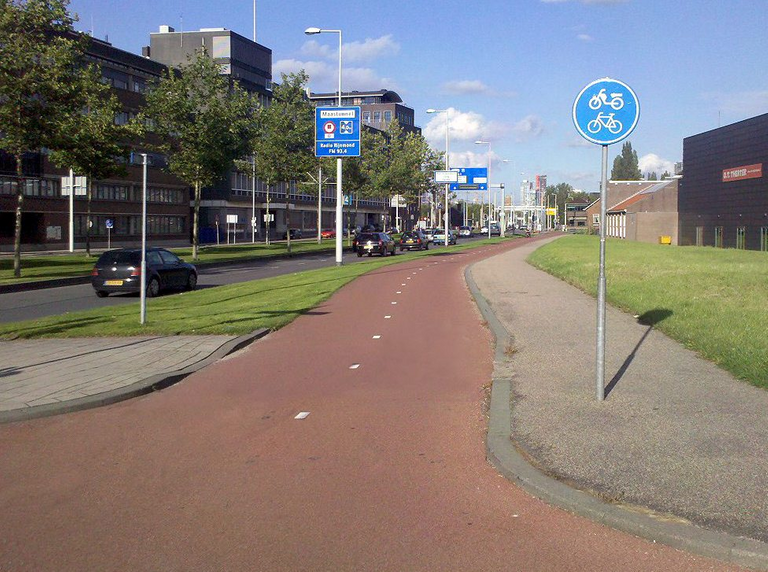 A typical Dutch bike path, Rotterdam. (source)
A trip down memory lane
Copenhagen is one of the best cities for biking, with more than 200 miles of bike lanes and two of just a few cycling superhighways constructed worldwide. Meanwhile, all but one of the top 20 most bike-friendly cities are in the United States, while the other 17 are in Europe. In the mid of 1970s, Cycling in Amsterdam and a few other Dutch cities were declining until it reversed in the 1970s, and cycle use began to increase again. Outrage at the number of road deaths, especially among children, the 1973 oil crisis, and a general perception that the leeways in automobiles were all factors contributing to a shift in public opinion. It results in Bicycling infrastructure programs started to receive substantial government funding.
The Netherlands already had over 9,000 kilometers of bike paths and paths. Following central government support, this grew to 16,000 km by 1988. In the Netherlands, the Dutch established the first bicycle path in 1885 along the Maliebaan in Utrecht, followed in 1899 by two paved bicycle paths alongside the Breda-Tilburg cobblestone route. After 1970, there was a cycling renaissance in the United Kingdom but low usage. Bicycle use in the United Kingdom peaked in 1952 and then fell precipitously. The persistence of traditional bicycling in the Netherlands during the 1950s and 1960s was critical to successful bicycling policies following the 1970s.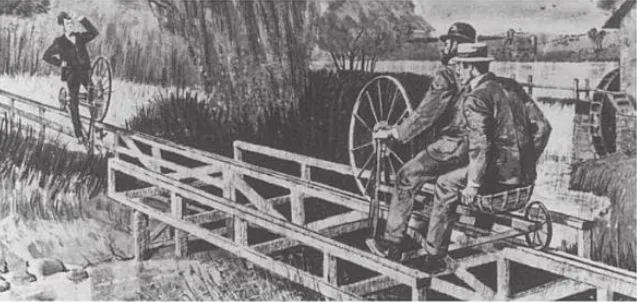 The Hotchkiss Bicycle Railroad was a two-mile rail designed for specialized bikes (source)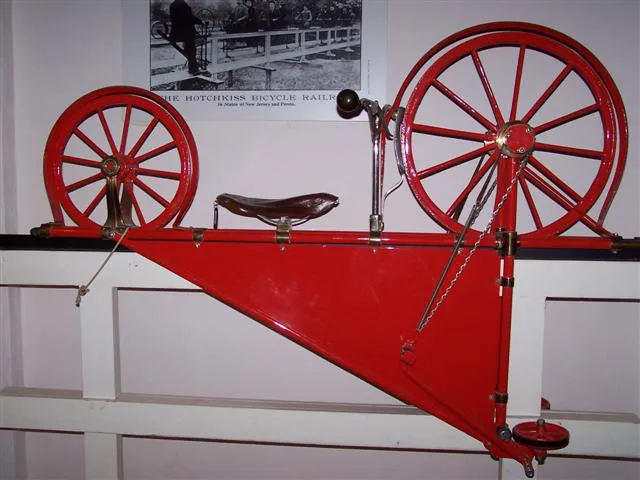 One of the bikes used on the Hotchkiss Railroad. (source)
The construction of the world's first bike highway started in Los Angeles in 1900. During this bike boom, cities throughout the United States constructed bike lanes and forerunners to today's safe bike lanes, but it was brief. Before the current bicycle, New Jersey designer Arthur Hotchkiss devised a somewhat different concept for making bike commuting practical: the bike railroad. In 1892, his invention was a fixed metal track along which riders could pedal specialized bikes. He quickly persuaded inventor and manufacturer Hezekiah Smith to fund and construct a prototype which is a two-mile rail extending from Smithville, New Jersey's HB Smith Machine Company to Mt. Holly.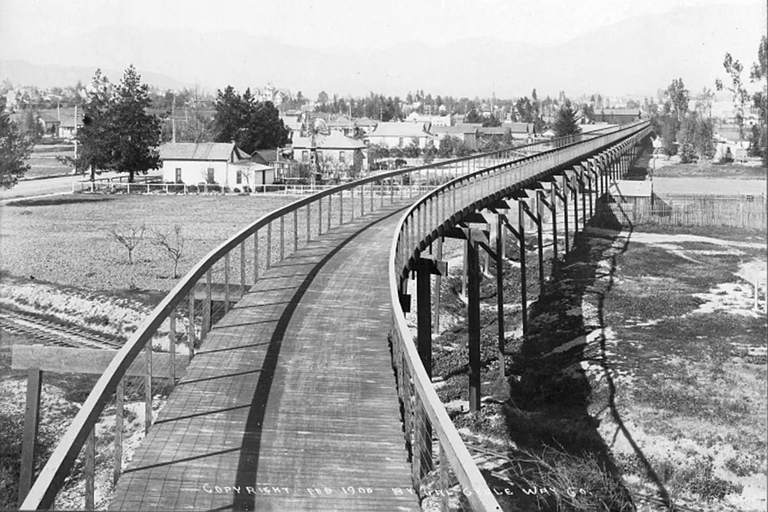 Los Angeles' partially-completed California Cycleway, in 1900. (source)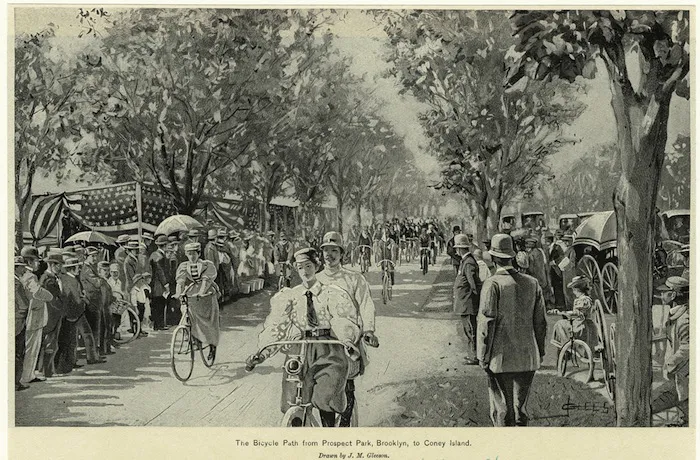 A bike lane at Cooney Island (source)
The bike frenzy in America took off in earnest in the mid-1890s. In 1894, they built the Coney Island Cycle Path as one of the world's first bike-only paths. It is a 5.5-mile crushed limestone path amidst the current Ocean Parkway that links Prospect Park in Brooklyn to Coney Island. The popularity of the Coney Island Cycle Path encourages cyclists in Upstate New York to convince the city councils to create alternative bike lanes alongside highways. By 1900, several side path ordinances passed in Rochester, New York, Chicago, and Minneapolis. In 1900, the Santa Monica Cycle Path opened to the public, which stretched 18 miles from the city to the beach.
At the height of the 1890s cycling craze, Los Angeles businessman and racer Horace Dobbins attempted to create a bike highway. The California Cycleway was a six-mile elevated, tolled cycling expressway connecting Pasadena and Los Angeles. By 1900, Dobbins constructed 1.3 miles of flat wooden boardwalk, but incomplete. More riders would use the cycleway that links Pasadena and Los Angeles if it was complete. By 1910, they demolished the cycleway.
Keeping up with the design
The Department of Public Works and Highway released a design specification of the bike lanes in the Philippines. As I go through the guidelines, they patterned it on globally accepted standards, shown references section of department order. They specify that a public use road must have a minimum paved width of 3.0 m. We can use a route width of 2.44 m for a short distance where physical limits are present such as an environmental function, bridge abutment, service structure, fence, etc. Typical widths vary between 3.0 to 4.3 m and larger values for high-traffic environments. We have a preferred minimum width of 2.0 m for dividing a highway into a travel lane and a shared-use route.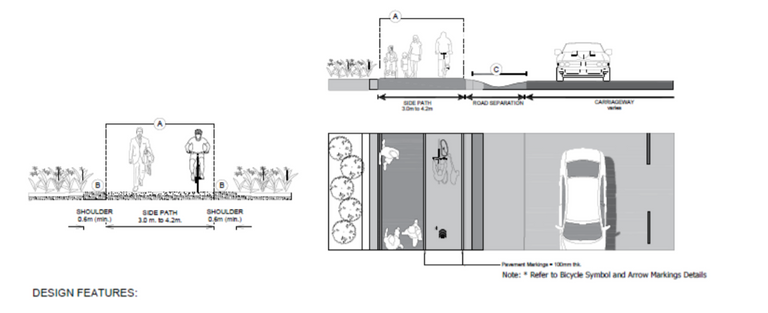 DPWH design recommendation for Shared Use Path or Bike Path (source)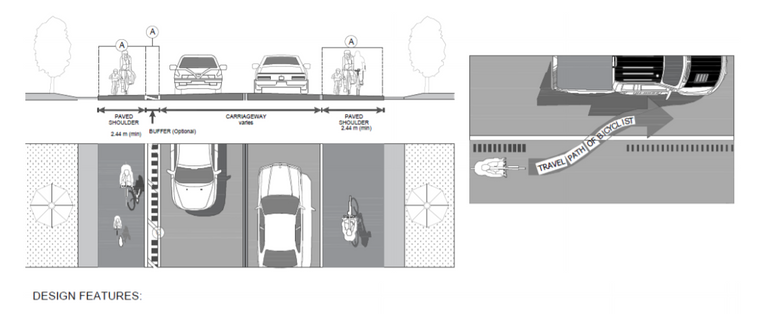 DPWH design recommendation for Separated Bike Lane using Physical Separator (source)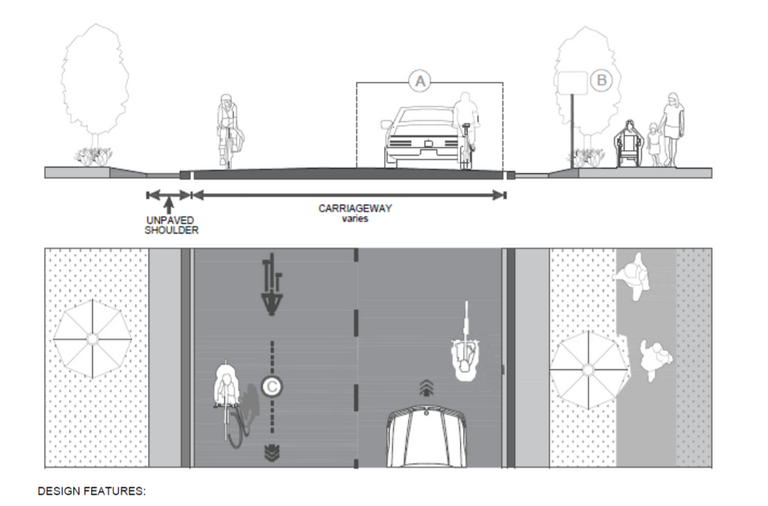 DPWH design recommendation for Shared Roadway (source)
For a one-way divided bike lane, bicyclists must traverse at a minimum width of 2.44 m side by side or past each other without leaving the bike lane. The working diameter for bicyclists is 1.22 m, which includes 0.60 m for physical dimension and 0.31 m for weaving space on either foot. We must not append the gutter unless we can't reach even narrow all other traffic lanes to their minimum widths. The values are relative to what Americans and Europeans used in their bike lanes.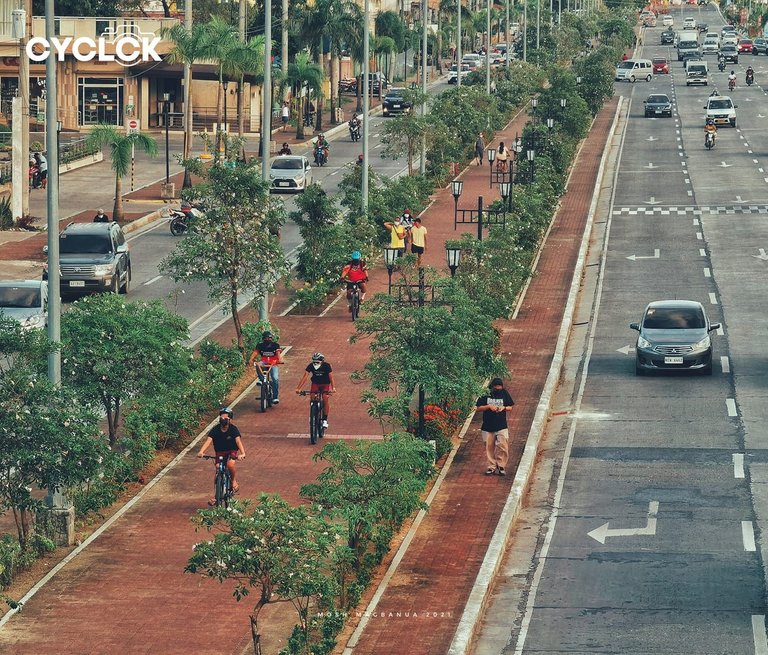 The Iloilo City's protective bike lane (source)
Filipino bicyclists will find Iloilo City to be a sanctuary. They provide bike lanes that have a four-kilometer elevated and protected route in the city. It has physical barriers that keep motor vehicles out of the bike lane and protect those who ride their bikes on it. Aquino Avenue connects the international airport to the city center. It is a major thoroughfare with ten lanes for motor vehicles and a safe cycling path.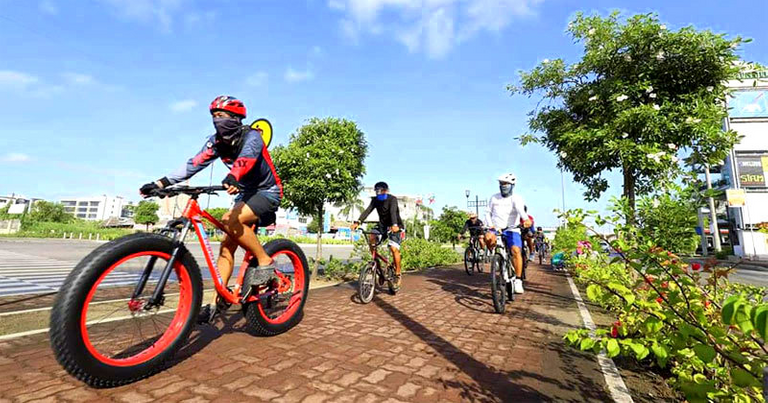 The Iloilo City's protective bike lane (source)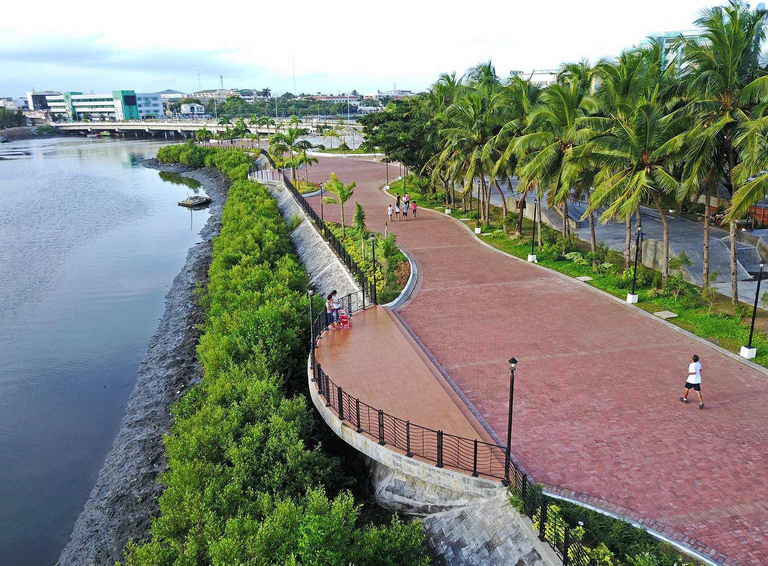 The Iloilo City's protective bike lane (source)
In a nutshell, Aquino Avenue is a route used by different road users where some are disabled. Several people cycle and walk on it. A covered bike lane on such a road is critical to the protection of disabled road users. The secured bike lane serves as a buffer zone for people on foot and bicycles and speeding cars. Walkers and joggers are welcome to use the road. Several bike lanes have lines on the pavement, but the one on Diversion Road has plant boxes that keep cyclists from driving into the main road. Award-winning landscape architect Paulo Alcazaren designed and planned the bike lanes along Aquino Avenue.
The Iloilo City bike lanes adhere to the global standards that it received praise from Dutch Ambassador H.E. Saskia Elisabeth De Langshaw in her visit. She said that if the government continues to support urban biking infrastructure, Iloilo City will be a biking haven in the Philippines.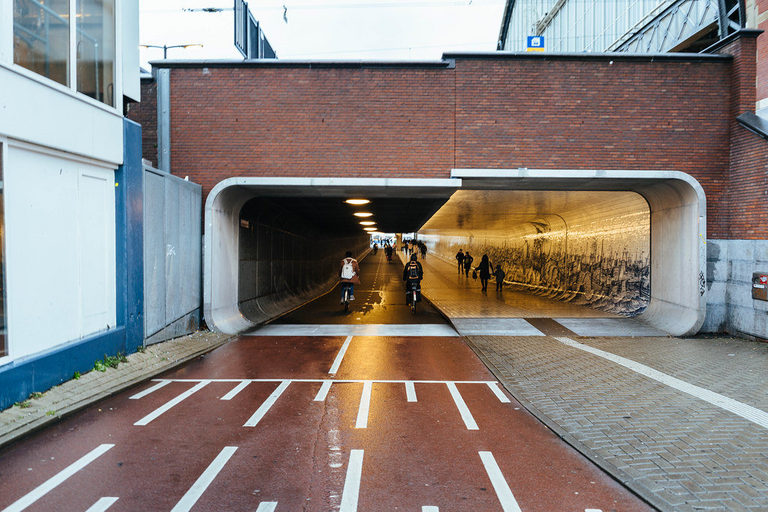 Underpass in Amsterdam with 2 bike lanes and a sidewalk (source)
What is in a good bike lane?
To sum up, we can employ ingenious strategies in designing bike lanes to deter collisions and improve bicycle safety. We are aware that most of the bike lanes are prone to bumping with an open car door. We also need properly mark roads and bike lanes; hence we can expect bikes to cross the intersection safely, and we anticipate cars to a halt to give them a priority. Designers and planners need to find an ingenious way to mitigate the risk. Designers can do it by leaving extra space between the parking space and the road.
Traffic signs play a critical role in ensuring the safety of all road users. Typically, a road sign for car users allows the driver to know a pedestrian crossing, but with no mention of the cycle path. There is a tendency that they would pass when they turn. It is essential to design bike lanes with road signs and traffic lights in mind. We need to have updated road signage. Designers must consider cycling comfort when planning a cycle lane in general.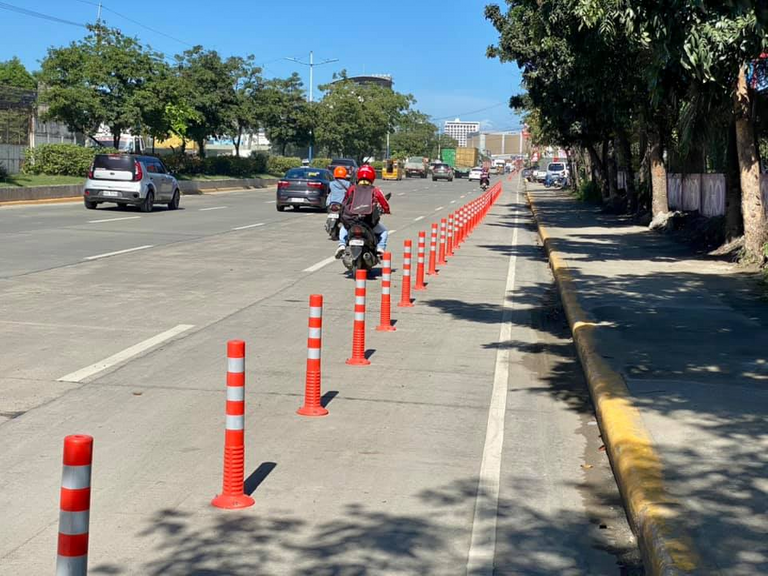 My locality bike lanes (source)
Going back to the bike lanes in my locality, I still think it hideous implementation. They are poorly thought it out, and the road is not spacious. When we insert the bike lanes, they became narrow, which will not help with the traffic. We are in less stringent quarantine, and there are fewer cars than usual, but the traffic pissing me off. I say I was not used to having this for a long time, or maybe it's just a coincidence. I love the bike lanes, but we should design it with road space in mind. Nonetheless, the bike boom in the pandemic raises the cause for better bike lanes.
---
References