Some years back, around the year 2000, a communal war broke out within the community I reside. Many Nigerians reading me will know what the Ife-Modakeke war is all about. The battleground was just a few miles from my parent's house and thus, sounds of gunshots were a normal thing for us during this period. Even though I call it a communal war, sophisticated weapons such as AK47 and their likes were used. One fateful midnight, the fight was so intense that the following morning, we saw bullets deeply buried in the walls of our house. It took a huge effort (using hammer) for me to be able to remove some of the bullets from the walls.
Now, the drill is that the bullets could have penetrated the wall and probably hurt or even kill members of my family, but the house was built with locally made mud blocks. Unlike the concrete blocks that were in vogue back then, the mud blocks do not have holes in them. This feature makes the mud blocks to be more impermeable to bullets than their concrete counterparts. In other words, the mud blocks is perhaps the factor that saved my household that particular day. Some of our neighbours whose house were built using concrete blocks were not as lucky.
Mud Blocks
For the purpose of this post, the mud block I am referring to looks like the image below: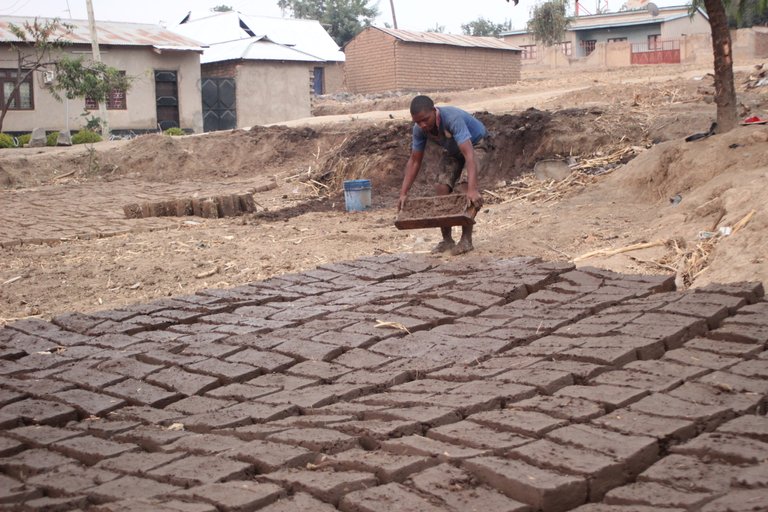 Locally made mud blocks: By KelvinJM - Own work, CC BY-SA 4.0, https://commons.wikimedia.org/w/index.php?curid=63338878
These blocks are made 100% from sandy clay. Not all earths are suitable for mud blocks, only the ones that are a bit gummy when wet with enough sand for easier binding. The suitable earth is dug out and soaked with measured amount of water. Adequate care should be taken not to overwater the earth so that the blocks will not deform during drying. The wet earth is mixed thoroughly with a shovel and then mashed using both legs for proper kneading. The blocks are made using a woody molly of predetermined dimension. Placing the it on a flat terrain, the inner sides of the molly is first lubricated with water before the kneaded clay is poured to fill the entire dimension. The surface is smoothened out and the molly is carefully removed while the mud block is allowed to dry for a few days before being ready to be used.
Concrete Blocks
The concrete blocks I am referring to for the purpose of this block looks like something in the image below: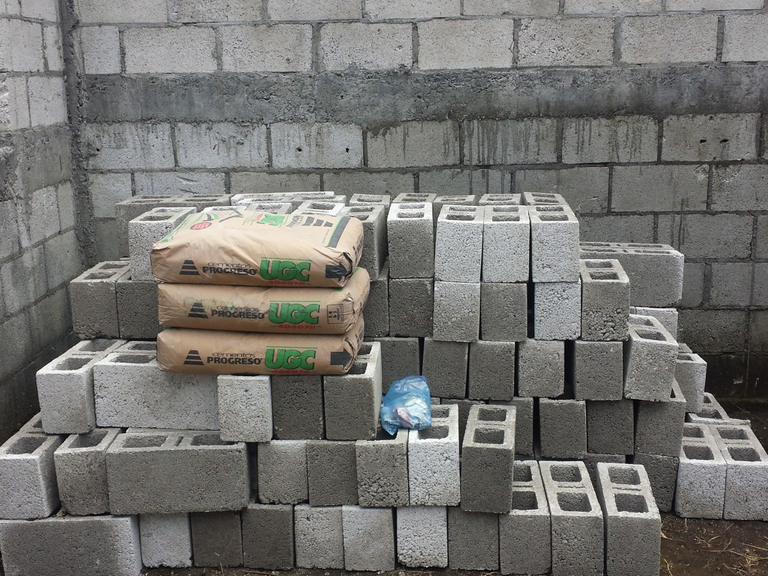 Concrete blocks with holes: pxhere
This kind of block can be made either manually or using a vibrating machine. They are made from a mixture of sand and cement and come in different sizes (just as the mud blocks can also be of different sizes) depending on the choice of the builders or on the plan of the building. More about how concrete blocks are made can be found in this video. Of course, concrete blocks being made without holes has become a thing nowadays. However, in the face of continuous rise in the prices of building materials, only a few people would be able to afford such a luxury.
Why opt for Mud or Concrete Blocks?
If you are Nigerian in Nigeria aspiring to build a house and you are torn between using mud or concrete blocks, knowing the strength and weaknesses of both will guide you in making a decision.
Mud blocks, most of the times, come very cheap because all you might need is just to dig up some portion of the land on which your building is to be sited. The only thing you will be paying for is the labour. Presently, the labour fee for a 7-inch size mud block goes for about $0.1. This is unlike concrete blocks in which a 7-inch goes for about $0.8. Hence, when it comes to cost, mud blocks are quite more economical than concrete blocks.
Apart from significantly lower cost, mud houses also offer a bit of security in that they are kind of resistant to bullets, just like I pointed out in the earlier part of this post. The clay from which mud blocks are made is also a poor conductor of heat, thus offering mud block-buildings a kind of natural cooling unlike concrete block buildings.
Mud blocks can be more impermeable to bullets than concrete blocks, however, they are more permeable to water than their concrete counterparts. Overabsorption of water by mud buildings is one thing that has been responsible for the collapse of many mud buildings. Thus, mud buildings are usually not erected during rainy seasons because of water. When done in dry seasons, they are usually quickly roofed and plastered with cement to reduce the water absorbing capacity.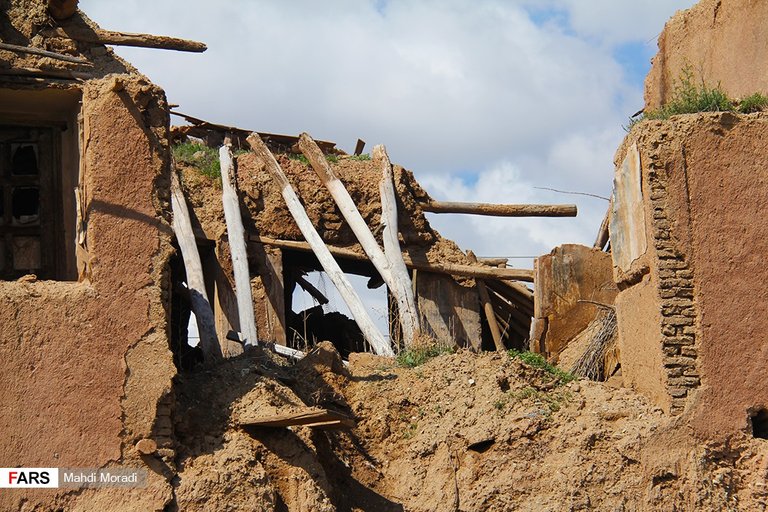 A collapsed mud house: By Fars Media Corporation, CC BY 4.0, https://commons.wikimedia.org/w/index.php?curid=89501948
In other words, while opting to build your with mud blocks can save you a lot of money, you have got a limited time to erect the building from the start to the finish. Concrete block houses, on the other hand, can withstand years of rainfall if the blocks are properly made with adequate cement.
Properly plastered mud houses cannot be distinguished from concrete block houses in the long run. So, if you got the money that would be enough to finish on time before rain does any damage, I will say go for mud blocks. Otherwise, just stick to concrete blocks but ensure that they are also strong enough because they can also absorb water but not as much as mud blocks. And if you are the type that has got the means, concrete blocks without holes will do the trick.
What do you think?
Resources