In my university studies in Valencia there was a very particular building that broke the usual urban landscape of the San Diego municipality, which is seen as a visual point from the distance of its main avenue, an avenue that runs through the municipality from end to end , making itself known for its height in the urban landscape that was previously distinguished by its low-rise buildings, undoubtedly here there was a whole issue of local regulations and the foundations that had to be overcome to begin construction. Curiously, I saw it in full construction and I graduated and it is a construction that continues very similar to how it was before.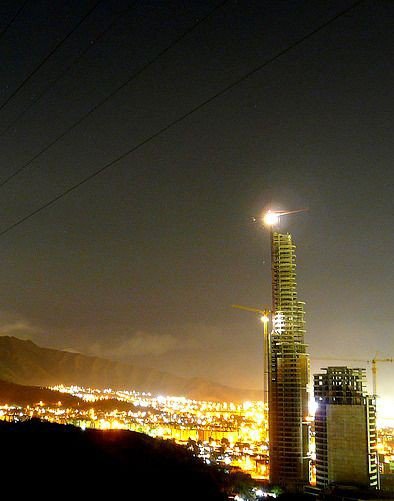 Pinterest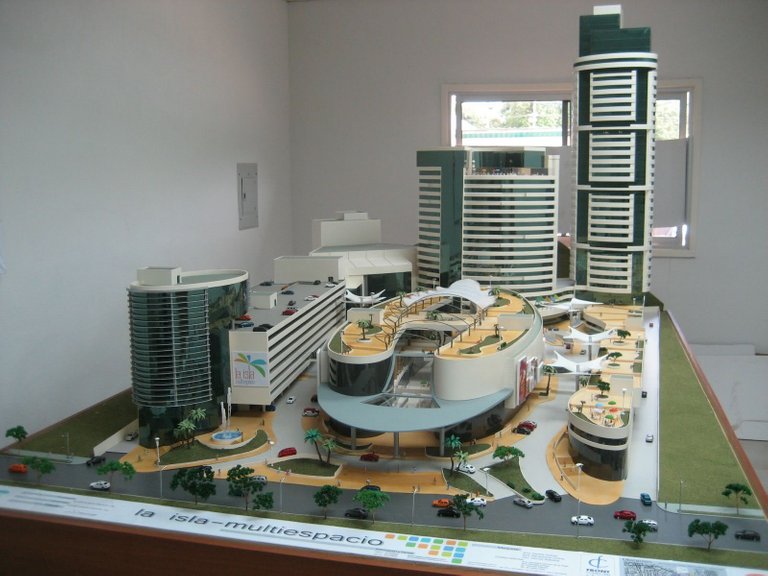 https://www.google.com/search?q=torre+isla+multiespacio&client=ms-android-cricket-us-revc&prmd=imnv&sxsrf=ALeKk02J3BC8Xn9r3opU-G5OJ8RGNBQR6Q:1627580859621&source=lnms&tbm=isch&sa=X&ved=2ahUKEwj47OuX64jyAhWMHc0KHXvUDfkQ_AUoAXoECAIQAQ#imgrc=mgDf5XvjYIlfjM
The island is a large complex in which its buildings located on the central avenue of the San Diego municipality, in Valencia, Venezuela. Valencia is the old industrial city of the country (although currently due to the communist expropriation policy the lack of companies is notable), currently taking into account that I studied in the municipality of San Diego I see it as a university and commercial city, and San Diego it is a municipality in constant growth. It is a work of the architect Pedro Mateo. This work began in 2009 and according to the data collected it should have been completed in 2017, currently it continues the same as in the photographs. Its function is destined to be a hotel and corporate tower with a total of 89 floors. It is expected to be the tallest skyscraper in Venezuela at 243.8m high, surpassing the famous twin towers of central park in Caracas at 227m high.
Function
This complex has been announced that it will have a shopping center that is designed so that it can be visited in different ways, such as small type, open type or boulevard type. It also has a hotel that will house the intercontinental hotel in Valencia with more than 300 rooms, each with more than 36 m2, with suites and a presidential room. It also has a theater, an office tower, a 4-story comprehensive and aesthetic medicine building, and a 4-story vertical parking building with capacity for 2,200 vehicle spaces.
Here you can see two videos in Spanish about this project that I got on youtube
As an anecdote about the project, I had a friend who did the internships in this place, and the hotel tower had to reinforce the structure since the client decided to expand the height levels of this building, in addition to among other things being a project quite complex.
Ironically, for being a private project in the country since the current government's management, it marked the social, urban, and economic development of the country, making it very common on a day-to-day basis that constructions are known or seen which are unfinished and in a state of repair. abandonment throughout the country, money laundering, some say, that the budgets are stolen, others say ... Ironically, this great project has not yet been concluded and to be private it marks a new wave of controversy, which I will not enter since I cannot verify the veracity of any such claim.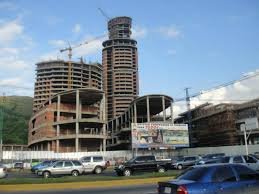 https://www.google.com/imgres?imgurl=https%3A%2F%2Flookaside.fbsbx.com%2Flookaside%2Fcrawler%2Fmedia%2F%3Fmedia_id%3D550794554979767&imgrefurl=https%3A%2F%2Fes-la.facebook.com%2Fmedia%2Fset%2F%3Fset%3Da.531039596955263.1073741826.130906660301894%26type%3D3&tbnid=MpwaqMfxJfDLNM&vet=1&docid=w4AzZMVvbhxalM&w=960&h=720&itg=1&source=sh%2Fx%2Fim
Spanish
En mis estudios universitarios en Valencia había un edificio muy particular que rompía el paisaje urbano habitual del municipio de San Diego, que se ve como un punto visual desde la distancia de su avenida principal, una avenida que atraviesa el municipio desde De punta a punta, dándose a conocer por su auge en el paisaje urbano que antes se distinguía por sus edificios de baja altura, sin duda aquí hubo todo un tema de normativa local y los cimientos que hubo que superar para iniciar la construcción. Curiosamente lo vi en plena construcción y me gradué y es una construcción que sigue muy parecida a como era antes.
La isla es un gran complejo en el que sus edificios se ubican en la avenida central del municipio de San Diego, en Valencia, Venezuela. Valencia es la antigua ciudad industrial del país (aunque actualmente debido a la política de expropiaciones comunistas se nota la falta de empresas), actualmente teniendo en cuenta que estudié en el municipio de San Diego la veo como una ciudad universitaria y comercial, y San Diego es un municipio en constante crecimiento. Es obra del arquitecto Pedro Mateo. Este trabajo se inició en 2009 y según los datos recogidos debió haberse completado en 2017, actualmente continúa igual que en las fotografías. Su función está destinada a ser hotel y torre corporativa con un total de 89 pisos. Se espera que sea el rascacielos más alto de Venezuela con 243,8 m de altura, superando las famosas torres gemelas del parque central de Caracas con 227 m de altura.
Función
Este complejo se ha anunciado que contará con un centro comercial que está diseñado para que se pueda visitar de diferentes formas, como tipo pequeño, tipo abierto o tipo bulevar. También cuenta con un hotel que albergará el hotel intercontinental en Valencia con más de 300 habitaciones, cada una de más de 36 m2, con suites y una sala presidencial. También cuenta con un teatro, una torre de oficinas, un edificio de medicina integral y estética de 4 pisos y un edificio de estacionamiento vertical de 4 pisos con capacidad para 2,200 espacios vehiculares.
Aquí puedes ver dos videos en español sobre este proyecto que obtuve en youtube
Como anécdota del proyecto, tuve un amigo que hizo las prácticas en este lugar, y la torre del hotel tuvo que reforzar la estructura ya que el cliente decidió ampliar los niveles de altura de este edificio, además de entre otras cosas ser un proyecto. bastante complejo.
Irónicamente, por ser un proyecto privado en el país desde la gestión del actual gobierno, marcó el desarrollo social, urbano y económico del país, por lo que es muy común en el día a día que se conozcan o vean construcciones que son sin terminar y en estado de conservación. abandono en todo el país, blanqueo de capitales, algunos dicen, que se roban los presupuestos, otros dicen ... Irónicamente, este gran proyecto aún no se ha concluido y de ser privado marca una nueva ola de polémica, en la que no entraré desde No puedo verificar la veracidad de tal afirmación.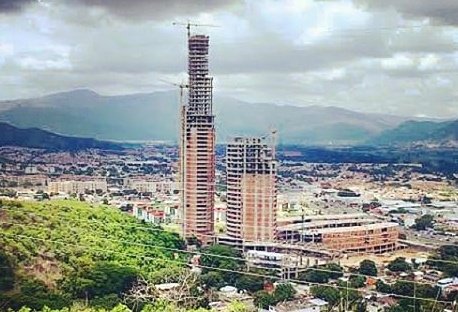 https://www.google.com/search?q=torre+isla+multiespacio&client=ms-android-cricket-us-revc&prmd=imnv&sxsrf=ALeKk02J3BC8Xn9r3opU-G5OJ8RGNBQR6Q:1627580859621&source=lnms&tbm=isch&sa=X&ved=2ahUKEwj47OuX64jyAhWMHc0KHXvUDfkQ_AUoAXoECAIQAQ#imgrc=MFchqoAdKhy6_M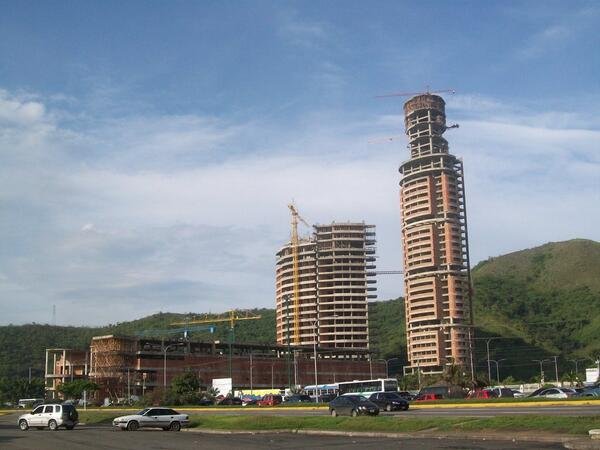 https://images.app.goo.gl/T1sowiAfRZXLgtjL8