Nuevo post en esta comunidad lleno de personas creativas... Empiezo dando un poco de contexto...Soy recientemente graduado de arquitecto, soy de Venezuela con 26 años, en 2020 estuve trabajando como dibujante para AJArquitectura,los cuales realizabamos el paquete de planos de los proyectos de Hamaca. Paralelo a esto tuve el encargo de una remodelación de cocina para una vivienda, asi que ahora me enfocaré en hablar un pocode las ideas y concepto.
Mi primer trabajo como arquitecto proyectista en esta remodelación de cocina de una vivienda.
Este render que muestro fue como culminó el proyecto, es un render básico sin mucho nivel de detalle, pero sí necesario a nivel esquemático de la organización espacial y uso de los materiales. Es de tener en cuenta que no todos los clientes entienden planos de arquitectura, por ello las correcciones de la evolución de proyecto se realizó mediante los modelados 3D, el cliente se ubicaba y se ubicaba espacialmente. (Cualquier consejo que quieran aportar maestros, estaré atento y será bienvenida).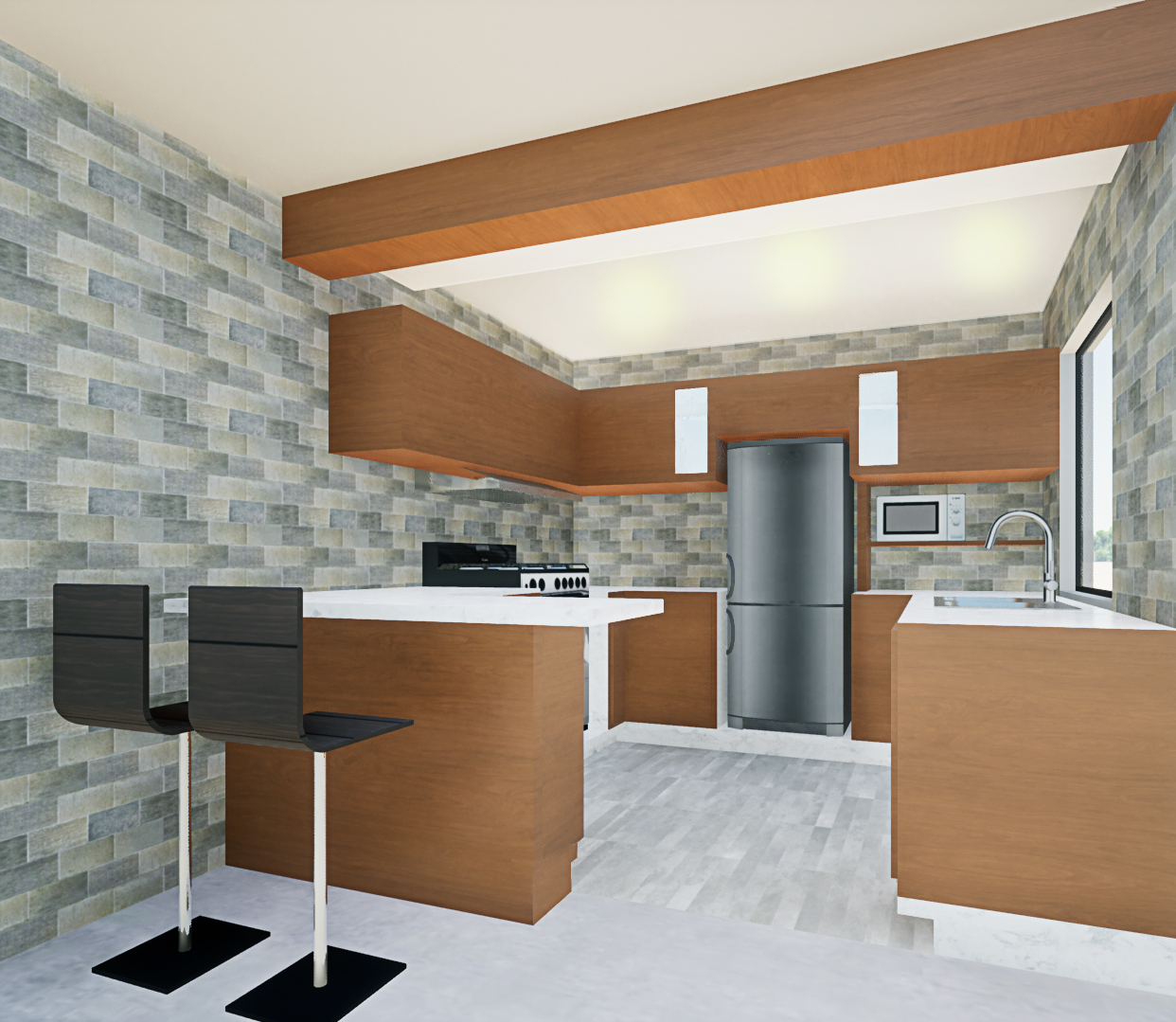 La cocina existente
Existía nada más el mobiliario del fondo, la cocina en una esquina, el fregadero de la otra, la nevera frente a la cocina,la ventana, un mesón bastante ancho en medio de la cocina y las paredes que encerraban el espacio.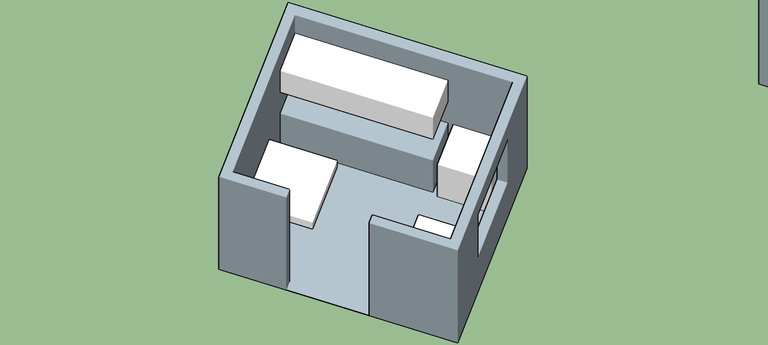 Propuesta nueva
En la nueva propuesta luego de varias entrevistas y correcciones con el cliente se fueron definiendo ideas como por ejemplo, una cocina concepto abierto con un desayunador, la circulación lineas y directas hacia la nevera, aprovechar al maximo el espacio de estos escasos 8 m2 para generar el máxim área de almacenamiento y mesones de trabajo posible. Como solución de tuvo que reubicar el circuito funcional de la cocina para crear una continuidad con el mobiliario y los estantes aéreos. También entre la variedad de premisas que se pensaron puedo decir que los materiales se plantearon para generar texturas y contraste, con tonalidades claros para renovar el aspecto de esta nueva cocina y hacer un espacio lleno de vida con buena iluminación.
En el desarrollo del proyecto también ese análisis con distintos materiales y otros esquemas sobre la continuidad espacial del mobiliario, por ejemplo este render realizado con vray. Más adelante compararan este renderizado con el ultimo que se hizo con otro programa que mencionaré posteriormente.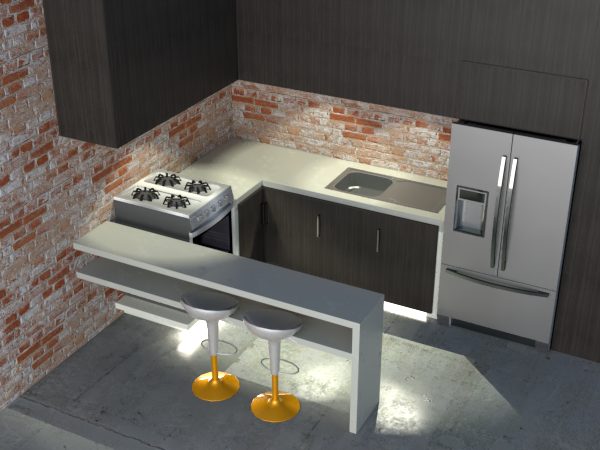 Aquí abajo pueden ver la planta de la propuesta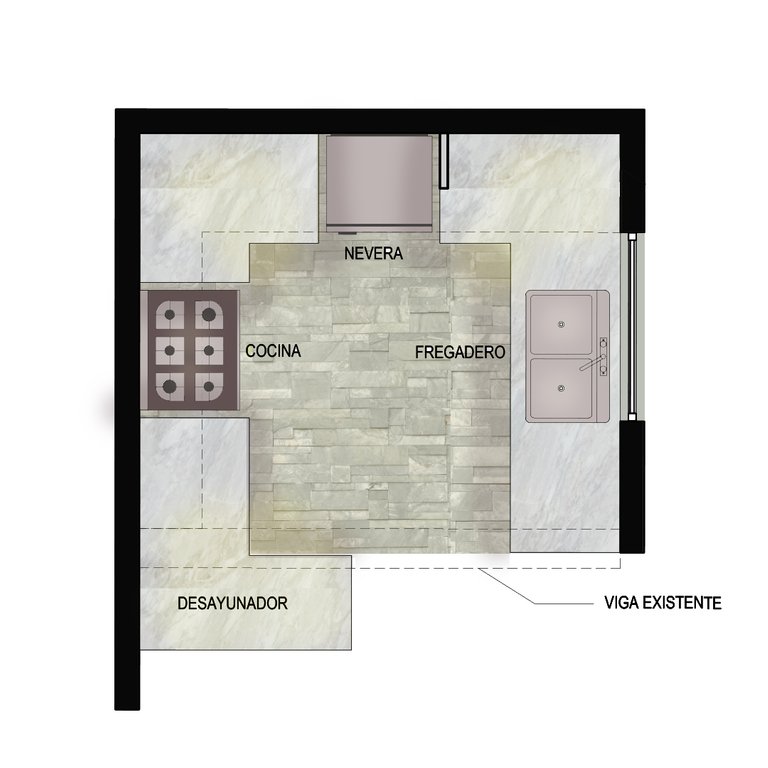 Vista del modelado en Sketshup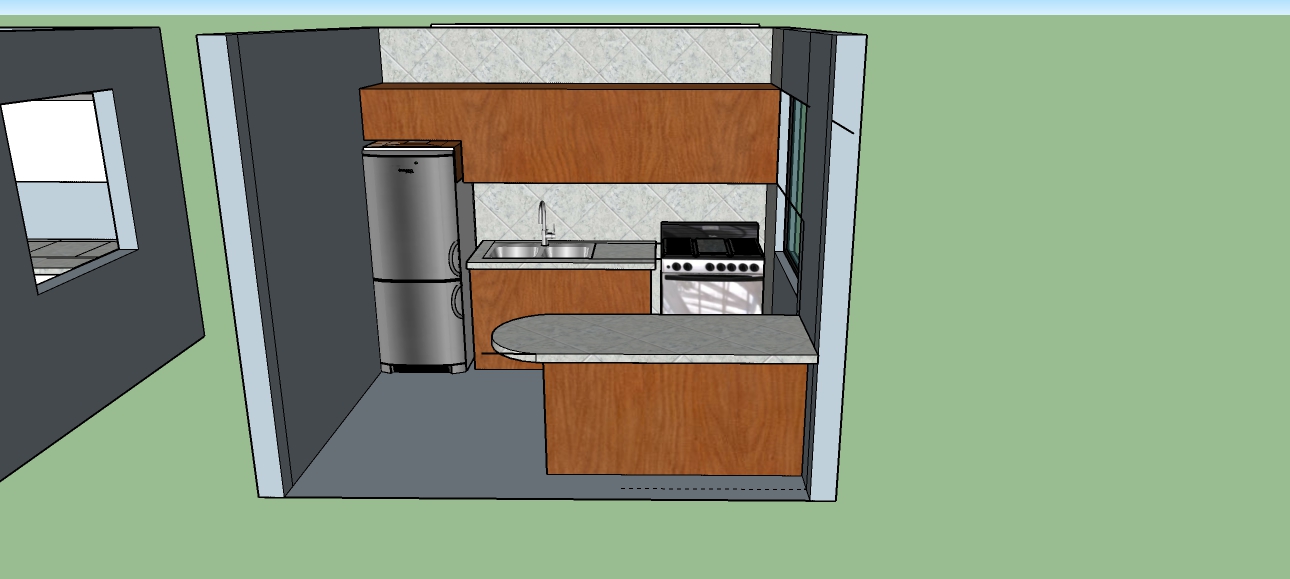 Vista del renderizando final, con otro motor de render llamado twinmotion , y posterior edición gráfica en photoshop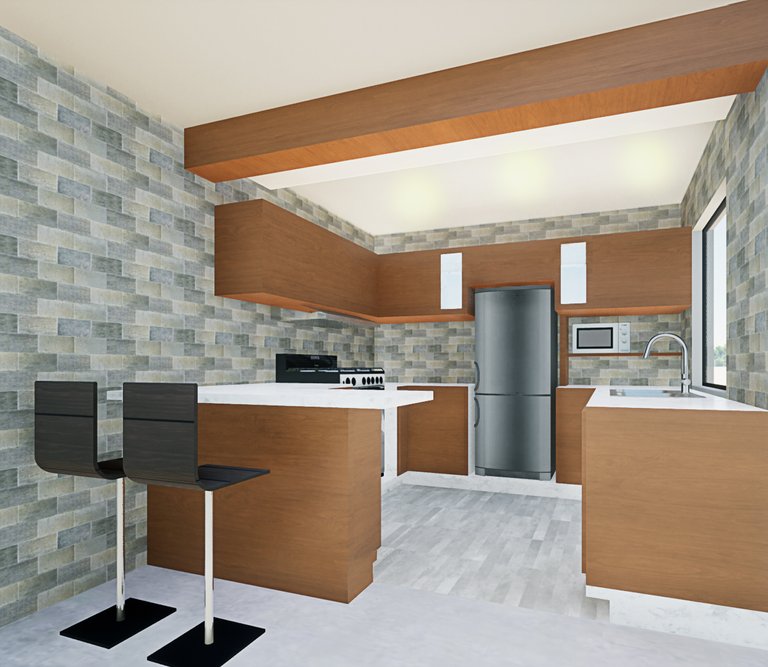 Si llegaron hasta aquí dejen su valioso comentario, saludos!

Speak in english
New post in this community full of creative people ... I begin by giving a bit of context ... I have recently graduated as an architect, I am from Venezuela with 26 years, in 2020 I was working as a draftsman for AJArquitectura, which we did the Hammock project plan package. Parallel to this, I was commissioned to remodel a kitchen for a home, so now I will focus on talking a little about the ideas and concept.
My first job as a project architect in this kitchen remodeling of a house.
This render that I show was how the project ended, it is a basic render without much detail, but it is necessary at the schematic level of the spatial organization and use of materials. It should be borne in mind that not all clients understand architectural plans, therefore the corrections of the project evolution were carried out through 3D modeling, the client was located and spatially located. (Any advice that teachers want to contribute, I will be attentive and it will be welcome).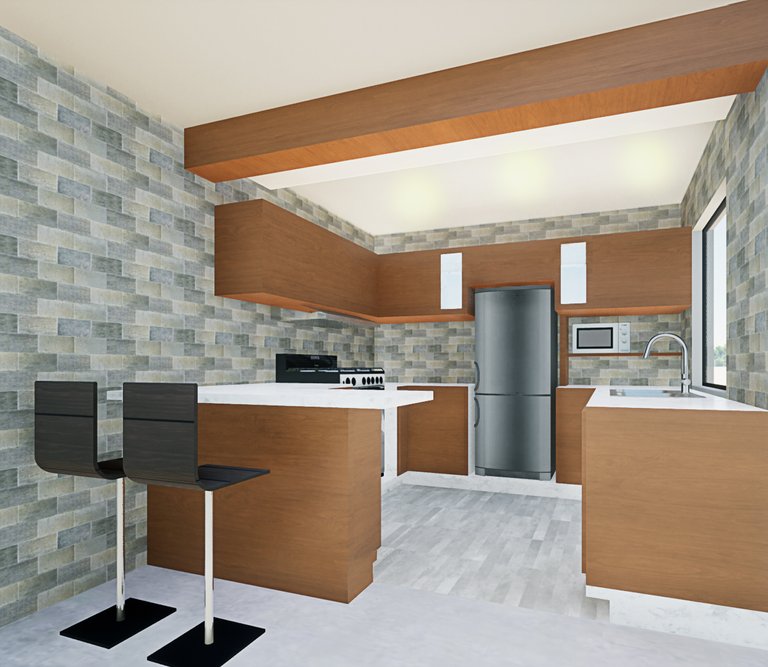 )
The existing kitchen
There was only the furniture in the back, the kitchen in one corner, the sink in the other, the refrigerator in front of the kitchen, the window, a fairly wide counter in the middle of the kitchen and the walls that enclosed the space.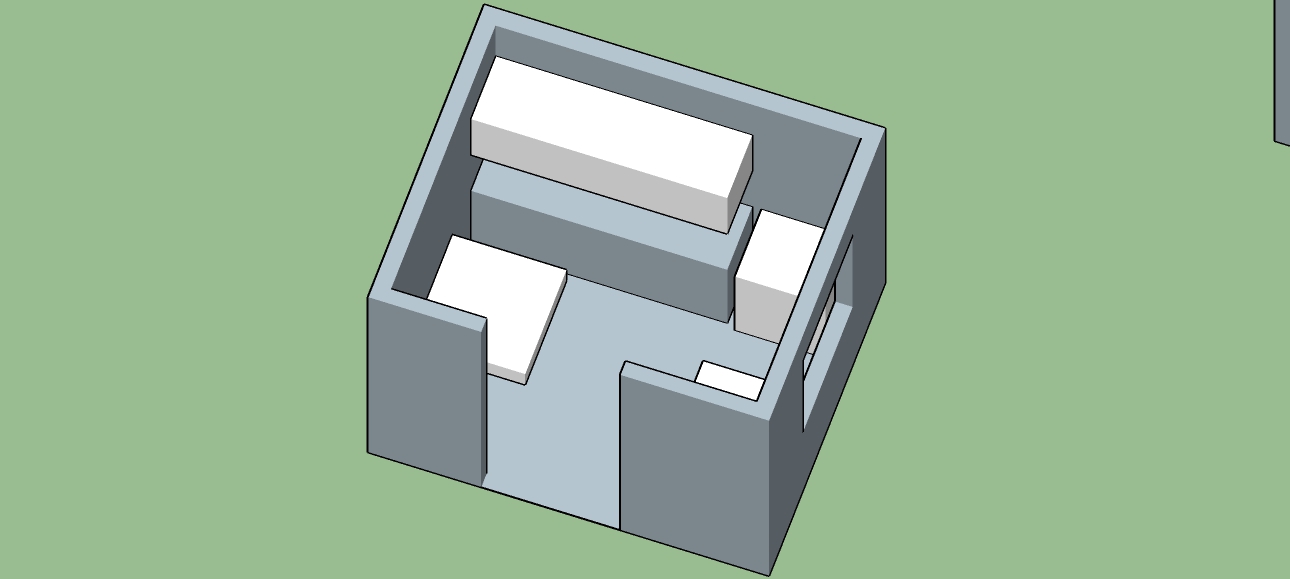 )
New proposal
In the new proposal, after several interviews and corrections with the client, ideas were defined, such as an open concept kitchen with a breakfast area, direct and direct circulation to the refrigerator, making the most of the space of these scarce 8 m2 to generate the maximum possible storage area and work tables. As a solution, he had to relocate the functional circuit of the kitchen to create a continuity with the furniture and the aerial shelves. Also among the variety of premises that were thought, I can say that the materials were raised to generate textures and contrast, with light tones to renew the appearance of this new kitchen and make a space full of life with good lighting.
In the development of the project also that analysis with different materials and other schemes on the spatial continuity of the furniture, for example this render made with vray. Later they will compare this rendering with the last one that was made with another program that I will mention later.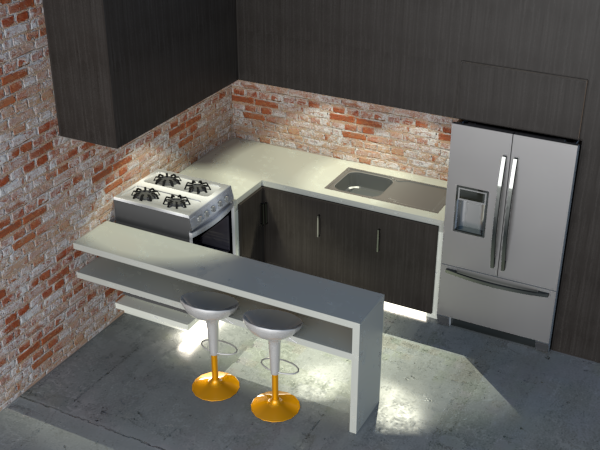 )
Here below you can see the plant of the proposal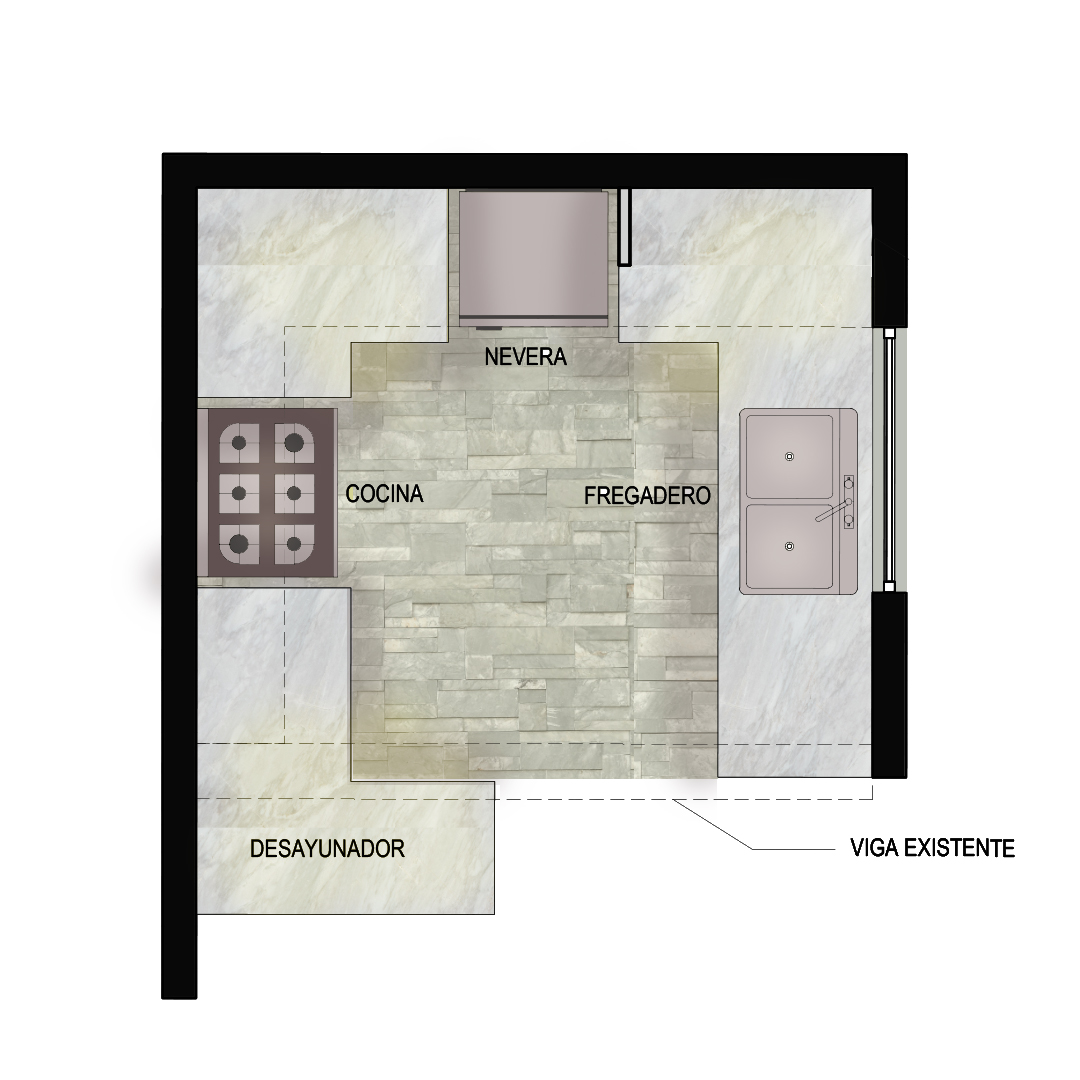 )
Modeling view in Sketshup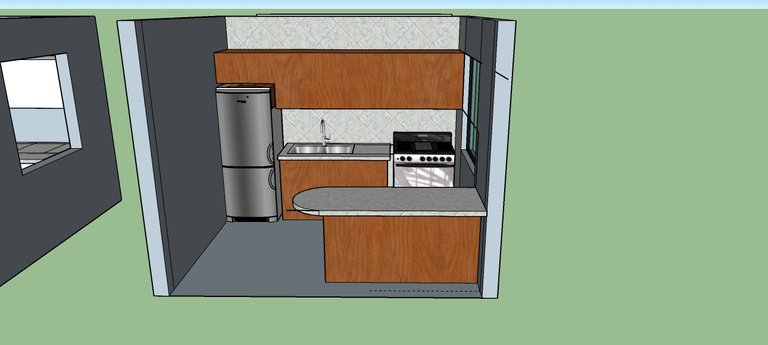 )
View of the final rendering, with another rendering engine called twinmotion, and later graphic editing in photoshop
(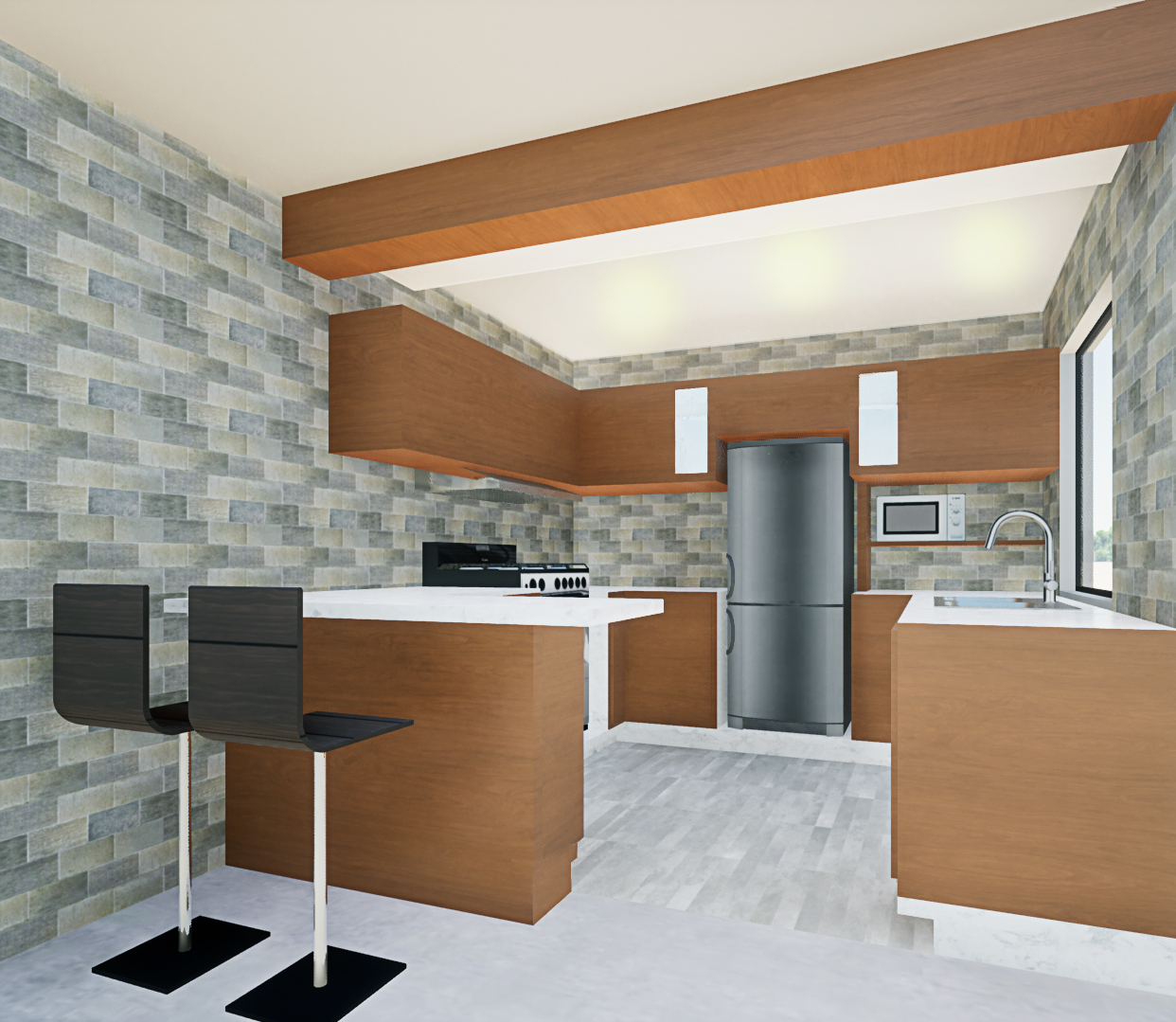 )
If you got here, leave your valuable comment, greetings!
(

)