_Greetings to all guys, I come with a somewhat early post to show you the evolution of the housing architecture project, which by the way for those who do not know I made a post about the beginning of this project recently. Today I will show you the variety of facades that I am analyzing and exploring to achieve excellent results.
In the phase that I am going through this project after having made the distribution in 3D to teach the client and make sure of the relationship of the spaces, areas and operation of this future home, there were several criteria that were necessary to be visualized, for that I began to start to explore what the main facade of the house will be like.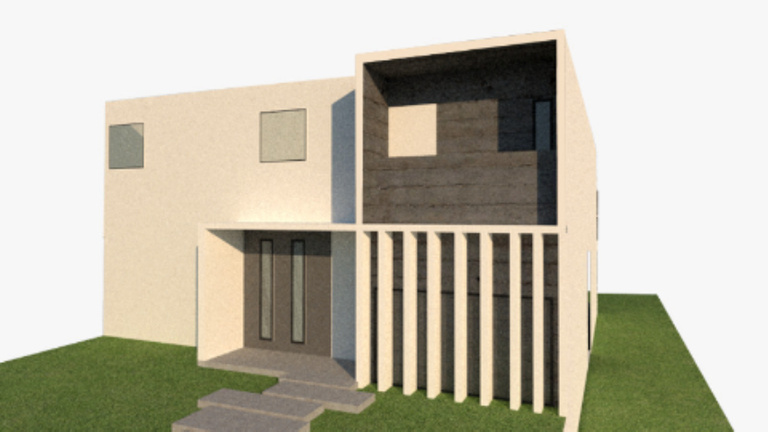 Importance of the facade.
For me, the main facade is very important, and more so considering that it is the first face of the house that you find when entering the land. It is of vital importance from the functional point of view since it is an enclosure and protector of the interior spaces where the activities of daily life are carried out. It is also the most visible face of the construction, the presentation face of this architectural book, the connection of the interior with the exterior with a determining role in the sensory impact of people who know this architecture. Therefore I was interested in showing but at the same time not so much, trying a bit the trend of introspective architecture.
The choice of color, materials, textures, molds give identity to the design. I am very interested in achieving the simplicity and purity of the volume, but at the same time making interesting, aesthetic and functional strategies to cover myself from the sun.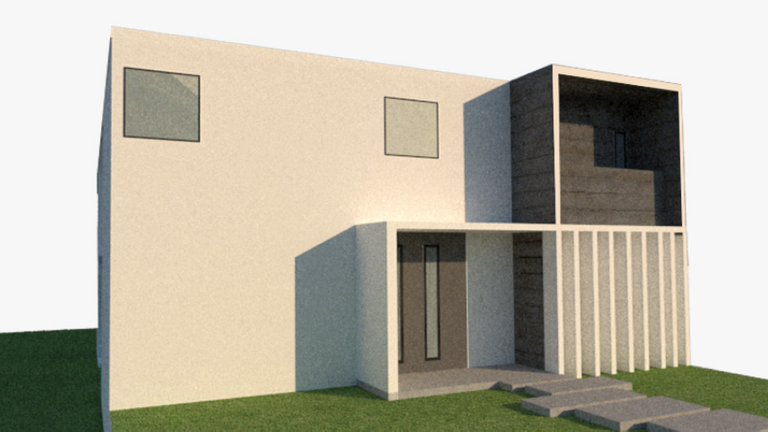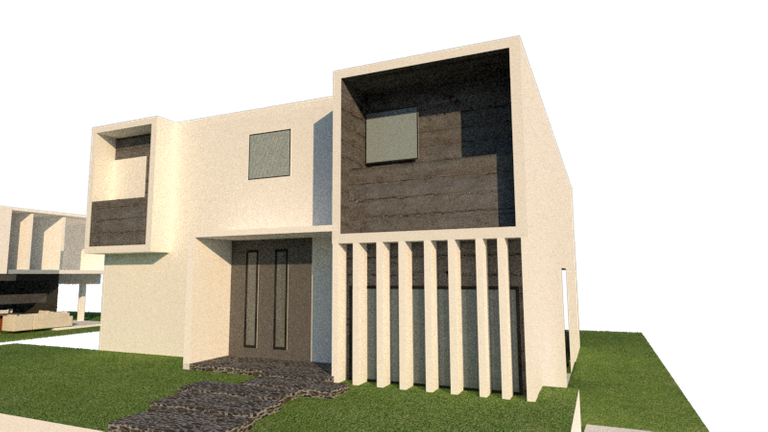 The simplicity falls in love, and for them I did not want to decorate this facade with visual elements without any use, nor to mine the luxurious materials of this facade or multiple combinations of these as I have seen in multiple architecture, which I love by the way, but I think that in the rationalism of the elements better results and greater impact can be achieved.
I did not want to stay with a single proposal or with the first ideas that came to my mind, so you will see that I tried several times, moving elements and developing more criteria. Among them, it should be noted that this facade has lighting from the western sun, which in my country, being from the tropics, I am interested in protecting so that it does not overheat the spaces, in addition to this, the visuals of this facade have nothing interesting to see and the client he prefers to be more introspective with his presence on the street. And it should be borne in mind that in the distance of this facade there is a mountain, which the cold winds descend through it at night, therefore I was interested in capturing these winds a little and more considering that the house being in uneven air currents can be variable and the incidence, for example, of the northwest trade winds would not be so precise.
With this different set of wall and ceiling elements to cover me from the sun, I am generating depth and shadow to be able to have certain openings in the façade as strategic points to generate natural lighting and ventilation for these interior spaces.
I also take into account each element as parts of geometric elements that together form a composition, which through the shape of lines, scale and continuity can generate more weight, dynamics, aesthetics and sensations in which I seek a balance of the whole, discreetly as a minimalist language and I think reactionalist could also stand out in my first large architecture project.
After these multiple renders, I explained to the client each one of them, their pros and cons and my personal opinion, then the client chose the one they liked the most and it was one of the two finalist proposals in my opinion and of this development process and facade exploration. Then later I show them which one was nominated by the client. By the way, you can comment which of the renders or facades is to your liking and also nominate to see if you can guess which one the client chose.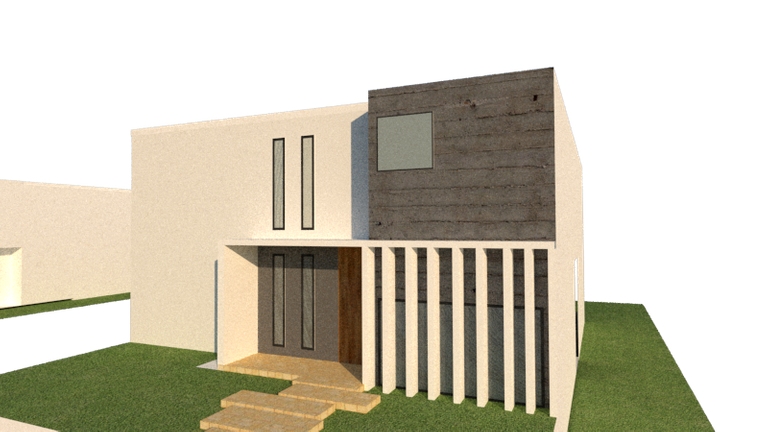 Bioclimatic and sustainable design.
Although the orientation of the project is not in such a way that I can cover myself with closed faces of the East and West as you have seen in my last project of my previous post, I use other alternatives to protect myself from the sun and have good ventilation to maintain each one of the spaces of the house lit and ventilated naturally and thus reduce energy consumption in lighting and air conditioning for this project.
Another peculiarity is that the project being 1m below street level, the ground floor is very well ventilated with the flow of the winds, due to its large patios and the adjoining walls are higher, covering a little of the incidence solar.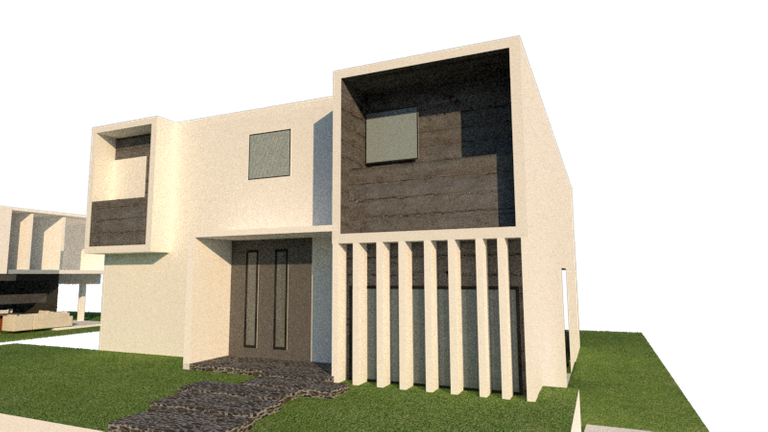 And we finish this post for today, I hope you are well and greetings to all! If you who read me have nothing to do with the world of architecture, do not hesitate to ask me any questions, I love to help. And for the other colleagues I read them below, it is good to feel that support and consideration from people who in one way or another share your passion.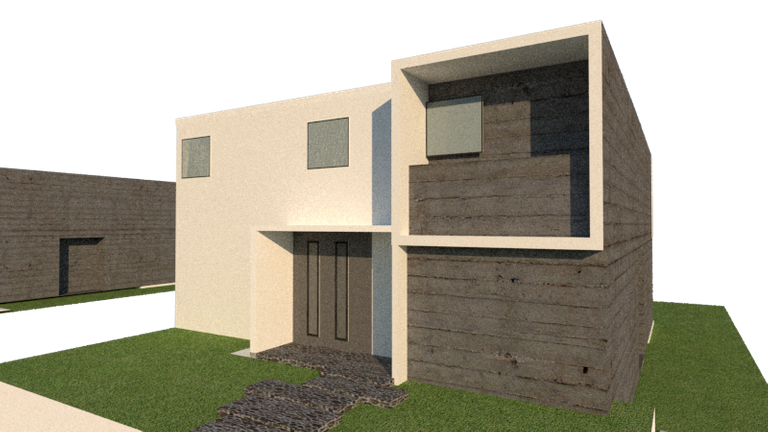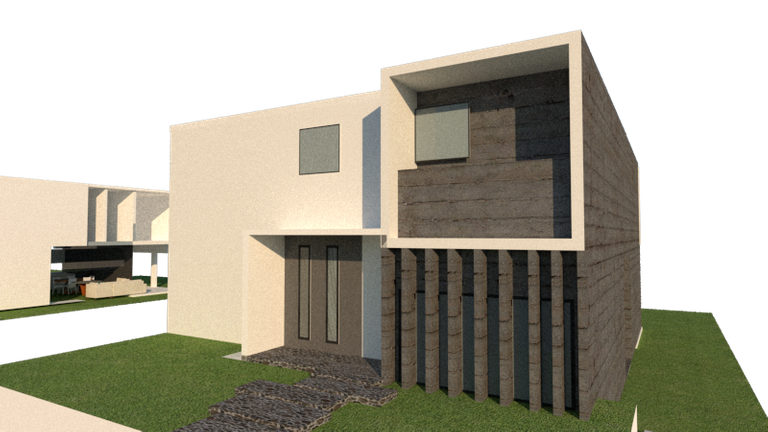 Instagram @arq_jotaeme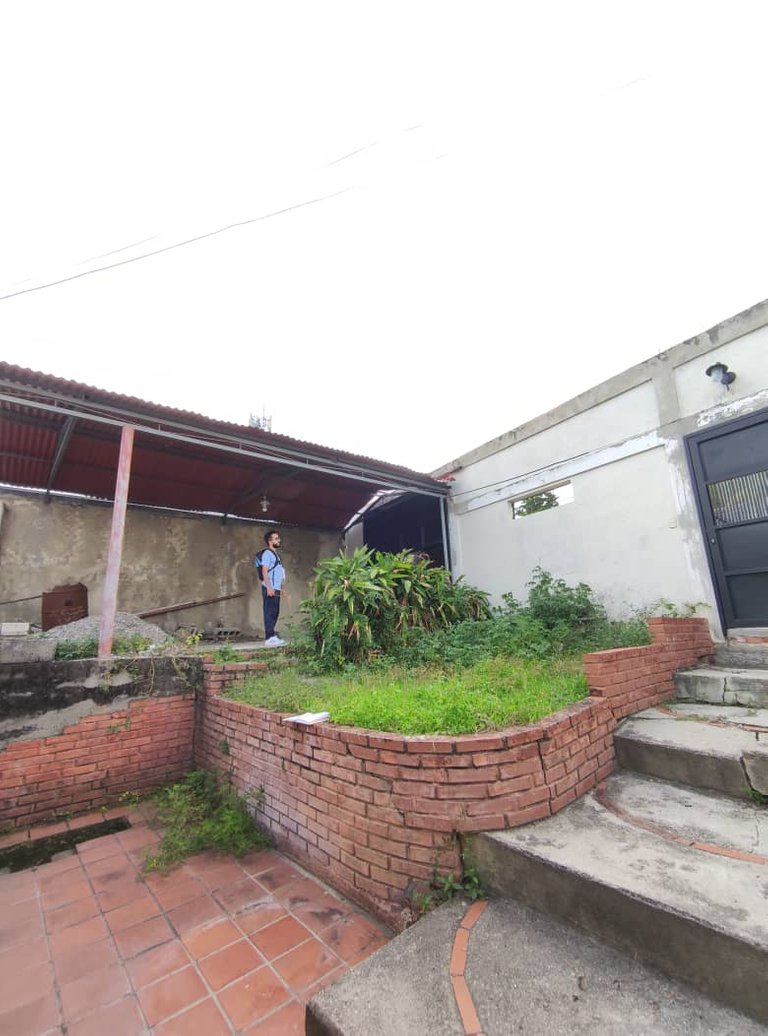 Spanish Speak
Saludos a todos chicos, vengo con post algo tempranero para enseñarles la evolución del proyecto de arquitectura de la vivienda, que por cierto para quienes no lo saben hice un post sobre el inicio de este proyecto hace poco. Hoy les enseñare la variedad de fachadas que estoy analizando y explorando para lograr excelentes resultados.
En la fase que voy de este proyecto luego de haber realizado la distribución en 3D para enseñarle al cliente y asegurarme de la relación de los espacios, áreas y funcionamiento de este futura vivienda, habían varios criterios que eran necesarios visualizarse, para eso empecé a empezar a explorar de como será la fachada principal de la vivienda.
Importancia de la fachada.
Para mi la fachada principal es muy importante, y más teniendo en cuenta que es la primera cara de la casa que te encuentras al entrar al terreno. Es de vital importancia desde lo funcional ya que es un cerramiento y protector de los espacios interiores donde se realizan las actividades de la vida diaria. Tambien es la cara más visible de la construcción, la cara de presentación de este libro arquitectónico, la conexión del interior con el exterior con un papel determinante en el impacto sensorial de las personas que conozcan esta arquitectura. Por lo tanto me interesaba mostrar pero a la vez no tanto, intentando un poco la tendencia de la arquitectura introspectiva.
La elección del color, los materiales, las texturas, los moldes le dan identidad al diseño. Me interesa mucho lograr la simpleza y pureza del volumen, pero al mismo tiempo hacer estrategias para cubrirme del sol interesantes, estéticas y funcionales.
La simpleza enamora, y por ellos no quería adornar esta fachada con elementos visuales sin uso alguno, tampoco minar de materiales lujosos de esta fachada o multiples combinación de estos como he visto en multiples arquitectura, que me encanta por cierto, pero creo que en el racionalismo de los elementos se pueden lograr mejores resultados y mayor impacto.
No quería quedarme con una sola propuesta o con las primeras ideas que llegaran a mi mente, por ello verán que probé varias veces, moviendo elementos y desarrollando más criterios. Entre ellos cabe destacar que en esta fachada tiene iluminación del sol del Oeste, el cual en mi país siendo del trópico me interesa proteger para que no sobrecaliente los espacios, además de esto las visuales de esta fachada no tienen nada interesante que ver y el cliente prefiere ser más introspectivo con su presencia respecto a la calle. Y es de tener en cuente que en la lejanía de esta fachada se encuentra una montaña, la cual los vientos fríos descienden por ella en la noche, por lo tanto me interesaba captar un poco estos vientos y más teniendo en cuenta que la casa al estar en desnivel las corrientes de aires pueden ser variables y la incidencia por ejemplo de los vientos alisios del noroeste no seria tan precisa.
Con este distintos juego de elementos de muros y techos para cubrirme del sol, voy generando profundidad y sombra para poder tener ciertas aberturas en la fachada como puntos estratégicos para generar iluminación y ventilación natural para estos espacios interiores.
También tengo en cuenta cada elemento como partes de elementos geométricos que juntos forman una composición, la cual mediante la forma de líneas, escala y continuidad me puede generar más peso, dinámicas, estéticas y sensaciones en que busco un equilibrio del todo, discretamente como un lenguaje minimalista y creo que reacionalista también se podría destacar en mi primer proyecto grande de arquitectura.
Luego estas multiples renders, le expliqué al cliente cada una de ellas, sus pro y contras y mi opinión personal, luego el cliente escogió el que más le gustó y fue una de las dos propuestas finalistas en mi opinión y de este proceso de desarrollo y exploración de fachadas. Luego más adelante les enseño cual fue la nominada por el cliente. Por cierto , pueden comentar cual de los renders o fachadas está a su gusto y nominen también a ver si adivinan cual eligió el cliente.
Diseño bioclimático y sustentable.
A pesar de que la orientación del proyecto no es de tal manera que pueda cubrirme con caras cerradas del Este y Oeste como lo han visto en mi ultimo proyecto de mi post anterior, uso otras alternativas para protegerme del sol y tener buena ventilación para mantener cada uno de los espacios de la vivienda iluminado y ventilado naturalmente y así disminuir el consumo energéticos en iluminación y climatizadores para este proyecto.
Otra particularidad es que el proyecto al estar en 1m por debajo del nivel de calle, la planta baja me queda muy bien ventilada con el flujo de los vientos, por su gran patios y las paredes colindantes quedan más altas, cubriéndome un poco de la incidencia solar.
Y terminamos este post por el día de hoy, espero que estén bien y saludos a todos! Si tú que me lees no tienes nada que ver con el mundo de la arquitectura, no dudes en preguntarme cualquier duda, me encanta ayudar. Y para los demás colegas los leo aquí abajo, es bueno sentir ese apoyo y consideración de personas que de una u otra manera comparten tu pasión.