Hello everyone, I hope that you are all doing well out there around the world, safe, happy, healthy, wealthy and well as we join in the Architecture+Design Community Contest to celebrate #WorldArchitectureDay.
For the OCD Community Boost Contest S2 #1: Highlighting Architecture & Design so kindly supported by @ocdb I'd like to share with you the first in a series of venues around Melbourne that have been specifically designed for live performance.
And if you too would like to share you favourite architectural design with us here, then check out this post https://peakd.com/hive-178708/@storiesoferne/ocd-community-boost-contest-s2-1-highlighting-architecture-and-design-hive-178708
Each space has it's own unique style, drawn from a range of architectural styles and periods relevant to the requirements and trends of those times.
Just like each live performance that they become home to, each venue has been composed with their own distinct characteristics, with a harmonic balance between practicality, comfort and elegance, all as intricate and masterful as those performances that they have been purposely built to showcase.
And all are true feats or engineering, some more than others, simply due to the era that they were built in.
The first one I'd like to start off with this week is one of the more contemporary examples built in 2009 by award winning architects, ARM Architects, being the founding directors of the late Stephen Ashton, Howard Raggatt and Ian McDougall who were the joint winners of the 2016 Gold Medal, the highest honour awarded by the Australian Institute of Architects.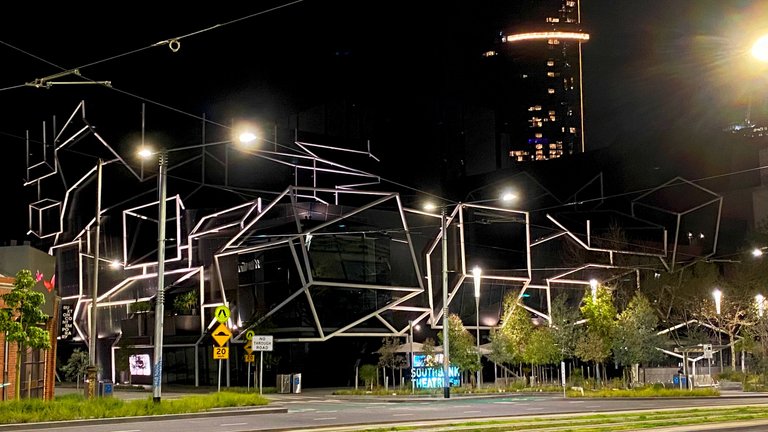 So I would like to introduce you to the world renown Southbank Theatre, located on the beautiful Southbank Boulevard, in Melbourne.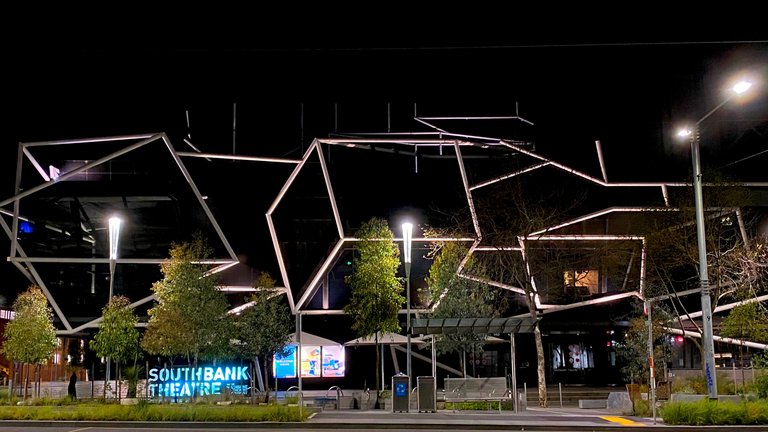 Before this team of award winning architects designed the Southbank Theatre for the MTC: Melbourne Theatre Company, according to their website, they traversed Australia and the world to research theatre design for the MTC, which is one of the major performing arts companies in Australia, and one of the largest theatre companies in the English-speaking world.
These locations included the Royal Court Theatre, Hampstead and Steppenwolf and they say, Among other things, we learned that those that reflected the existing culture of the institution they were designed for were much more successful than those that tried to impose a new culture.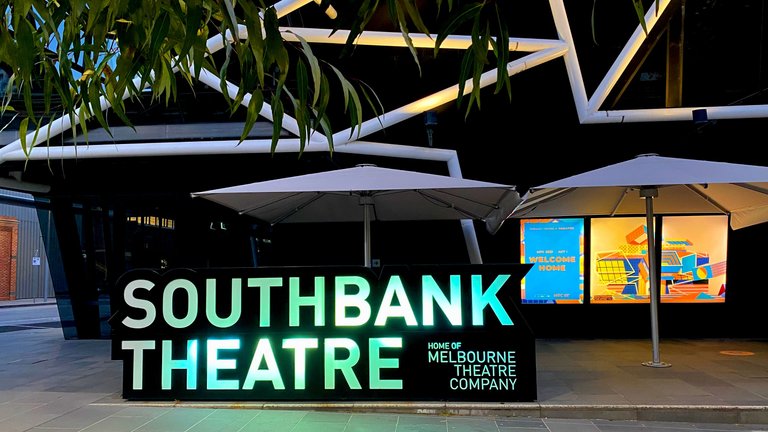 Founded in 1953, MTC is also the oldest professional theatre company in Australia, and currently exists as a department of the University of Melbourne.
MTC is Melbourne's home of live storytelling, producing an annual mainstage season of up to 12 plays, the Cybec Electric play readings series, an annual Education program and more.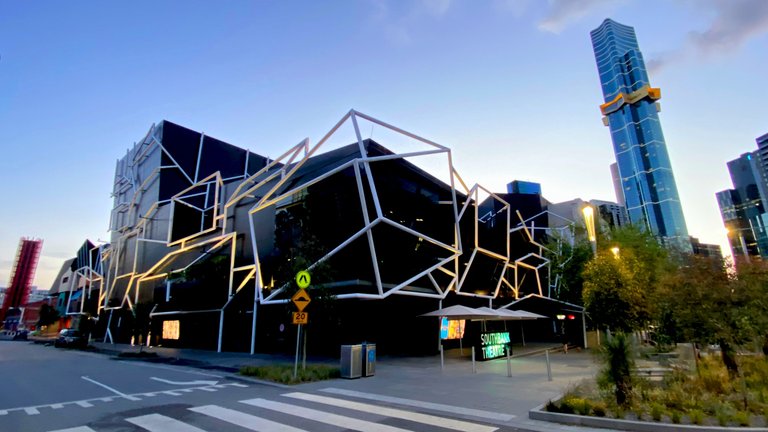 Southbank Theatre has two main venues: the Sumner Theatre and the Lawler Studio.
The Sumner is a state-of-the-art, 559 seat theatre offering advanced stage technology and a level of intimacy not previously seen in Australia.
Named after our first Artistic Director, John Sumner, the Sumner has been designed to provide comfort and excellent stage views for all the audience, with a flexible stage that allows MTC to present a wide range of theatre styles, from large scale spectacles down to tightly-focused dramatic performances.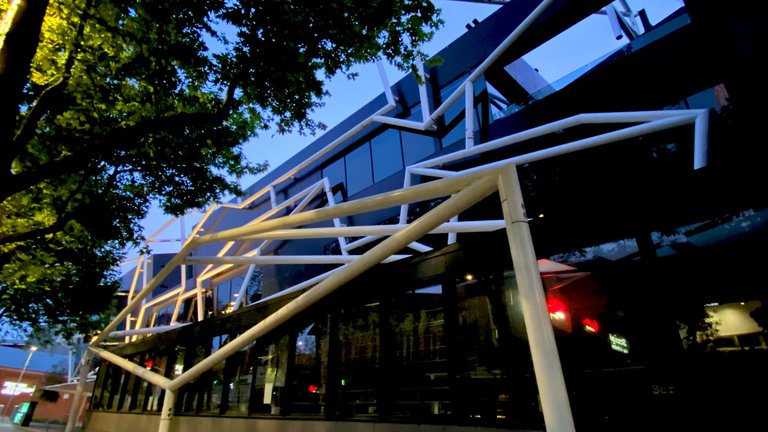 It is a single-rake house with a proscenium arch and no balcony, which creates the very best sight lines from the audience to the stage.
The stage, fly and wing configuration make it arguably one of the best drama facilities in the world. The proscenium and Juliet balconies are adjustable.
The orchestra pit can be raised to stalls level for extra seating. There is a full theatrical grid on the ceiling and the space can be configured as a black box performance venue.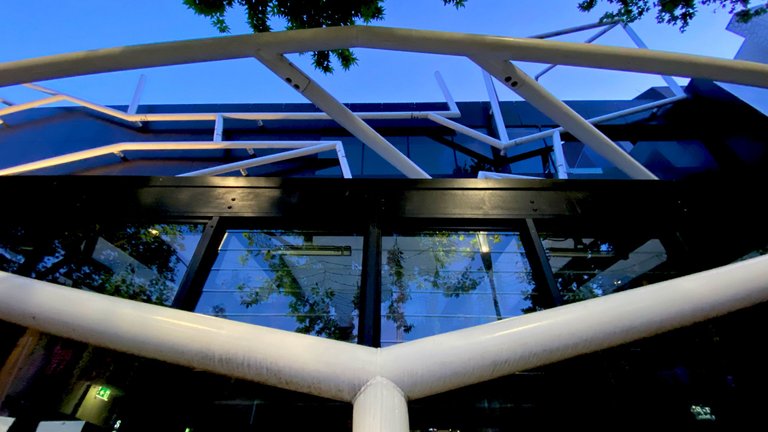 The Lawler Studio is a black box for rehearsals, functions and small performances to audiences of up to 150, perfect for performances on an intimate scale.
MTC's focus for the space is to produce more works of an experimental, cutting-edge and developmental nature, as well as presenting play readings of new works by emerging playwrights.
The Lawler is regularly used by other companies, highlighting the diversity of performance being created across Melbourne and beyond.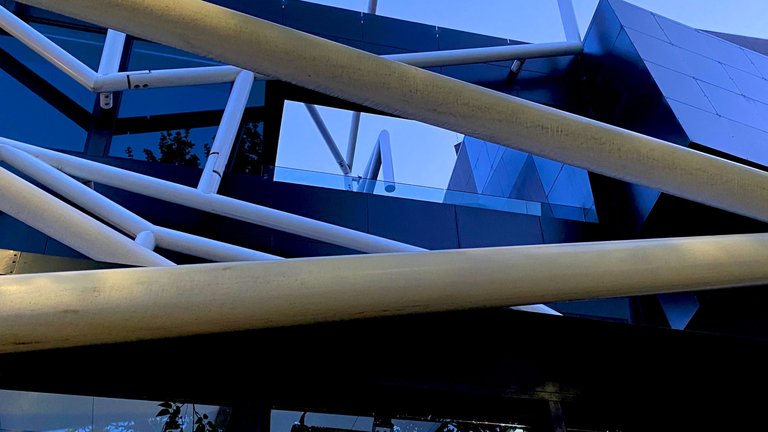 The MTC's façade is a matrix of glowing tubes in angular box shapes that seem to hover around the black box of the building. It relates to the Arts Centre Melbourne spire but is more graphic. It is like an illusionist painting in that it blurs our two- and three-dimensional perception.
The boxes repeat inside as if we had shone a giant theatre light onto the façade to cast a shadow of itself on the interior walls. There are lounges, bars and a café plus a function room and a large meeting room.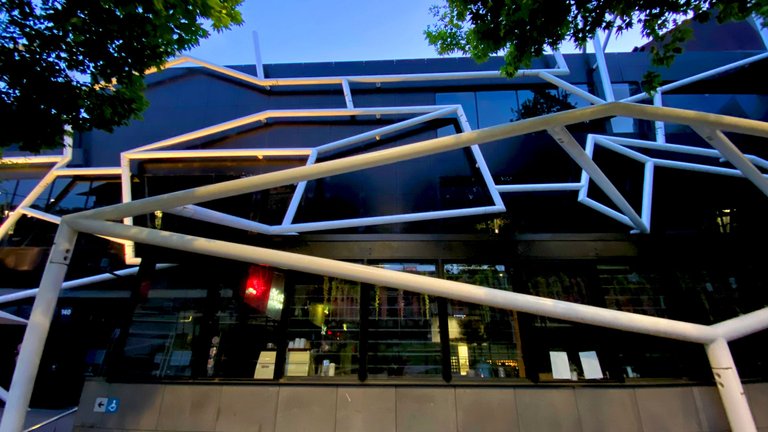 The Sumner Theatre wall panels are perforated with quotes chosen by MTC. They are backlit with LEDs that can change colour to match the content of the performance.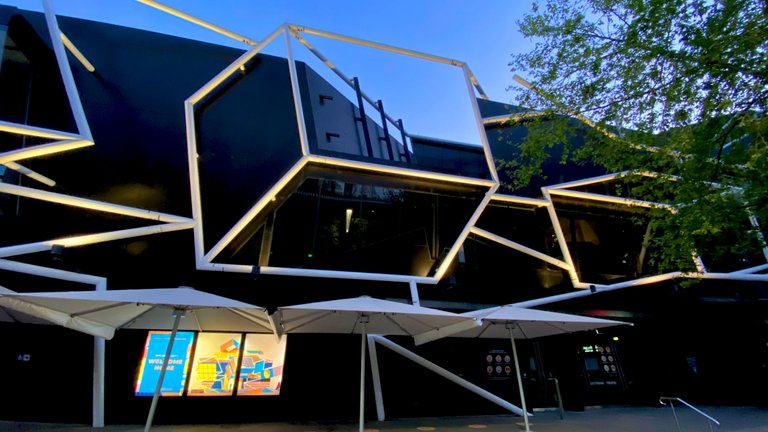 Since opening in 2009, Southbank Theatre has been host to nearly 300 events including the much loved MTC productions Golden Shield, Jasper Jones, Ladies in Black, The Beast, Twelfth Night, A View from the Bridge and Macbeth.
Some of Australia's best actors have performed on its stages including Marta Dusseldorp, Jai Courtney, Zahra Newman, Caroline O'Connor, Frank Woodley, Lisa McCune, Sigrid Thornton, Christie Whelan Browne and Bert LaBonté.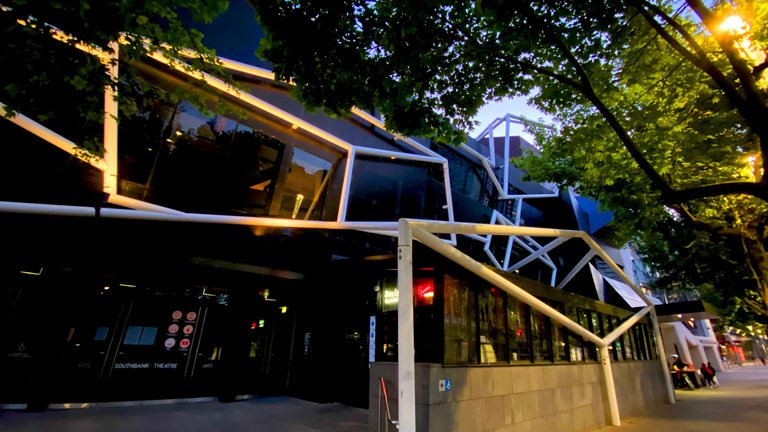 With dressing rooms to fit up to 22 performers, a loading dock and on-site workshop, wardrobe maintenance area, offices, function rooms and bars, Southbank Theatre is one of Australia's leading theatre venues and if you would like to find out more about this extraordinary live performance space and the artistry, workmanship and techniques employed in designing and constructing this modern masterpiece, then please make sure you head to the home page of ARM Architects here https://armarchitecture.com.au/projects/mtc-southbank-theatre/
(You can see the Southbank Theatre peaking out from behind the NGV- the National Gallery Of Victoria)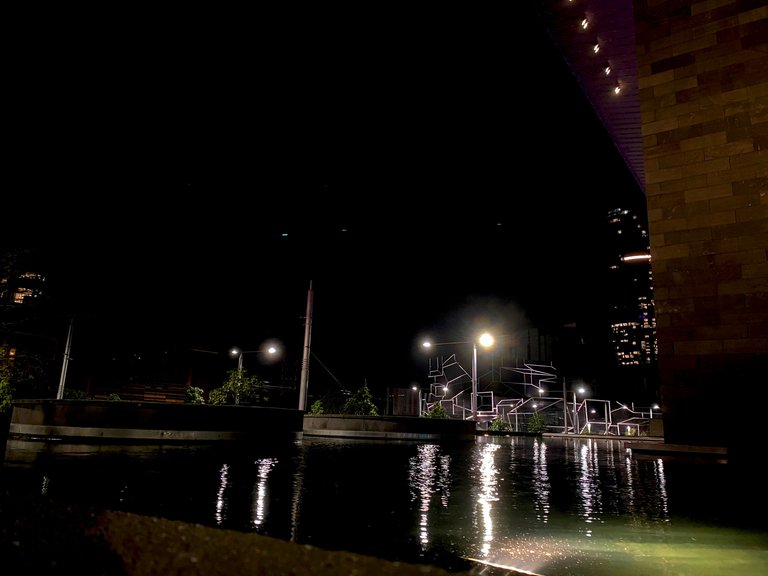 Unfortunately, as we are still in lockdown and the venue, like all other venues, is closed, I can't show you any photos of the interior design, only these photos of the exterior that I have taken over the past couple of months, as I am lucky enough to live just around the corner, so frequently walk past this unique expression of creativity and sophistication, so I highly recommend that you checkout the MTC website so you can see for yourself what goes on both in front of and behind the scenes of such a mammoth and magnificent event venue. https://www.mtc.com.au/discover-more/mtc-now/southbank-theatre-tour/
As I am not an architect, just a HUGE fan and I do not work at the MTC or the Southbank Theatre- UNFORTUNATELY, all information contained on this page has been copied directly from the sources so I can share with you the most accurate information possible, so please don't hesitate to checkout the source material here for your own benefit, and definitely checkout all of the other incredible projects that ARM architects have been involved in all over the world for so many years- These guys really know how to make a statement, entertain, delight, provoke conversations and spark debate and I am sure that you will be as pleased as I am to discover their immense and magnificent body of work. https://armarchitecture.com.au/projects/
And if you like going on tours as much as I do- even if they're from the comfort of your old armchair- for the moment, then click on this link so Theatre Operations Manager, Mark Wheeler takes you on a video tour here
And if you want a more detailed dive into the design and engineering side, then seriously check out these virtual tours here https://www.mtc.com.au/discover-more/mtc-now/southbank-theatre-virtual-tour/ they're freaking awesome
Thank you so much for reading my post , I really hope that you enjoyed it and look forward to your comments and thoughts.
🐠🐃🐌🕷🐍🐓🦆🐸🐁🐿🦋🐢🐞🦍🐈🦆🐥🐜🦑🐛🐄🦇🐪🦏🐳🐊🦀🦌🐖🐢🐏🐋🐝
And unless otherwise stated- ALL photographs, all media, material and writings, are all my originals taken by me sometime in the past few decades or so somewhere in my travels and as such, ofcourse they are subject to all international IP and copyright laws and I may have already used them for my own commercial purposes here https://www.redbubble.com/people/CHOCOLATESCORPI/shop And here https://fineartamerica.com/art/chocolatescorpi, So please ask first if you want to use any of them as we wouldn't want you getting into trouble. Thank you 😊
🐠🐃🐌🕷🐍🐓🦆🐸🐁🐿🦋🐢🐞🦍🐈🦆🐥🐜🦑🐛🐄🦇🐪🦏🐳🐊🦀🦌🐖🐢🐏🐋🐝
The Ladies of Hive- your own crypto world girl gang full of fun and suprises, so click on the link to find out more about this brilliant community of caring, companionship and creative contests, such as this one....https://peakd.com/hive-124452/@ladiesofhive/ladies-of-hive-community-contest-52

@hiveaustralia, formerly @teamaustralia check us out now!
(cause we're all such damn cool cats...😁