The structure of the Magnum City Club; a night visit, Caracas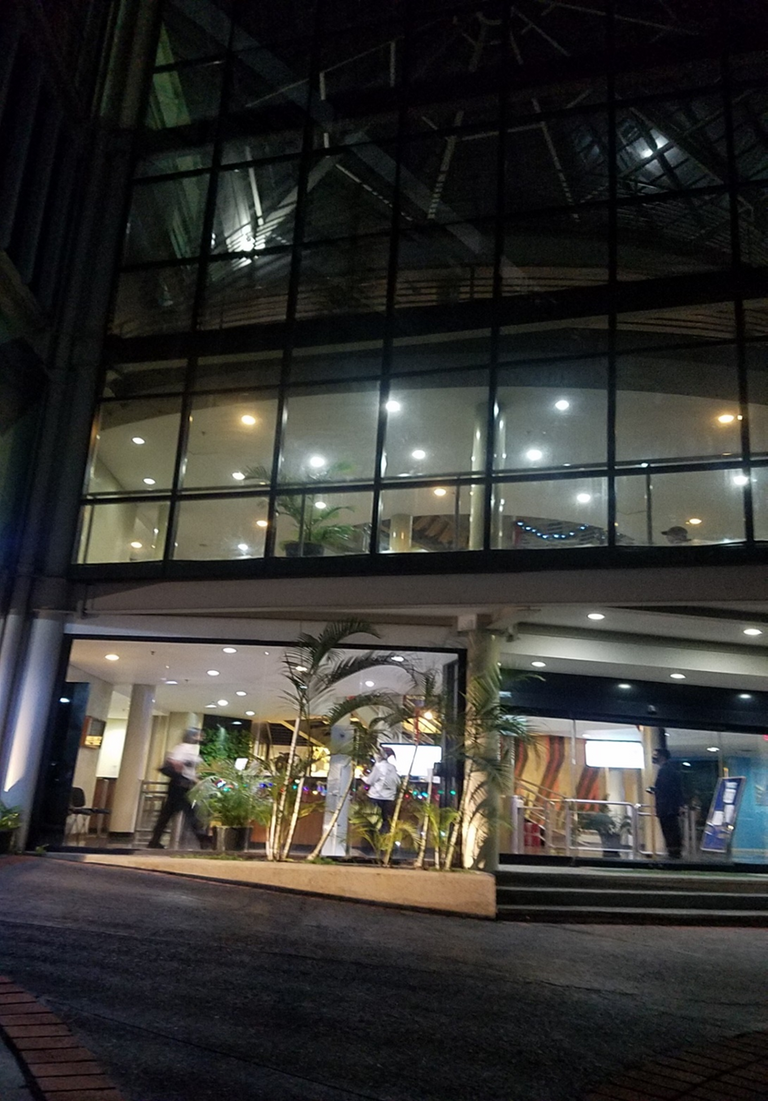 Club entrance (Entrada al Club)
     Taking advantage of a short stay in the city of Caracas, my niece Myrel invited me to dinner at a club located on a hill on the side of the Prados del Este highway. Thinking of my readers, critics and commentators of the communities that make up Hive, I decided to take a series of photographs of the premises that I found interesting from an architectural point of view, as well as being a privileged place due to the variety of services it provides and for its wide and varied facilities. I hope you enjoy the photos, all taken by me on a Christmas night with an excellent climate of 20 degrees Celsius.
---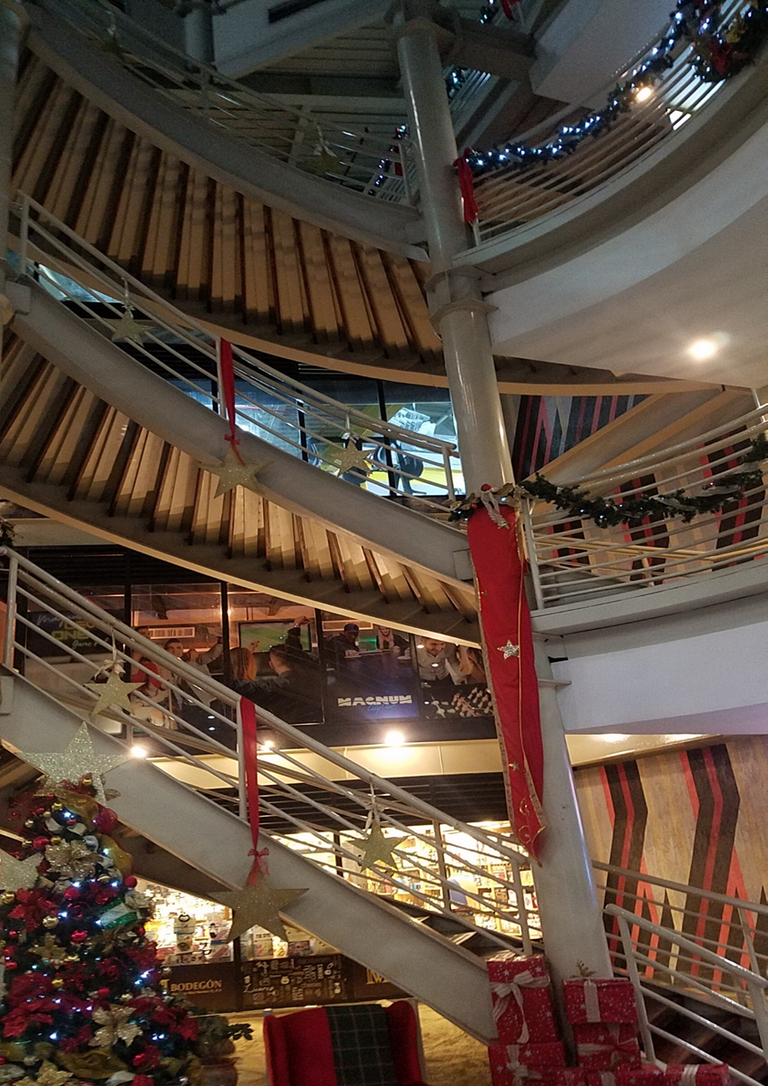 Once inside it is difficult not to notice the size of the column that arises from the
middle of the first floor (Una vez adentro es difícil no percatarse del tamaño de la columna que
surge desde el medio del primer piso)
     To get to the Club facilities it is necessary to climb a steep hill, which cannot be felt in the car, but which must be very difficult to climb on foot. Once this climb has been overcome, you will find the modern buildings of the Club; The first thing that catches the attention are the walls of the facades, totally transparent that make it easier to perceive the activities that take place inside; This fact is repeated throughout the interior structure of the Club as the walls of the facilities that face the staircase are made of transparent glass.
---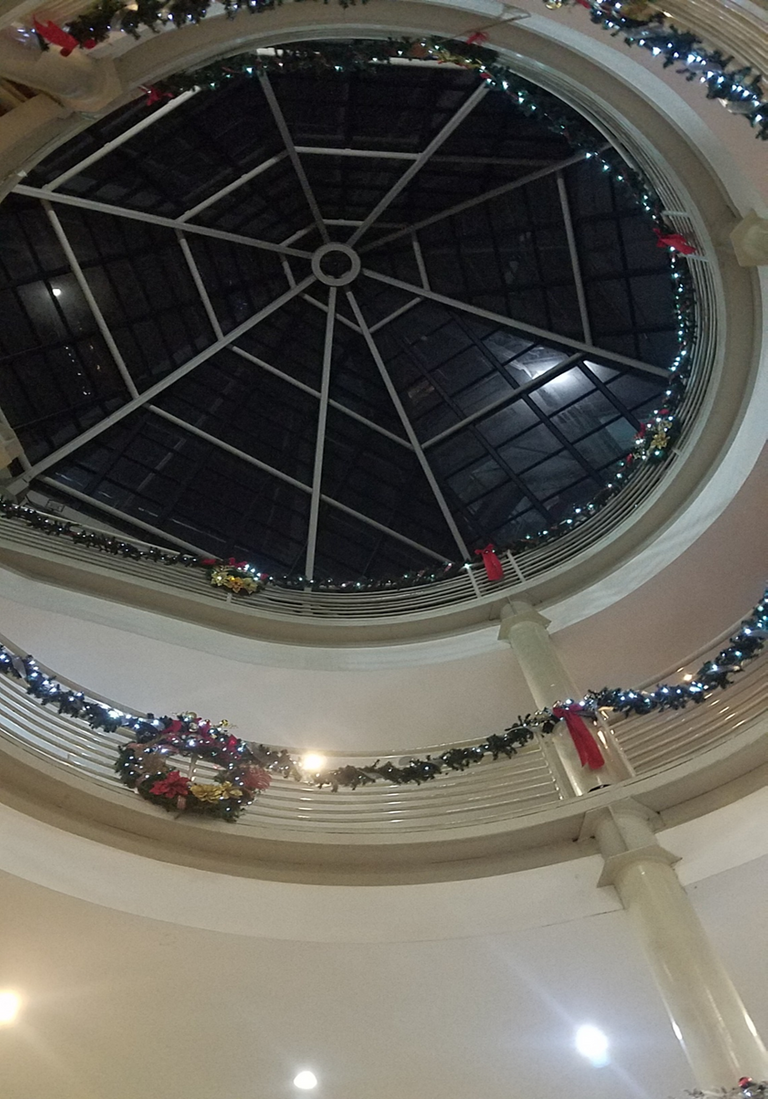 The three domes of the club are giant skylights through which light enters the interior (Las tres cúpulas del club son gigantes claraboyas por donde entra la luz al interior)
     The Club has been built in what was previously a shooting range, it has three floors, basements for parking vehicles, wide and varied sports facilities, international food restaurants, a still life and meeting rooms.
---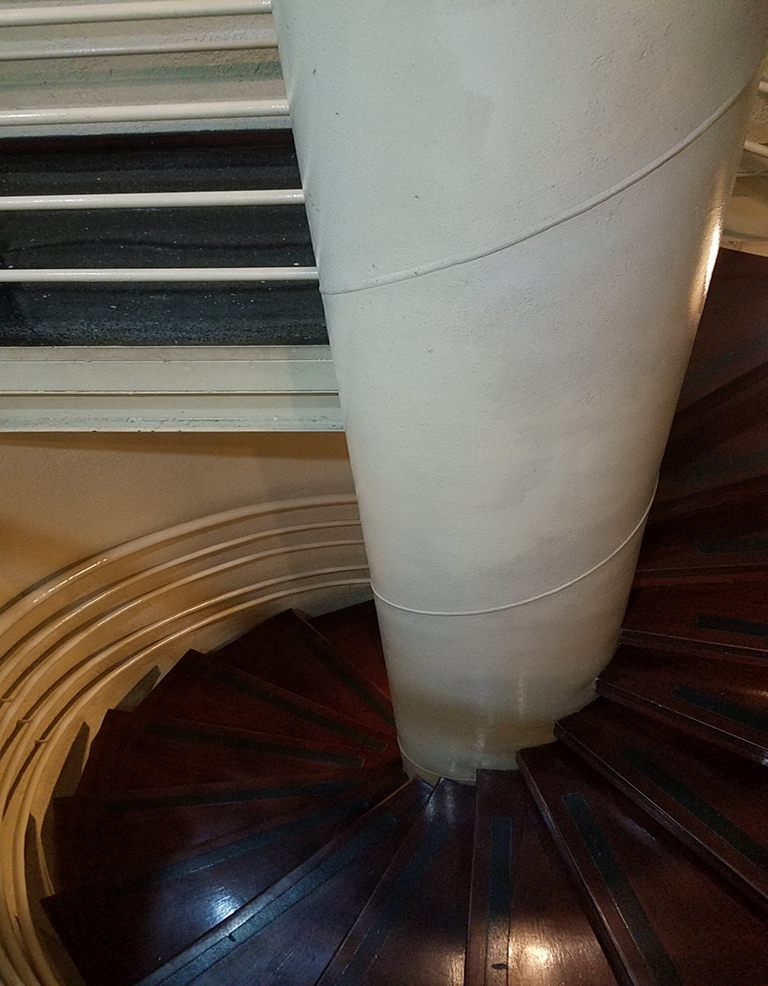 On one side of the building is this marvelous column, from where a spiral staircase emerges (En un costado del edificio se encuentra esta portentosa columna, de donde surge una escalera en forma de caracol)
     The Magnum City Club Civil Association was established in 1998, when facilities of various types were inaugurated. Among the most outstanding we can name the swimming pool, built on the top floor of the building, as well as the jacuzzi, the fast-food restaurant next to the pool, with drinks for adults and children, as well as a pizzeria.
---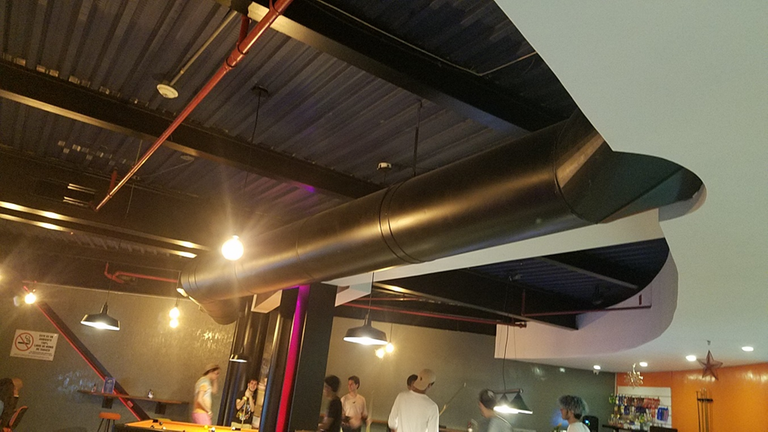 Roof of the pizzeria (Techo de la pizzería)
     On the intermediate floors there is the Bowling court, a small target shooting gallery, Racquet Ball courts and a huge room for multi-recreational use, it also has an auditorium, a room for table games, a nursery, a gym and a fitness center. All these facilities are equipped with first-rate equipment and state-of-the-art technology for their operation.
---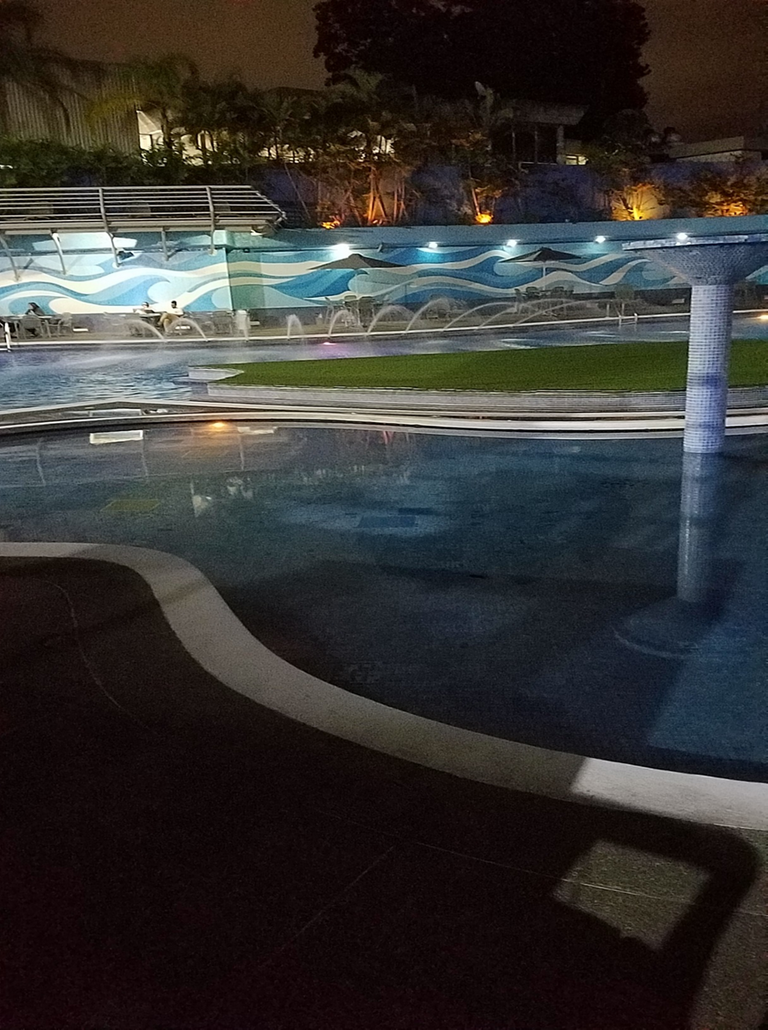 The main pool whose walls are decorated as if they were waves of the sea (La piscina principal cuyas paredes están decoradas como si fueran olas del mar)
     The finishes of the floors in the sports facilities are all high-resistance polished wood. The columns that support the building are exposed and serve as the architectural design of the building as a whole.
---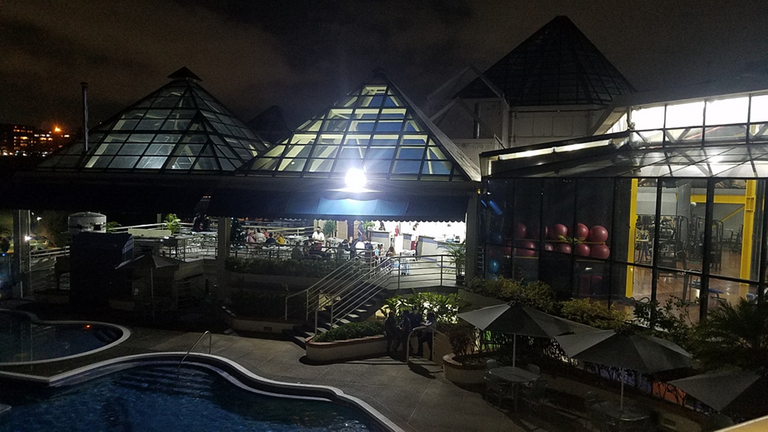 From the level of the pools you can see in detail the pyramidal domes of the roofs (Desde el nivel de las piscinas se ven en detalle las cúpulas piramidales de los techos)
---
La estructura del Magnum City Club, una visita nocturna, Caracas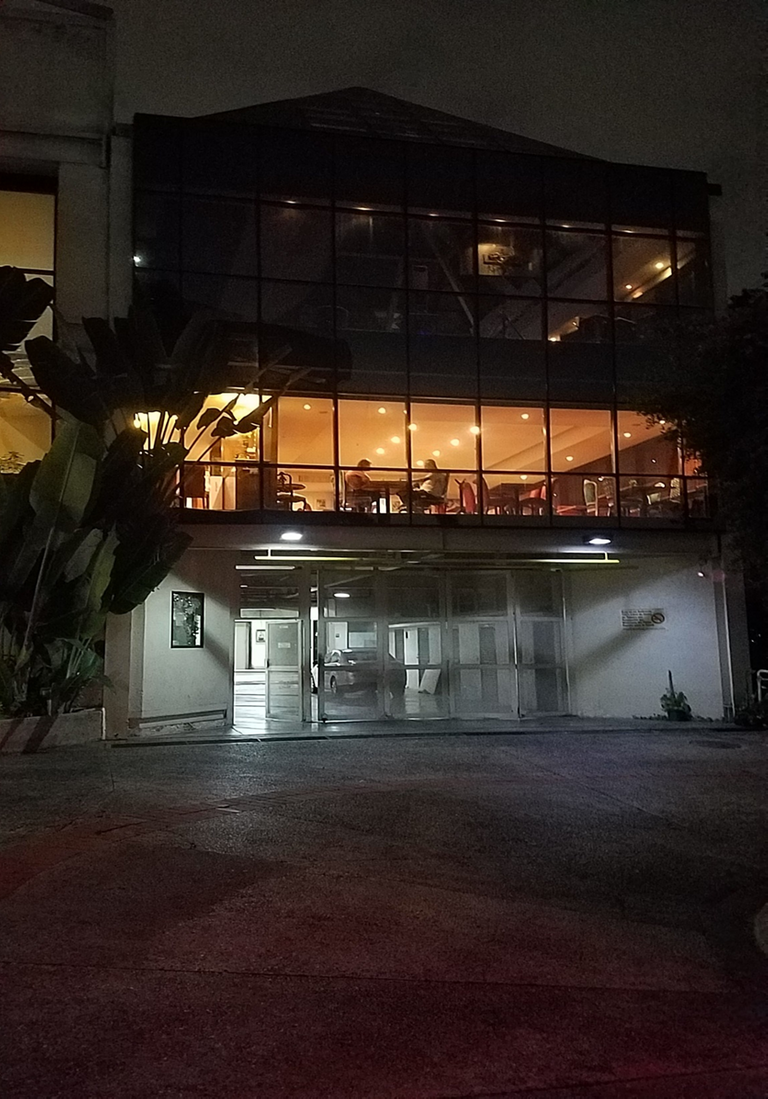 The glass walls allow distinguishing the activity carried out in each
one of the floors (Las paredes de vidrio permiten distinguir la actividad que se
realiza en cada uno de los pisos)
     Aprovechando una corta estadía en la ciudad de Caracas, mi sobrina Myrel me invitó a cenar a un club ubicado en un otero al costado de la autopista de Prados del Este. Pensando en mis lectores, críticos y comentaristas de las comunidades que conforman Hive me decidí a tomar una serie de fotografías del local que me pareció interesante desde un punto de vista arquitectónico, además de ser un lugar privilegiado por la variedad de los servicios que presta y por sus amplias y variadas instalaciones. Espero disfruten las fotos, tomadas todas por mi persona en una noche decembrina con un excelente clima de 20 grados centígrados.
---
All windows ans walls facing the stairs are made of transparent glass (Todas las
ventanas que dan hacia las escaleras son de vidrio transparente)
     Para llegar a las instalaciones del Club es preciso subir una empinada cuesta, que no se siente en el automóvil, pero que debe ser muy difícil de escalar caminando. Una vez superada esta subida se encuentran las modernas edificaciones del Club; lo primero que llama la atención son las paredes de las fachadas, totalmente transparentes que facilitan percibir las actividades que se realizan en su interior; este hecho se repite en toda la estructura interior del Club pues las paredes de las instalaciones que dan hacia la escalera son de vidrio transparente.
---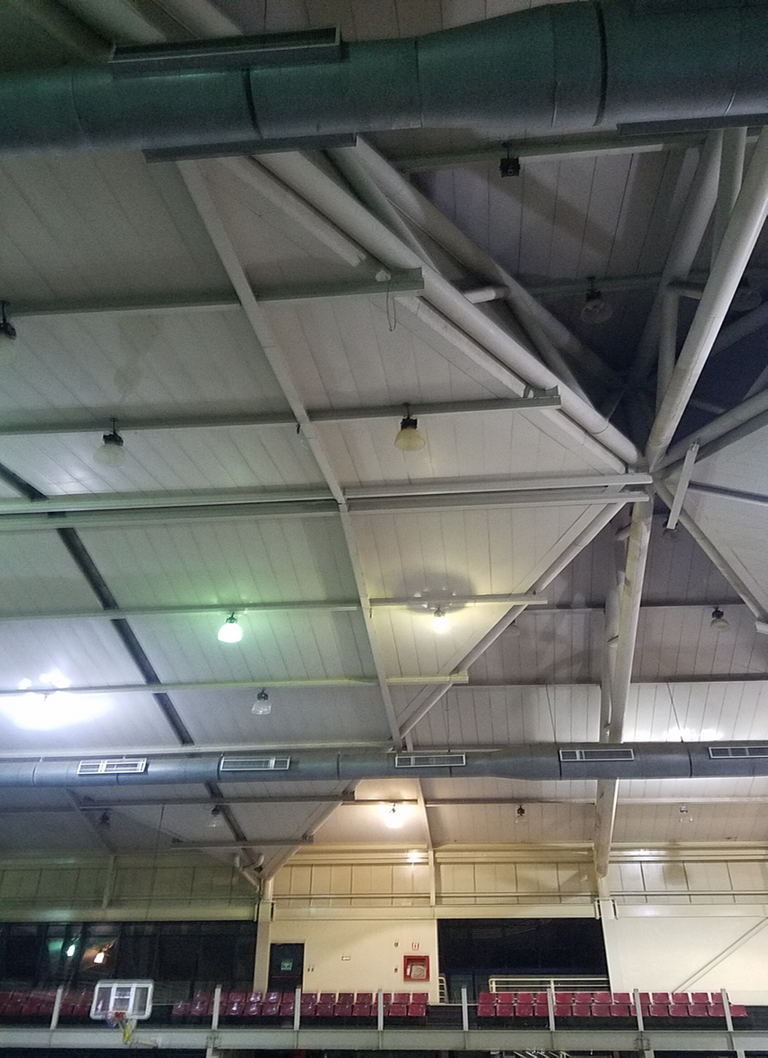 The ceiling of the multifunctional hall in irregular geometric shape (El techo del salón multifuncional en forma geométrica irregular)
     El Club ha sido construido en lo que anteriormente era un polígono de tiro, cuenta con tres plantas, sótanos para el estacionamiento de vehículos, amplias y variadas instalaciones deportivas, restaurantes de comida internacional, un bodegón y salones para reuniones.
---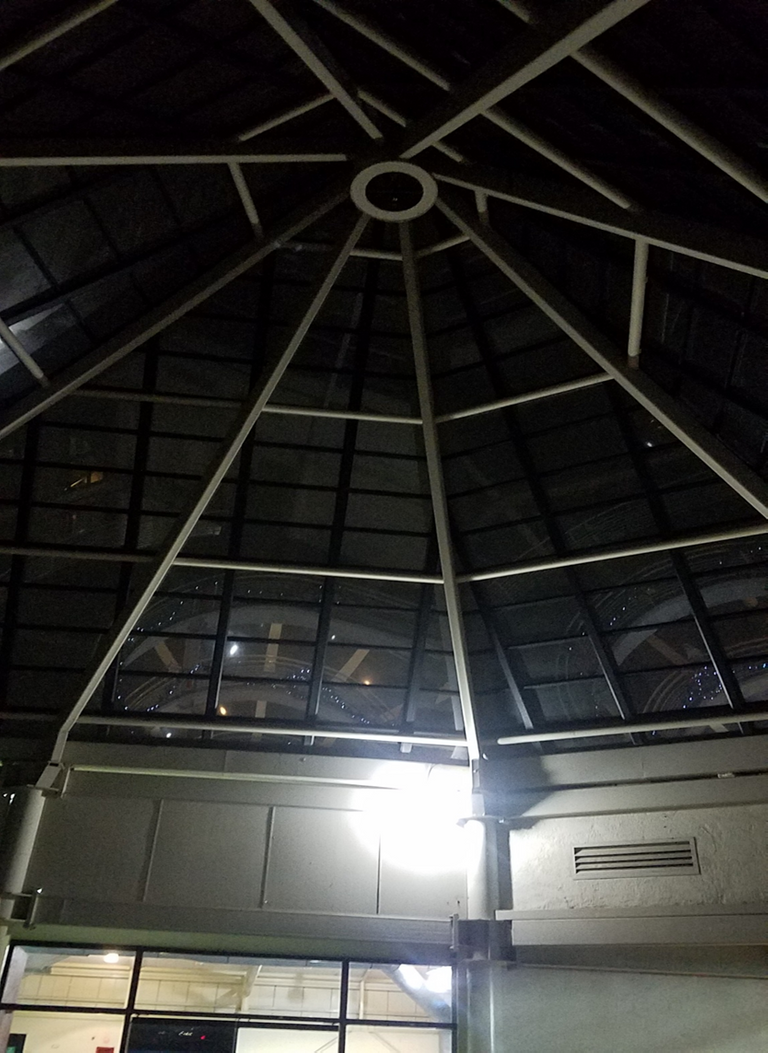 The dome of the ceiling seen from the top floor (La cúpula del techo vista desde el
último piso)
     La Asociación Civil Magnum City Club se constituyó en 1998, cuando se inauguraron las instalaciones de diversos tipos. Entre los más destacados podemos nombrar la piscina, construida en el último piso del edificio, al igual que el jacuzzi, el restaurante de comida rápida al lado de la piscina, con expendio de bebidas para grandes y chicos, además de una pizzería.
---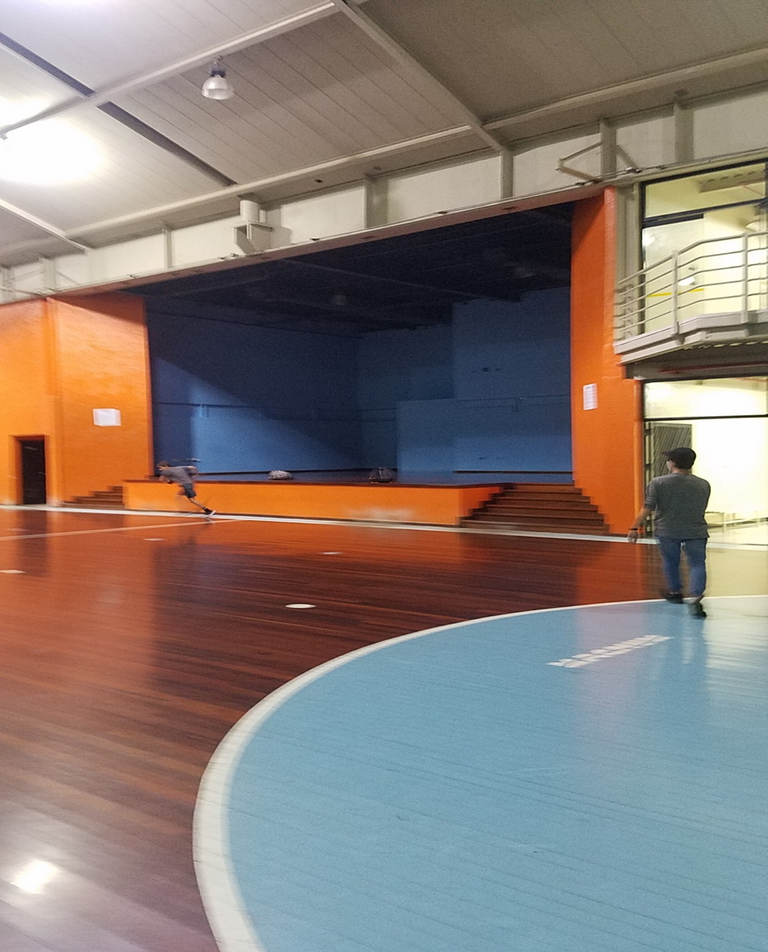 In the multifunctional room there is a stage for staging plays and concerts (En la sala multifuncional se encuentra una especie de escenario para el montaje de obras de teatro y conciertos)
     En los pisos intermedios se encuentra la cancha de Bowling, una pequeña galería de tiro al blanco, canchas de Racquet Ball y una inmensa sala de uso multirecreacional, tiene además un auditórium, un salón para juego de mesas, guardería, un gimnasio y un fitness center, todas estas instalaciones están dotadas de equipos de primera y tecnología de punta para su funcionamiento.
---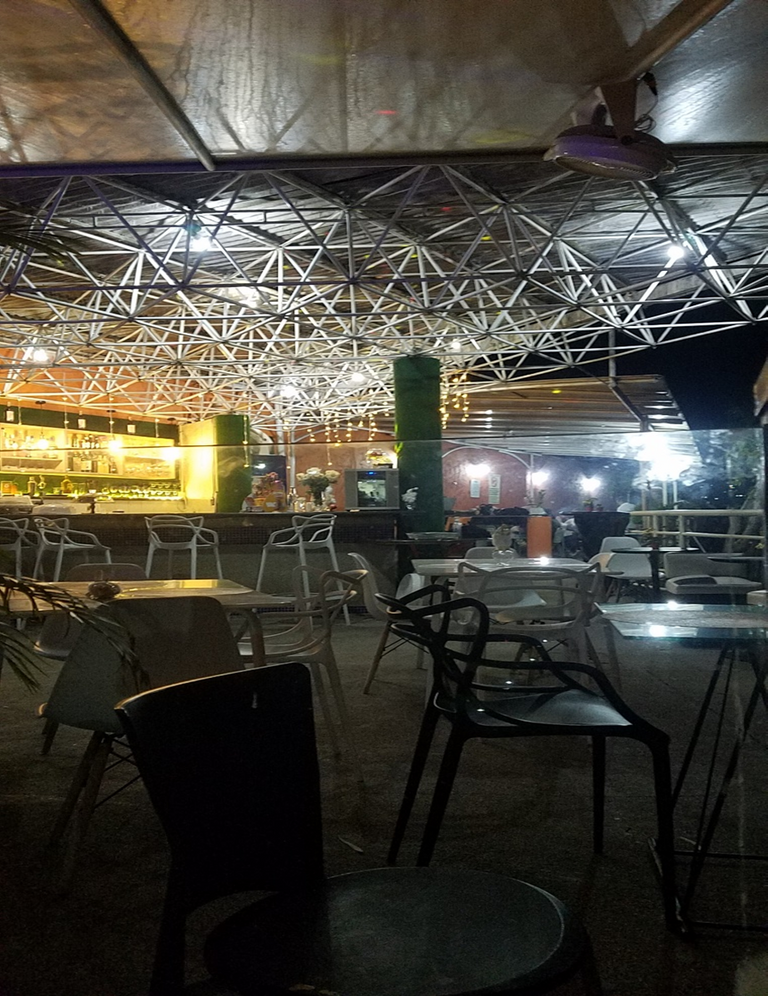 The bar-restaurant, next to the pools, with its striking roof (El bar restaurante, al lado de las piscinas, con su llamativo techo)
     Los acabados de los pisos en las instalaciones deportivas son todas de madera pulida de alta resistencia. Las columnas que soportan el edificio están a la vista y sirven de diseño arquitectónico al edificio como un todo.
---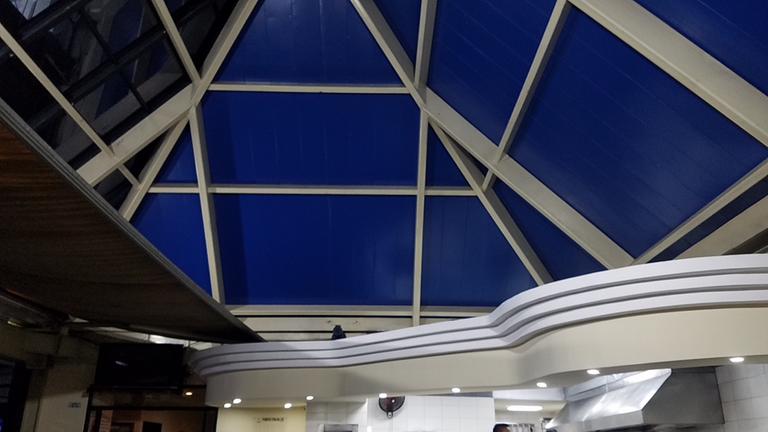 View of the roof structure, in metal and tempered glass, from the floor where the pool is located (Vista de la estructura del techo, en metal y vidrio templado, desde el piso donde está la piscina)
---
Photo Gallery (Galería de fotos)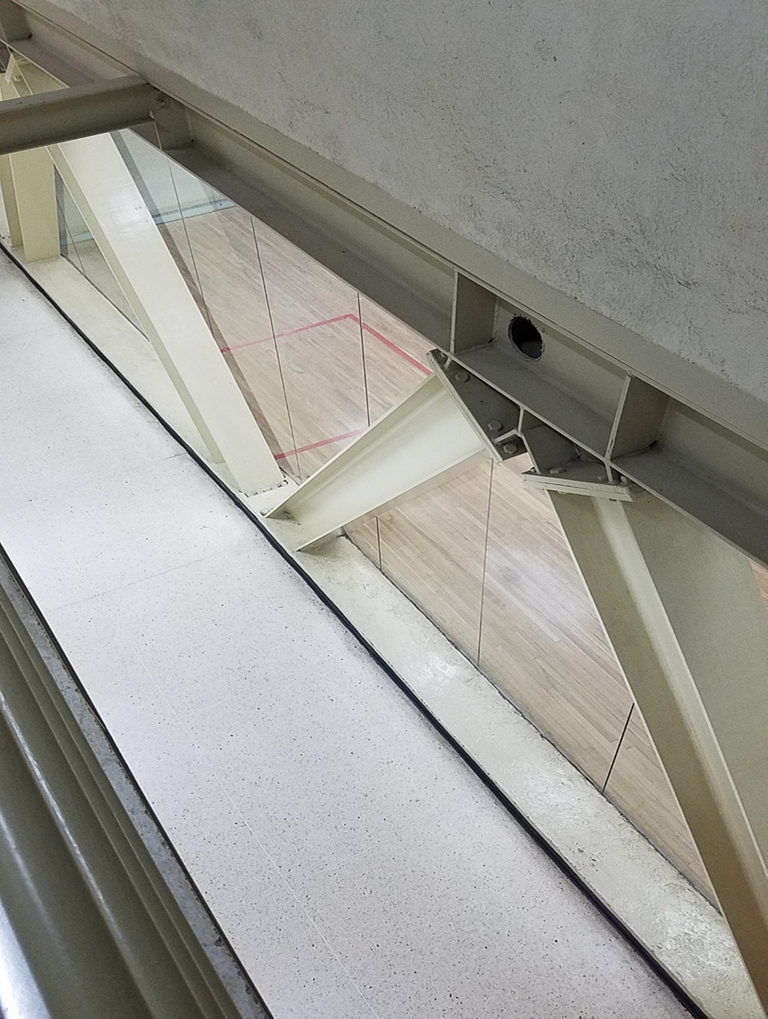 Details of an articulated joint (Detalles de una unión articulada)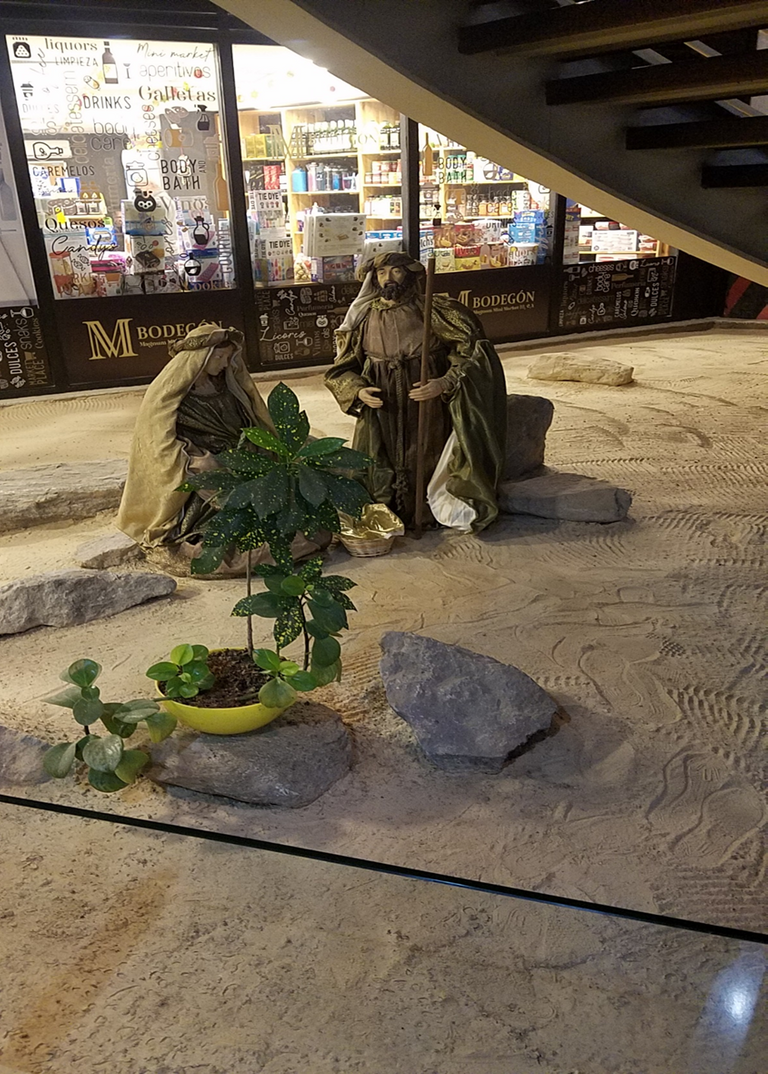 Under the staircase, on the first floor, a life-size nativity of Jesus has been placed. (Debajo
de la escalera, en el primer piso, se ha colocado un nacimiento de Jesús, tamaño natural)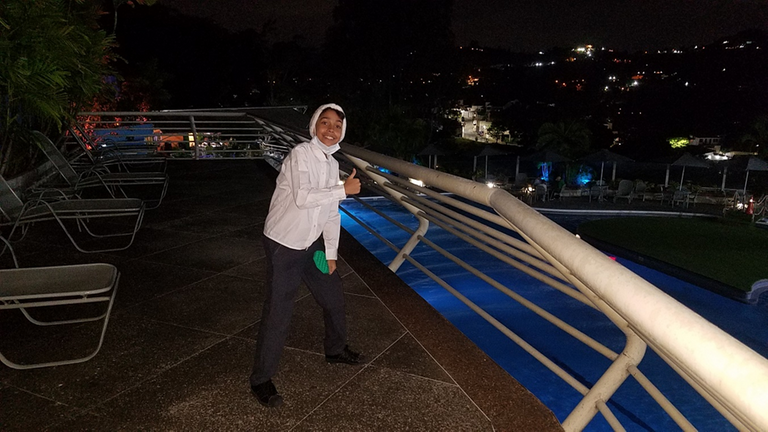 From the upper level of the building you can see part of the south of the city of Caracas. In the photo Diego, my great-nephew (Desde el nivel superior del edificio se puede ver parte del sur de la ciudad de Caracas. En la foto Diego, mi sobrino nieto)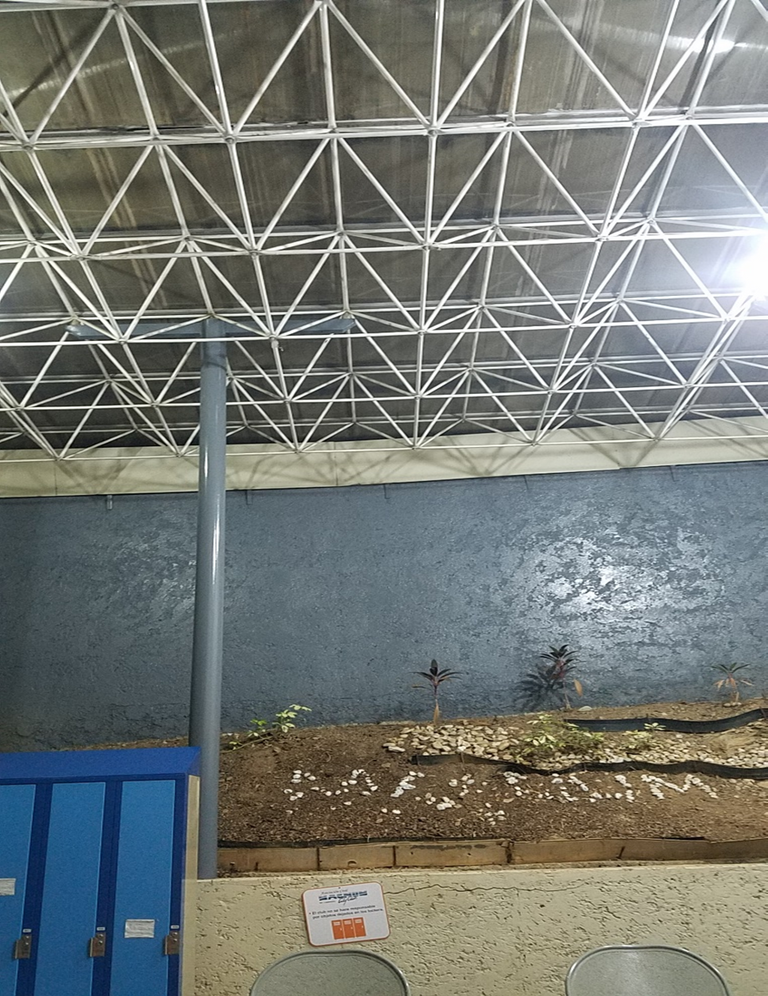 Metal beehive ceiling in a small club space (Techo en forma de colmena metálica en un pequeño espacio del club)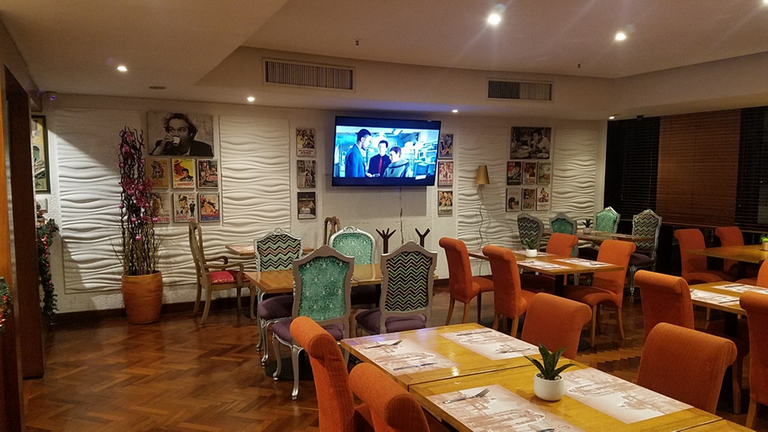 In the international restaurant, a corrugated wall attracts attention (En el restaurante de comida internacional llama la atención una pared corrugada)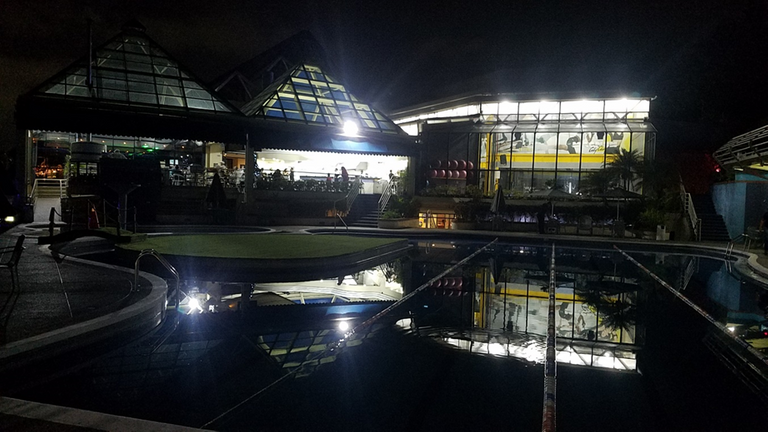 The figure of the club reflected in the pool (La figura del club reflejada en la piscina)
Sports facilities (Instalaciones deportivas)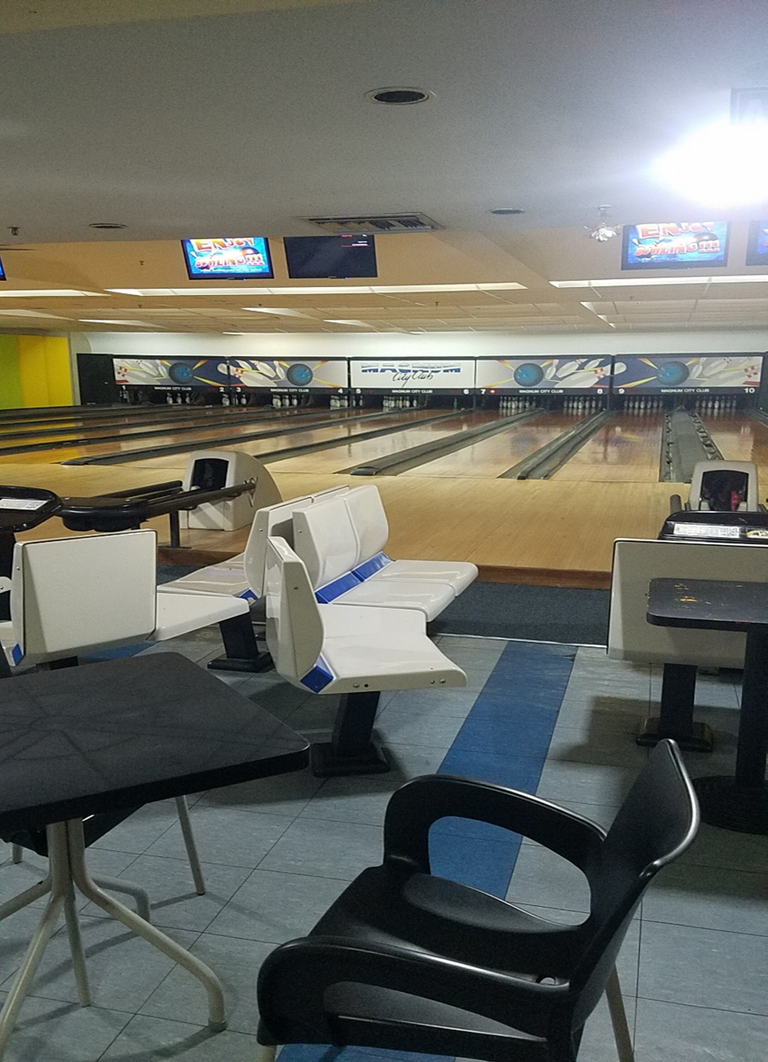 Bowling courts (Las canchas de Bowling)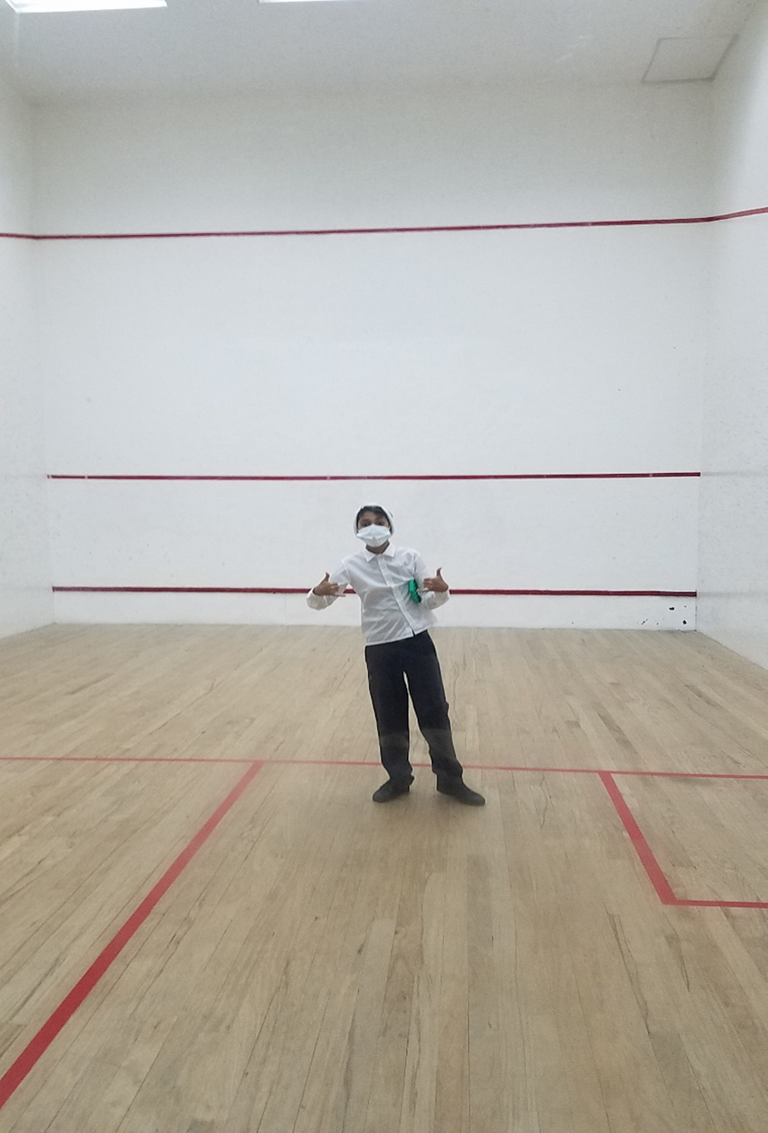 Diego, my great-nephew,who served as a guide to know the facilities of the club, inside a racquet ball court (Diego, mi sobrino-nieto, quien me sirvió de guía para conocer las instalaciones del club, dentro de una cancha de racquet ball)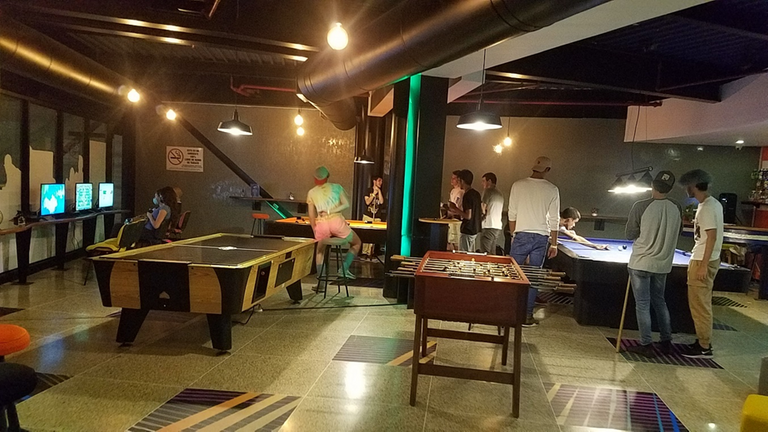 Multiple games room (Salón de juegos múltiples)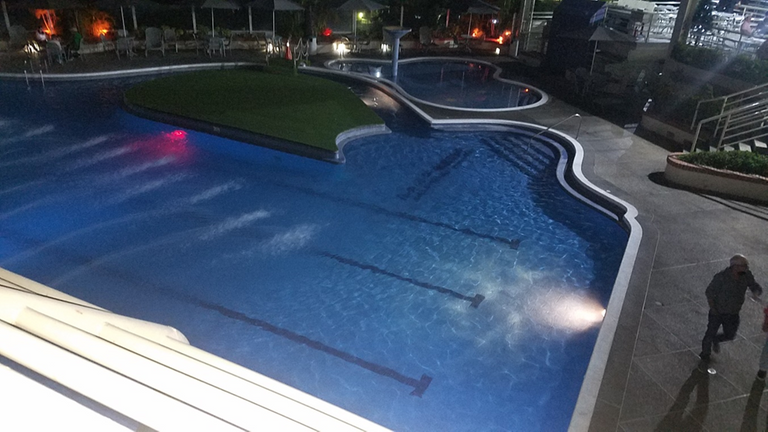 Pool set (Conjunto de piscinas)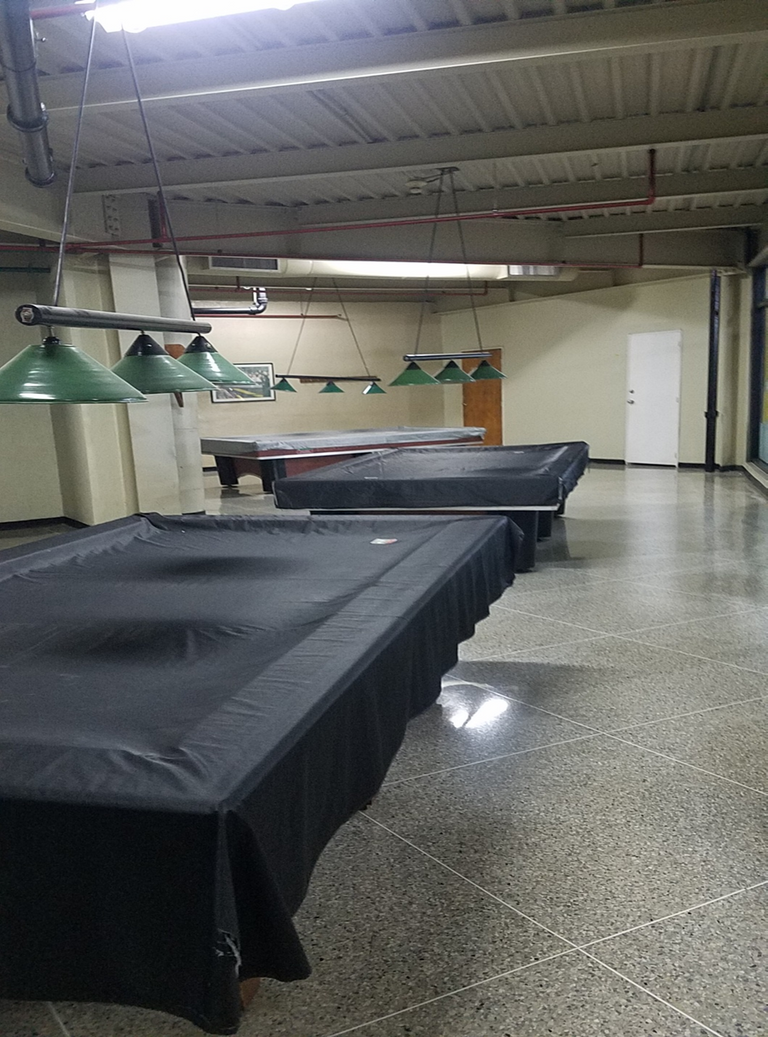 Billiard room with its low ceilings for greater illumination with specially placed lamps (Salón de billar con sus techos bajos para lograr mayor iluminación con lámparas especialmente colocadas)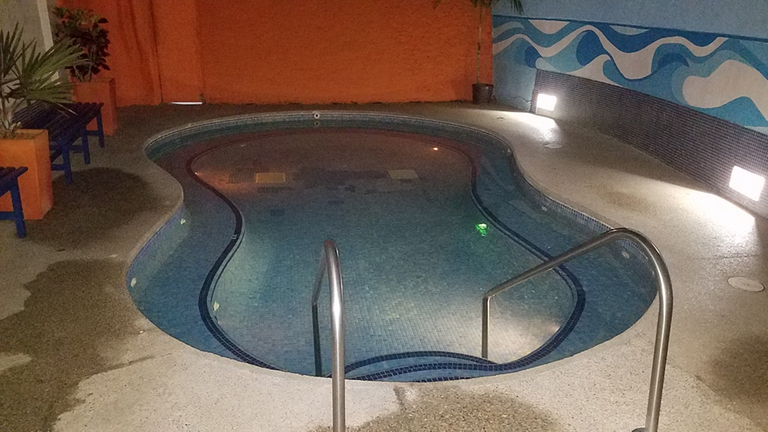 The Jacuzzi on a higher level than the pool (El jacuzzi en un nivel mas alto que la piscina)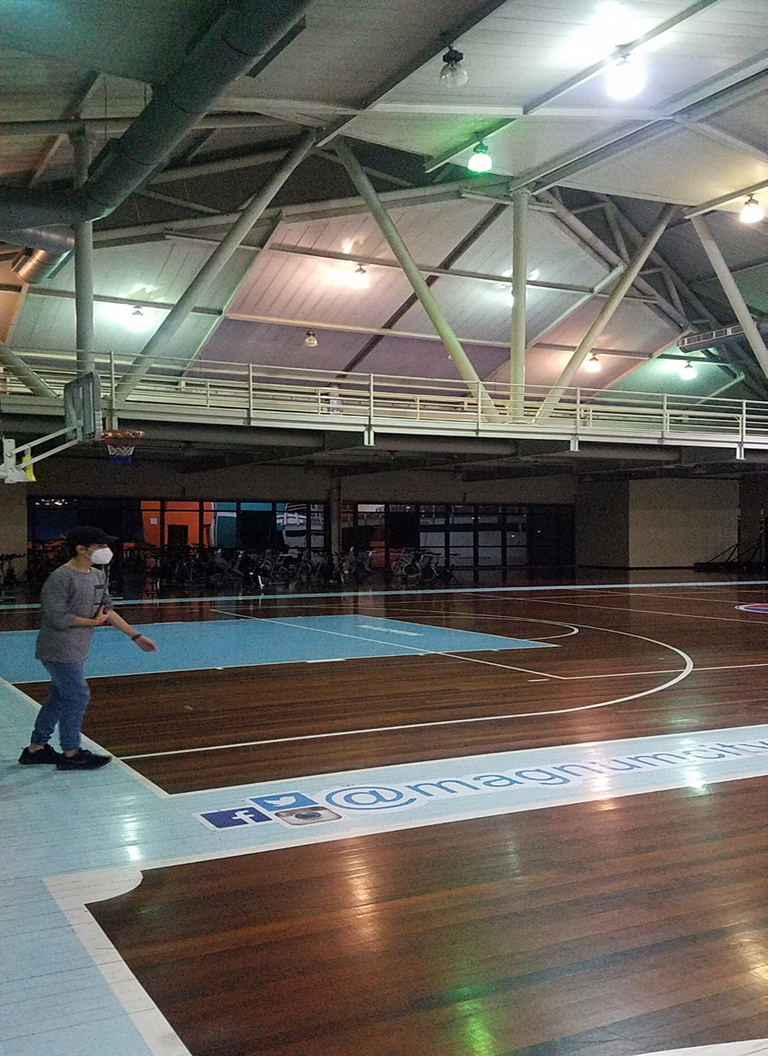 The multifunctional room with courts to perform several sports disciplines at the same time (La sala multifuncional con canchas para realizar varias disciplinas deportivas al mismo tiempo)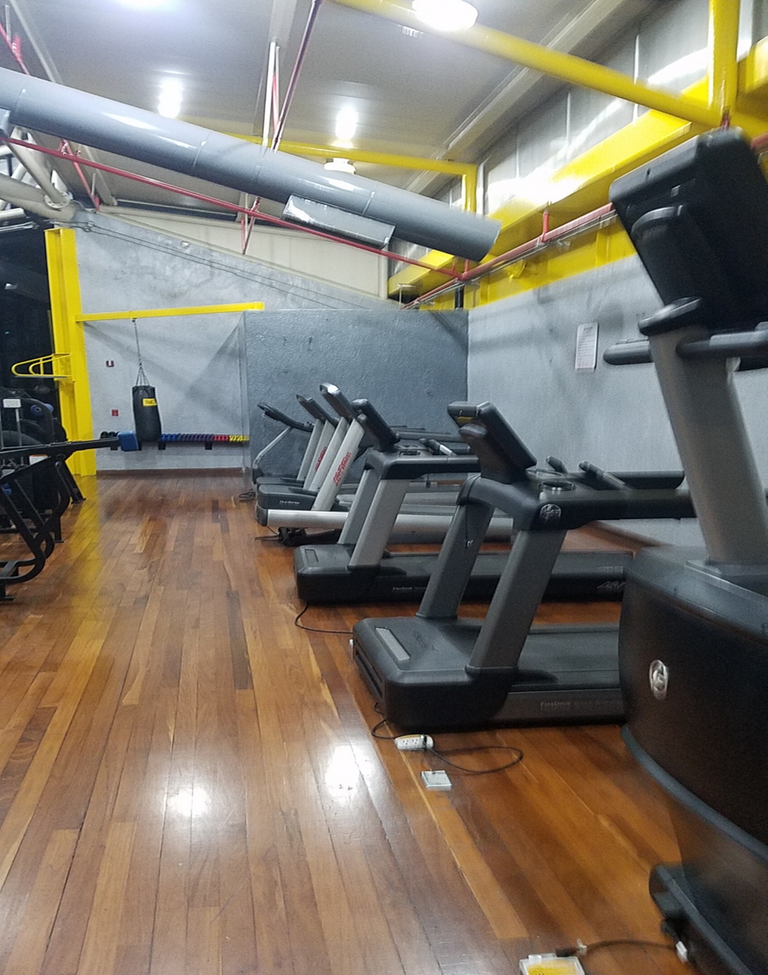 Part of the gym (Parte del gimnasio)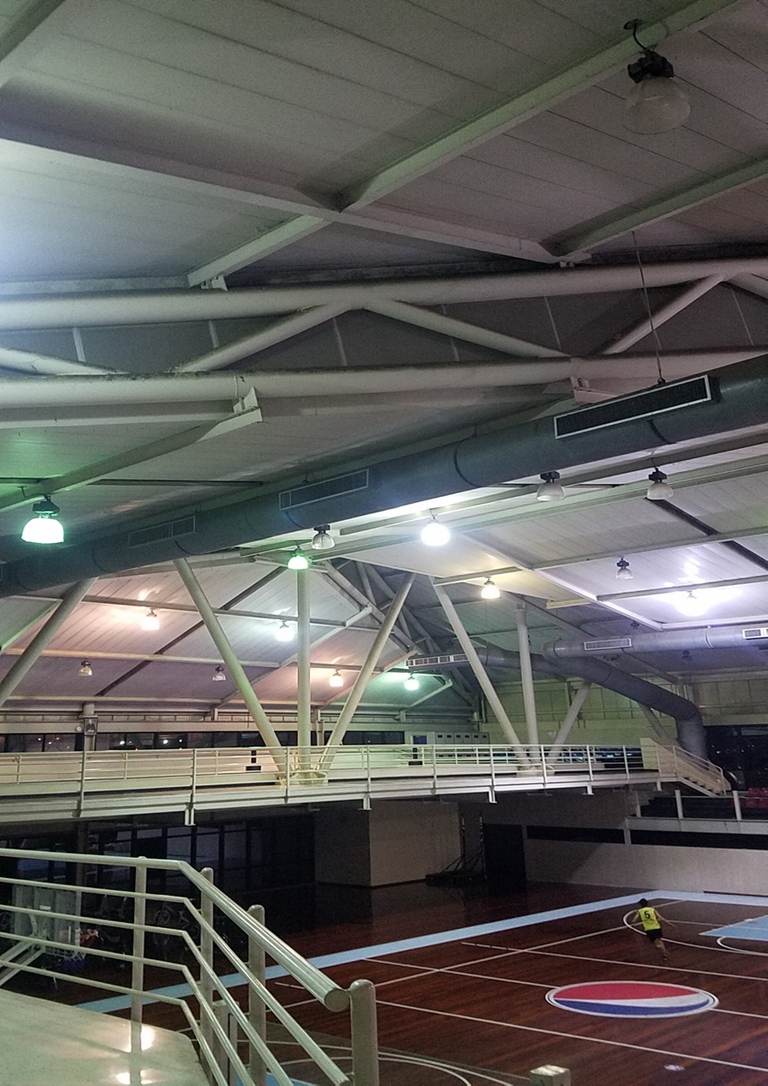 Panoramic of the multidisciplinary field (Panorámica de la cancha multidisciplinar)