The Hotel Humboldt stupendous architectural work at 2200 meters high in Caracas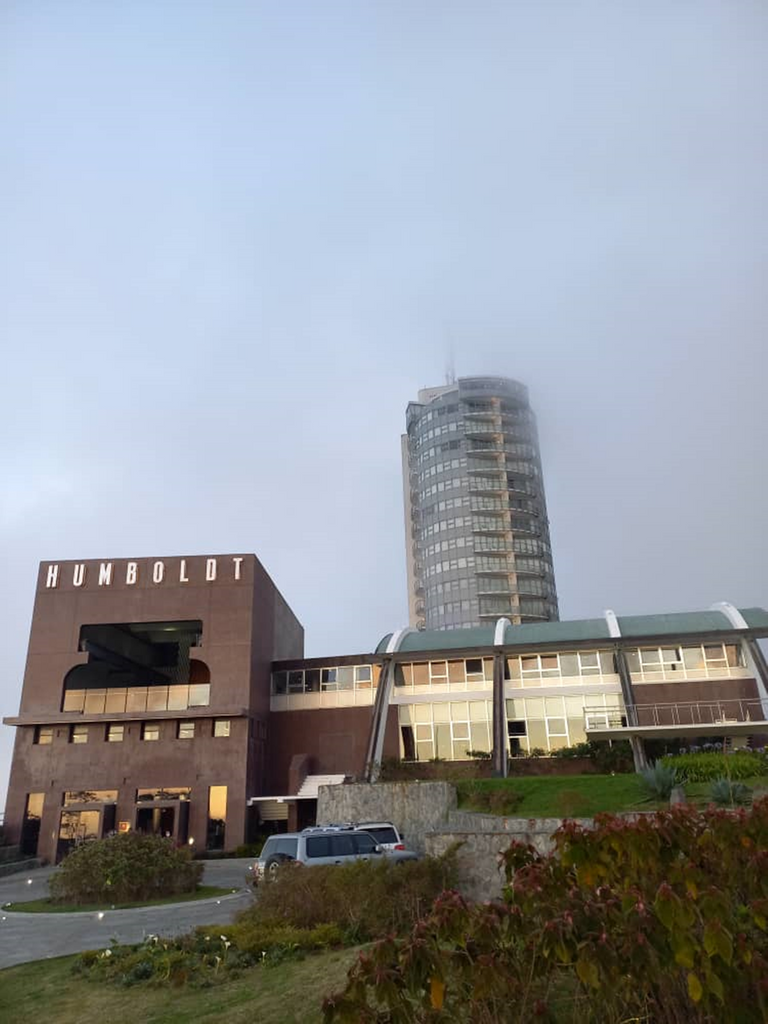 Entrance to the social area of the Hotel (Entrada al área social del Hotel) Family photo
     In January of this year, when the pandemic had subsided, my niece Myrel, her two children, and her fiancé visited the Hotel Humboldt. At the cable car station, located in the Maripérez urbanization, they began their journey in comfortable cabins for 20 minutes until they reached the top; As the section of the cable car, which should reach the hotel lobby, was not in operation, they had two options: board a "buggy" that continues to climb until reaching that impressive glass and aluminum structure: the Hotel Humboldt, or arrive on foot through a few meters of boulevard, option selected by my relatives. Upon arriving at the Hotel grounds, they found it, like most of the time, surrounded by thick clouds, which suddenly open up to give way to unimaginable views of the city and the Caribbean Sea. The majority of photos that I share with you were taken by my niece Myrel, I have only considered it pertinent to add a few photos from the internet that I consider to give a broader view of the building.
---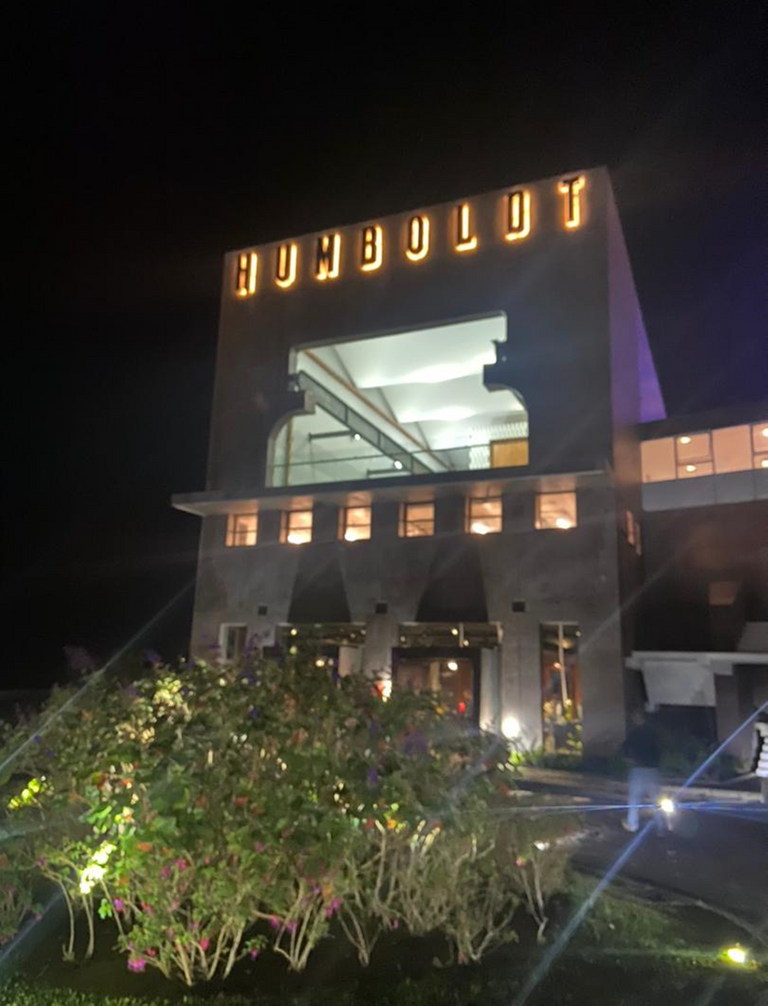 The jewel in the crown of Venezuelan architecture, from the beginning of the second half of the 20th century, is the Hotel Humboldt, built at more than 2,200 meters above sea level on the highest point of the Waraira Repano National Park (El Ávila), the mountain and a national park that surrounds the city of Caracas, which can be compared to a lighthouse from where you can see the city of Caracas to the north and the Caribbean Sea to the south and at the same time it can be seen from almost any point of the Capital and from the open sea.
---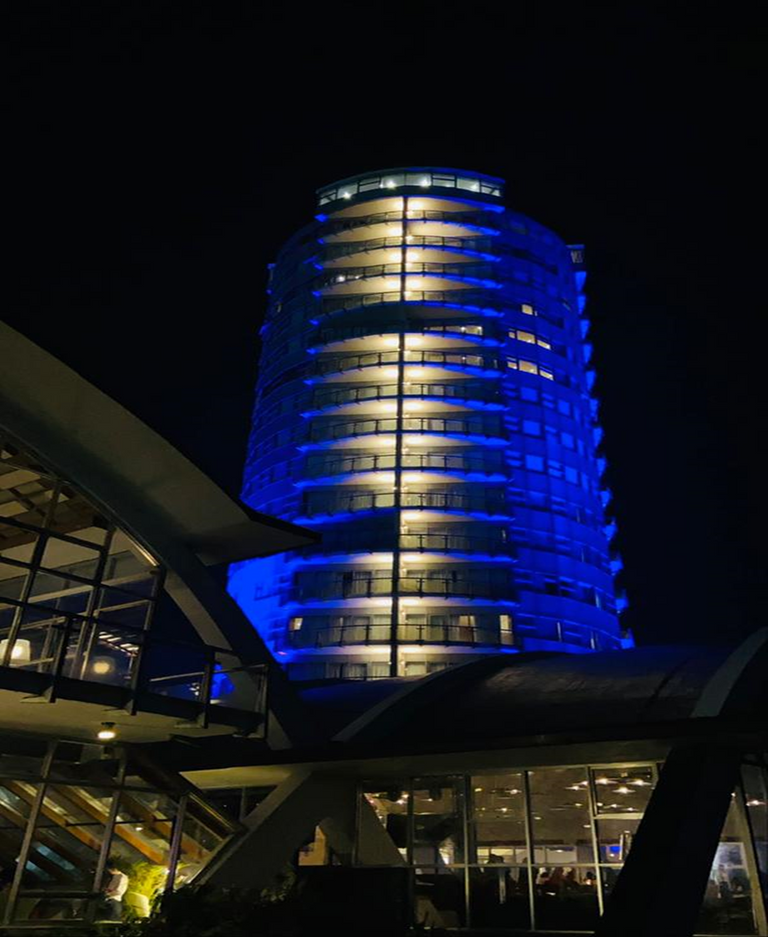 The work, begun and completed in 1956, was designed by the Venezuelan architect Tomás Sanabria, one of the disciples of functionalism at the Harvard School of Design, where he was a student of Walter Gropius, founder of the Bauhaus; his idea was to build a hotel complex not only with air-conditioned and comfortable rooms but also, taking advantage of the location, a space for fun and rest. It is necessary to point out that the same year in which the work was completed, the cable car was put into operation.
---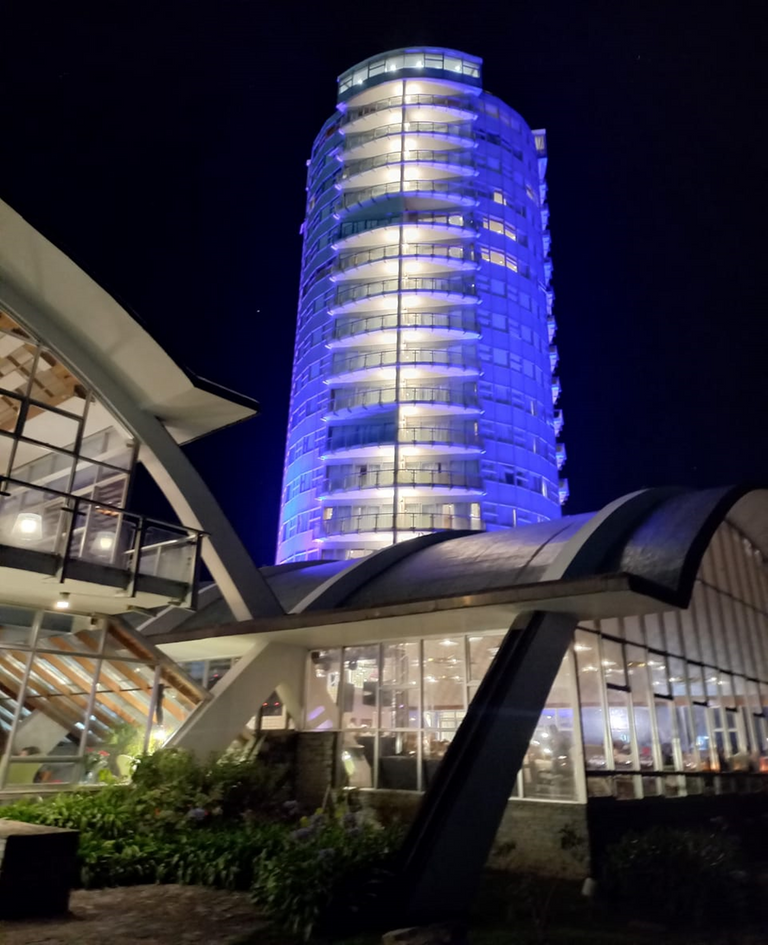 Hotel photo taken at dusk (Foto del hotel tomada al anochecer) Family photo
     Sanabria, accompanied by the engineers Gustavo Larrazabal and Oscar Urreiztieta and a team of 600 people, achieved a marriage between history and technology whose son is this magnificent structure in the form of a cylindrical tower, which rises 60 meters, with 14 floors and 70 rooms and a bar with a 360-degree panoramic view. The engineer Urreiztieta was the one who made the calculations for the cylindrical tower with a facade capable of resisting the strong winds that hit the place, as well as building hanging slabs supported by tensors. Sanabria, in addition to being the intellectual creator of the entire work, designed the lamps and tilting windows to facilitate cleaning. At the same time, he joined the brilliant minds of the time, such as the sculptor and designer Cornelis Zitman for the manufacture of Danish-style furniture, and the landscape designer Roberto Burle Marx who took care of the gardens around the hotel. It should be noted that this work is considered an architectural, engineering, and landscape feat at the time of its construction.
---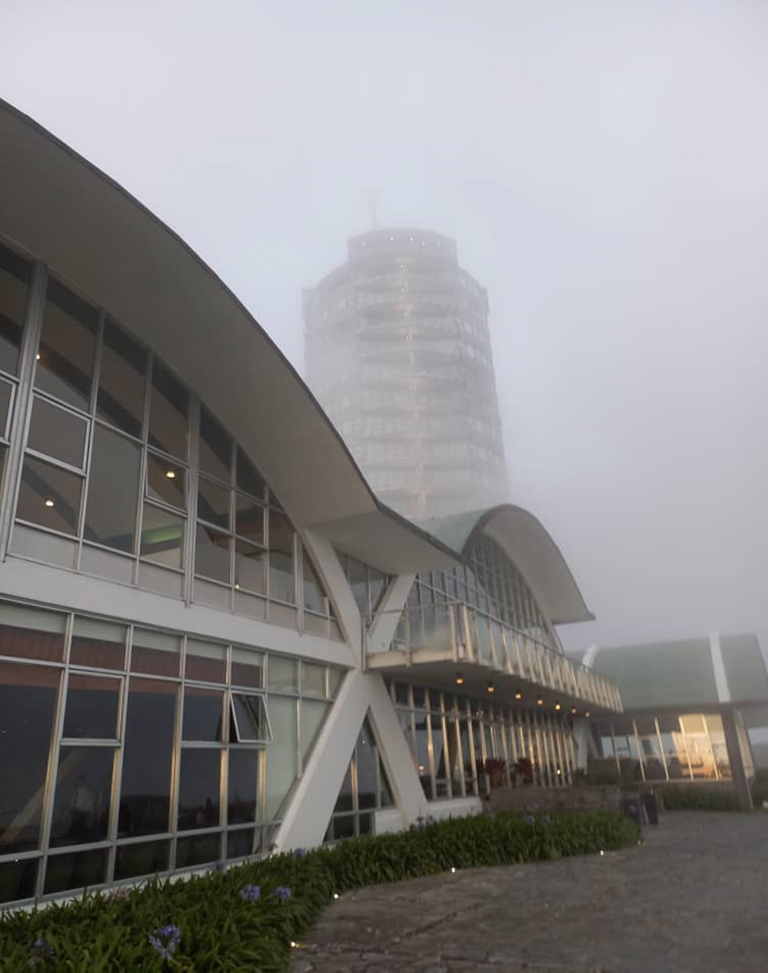 In the foreground the social area building and in the background the hotel already immersed in the clouds (En primer plano el edificio de área social y al fondo el hotel ya inmerso en las nubes) Family Photo
     On the first floors of the Hotel, there is a construction for social areas, entertainment and services, built with a series of vaulted and prismatic roofs. It is significant that the hotel was built in only 199 days, although it required the transfer of 40 million kilograms of material for its construction by mules and donkeys, as well as trucks that represented a danger because of the steepness of the dirt roads had to be overcome.
---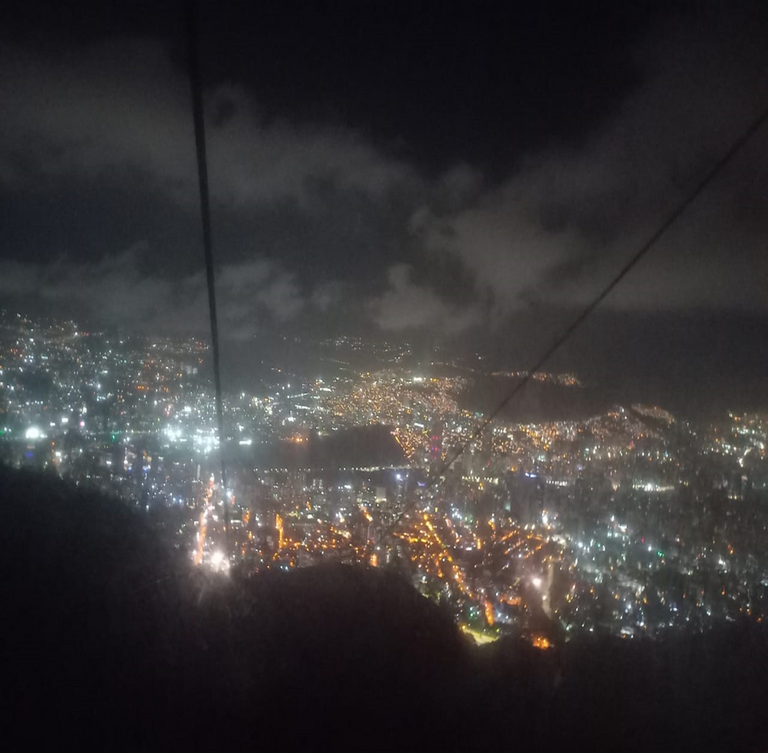 Night photo of the city of Caracas from the cable car (Foto nocturna de la ciudad de Caracas desde el teleférico) Family photo
     The black and white granite floors, designed by Sanabria, together with the murals by the Catalan artist Abel Valmitjana, who used mosaics, colors, and bronze in the manufacture of his works, make up a work of art to the aesthetic delight of visitors, which should be added the bimural, allegorical to the surrounding vegetation, which covers the walls of both the dance hall with a revolving floor and the large dining room.
---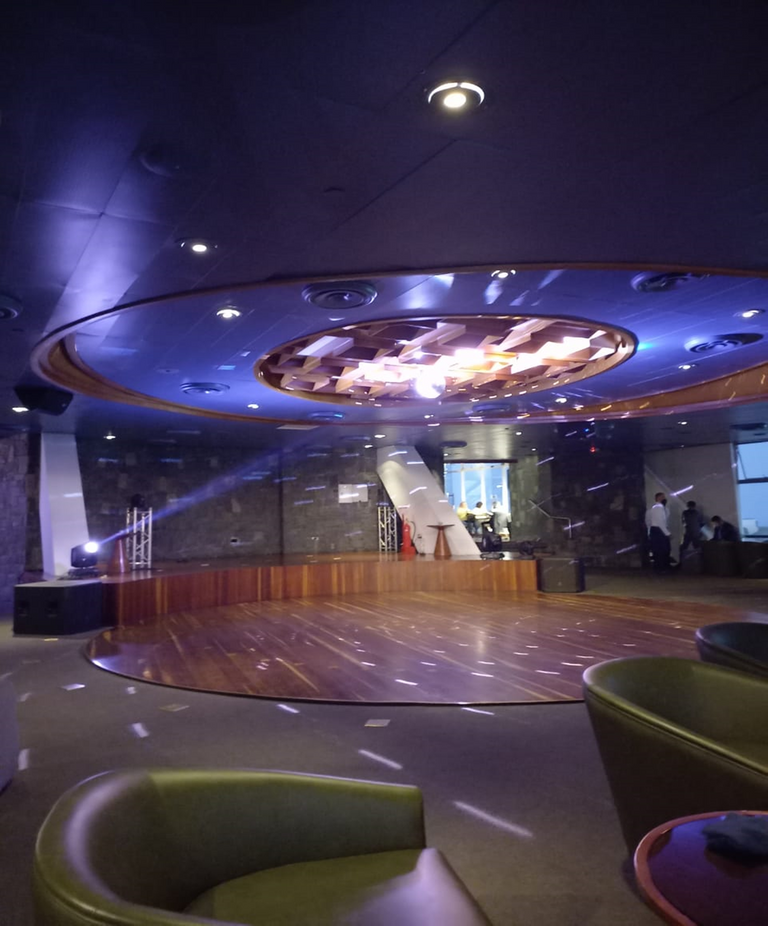 La Boîte, with its revolving dance floor and green leather seats, marked a milestone in the Caracas nightlife of the 1950s. Now, La Boîte has been restored to offer fun and fusion gastronomy) La Boîte, con su pista de baile giratoria y butacas de cuero verde, marcó un hito de la noche caraqueña de los años cincuenta. Ahora, La Boîte ha sido restaurada para ofrecer diversión y gastronomía fusión). Family photo
     The hotel was out of service for many years, so, from 2012 to 2018, a restoration of its facilities was carried out by a multidisciplinary team coordinated by the architect Gregoriy Vertullo, in charge of carrying out an intervention of the work for the recovery of all its spaces, respecting the original design and adapting the current technological requirements regarding hotels.
     I have personally visited, in the recent past, a couple of times and have enjoyed, not only of the social facilities of the hotel, but also of a beautiful town called Galipán, where they plant beautiful sunflower flowers, roses of different colors, carnations, coves, among others, in addition to enjoying a succulent lunch in one of the restaurants of the place.
---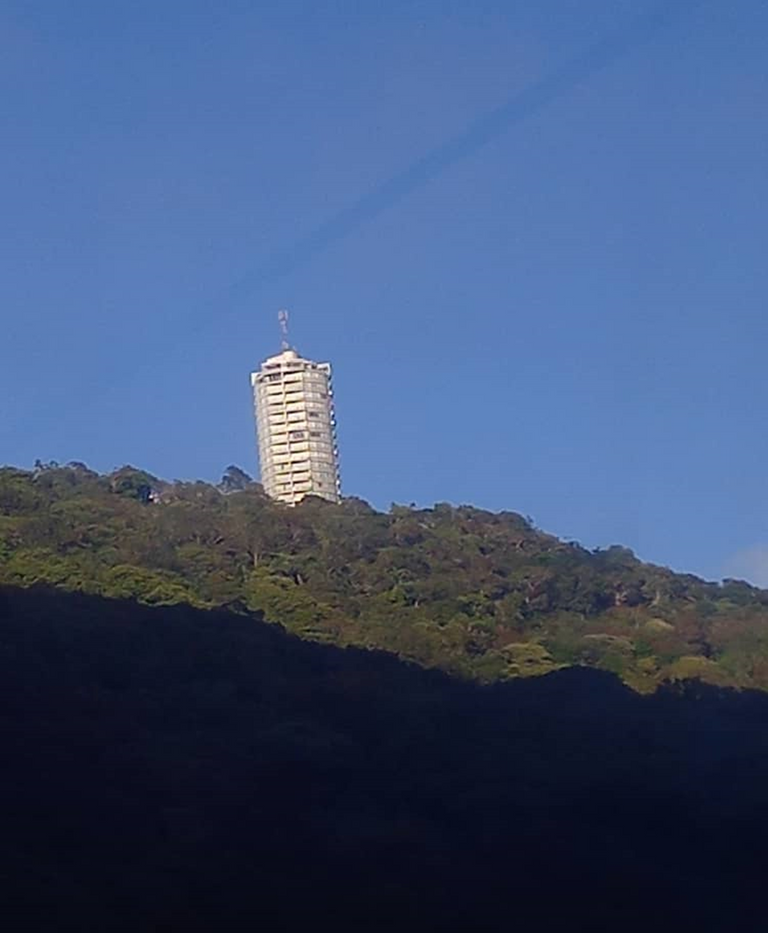 View of the hotel, from the cable car (Vista del hotel, desde el teleférico) Family photo
     In this building, since December 1963, the lights and curtains on its floors have been used, strategically placed every New Year, to simulate the Christian cross, a symbol of Christmas. For readers interested in technical data on the Hotel's structures, I invite you to visit the website https://iamvenezuela.com/2018/02/el-hotel-humboldt-la-joya-que-corona-el-avila/
---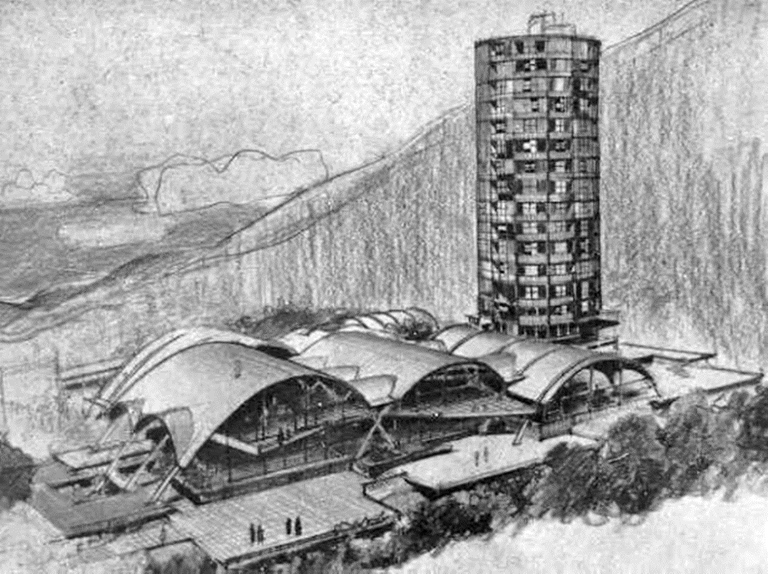 Sketch of the Hotel Humboldt made by its designer, the architect Tomás José Sanabria (Boceto del Hotel Humboldt realizado por su diseñador, el arquitecto Tomás José Sanabria) Image
---
El Hotel Humboldt estupenda obra arquitectónica a 2200 metros de altura en Caracas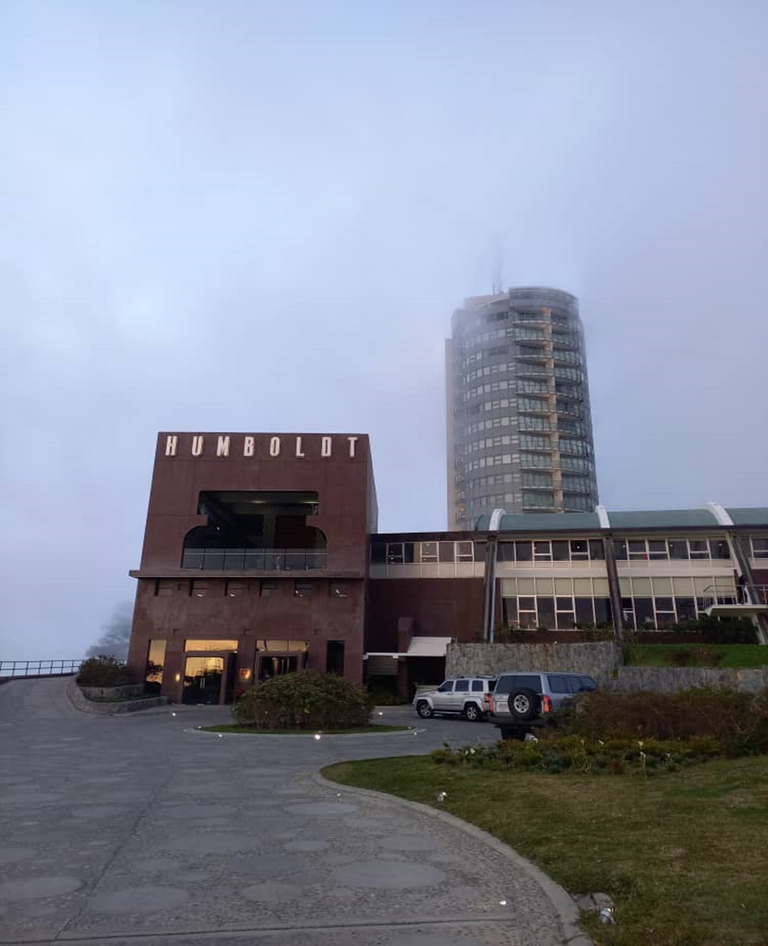 Another angle of the entrance to the facilities, the room tower in the background (Otro ángulo de la entrada a las instalaciones , la torre de habitaciones al fondo) Family photo
     En enero de este año, cuando había amainado la pandemia, mi sobrina Myrel, sus dos hijos y su prometido visitaron el Hotel Humboldt. En la estación del teleférico, ubicada en la urbanización Maripérez, iniciaron su travesía en unas confortables cabinas por espacio de 20 minutos hasta llegar a la cima; como el tramo del teleférico, que debería llegar hasta el lobby del hotel, no está en funcionamiento, tenían dos opciones: abordar un "buggy" que continúa subiendo hasta llegar a esa impresionante estructura de cristal y aluminio: el Hotel Humboldt o llegar a pie a través de unos metros de bulevar, opción seleccionada por mis familiares. Al llegar a los predios del Hotel lo encontraron, como la mayor parte del tiempo, rodeado por espesas nubes, que se abren de pronto para dar paso a inimaginables vistas de la ciudad y el mar caribe. El grupo mayoritario de fotos que comparto con ustedes fueron tomadas por mi sobrina Myrel, solo he considerado pertinente agregar algunas fotos de internet que considero dan una visión más amplia de la edificación.
---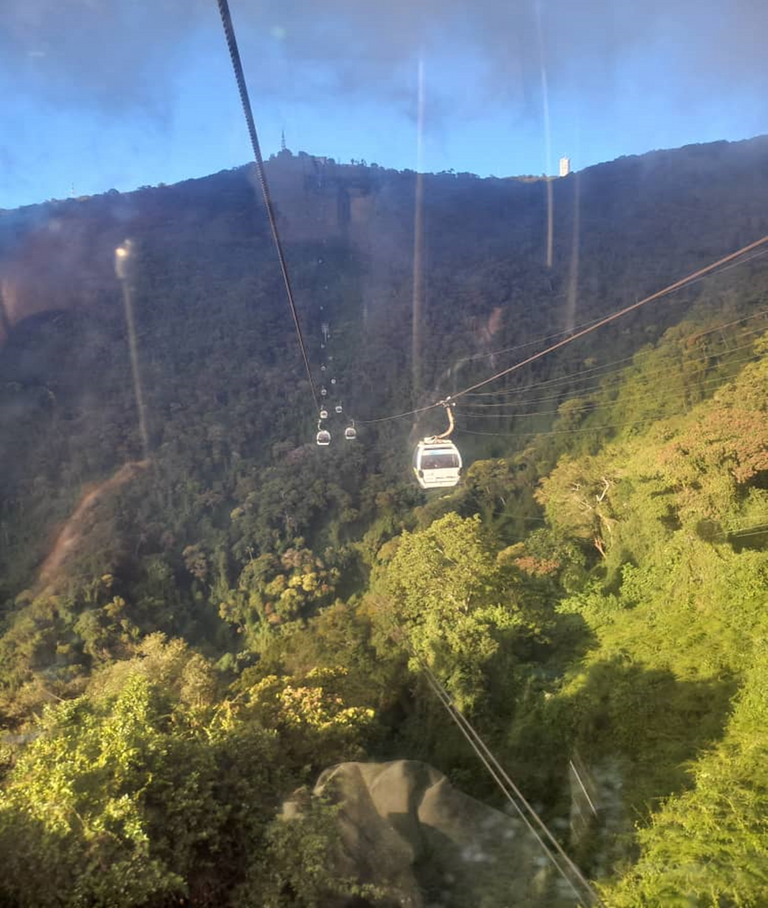 The cable car that leads to Ávila from the city of Caracas (El teleférico que conduce al Ávila desde la ciudad de Caracas) Family photo
     La joya de la corona de la arquitectura venezolana de inicios de la segunda mitad del siglo XX es el Hotel Humboldt, construido a más de 2.200 metros sobre el nivel del mar en lo más alto del Parque Nacional Waraira Repano (El Ávila), la montaña y parque nacional que rodea a la ciudad de Caracas., que puede compararse con un faro desde donde se puede divisar, al norte, la ciudad de Caracas y al sur, el mar Caribe y al mismo tiempo puede ser divisado desde casi cualquier punto de la Capital y desde el mar abierto.
     La obra, iniciada y terminada en 1956, fue diseñada por el arquitecto venezolano Tomás Sanabria, uno de los discípulos del funcionalismo en la escuela de diseño de Harvard, donde fue alumno de Walter Gropius, fundador de la Bauhaus; su idea fue construir un complejo hotelero no solo de habitaciones climatizadas y cómodas, sino también, aprovechando la ubicación, un espacio para la diversión y el descanso. Es menester señalar que el mismo año en que se terminó de construir la obra se puso en funcionamiento el teleférico.
---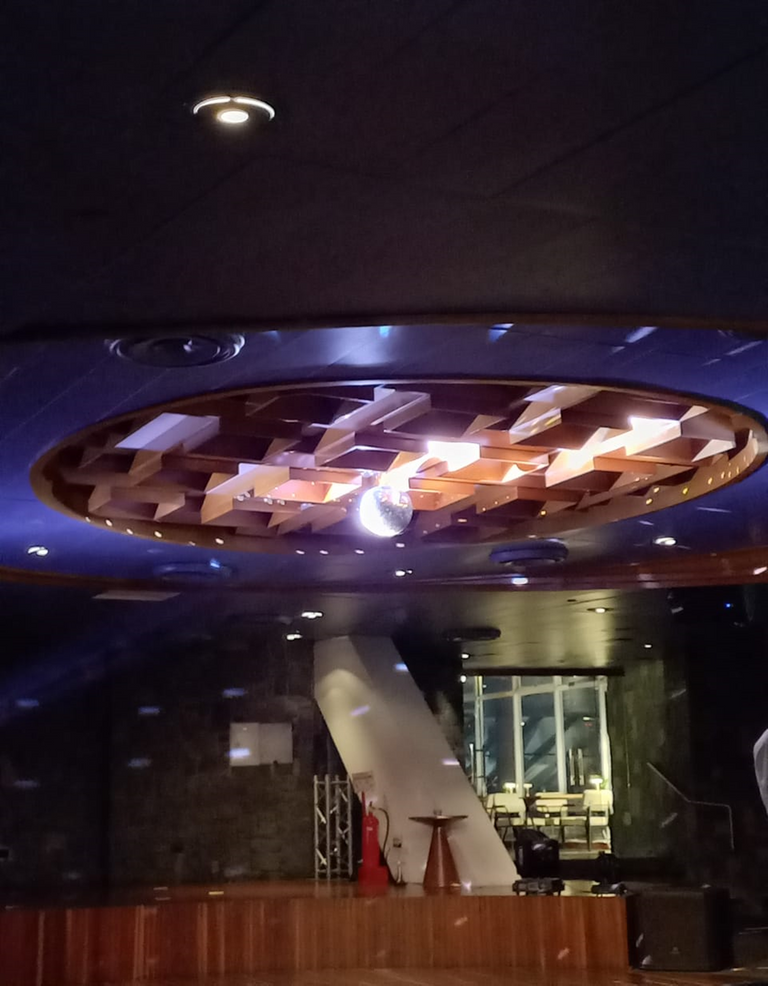 La Boîte with its revolving dance floor (La Boîte con su pista de baile giratoria). Family photo
     Sanabria, acompañado por los ingenieros Gustavo Larrazabal y Oscar Urreiztieta y un equipo de 600 personas, logró un matrimonio entre la historia y la tecnología cuyo hijo es esta magnífica estructura en forma de torre cilíndrica, que se eleva 60 metros, con 14 plantas y 70 habitaciones y un bar con una vista panorámica de 360 grados. El ingeniero Urreiztieta fue quien realizó los cálculos de la torre cilíndrica con una fachada capaz de resistir los fuerte vientos que azotan el lugar, así como construyó losas colgantes soportadas por tensores. Sanabria, además de ser el creador intelectual de toda la obra, diseñó las lámparas y las ventanas basculantes a fin de facilitar su limpieza. Al mismo tiempo se unió a mentes brillantes de la época, como el escultor y diseñador Cornelis Zitman para la fabricación de los muebles al estilo danés, y del paisajista Roberto Burle Marx quien se ocupó de los jardines de los alrededores del hotel. Cabe recalcar que esta obra se considera toda una proeza arquitectónica, ingenieril y paisajista para el momento de su construcción.
---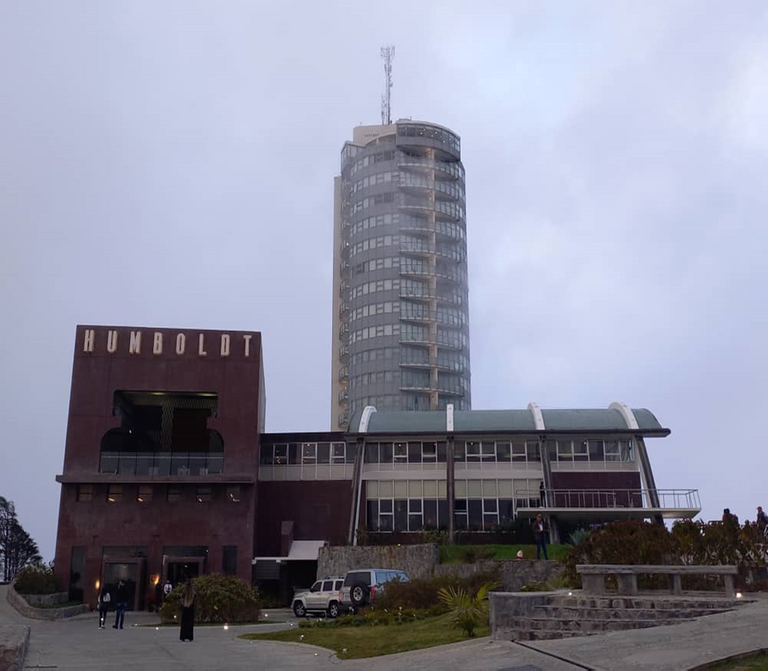 The hotel has an antenna on the roof for communications (El hotel pose una antena en el techo para las comunicaciones) Family photo
     En los primeros pisos del Hotel, se encuentra una edificación destinada a áreas sociales, entretenimiento y servicios, construida con una serie de cubiertas abovedadas y prismáticas. Es significativo que esta obra fuese construida solo en 199 días, aunque necesitó el traslado en mulas y burros de carga de 40 millones de kilogramos del material para su construcción y de camiones que representaban un peligro porque había que sortear lo empinado de los caminos de tierra.
---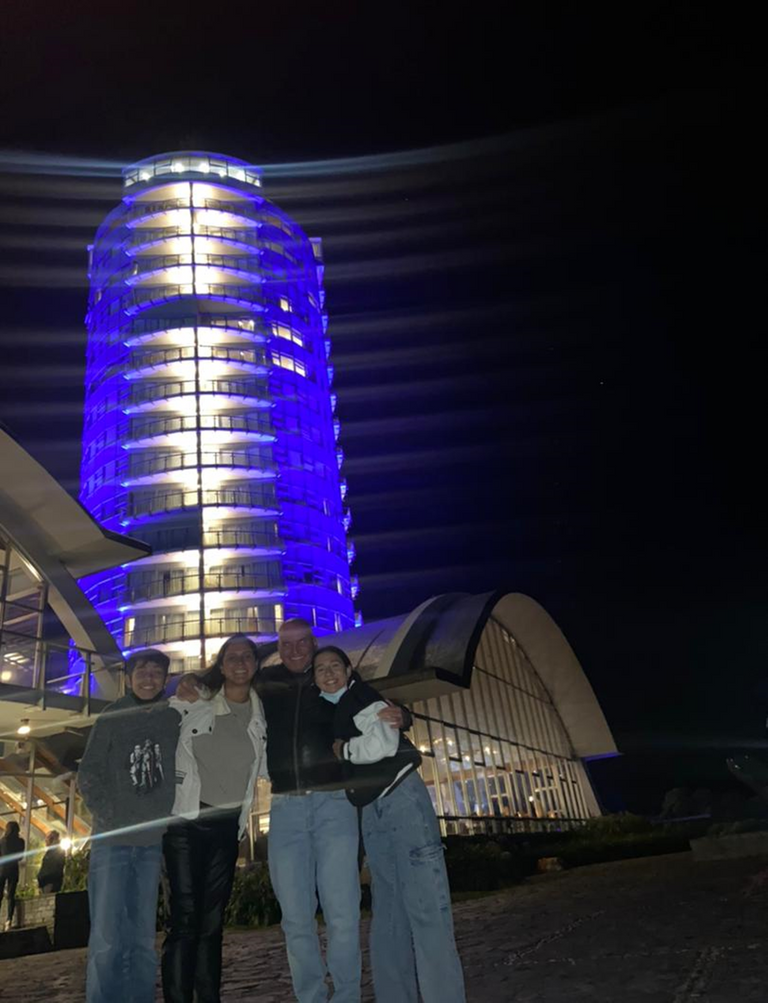 Los pisos de granito blanco y negro, diseñados por Sanabria, conjuntamente con los murales del artista catalán Abel Valmitjana, quien usó mosaicos, colores y bronce en la fabricación de sus obras, configuran una obra de arte para el deleite estético de los visitantes, a lo que habría que sumar el bimural, alegórico a la vegetación circundante, que cubre paredes tanto del salón de baile con pista giratoria, como del amplio comedor.
---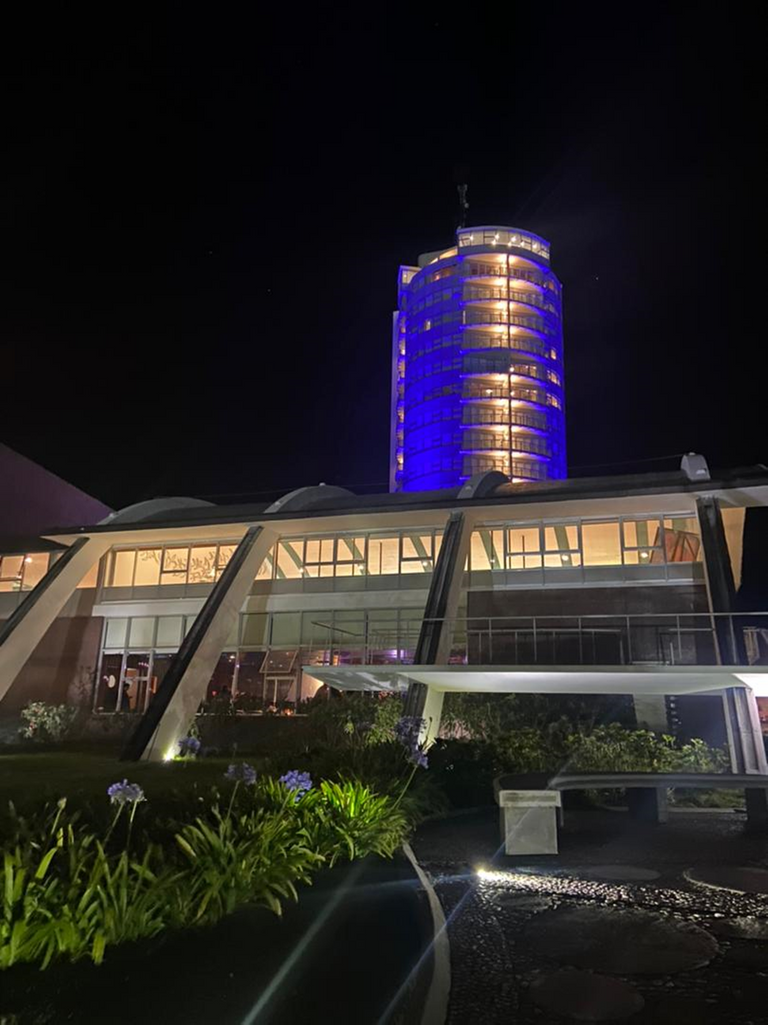 EL hotel estuvo muchos años fuera de servicio por lo que desde 2012 hasta el 2018 se realizó una restauración de sus instalaciones, por parte de un equipo multidisciplinario coordinado por el arquitecto Gregoriy Vertullo, encargado de realizar una intervención de la obra para la recuperación de todos sus espacios, respetando el diseño original y adecuando los requerimientos tecnológicos actuales en lo que atañe a hotelería.
     Personalmente he visitado, en el pasado reciente, un par de veces y he disfrutado. no sólo de las instalaciones sociales del hotel, sino también de un bello pueblo llamado Galipán, donde siembran hermosas flores de girasol, rosas de distintos colores, claveles, calas, entre otras, además de disfrutar de un suculento almuerzo en uno de los restaurantes del lugar.
---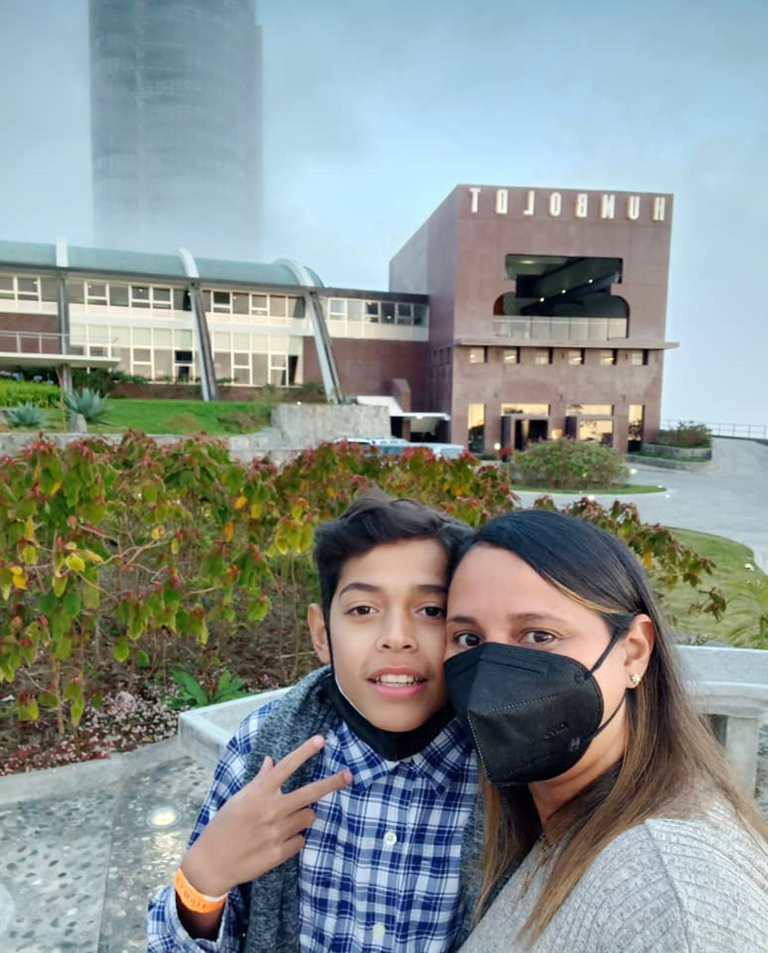 Myrel and her son Diego arriving at their destination on a very cloudy afternoon, although not very cold (Myrel y su hijo Diego llegando a su destino en una tarde muy nublada, aunque no muy fría) Family photo
     En este edificio, desde diciembre de 1963, se han utilizado las luces y cortinas de sus pisos, colocados estratégicamente cada fin de año, para simular la cruz cristiana, símbolo de la Navidad. Para los lectores interesados en datos técnicos de las estructuras del Hotel, les invito a visitar la página web https://iamvenezuela.com/2018/02/el-hotel-humboldt-la-joya-que-corona-el-avila/
---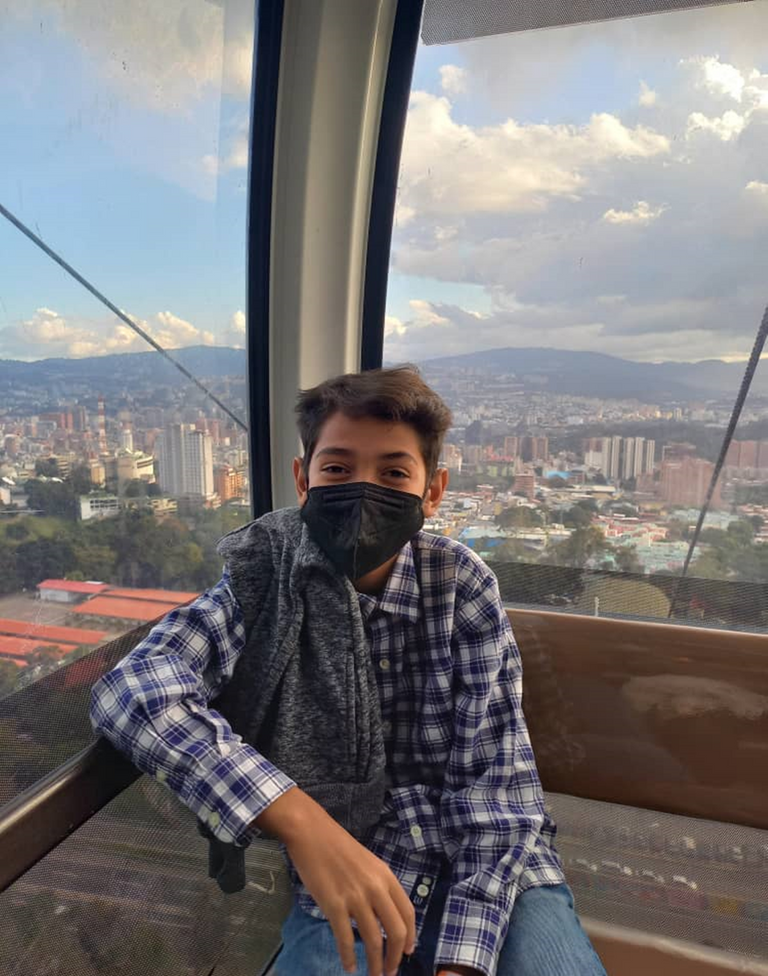 My great-nephew, Diego, starting his journey towards the Humboldt, Caracas behind him (Mi sobrino nieto, Diego, iniciando su travesía hacia el Humboldt, Caracas a su espalda) Family photo
---
Photo gallery (Galería de fotos)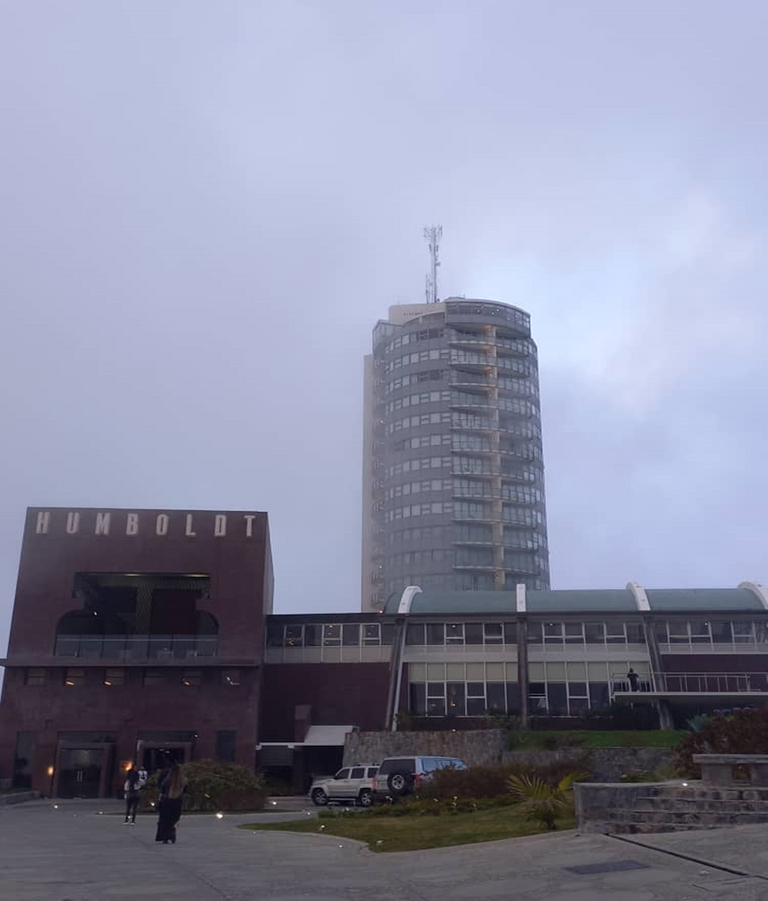 Front of Humboldt Hotel (Fachada del Hotel Humboldt) Family photo
---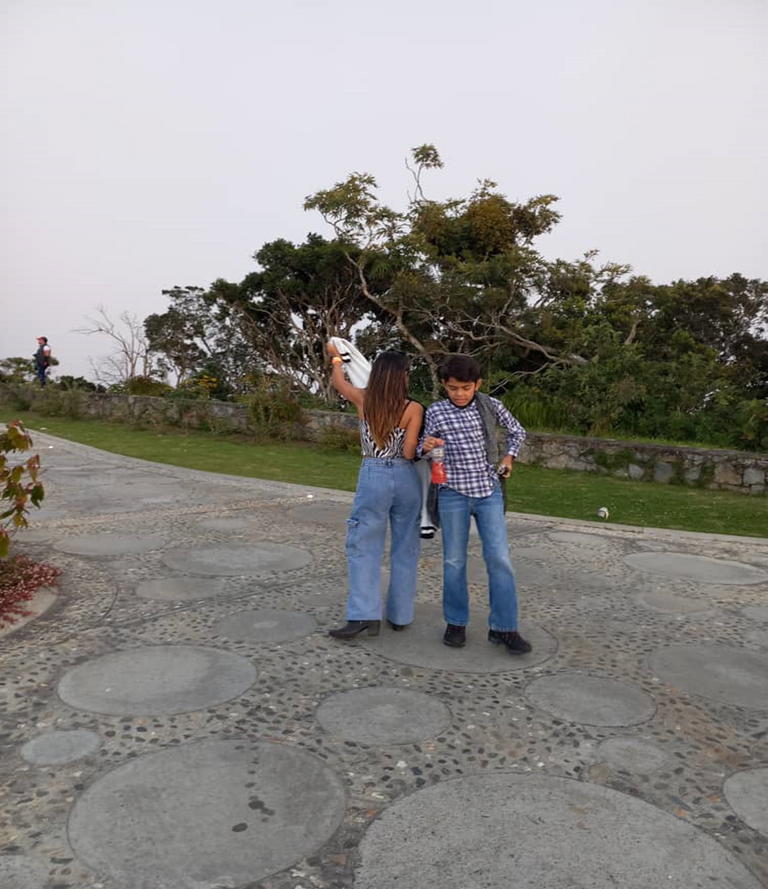 My great-nephews enjoying the way up to the hotel from the cable car station (Mis sobrinos nietos disfrutando del camino de ascenso al hotel desde la estación del teleférico) Family photo
---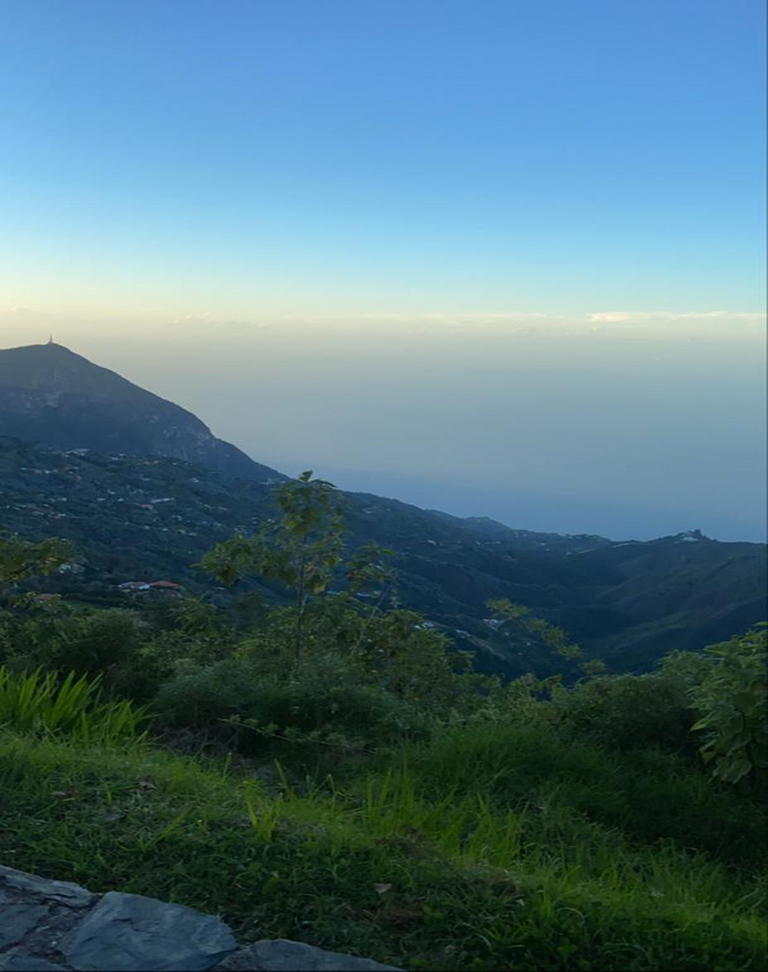 View between mists of the Caribbean Sea, from the Hotel (Vista entre brumas del mar Caribe, desde el Hotel) Family photo
---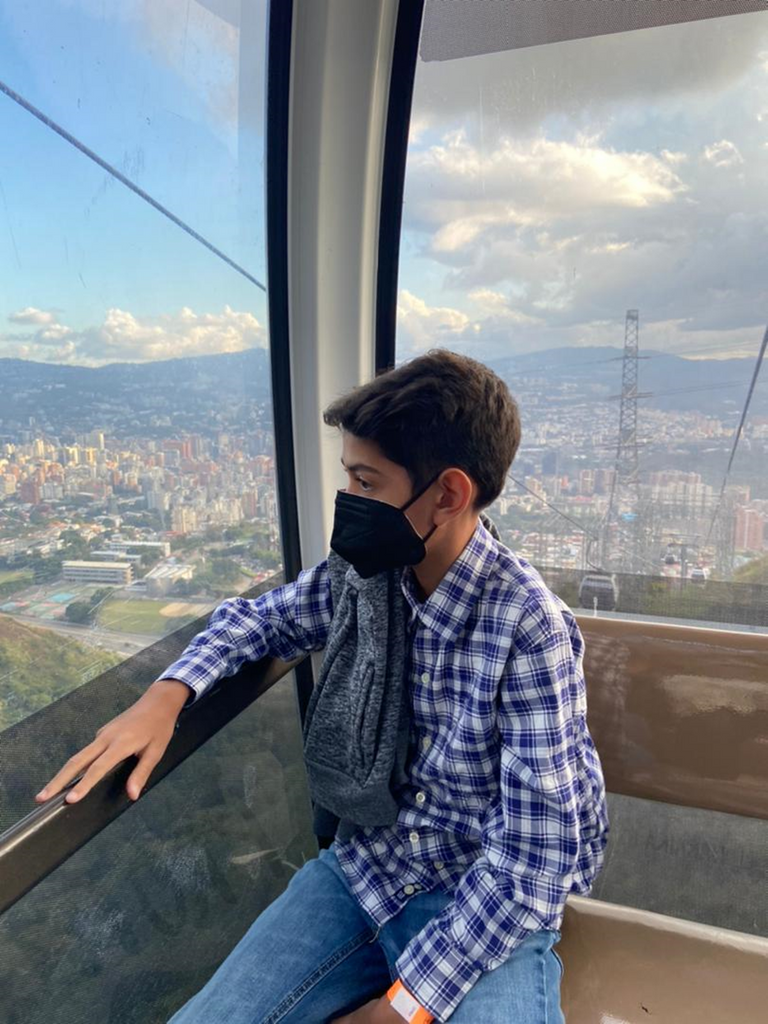 ---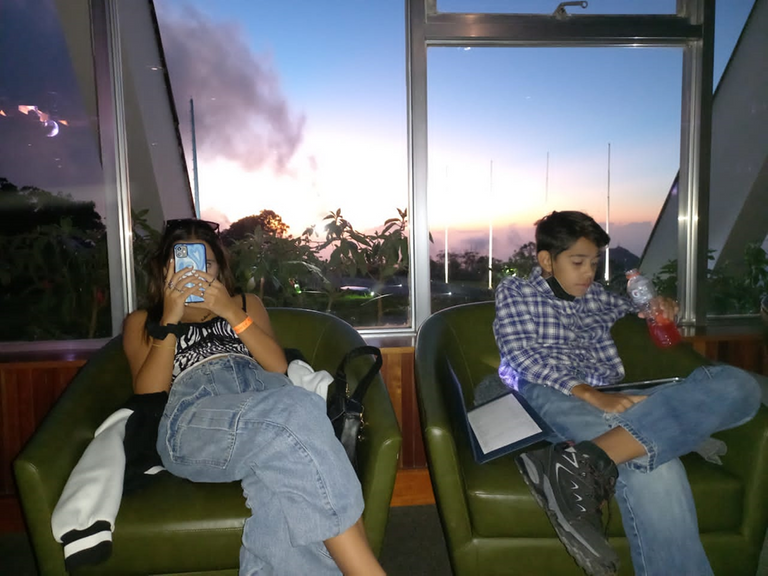 In the Boite, waiting to go home (En la Boite, esperando para regresar a casa) Family photo
---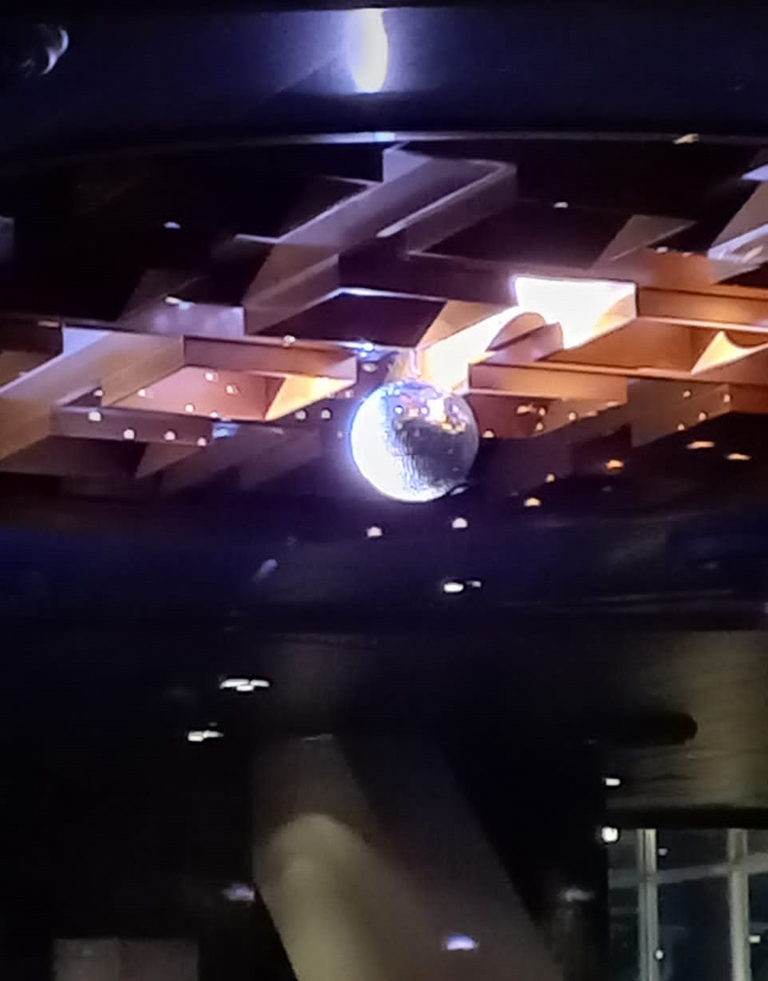 ---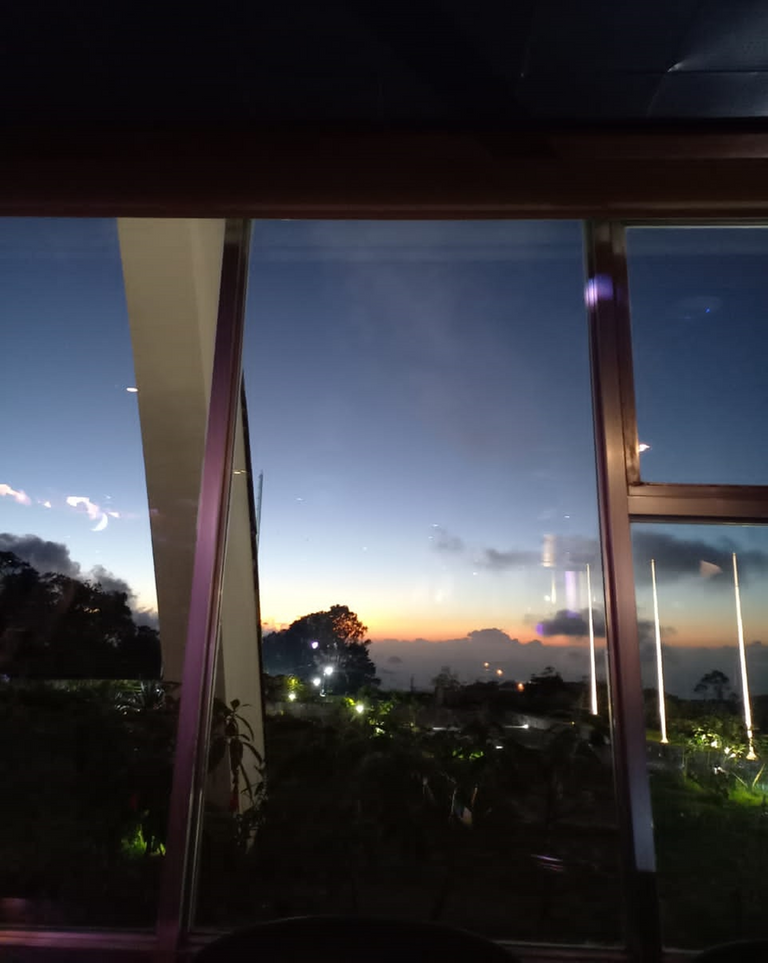 ---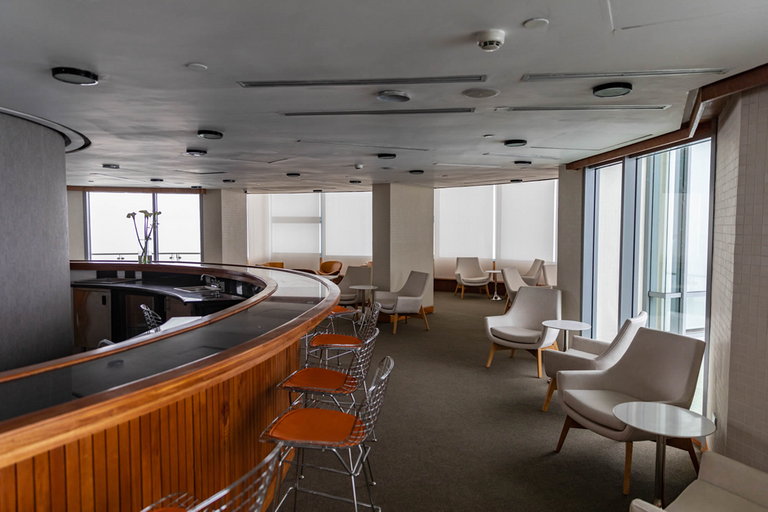 Bar mirador en el piso 15, desde donde se puede divisar la ciudad de Caracas Image](https://hotelhumboldtve.com/portfolio_page/hotel-humboldt-instalaciones/)
---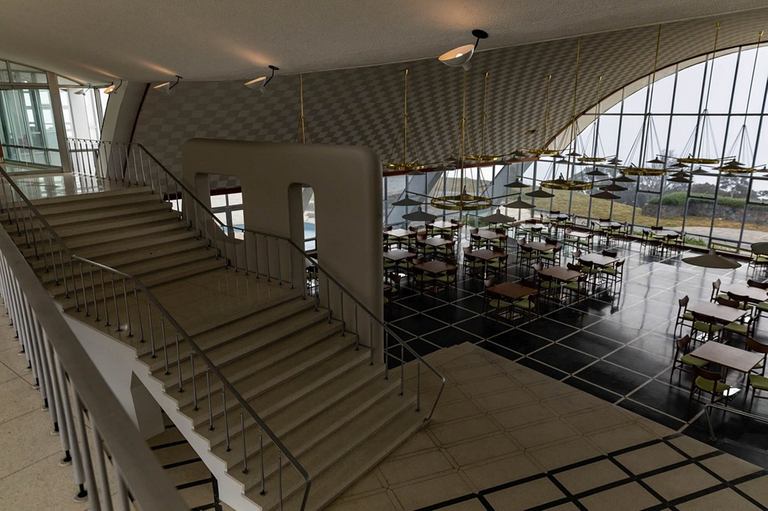 Internal spaces of the hotel (Espacios internos del hotel) Image
---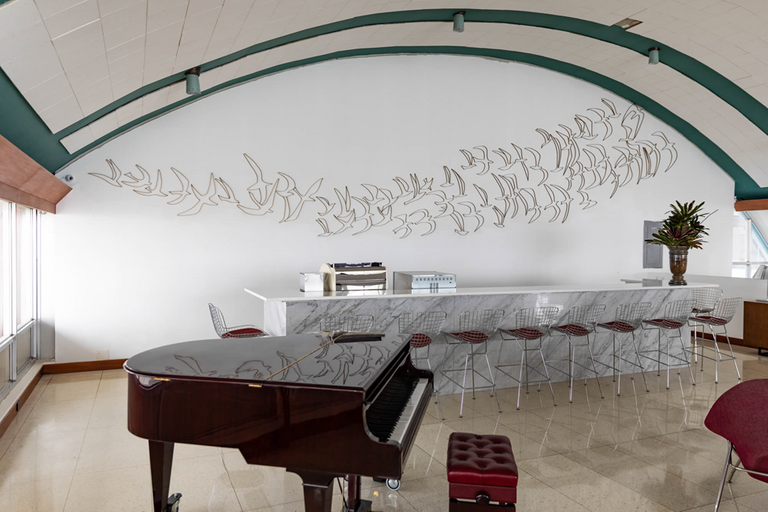 Bar under the mural of the Seagulls by the Catalan artist Abel Vallmitjana, with capacity for 92 people (Bar bajo el mural de las Gaviotas del artista catalán Abel Vallmitjana, con capacidad para 92 personas )Image
---