Prague a city full of history, culture and architecture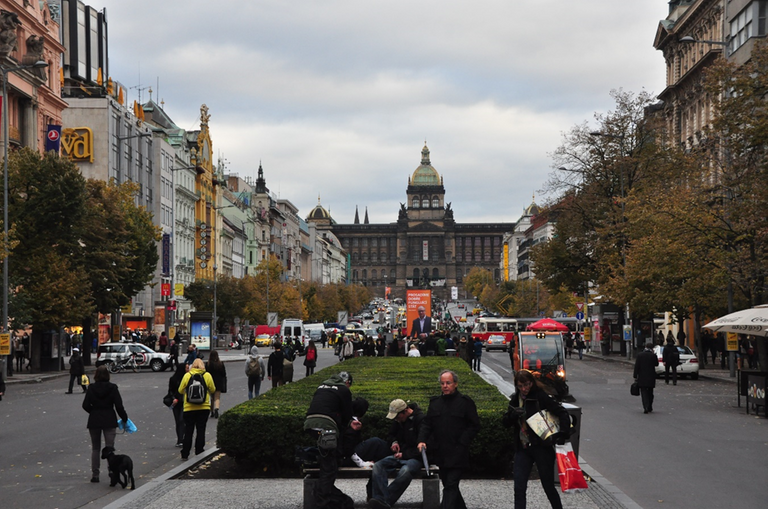 Panoramic view of Wenceslas Square with the National Museum in the background (Panorámica de la Plaza Wenceslao con el Museo Nacional al fondo)
      Dear friends of the communities that honor me with the reading, comments and votes of my posts. I would like, first of all, to wish you a happy and successful year 2022 together with your loved ones. Today, to start this new year, I want to share with you a little writing and photos of the city of Prague, named in multiple ways, among which are: Prague Caput Regni (Prague, head of the kingdom); Praga Mater Urbium (Prague, the mother of cities); "The Rome of the North" "Prague, the city of 100 towers "or "Golden Prague", each of which has its own history and meaning. Being in places like this city without knowing at least part of its history is something that one cannot allow; what it feels when you have a minimum of knowledge of what happened there gives you a totally different perspective, fuller and more vivid. The Czech Republic (Czechia) results from the split of Czechoslovakia into two countries in 1993: The Czech Republic and Slovakia; although in truth, its creation, with this name, dates from 1918.
---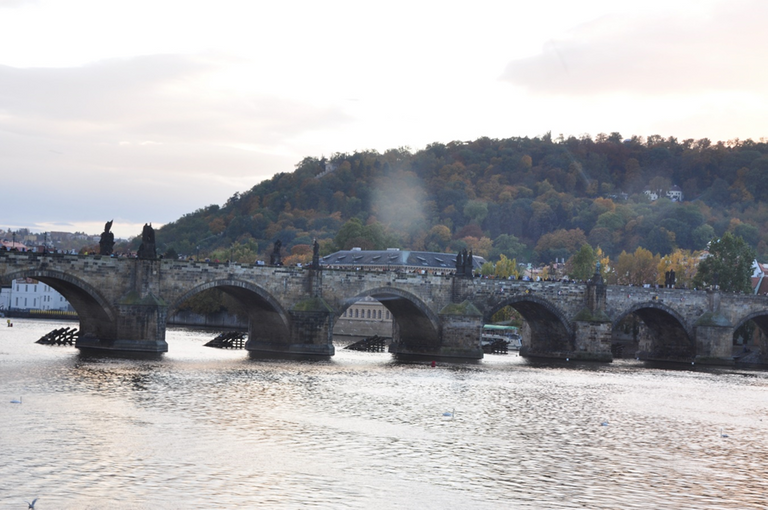 The Charles Bridge, built in the 15th century, between 1357 and 1402, over the Moldavia River, designed by Peter Parler, links the Old City with the Little Town and the Citadel. The Gothic-style bridge has 16 stone arches, two watchtowers, and 30 blackened Baroque statues depicting various saints. (El Puente de Carlos, construido en el siglo XV, entre 1357 y 1402, sobre el río Moldavia, diseñado por Peter Parler, une la Ciudad vieja con la Ciudad Pequeña y la Ciudadela. El puente de estilo gótico tiene 16 arcos de piedra, dos torres de vigilancia y 30 estatuas barrocas ennegrecidas que representan a varios santos)
---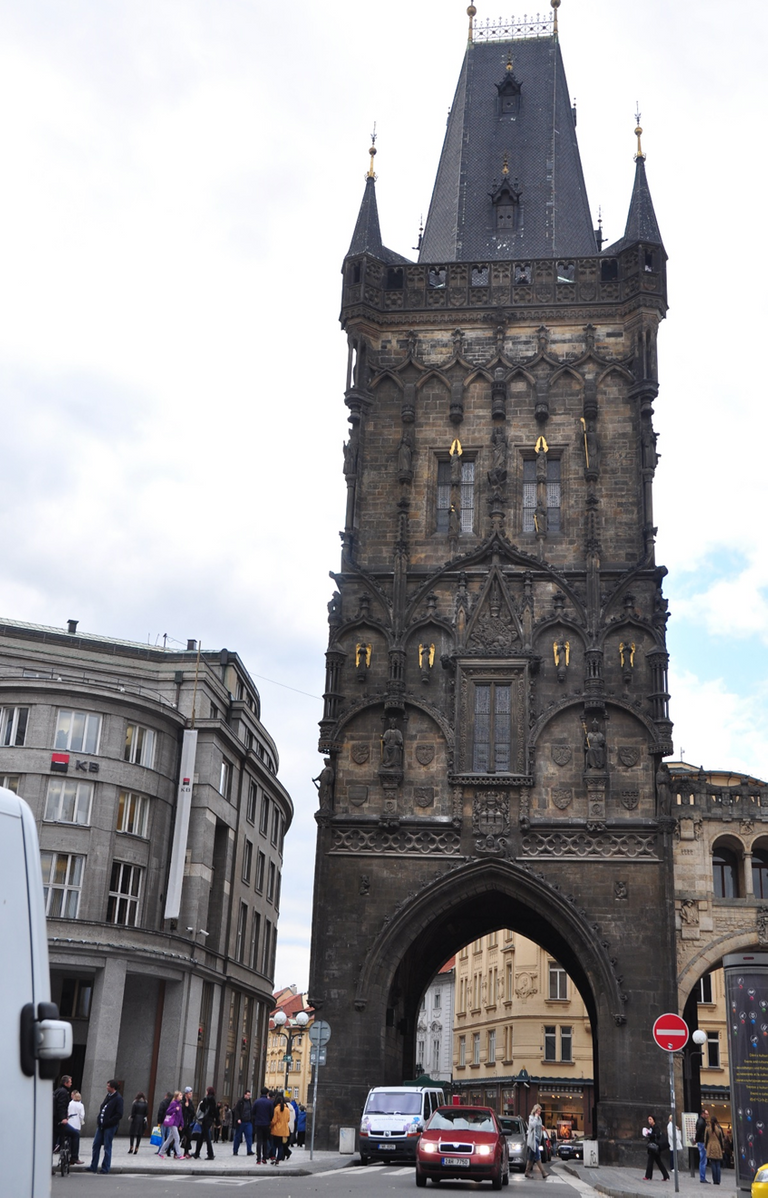 Powder Tower is one of the oldest Gothic buildings in Prague, built in the fifteenth century is what remains of the great medieval wall. (Torre de la Pólvora es uno de os edificios góticos más antiguos de Praga, construida en el siglo XV es lo que queda de la gran muralla medieval)
Close up of the Powder Tower, it was used to store gunpowder, hence its name (Close up de la Torre de la Pólvora, se utilizaba para almacenar pólvora, de allí su nombre)
     Visiting Prague is entering the history of Europe. It can be said that it is a true open-air museum; it is enough to know its history to be transported to medieval and imperial times, or, at the same time, by notable events such as the Nazi occupation of 1938 at the beginning of the Second World War, the Soviet invasion in 1968 in response to the Prague Spring or the Revolution of Velvet from 1989, which have been a reference to understand the great changes that the world and especially Europe suffered in the second half of the 20th century.
---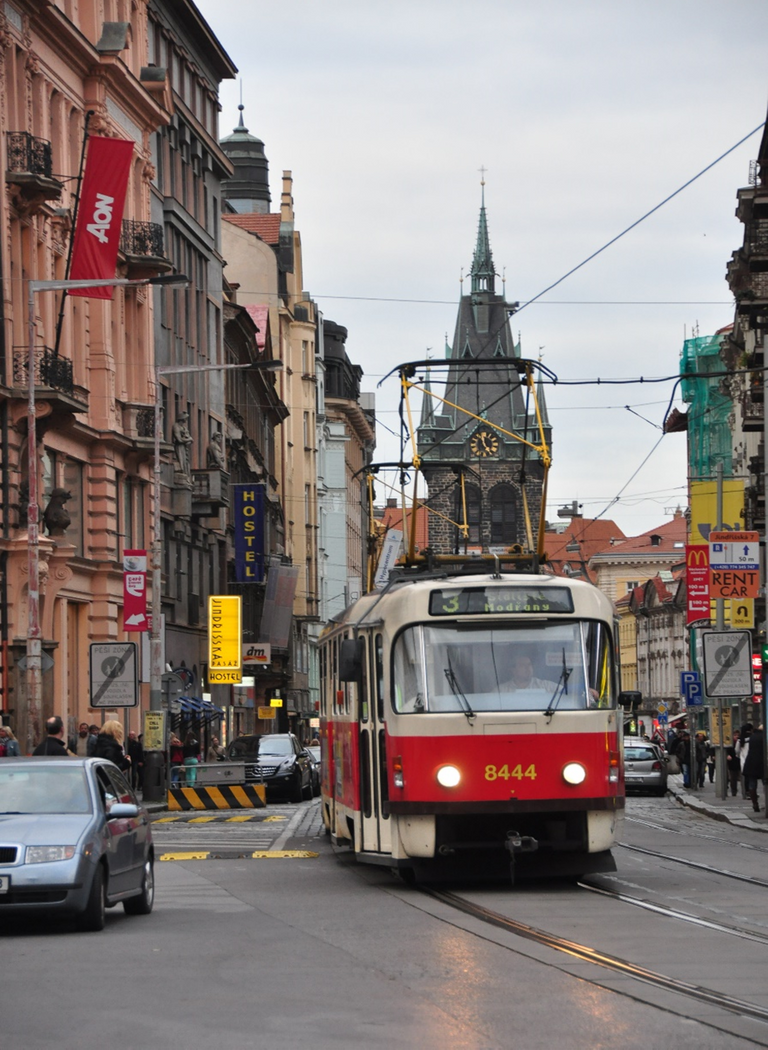 Prague tram, a public transport system built by, among others, František Křižík , Czech engineer and inventor. (Tranvía de Praga, sistema de transporte público construido, entre otros, por František Křižík, ingeniero e inventor checo)
---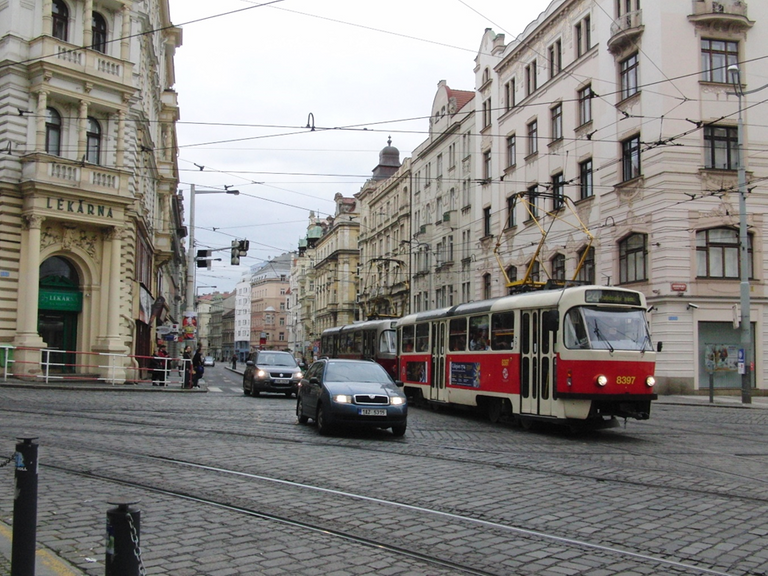 The Prague electric tram has been operating since 1875, has 135 kilometers of tracks and 22 lines (El tranvía eléctrico de Praga funciona desde 1875, cuenta con 135 kilómetros de vías y 22 líneas)
     In a trip of a few days like the one I had the opportunity to do in 2007; busy in meetings with members of the Academy of Sciences for the signing of an academic exchange agreement between that institution and the Central University of Venezuela, which the Rector Paris and myself represented, I had little time left to enrich my spirit with the wonders of the city, in such a way that I could only make low glances of the emblematic places of it, with the help of its tram. However, I have been fortunate that my brother-in-law Alfonso () and his wife were in Prague in 2017, ten years after my visit, and they took photos of many places that I could appreciate in person and many others that I only had references to.
()Alfonso Celi @alfceli en Instagram)
---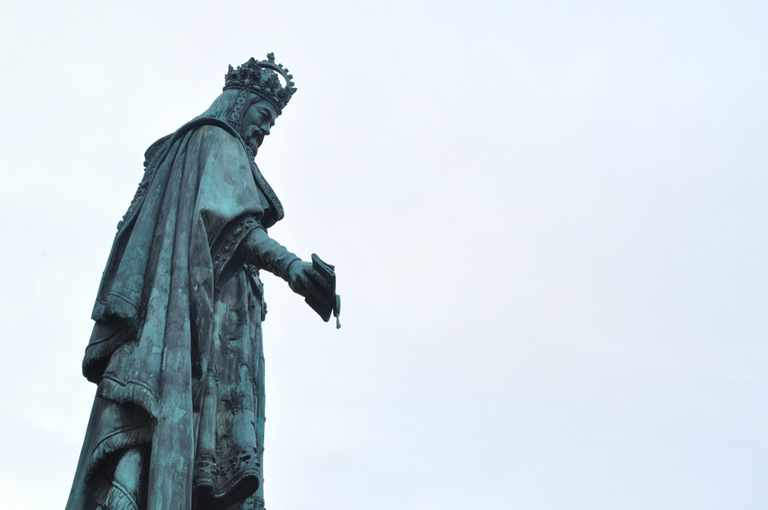 Statue of King Carlos IV, near the bridge that bears his name (Estatua del Rey Carlos IV, cercano al puente que lleva su nombre)
     This city is full of places that cannot be forgotten once you have contact with them, among which I remember: the Historic Center (Stare Mesto) where the majestic Old Town Square is located with its spectacular Astronomical Clock of more than 600 years old, the tower of the Old Town Hall, the Church of Our Lady of Týn, the Birthplace and the commemorative statue of the famous writer Franz Kafka. The old Jewish ghetto of Josefov, where 6 synagogues stand, among which the Old-New Synagogue and the Spanish Synagogue stand out, whose name is due to its resemblance to Moorish art from the Muslim era in Spain, in addition to the old Jewish cemetery, with just over 12,000 graves and some 100,000 people buried in them; This area is the oldest in Prague together with its original cobbled streets.
---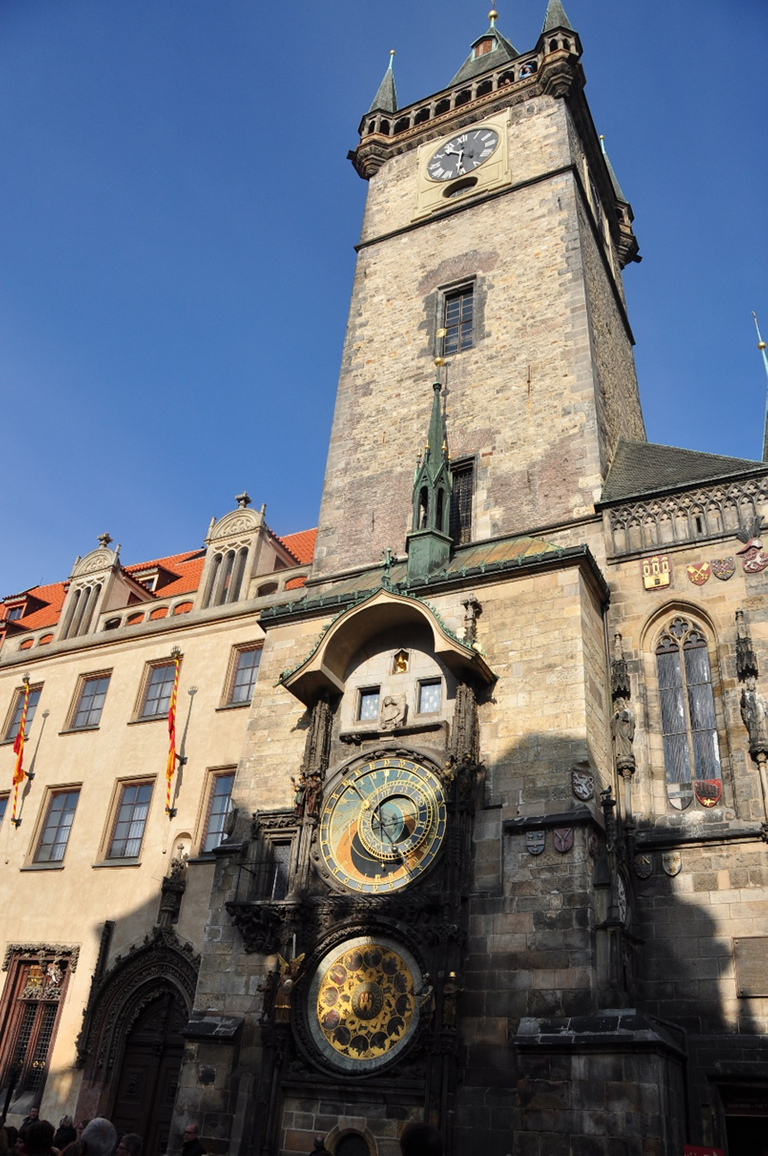 Town Hall Tower with the Astronomical Clock in the Old Town Square. (Torre del Ayuntamiento con el Reloj astronómico en la Plaza de la Ciudad Vieja)
---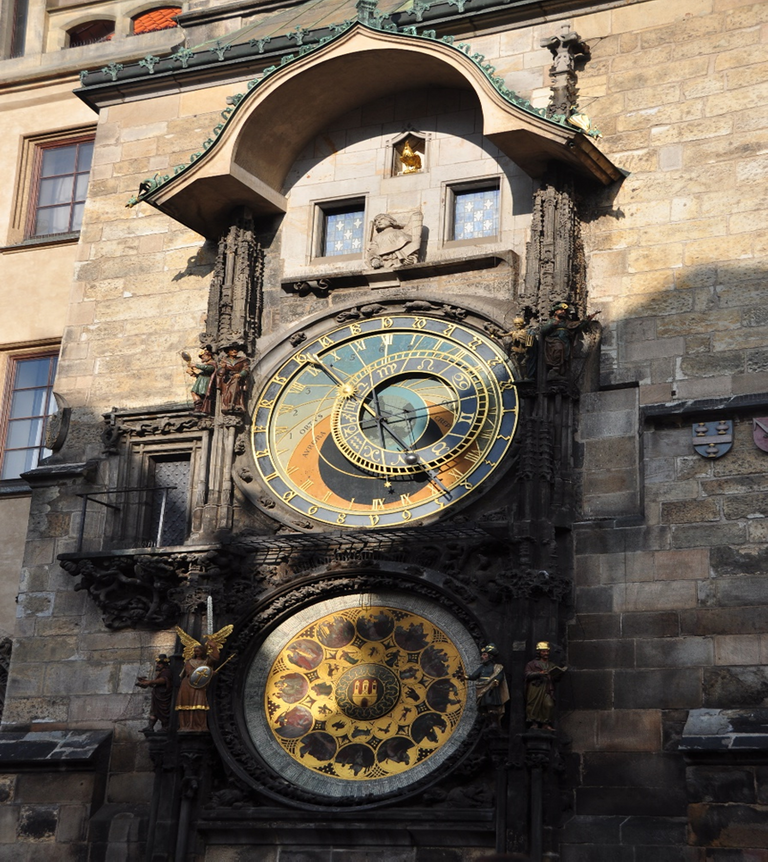 The months of the year, the signs of the zodiac and the Coat of Arms of the Old City are represented on the lower dial of the Clock. In the middle. Located on both sides we can see four sculptures. The two on the left are a philosopher and an angel, while those on the right represent an astronomer and a chronicler. (En la esfera inferior del Reloj están representados los meses del año, los signos del zodiaco y el Escudo de Armas de la Ciudad Vieja. En el centro. Situadas a ambos lados podemos ver cuatro esculturas. Las dos de la izquierda son un filósofo y un ángel, mientras que las situadas a la derecha representan a un astrónomo y un cronista)
---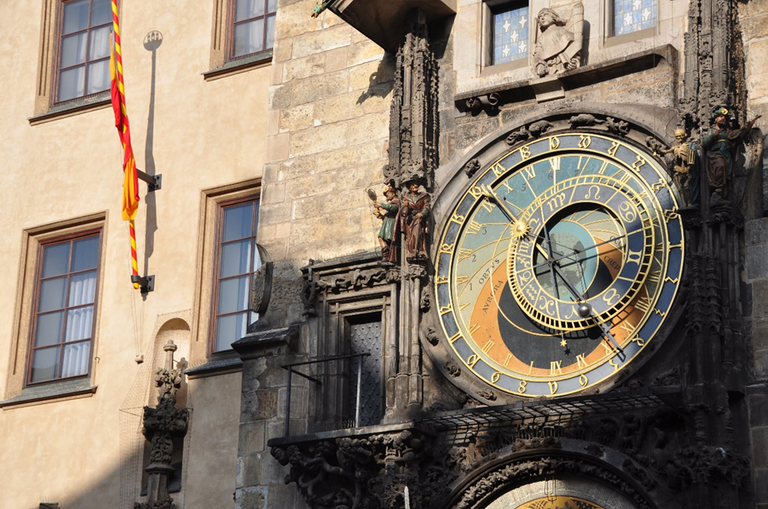 The upper sphere is the Astronomical Quadrant, an astrolabe-shaped clock that was used to calculate the orbits of the sun and the moon. (La esfera superior es el Cuadrante Astronómico, un reloj con forma de astrolabio que se utilizaba para calcular las órbitas del sol y la luna)
     On the other hand, there are architectural jewels such as the Charles Bridge, with its more than 500 meters above the Vltava River that link the Prague Castle with the old city; the huge Wenceslas Square, full of shops and restaurants, where the National Museum of Prague is located, a neo-Renaissance building with a hall in which is the pantheon where the most illustrious Czechs rest; the Europa hotel located on the square with an art Nouveau façade; the Patio de Ungelt; the Plaza de la República, where the Torre de la Pólvora is located, the old entrance to the city and the starting point of the Camino Real.
---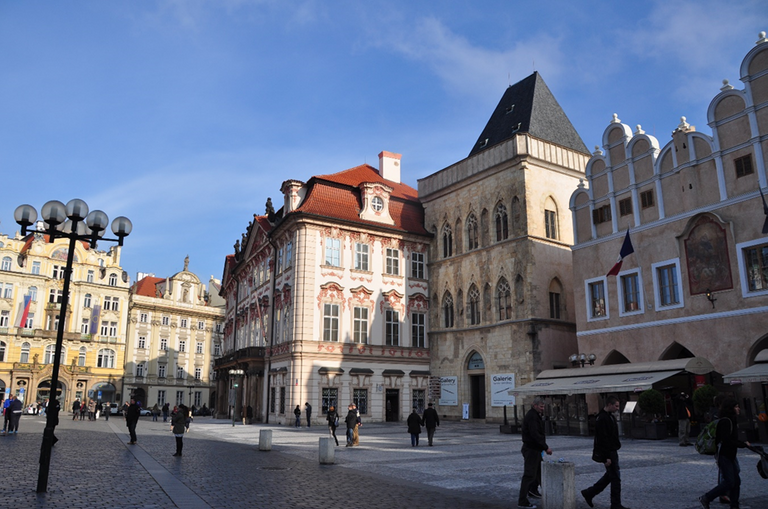 Old Town Square, in the middle you can see the Stone Bell House, an original Gothic style building, which for years was covered by a Baroque façade (Plaza de la Ciudad Vieja, en medio se aprecia la Casa de la campana de piedra, edificio de estilo gótico original, que por años estuvo recubierto por una fachada barroca)
---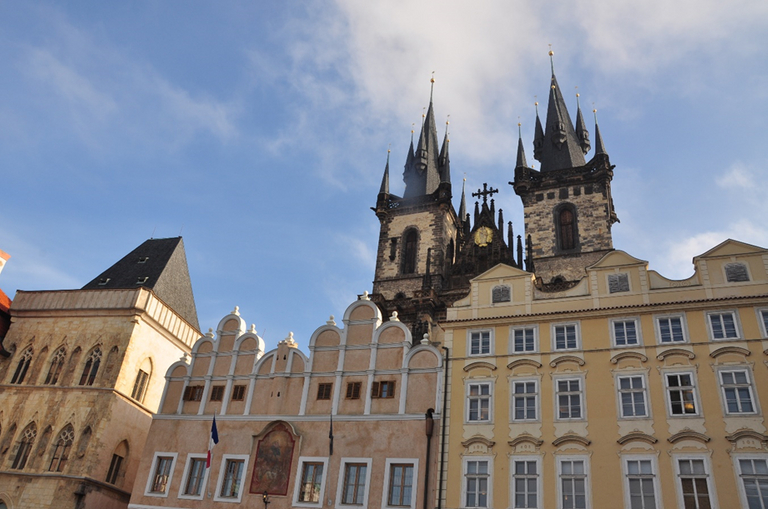 On the left, the House of the Stone Bell and the two towers and three naves of the Church of Týn, photo from the Old Town Square. (A la izquierda, la Casa de la Campana de Piedra y las dos torres y tres naves de la Iglesia de Týn, foto desde la plaza de la Ciudad Vieja)
---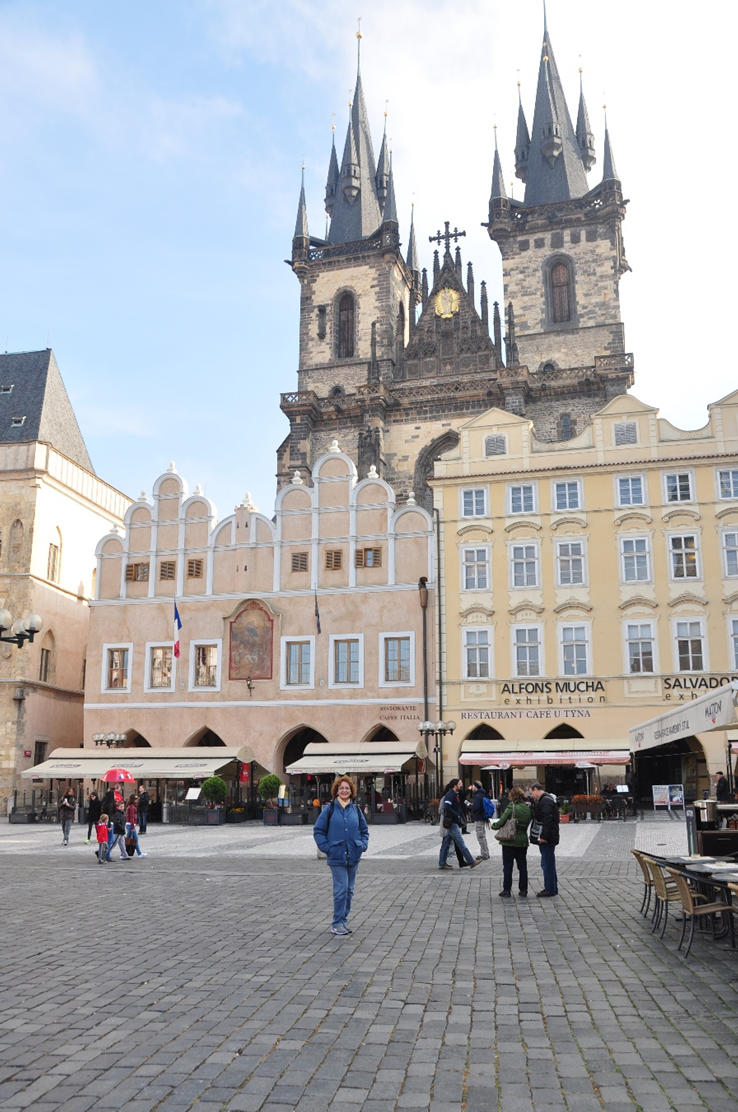 Old Town Square with the Church of Our Lady of Tyn in the background, Gothic church
designed by the architects Matías de Arras and Peter Parler (Plaza de la Ciudad Vieja con la Iglesia de Nuestra Señora de Tyn al fondo, iglesia gótica diseñada por los arquitectos Matías de Arras y Peter Parler)
     To visit the bohemian baroque neighborhood of Mala Strana, located below the castle, it is necessary to cross the Charles Bridge, and then go up, on foot or by funicular, to the Church of San Nicolás, on whose side is the beautiful Nerudova street. full of historical buildings leading up to the Citadel, to which we have dedicated a post, which can be consulted under the title "The Citadel of Prague: some of its churches, streets and gardens" (). Before reaching the Citadel, you can visit the Church of Our Lady of Victory or the Vrtba Garden. Once inside the walls you can see, among other works, the Cathedral of Saint Vitus and the Golden Alley. Higher up the castle you can see the Church of Loreto and the Strahov Monastery with an impressive library. At the top of this part of the city is the Mount or Petrin Tower, from where you can enjoy the spectacular views of the city, from its tower.
()https://peakd.com/hive-178708/@besamu/eng-the-citadel-of-prague-some-of-its-churches-streets-and-gardens-esp-la-ciudadela-de-praga-algunas-de-sus-iglesias-calles-y-.
---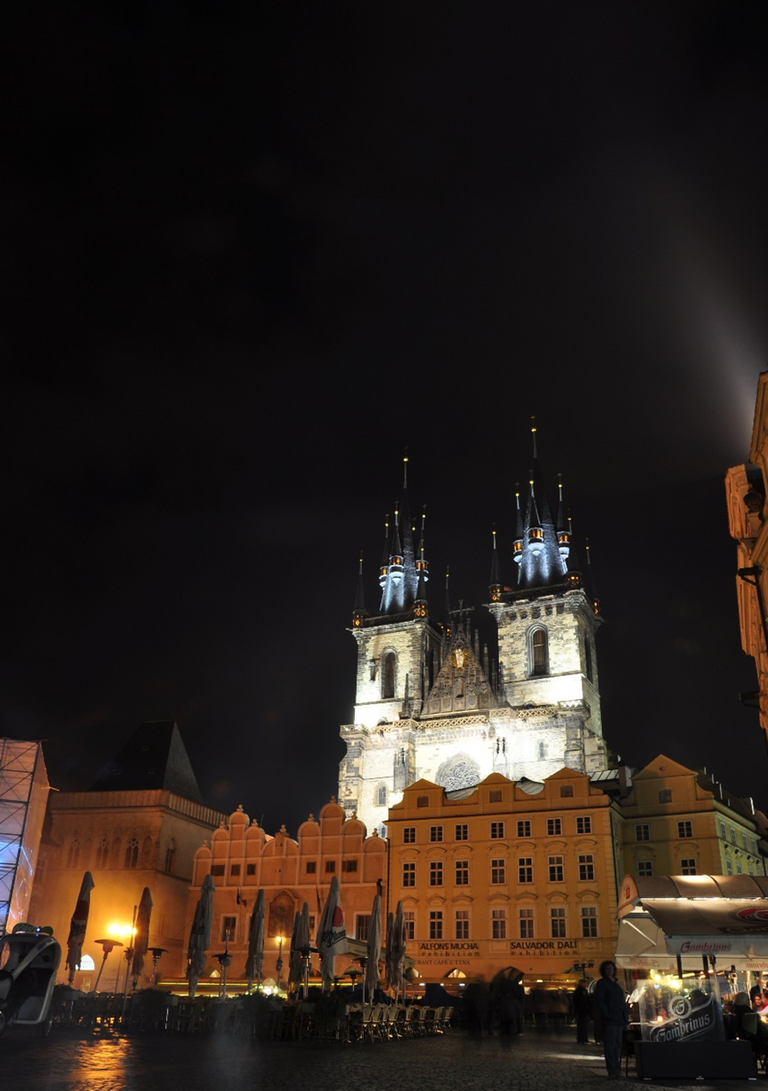 Night view of the Church of Týn, whose dimensions are 52 meters long by 28 meters wide and 44 high. (Vista nocturna de la Iglesia de Týn, cuyas dimensiones son de 52 metros de largo por 28 de
ancho y 44 de alto)
---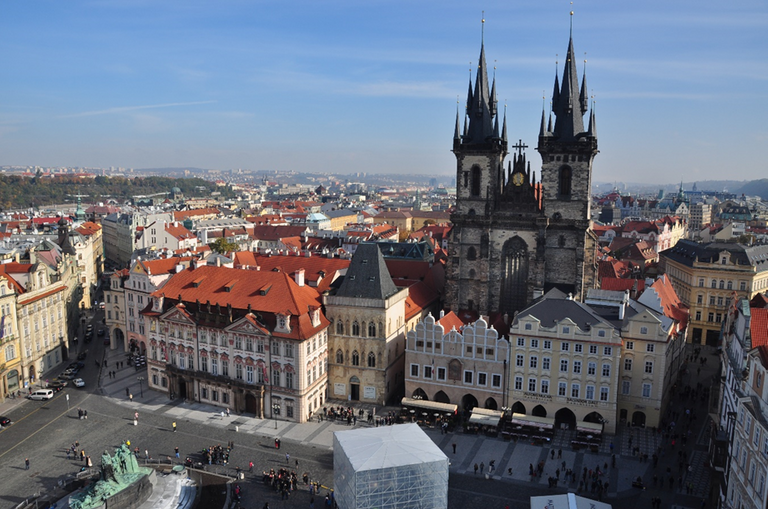 The towers of the church are eighty meters high and are topped by four small spiers. UNESCO placed it among the list of heritage works. Its construction began more or less in the 30s of the 14th century by the French architect Mathieu d'Arras with the collaboration of the German architect, who built the Charles Bridge, Peter Parler. (Las torres de la iglesia tienen ochenta metros de alto y están rematadas por cuatro pequeñas espiras, la Unesco la colocó entre la lista de las obras patrimoniales. Se inició su construcción más o menos en los años 30 del siglo XIV por el arquitecto francés Mathieu d'Arras con la colaboración del arquitecto alemán, quien construyó el Puente Carlos, Peter Parler)
     It is pleasant to go to areas such as the Nuevo neighborhood or Nové Mesto, walking you pass in front of the magnificent National Theater with a large room for opera performances. From there you can take a walk along the banks of the Vltava River with views of the castle, to the surprising Dancing House, this building, representing the famous dancers Fred Astaire and Ginger Rogers, stands out among the baroque, art nouveau and gothic buildings of the neighborhood. Also, there is the Church of Anthropoid, famous because a historical battle was fought there in World War II, with its crypt that served to house the soldiers who assassinated the notorious Nazi criminal the "Butcher of Prague".
---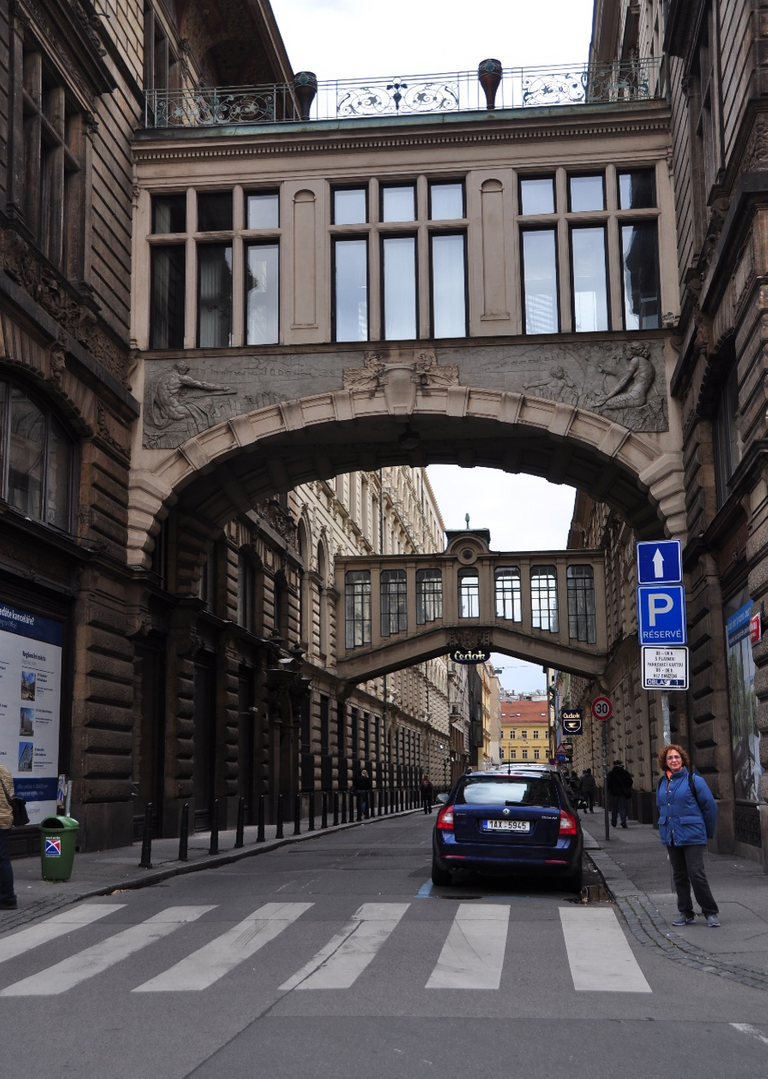 Arches linking buildings on Nekazanka Street (Arcos que unen edificios en la calle Nekazanka)
     Following the path, you will reach an access to climb the fortress or citadel of Vyšehrad, located on a hill and with magnificent views of the Moldova river. This fortification has become an ideal green area to relax. In the enclosure are the neo-Gothic Church of Saint Peter and Saint Paul and the Vyšehrad Cemetery, in which personalities of Czech history are buried.
---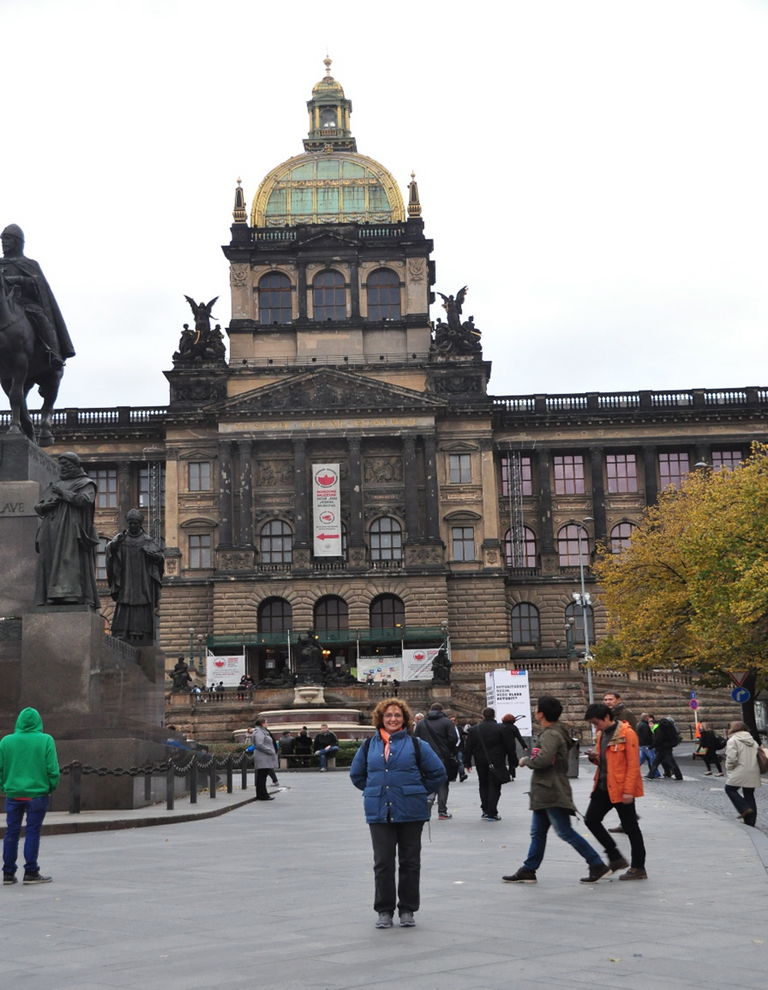 National Museum on Wenceslas Square, Neo-Renaissance building (Museo Nacional en la Plaza Wenceslao, edificio neorrenacentista)
---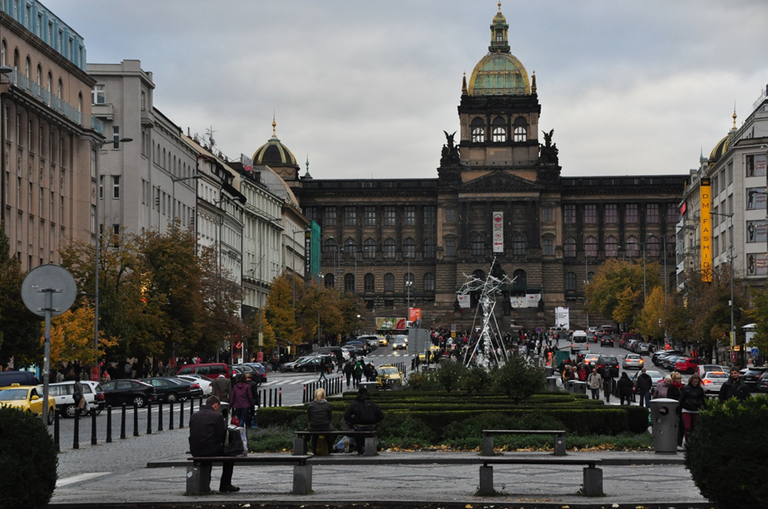 The Museum was built by Josef Schuiz, between the years 1885 and 1891 (El Museo lo construyó Josef Schuiz, entre los años 1885 y 1891)
     Consulted bibliography:
Klima, Ivan: El Espíritu de Praga, Barcelona, Acantilado, 2010
Dolezal, Ivan: Prague. The Golden Book. Praga, Pragensia Publishing House, 1983.
---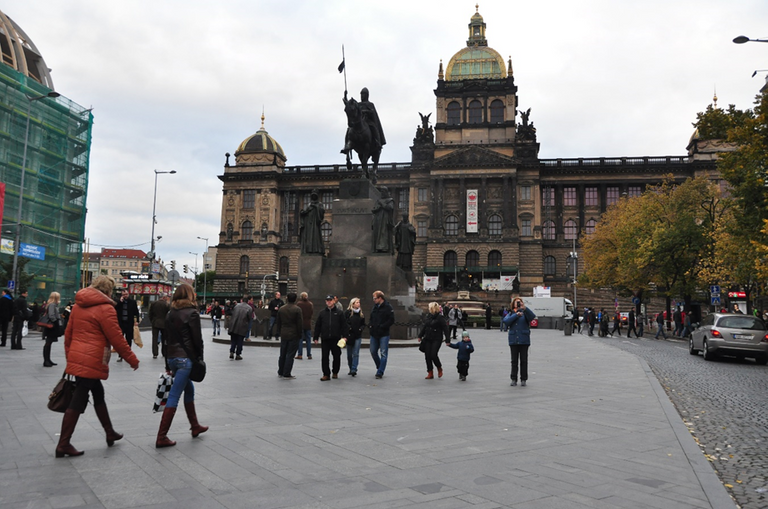 Wenceslas Square is 750 meters long by 60 meters wide, with the bronze equestrian statue of Wenceslas surrounded by statues of saints (La Plaza Wenceslao tiene 750 metros de largo por 60 metros de ancho, con la estatua ecuestre en bronce de Wenceslao rodeada de estatuas de santos)
---
Praga una ciudad llena de historia, cultura y arquitectura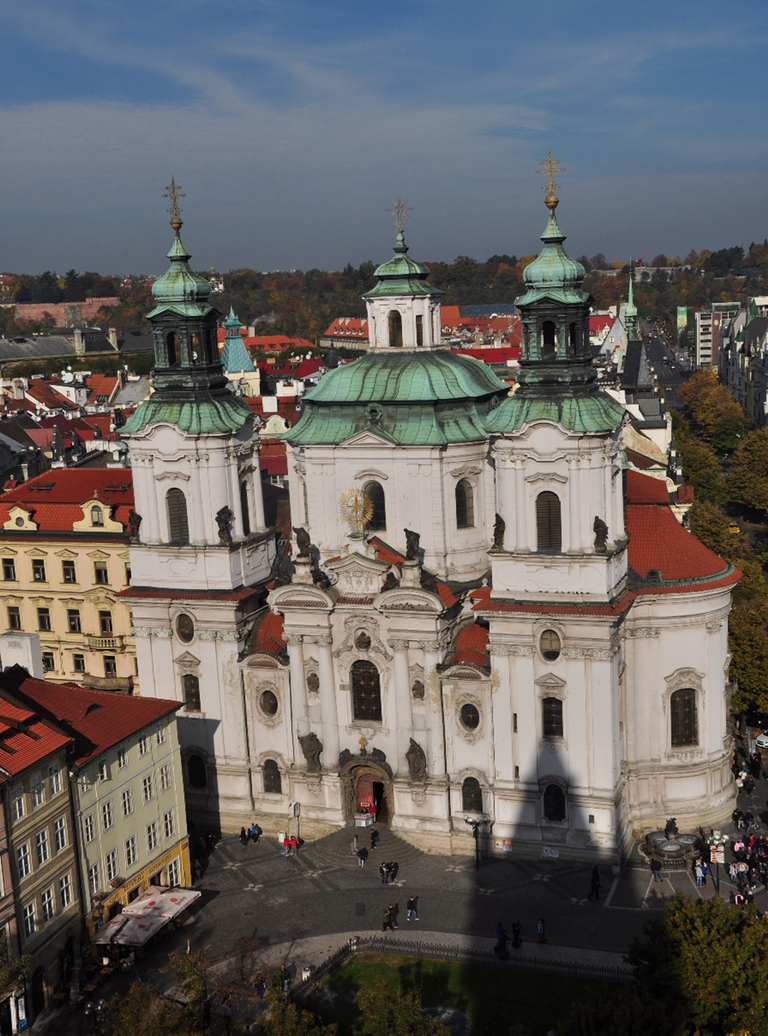 Church of St. Nicholas in Staré Město, in the Baroque style, whose construction began in 1732 and ended in 1737, it is a work of the Czech architect Kilián Dientzenhofer. (Iglesia de San Nicolás en Staré Město, de estilo barroco, cuya construcción se inició en 1732 y finalizó en 1737, es una obra del arquitecto checo Kilián Dientzenhofer)
---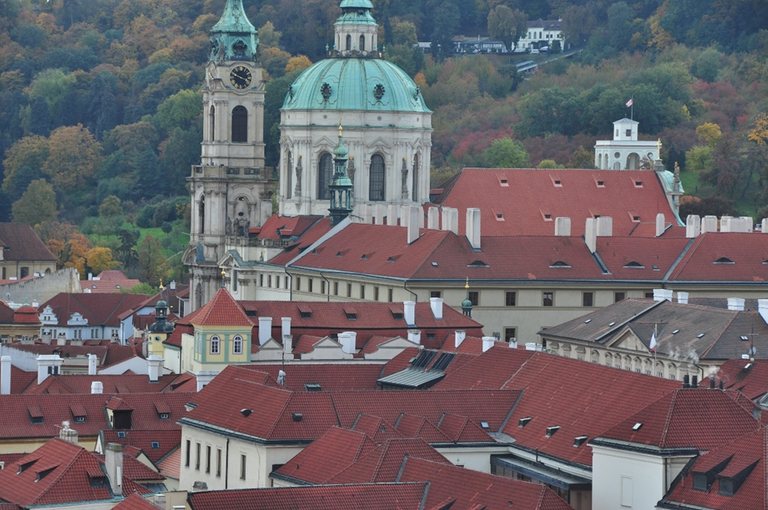 Baroque St. Nicholas Church in Malá Strana square. Its construction began in 1702 by Christoph Dientzenhofer and his son Kilian I. Dientzenhofer. (Iglesia barroca San Nicolás en la plaza de Malá Strana. Se inicio su construcción en 1702 por Christoph Dientzenhofer y su hijo Kilian I. Dientzenhofer)
     Estimados amigos de las comunidades que me honran con la lectura, comentarios y votos de mis posts. Quisiera, antes que todo, desearles un feliz y venturoso año 2022 en unión de sus seres queridos. Hoy, para iniciar este nuevo año, quiero compartir con ustedes un pequeño escrito y fotos de la ciudad de Praga, nombrada de múltiples maneras, entre las cuales se cuentan: Praga Caput Regni (Praga, cabeza del reino); Praga Mater Urbium (Praga, la madre de las ciudades); "La Roma del Norte" Praga, la ciudad de las 100 torres" o "Praga Dorada", cada una de las cuales tiene su propia historia y significado. Estar en lugares como esta ciudad sin conocer parte de su historia es algo que uno no se puede permitir; lo que se siente al tener un mínimo de conocimiento de lo que allí aconteció te da una perspectiva totalmente diferente, más plena y vívida. La República Checa (resulta de la escisión de Checoeslovaquia en dos países en 1993: La República Checa y Eslovaquia; aunque en verdad, su creación, con este nombre, data de 1918.
---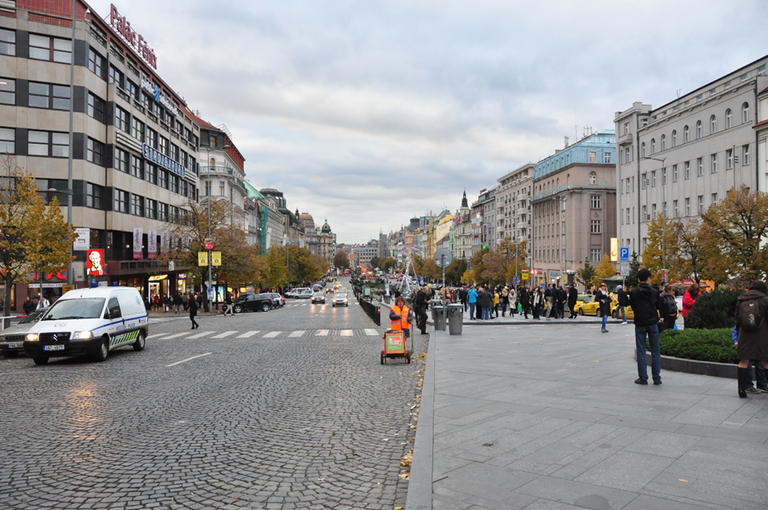 Mústku Street in Wenceslas Square. (Calle Ná Mústku en la Plaza Wenceslao)
     Visitar Praga es adentrares en la historia de Europa, se puede decir que ella es un auténtico museo al aire libre; basta conocer su historia para transportarse a las épocas medieval e imperial, o, contemporáneamente, por notables hechos como la ocupación Nazi de 1938 en los inicios de la segunda guerra mundial, la invasión soviética en 1968 como respuesta a la Primavera de Praga o la Revolución de Terciopelo de 1989, que han sido referencia para entender los grandes cambios que sufrió el mundo y especialmente Europa en la segunda mitad del siglo XX.
---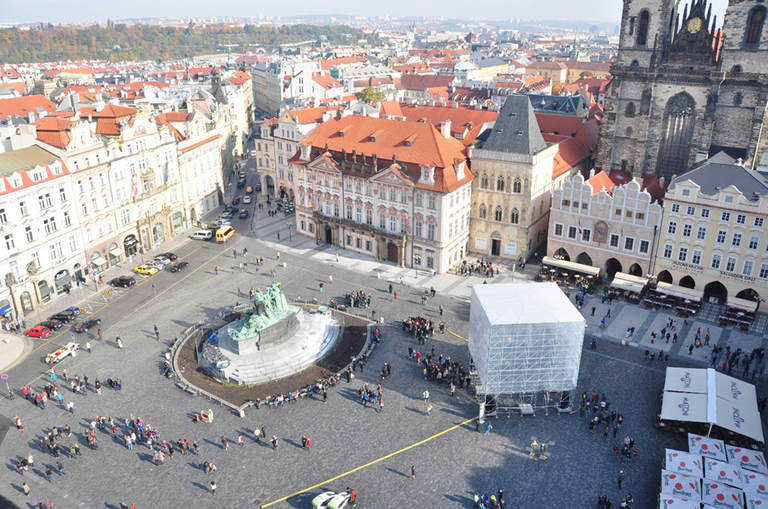 Aerial view of the Old Town Square. (Vista aérea de la Plaza de la Ciudad Vieja)
     En un viaje de pocos días como el que tuve la oportunidad de hacer en 2007; ocupado en reuniones con miembros de la Academia de Ciencias para la firma de un convenio de intercambio académico entre esa institución y la Universidad Central de Venezuela, que representábamos el Rector Antonio Paris y mi persona, me quedó poco tiempo para enriquecer mi espíritu con las maravillas de la ciudad, de manera que solo pude hacer miradas rasantes de los sitios emblemáticos de ella, con la ayuda de su tranvía. Sin embargo, he tenido la suerte de que mi cuñado Alfonso () y su esposa estuvieran en Praga en 2017, diez años después de mi visita, y tomaran fotos de muchos lugares que pude visitar en mi corta estadía y, para mi beneficio, otros tantos que sólo había oído nombrar.
()Alfonso Celi @alfceli en Instagram)
---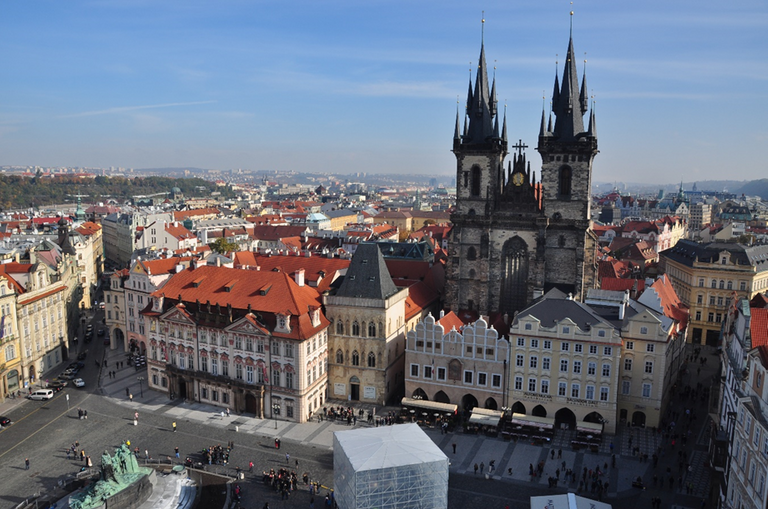 Our Lady of Týn Church. (Iglesia nuestra señora de Týn)
---
     Esta ciudad está llena de lugares que no se pueden olvidar una vez que se tiene contacto con ellos, entre los que recuerdo: el Centro Histórico (Stare Mesto) donde se encuentra la majestuosa Plaza de la Ciudad Vieja con su espectacular Reloj Astronómico de más de 600 años, la torre del Antiguo Ayuntamiento, la Iglesia de Nuestra Señora de Týn, la Casa Natal y la estatua conmemorativa del famoso escritor Franz Kafka. El antiguo gueto judío de Josefov, donde se levantan 6 sinagogas, entre las que destacan la Sinagoga Vieja-nueva y la Sinagoga Española, cuyo nombre se debe por su parecido al arte morisco de la época musulmana en España, además del antiguo cementerio judío, con algo más de 12.000 tumbas y unas100.000 personas enterradas en ellas; esta zona es la más antigua de Praga conjuntamente con sus originales calles empedradas.
---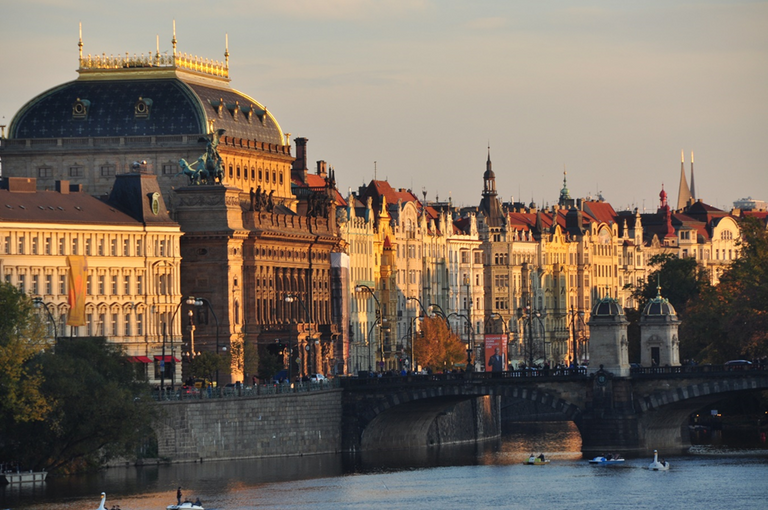 On one side of Moldova is the National Theater (Národní Divadlo), with a rich artistic tradition. Built at the end of the 19th century in Neo-Renaissance style. (A un costado del Moldavia está el Teatro Nacional (Národní Divadlo), con una rica tradición artística. Construido a finales del siglo XIX en estilo neorrenacentista)
     Por otra parte, existen joyas arquitectónicas como el Puente de Carlos, con sus más de 500 metros sobre el río Moldava que unen el castillo de Praga con la ciudad vieja; la enorme plaza de Wenceslao, llena de tiendas y restaurantes, en donde se encuentra el Museo Nacional de Praga, un edificio neorrenacentista con un vestíbulo en el que se halla el panteón donde descansan los checos más ilustres; el hotel Europa situado en la plaza con una fachada de estilo art Nouveau; el Patio de Ungelt; la Plaza de la República, donde se localiza la Torre de la Pólvora, antigua entrada a la ciudad y punto de partida del Camino Real.
---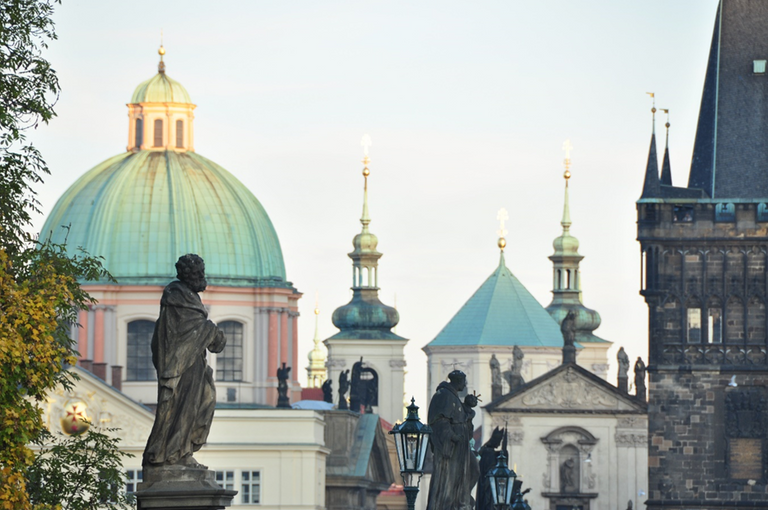 In the photo you can see the Clementinum (from the 11th century.) It is one of the important architectural complexes of the city. It has an impressive library from the Baroque era, decorated with frescoes. (En la foto se puede apreciar el Clementinum (del siglo XI.) es uno de los importantes complejos arquitectónicos de la ciudad. Cuenta con una impresionante biblioteca de la época del barroco, decorada con frescos)
     Para visitar el barrio bohemio barroco de Mala Strana, localizado debajo del castillo, es menester cruzar el Puente de Carlos, y luego subir, a pie o en funicular, hasta la Iglesia de San Nicolás, a cuyo costado se encuentra la bellísima calle Nerudova, llena de edificios históricos que conducen hacia la ciudadela, a la que hemos dedicado un post, que puede ser consultado bajo el título "La Ciudadela de Praga: algunas de sus iglesias, calles y jardines"(). Antes de llegar a la Ciudadela se pueden visitar la Iglesia Nuestra Señora de la Victoria o el Jardín Vrtba. Una vez dentro de las murallas se pueden ver, entre otras obras, la Catedral de San Vito y el Callejón de Oro. Más arriba del castillo se otean la Iglesia de Loreto y el Monasterio Strahov con una impresionante biblioteca. En la cumbre de esta parte de la ciudad está el Monte o Torre de Petrín, desde donde se puede disfrutar de las espectaculares vistas de la ciudad, desde su torre.
()https://peakd.com/hive-178708/@besamu/eng-the-citadel-of-prague-some-of-its-churches-streets-and-gardens-esp-la-ciudadela-de-praga-algunas-de-sus-iglesias-calles-y-.
---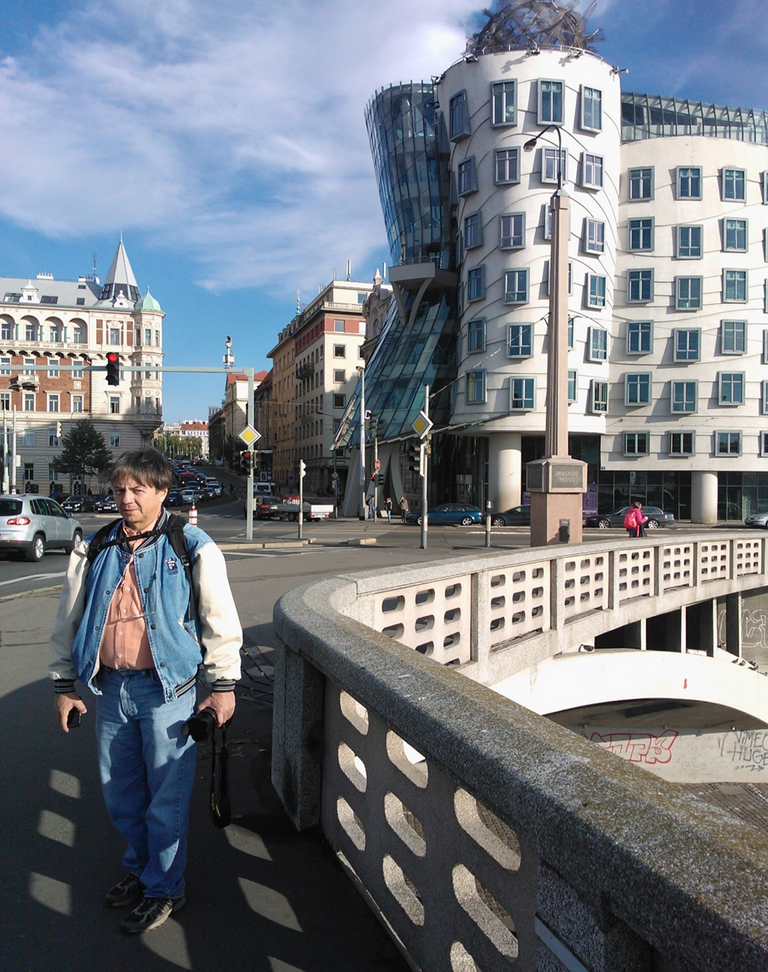 Behind right the Nederlanden national building, also known as the Dancing House. In the foreground Alfonso, my brother-in-law. ( Atrás a la derecha el edificio nacional nederlanden, también conocido como la Casa Danzante. En primer plano Alfonso, mi cuñado)
---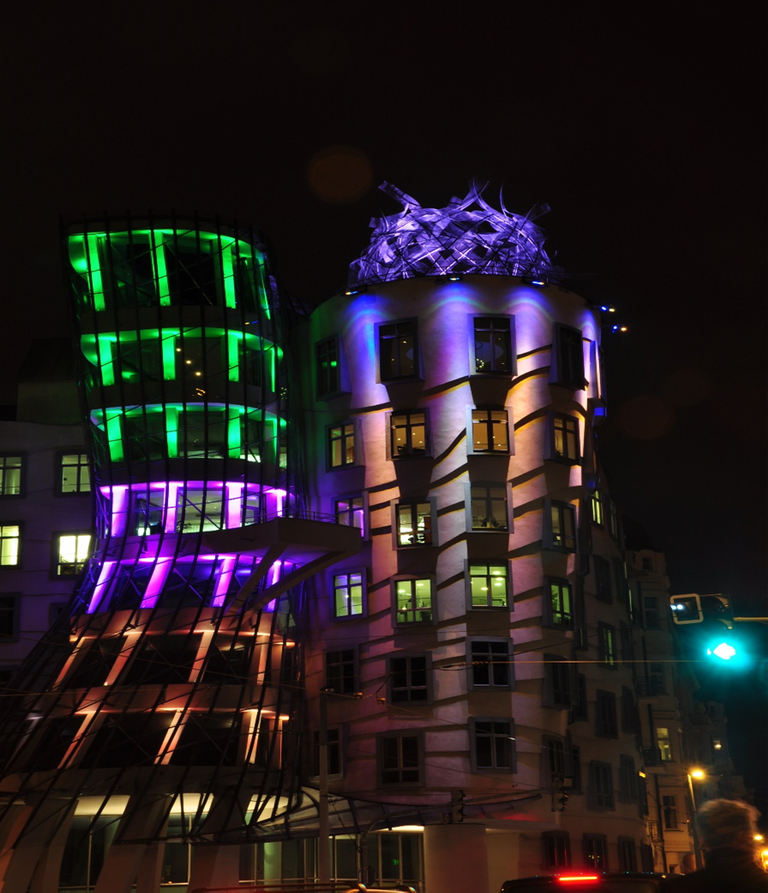 Night view, with a play of colors, of the Dancing House, a curvilinear building made of concrete, metal and Glass was designed by the architectural duo of Czech-Croatian Vlado Milunić and Canadian-American Frank Gehry, designer of the Guggenheim museum in Bilbao, and was completed in 1996. (Vista nocturna, con juego de colores, de la Casa Danzante, edificio curvilíneo de hormigón, metal y vidrio fue diseñado por el dúo arquitectónico del checo-croata Vlado Milunić y el canadiense-estadounidense Frank Gehry, del Guggenheim Bilbao, y se completó en 1996)
     Resulta agradable ir a zonas como el barrio Nuevo o Nové Mesto, caminando se pasa delante del magnífico Teatro Nacional con una gran sala para las actuaciones de ópera. Desde allí se puede dar un paseo por la orilla del río Moldava con vistas al castillo, hasta la sorprendente Casa Danzante, este edificio, que representa los famosos bailarines Fred Astaire y Ginger Rogers, sobresale entre los edificios barrocos, art noveau y góticos del barrio. También allí está la Iglesia de Anthropoid, famosa porque allí se libró una batalla histórica en la Segunda Guerra Mundial, con su cripta que sirvió para alojar a los soldados que asesinaron al conocido criminal nazi el "Carnicero de Praga".
---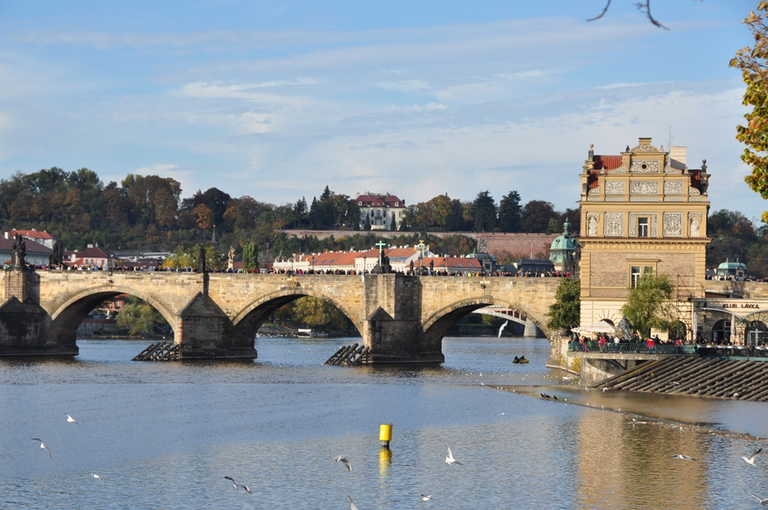 On the right the "bedřicha smetany museum", occupies a Neo-Renaissance building, dedicated to the life and work of the famous Czech composer Bedřich Smetana, 1824–1884. (A la derecha el museo "bedřicha smetany, ocupa un edificio neorrenacentista, dedicado a la vida y obra del famoso compositor checo Bedřich Smetana , 1824–1884)
---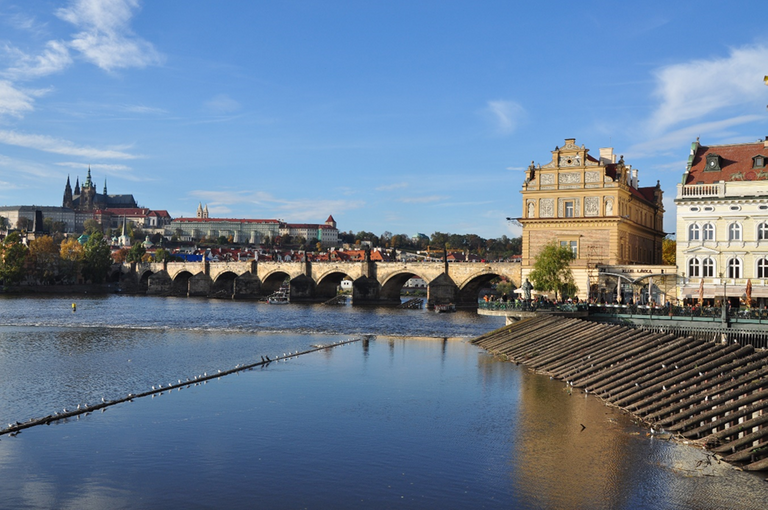 The "bedřicha smetany" museum, whose building block was a former Old Town water reservoir, dates from the 19th century, its walls are covered with sgraphites, is located next to the Charles Bridge, on the right bank of the Vltava river. (El museo "bedřicha smetany", cuyo bloque de edificios era un antiguo depósito de agua de la Ciudad Vieja, data del siglo XIX, sus muros están cubiertos de esgrafitos, está situado junto al Puente Carlos, en la orilla derecha del río Moldava)
     Siguiendo el camino se llega a un acceso para subir a la fortaleza o ciudadela de Vyšehrad, situada sobre una colina y con magníficas vistas al río Moldova. Esta fortificación se ha convertido en una zona verde ideal para relajarse. En el recinto se encuentran la Iglesia neogótica San Pedro y San Pablo y el Cementerio de Vyšehrad, en el que están enterrados personalidades de la historia checa.
---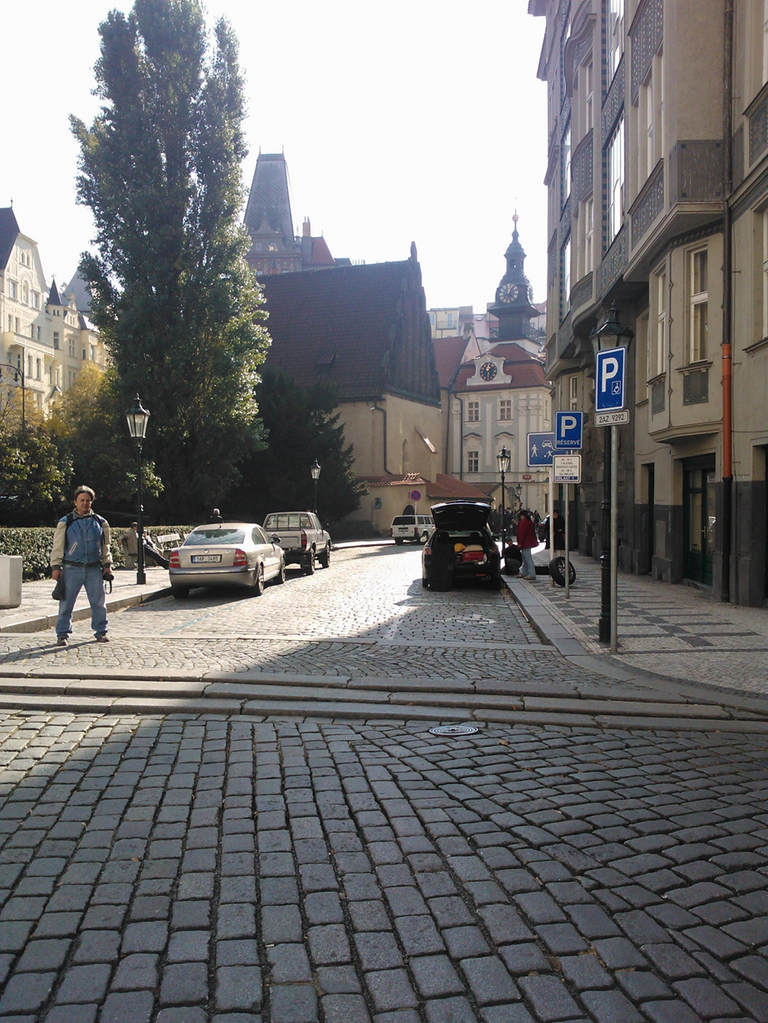 Old Jewish Quarter, on the left you can see the Old-New Synagogue, which is a Gothic construction from the thirteenth century, with a stone decoration, and forged bars and lamps. (Antiguo Barrio judío, a la izquierda se puede apreciar la Sinagoga Vieja-nueva, la cual es una construcción gótica del siglo XIII, con una decoración en piedra, con rejas y lámparas forjadas)
---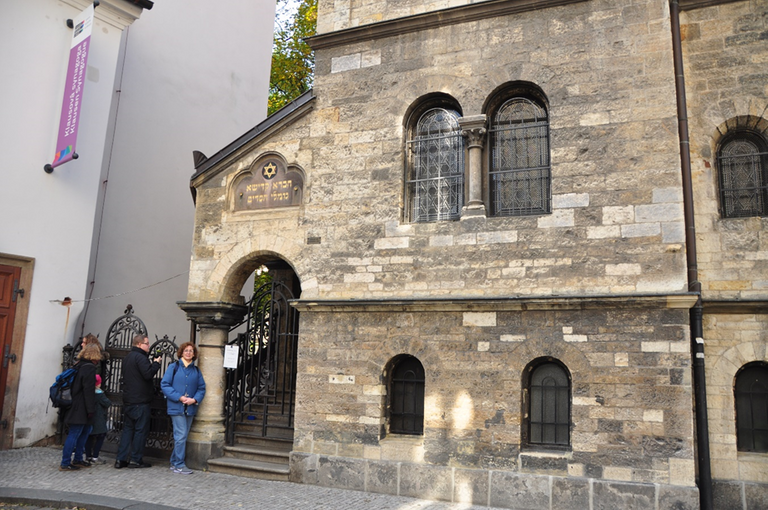 The Jewish Ceremonial Hall in the Jewish Quarter of Prague, built in 1911-12 by architect J. Gerstl in Neo-Romanesque style (La Sala Ceremonial judía en el Barrio judío de Praga, construido en 1911-12 por el arquitecto J. Gerstl en estilo neorrománico)
     Bibliografía consultada:
Klima, Ivan: El Espíritu de Praga, Barcelona, Acantilado, 2010
Dolezal, Ivan: Prague. The Golden Book. Praga, Pragensia Publishing House, 1983.
---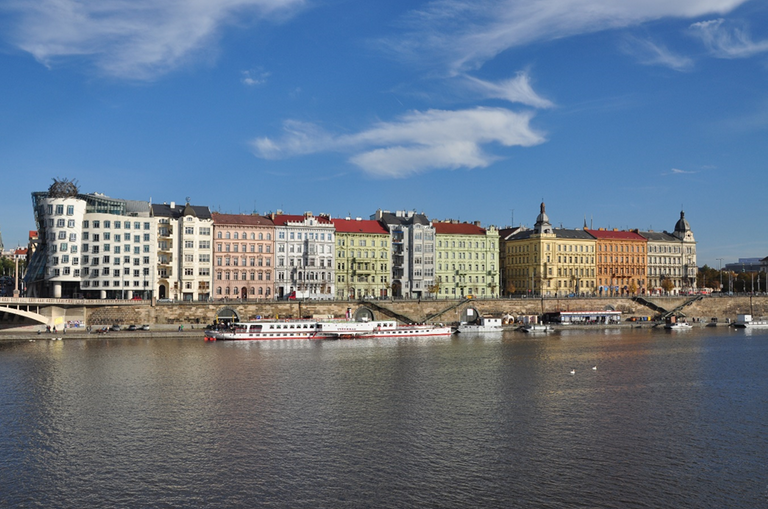 The Vltava River is the longest in the Czech Republic, starting in southern Bohemia before winding 430 kilometers towards Prague. The river divides the city into Malá Strana (Lower City) in the west from Staré Mĕsto (Old City) and the modern city in the east. (El Río Moldava es el más largo de la República Checa, comienza en el sur de Bohemia antes de serpentear 430 kilómetros hacia Praga. El río divide la ciudad en Malá Strana (Ciudad Baja) en el oeste de Staré Mĕsto (Ciudad Vieja) y la ciudad moderna en el este)
---
Photo gallery (Galería de fotos)
Arquitectura, diseño y arte en Praga
---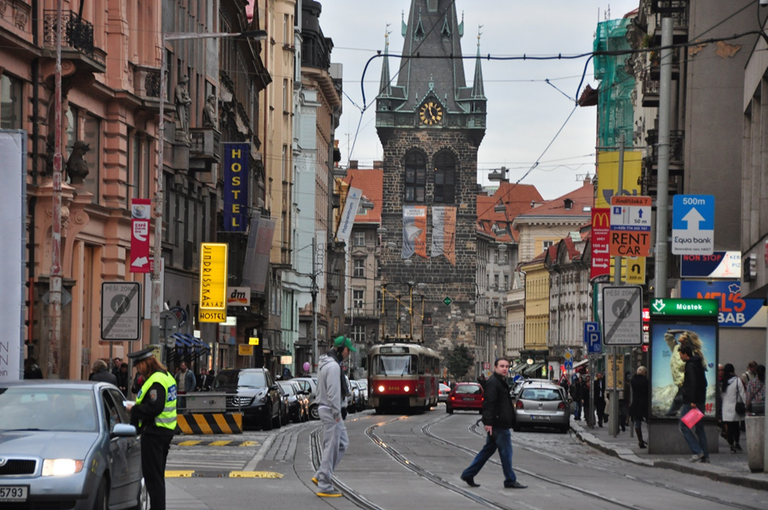 ---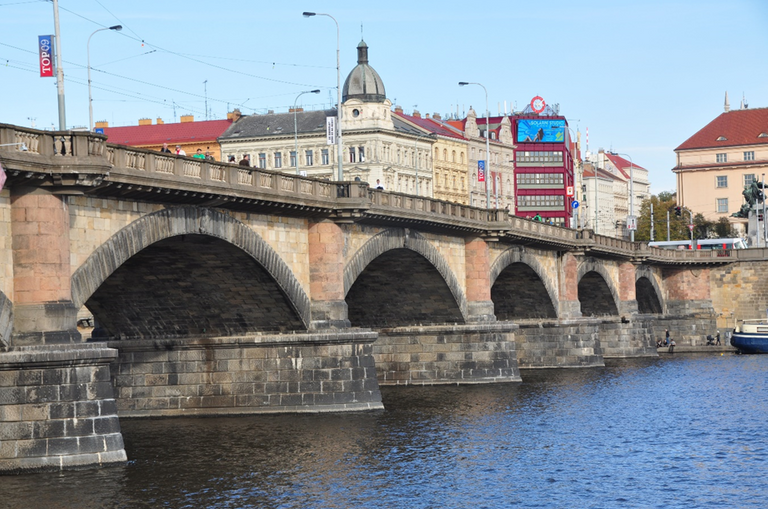 ---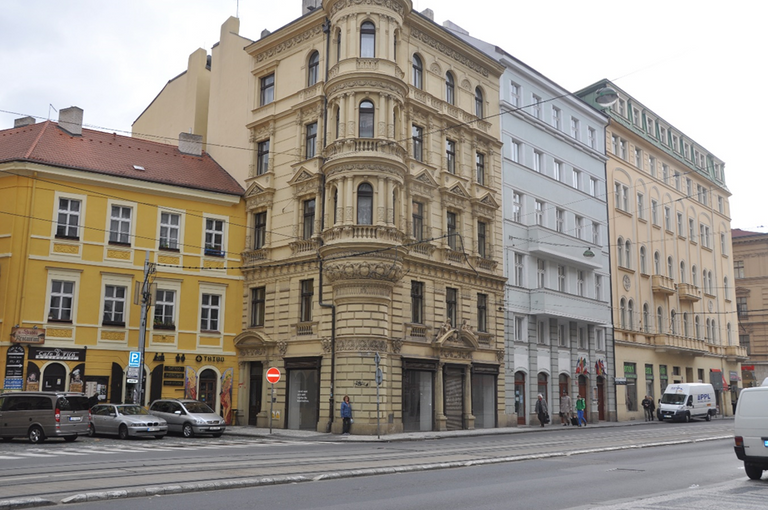 ---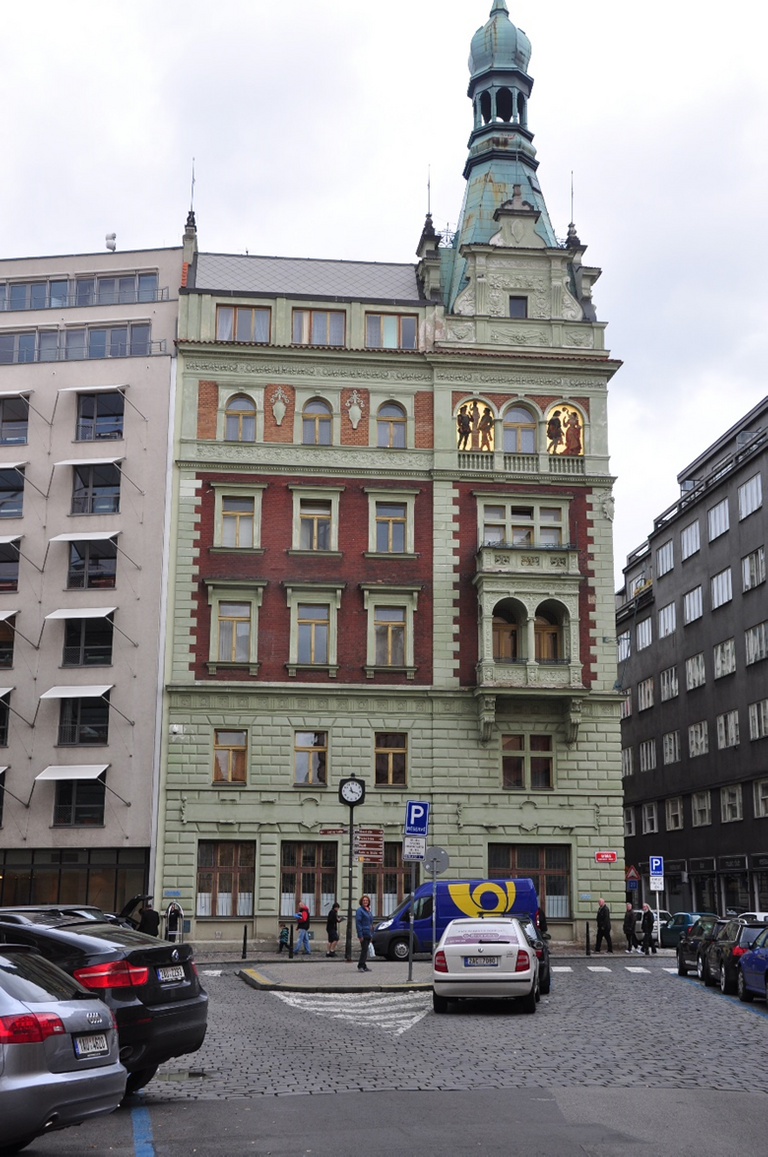 ---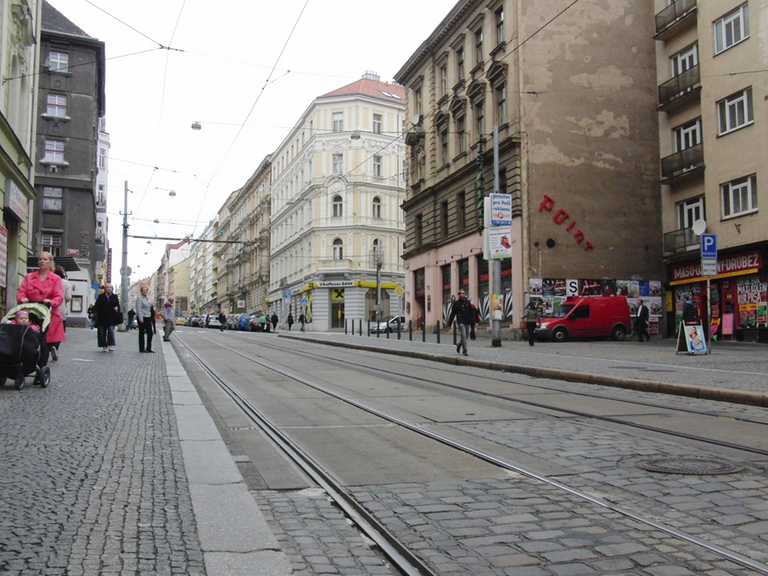 ---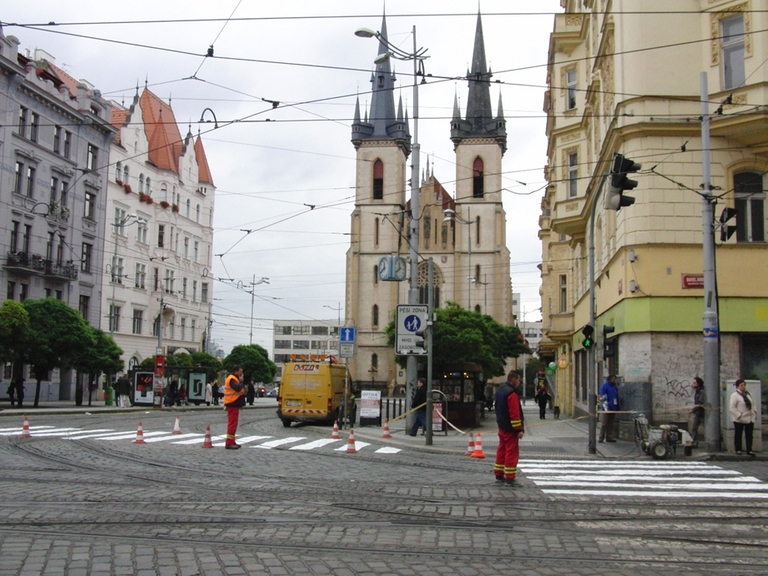 ---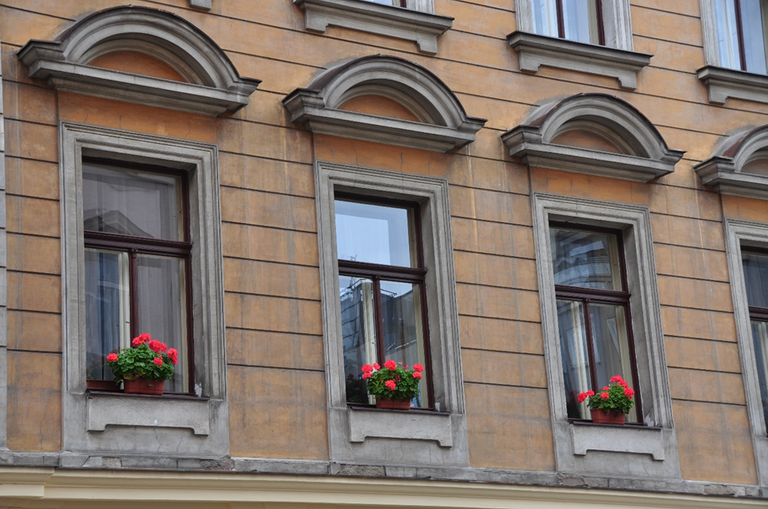 ---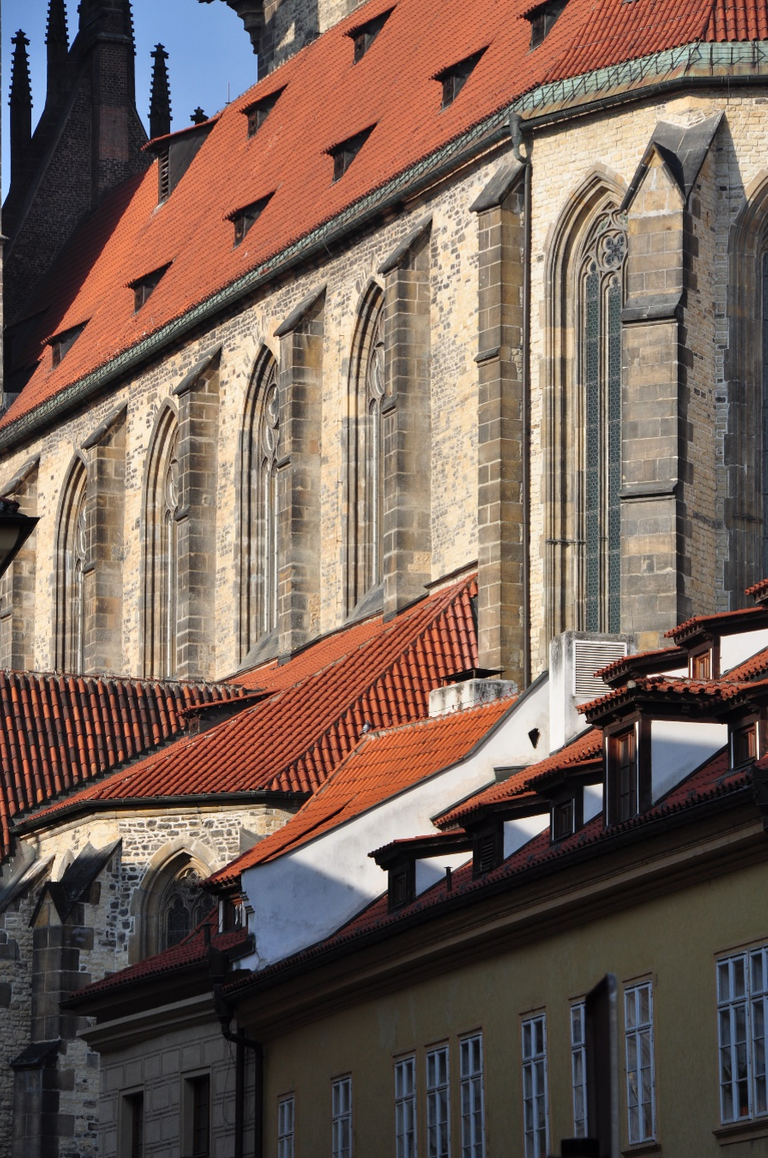 ---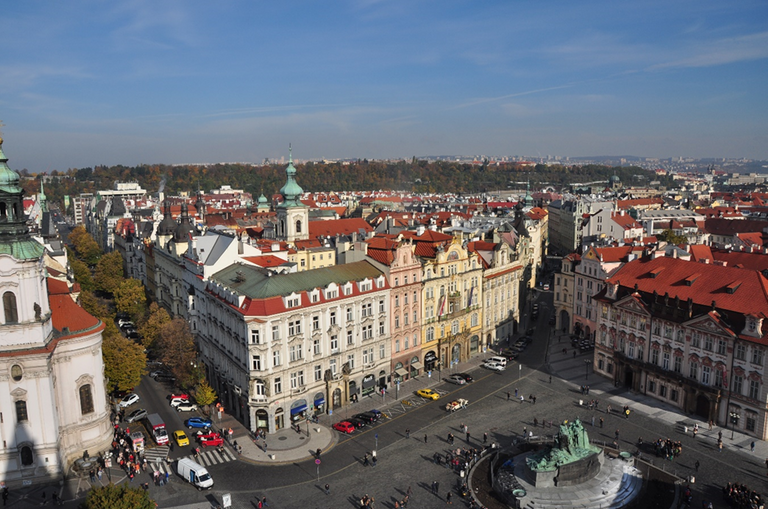 ---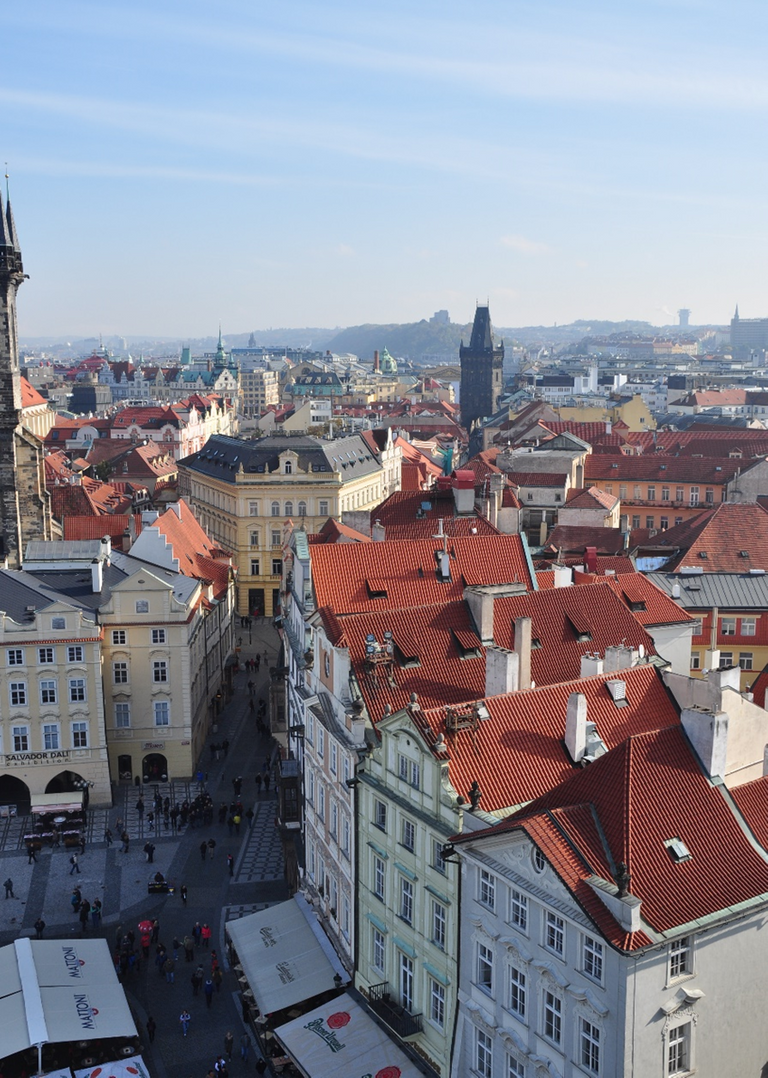 ---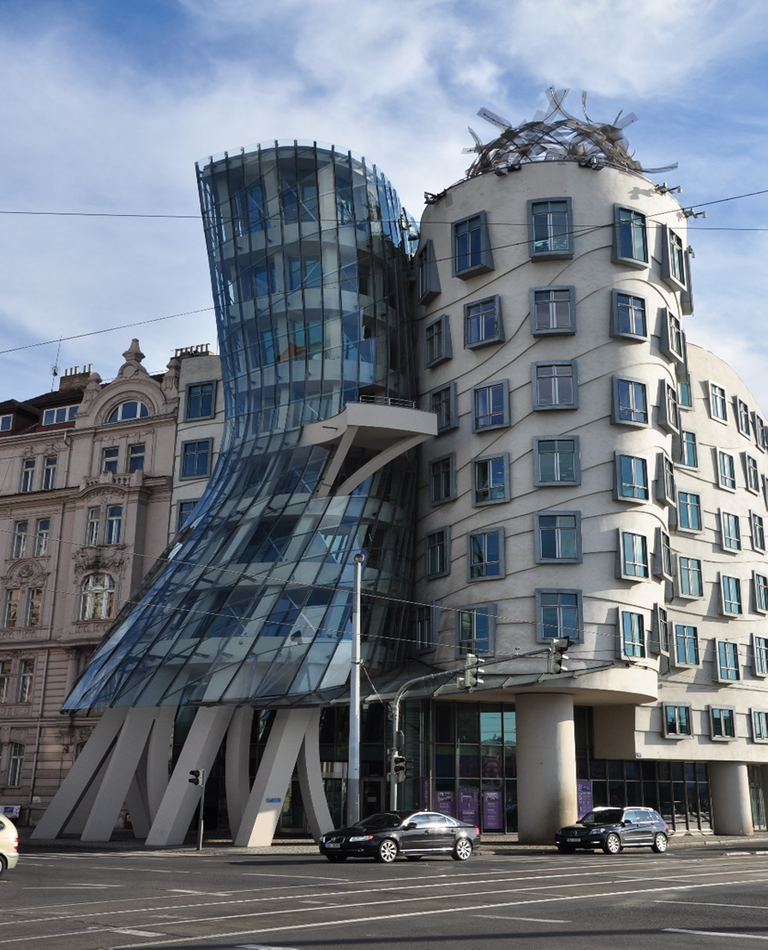 ---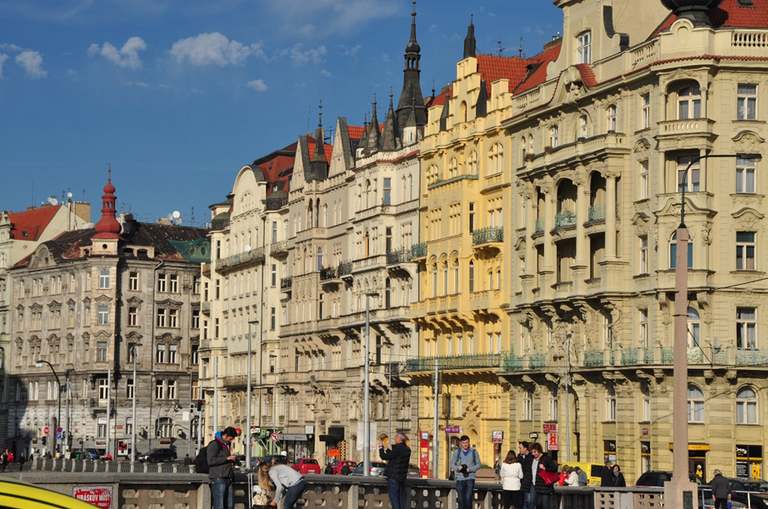 ---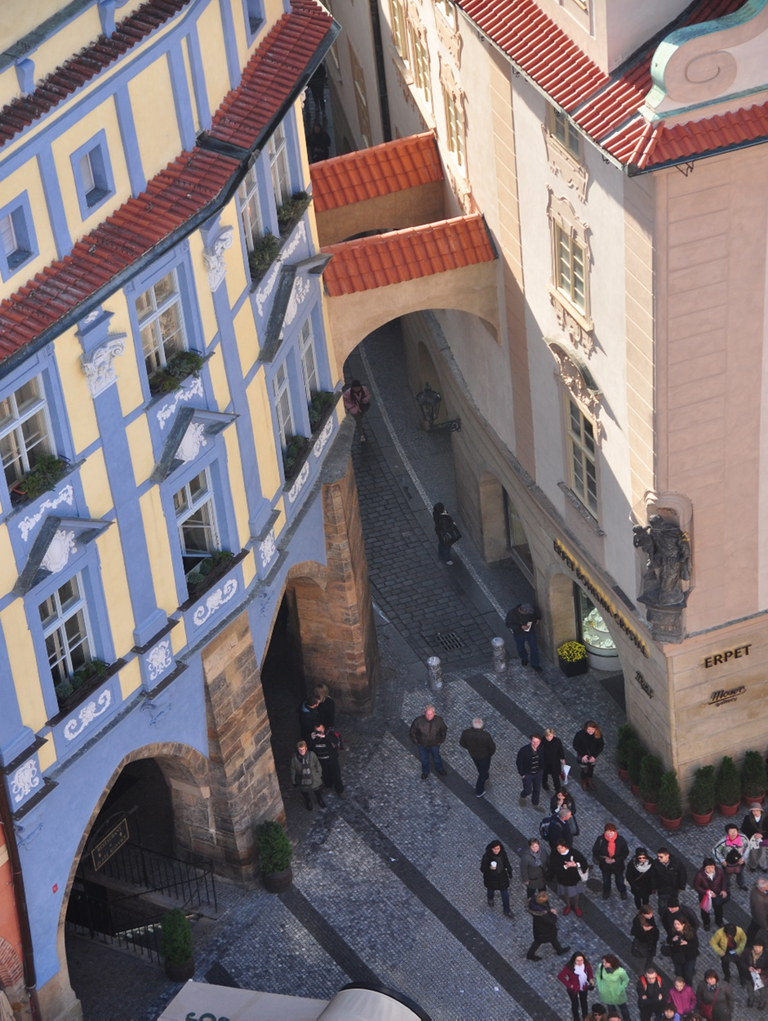 ---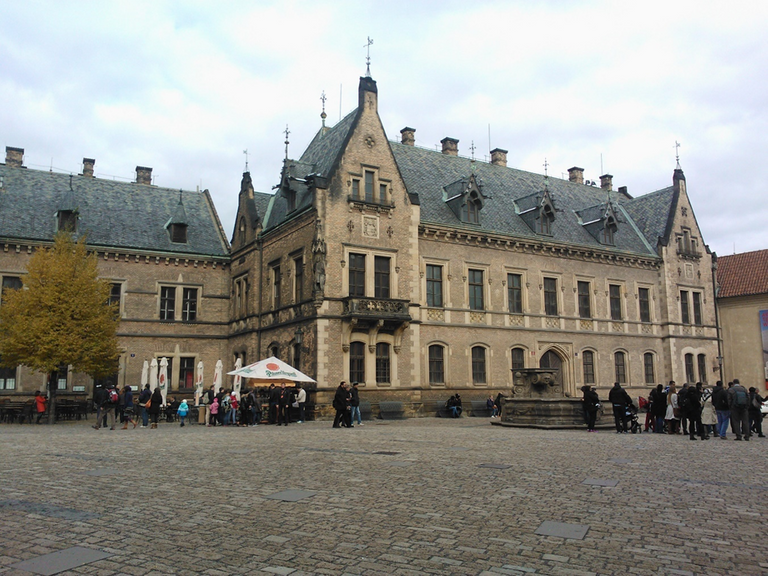 ---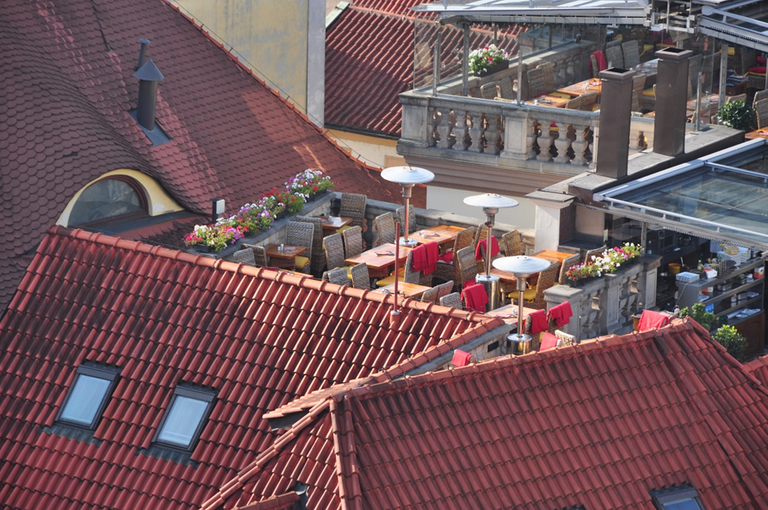 ---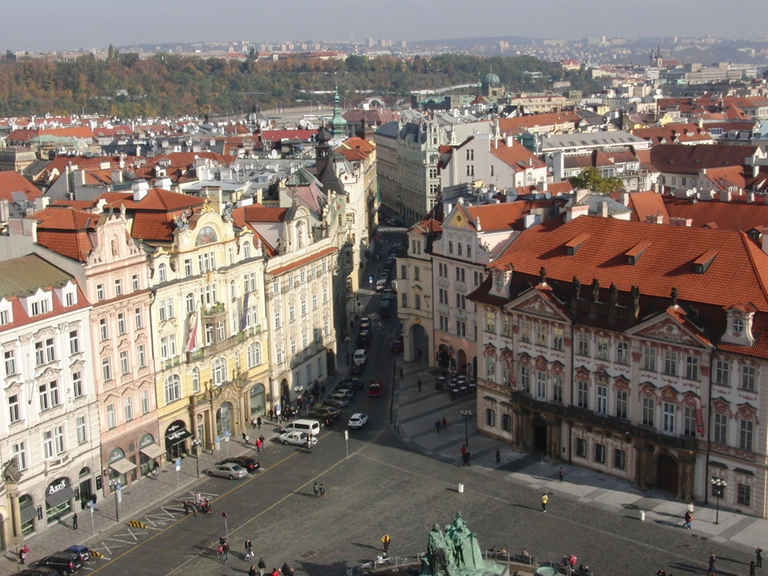 ---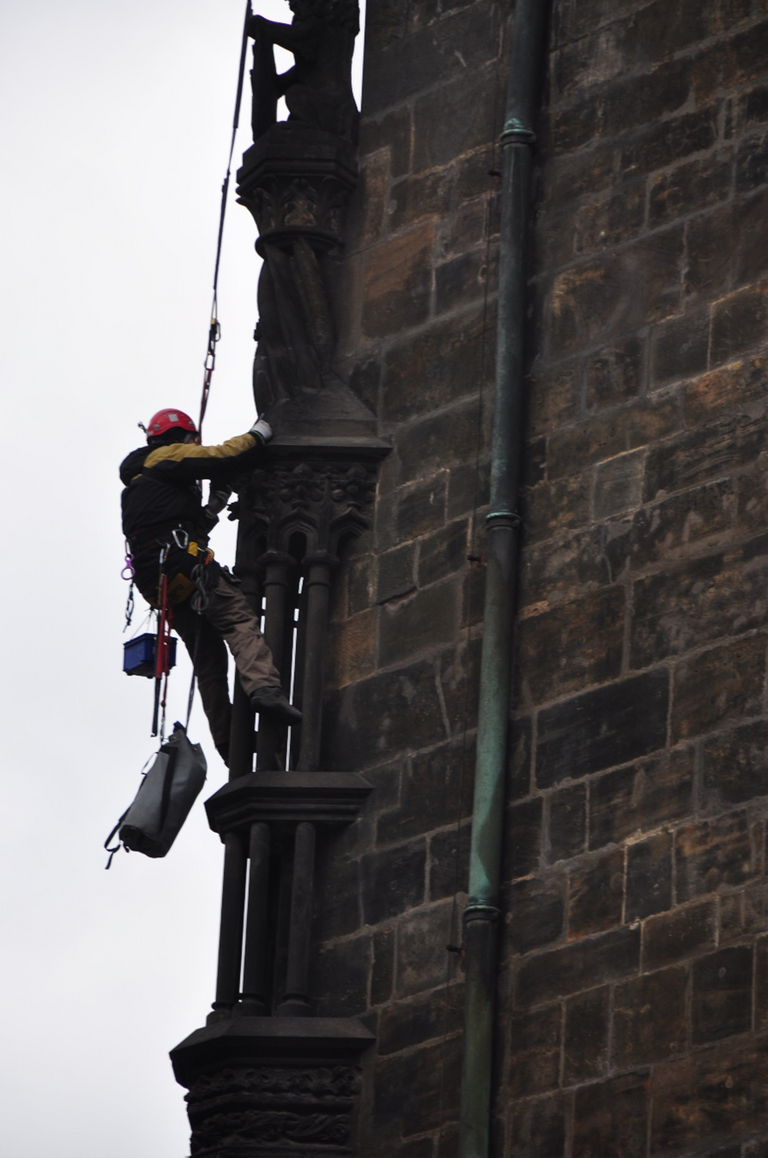 ---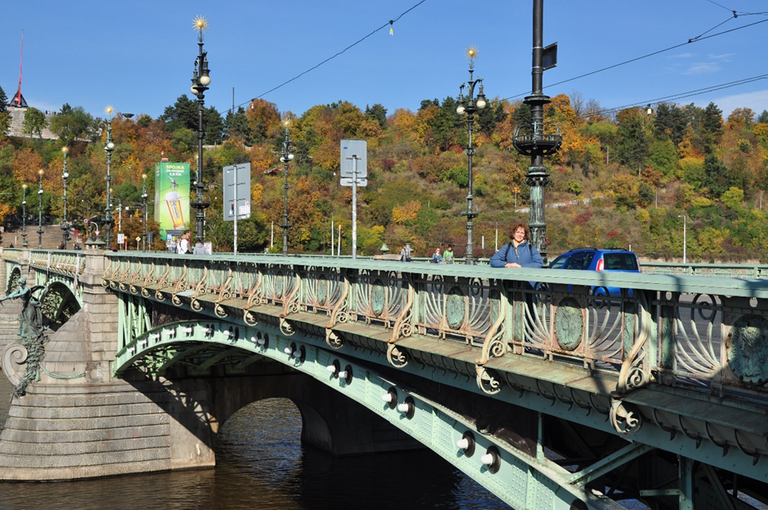 ---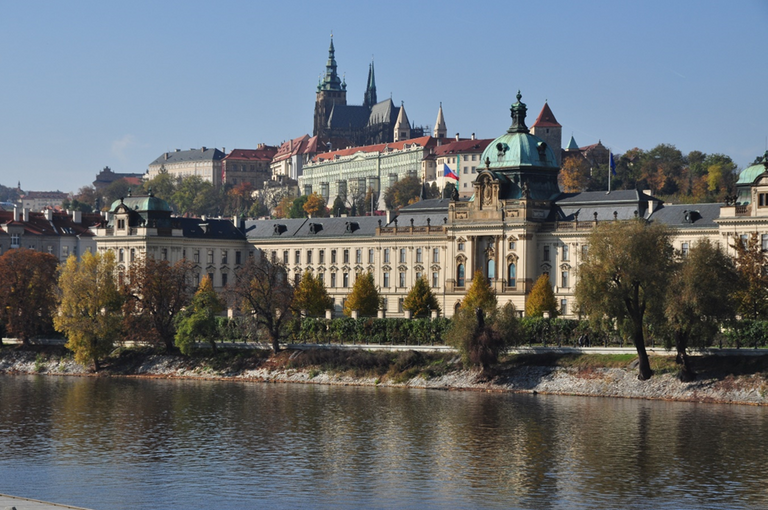 ---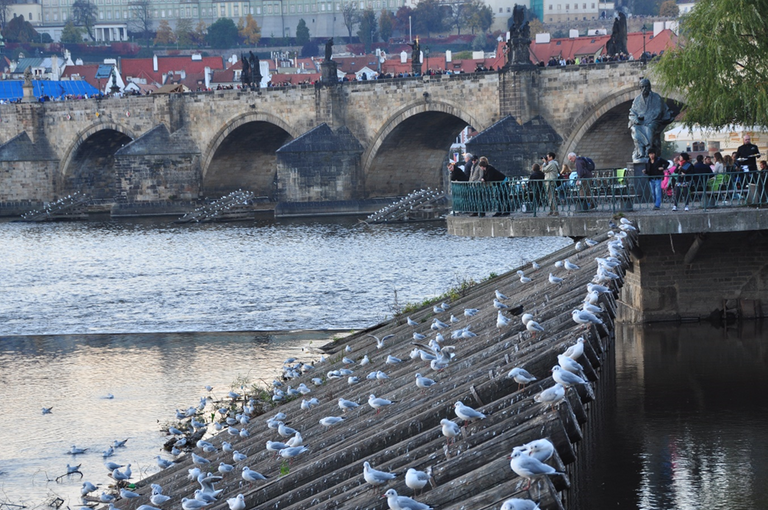 ---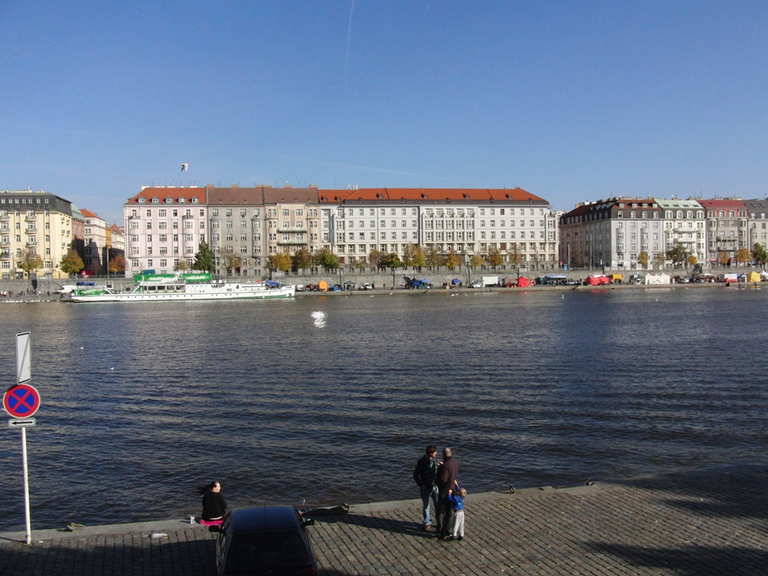 ---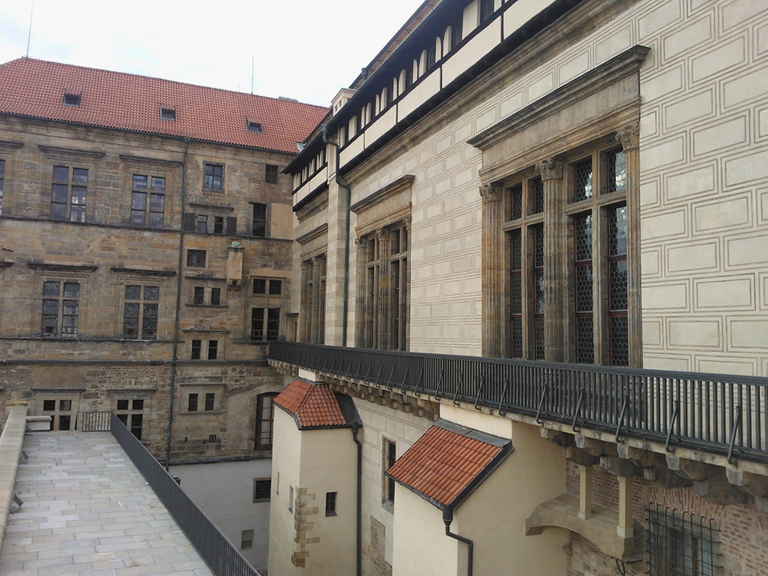 ---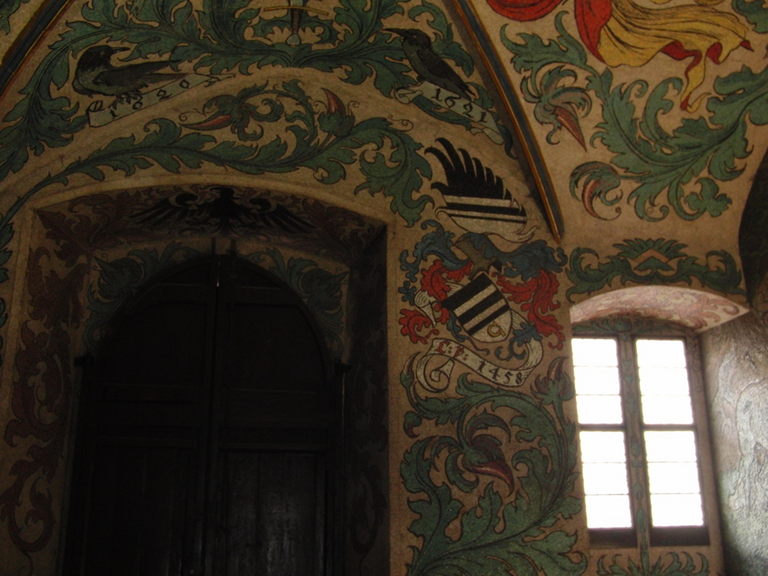 ---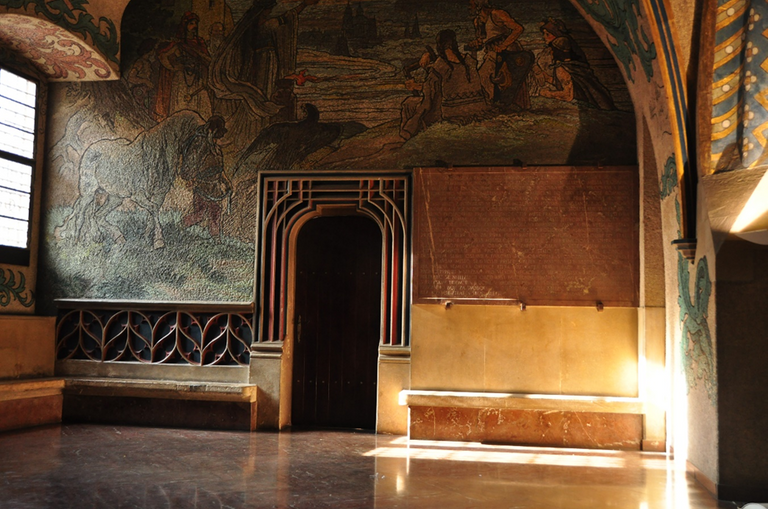 ---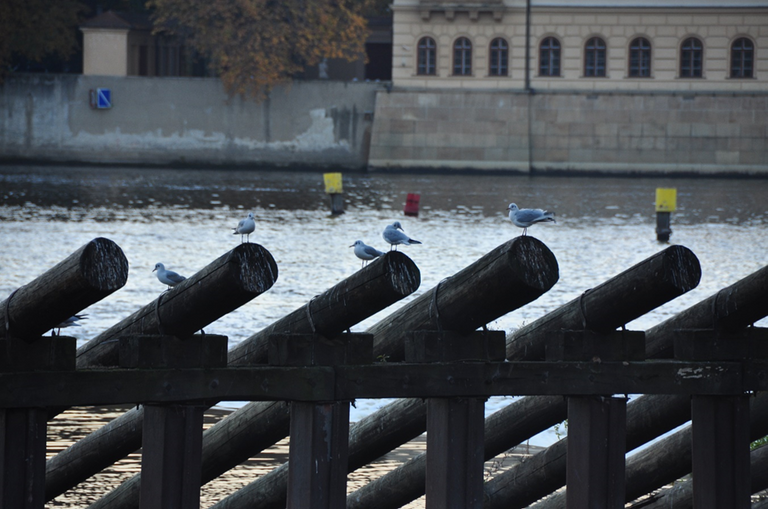 ---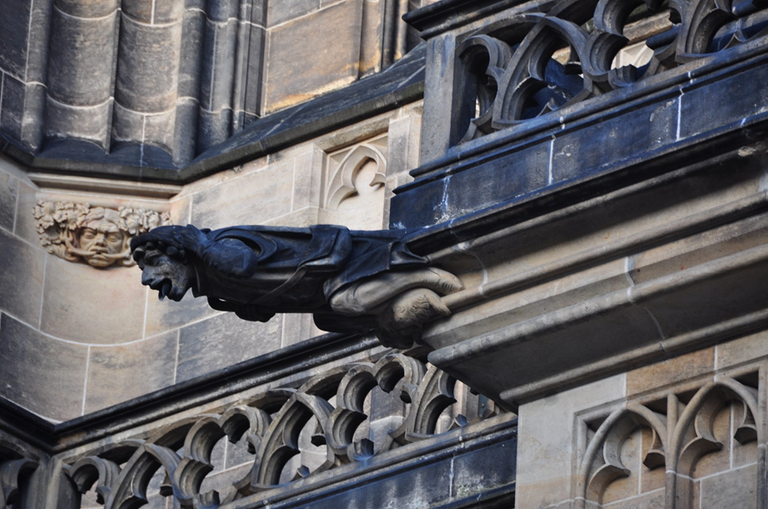 ---