Architectural spaces, art and nature of the Metropolitan University of Caracas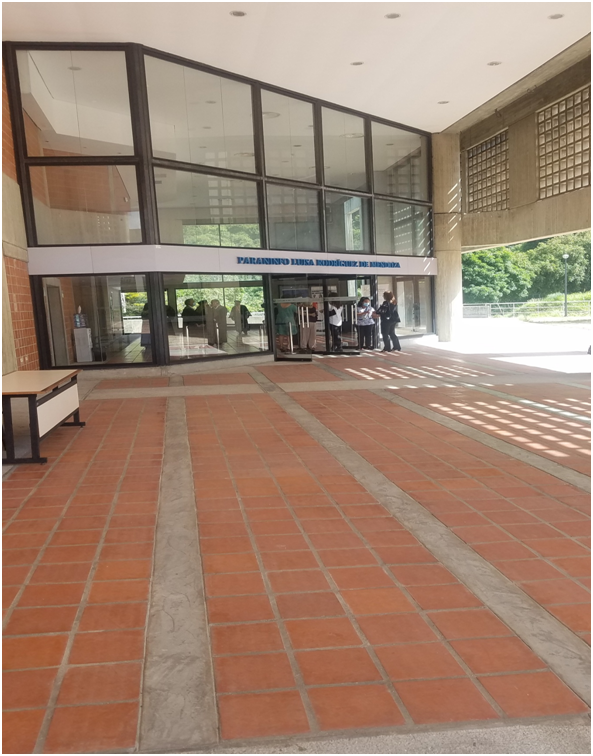 Entrance to the Auditorium ("Paraninfo"). Personal photo, July 2021 (Entrada al Paraninfo). Foto personal, julio 2021
     On the occasion of my presence in the paraninfo of the Metropolitan University, due to the awarding of the "Doctorate Honoris Causa" to a great friend of the Central University of Venezuela, I had the opportunity to see the facilities and campus of said university. That is why I felt the need to share, with my friends and readers of HIVE, the structures, works of art and the nature that surrounds them in that University Campus. Here I have chosen a series of photos of my authorship attached with some photos taken from the internet, when I considered it pertinent, and a small description of the buildings and the university campus of few years of construction. I hope you enjoy the post.
---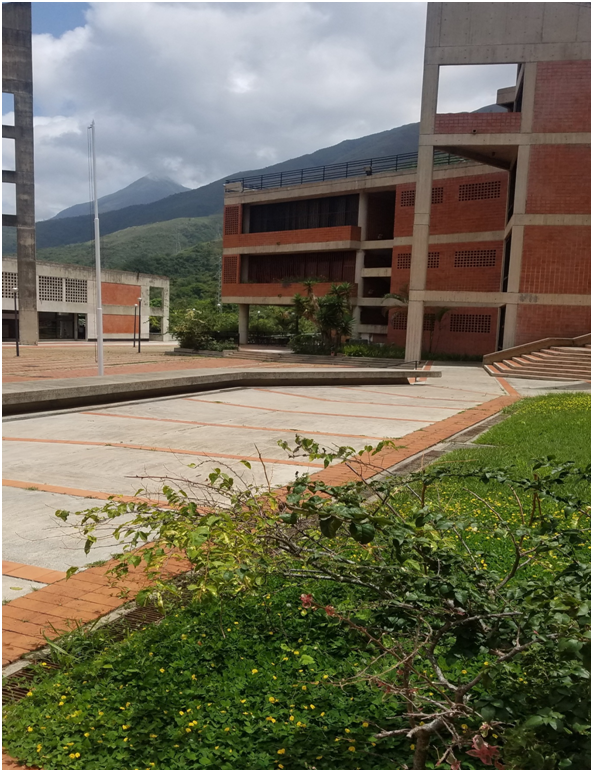 View of some buildings, from the Plaza del Rectorado, Personal photo, July 2021 (Vista de algunas edificaciones, desde la Plaza del Rectorado), Foto personal, julio 2021
     The Metropolitan University, hereinafter UNIMET, establishes from 1976 on its definitive headquarters in the northeast of the capital, adjacent to the Terrazas del Ávila (Miranda state), thanks to the donation of the lands of the Hacienda "La Urbina". This campus extends over an area of 100 hectares, adjacent to the "Waraira Repano" National Park (better known as "El Ávila") and has spacious, comfortable and functional facilities for the development of academic activities. Four modules of classrooms, a service building, the laboratory building, the Library; it also has buildings for holding academic events (a Paraninfo for 450 people and 5 Auditoriums with a capacity between 120 and 180 people), venues for the development of cultural activities (Music Room, Theater Room, exhibition and meeting rooms, sloping lounges and various multimedia rooms). It also has a restaurant and cafes, a bank branch, sports facilities, parking lots and a beautiful modern chapel for religious ceremonies.
---
Aerial view of UNIMET (Vista aérea de la UNIMET) Ima
     The architectural design of its buildings has been in charge of the Spanish-Venezuelan architect Víctor Artis García (1933-2020) and Massimo Ruggiero (1946-), who, since the second part of the 70s of the last century, have been in charge of draw the architecture that identifies the buildings that make up the university, in addition to having assumed the supervision of all the earthworks necessary for the works of the Metropolitan Distributor and the Cota Mil, essential routes for access to the University.
---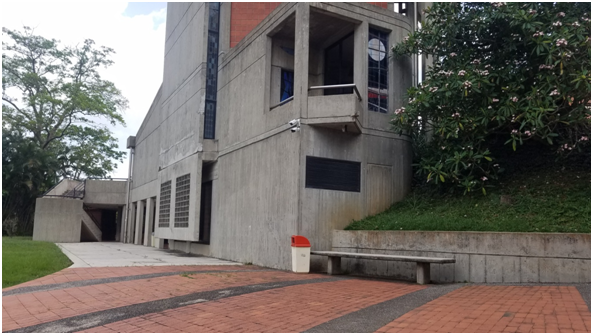 Regular geometric shapes are predominant in buildings. Personal photo, July 2021 (Las formas geométricas regulares son preponderantes en las edificaciones). Foto personal, julio 2021
     In 1975, Artis, following the guidelines of the architect Julián Ferris, promoter of UNIMET, formulated the Urban Master Plan of the land with three clearly defined sectors: educational, sports and rental area. At the same time, associated with the architect Massimo Ruggiero, he developed the projects for the Eugenio Mendoza Goiticoa building, and the successive buildings for Classrooms 1, 2 and 3, as well as the university chapel.
---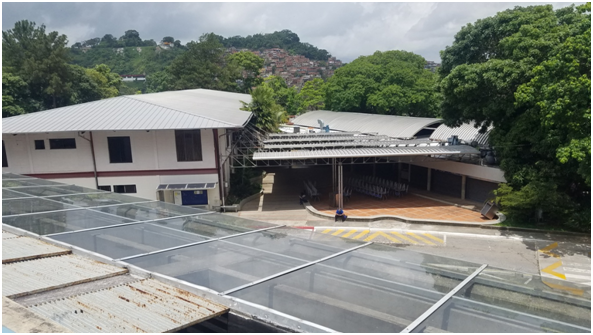 One level below that of the "Plaza del Rectorado" you can see the transparent ceilings. Personal photo, July 2021 (Un nivel mas abajo del de la "Plaza del Rectorado" se pueden apreciar los techos transparentes). Foto personal, julio 2021
     Taking advantage of the ascending topography of Ávila, where UNIMET is located, a series of interior gardens has been designed and put into operation that contrast with the rigorous appearance of the buildings, adding the presence of nature throughout the field. A large part of university life hangs around these gardens (the dining room, the library, the chapel, the classrooms), which is why sculptural and three-dimensional works have been placed in them: an "enormous ear" that speaks to us from the need to listen, a figure with a human head, made with bars, hanging between two columns, expresses the emotions and a statue of the great universal leader Mahatma Ghandi that recalls the need to fight for freedom. Very in line with the university structures of the country, UNIMET has embraced the theory of the synthesis of the arts and has brought art, architecture and nature into close relationship and harmony.
---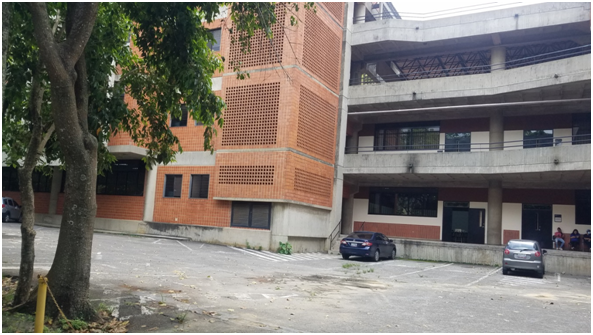 Rear of the Academic Administration Building Personal photo, July 2021. (Parte trasera del Edificio de Administración Académica). Foto personal, julio 2021
     Due to the enrollment growth of the University, in 1984 the building of classrooms 3 was built and put into service, with a capacity for 1,200 students, which has an area of 4,334 m2, where the architects designed spaces for 50 teacher cubicles, 24 classrooms classes, administrative offices, Physics laboratories, an auditorium for 140 people. In this "brutalist" style building, the use of concrete and clay bricks, rustic floors; To take advantage of its geographical location and the excellent climate, prevalent in the area, parasols and ventilation blocks have been placed, in addition, it has large windows that allow not only the entry of natural light, but also allow visual interaction with an environment splendor that gives the beautiful El Ávila National Park. At the end of the same year, the rector's square, near this building, was inaugurated.
---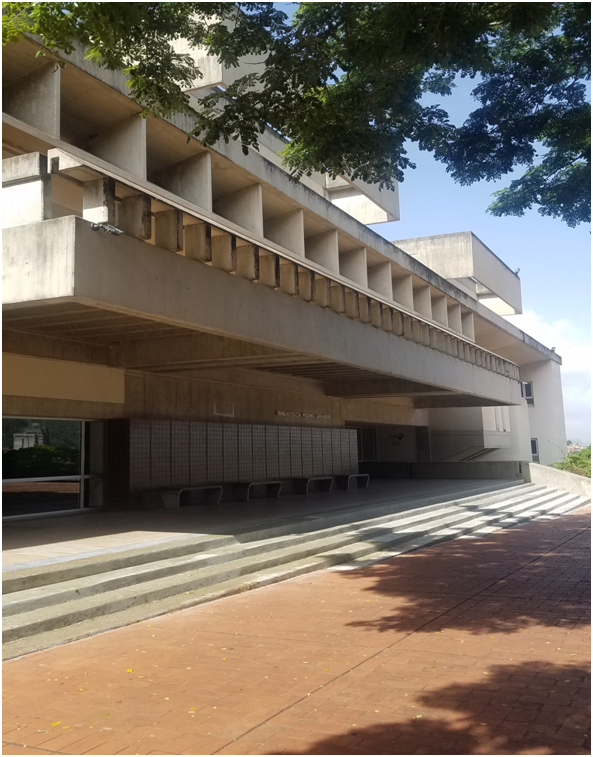 Side view of the Library. Personal photo, July 2021 (Vista lateral de la Biblioteca). Foto personal, julio 2021
     The university library was built in a different style from that of the other buildings, it dates from 1983, it was designed by the architect Tomás Sanabria. The building is located in front of the rector's square, where we can see a beautiful offspring of old Samán that gives its immense shade to those who visit it.
---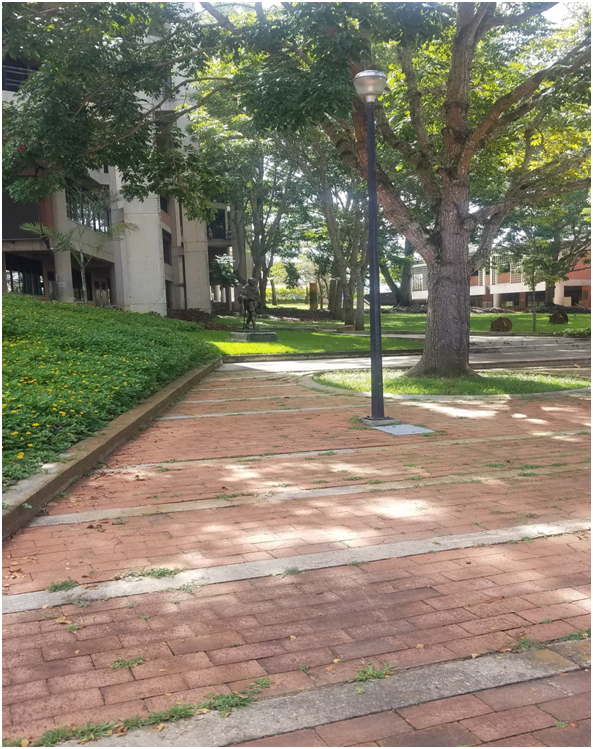 UNIMET walkways and corridors, Personal photo, July 2021 (Caminerías y pasillos de la UNIMET), Foto personal, julio 2021
     In 2006, the academic administration building was inaugurated, which was designed by the architects Víctor Artis and Massimo Ruggiero. The 9-story building shows on its ground floor the 520 m2 "Mendoza" Exhibition Hall, whose birth is contemporary with the origins of the university in 1956; In the first two floors we find the classrooms and the postgraduate administration, in the rest of the building the different deans of careers, authorities and administration have been located. The building is complemented with an Auditorium ("paraninfo"), a club for teachers and a cafeteria.
---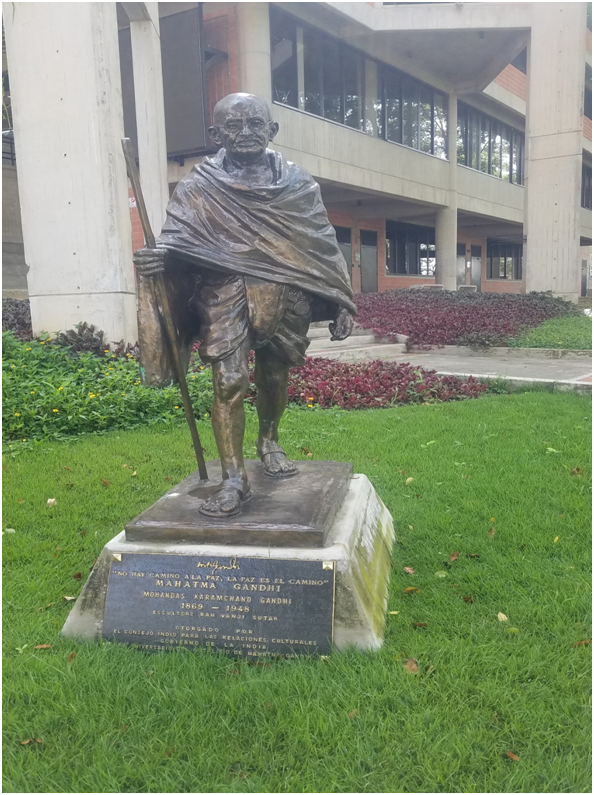 Statue in homage to Gandhi, in the background the modern structure of the UNIMET buildings. Personal photo, July 2021 (Estatua en homenaje a Gandhi, al fondo moderna estructura de los edificios de la UNIMET). Foto personal, julio 2021
Biography consulted:
I.- Página web de la UNIMET: https://www.unimet.edu.ve/#prev
II.- Universidad Metropolitana_Caracas #Arquitectura: http://zona-arquitectura.blogspot.com/2014/10/universidad-metropolitanacaracas.html
III.- https://www.unimet.edu.ve/dijo-adios-victor-artis-el-arquitecto-que-diseno-los-edificios-del-campus-naranja/
---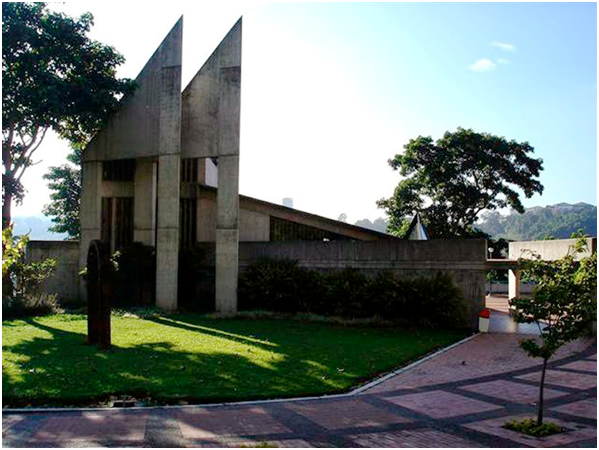 View of the University Chapel (Vista de la Capilla de la Universidad) Image
---
Espacios arquitectónicos, arte y naturaleza de la Universidad Metropolitana de Caracas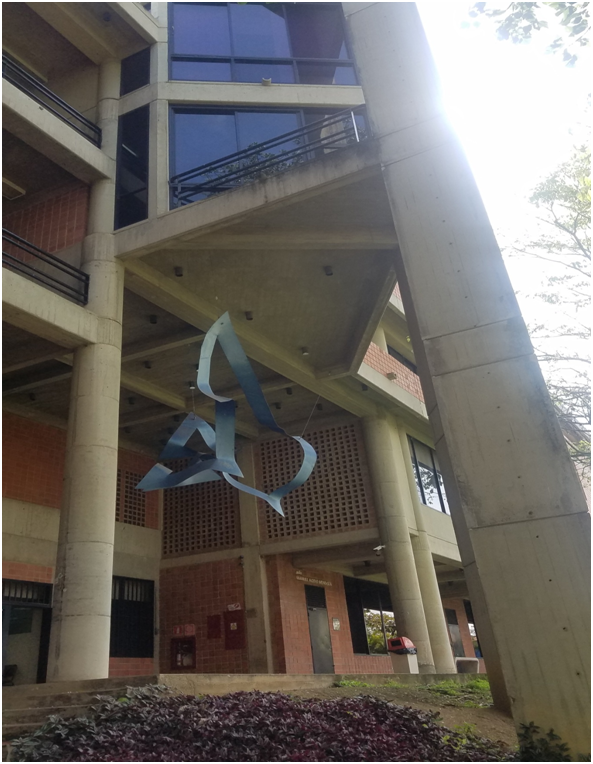 Towering columns support a work of art. Personal photo, July 2021 (Imponentes columnas sostiene una obra de arte). Foto personal, julio 2021
     Con motivo de mi presencia en el paraninfo de la Universidad Metropolitana, en razón del otorgamiento del "Doctorado Honoris Causa" a un gran amigo de la Universidad Central de Venezuela, tuve la oportunidad de conocer las instalaciones y el campus de dicha universidad. Por ello sentí la necesidad de compartir con mis amigos y lectores de HIVE las estructuras, obras de arte y la naturaleza que rodean a dicha Universidad. Vaya aquí una serie de fotos de mi autoría adosadas con algunas fotos tomadas de internet, cuando así lo consideré pertinente, y una pequeña descripción de los edificios y del campus de la universidad de escasos años de construcción. Espero disfruten el post.
---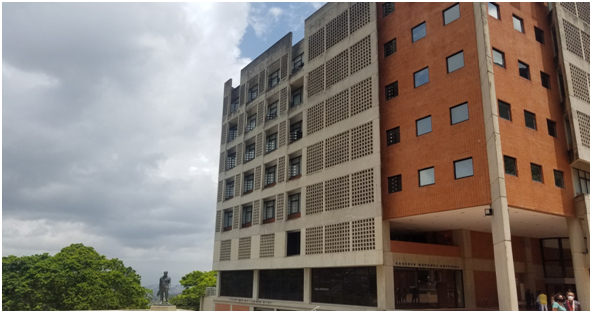 Academic administration building. Personal photo, July 2021 (Edificio de administración académica). Foto personal, julio 2021
     La Universidad Metropolitana, en adelante UNIMET, establece, a partir de 1976, su sede definitiva en el noreste de la capital, colindando con las Terrazas del Ávila (estado Miranda), gracias a la donación de los terrenos de la Hacienda "La Urbina". Este campus se extiende sobre una superficie de 100 hectáreas, colindantes con el Parque Nacional "Waraira Repano" (mejor conocido como "El Ávila") y cuenta con amplias, cómodas y funcionales instalaciones para el desarrollo de las actividades académicas. Cuatro módulos de aulas, un edificio de servicios, el edificio de laboratorios, la Biblioteca; cuenta además con edificaciones para la realización de eventos académicos (un Paraninfo para 450 personas y 5 Auditorios con capacidad entre 120 y 180 personas), locales para el desarrollo de actividades culturales (Sala de Música, Sala de Teatro, salas de exposiciones y reuniones, salones inclinados y varias salas multimedia). Posee además un restaurante y cafetines, una sucursal bancaria, espacios deportivos, estacionamientos y una bella capilla de corte moderno para ceremonias religiosas.
---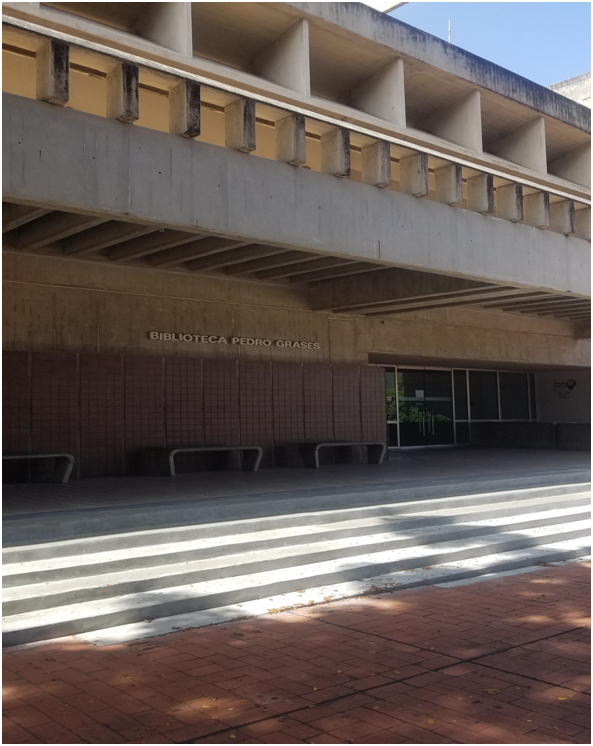 Main entrance of the "Pedro Grases" Library, note that the architectural style is different from the rest of the buildings. Personal photo, July 2021 (Entrada principal de la Biblioteca "Pedro Grases", nótese que el estilo arquitectónico es distinto del resto de las edificaciones). Foto personal, julio 2021
     El diseño arquitectónico de sus edificaciones ha estado a cargo del arquitecto hispano-venezolano Víctor Artis García (1933-2020) y de Mássimo Ruggiero (1946- ), quienes, desde la segunda parte de los años 70 del siglo pasado, se han ocupado de trazar la arquitectura que identifica a las edificaciones, que conforman la universidad, además de haber asumido la supervisión de todo el movimiento de tierra necesario para los trabajos del Distribuidor Metropolitano y la Cota Mil, vías indispensables para el acceso a la Universidad.
---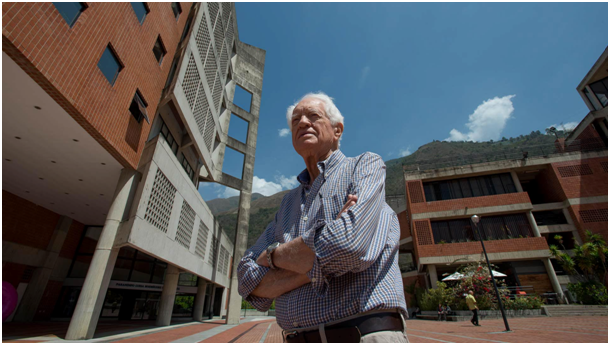 Architect Víctor Artis, designer of almost all the works on the UNIMET campus (Arquitecto Víctor Artis, diseñador de casi todas las obras del campus de la UNIMET)
Image
     En 1975, Artis, siguiendo los lineamientos del arquitecto Julián Ferris, promotor de la Unimet, formuló el Plan Maestro Urbanístico de los terrenos con tres sectores claramente definidos: docente, deportivo y zona rental. Paralelamente, asociado con el Arquitecto Mássimo Ruggiero, desarrolló los proyectos del edificio Eugenio Mendoza Goiticoa, y los sucesivos edificios de Aulas 1, 2 y 3, además de la capilla universitaria.
---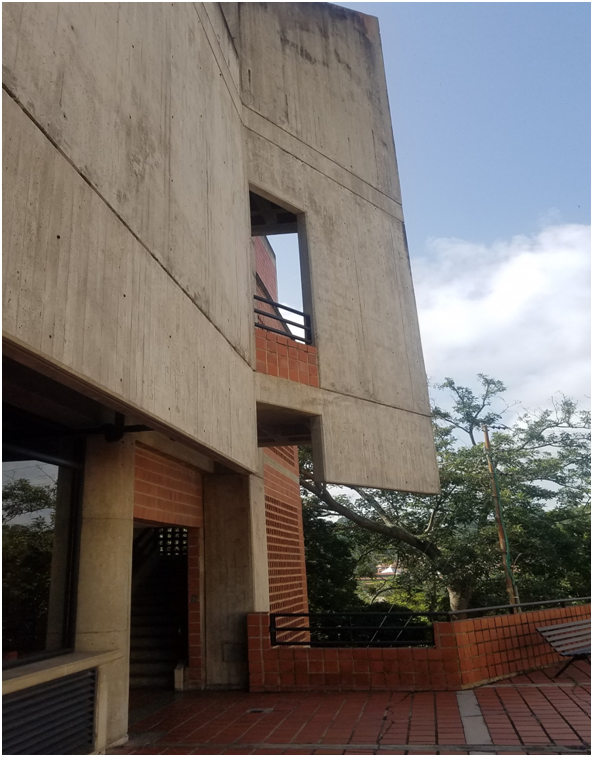 Detail of the structure of a "brutalist" style classroom building. Personal photo, July 2021 (Detalle de la estructura de un edificio de aulas en estilo "brutalista") . Foto personal, julio 2021
     Aprovechando la topografía ascendente del Ávila, donde está enclavada la UNIMET, se ha diseñado y puesto en funcionamiento una serie de jardines interiores que contrastan con la rigurosa apariencia de los edificios, agregando la presencia de la naturaleza en todo el campo. En torno a estos jardines pende gran parte de la vida universitaria (el comedor, la biblioteca, la capilla, los salones de clase), razón por la cual se han emplazado obras escultóricas y tridimensionales en ellos: una "enorme oreja" que nos habla de la necesidad de escuchar, una figura de cabeza humana, hecha con cabillas, colgando entre dos columnas, expresa las emociones y una estatua del gran líder universal Mahatma Ghandi que recuerda la necesidad de luchar por la libertad. Muy acorde con las estructuras universitarias del país, la UNIMET ha acogido la teoría de la síntesis de las artes y ha puesto en estrecha relación y armonía al arte, la arquitectura y la naturaleza.
---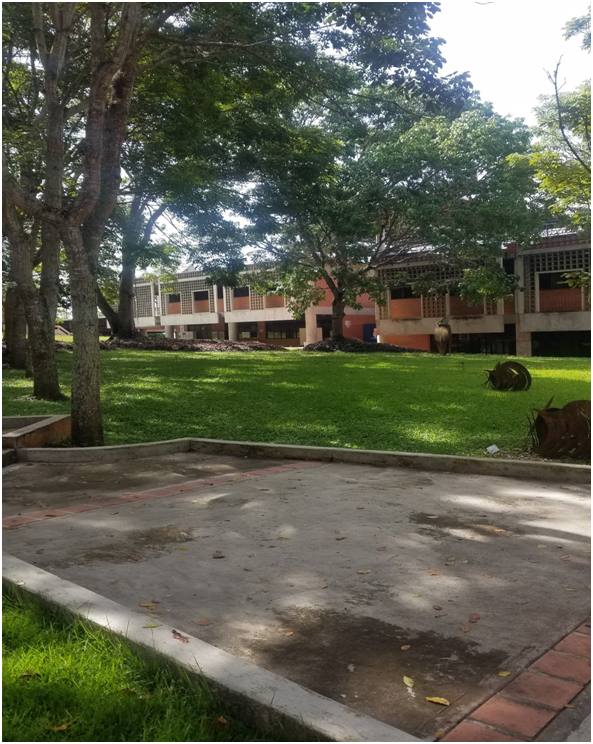 Nature and architecture in syncopated rhythm. Personal photo, July 2021 (Naturaleza y arquitectura en ritmo sincopado). Foto personal, julio 2021
     En virtud del crecimiento matricular de la Universidad, en 1984 se construyó y puso en servicio el edificio de aulas 3, con capacidad para 1.200 estudiantes, el cual tiene 4.334 m2 de área, en donde los proyectistas diseñaron espacios para 50 cubículos profesorales, 24 salones de clases, oficinas administrativas, laboratorios de Física, un auditorio para 140 personas. En esta edificación, de estilo brutalista, predomina el uso de concreto y ladrillos de arcilla, pisos rústicos; para provechar su ubicación geográfica y el excelente clima, preponderante en la zona, se le han colocado parasoles y bloques de ventilación, además, cuenta con grandes ventanales que permiten no solo la entrada de luz natural, sino que permiten la interacción visual con un entorno esplendoroso que regala el hermoso Parque Nacional El Ávila. A finales del mismo año, se inauguró la plaza de rectorado, cercano a este edificio.
---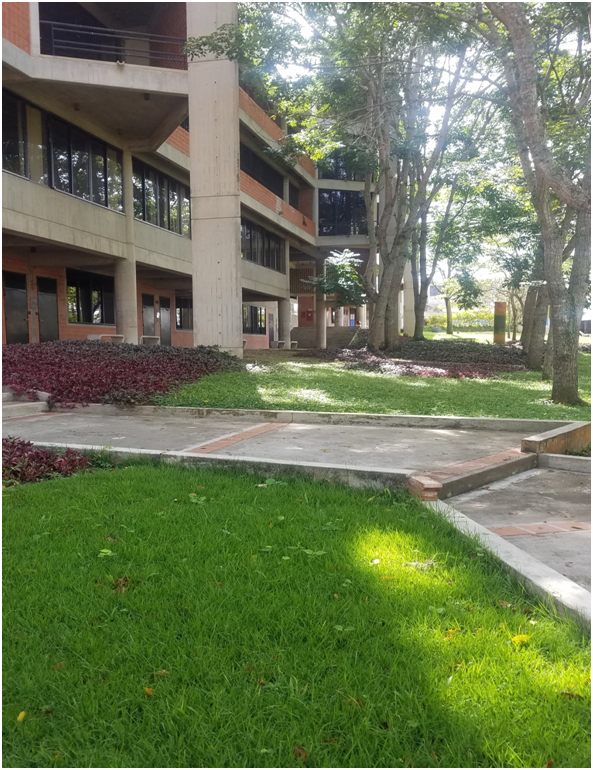 Modern buildings stand on the university campus. Personal photo, July 2021 (Modernas edificaciones se levantan en el campus universitario). Foto personal, julio 2021
     La biblioteca de la universidad fue construida con un estilo distinto al de los edificios nuevos, data de 1983, fue diseñada por el arquitecto Tomás Sanabria. La obra está ubicada frente a la plaza del rectorado, donde podemos apreciar un hermoso retoño del viejo Samán que da su inmensa sombra a quienes le visitan.
---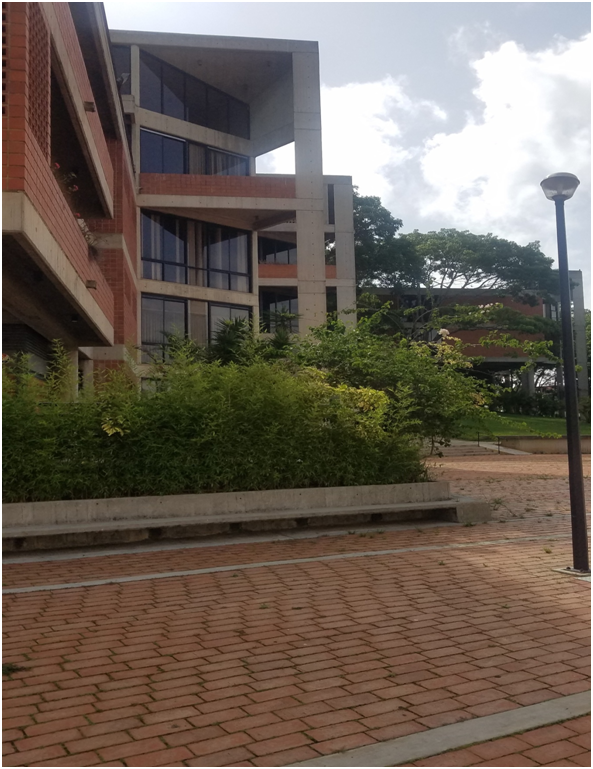 UNIMET classroom building. Personal photo, July 2021 (Edificio de aulas de la UNIMET). Foto personal, julio 2021
     En 2006 se inauguró el edificio de administración académica, el cual fue diseñado por los arquitectos Víctor Artis y Mássimo Ruggiero, La edificación de 9 pisos, muestra en su planta baja la Sala de exposiciones "Mendoza" de 520 m2, cuyo nacimiento es contemporáneo con los orígenes de la universidad en 1956; en los dos primeros pisos encontramos las aulas y la administración de los postgrados, en resto de la edificación se han ubicado los distintos decanatos de las carreras, autoridades y administración. Se complementa el edificio con un paraninfo, un club para profesores y un cafetín.
---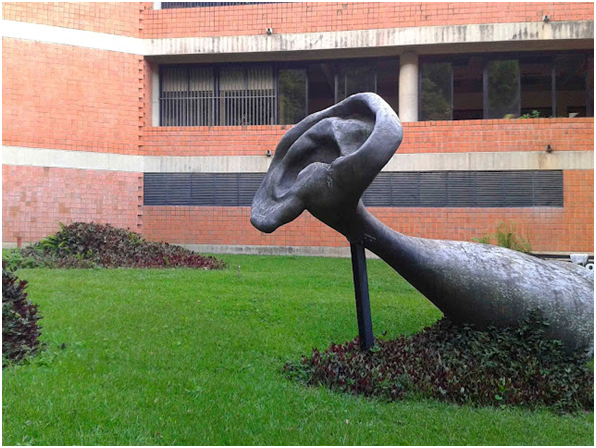 The "ear" that reminds us of the need to listen (La "oreja" que nos recuerda la necesidad de escuchar) Image
     Biografía consultada:
I.- Página web de la UNIMET: https://www.unimet.edu.ve/#prev
II.- Universidad Metropolitana_Caracas #Arquitectura: http://zona-arquitectura.blogspot.com/2014/10/universidad-metropolitanacaracas.html
III.- https://www.unimet.edu.ve/dijo-adios-victor-artis-el-arquitecto-que-diseno-los-edificios-del-campus-naranja/
---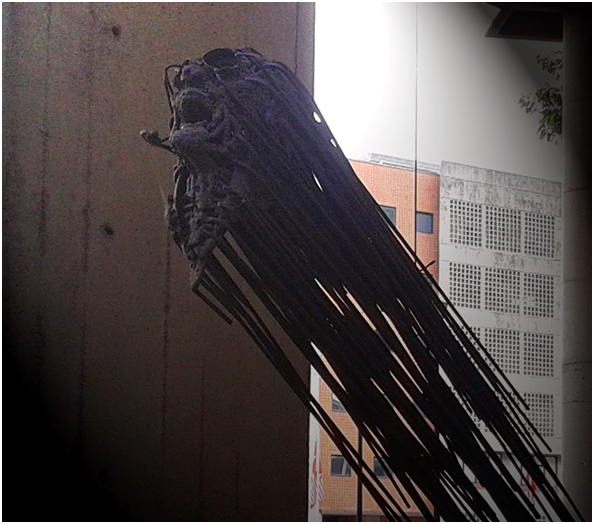 A human head, made with bars, hanging between two columns, expresses the emotions (Figura de cabeza humana, hecha con cabillas, colgando entre dos columnas, expresa las emociones) Image
[ENG]Image gallery [ESP] Galería de imágenes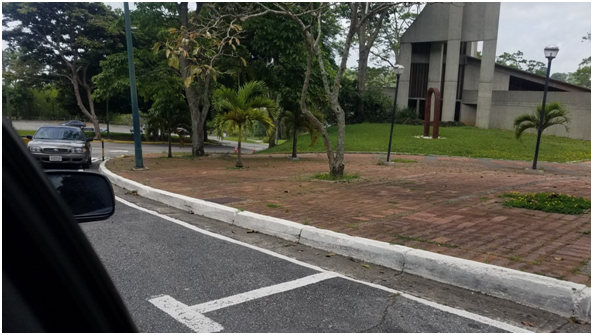 University roads, in the background a partial view of the chapel. Personal photo, July 2021 (Vialidad de la Universidad, al fondo vista parcial de la capilla). Foto personal, julio 2021
---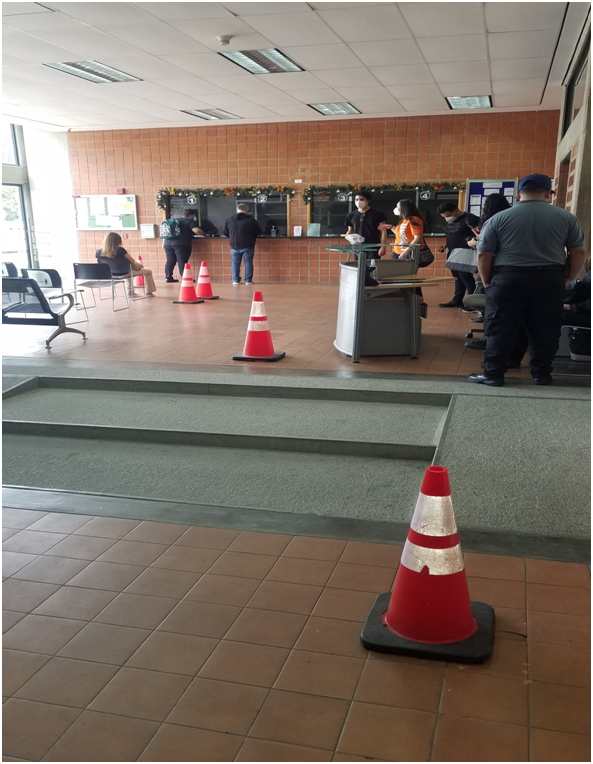 Internal structure of the administrative building, personal photo, July 2021 (Estructura interna del edifico administrativo). Foto personal, julio 2021
---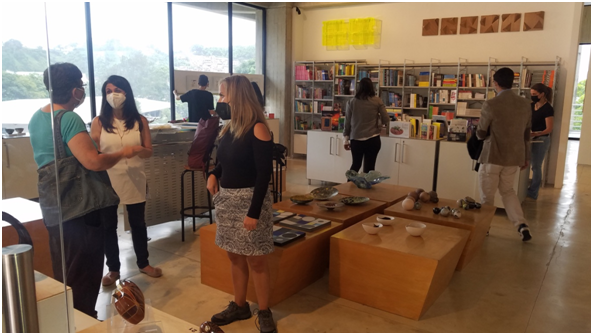 In the exhibition hall "Mendoza" you can buy books and small replicas of works of art. Personal photo, July 2021 (En la sala de exposiciones "Mendoza" se pueden adquirir libros y pequeñas réplicas de obras de arte). Foto personal, julio 2021
---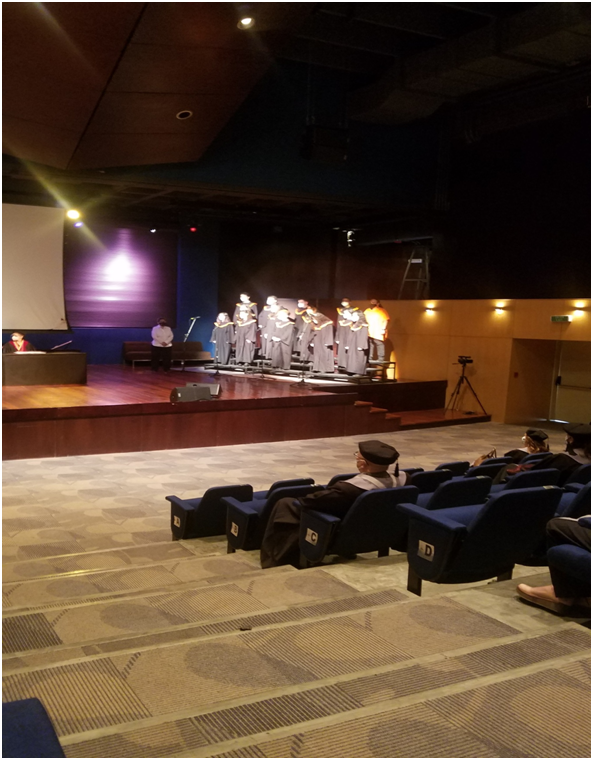 Inside the Paraninfo during the doctorate award ceremony. Personal photo, july 2021 (El Paraninfo por dentro durante la ceremonia de otorgamiento del doctorado). Foto personal, julio 2021
---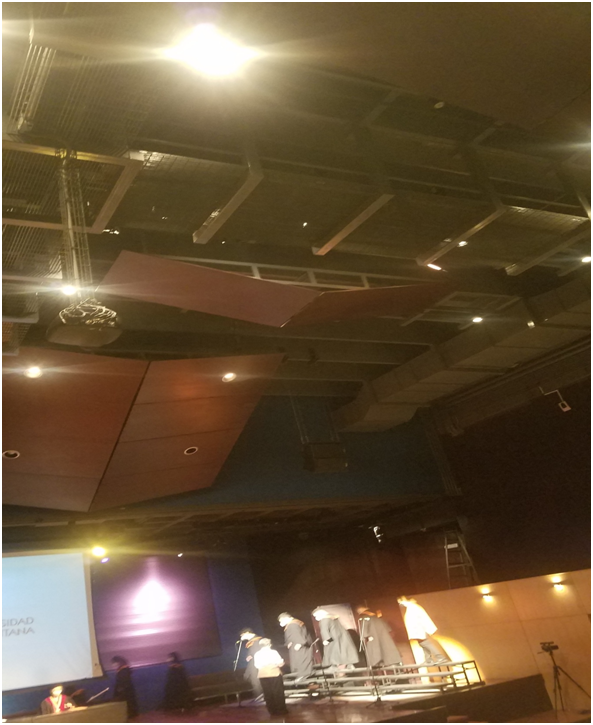 Ceiling of the Auditorium ("Paraninfo"). Personal photo, July 2021. (Techo del Paraninfo). Foto personal, julio 2021
---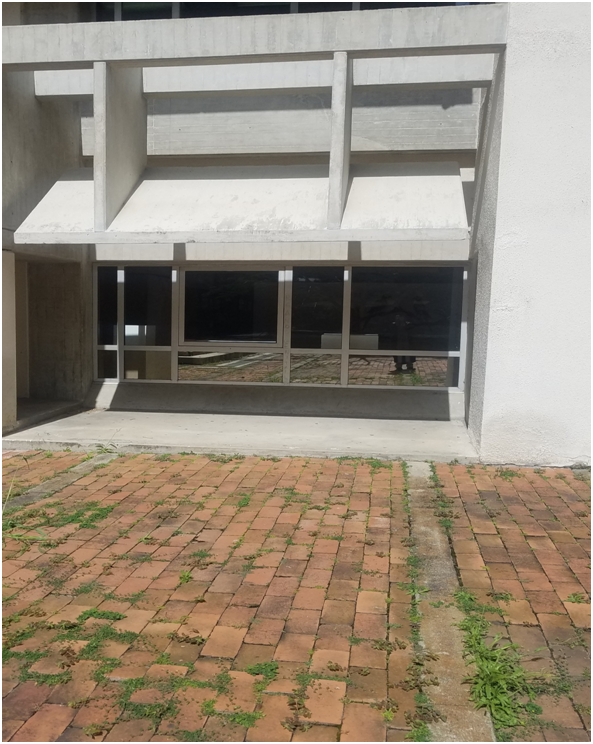 Partial facade of the "Pedro Grases" Library. Personal photo, July 2021 (Fachada parcial de la Biblioteca "Pedro Grases"). Foto personal, julio 2021
---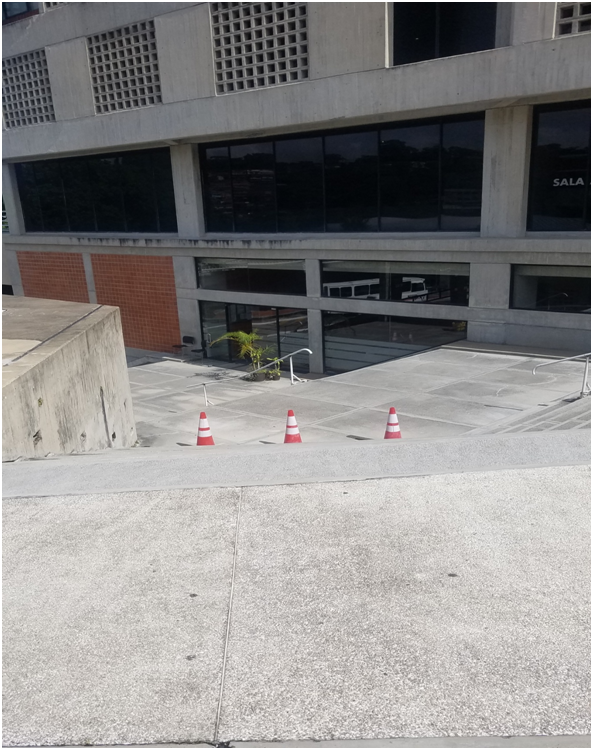 Going down from the Plaza del Rectorado are the classroom buildings. Personal photo, July 2021 (Bajando de la Plaza del Rectorado se encuentran los edificios de aulas). Foto personal, julio 2021
---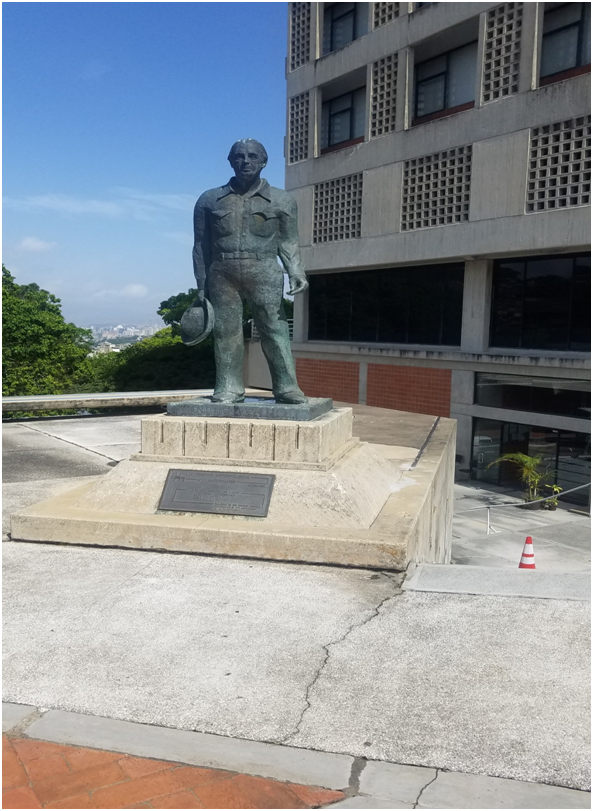 Statue of "Lorenzo Mendoza", the great patron of the university, in the Plaza del Rectorado. Personal photo, July 2021 (Estatua de "Lorenzo Mendoza", el gran mecenas de la universidad, en la Plaza del Rectorado). Foto personal, julio 2021
---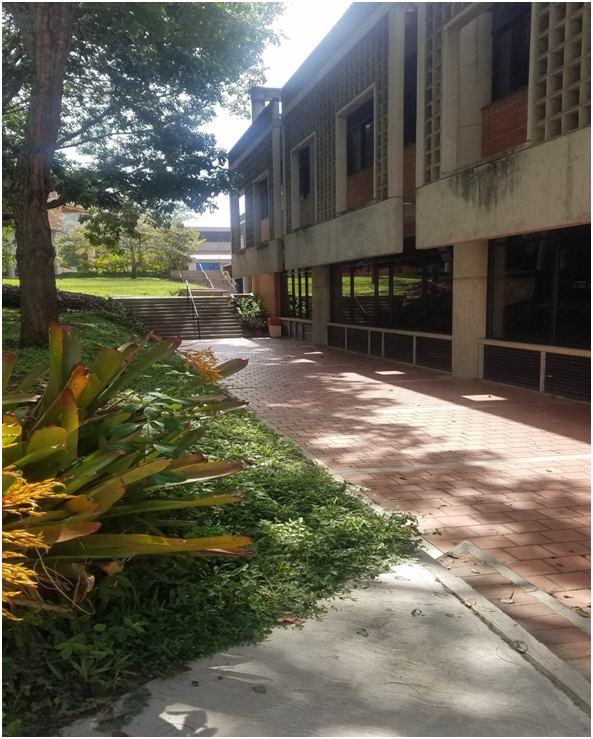 Side part of one of the University buildings. Personal photo, July 2021 (Parte lateral de uno de los edificios de la Universidad). Foto personal, julio 2021
---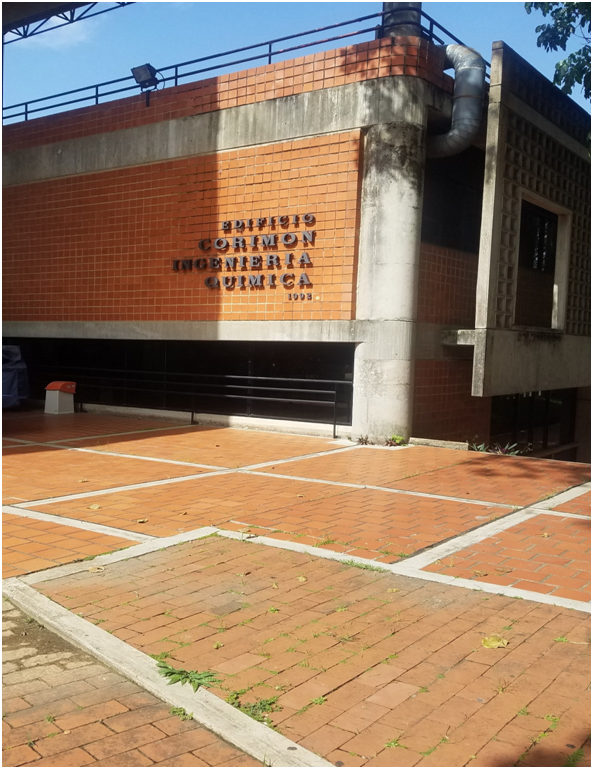 Chemical Engineering Building. Personal photo, July 2021 (Edificio de Ingeniería química). Foto personal, julio 2021
---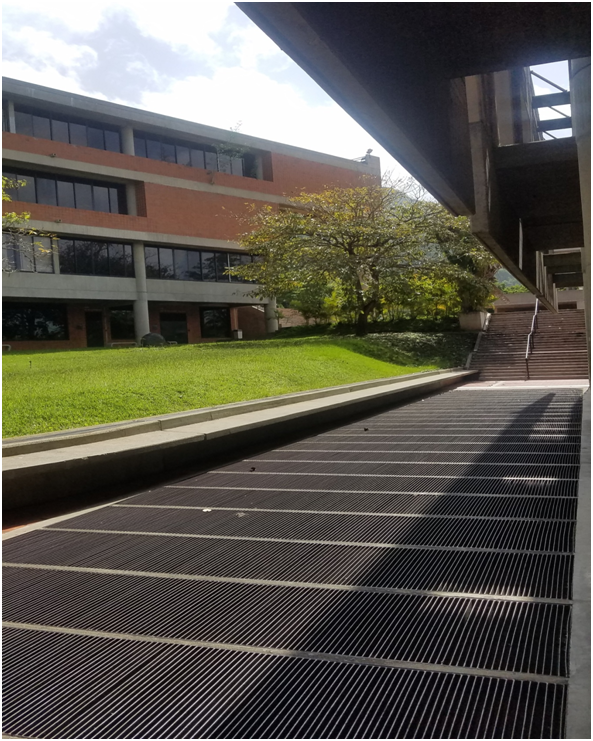 Large drainage systems have been built between the buildings. Personal photo, July 2021 (Entre los edificios se han construido grandes sistemas de desagüe). Foto personal, julio 2021
---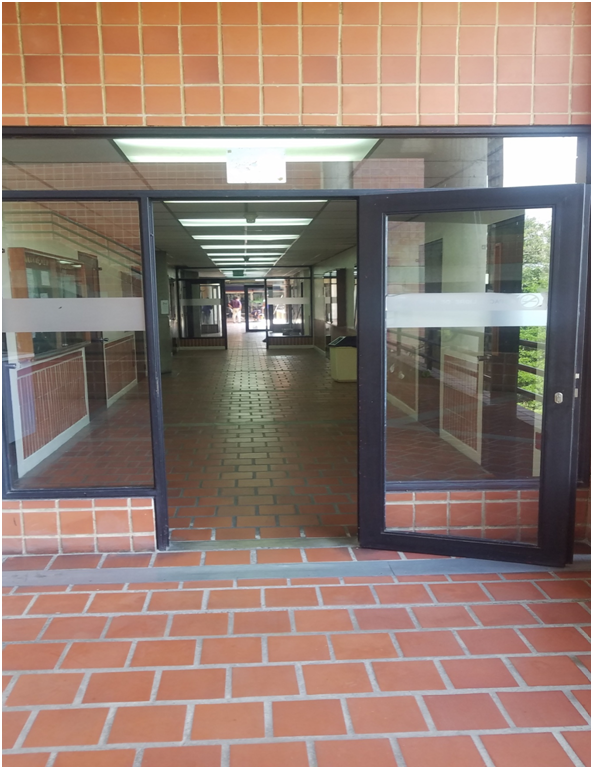 Entrance to a classroom building. Personal photo, July 2021 (Entrada a un edifico de aulas). Foto personal, julio 2021
---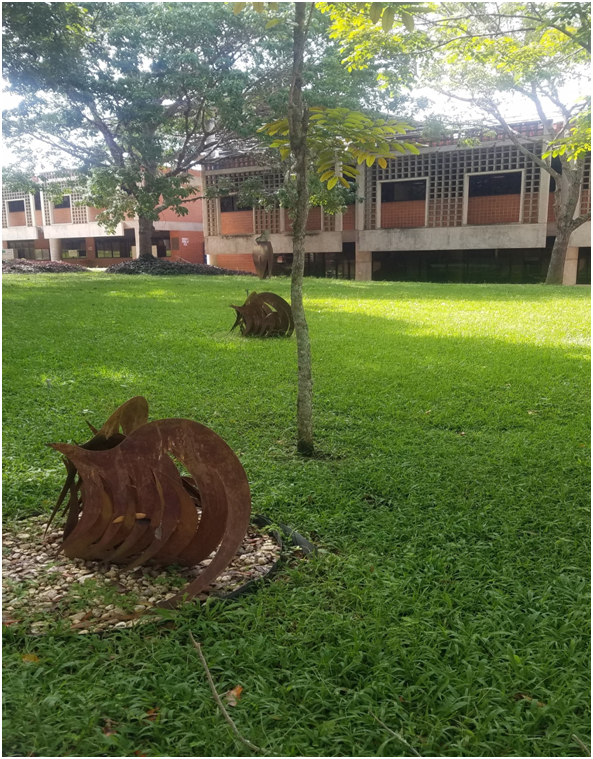 Small sculptures adorn the gardens of the UNIMET . Personal Photo, july 2021(Pequeñas esculturas adorna los jardines de la UNIMET). Foto personal, julio 2021
---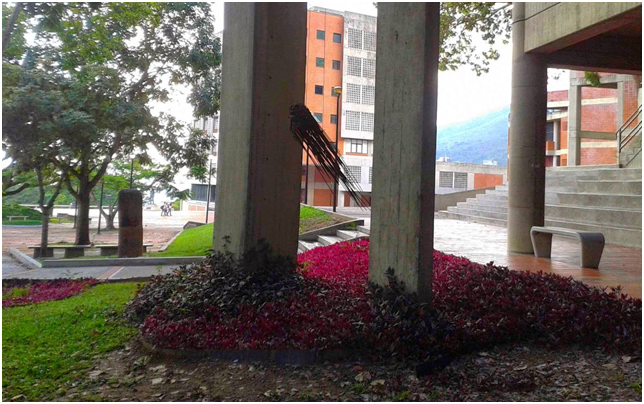 Strong and big columns are the support of the UNIMET structures (Fuertes y grandes columnas son el soporte de las estructuras de la UNIMET) Image
---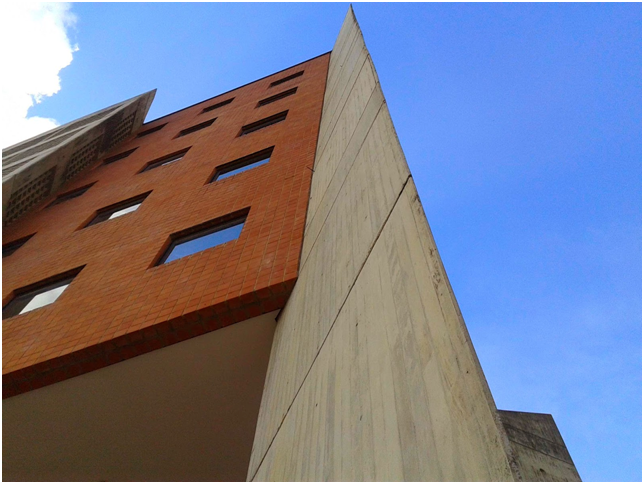 Details of one of the UNIMET structures (Detalles de una de las estructuras de la UNIMET) Image
---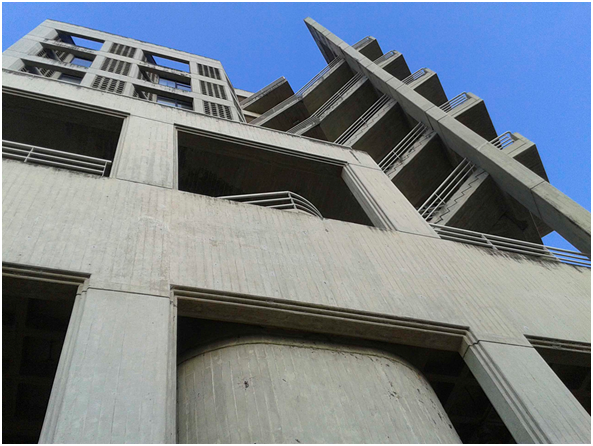 A very modern architectural style (Un estilo arquitectónico muy moderno) Image
---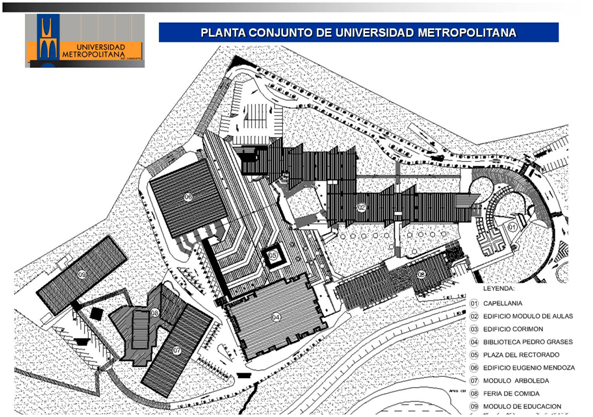 Sketch of the UNIMET facilities (Croquis de las instalaciones de la UNIMET) Image