The Vltava, its bridges and banks full of architecture and designs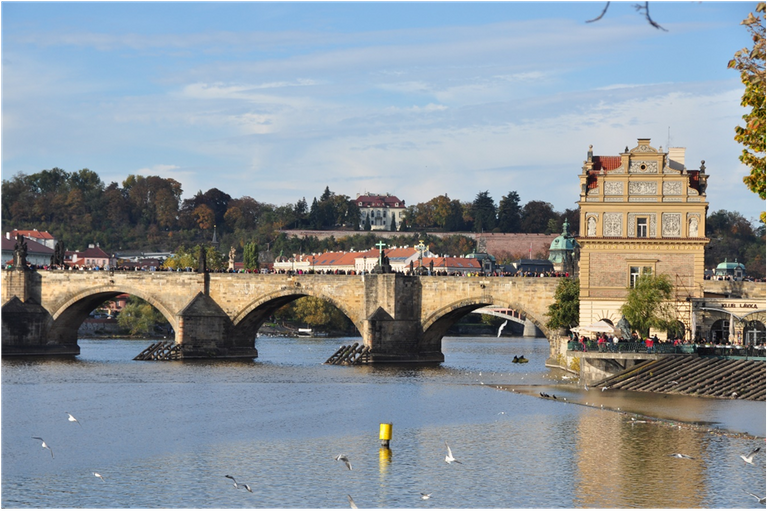 The Charles Bridge was originally called "the Stone Bridge" or "the Prague Bridge", 30 statues stand in its structure (El puente Carlos, originalmente fue llamado «el Puente de Piedra» o «el puente de Praga», en su estructura se levantan 30 estatuas)
     Dear friends of the communities that make up HIVE, on this same platform I have written two posts about "The Citadel of Prague" (https://peakd.com/hive-178708/@besamu/eng-the-citadel-of-prague- some-of-its-churches-streets-and-gardens-esp-la-citadel-de-praga-some-of-its-churches-streets-and-) and about the city of Prague proper (https:// peakd.com/hive-178708/@besamu/engprague-a-city-full-of-history-culture-and-architecture-spain-prague-a-city-full-of-history-culture-and-architecture). Today I will dedicate myself to showing you, not only the river that crosses this splendid city, but also the bridges that adorn it and the architecture that borders its banks. The photos are of family origin, taken by my brother-in-law Alfonso Celi and/or Violeta, his wife.
---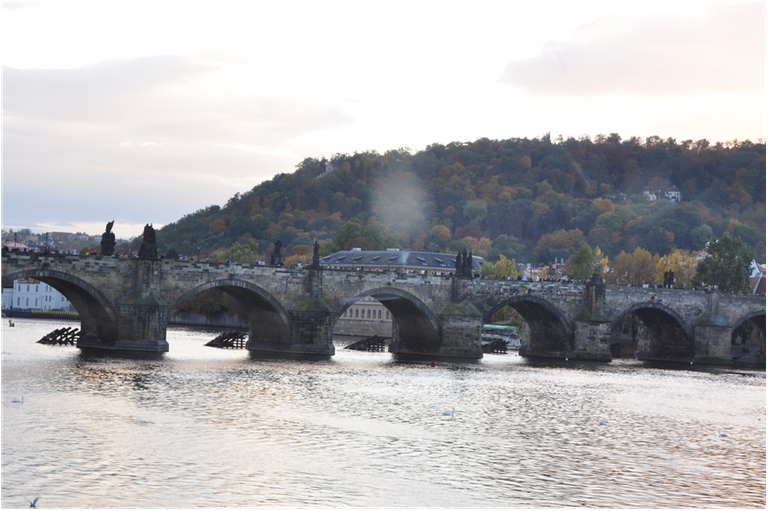 Until 1841, the Charles Bridge was the only bridge that linked the two banks of the Vltava River (Hasta 1841, el Puente Carlos era el único puente que unía las dos orillas del río Moldava)
     The Vltava River is the longest and mightiest in the Czech Republic and runs through its capital, Prague, a World Heritage City, dividing it into two unique parts. The city has more than three hundred bridges, of which 18 span the Vltava, and serve as connectors for both parts of the city. Among them, the Charles Bridge, considered the oldest of all, was built in the fifteenth century, measures 516 meters long by ten wide, is the best known and most visited by residents and tourists.
---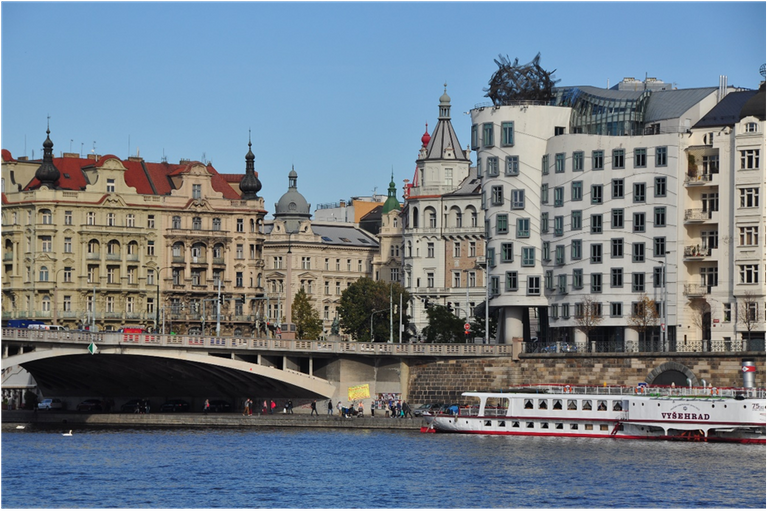 The Mánes Bridge connects the old town with Malá Strana (El Puente Mánes une el casco antiguo con Malá Strana)
     The river rises in the Bohemian Forest to flow into the Elbe in the town of Mêlnik, after traveling 430 km and irrigating an area of about 28,000 km2, providing a volume of water greater than the Elbe itself, to such a level that many call it Elba-Morava; together they add up to five hundred and thirty kilometers in length, until they empty into the North Sea. The natural course of this river provides the perfect home for a wide range of wildlife that roam freely on the lands that border it.
---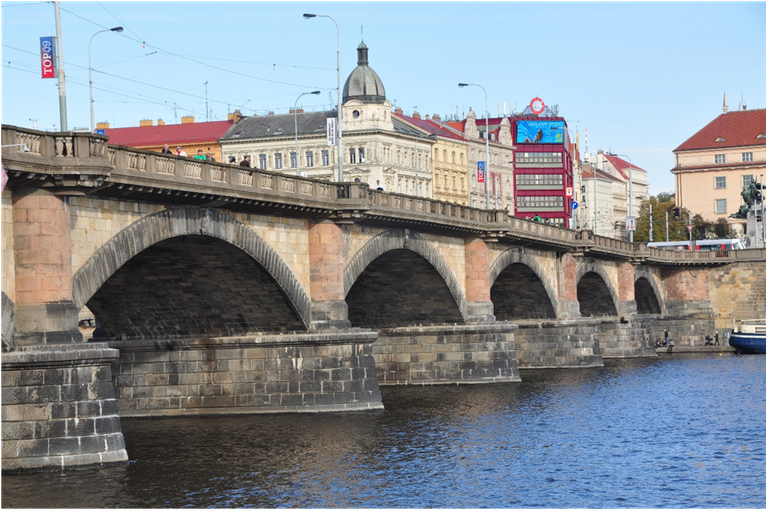 The Bridge of the Legions is a granite bridge between the National Theater and Újezd, built in the 19th century, its name refers to the Czech legionnaires of the First World War. It is decorated with ten ancient lamp posts, made of cast iron, ten meters high (El Puente de las Legiones es un puente de granito entre el Teatro Nacional y Újezd, construido en el siglo XIX, su nombre hace alusión a los legionarios checos de la Primera Guerra Mundial. Está decorado con diez postes de alumbrado antiguos, hechos de hierro fundido, de diez metros de altura)
     Its beauty has inspired one of the six symphonic poems by the Czech composer Bedřich Smetana, in his work My Homeland, which musically evokes the course of the river. In addition to its beauty, the flow of the river has been conducive to the construction of the Slapy reservoir, sixty-three years ago, where the hydroelectric power station is located, which supplies, especially, the capital with water and electricity.
---
     Unfortunately, the construction of the reservoir did not allow it to continue to be used for boat navigation along its route, so the government has proposed building a boat lift to solve this problem.
---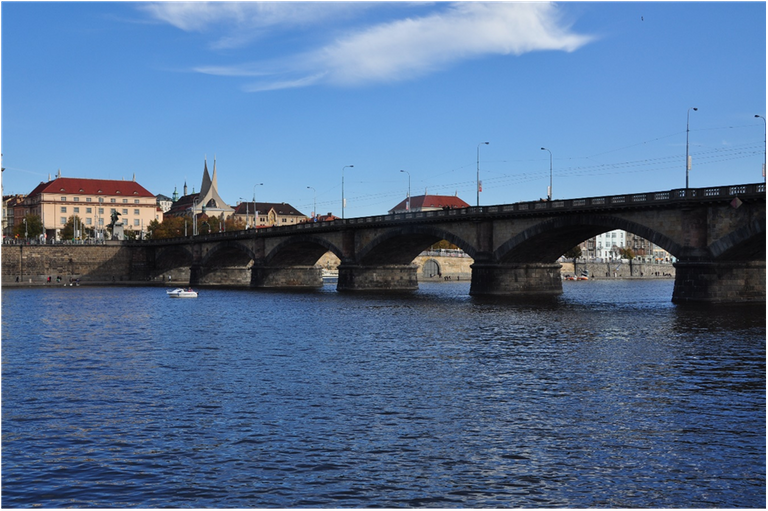 The Palacky Bridge is the third oldest bridge over the Vltava, built in 1876 (El Puente Palacky es el tercer puente más antiguo sobre el Moldava, construido en 1876)
     On its banks, over time, a large number of architectural works have been built (castles, churches, monasteries, palaces and buildings) as a reliable example of the different styles, such as Romanesque, Gothic, Renaissance, Baroque and in recent years of modern court, which are the attraction of tourists and the pride of its inhabitants. A discordant and irreverent note has been the construction, in the entire center of the river in front of the Prague Palace, of a gigantic sculpture, a hand raising the middle finger in an obscene way, by the sculptor David Cerny, even though his intentions have been to denounce communism.
---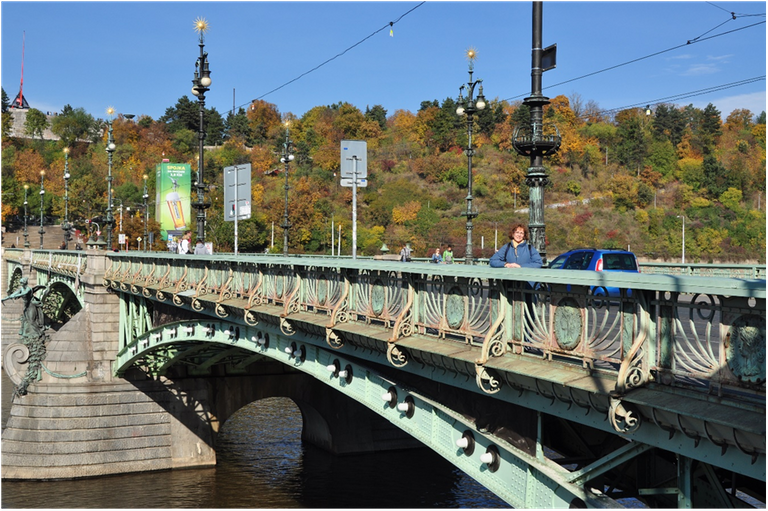 The Svatopluk Čech Bridge, just 169 meters long (El Puente Svatopluk Čech, con apenas 169 metros de largo)
     I hope you enjoy the series of family photographs that I have lovingly selected for you, with the exception of the photos of the modern Troja bridge, inaugurated in 2014, taken from the internet.
---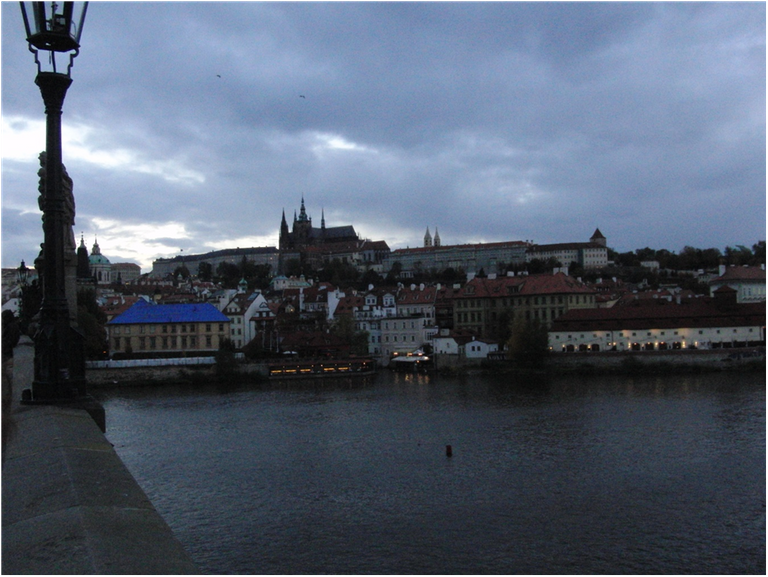 View of the Citadel of Prague, from the Vltava River (Vista de la Ciudadela de Praga, desde el río Moldava)
     References:
*Smrz, Jaroslav (2006): El Puente de Carlos y sus hermanos menores (https://espanol.radio.cz/el-puente-de-carlos-y-sus-hermanos-menores-8622894)
*Destino infinito (2017): Los puentes de Praga (https://destinoinfinito.com/los-puentes-de-praga/)
---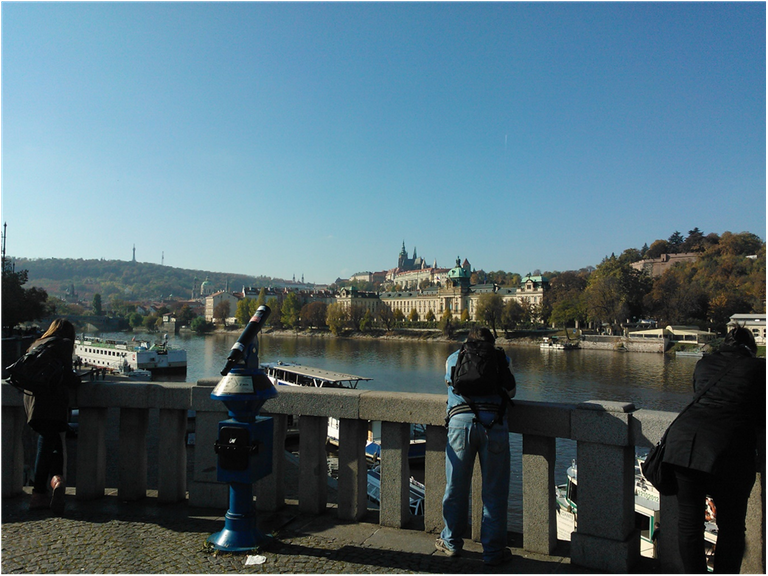 On the banks of the Vltava there are viewpoints to enjoy the details of the constructions that border it (A las orillas del Moldava se encuentran miradores para disfrutar los detalles de las construcciones que lo bordean)
---
El Moldava, sus puentes y orillas repletas de arquitectura y diseños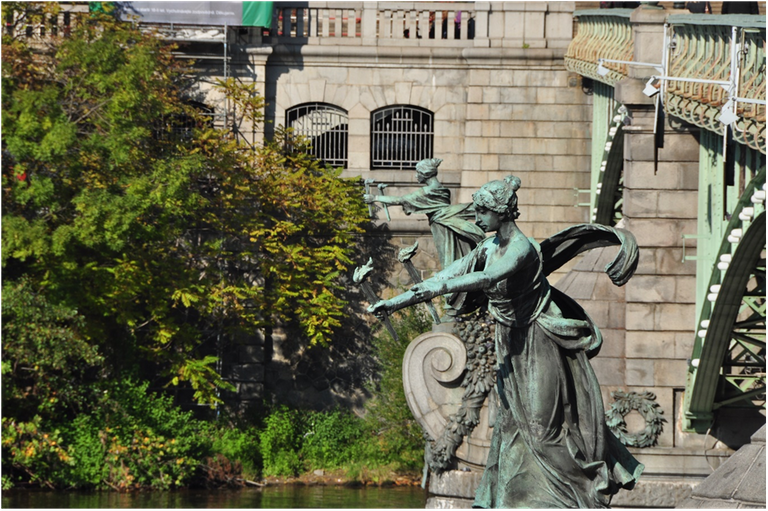 Svatopluk Čech Bridge is the first bridge in Prague built in art Nouveau style, it is adorned with beautiful sculptures (El Puente Svatopluk Čech es el primer puente de Praga construido en estilo art Nouveau, está adornado con bellísimas esculturas)
     Estimados amigos de las comunidades que conforman HIVE, en esta misma plataforma he escrito dos posts sobre "La ciudadela de Praga" (https://peakd.com/hive-178708/@besamu/eng-the-citadel-of-prague-some-of-its-churches-streets-and-gardens-esp-la-ciudadela-de-praga-algunas-de-sus-iglesias-calles-y-) y sobre la ciudad de Praga propiamente dicha (https://peakd.com/hive-178708/@besamu/engprague-a-city-full-of-history-culture-and-architecture-esppraga-una-ciudad-llena-de-historia-cultura-y-arquitectura). Hoy me dedicaré a mostrarles, no sólo el rio que atraviesa esta esplendorosa ciudad, sino los puentes que lo engalanan y la arquitectura que bordeas sus orillas. Las fotos son de origen familiar, tomadas por mi cuñado Alfonso Celi y/o Violeta, su esposa.
---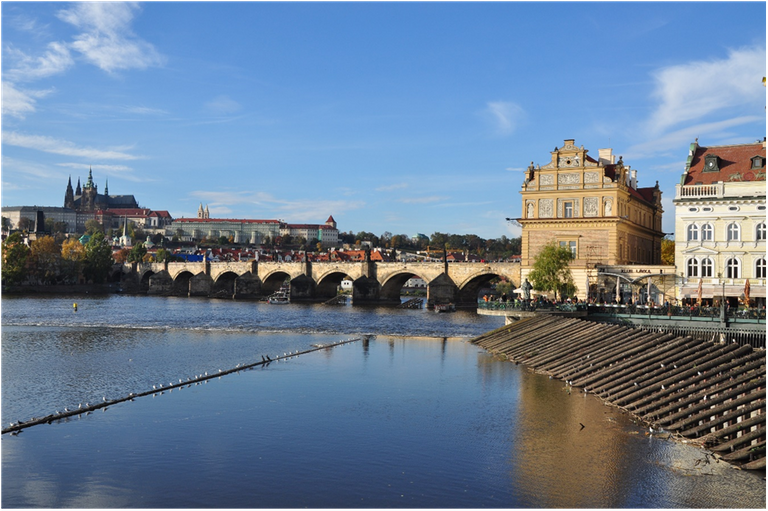 The most famous of all the bridges over the Vltava is the Charles Bridge, whose construction began in 1357 and was completed in the 15th century (El más famoso de todos los puentes sobre el Moldava es el Puente Carlos, cuya construcción se inició en 1357 y fue finalizada en el siglo XV)
     El río Moldava es el más largo y caudaloso de la República Checa y atraviesa su capital, Praga, ciudad Patrimonio de la Humanidad, dividiéndola en dos partes inigualables. La ciudad cuenta con más de trescientos puentes, de ellos 18 se extienden a lo largo del Moldava, y sirven de conectores de ambas partes de la ciudad. Entre ellos, el puente Carlos, considerado el mas antiguo de todos, fue construido en el siglo XV, mide 516 metros de largo por diez de ancho, es el más conocido y transitado por residentes y turistas.
---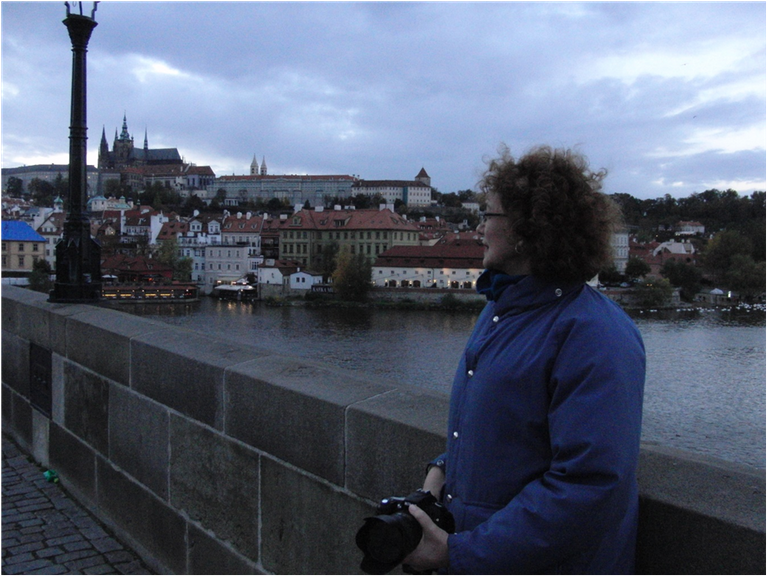 My sister-in-law overwhelmed with that view of the Citadel from the Vltava (Mi cuñada ensimismada con esa vista de la Ciudadela desde el Moldava)
     El río nace en la selva de Bohemia para desembocar en el Elba en la localidad de Mêlnik, después de recorrer 430 km y regar una superficie de unos 28000 km2, aportando un volumen de agua superior al propio Elba, a tal nivel que muchos lo llaman Elba-Morava, juntos suman quinientos treinta kilómetros de longitud, hasta desembocar en el Mar del Norte. El cauce natural de este río proporciona el hogar perfecto para una amplia gama de vida silvestre que pasean libremente por las tierras que lo bordean.
---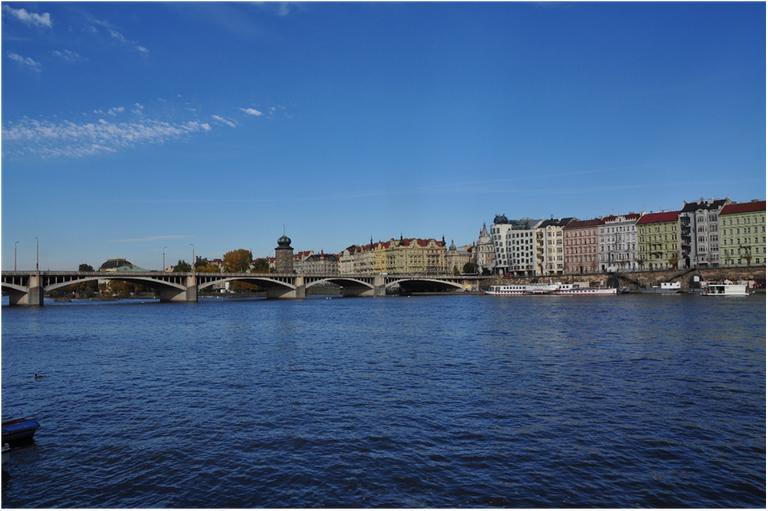 In the background, the Mánes bridge, whose name is in honor of Josef Mánes, one of the most notable Czech painters, and a series of buildings that border the River (Al fondo el puente Mánes, cuyo nombre es en honor a Josef Mánes uno de los más notables pintores checos y una serie de edificaciones que bordean el Río)
     Su belleza ha sido inspiradora de uno de los seis poemas sinfónicos del compositor checo Bedřich Smetana, en su obra Mi patria, el cual evoca musicalmente el curso del río. Además de su belleza, el caudal del río ha sido propicio para la construcción del embalse Slapy, hace sesenta y tres años, donde se encuentra la central hidroeléctrica, que abastece, especialmente, a la capital de agua y electricidad.
---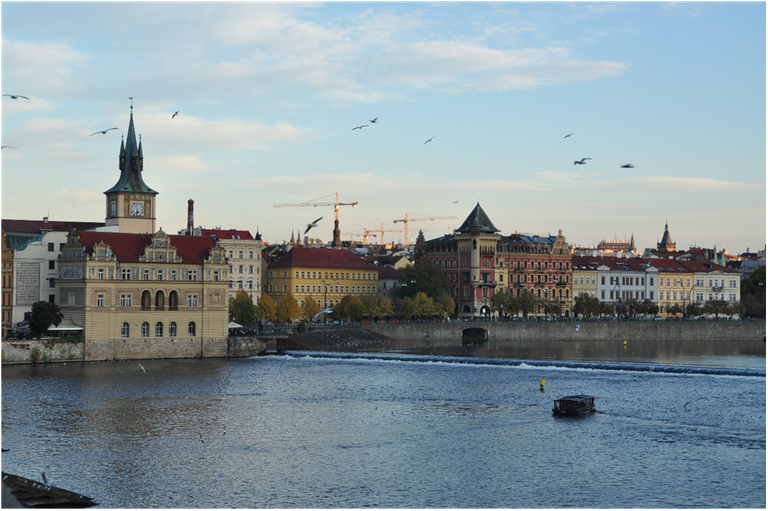 Churches, museums, public and private buildings adorn the banks of the Vltava (Iglesias, Museos, edificios públicos y particulares adornan las orillas del Moldava)
     Lamentablemente, la construcción del embalse no permitió seguir utilizándolo para la navegación de barcos a lo largo de su recorrido, por lo que el gobierno ha propuesto construir un elevador de barcos para solucionar este problema.
---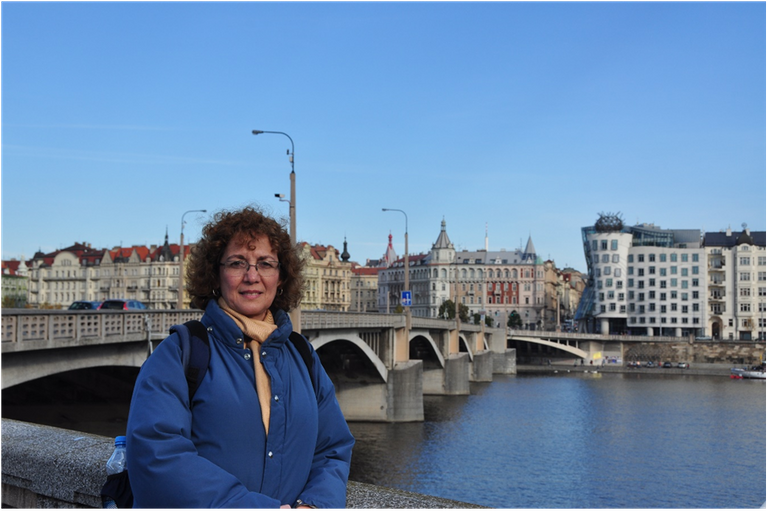 Alois Nový, František Mencl y Me?islav Petr? fueron los arquitectos e ingenieros que diseñaron el puente Mánes, de estilo modernista y cubista, que se empezó a utilizar en 1914. Al fondo a la derecha se encuentra el ya famoso y contrastante edificio "La Casa Dansante", de estilo deconstructivista (Alois Nový, František Mencl y Me?islav Petr? fueron los arquitectos e ingenieros que diseñaron el puente Mánes, de estilo modernista y cubista, que se empezó a utilizar en 1914. Al fondo a la derecha se encuentra el ya famoso y contrastante edificio "La Casa Dansante", de estilo deconstructivista)
     En sus orillas, a través del tiempo, se han construido una gran cantidad de obras arquitectónicas (castillos, iglesias, monasterios, palacios y edificios) como ejemplo fehaciente de los diferentes estilos, como el románico, el gótico, el renacentista, el barroco y en los últimos años de corte moderno, que son la atracción de turistas y orgullo de sus habitantes. Una nota discordante e irreverente ha sido la construcción, en todo el centro del río frente al Palacio de Praga, de una gigantesca escultura, una mano levantando el dedo mayor de forma obscena, por el escultor David Cerny, aun cuando sus intenciones hayan sido la denuncia del comunismo.
---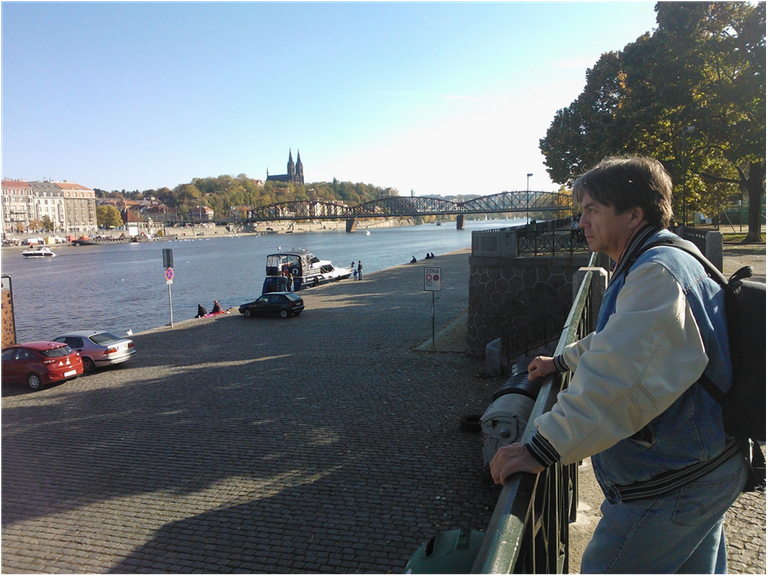 My brother-in-law enjoying the architectural wealth that surrounds the Vltava (Mi cuñado disfrutando la riqueza arquitectónica que circunda al Moldava)
     Espero disfruten de la serie de fotografías familiares que con mucho cariño he seleccionado para ustedes, con la excepción de las fotos del moderno puente de Troja, inaugurado en 2014, tomado de internet.
---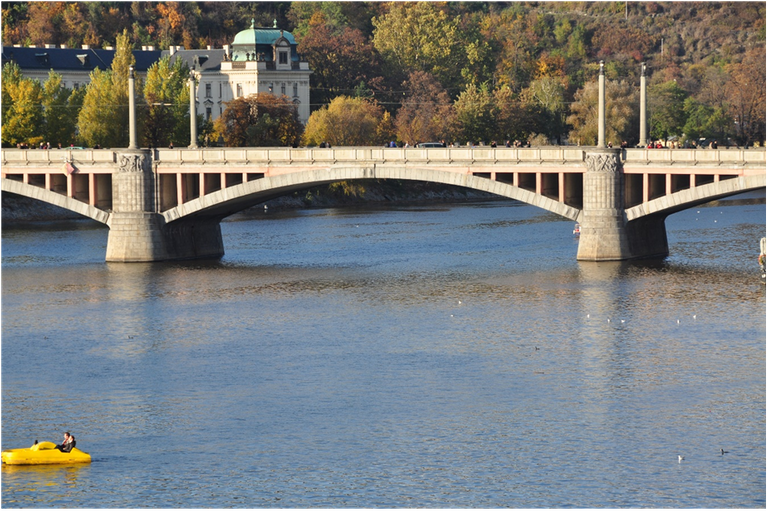 Svatopluk Čech Bridge, with 169 meters long, is the shortest bridge over the Vltava (Puente Svatopluk Čech, con 169 metros, es el puente más corto sobre el Moldava)
     Referencias:
*Smrz, Jaroslav (2006): El Puente de Carlos y sus hermanos menores (https://espanol.radio.cz/el-puente-de-carlos-y-sus-hermanos-menores-8622894)
*Destino infinito (2017): Los puentes de Praga (https://destinoinfinito.com/los-puentes-de-praga/)
---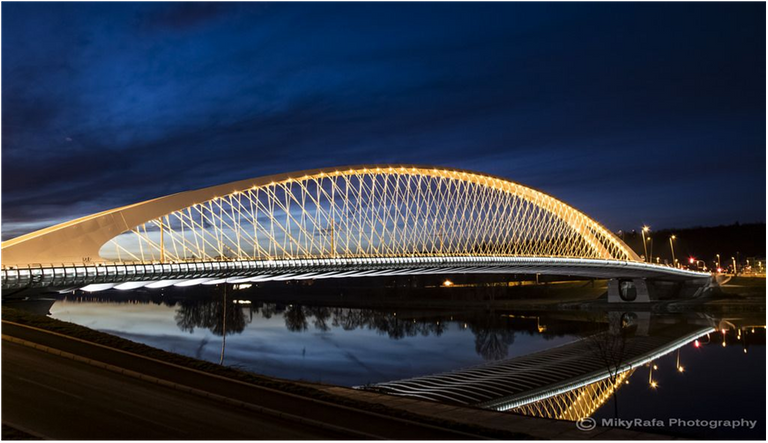 The Troja Bridge is 262 m long, carries pedestrian and bicycle traffic, four lanes of road traffic and a double-track tram line (El puente de Troja tiene 262 m de largo, transporta tráfico peatonal y ciclista, cuatro carriles de tráfico rodado y una línea de tranvía de doble vía) Image
---
Photo Gallery (Galería de fotos)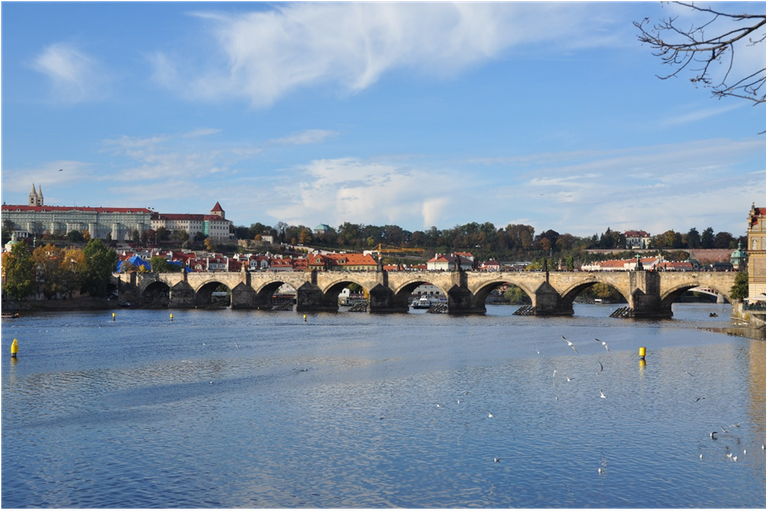 Charles Bridge was not known by that name until 1841 (El Puente Carlos no fue conocido con ese nombre hasta 1841)
---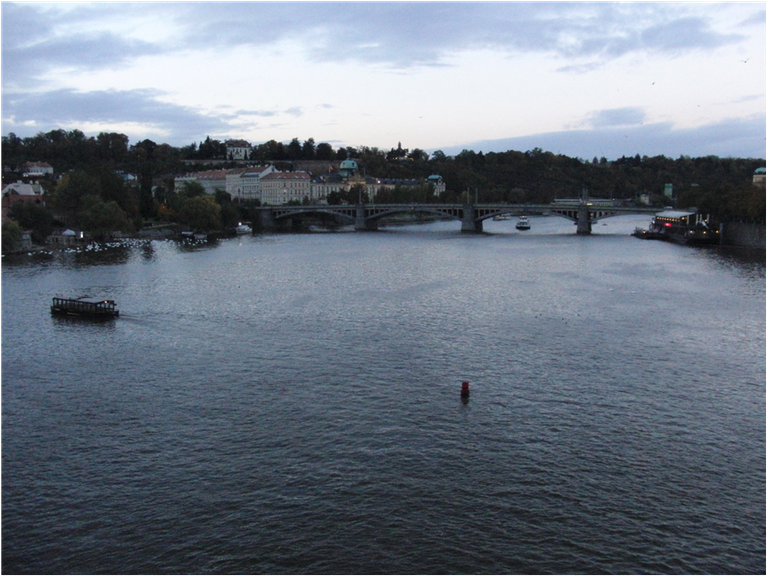 The apparent calm waters of the Vltava River pass through the city of Prague, dividing it in two (Las aparentes aguas tranquilas del Río Moldava transitan por la ciudad de Praga partiéndola en dos)
---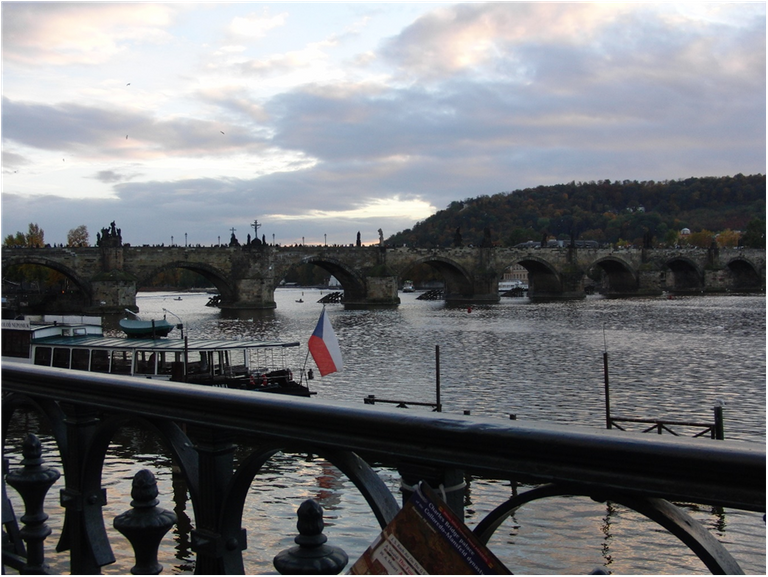 The Charles Bridge, over the Vltava River. Today it has its own museum (El Puente Carlos, sobre el río Moldava. Hoy en día cuenta con su propio museo)
---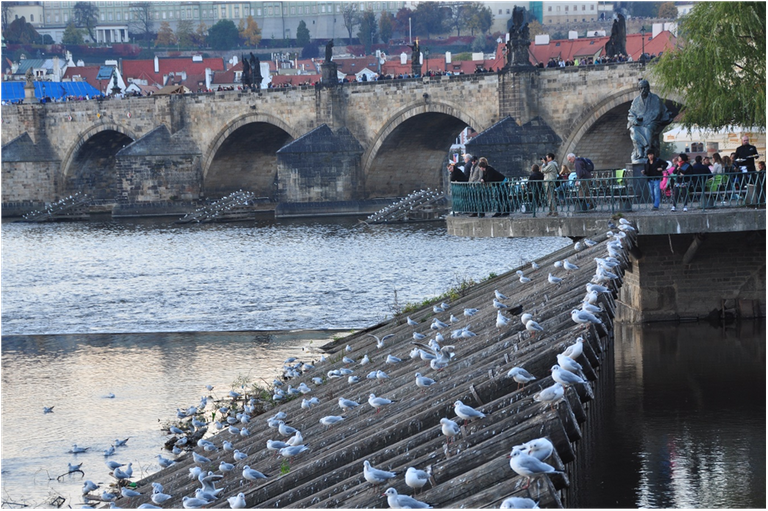 Beside the Vltava wooden structures seat of pigeons (Al costado del Moldava estructuras de madera asiento de palomas)
---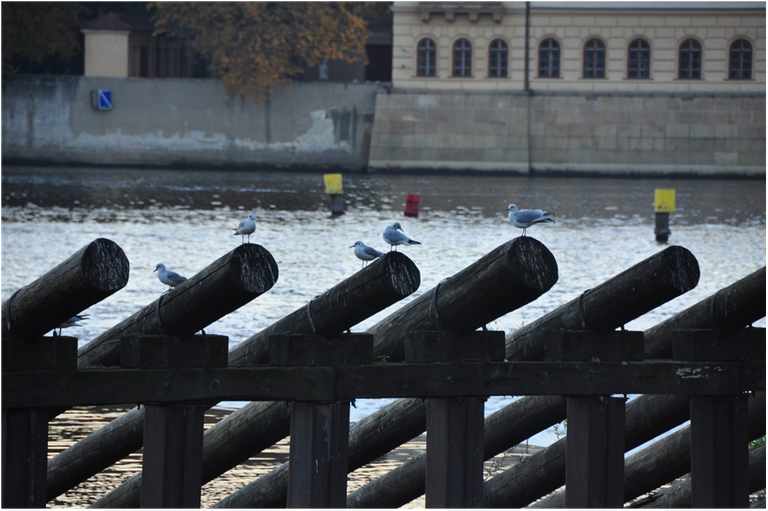 Detail of the wooden structures on the banks of the Vltava (Detalle de las estructuras de madera en las orillas del Moldava)
---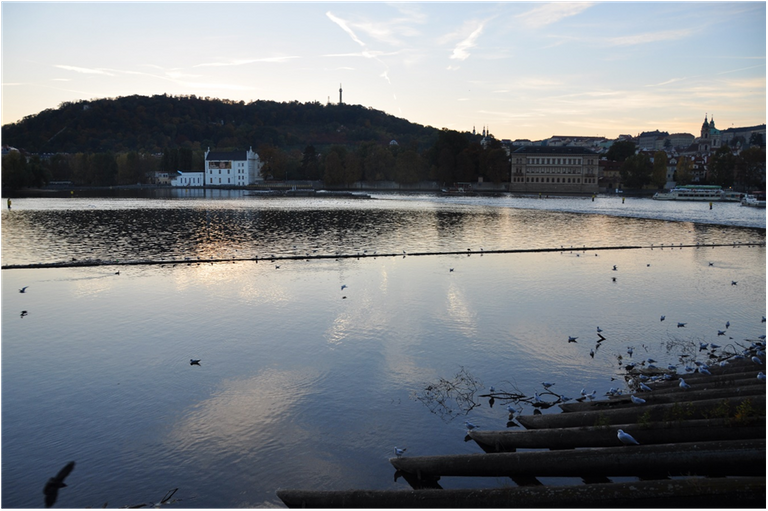 In the distance a castle and various buildings can be seen from the banks of the Vltava (A lo lejos un castillo y varias construcciones se pueden divisar desde la orilla del Moldava)
---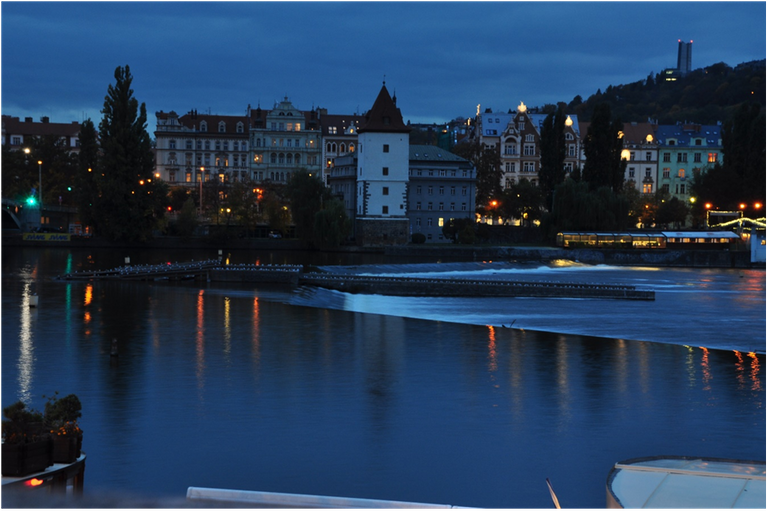 Night view of the city from the banks of the Vltava (Vista nocturna de la ciudad desde las orillas del Moldava)
---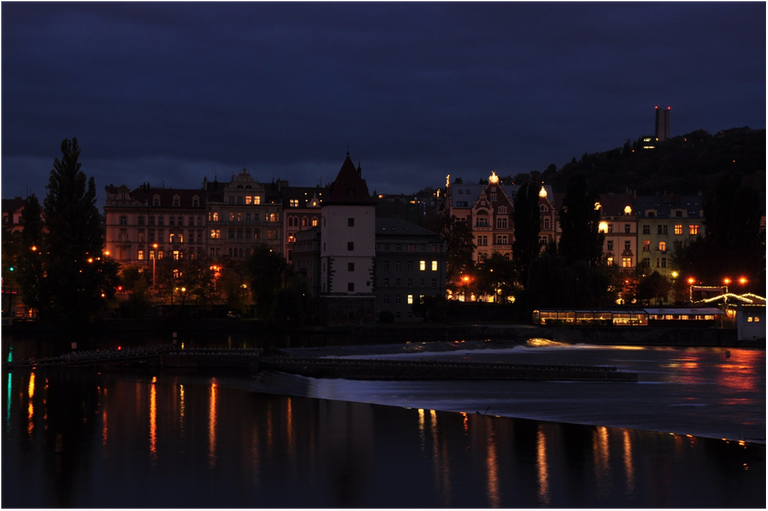 The lights of the city reflected in the waters of the Vltava (Las luces de la ciudad reflejadas en las aguas del Moldava)
---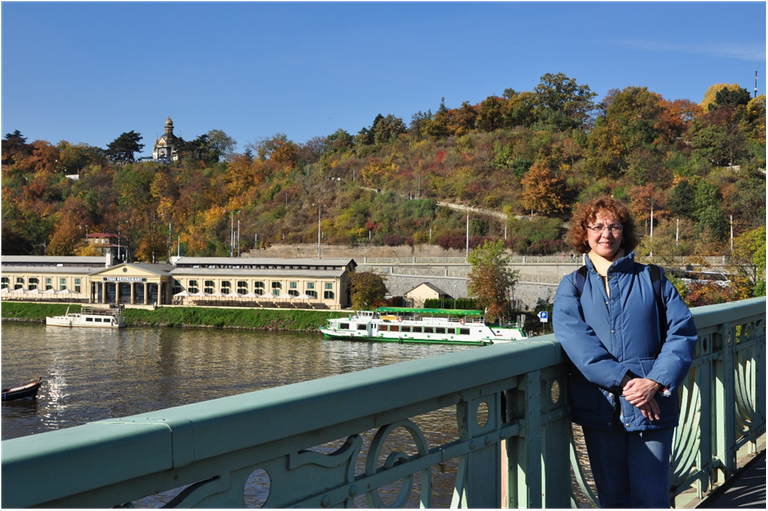 My sister-in-law enjoying the Svatopluk Čech Bridge, which connects the Holešovice district with the Old Town (Mi cuñada disfrutando del puente Svatopluk Čech, que conecta el distrito de Holešovice con el casco antiguo)
---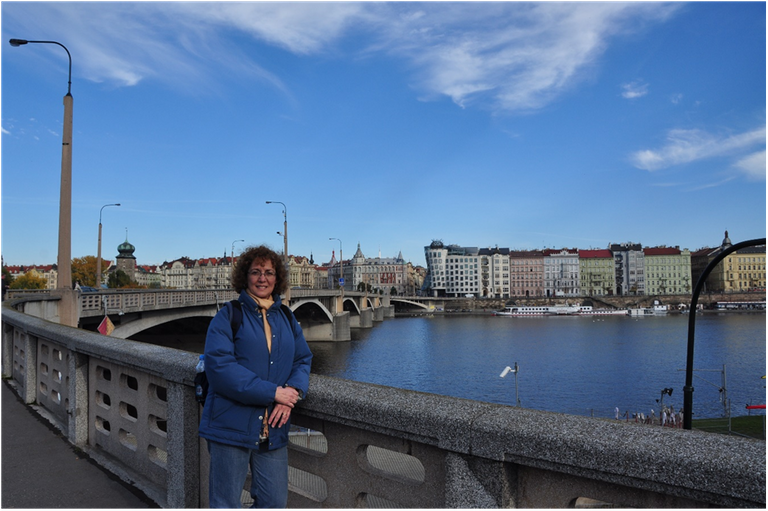 One of the ends of the Mánes bridge, which was raised in order to remove the Rodolfo Bridge
(Uno de los extremos del puente Mánes , que se levantó con la finalidad de remover el Puente Rodolfo)
---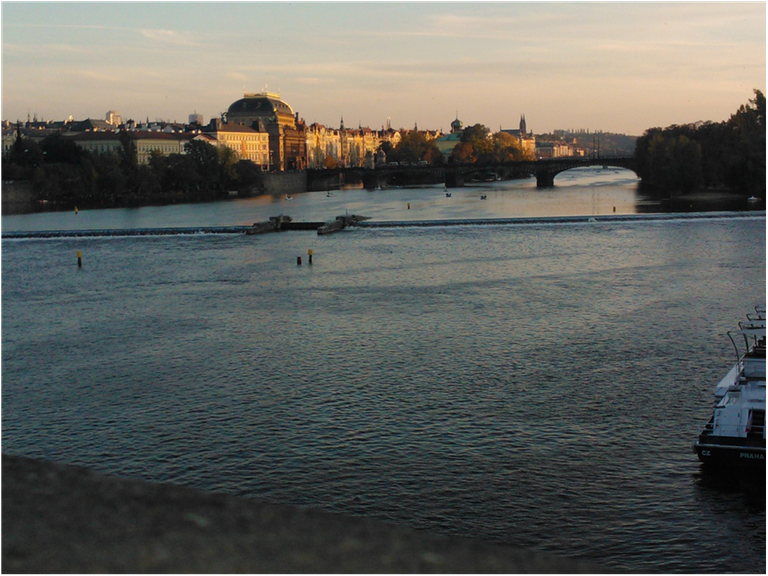 The Vltava river, in the background the building of the National Theater (El rio Moldava, al fondo el edificio del Teatro Nacional)
---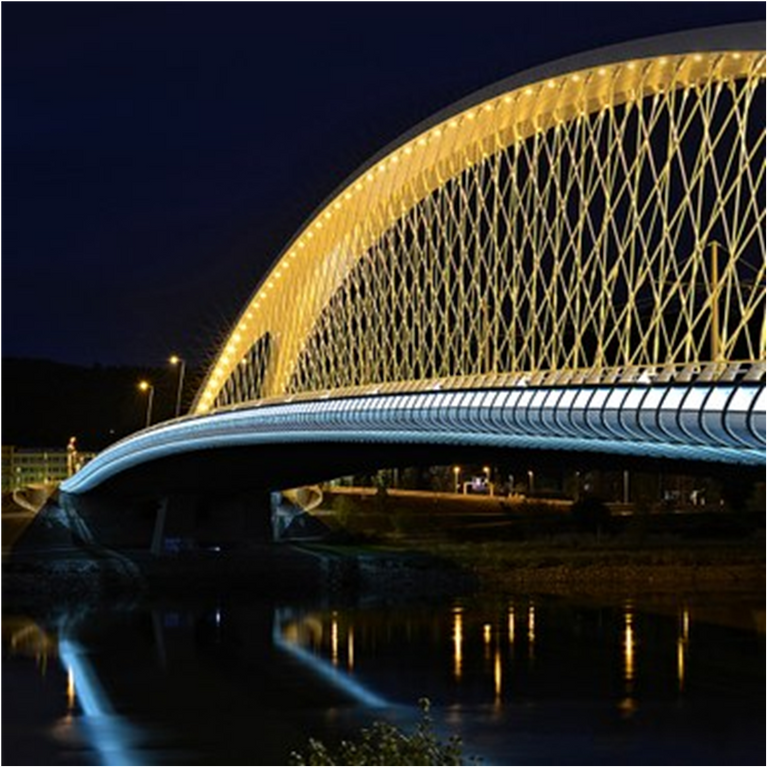 The modern Troja Bridge, inaugurated in 2014,with its arch structure, is the only bridge without pillars over the Vltava (El moderno Puente de Troja, inaugurado en 2014, con su estructura de arco, es el único puente sin pilares sobre el Moldava) Image
---