The Sambil-Barquisimeto Shopping Center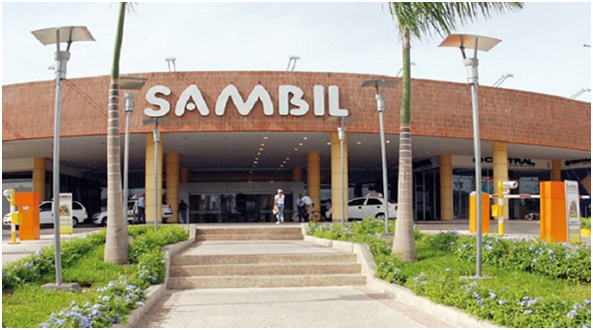 Main entrance to the mall (Entrada principal al centro comercial) Image
     Dear friends of the various HIVE platforms, continuing with my endeavor to show the architectural works of the interior of Venezuela, today I present to you the Sambil shopping center, just 13 years after it was inaugurated in my homeland, Barquisimeto, in Venezuela. I fervently hope that you enjoy this post and let me know any comment you want to make.
---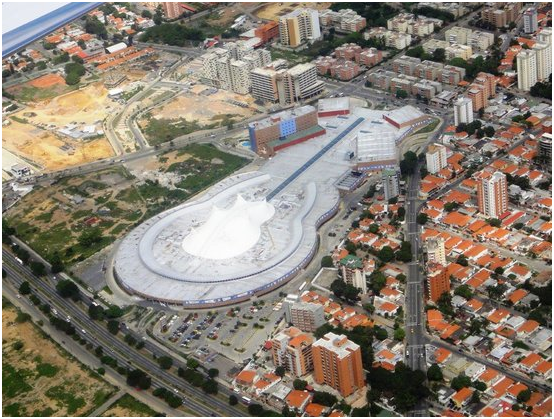 Aerial view of the Sambil-Barquisimeto that leaves no doubt about its resemblance to the regional musical instrument: the "cuatro" (Vista aérea del Sambil-Barquisimeto que no deja dudas sobre su semejanza semejanza con el instrumento musical regional: el "cuatro")
Image
     On a plot of more than 100,000 m2, 80,000 m2 of the Sambil-Barquisimeto shopping center have been built, in a building with two areas, designed by the architect David Gabay, the basement level that has a parking lot that can accommodate more than 2000 vehicles, part roofed and partly outdoors. On the other hand, the ground floor level where around 240 commercial premises have been arranged, the 7 anchor premises that are called upon to attract the public to the shopping center, restaurants, the food fair, a multiplex cinema with 10 rooms, the services sanitary, etc. The building has two pedestrian entrances located to the south and north of the shopping center, for the convenience of visitors. The commercial level is linked, through a gallery, to the LidoHotel, which, although not part of the structure, is owned by the same owners of the shopping center and provides a service to visitors from outside the city.
---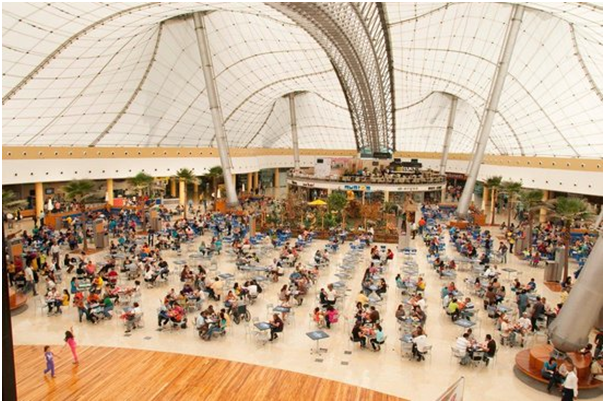 Shot from the second floor of the food fair mall (Toma desde la segunda planta del centro comercial de la feria de comida) Image
     The shopping center is located at the junction of three major arteries of the capital of Lara, to the east of it, it was opened to the public in June 2008. A feature that distinguishes it from any other construction is its "cuatro" shape, a typical musical instrument from the "Larense" region, which is manifested throughout its structure. Indeed, the shape of the instrument is reflected in the work as a whole, which can be clearly seen in all areas of the shopping center; the pegs of the instrument, for example, are represented by the commercial stores, while the ceiling with its solar lighting represents the strings and, finally, the large central space that covers the food fair, for whose structure metal columns and beams were used, steel cables and a cover made with a tensioned textile membrane, would correspond to the mouth of the "cuatro".
---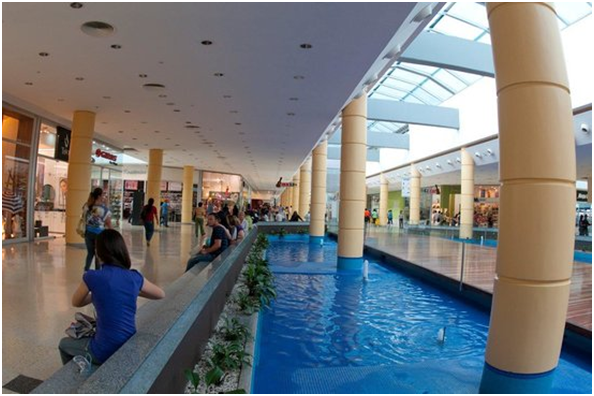 Inside the shopping center you can see a series of water ponds
(Dentro del centro comercial se puede apreciar una serie de estanques de agua)
Image
     For the façade of the shopping center, finishes with bricks, alucobond (which, as it is known by builders and architects, is a panel formed by two sheets of aluminum cover and a nucleus filled with mineral aggregate that is hardly flammable or non-flammable), and glass were used, which allow lighting thanks to a large perimeter opening, a kind of large skylight, which can be seen both at the food fair and in all corridors, made with a macro steel structure interspersed with glass and canvas spaces.
---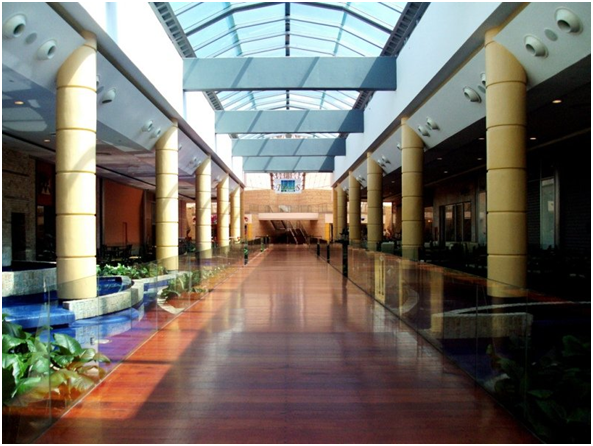 Central corridor of the shopping center (Pasillo central del centro comercial)Image
     Once inside we find 5 squares, whose names are the four cardinal points and the central square, there are about 280 commercial premises, 31 small spaces where they are distributed as kiosks in the pedestrian corridors, it also includes the multiplex cinema, the food fair with more than 20 fast food outlets, an area of restaurants with mirrors of water and vegetation, which were called "Terrazas del Sambil".
---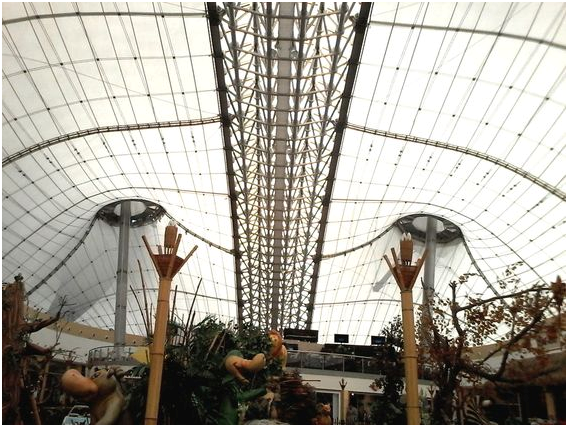 Metal structure of the roof of the Sambil-Barquisimeto Food Fair (Estructura metálica del techo de la Feria de comidas del Sambil-Barquisimeto) Image
     Thinking of children, older adults, and people with some type of motor disability, the shopping center provides the service of some small trains that make a route through the corridors of the Mall, following the curves that make up the silhouette of the "Cuatro", for the different environments that make up the structure.
---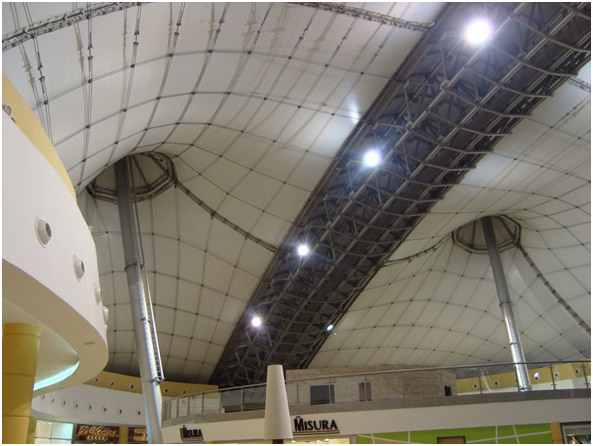 Partial view of the imposing roof of the Sambil food fair (Vista parcial del imponente techo de la feria de comidas del Sambil) Image
     It is impossible not to notice the roof of the construction, either because of the natural light that penetrates through it, or because of the structural beauty that it shows in the part corresponding to the food fair, where you can see the masts of almost 30 meters high that are the support of the immense textile ceiling.
---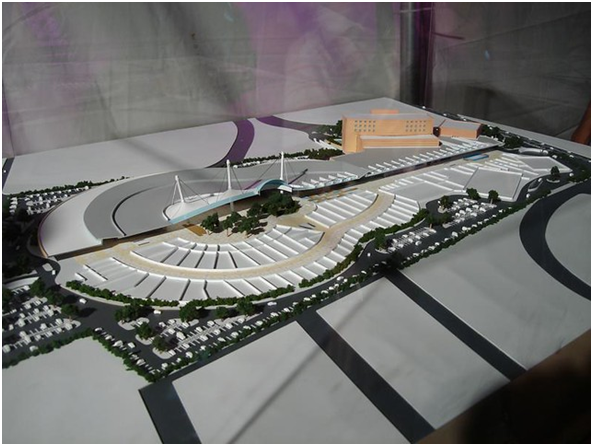 Model of the Sambil-Barquisimeto Shopping Center (Maqueta del Centro Comercial Sambil-Barquisimeto) Image
     Bibliographic sources consulted:
I.- Sambil Barquisimeto: https://www.constructorasambil.com/sambil-barquisimeto/
II.- Kath Halkett, Kath: Sambil-Barquisimeto.
https://www.flickr.com/photos/kitkath-ruiz/5676214424
---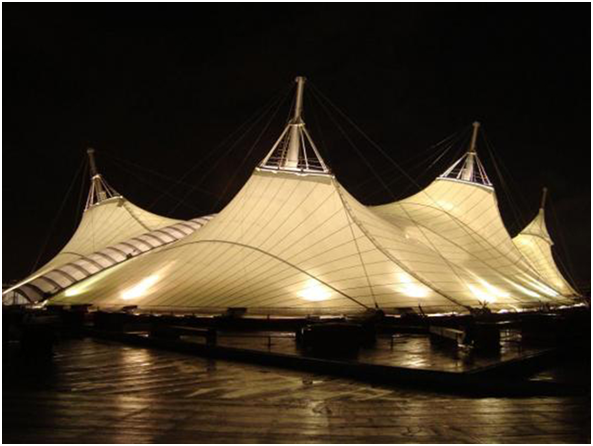 Night view of the food fair deck (Vista nocturna de la cubierta de la feria de comida) Image
Galería de fotos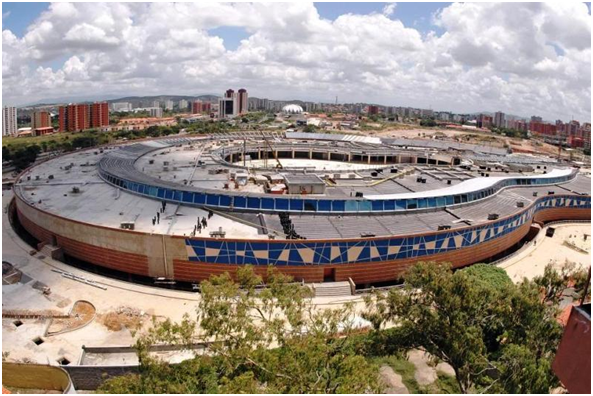 The work is almost finished (La obra ya casi terminada) Image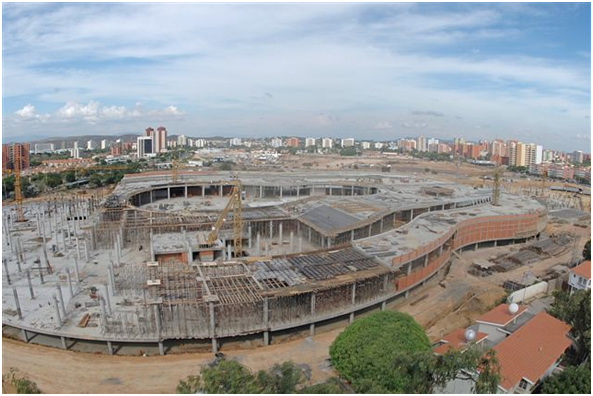 The work in its beginnings already shows its form of "cuatro" (La obra en sus inicios ya muestra su forma de "cuatro" )Image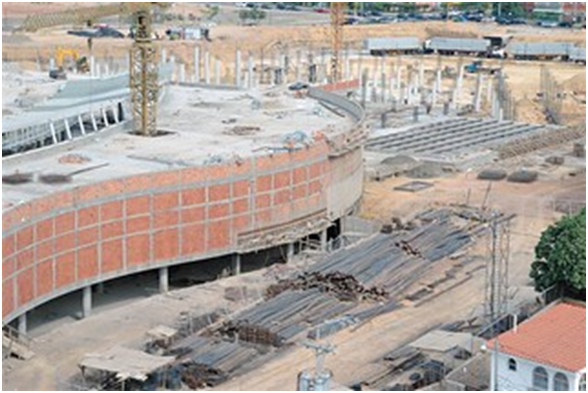 The building taking the form of the "cuatro" (La edificación tomando la forma del "cuatro") Image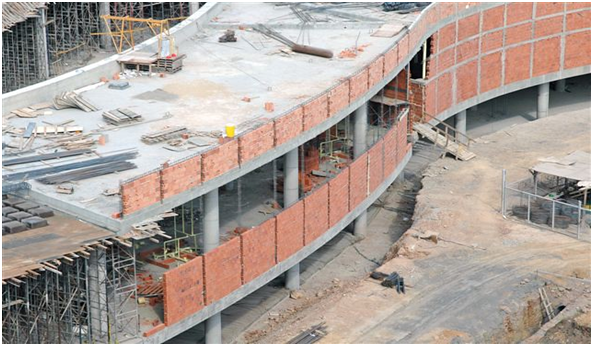 The plants of the mall in the nude (Las plantas del centro comercial al desnudo) [Image])https://www.flickr.com/photos/bqto/502561638)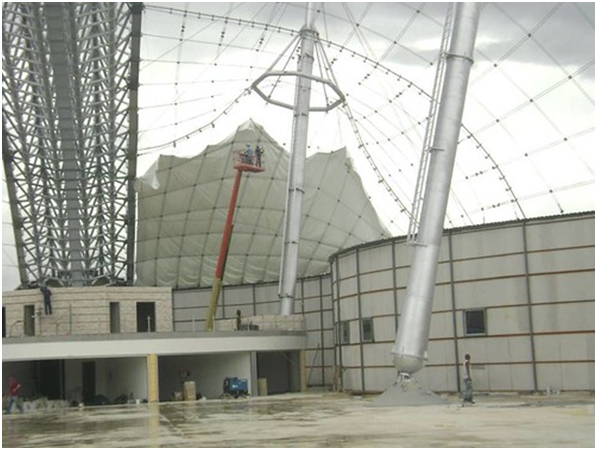 Installation of the canvas on the roof of the Sambil in Barquisimeto (Instalación de la lona del techo del Sambil en Barquisimeto) Image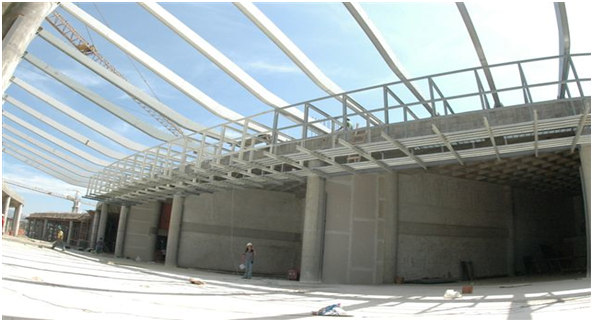 The niches that will be occupied by commercial premises (Los nichos que serán ocupados por locales comerciales) Image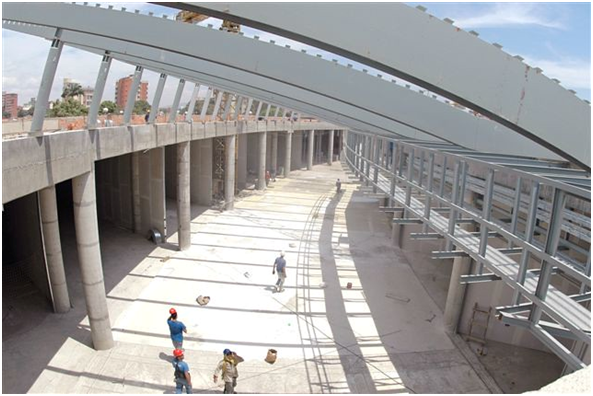 The corridors with the commercial premises will cover a good part of the internal periphery of the construction (Los pasillos con los locales comerciales cubrirán buena parte de la periferia interna de la construcción) Image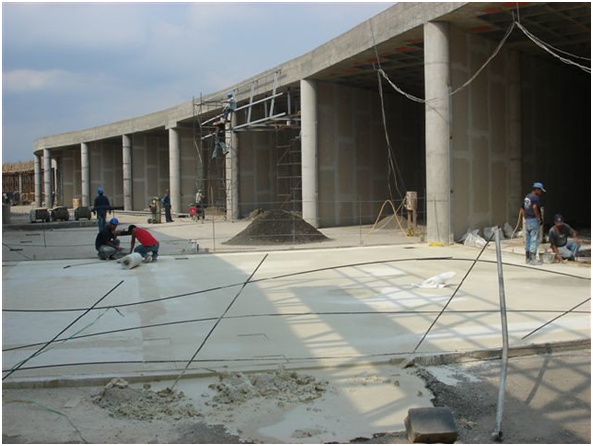 The exterior of the construction site in full swing (El exterior de la obra en plena construcción) Image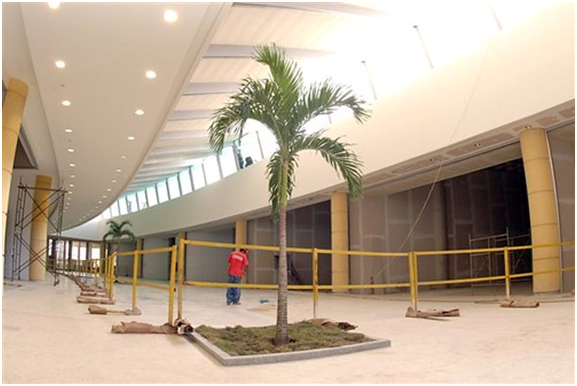 In order to finish the work, in 2007, palm trees were planted inside the Shopping Center (Para ir terminando la obra, en 2007, se sembraron palmeras dentro del Centro Comercial) Image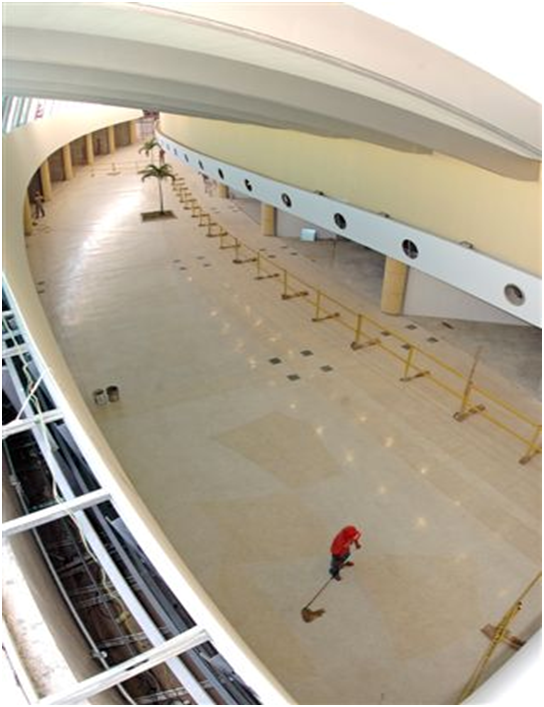 The floors take the shape of the walls of a "cuatro", a typical musical instrument of the region, August 2007 (Los pisos toman la forma de las paredes de un "cuatro", instrumento musical típico de la región, agosto 2007) Image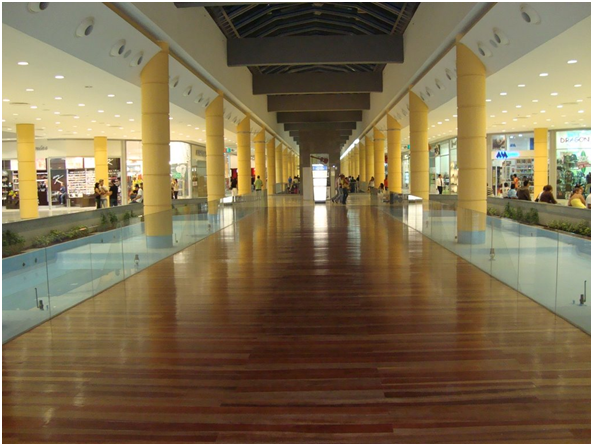 Wide aisle of department stores (A mplio pasillo de grandes tiendas)
Image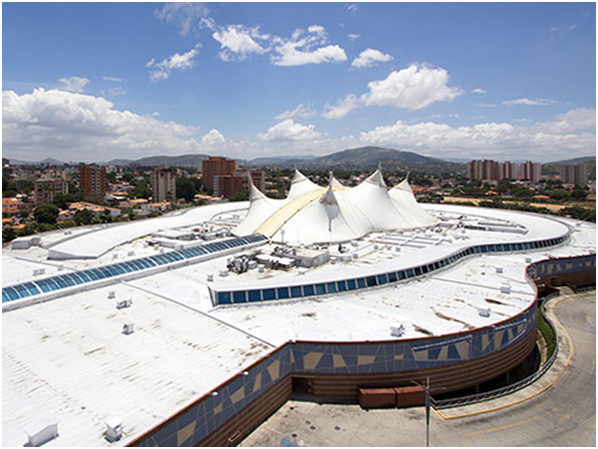 Partial view of the structure, you can see the wool roof that covers the food fair (Vista parcial de la estructura, se puede notar el techo de lana que cubre la feria de comida) Image
---
El Centro Comercial Sambil-Barquisimeto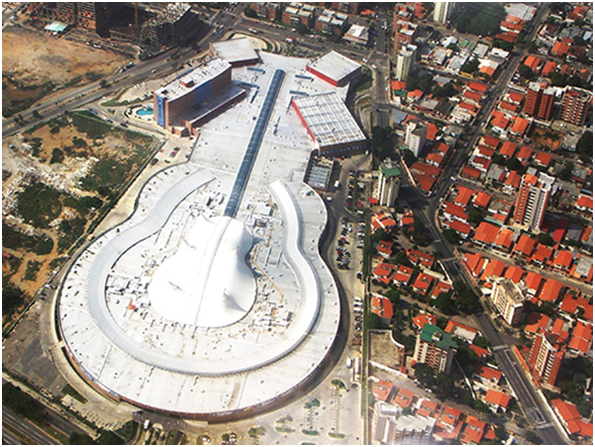 Aerial view of Sambil-Barquisimeto (Vista aérea del Sambil-Barquisimeto) Image
     Estimados amigos de las diversas plataformas de HIVE, prosiguiendo con mi empeño en mostrar las obras arquitectónicas del interior de Venezuela, hoy les presento el centro comercial Sambil, de apenas 13 años de haberse inaugurado en mi tierra natal, Barquisimeto, en Venezuela. Espero fervientemente que disfruten este post y me hagan llegar cualquier comentario que me quieran hacer.
---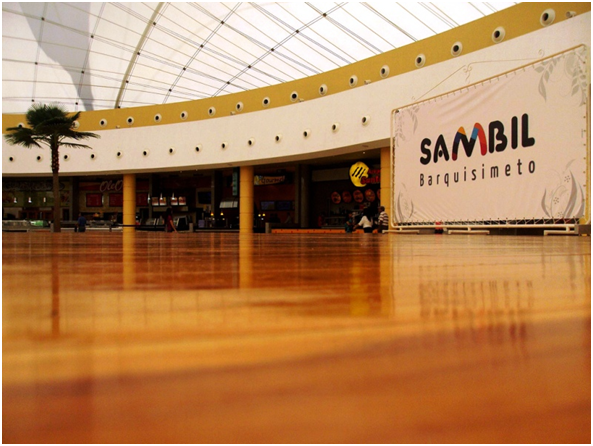 Polished wood covers much of the mall floor (La madera pulida cubre buena parte del piso del centro comercial) Image
     En una parcela de más de 100.000 m2 se han construido 80.000 m2 del centro comercial Sambil-Barquisimeto, en un edificio de dos áreas, diseñado por el arquitecto David Gabay, el nivel sótano que tiene un estacionamiento que puede albergar más de 2000 vehículos, parte techado y parte al aire libre. Por otra parte, el nivel de planta baja donde se han dispuesto alrededor de 240 locales comerciales, los 7 locales anclas que son los llamados a atraer al público al centro comercial, restaurantes, la feria de comidas, un multicine con 10 salas, los servicios sanitarios, etc. La edificación cuenta con dos entradas peatonales colocadas al sur y norte del centro comercial, para mayor comodidad de los visitantes. El nivel comercial está vinculado, a través de una galería al LidoHotel, que si bien no forma parte de la estructura, es propiedad de los mismos dueños del centro comercial y presta un servicio a los visitantes de fuera de la ciudad.
---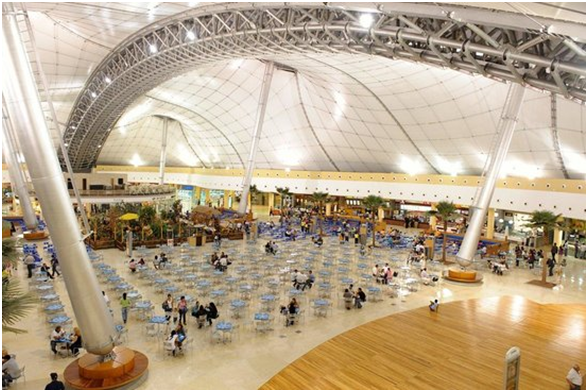 Restaurant and fast food fair (Feria de restaurantes y comida rápida) Image
     El centro comercial está ubicado en la bifurcación de tres grandes arterias de la capital larense, al este de la misma, fue abierto al público en junio de 2008. Un rasgo que lo distingue de cualquier otra construcción, es su forma de "cuatro", instrumento musical típico de la región larense, que se manifiesta a lo largo y ancho de su estructura, En efecto, la forma del instrumento se plasma en la obra en su conjunto, lo que se puede apreciar nítidamente en todas las aéreas del centro comercial; las clavijas del instrumento, por ejemplo, están representadas por las tiendas comerciales, mientras el techo con su iluminación solar representa las cuerdas y, por último, el gran espacio central que cubre la feria de comidas, para cuya estructura se utilizaron columnas y vigas metálicas, cables de acero y una cubierta fabricada con una membrana textil tensada, correspondería a la boca del "cuatro".
---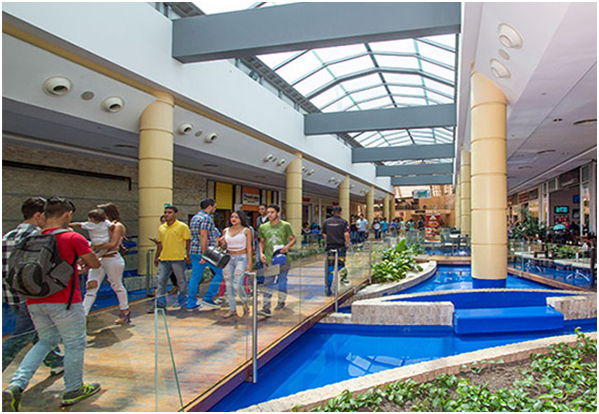 Corridors parallel to the commercial premises, with the water ponds and the light that seeps through the ceiling (Pasillos paralelos a los locales comerciales, con los estanques de agua y la luz que se cuela por el techo) Image
     Para la fachada del centro comercial se usaron acabados con ladrillos, alucobond (que como es conocido por los constructores y arquitectos es un panel formado por dos láminas de cubierta de aluminio y un núcleo relleno de agregado mineral difícilmente inflamable o no inflamable), y cristal, que permiten la iluminación merced a una gran abertura perimetral, especie de gran claraboya, que se puede apreciar tanto en la feria de la comida como en todos los pasillos, elaborada con macro estructura de acero intercalada con espacios en vidrio y lona.
---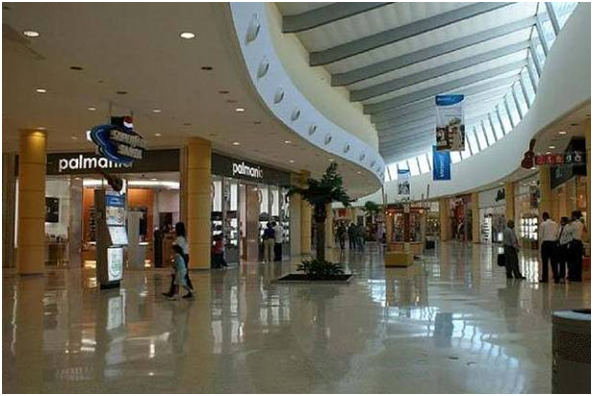 Corridors and shops of the Shopping Center (Pasillos y tiendas del Centro Comercial) Image
     Una vez dentro nos encontramos con 5 plazas, cuyos nombres son los cuatro puntos cardinales y la plaza central, allí se ubican unos 280 locales comerciales, 31 espacios pequeños donde se distribuyen a manera de kioscos en los pasillos peatonales, además incluye el multicine, la feria de comidas con más de 20 locales de comida rápida, un área de restaurantes con espejos de agua y vegetación, a las cuales se les denominó "Terrazas del Sambil".
---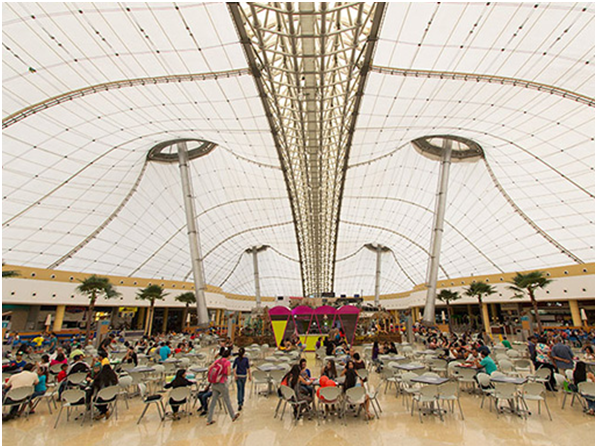 The food fair where you can see the metal structure that supports the canvas that covers it
(La feria de comida donde se observa la estructura de metal que soporta la lona que la cubre)
Image
     Pensando en los niños, adultos mayores y personas con algún tipo de discapacidad motora el centro comercial presta el servicio de unos pequeños trenes que hacen un recorrido a través de los pasillos del mismo, siguiendo las curvas que conforman la silueta del "Cuatro", por los distintos ambientes que conforman la edificación.
---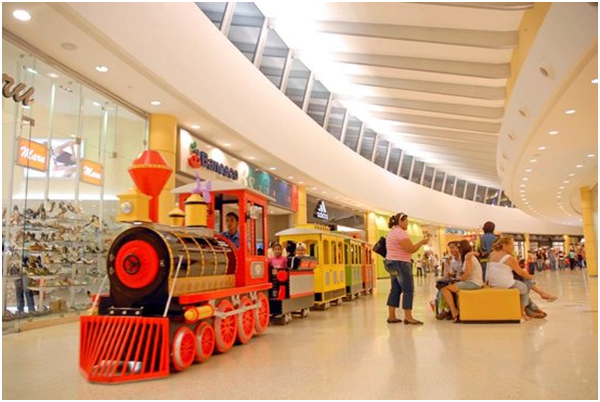 Small trains available for children and adults to travel through all the facilities of the shopping center (Pequeños trenes a disposición de niños y adultos para puedan transitar por todas las instalaciones del centro comercial) Image
     Imposible dejar de notar el techo de la construcción, bien sea por la luz natural que penetra por él, o por la belleza estructural que muestra en la parte correspondiente a la feria de comida, donde se pueden apreciar los mástiles de casi 30 metros de altura que son el soporte del inmenso techo textil.
---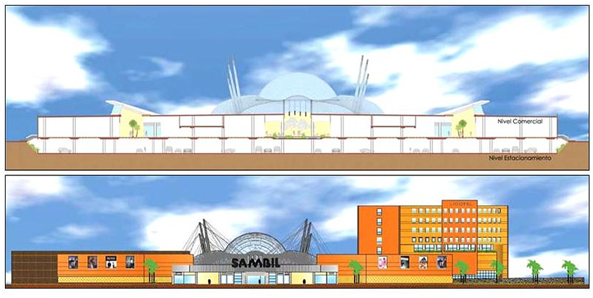 Sambil-Barquisimeto project, in the image below the hotel construction project is added (Proyecto del Sambil-Barquisimeto, en la imagen de abajo se suma el proyecto de construcción del hotel) Image
     Fuentes bibliográficas consultadas:
I.- Sambil Barquisimeto: https://www.constructorasambil.com/sambil-barquisimeto/
II.- Kath Halkett, Kath: Sambil-Barquisimeto.
https://www.flickr.com/photos/kitkath-ruiz/5676214424
---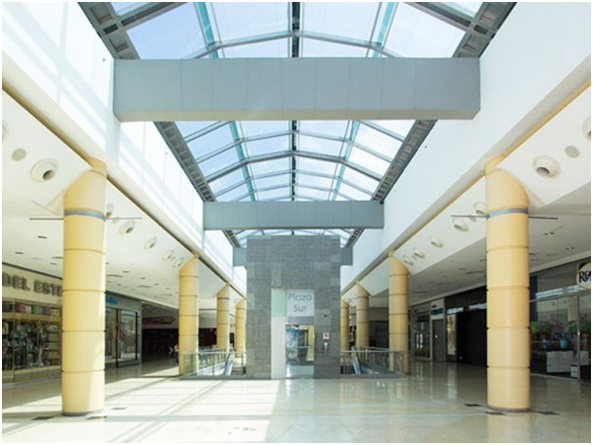 Note the columns that support the structure of the shopping center (Nótese las columnas que soportan la estructura del centro comercial) Image