Modern shopping center in Caracas built with sustainable architecture and smart building criteria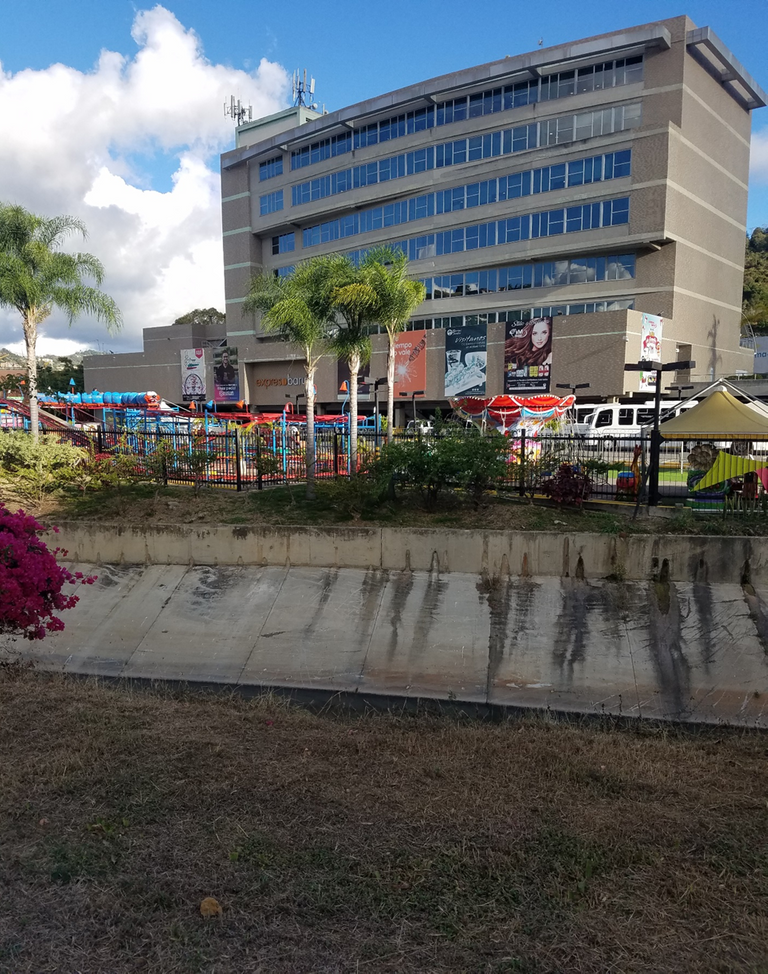 In the background, the office building of the Centro Comercial Expreso Baruta, in the foreground a channeled stream and later a carousel (Al fondo el edificio de oficinas del Centro Comercial Expreso Baruta, en primer plano un riachuelo canalizado y posteriormente un carrusel). Photo taken by me
     Dear friends of HIVE, in the city of Caracas, about 70 years ago, the construction of shopping centers began that concentrate, in one place, spaces for shopping, going to a restaurant, enjoying a good movie, visiting bookstores, enjoy an internal walk while the rain soaks the streets of the city, this constructive practice has not diminished and even today, despite the economic crisis that the country is going through, they continue to open shopping centers throughout the country.
---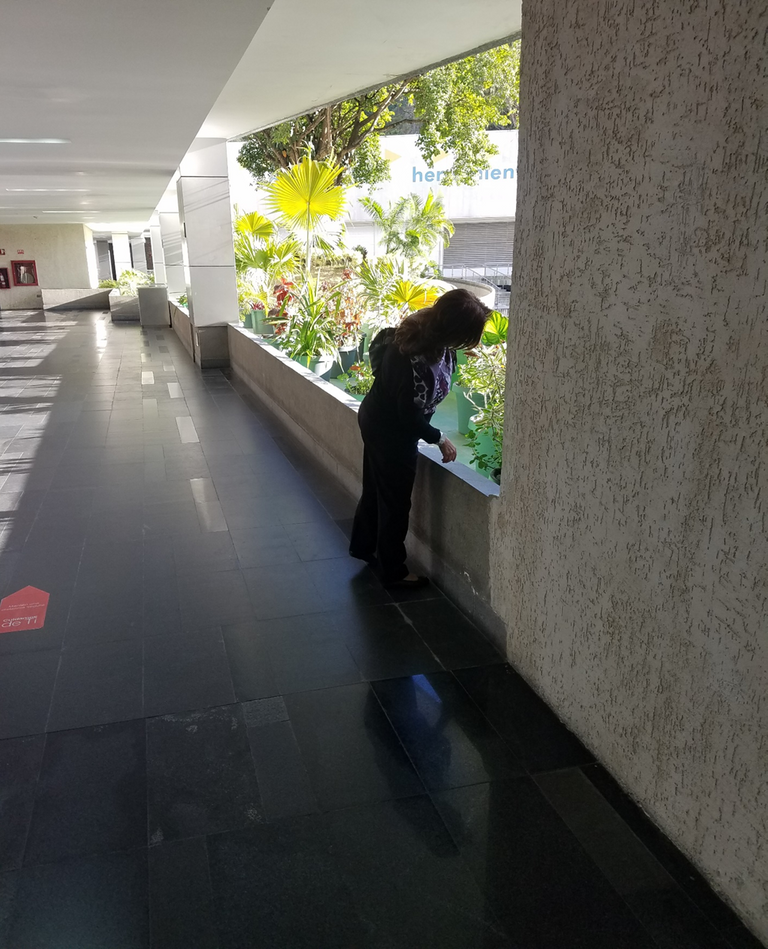 Due to the pandemic, time restrictions allowed the Mall to be seen almost empty. To one side my sister-in-law Elsa observing the internal gardens (Debido a la pandemia, las restricciones de horario permitieron ver el Mall casi vacío. A un costado mi cuñada Elsa observando los jardines internos). Photo taken by me
     Today we are going to focus on the visit I recently made to the Expreso Baruta Shopping Center, located on Los Guayabito Avenue in the Trinidad urbanization, south of the city of Caracas, one of the quietest and safest areas of the capital, which it is a mixed-use office and retail center. The photos that we present are all my own and I sincerely hope that they are to everyone's liking.
---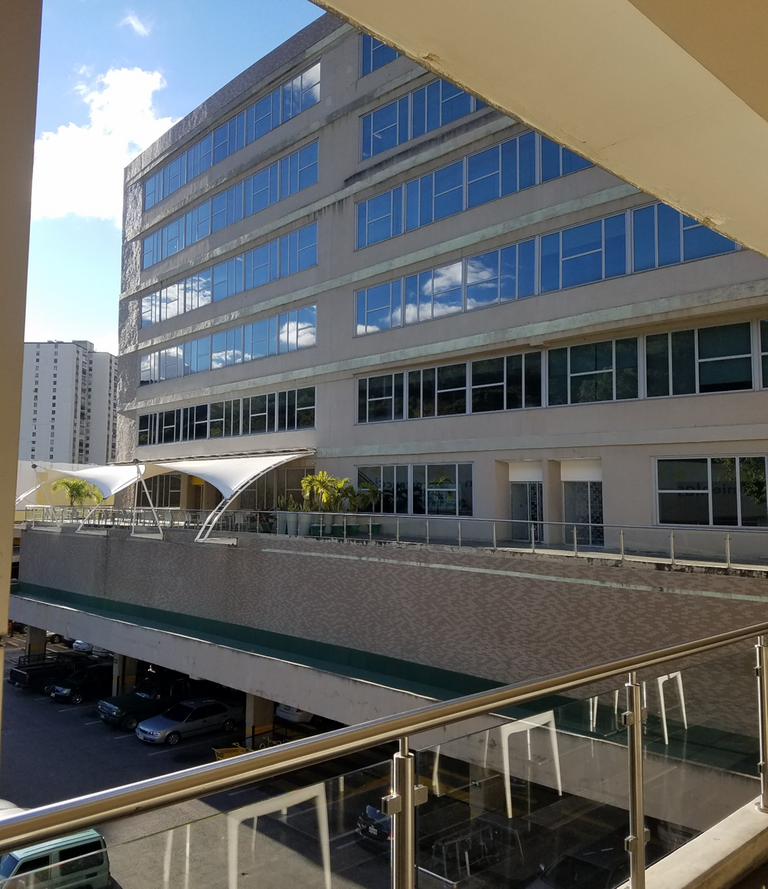 Close up of the office building with its bluish glass (Close up del edificio de oficinas con sus azulados vidrios). Photo taken by me
     The area covered by the complex is a little more than 29,000 m2 of land, with a space for commercial premises of 3,600 m2 and a super local that occupies a store of a chain that, under the name EPA, is fundamentally in charge of supplying the public of articles of electricity (E), plumbing (P) and masonry (A), hence its name; The Shopping Center also has 6,000 m2 of offices and an additional 3,500 m2 where we can find walkways to enjoy the landscaping and other attractions.
---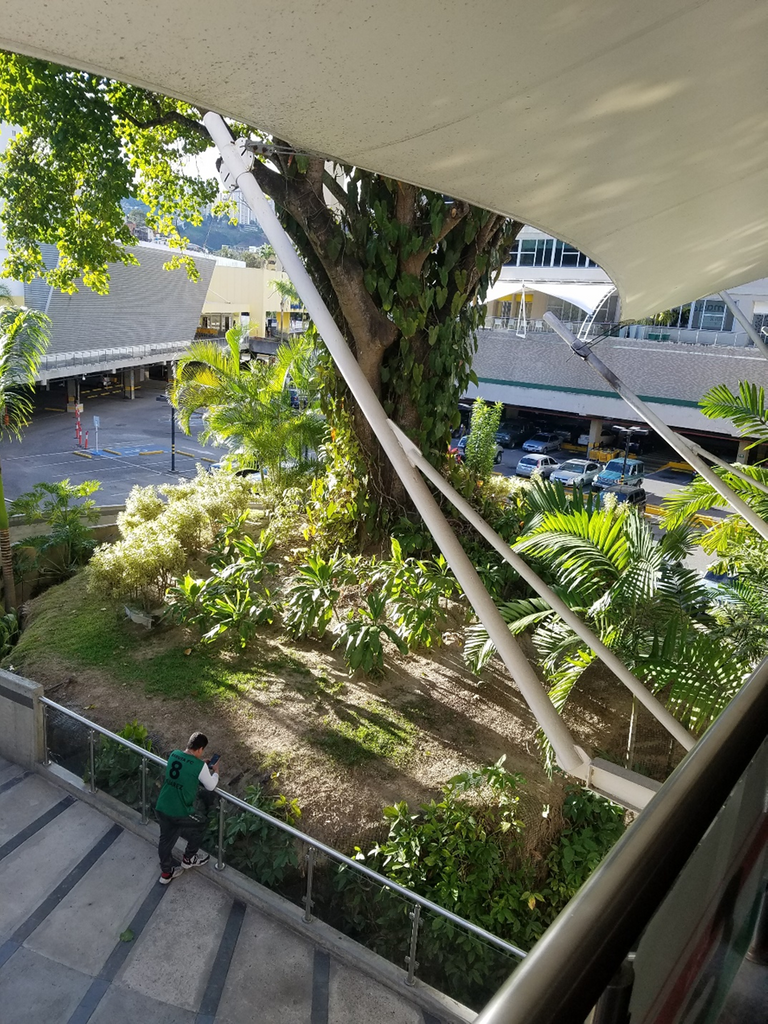 The heart of the Shopping Center is a Jabillo bush that was preserved during construction (El corazón del Centro Comercial es una mata de Jabillo que se conservó durante la construcción). Photo taken by me
     The design of the shopping center had the so-called "green architecture" as a paradigm, which is manifested in a reduction in the cost of operations and a significant reduction in the impact that construction has on the environment by saving energy through an electric plant capable of feed 100% of the establishments, to which is added the possibility of installing solar panels to optimize energy use, a water regulation system that allows the use of recycled water for plant irrigation, solid waste recycling, and the centralization of the mechanical systems through software that can control the elevators, escalators, the hydraulic pump and the entire lighting system of the shopping complex, the latter characteristics of an "intelligent" building.
---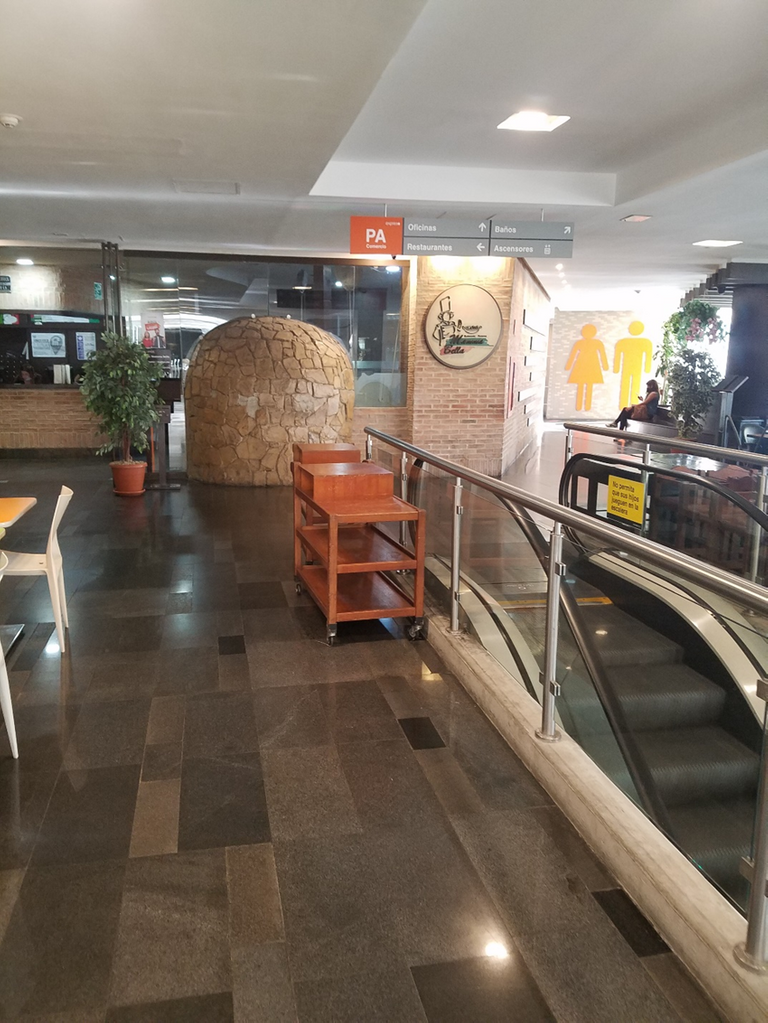 Entrance to one of the exquisite restaurants of the Shopping Center (Entrada a uno de los exquisitos restaurantes del Centro Comercial). Photo taken by me
     The commercial part of the building, which was the first to open its doors to the public, in 2008, was built around a jabillo tree that had been planted on the land more than 20 years ago, surrounded by restaurants and cafes, conceived in this way, as a visual space towards the outside, preserving nature.
---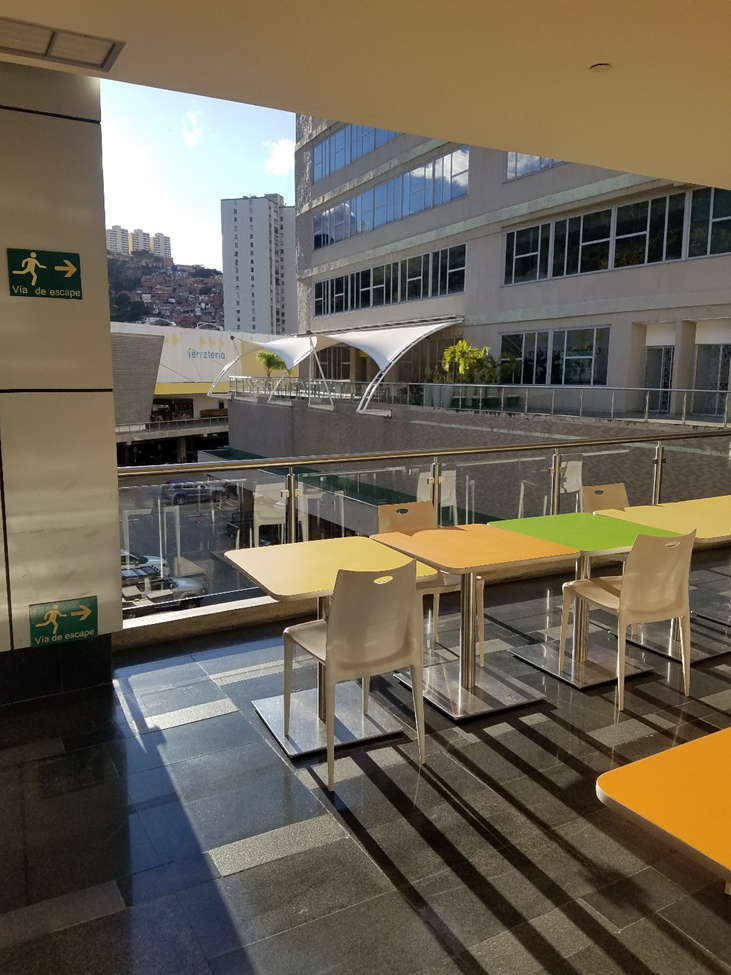 View from the internal corridors of the Shopping Center (Vista desde los pasillos internos del Centro Comercial). Photo taken by me
     The center has a very striking landscaping accompanied by a cool and pleasant climate. In short, this work is a modern building based on an ecological project for the enjoyment of the visitor and improvement of the quality of life of the citizen who lives in its surroundings.
---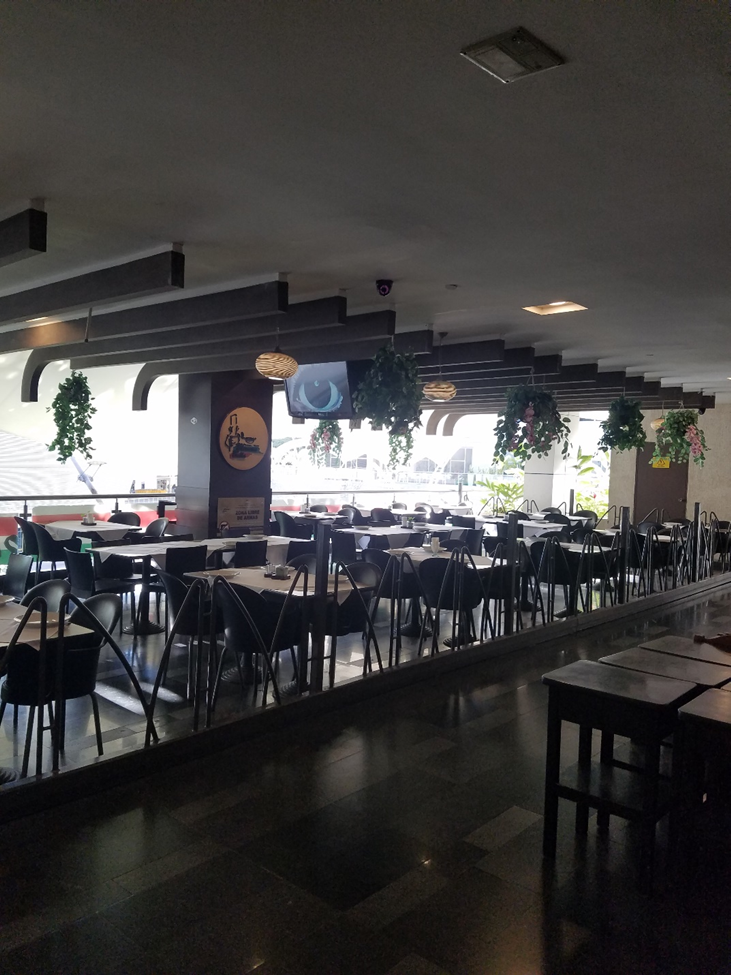 The busiest Italian restaurant in the Shopping Center has a high capacity (El restaurante italiano mas concurrido del Centro Comercial tiene un alto aforo). Photo taken by me
---
Centro comercial moderno en Caracas construido con criterios de arquitectura sustentable y de edificio inteligente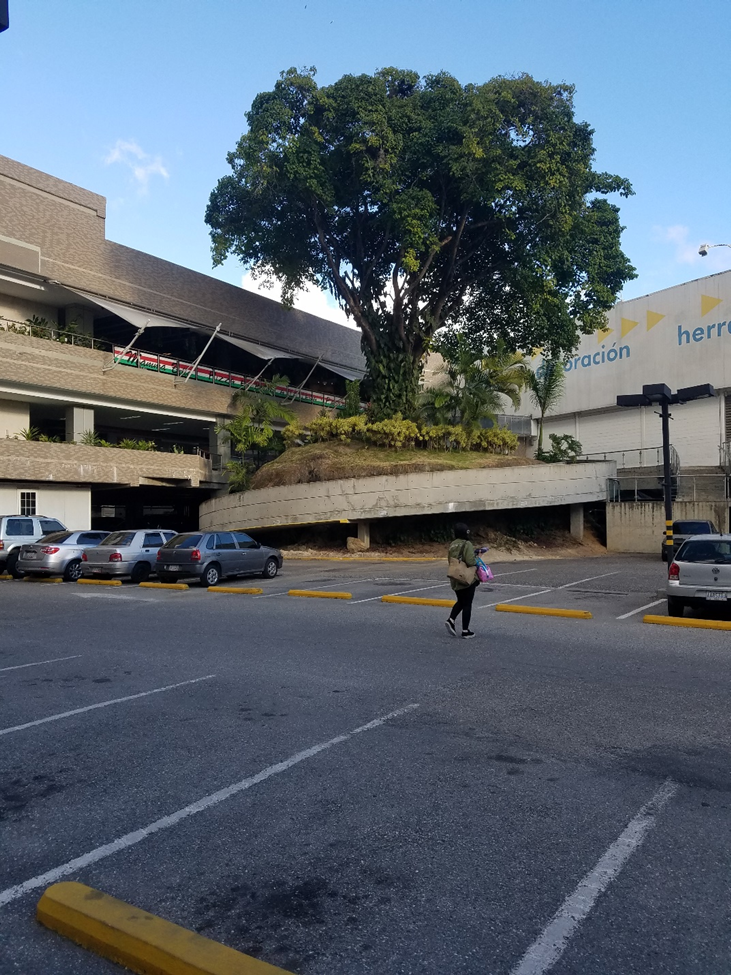 The "Jabillo", in all its splendor, is the center from where the mall construction begun (El "Jabillo", en todo su esplendor, es el centro desde donde partió la construcción del Mall). Photo taken by me
     Estimados amigos de HIVE, en la ciudad de Caracas, desde hace unos 70 años se inició la construcción de centros comerciales que concentran, en un solo lugar, espacios para hacer compras, ir a un restaurante, gozar de una buena película, visitar librerías, disfrutar de un paseo interno mientas la lluvia empapa las calles de la ciudad, esa práctica constructiva no ha mermado y aún hoy en día, a pesar de la crisis económica por la que atraviesa el país, siguen abriendo centros comerciales en todo el país.
---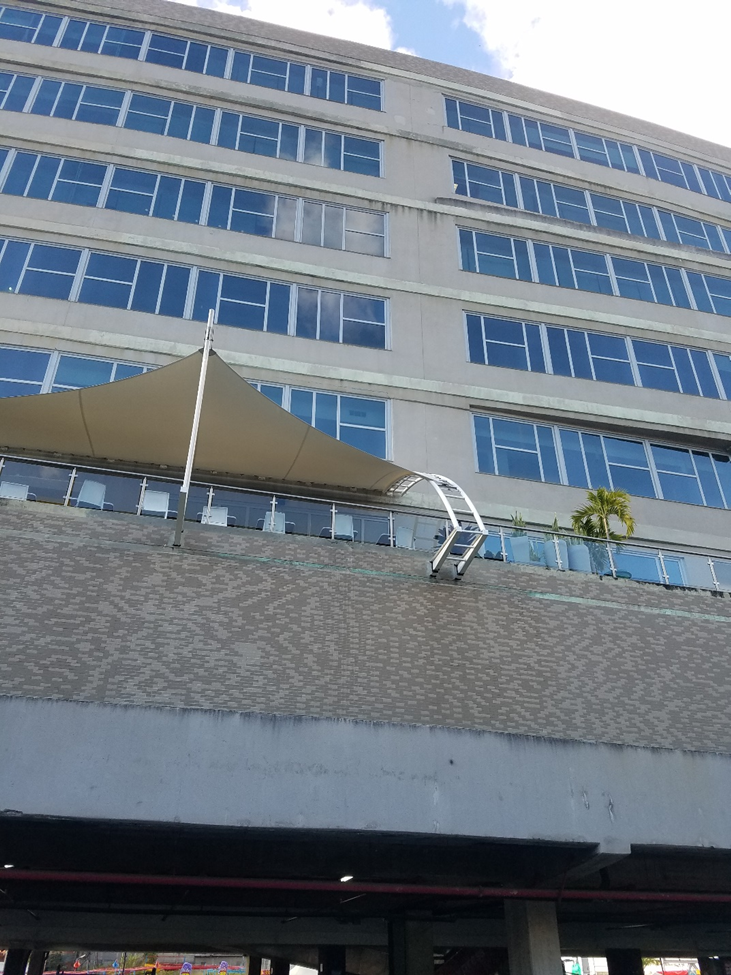 View of the office building (Vista del edifico de oficinas). Photo taken by me
     Hoy nos vamos a concentrar en la visita que recientemente hice al Centro Comercial Expreso Baruta, ubicado en la avenida Los Guayabitos en la urbanización Trinidad, al sur de la ciudad de Caracas, una de las zonas más tranquilas y seguras de la capital, el cual es un centro de uso mixto, de oficinas y tiendas. Las fotos que presentamos son todas de mi autoría y espero sinceramente que sean del agrado de todos.
---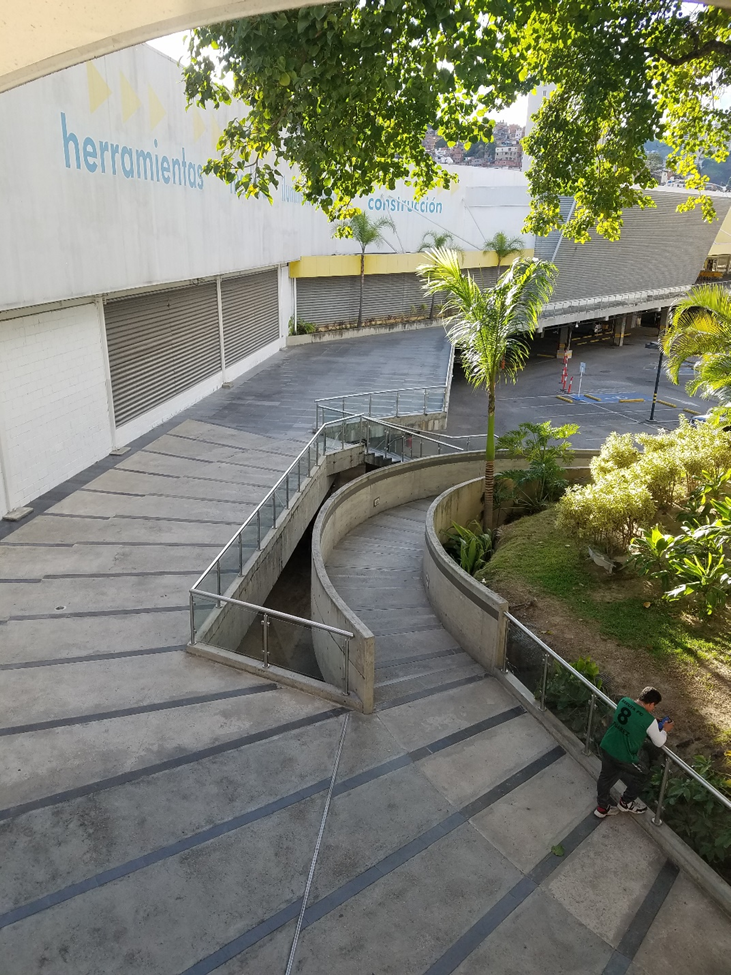 Corridor that connects the central building with the EPA super store building (Pasillo que comunica al edificio central con el edificio de la super tienda EPA) Photo taken by me
     La superficie que cubre el complejo es un poco más de 29.000 m2 de terreno, con un espacio destinado a locales comerciales de 3.600 m2 y un super local que ocupa una tienda de una cadena que, bajo el nombre EPA, se encarga fundamentalmente de abastecer al público de artículos de electricidad (E), plomería (P) y albañilería (A), de allí su nombre; el Centro Comercial cuenta, además, con 6000 m2 de oficinas y unos 3500 m2 adicionales donde encontramos y caminerías para el disfrute del paisajismo y otros atractivos.
---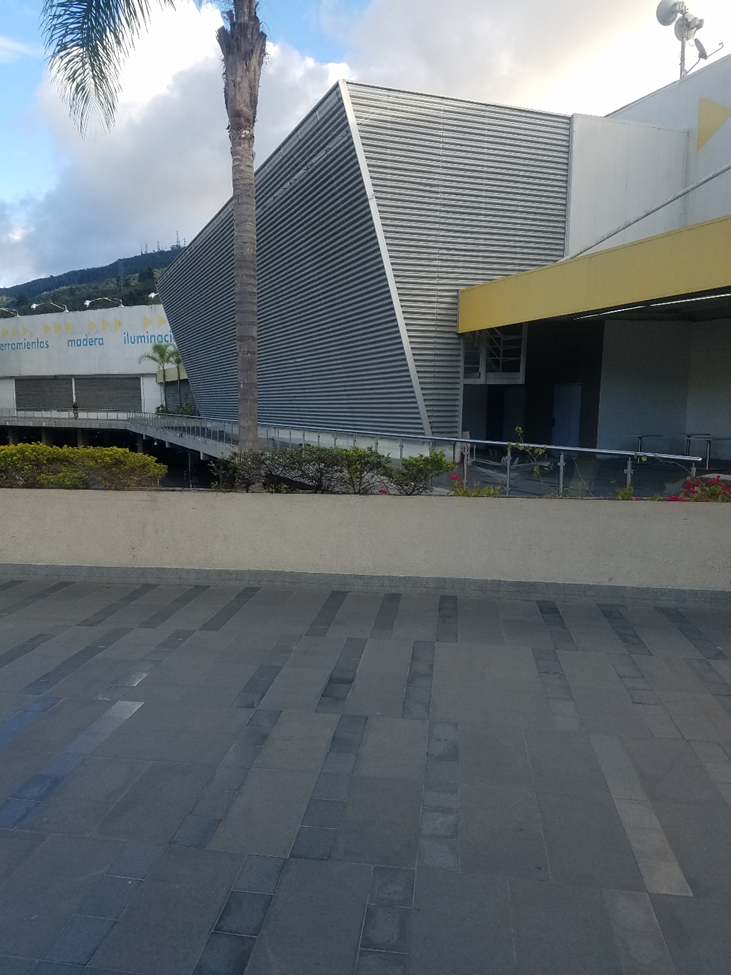 Interesting structure of the EPA store building (Interesante estructura del edificio de la tienda EPA). Photo taken by me
     El diseño del centro comercial tuvo como paradigma la llamada "arquitectura verde", que se manifiesta en una reducción del costo de operaciones y una significativa disminución del impacto que sobre el medio ambiente tiene la construcción al ahorrar energía a través de una planta eléctrica capaz de alimentar al 100% de los establecimientos, a lo que se suma la posibilidad de instalar paneles solares para optimizar el uso de la energía, un sistema de regulación del agua que permite la utilización de agua reciclada para el riego de plantas, reciclaje de desechos sólidos, y la centralización de los sistemas mecánicos a través de un software que puede controlar los ascensores, escaleras mecánicas, la bomba hidráulica y todo el sistema de luces del complejo comercial, características, estas últimas, de una edificación "inteligente".
---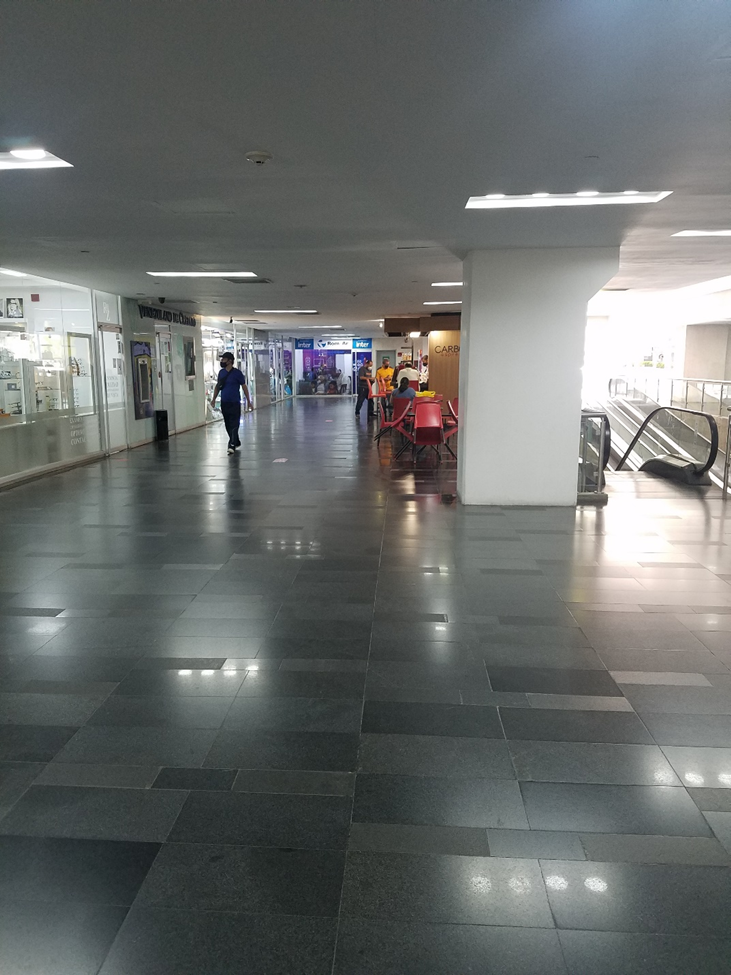 Wide corridors with shops of various kinds (Amplios pasillos con tiendas de diversa índole). Photo taken by me
     La parte comercial de la edificación, la cual fue la primera en abrir sus puertas al público, en 2008, se construyó alrededor de un árbol de jabillo con más de 20 años de sembrado en el terreno, rodeado de restaurantes y cafés, concebido, de esta manera, como un espacio visual hacia el exterior, preservando la naturaleza.
---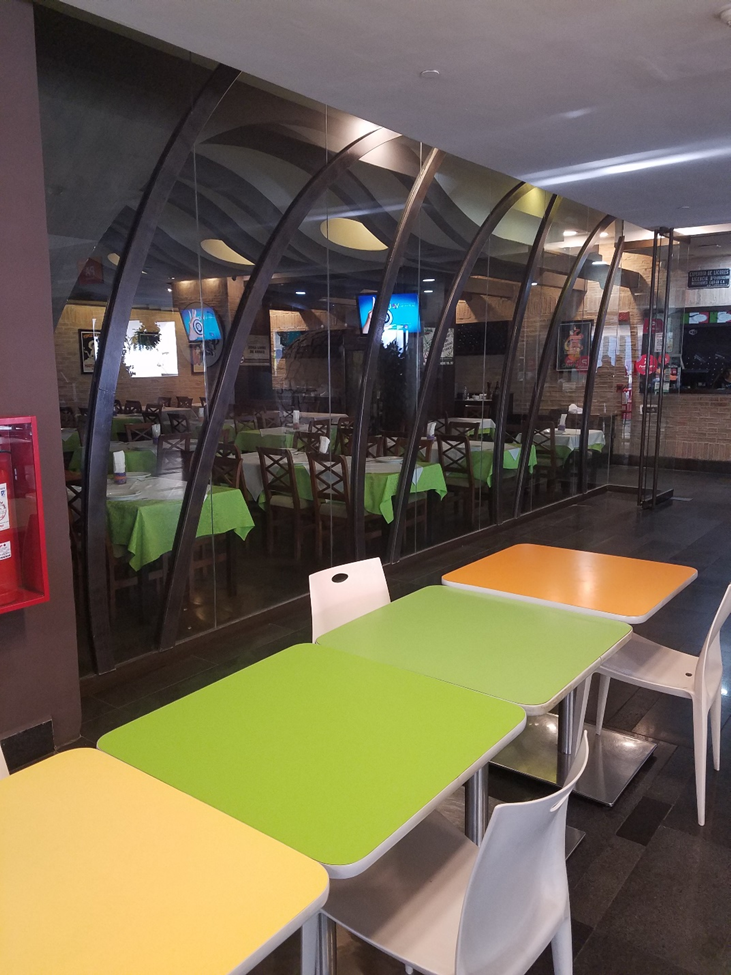 Inside you can see different designs of shop fronts. (A lo interno se pueden observar distintos diseños de fachadas de los comercios). Photo taken by me
     El centro posee un paisajismo muy llamativo acompañado de un clima fresco y agradable. En fin, esta obra es una edificación moderna basada en un proyecto ecológico para disfrute del visitante y mejora de la calidad de vida del ciudadano que habita en sus alrededores.
---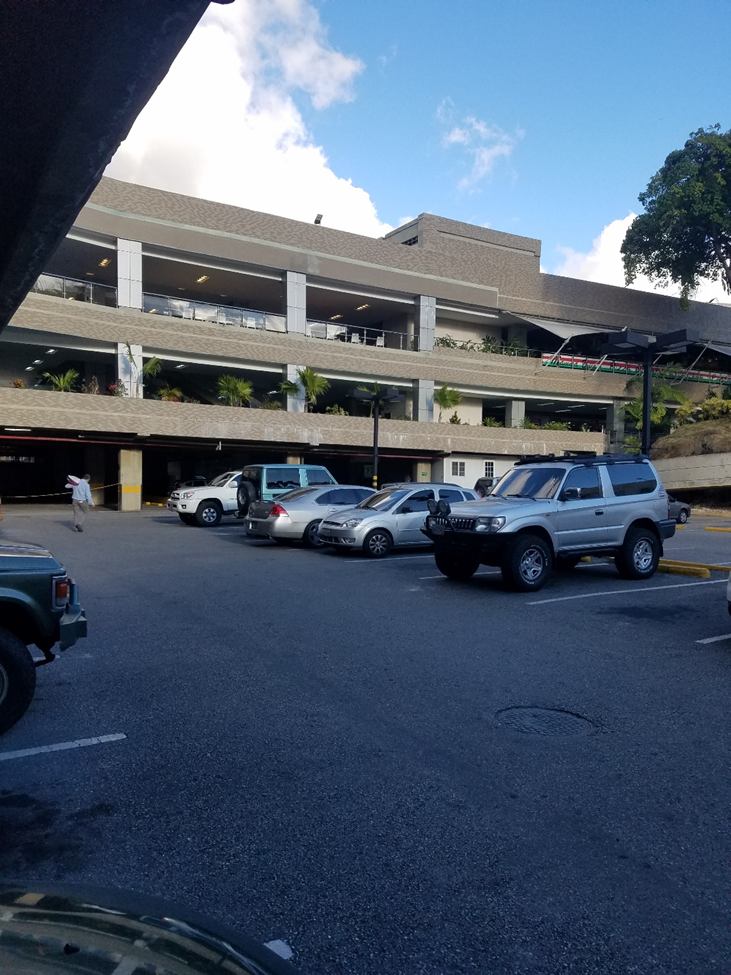 Ample covered parking complements open spaces for convenient parking (Amplio estacionamiento techado complementa los espacios abiertos para estacionar con comodidad). Photo taken by me
---
Photo gallery (Galería de fotos)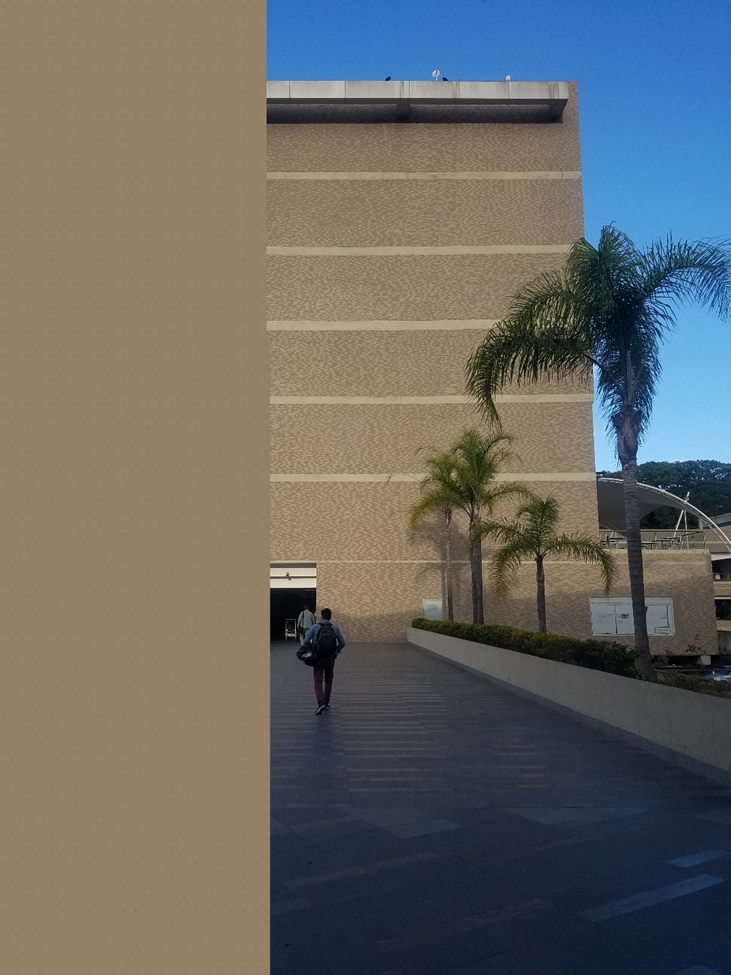 ---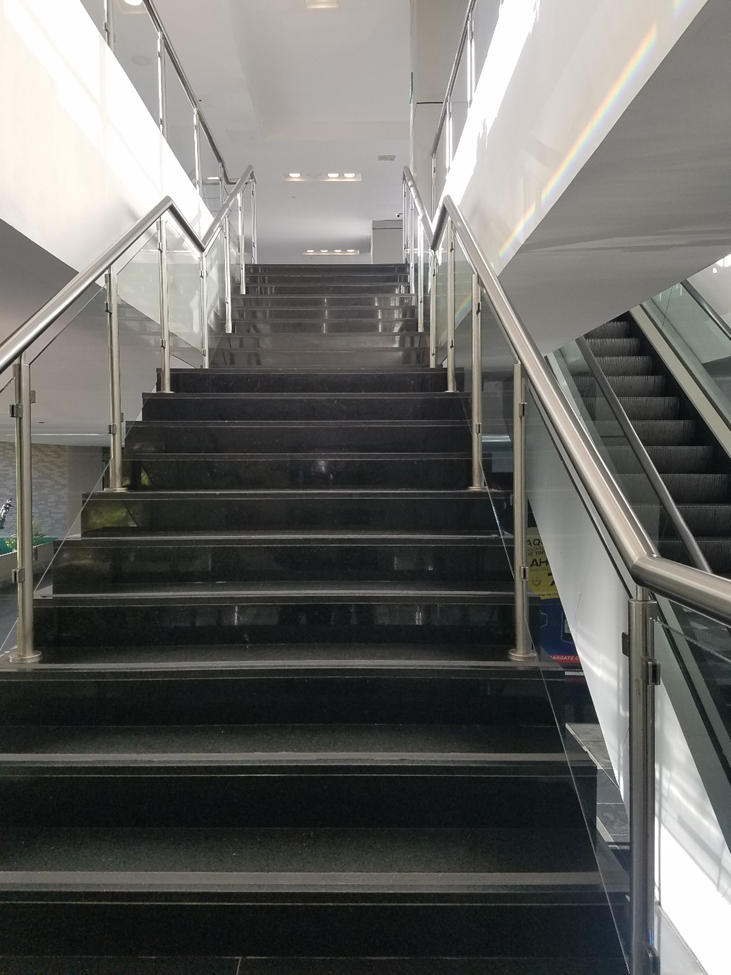 ---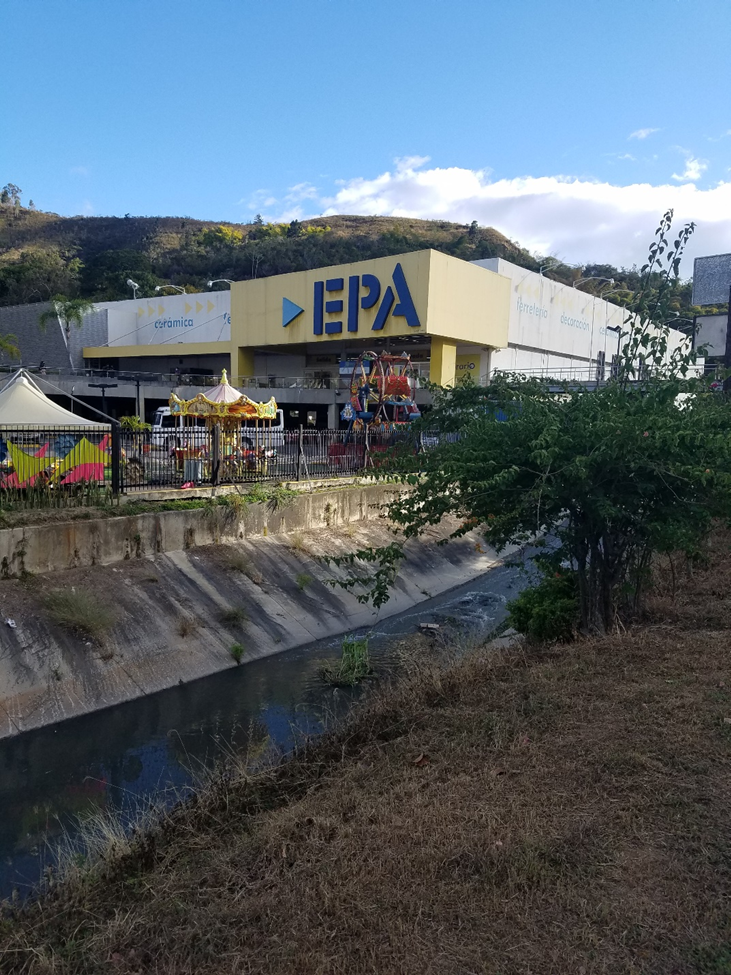 ---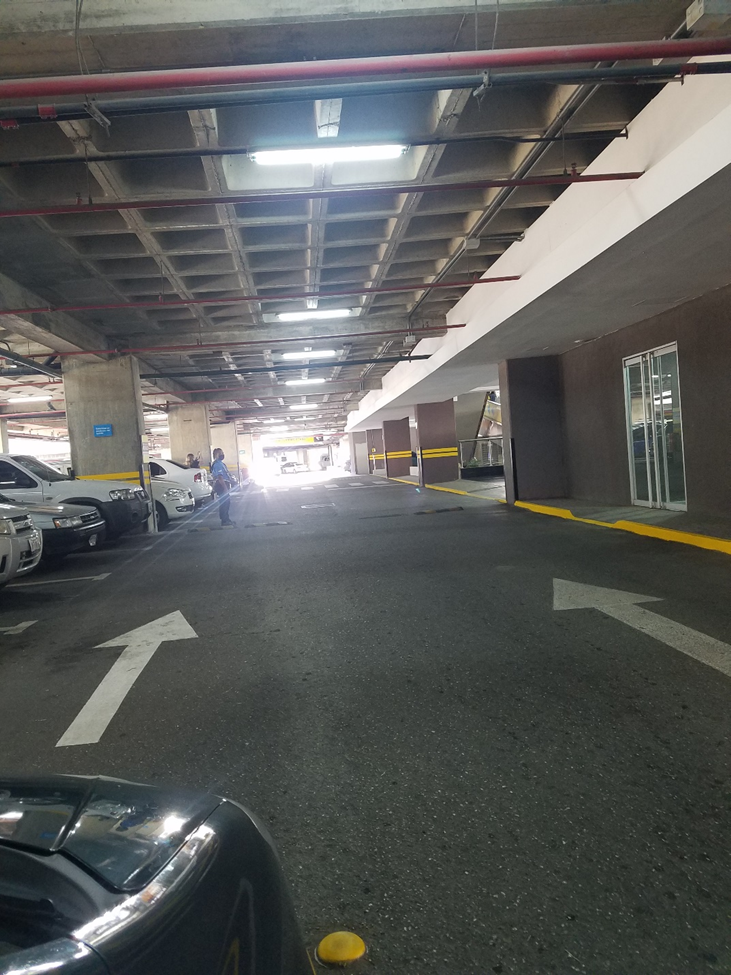 ---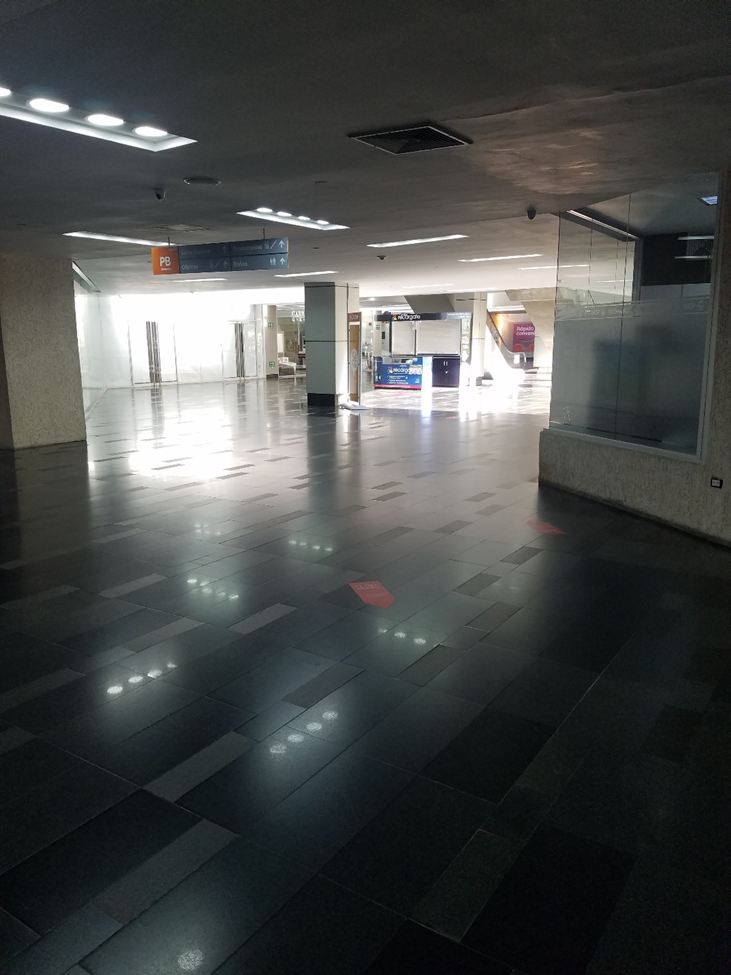 ---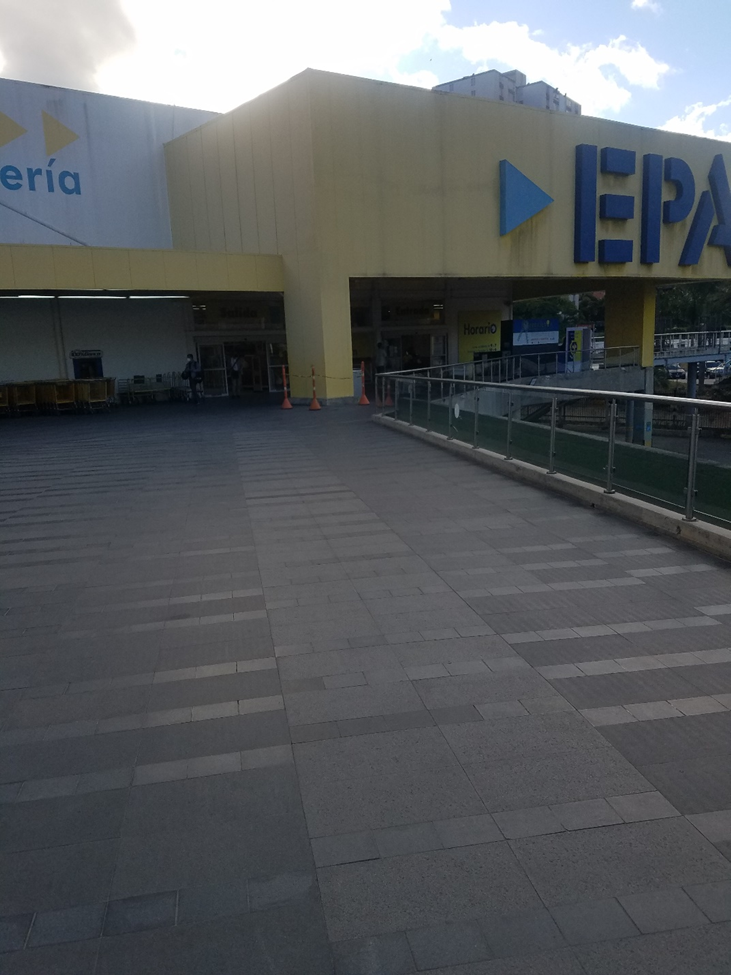 ---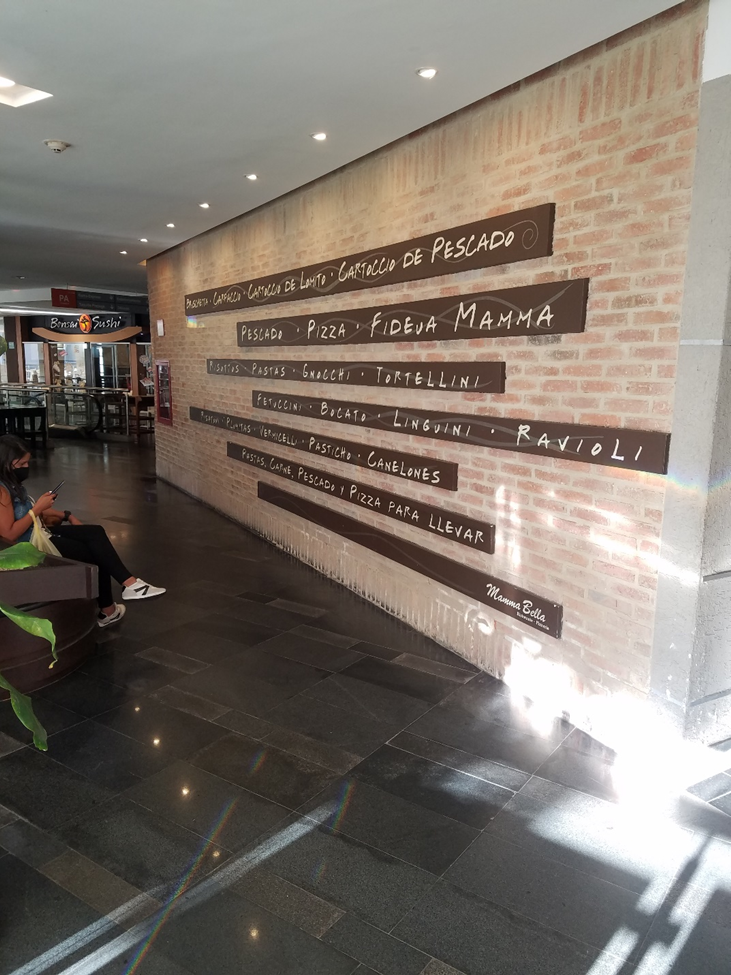 ---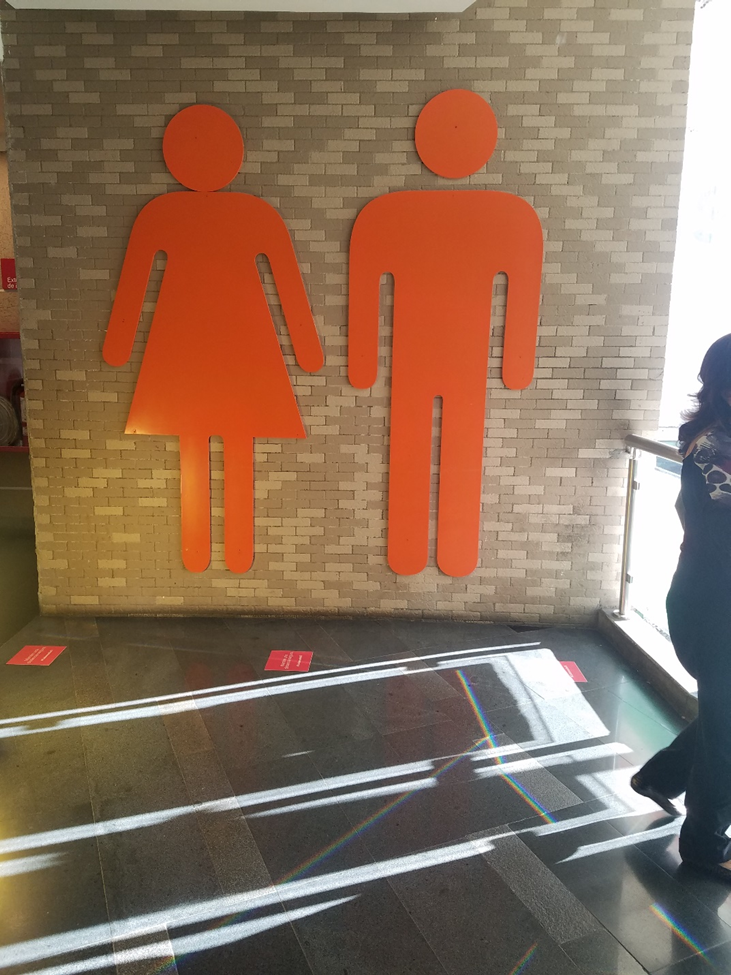 ---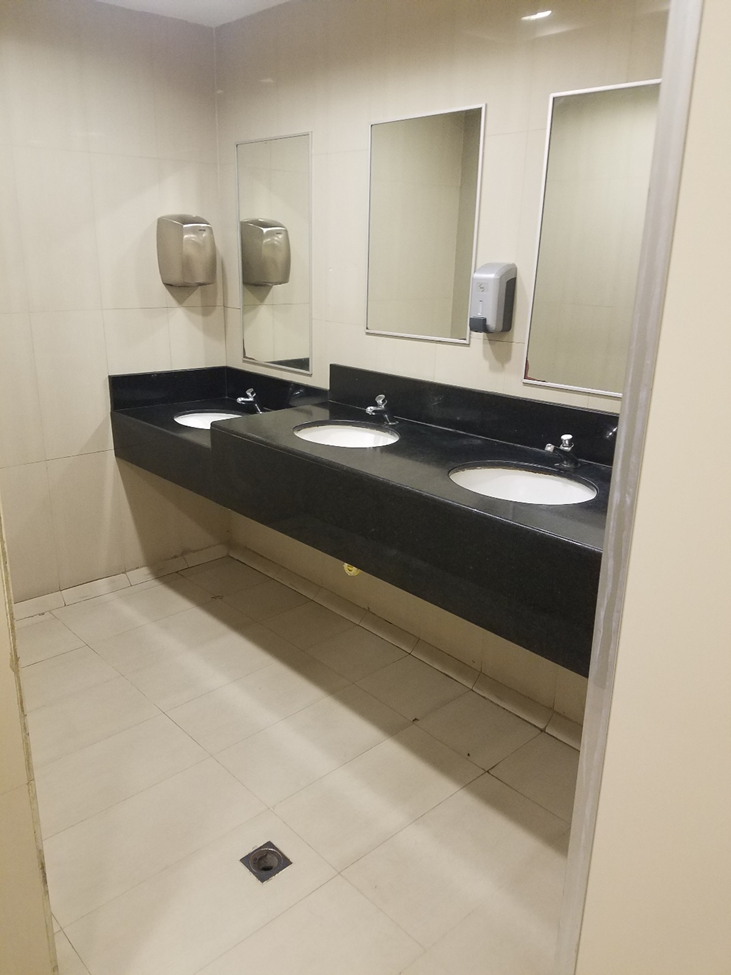 ---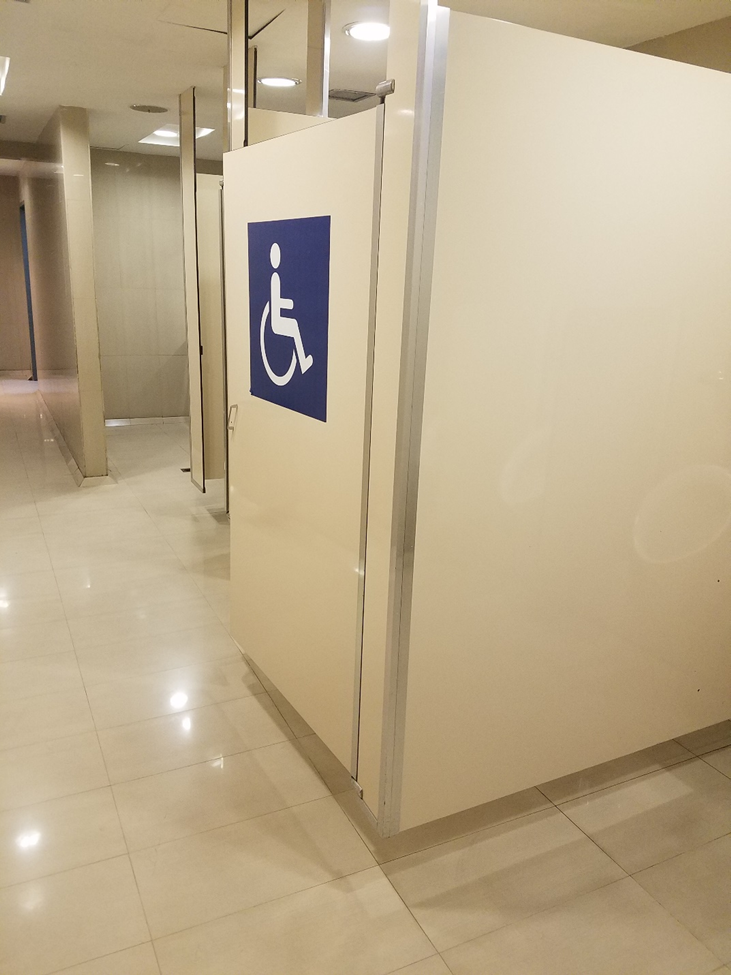 ---