[ENG] IDB Clinic- Cabudare [ESP] Clínica IDB- Cabudare
IDB Clinic- Cabudare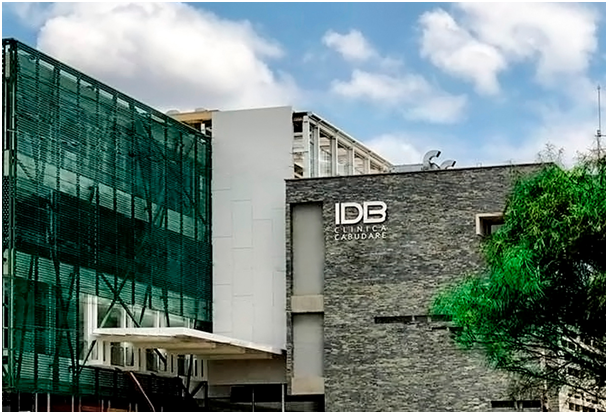 Main facade of the Clinic (Fachada principal de la Clinica) Image
     The first construction for health purposes in Venezuela is a clinic built in Cabudare, with the name IDB-Cabudare Clinic, a dormitory city 5 minutes from Barquisimeto, the capital of Lara state on the "Intercommunal" that joins both cities. This work was conceived, using international criteria for ecological works, by Venezuelan architects and engineers and has won the "Annual Construction 2018, Health mention" award and the "2019 National Architecture Prize Grand Biennial". The building has 8 floors and 17 thousand meters construction squares on a plot of 5,000 m2 of land; It is considered a pioneer in ecological terms and in contact with nature, so we are in the presence of a building, traditionally painted white, which we now see covered in pastel colors and full of green on its walls, coming from the vegetation inside.
---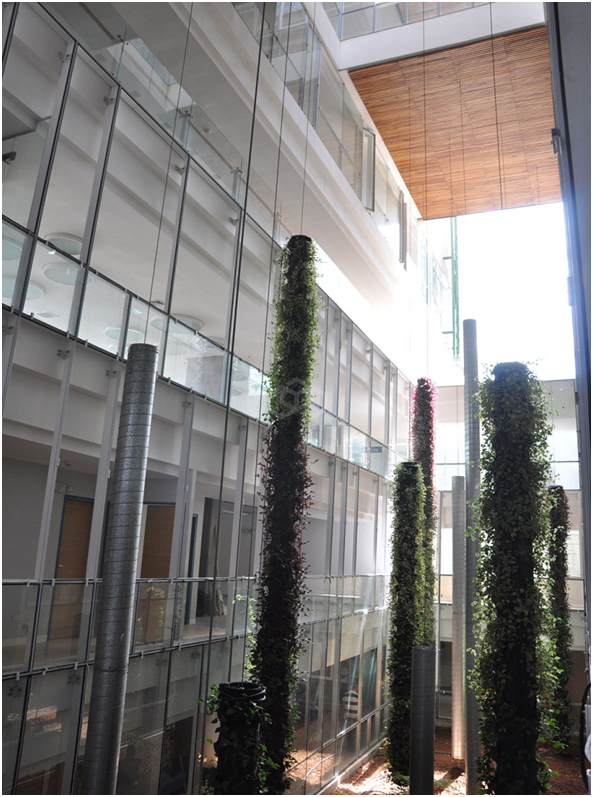 A true modern architecture (Una verdaera arquitectura moderna) Image
     This building began to be built in 2012, it was designed by the Venezuelan architect Gustavo Sánchez, with the collaboration of the interior designer Erilú Schell and the landscaper Ana Enriqueta Tejera and Catleya Jardín, with the company Mendoza, Dávila and Toledom MDT being responsible for its construction. The entire structure is organized around an elongated central empty space, naturally lit and ventilated, a kind of central boulevard that allows a constant visual and spatial relationship to the outside, throughout the building. The walls of the clinic are lined with materials that are easily found in the area, some of them handcrafted by the local inhabitants, which contributed to the empathy of the people of Cabudare with the construction.
---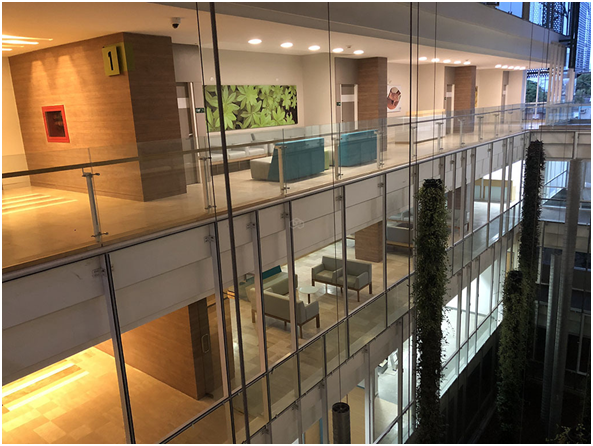 View from inside the clinic (Vista desde el interior de la clínica ) Image
     For the edification of a building of a medical care nature, it was kept in mind that, although it was necessary to use the parameters for the construction of the required medical services, it was necessary to differentiate itself through the incorporation of aesthetic and urban aspects that would make it unique in the country. The experiences and variables of "green" design were used in sanitary constructions that are known to help patients recover, to overcome stress, decrease tension, heart problems and blood pressure. This is how it was achieved that the general environmental conditions exceeded what is usually required for a clinic, reaching levels of comfort and beauty in its eight floors, both for patients and medical personnel, as well as for those who work and visit the place, which are difficult to find in facilities of this nature, at least in our country.
---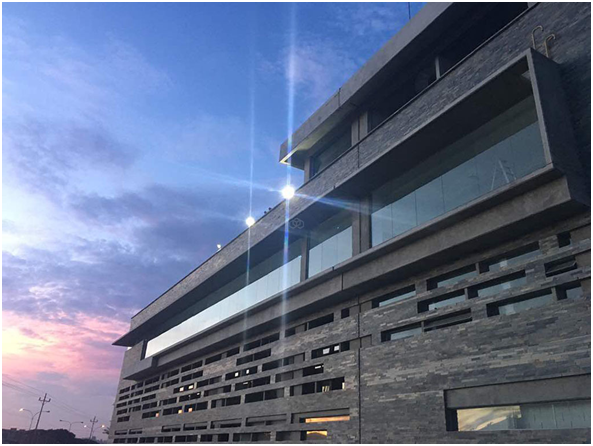 Night view of the clinic (Vista nocturna de la clínica) Image
     The clinic has all kinds of facilities in its eight levels distributed in two basements, a semi-basement, a main access level, three floors and the roof terrace. In addition to medical services in more than 30 specialties, 40 offices, 80 beds, 40 rooms, 5 operating rooms, an emergency room with 25 beds, an imaging room, the intensive care unit, we found the pediatric area whose rooms are specially equipped for infants, particularly pleasant and spacious maternity area, with a lobby and balcony in each room, which more closely resembles a hotel room; besides, a system of new technologies is used for patient care, and there is parking, fully equipped waiting room, a cafeteria, pharmacy, a rooftop chapel for religious services, and a conference and events room.
---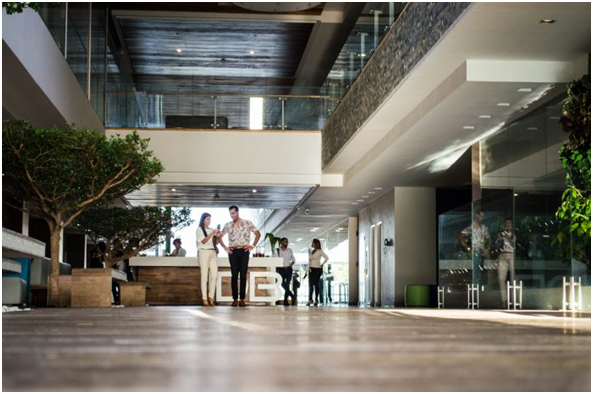 Common areas on the ground floor (Áreas comunes en la planta baja) Image
     Ecological principles are present throughout the construction, for example: the linoleum used in the surgical area is wood color, the colors used on the walls are environmentally friendly, the height of the rooms as well as the ventilation produce a different feeling of tranquility and comfort. Sunlight is used in the subways through walls that allow entry.
---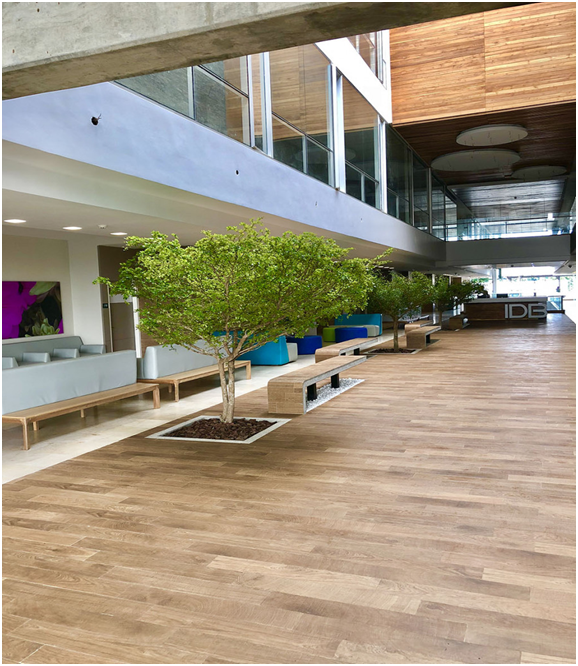 The ground floor with details of its wooden floor, the furniture and the vegetation (La planta baja con detalles de su piso de madera, el mobiliario y la vegetación) Image
     No detail was neglected, natural light was used, abundant ventilation was achieved, relaxing colors, natural materials and textures were used, as well as a lot of attention was paid to landscaping that evokes the natural, non-abstract art, with pavilions with access visual to the outside, thinking about the health of the patient. Without forgetting that for obvious reasons, the clinic consumes a lot of electrical energy, handles human waste and polluting material that had to be reduced and even eliminated.
---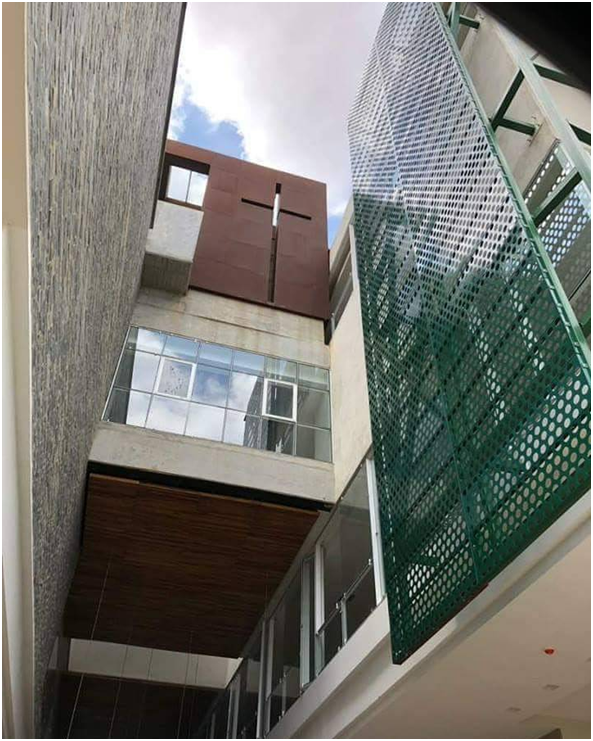 Imposing view of the Clinic from its interior patio (Imponente vista de la Clinica desde su patio interior) Image
     Bibliographic references:
I.- Clínica IDB Cabudare: Premio Nacional de Arquitectura 2019: https://idbclinicas.com/clinica-idb-cabudare-premio-nacional-de-arquitectura-2019/
II.- Sánchez Muñoz, Gustavo: Clínica Idb Cabudare, Archivo BAQ, Arquitectura Pabamericana.com
III.- Cardozo, Haydeluz (2019): Una joya arquitectónica es la Clínica IDB
https://www.elimpulso.com/2019/07/08/una-joya-arquitectonica-es-la-clinica-idb-8jul/
IV.- Clínica IDB Cabudare "premio anual de construcción 2018":
https://idbclinicas.com/premio-de-construccion-2018/
---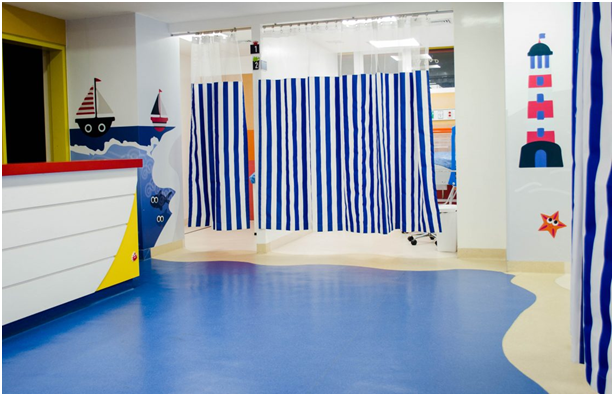 Pediatric Emergency Area (Área de emergencia pediátrica)
Image
     Some plans and photos of the Clinic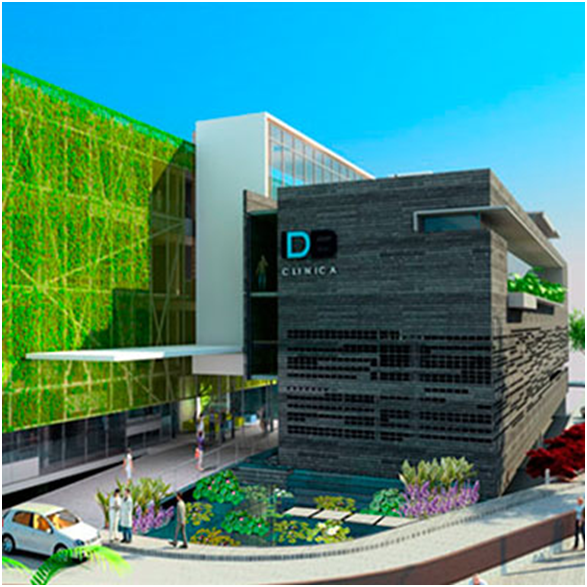 Model of the IDB-Cabudare Clinic (Maqueta de la Clínica IDB-Cabudare) Image

Lateral plane of the Clinic (Plano lateral de la clínica) Image

Frontal plane of the Clinic (Plano frontal de la clínica) Image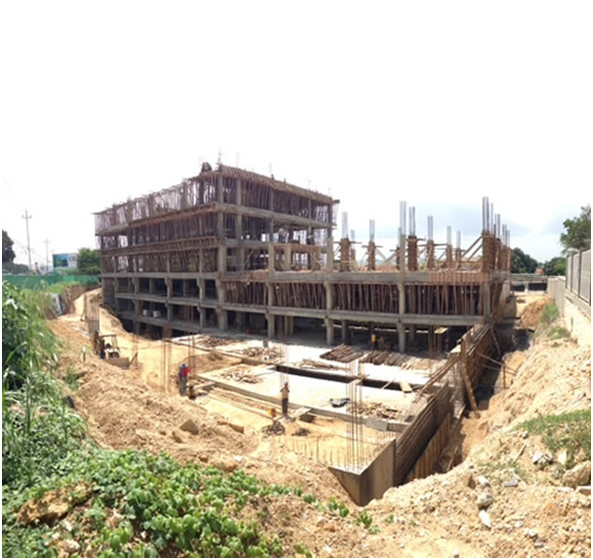 The clinic under construction (La clínica en plena construcción) Image
---
Clínica IDB- Cabudare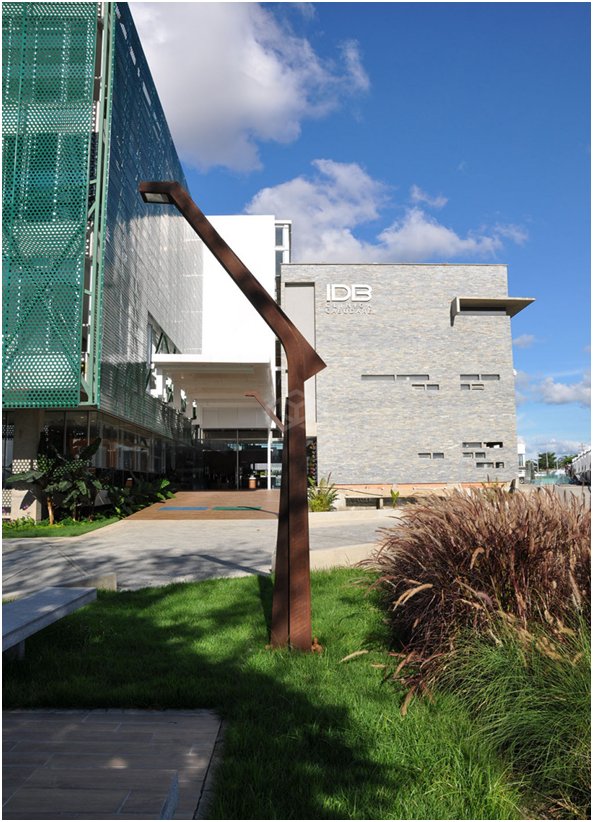 A view of the facade (Una vista de la fachada) Image
     La primera construcción con fines sanitarios en Venezuela es una clínica edificada en Cabudare, con el nombre Clínica IDB-Cabudare, ciudad dormitorio a 5 minutos de Barquisimeto, la capital del estado Lara en la Intercomunal que une a ambas ciudades. Esta obra fue concebida, utilizando los criterios internacionales para obras ecológicas, por arquitectos e ingenieros venezolanos y ha ganado el premio "Construcción anual 2018, mención Salud" y La Gran Bienal Premio Nacional de Arquitectura 2019. La edificación tiene 8 pisos y 17 mil metros cuadrados de construcción en un terreno de 5 mil m2 de terreno; se le considera pionera en términos ecológicos y de contacto con la naturaleza, por lo que estamos en presencia de una edificación, tradicionalmente pintada de blanco, que ahora la vemos revestida de colores pasteles y repleta de un verde en sus paredes, proveniente de la vegetación interior.
---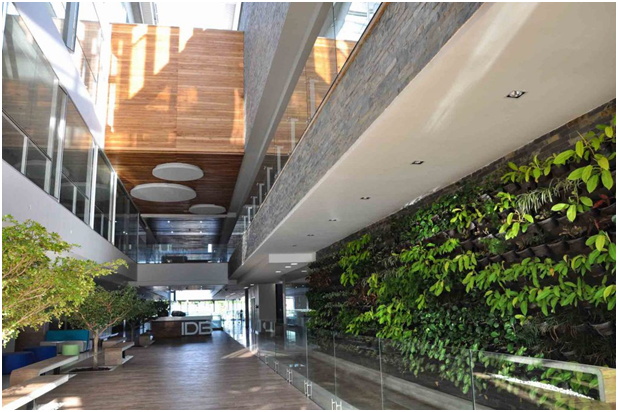 A kind of synthesis of the arts as it combines architecture-design, nature and humanity at the IDB Cabudare Clinic (Una especie de síntesis de las artes pues combina arquitectura-diseño, naturaleza y humanidad en la Clínica IDB Cabudare) [Image] (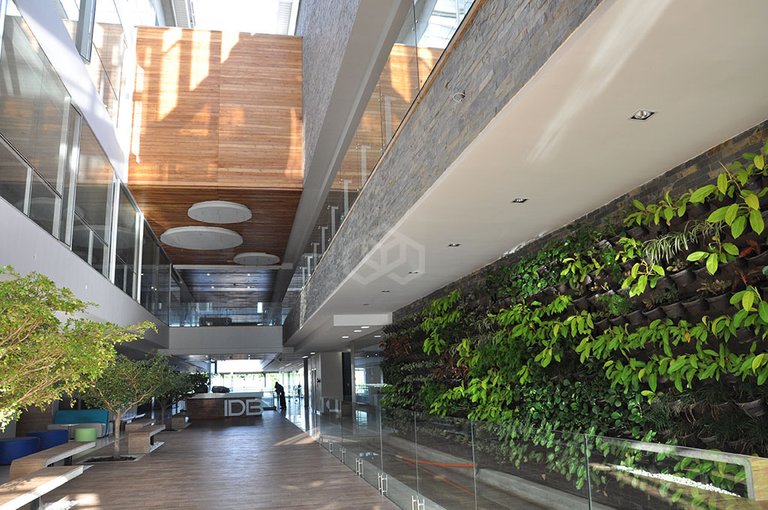 )
     Esta edificación se comenzó a construir en 2012, fue diseñada por el arquitecto venezolano Gustavo Sánchez, con la colaboración del diseñador de interiores Erilú Schell y de las paisajista Ana Enriqueta Tejera y Catleya Jardín, siendo la empresa Mendoza, Dávila y Toledom MDT la responsable de la construcción. Toda la estructura está organizada en torno a un espacio vacío central alargado, iluminado y ventilado naturalmente, una especie de bulevar central que permite una relación visual y espacial constante hacia el exterior, en todo el edificio. Las paredes de la clínica están revestidas con materiales que se encuentran fácilmente en la zona, algunos de ellos elaborados en forma artesanal por los habitantes locales, lo que contribuyó a la empatía de los cabudareños con la construcción.
---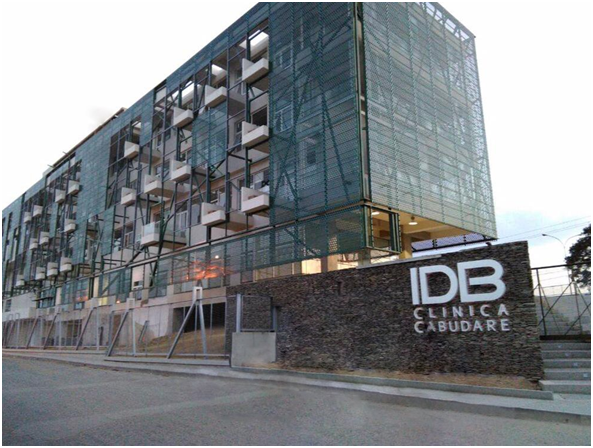 The facade looks like a summer place (La fachada pareciera un lugar de veraniego) Image
     Para esta edificación de carácter médico asistencial se tuvo en mente que, si bien había que utilizar los parámetros para la construcción de los servicios médicos exigidos, era necesario diferenciarse a través de la incorporación de aspectos estéticos y urbanísticos que la hicieran única en el país. Se hizo uso de las experiencias y variables del diseño "verde" en las construcciones sanitarias que se sabe ayudan a la recuperación de los pacientes, para la superación del estrés, disminución de las tensiones, los problemas cardiacos y la presión arterial. Fue así como se logró que las condiciones generales ambientales superaran lo que habitualmente se exige para una clínica, alcanzando niveles de confort y belleza en sus ocho plantas, tanto para los pacientes y personal médico, como para los que laboran y visitan el lugar que son difíciles de encontrar en las instalaciones de esta naturaleza, al menos en nuestro país.
---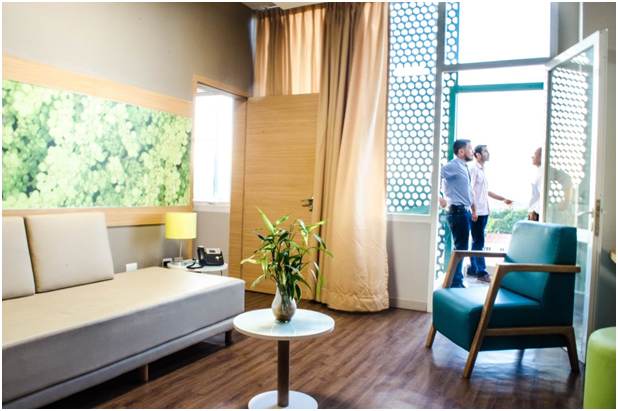 This is what the rooms in the maternity area look like. They have a lobby and a balcony with a pleasant exterior view (Así lucen las habitaciones del área de maternidad. Cuentan con un lobby y un balcón con una agradable vista exterior) Image
     La clínica cuenta con todo tipo de facilidades en sus ocho niveles distribuidos en dos sótanos, un semisótano, un nivel de acceso principal, tres pisos y la azotea. Además de los servicios médicos en más de 30 especialidades, 40 consultorios, 80 camas, 40 habitaciones, 5 quirófanos, emergencia con 25 camas, sala de imágenes, la unidad de cuidados intensivos, la zona de pediatría cuyas habitaciones están acondicionadas especialmente para los infantes, área de maternidad particularmente placentera y espaciosa, con lobby y balcón en cada habitación, que más pareciera un cuarto de un hotel. Se utiliza un sistema de nuevas tecnologías para la atención de los pacientes, y se dispone de estacionamiento, salas de espera totalmente acondicionadas, una cafetería, farmacia, una capilla en la azotea para servicios religiosos, y una sala de conferencias y eventos.
---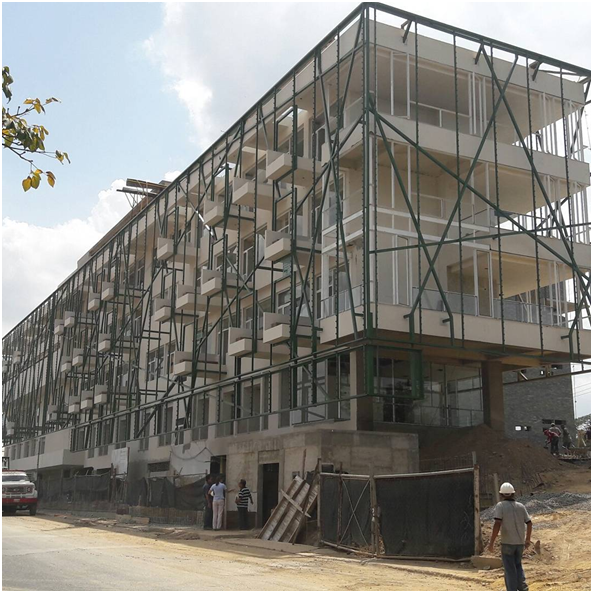 Installation of the grounding system for surgical areas of CLINICA-IDB- Cabudare (Instalación del sistema de puesta a tierra para áreas quirúrgicas de la CLINICA-IDB- Cabudare) Image
     Los principios ecológicos están presentes en toda la construcción, por ejemplo: el linóleo usado en el área quirúrgica es color madera, los colores usados en las paredes son ambientalmente amigables, la altura de las habitaciones así como la ventilación producen una sensación de tranquilidad y comodidad diferentes. Se utiliza la luz solar en los subterráneos a través de paredes que permiten su entrada.
---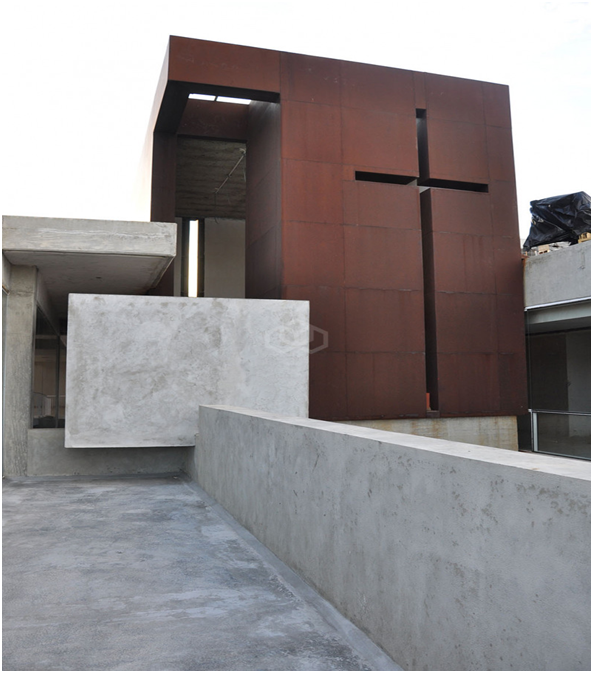 The chapel with the cross always present in an eminently Christian country (La capilla con la cruz siempre presente en un país eminentemente cristiano) Image
     No se descuidó ningún detalle, se utilizó la luz natural, se logró una ventilación abundante, se usaron colores relajantes, materiales y texturas naturales, así como se puso mucha atención al paisajismo que evoca lo natural, al arte no abstracto, con pabellones con acceso visual al exterior, pensando en la salud del paciente. Sin olvidar, que por razones obvias, la clínica consume mucha energía eléctrica, maneja desechos humanos y material contaminante que era necesario disminuir e incluso eliminar.
---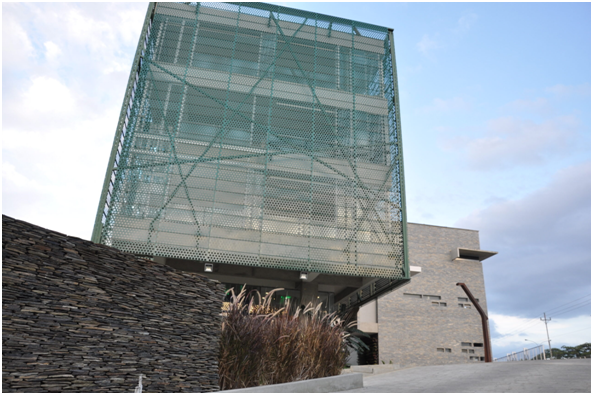 The structure protected by a mesh (La estructura protegida por una malla) Image
     Referencias bibliográficas:
I.- Clínica IDB Cabudare: Premio Nacional de Arquitectura 2019: https://idbclinicas.com/clinica-idb-cabudare-premio-nacional-de-arquitectura-2019/
II.- Sánchez Muñoz, Gustavo: Clínica Idb Cabudare, Archivo BAQ, Arquitectura Pabamericana.com
III.- Cardozo, Haydeluz (2019): Una joya arquitectónica es la Clínica IDB
https://www.elimpulso.com/2019/07/08/una-joya-arquitectonica-es-la-clinica-idb-8jul/
IV.- Clínica IDB Cabudare "premio anual de construcción 2018":
https://idbclinicas.com/premio-de-construccion-2018/
---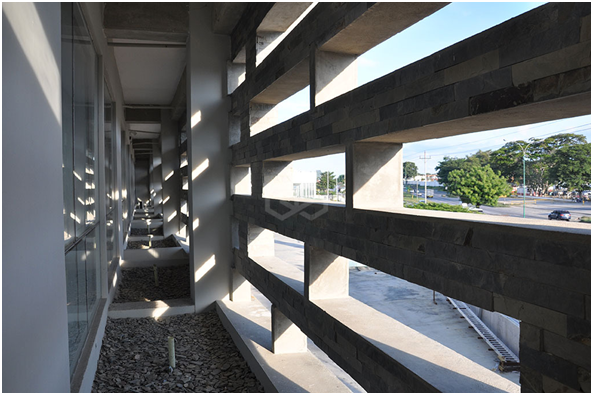 The corridors illuminated with natural light (Los pasillos iluminados con luz natural) Image