Hard Rock Stadium, a multi-sport structure in Miami, Florida USA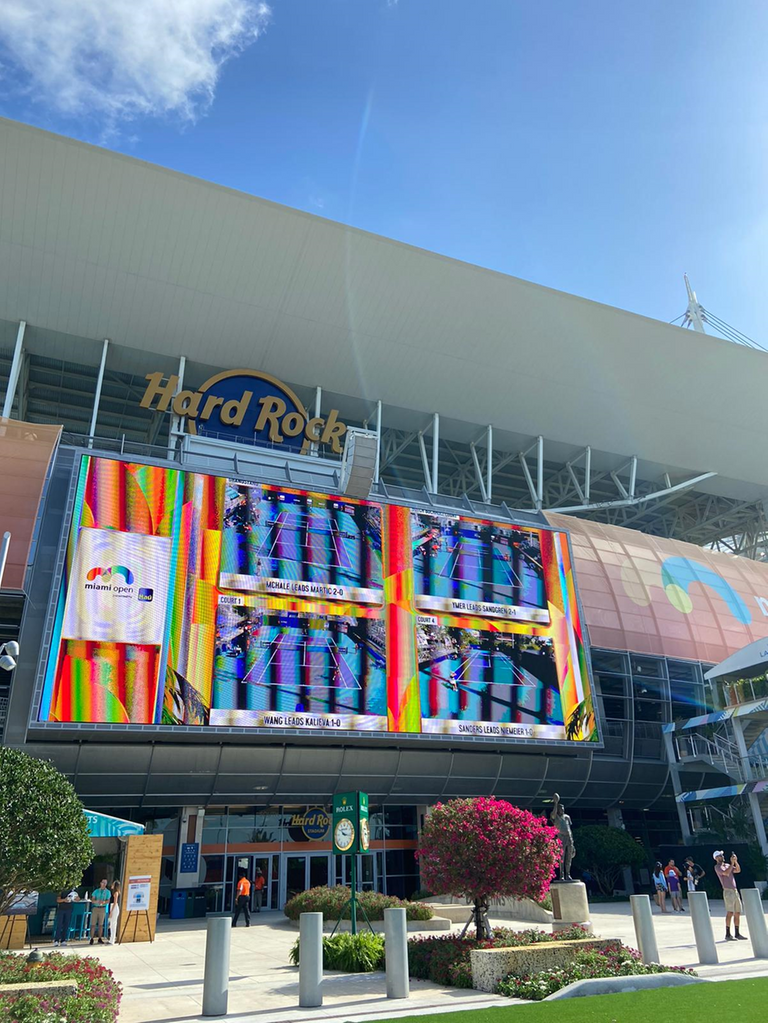 Facade of the Hard Rock Stadium specially designed for the Miami open 2022 (Fachada del Hard Rock stadium diseñado especialmente para el Miami open 2022)
     Hello friends of the communities that make up HIVE. In this post I am going to present a series of photos, taken by my grandson, of the magnificent multi-sport stadium Hard Rock in Miami, Florida. My grandchildren, Adrián and Andrea, were selected to do volunteer hours as a "ball person" in the games of the Miami Open, this year's version, and I asked them to take these beautiful photos that accompany my description of the place. I hope you enjoy the post, as always, I look forward to any criticism, observation, or comment you may have.
---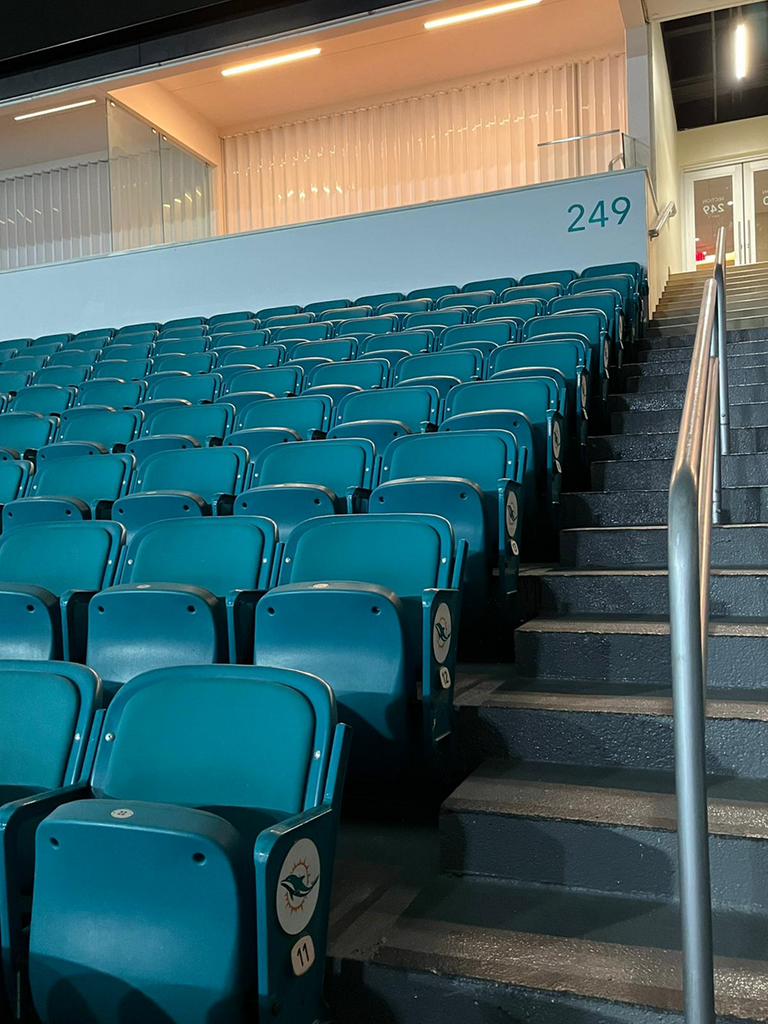 The seats in the stands have been especially placed for the tennis court (Las butacas de las gradas han sido construidas y diseñadas especialmente para la cancha de tenis)
     The multi-sport American football stadium "Hard Rock Stadium", former Dolphin Stadium, home of the Miami Hurricanes football team, since 2008, has been temporarily transformed into a tennis palace for the Miami Tennis Open, in its version of 2022, which takes place between March 21 and April 3.
---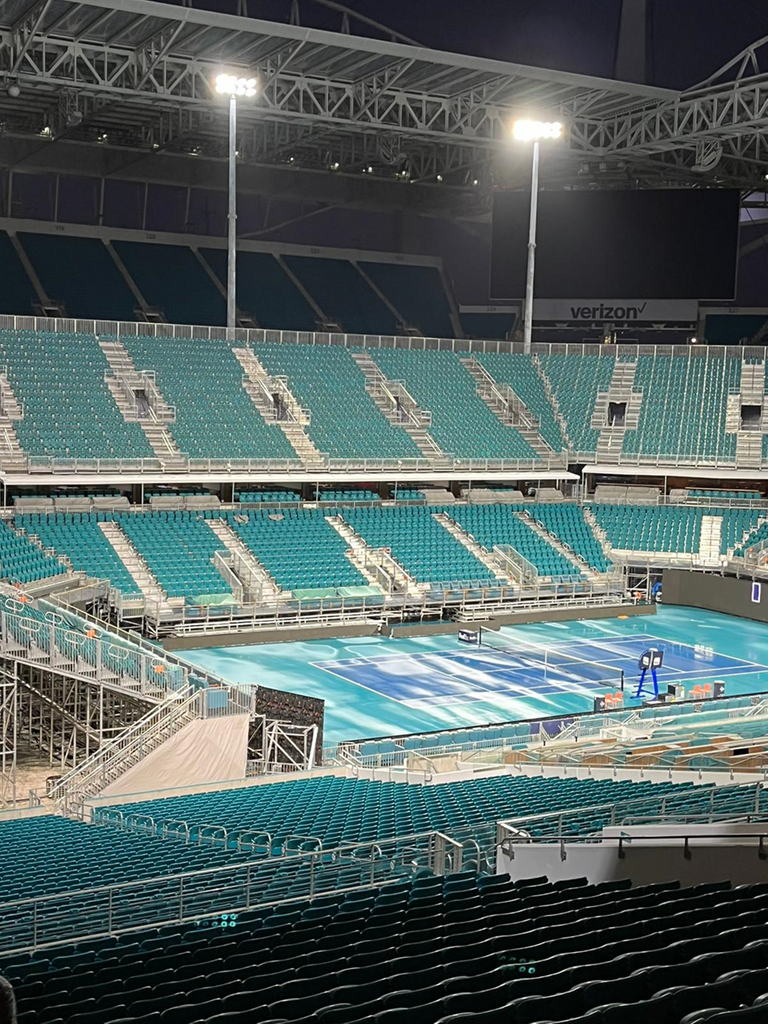 Main court for the Miami Open, at Hard Rock Stadium, nearing completion (Cancha principal para el Miami Open, en el Hard Rock Stadium, a punto de ser terminada)
     This majestic stadium, in its original version for soccer, was rebuilt between 2015 and 2016, to leave behind the old 1987 building. The redesign was carried out by the architectural firm John Bolles de la Populous, a company that specialized in this type of building. The maximum architectural attraction is its roof which occupies an area of 56,600 square meters, with an estimated weight of 17 thousand tons; This roof, in addition to bordering the field of play, provides shade for the seats on hot Florida days. To support this structure, it was necessary to erect 4 reinforced concrete columns, one in each corner, cables, and steel frames that support the 108-meter-high mast.
---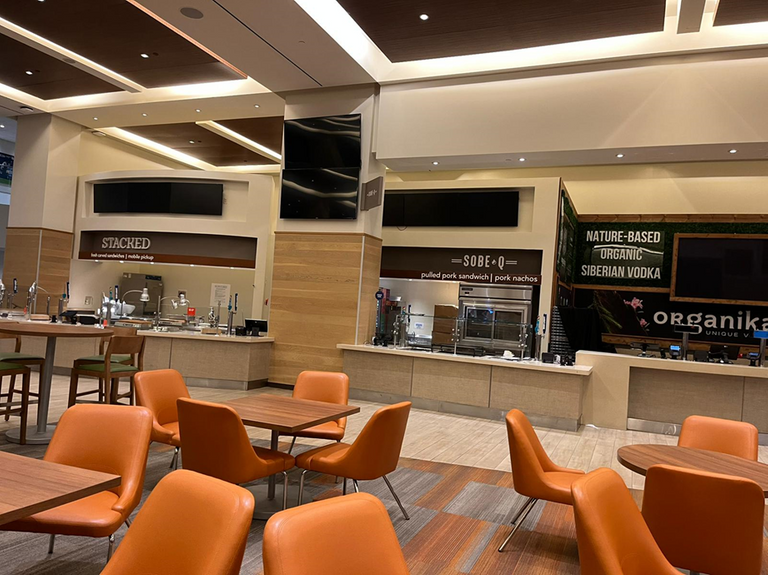 Café-Bar in the stadium (Bar-Cafetín en el estadio)
     The stadium has a capacity for more than 75,000 seated spectators, reducing it, in the conditioning made for the celebration of the Miami Open, to only 13,200 in the Hard Rock stands. The complex is located in the American suburb of Miami Gardens, in the north of the state of Florida.
---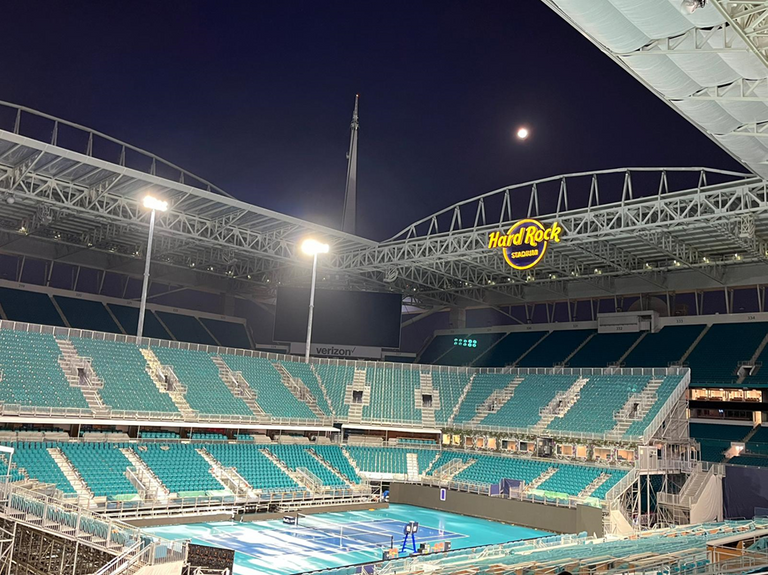 View of the bleachers, in the foreground those of the tennis court, in the background you can see part of the bleachers of the soccer field. Note the amazing ceiling (Vista de las graderías, en primer plano las de la cancha de tenis, en el trasfondo se pueden ver parte de las graderías de la cancha de futbol. Nótese el increíble techo)
In the stadium itself, only the most important matches of the tournament will be held, including the semifinals and finals of singles, doubles, both men's, women's, and mixed. In total, 18 fields have been set up outside the stadium, all of them illuminated, with a capacity of 5,700 seats each. Also having practice courts.
---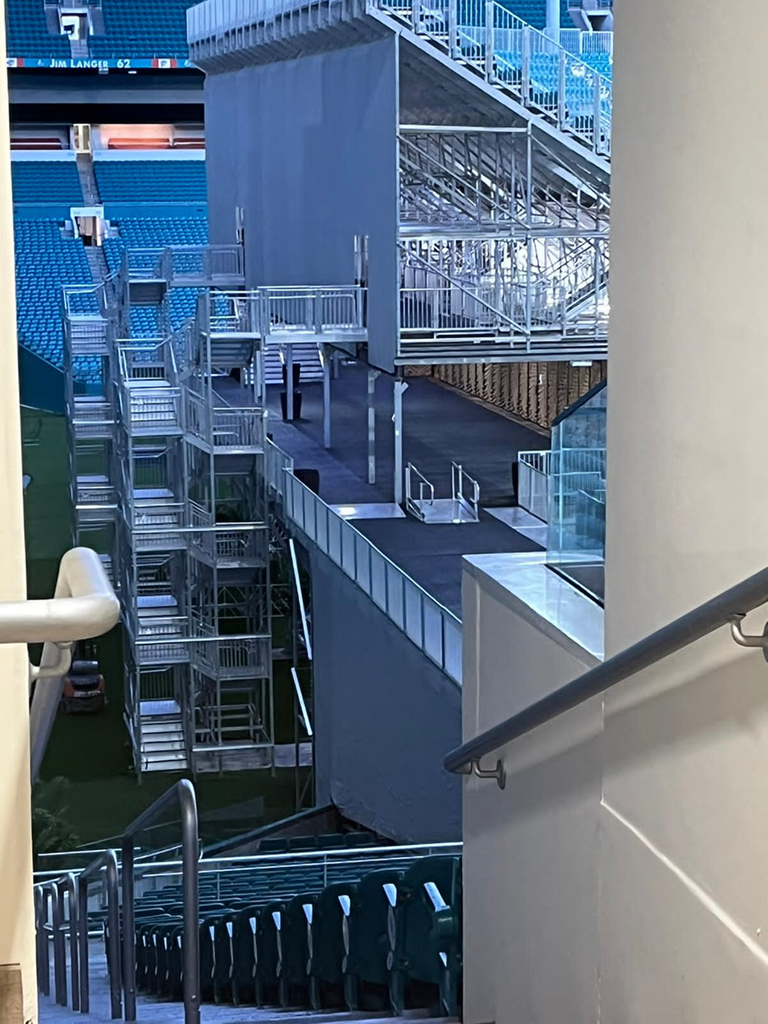 Stairs, made entirely of metal, communicate the different levels (Escaleras, hechas totalmente de metal, comunican los distintos niveles)
     In the photos, you can appreciate the preponderance of blue and green tones in its fields and bleachers. Among the facilities that have been refurbished are a track with 5,000 seats, a lounge for players, changing rooms, and a gym The stadium has a roof design that allows fans to enjoy the shade on hot days, four giant screens, one in each corner, seats, halls and bathrooms with all the comforts.
---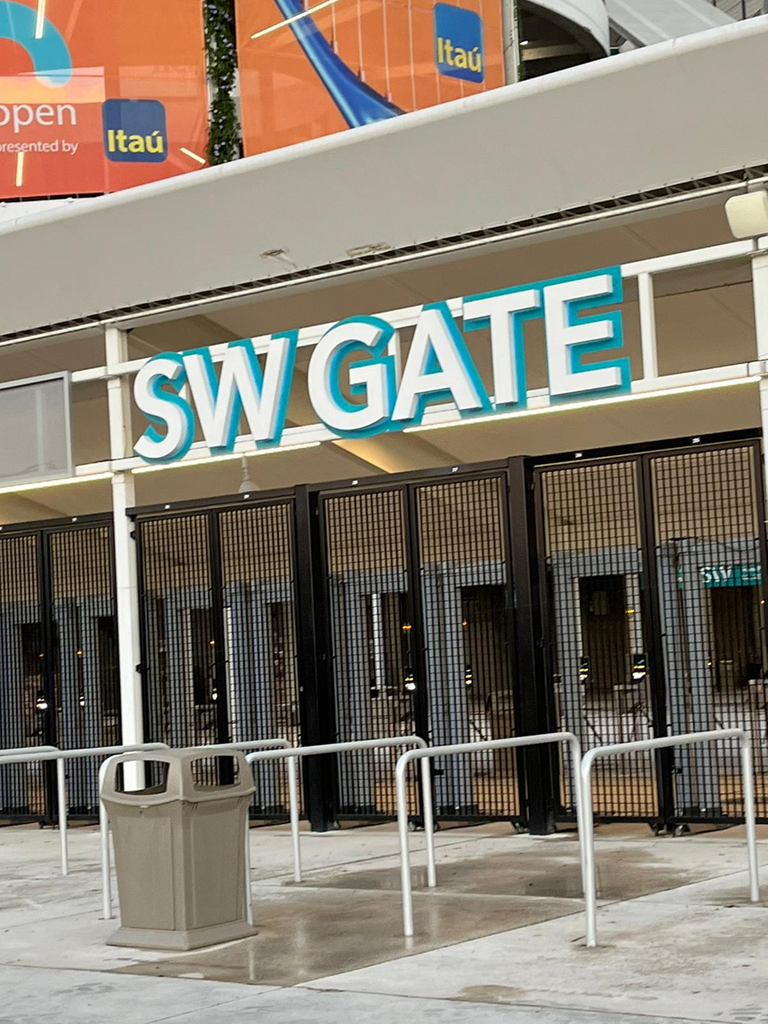 South western entrance to the stadium (Entrada sur occidental al estadio)
---
     In addition to the usual American football games, several baseball games and even musical concerts, such as the one presented by the British rock band Pink Floyd, have been held at the stadium. Even once the Miami Open is over, the exteriors of the stadium will be conditioned for the Formula One races
---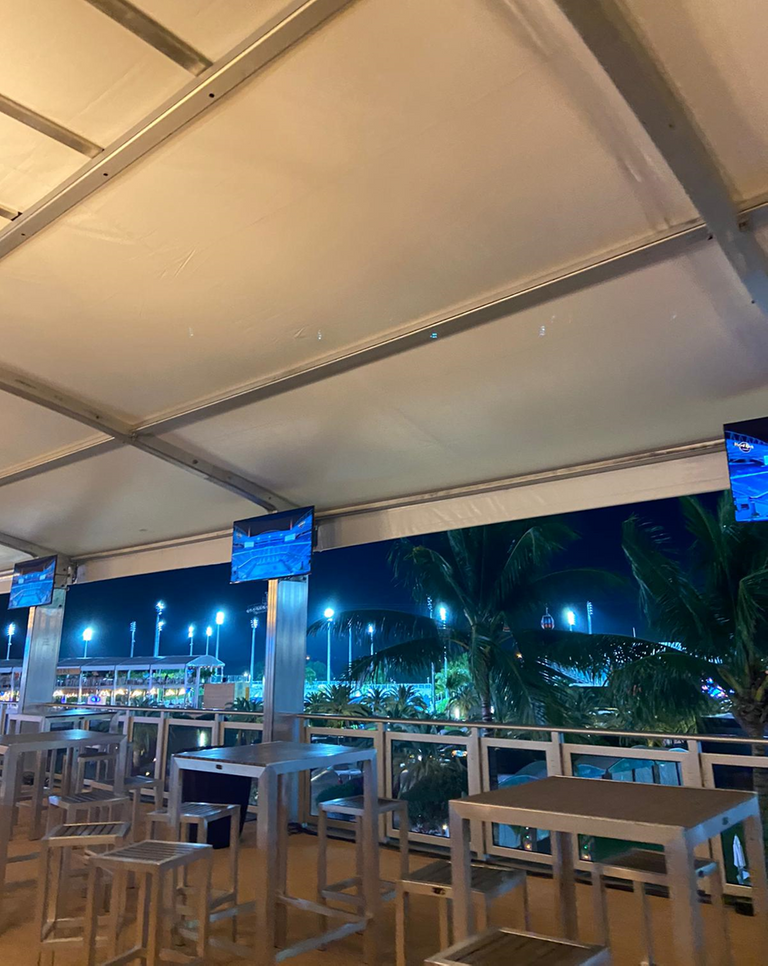 Cafeteria from where you can see the lighting of the stadium (Cafetería desde donde se puede apreciar la iluminación del estadio)
---
El "Hard Rock Stadium", una estructura multideportiva de Miami, en Florida USA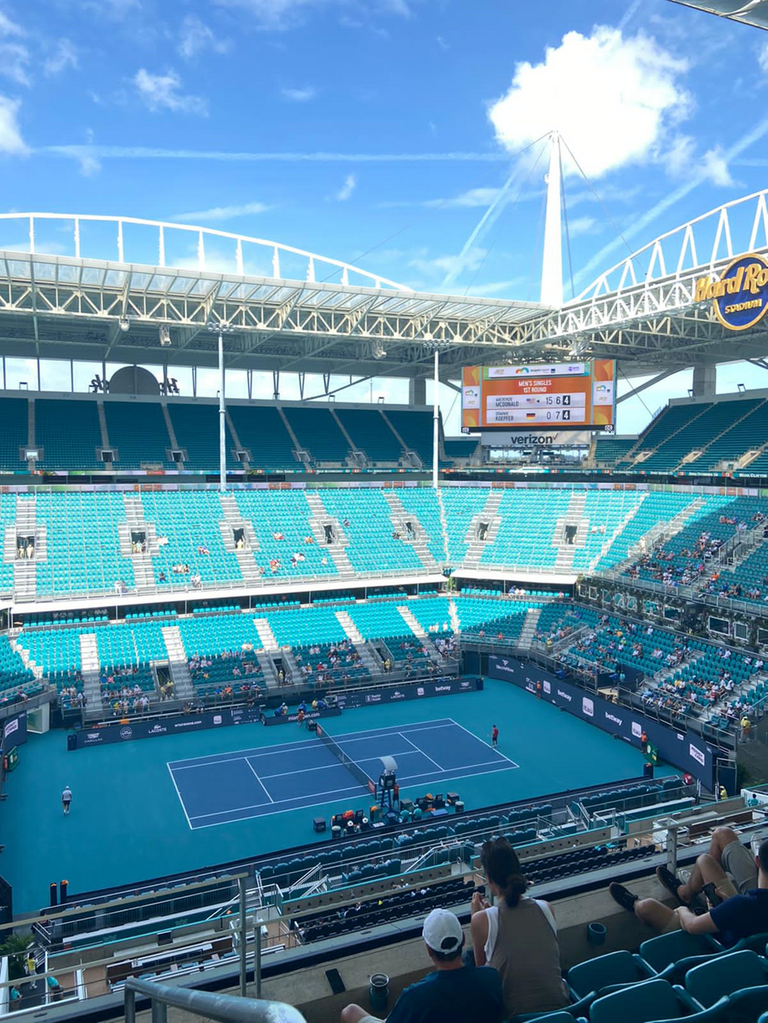 Panoramic view of the stadium from the upper rows of the stands (Panorámica del estadio desde las últimas filas de las graderías)
     Hola amigos de las comunidades que conforman HIVE. En esta entrega les voy a presentar una serie de fotos, tomadas por mi nieto, del magnífico multideportivo estadio Hard Rock de Miami, Florida. Mis nietos, Adrián y Andrea, fueron seleccionados para realizar horas de voluntariado como "ball person" en los juegos del Miami Open, versión de este año, y les solicité que tomaran estas bellas fotos que acompañan mi escrito descriptivo del lugar. Espero disfruten el post, como siempre espero cualquier crítica, observación o comentario que tengan a bien hacerme.
---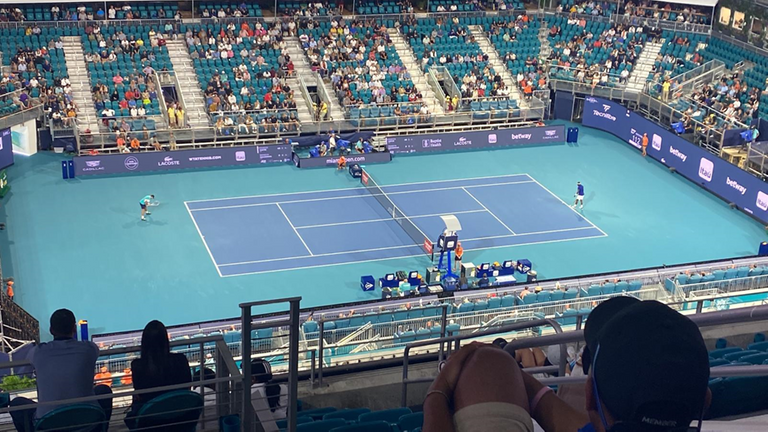 View of the main court in full tournament (Vista de la cancha principal en pleno torneo)
     El multideportivo estadio de futbol americano el "Hard Rock Stadium", antiguo Dolphin Stadium, sede del equipo de futbol Miami Hurricanes, desde el 2008, se ha transformado en un palacio tenístico para la realización del Abierto de tenis de Miami, en su versión del 2022, el cual se realiza entre el 21 de marzo y el 3 de abril.
---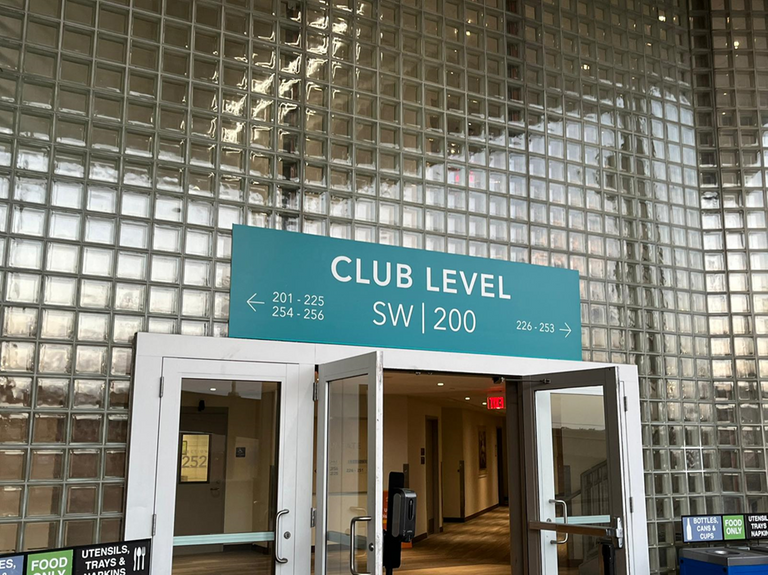 Glass walls at the entrances to the stadium facilities (Paredes de vidrio en las entradas a los servicios del estadio)
     Este majestuoso estadio, en su versión original para futbol, fue reconstruido entre 2015 y 2016, para dejar atrás la vieja edificación de 1987. El rediseño estuvo a cargo de la firma de arquitectos John Bolles de la Populous, empresa especializada en este tipo de edificaciones. La máxima atracción arquitectónica lo constituye su techo que ocupa un área de 56.600 metros cuadrados, con un peso calculado en 17 mil toneladas; dicho techo, además de bordear el campo de juego, brinda sombra a los asientos en los días calurosos de Florida. Para sostener esta estructura fue necesario levantar 4 columnas de hormigón armado, una en cada esquina, cables y armaduras de acero que soportan el mástil de 108 metros de altura.
---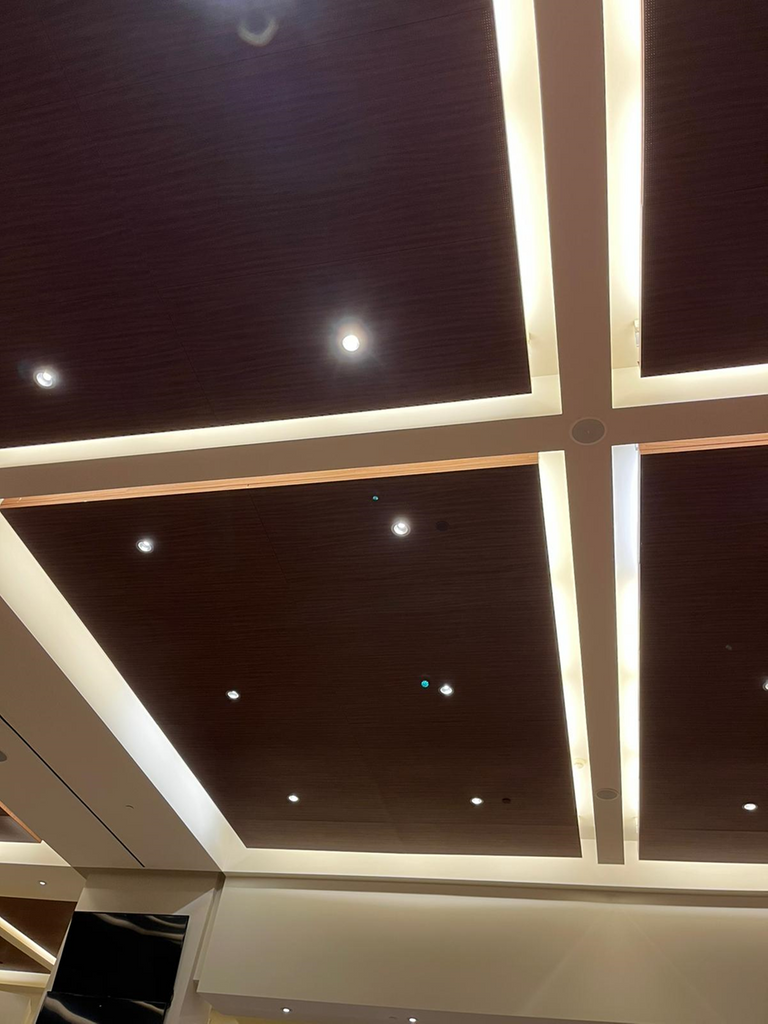 The roof of the cafes, on the edges of the building (Techo de los cafetines, en los bordes del edificio)
     El estadio tiene una capacidad para más de 75 mil espectadores sentados, reduciéndola, en el acondicionamiento hecho para la celebración del Miami Open, a solo 13200 en las gradas del Hard Rock. El complejo se encuentra ubicado en el suburbio estadounidense de Miami Gardens, al norte del estado de la Florida.
---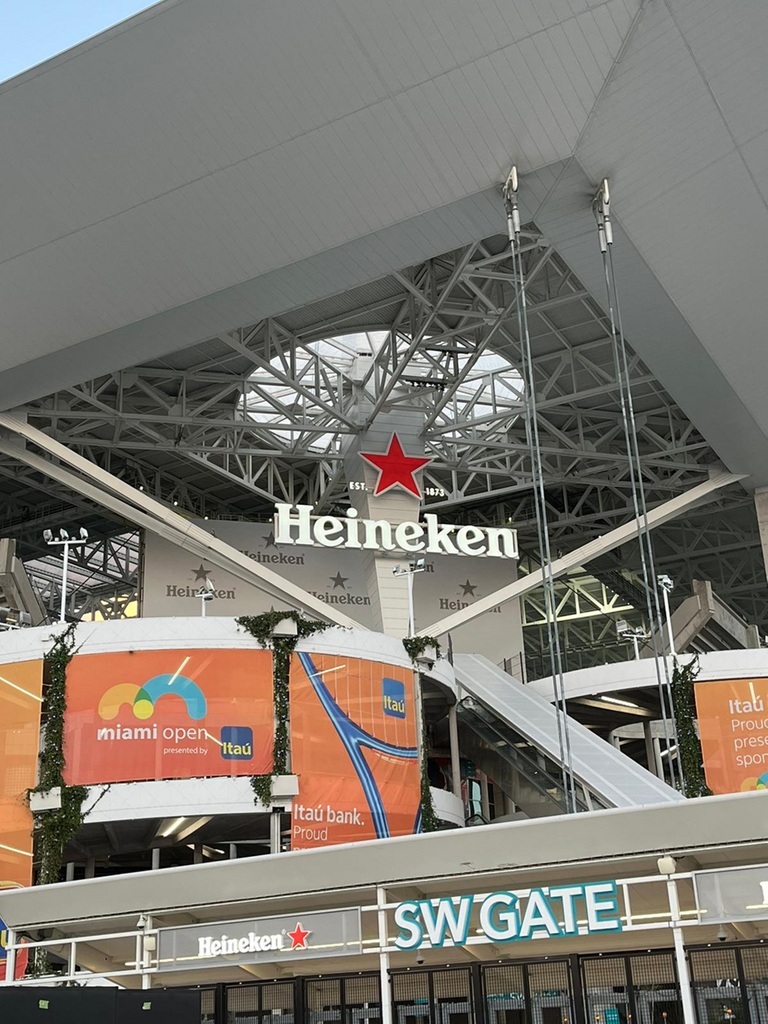 Splendid multi-sport stadium, where the Miami-open 2022 takes place in Florida (Esplendido estadio multideportivo, donde se realiza el abierto de tenis de este año en Miami-Florida)
     En el estadio propiamente dicho solamente se celebrarán los partidos mas importantes del torneo, incluyendo las semifinales y las finales de sencillos, dobles, tanto masculino, femenino como mixto. En total, en el exterior del estadio, se han acondicionado 18 canchas, todas ellas iluminadas, con una capacidad para 5700 asientos cada una. Contando además con canchas de práctica.
---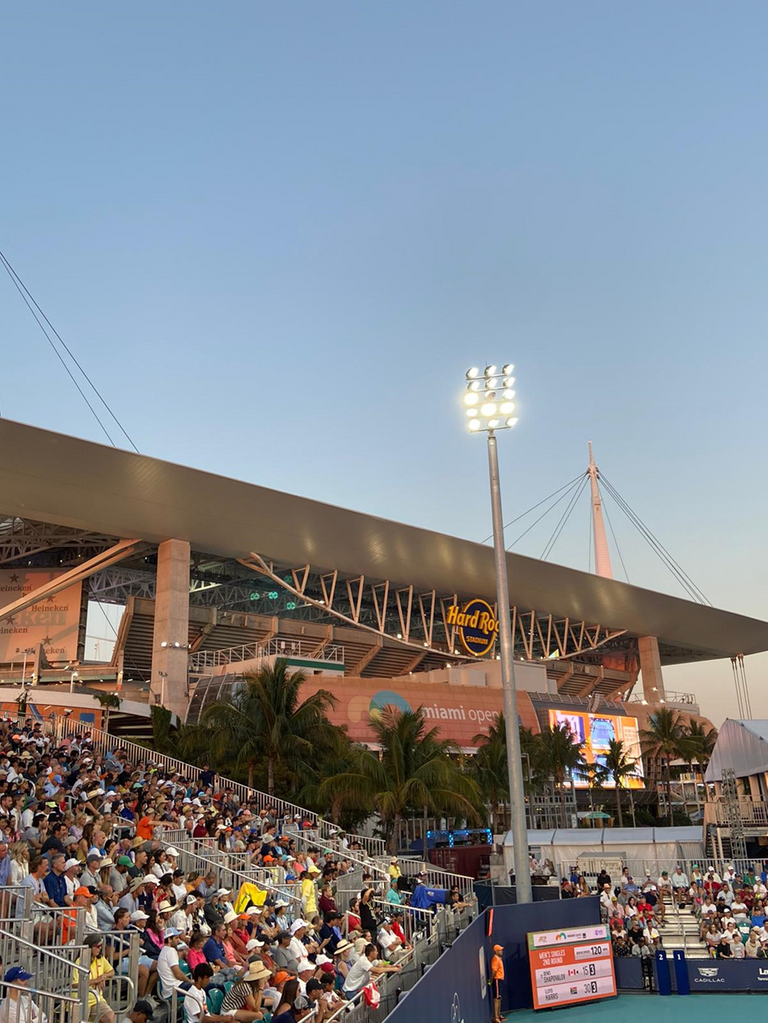 Top right, you can see one of the 4 columns that support the roof (Arriba a la derecha,se puede ver una de las 4 columnas que soportan el techo)
     En las fotos se puede apreciar la preponderancia de tonos azules y verdes en sus canchas y graderías. Entre las facilidades que se han refaccionado se encuentran una pista con 5000 butacas, un salón para jugadores, vestuarios y un gimnasio El estadio posee un diseño en su cubierta que permite que los aficionados disfruten de sombra en días calurosos, cuatro pantallas gigantes en cada esquina, asientos, vestíbulos y baños con todas las comodidades.
---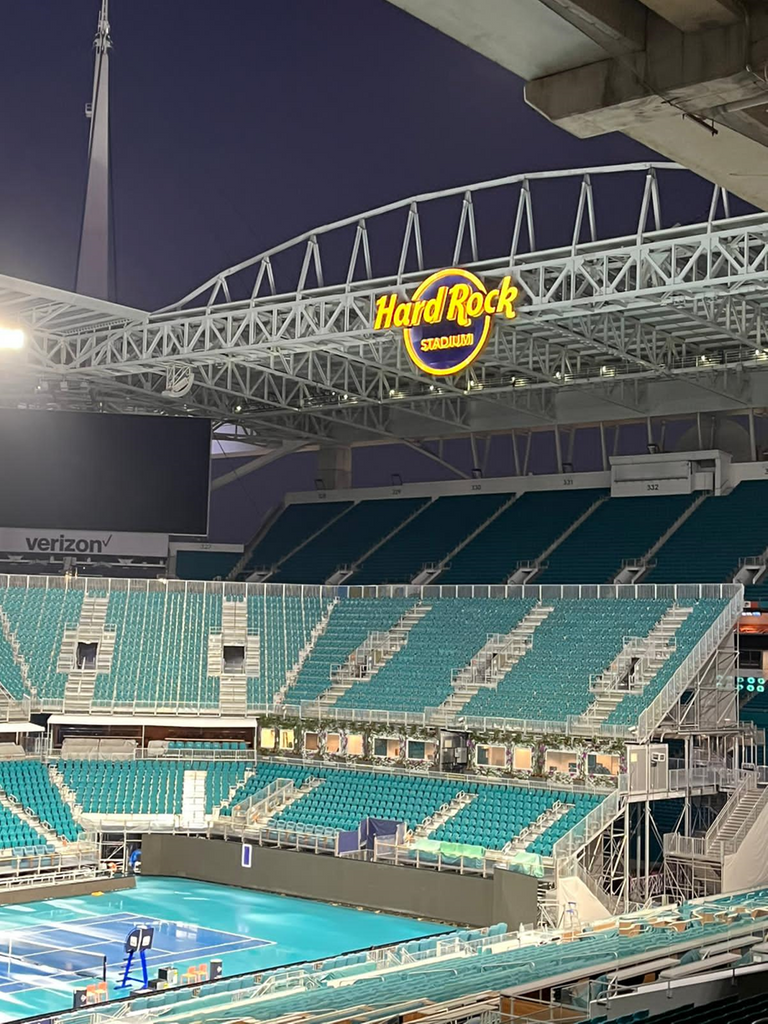 A tennis court, built on a soccer field (Una cancha de tenis, construida sobre una cancha de futbol)
     En el estadio se han celebrado, además de los consabidos juegos de futbol americano, varios juegos de baseball, e incluso conciertos musicales, como el presentado por la banda de rock británica los Pink Floyd. Además, una vez que termine el Miami Open, se acondicionarán los exteriores del estadio para las carreras de Fórmula Uno
---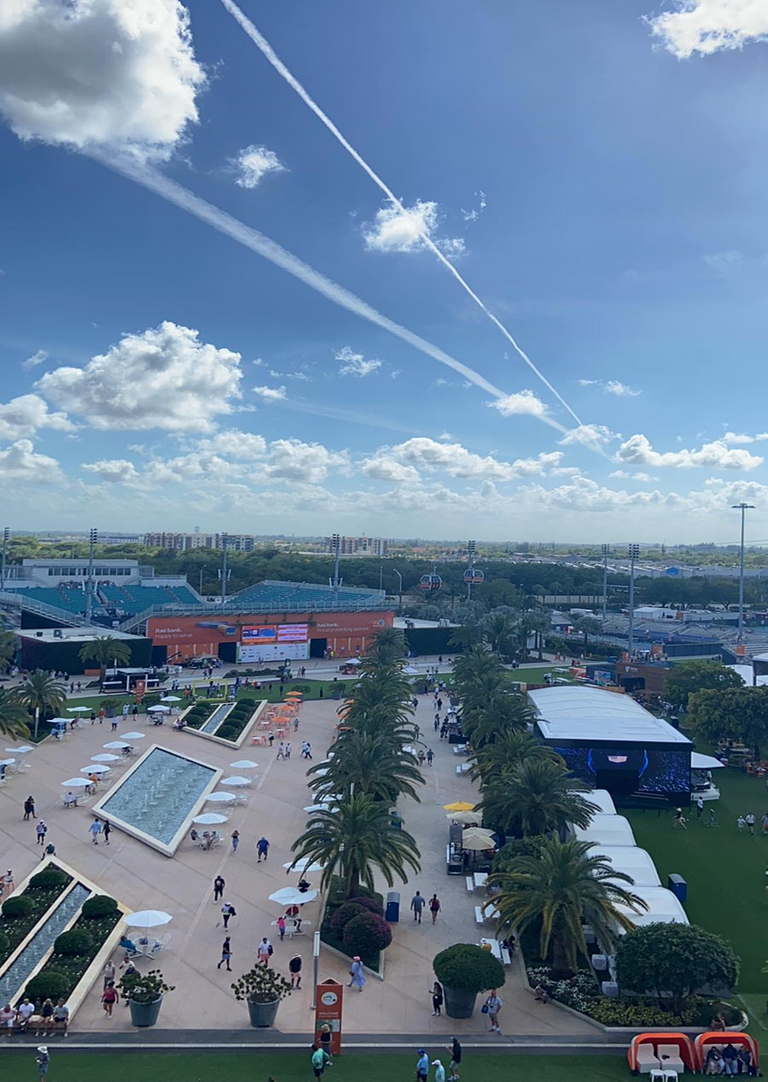 In the outer part of the stadium there are these places for the recreation of the visitors (En la parte exterior del estadio se encuentran estos lugares para la recreación de los visitantes)
---
Photo galleri (Galería de fotos)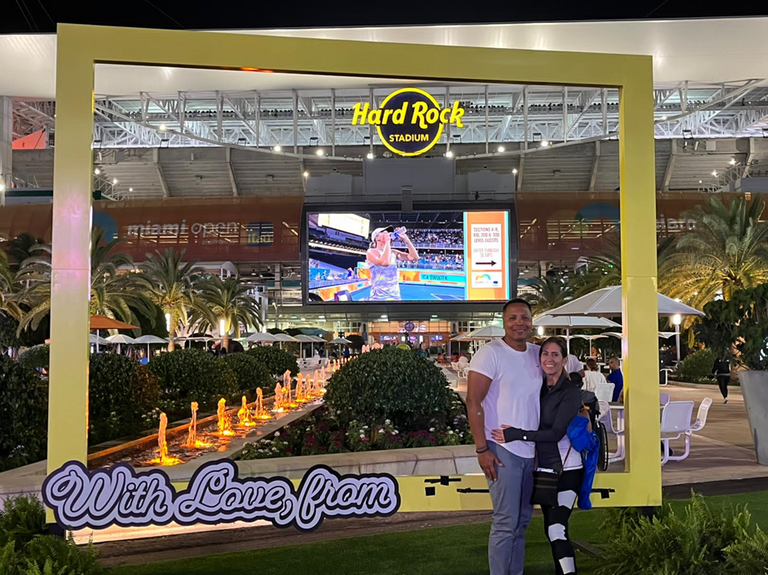 Mi hija Lidbén y Darwin, su esposo en las instalaciones del torneo
---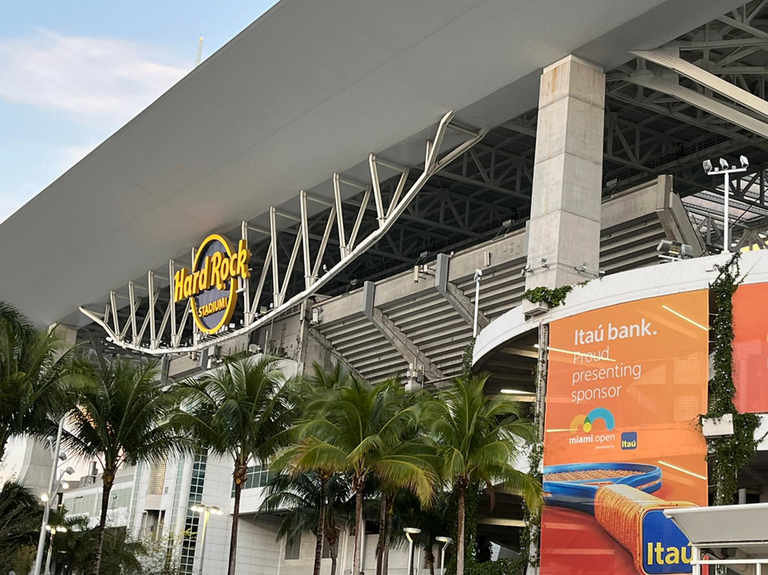 Stadium side; in the photo the roof, part of the stands and a tremendous column are visible (Lateral de estadio; en la foto se hacen visibles el techo, parte de las gradas y una tremenda columna)
---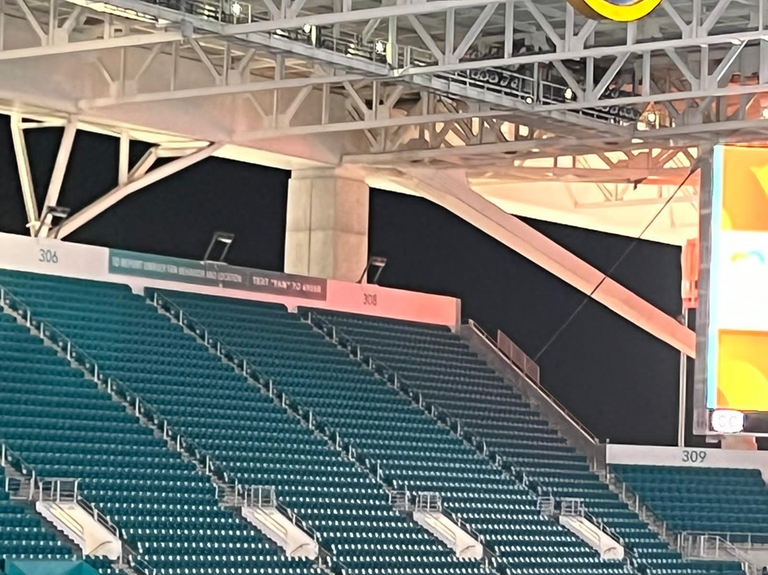 Detalles de la estructura del estadio
---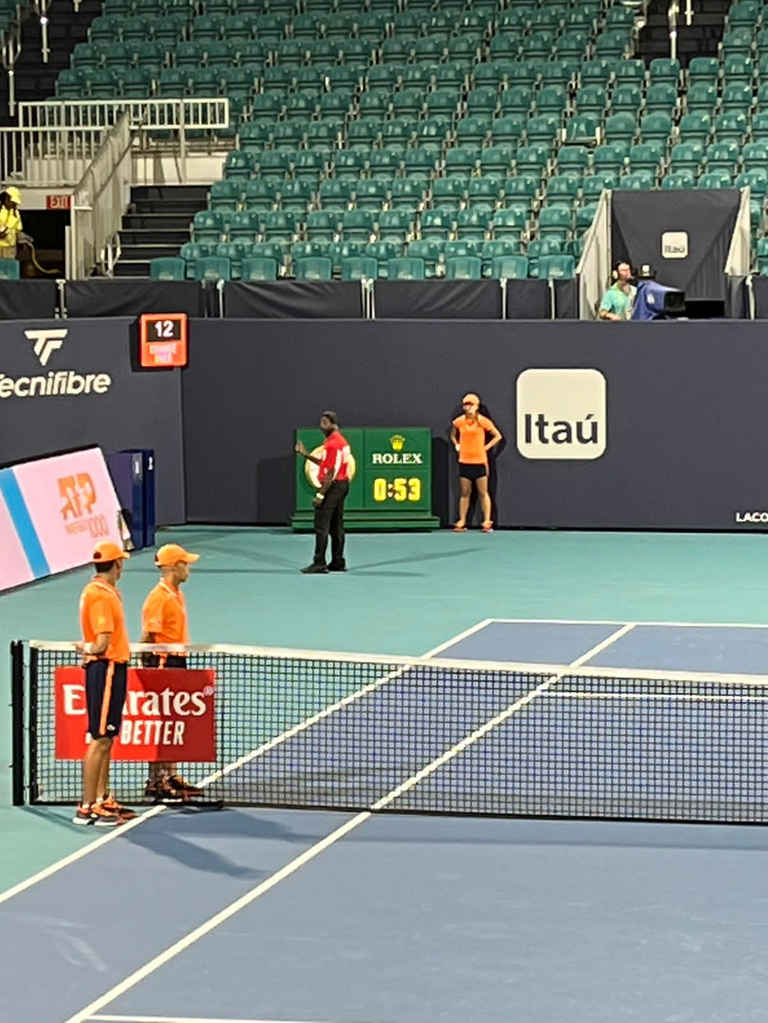 A few days after the start of the tournament, with all the facilities ready, the young people, selected as "ball person" accompany the matches (A pocos días de haberse iniciado el torneo, con todas las instalaciones listas, los jóvenes, seleccionados como "ball person" acompañan los partidos)
---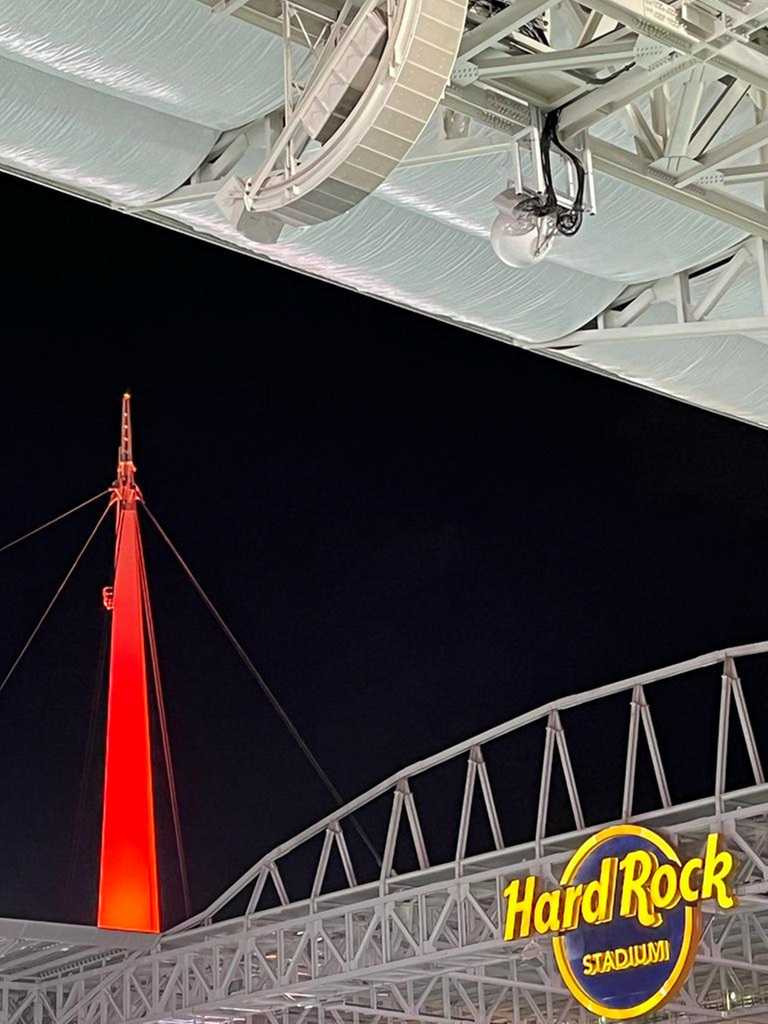 ---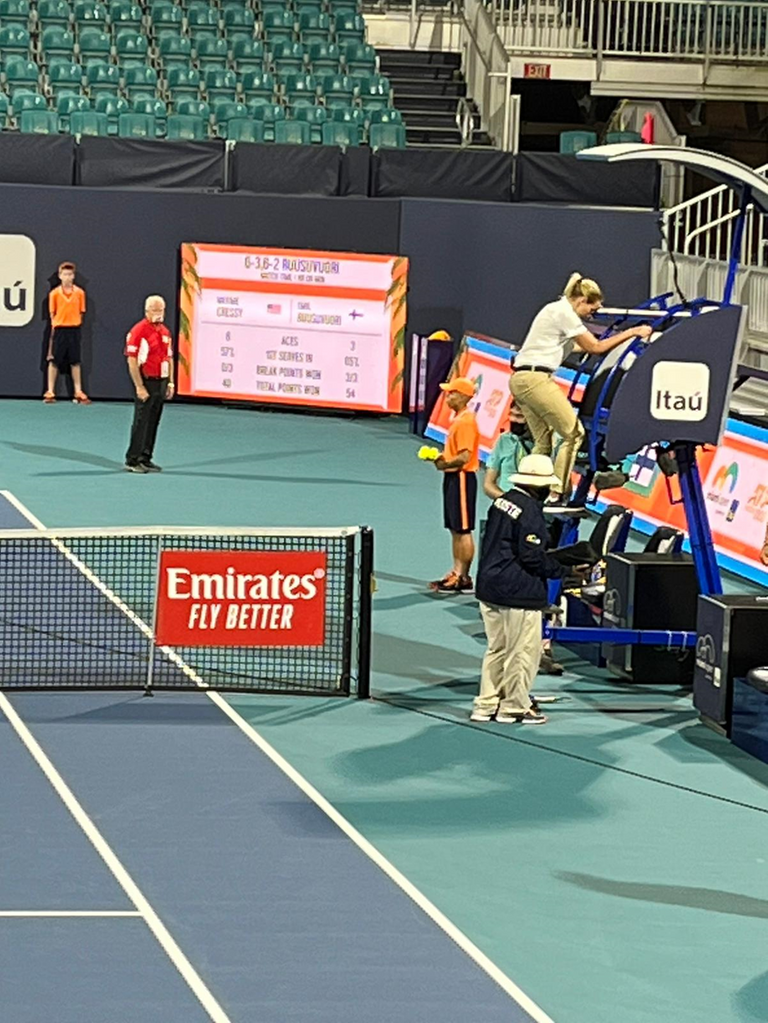 ---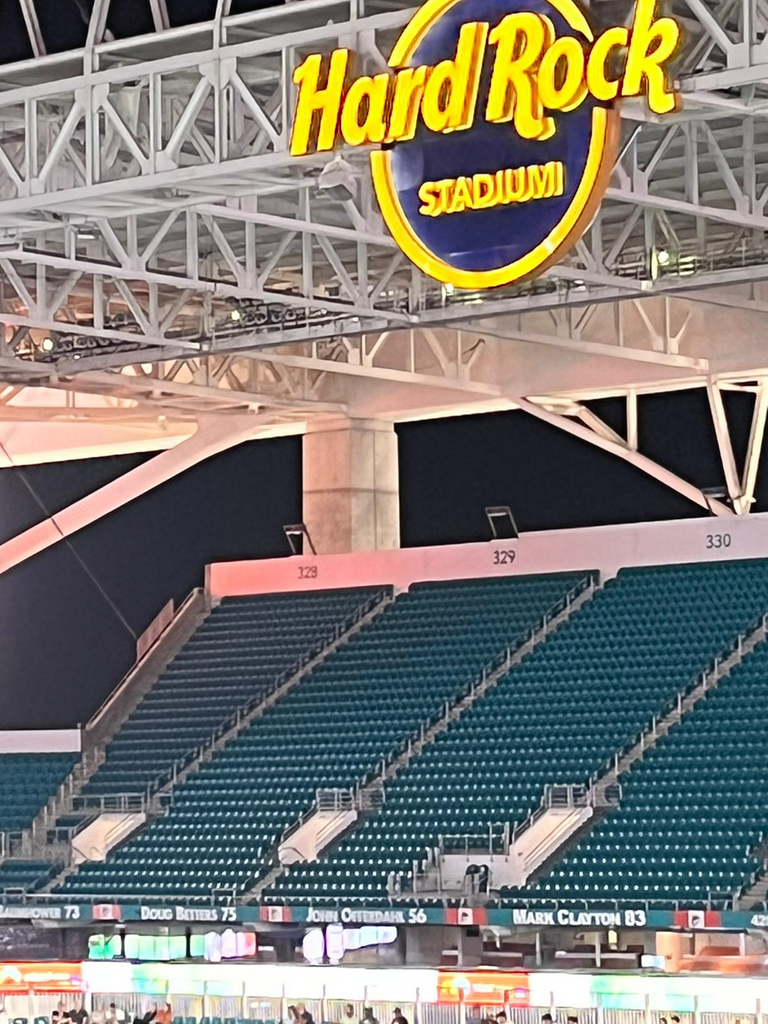 ---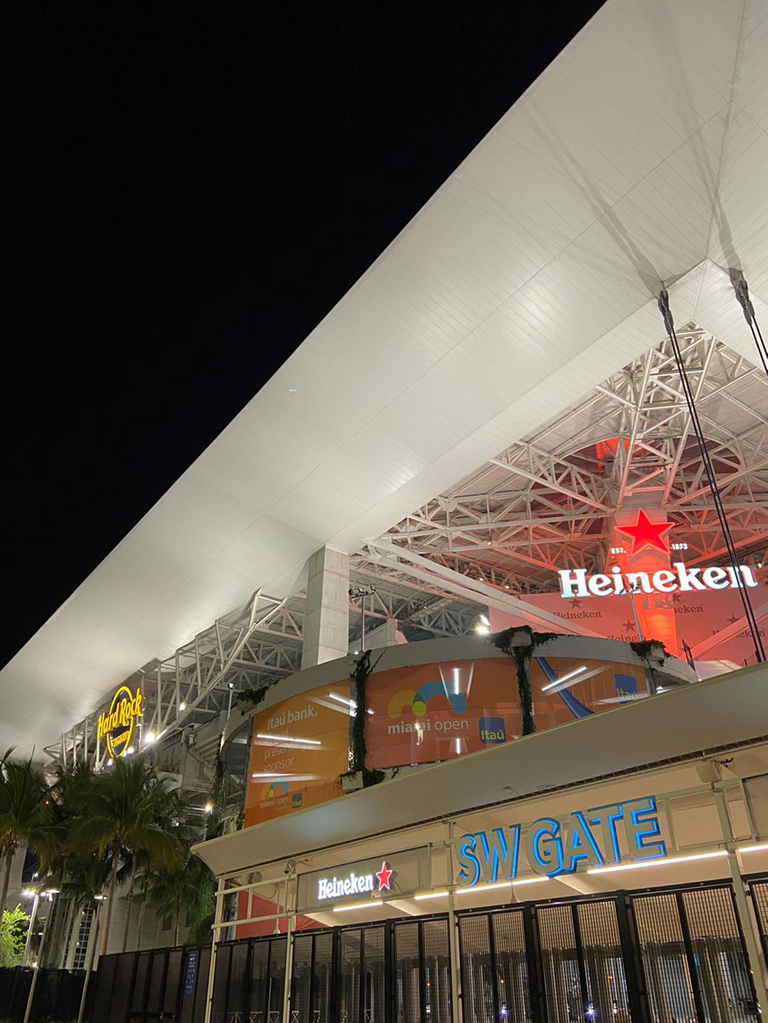 ---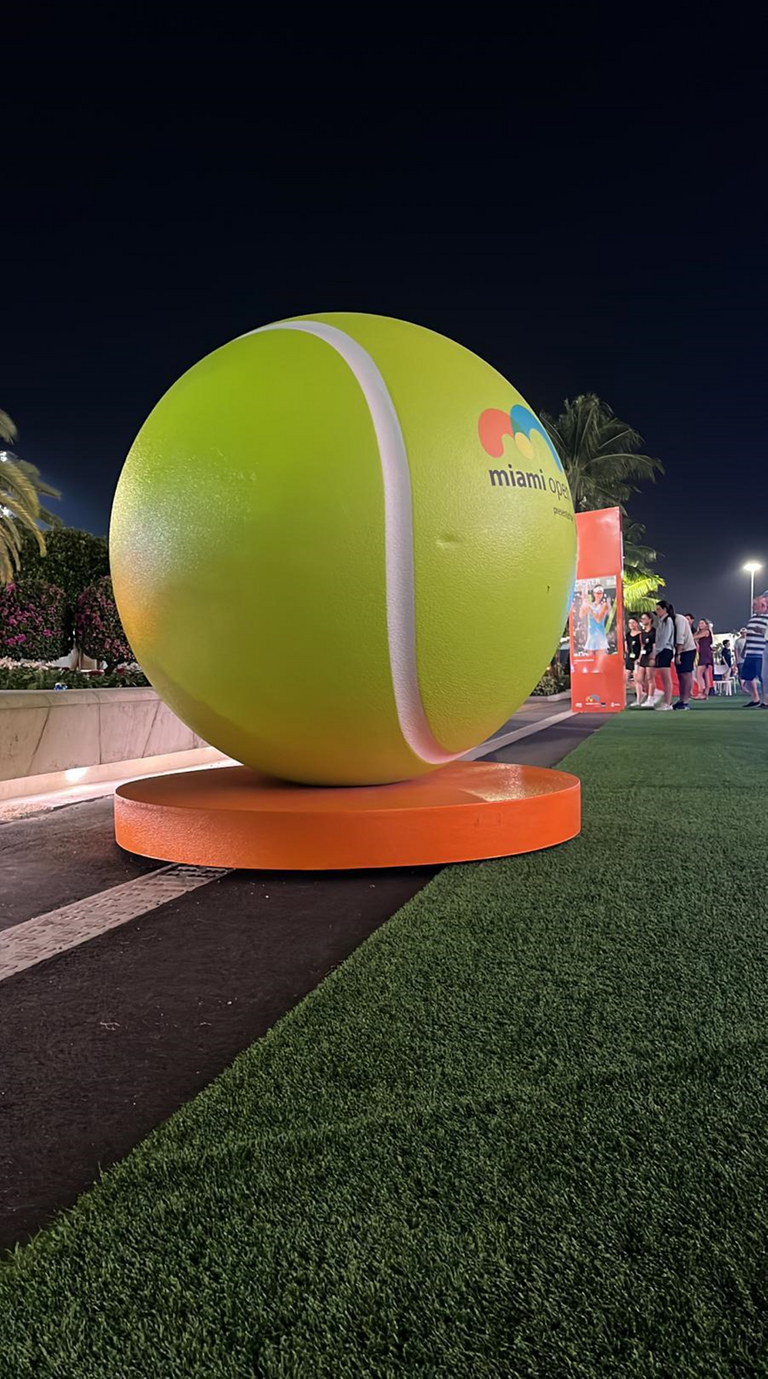 ---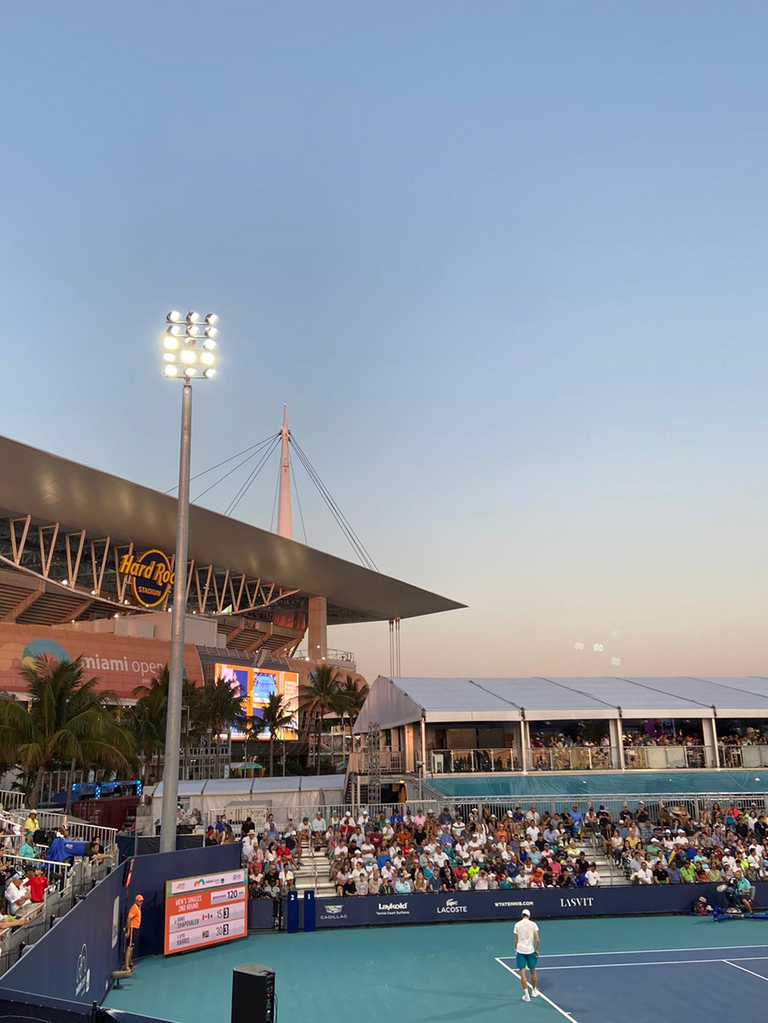 ---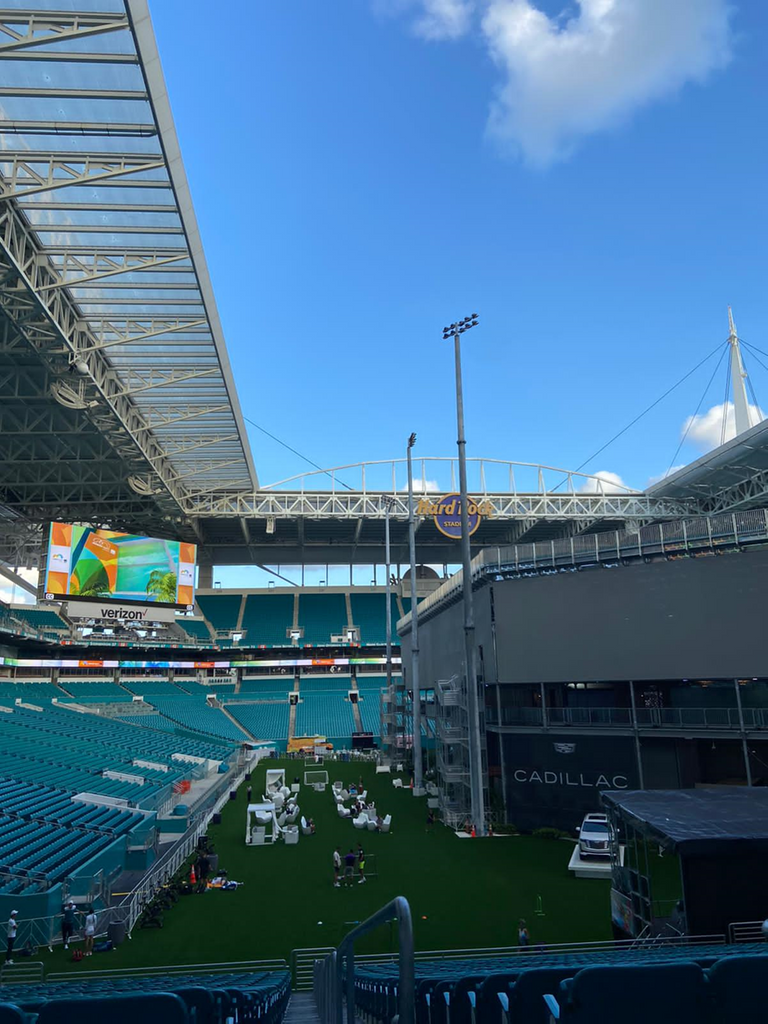 ---