Eco-industrial and cultural park in Barquisimeto-Venezuela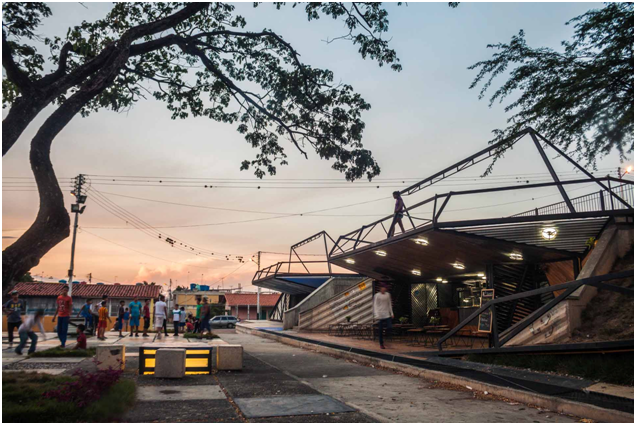 Sunset view of the complex (Vista al atardecer del complejo) Image
     Dear friends of this decentralized network HIVE for whom I present today a public space that was modified for the benefit of the members of a popular neighborhood, located on the outskirts of the city of Barquisimeto.
---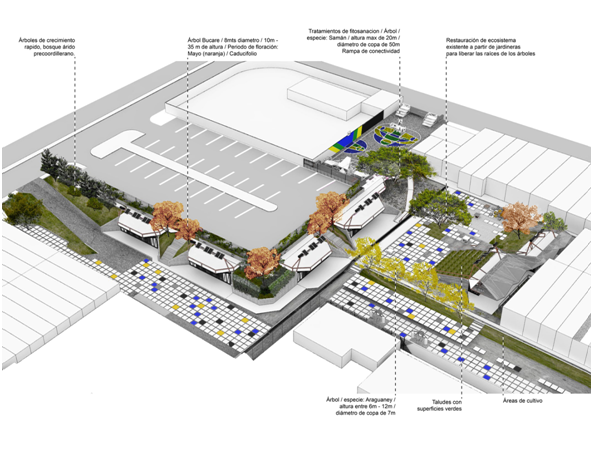 Project of the work (Proyecto de la obra) Image
     We could say that this is the construction of a recreational, sports, and cultural space, which also encourages productive work in a space of 2568 square meters, not without difficulties for its structural management, which began in 2015 on Avenida los Cerrajones in Barquisimeto-Venezuela. The project was contracted by the government with the company Yemail Arquitectura + Lab.Pro.Fab + Insitu, whose architects, led by Antonio Yemail, Felipe Cuartas, Alejandro Haiek, Rafael Machado and Fabio Andrés López took on the challenge of this building, with the Strong support from the local community.
---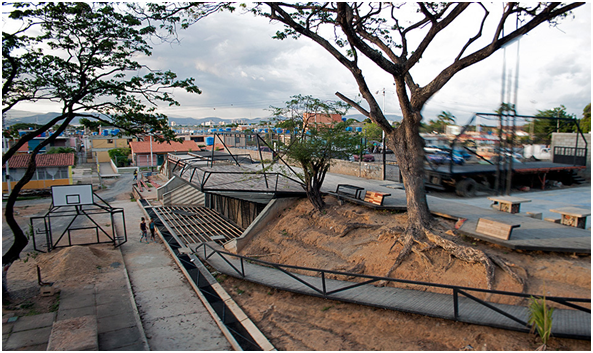 Recovered spaces (Espacios recuperados) Image
     This project has been designed for the development of civil infrastructures, and collective spaces with urban, political and economic-cooperative reengineering, aiming at the renovation of inactive landscapes and without any legal regulation, for the enjoyment of children, adolescents and adults in an. urban area that until now was divorced from social infrastructure works, that allowed social groups to take over their vital spaces, left to the fate of the underworld and organized crime.
---

In full construction and the work already finished 1 (En plena construcción y la obra ya terminada 1) Image
     The project aims to develop civil infrastructures as well as spaces for sports, cultural events, social assistance, and recreation for the inhabitants of the area, through new models of micro economies that allow the economic-social change of the inhabitants, and the flourishing of hidden talents among the young people of the locality, which is expected to produce great benefits from many points of view, beginning with the economic mobilization of the participants.
---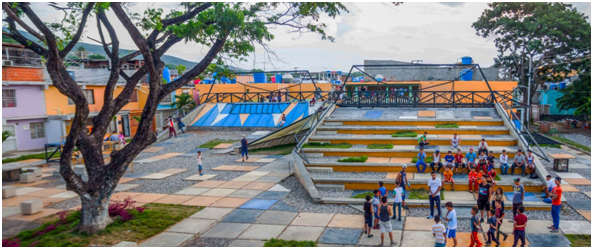 Recreational spaces in full use (Los espacios recreacionales en pleno uso)Image
     To begin working on the structure, the problem had to be resolved that the land, where it was planned to be built, had a slope that hindered its construction since due to the lack of drainage in the upper part of the slope, periodic floods occurred in the park and adjacent houses that already showed the roots of the surrounding trees and put them in danger of collapsing at any moment. To solve this problem, the slope was stabilized through excavations, insertion of prefabricated units, and the construction of a retaining wall.
---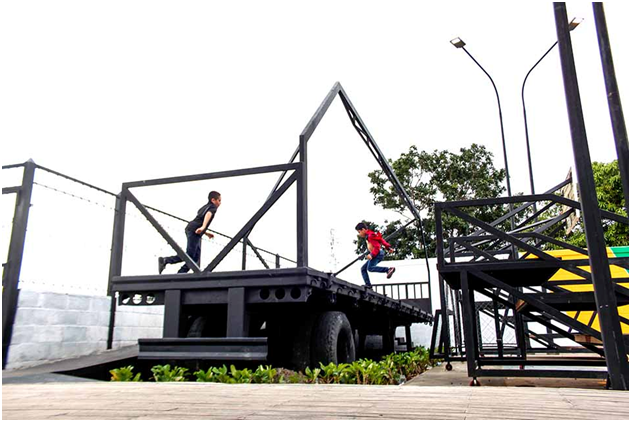 Another playful area of the complex (Otra zona lúdica del complejo) Image
     The modifications of the land and the creation of new usable spaces were made from the compaction of the excavated earth that was used in the second set of socio-productive units that serve as support for the development of at least 6 programs of cultural activities, sports, and productive activities of the park. In the end, we can see how it was possible to create a playful space in the form of an open-air theater where the cultural customs of the place were expressed and developed.
---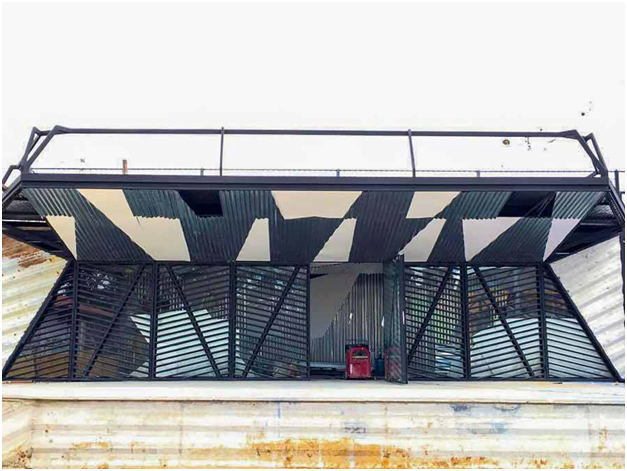 Finished container decoration (Decorado del contenedor ya terminado) Image
     The architects took advantage of the slopes of the land to stratify it by creating passages and pedestrian paths that allow communication quickly and safely. Building a series of containers -relatively cheap, fast, and proven way of building for years, in different countries- where the productive units to be carried out in the park were placed, such as a restaurant-bar, an information center, furniture manufacturing workshops, textiles, clothing manufacturing, equipment for setting up stages, all of them placed in the form strategic in the limits of the land, which serve as retaining walls of the land, giving more security to the built spaces.
---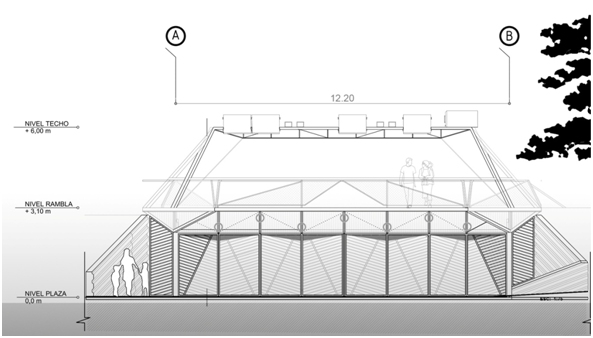 Scheme of the three levels of construction (Esquema de los tres niveles de la construcción)Image
     Consulted bibliography
1.- Parque Eco-Industrial / Alejandro Haiek / LAB PRO FAB + Yemail Arquitectura + InSitu: https://www.plataformaarquitectura.cl/cl/952142/parque-eco-industrial-alejandro-haiek-lab-pro-fab-plus-yemail-arquitectura-plus-insitu
2.- Parque industrial y Cultural Barquisimeto-Venezuela 2015:
https://yemailarquitectura.co/portfolio/parque-industrial-y-cultural-barquesimeto-venezuela-2015/
3.- Experimentos colectivos de una arquitectura progresiva:
https://revistas.uniandes.edu.co/doi/full/10.18389/dearq29.2021.09
---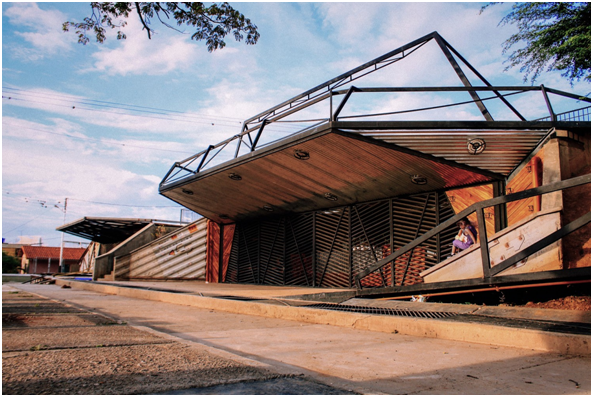 The constructed containers ready to be used (Los contenedores de la obra listos para ser utilizados) Image
     Photo gallery: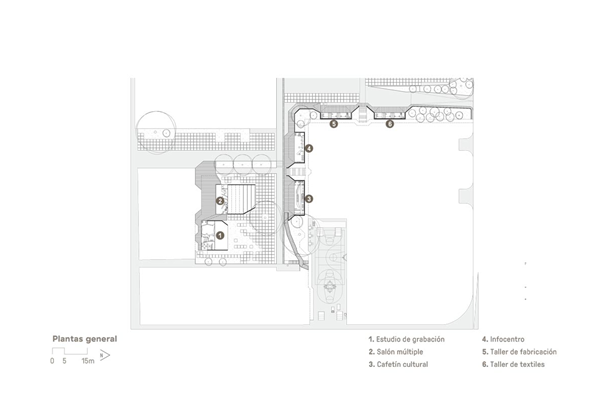 General floor plan (Plano de la planta general) Image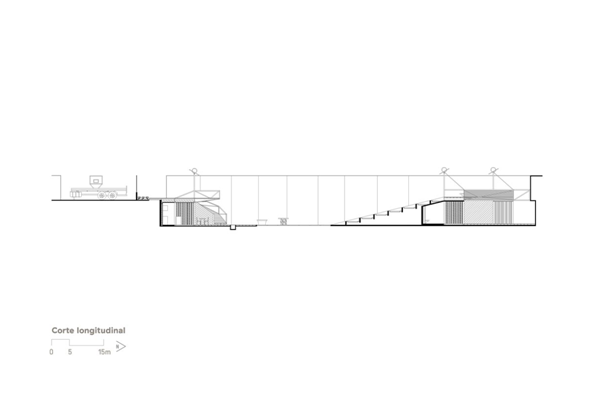 Longitudinal section of the work (Corte longitudinal de la obra) Image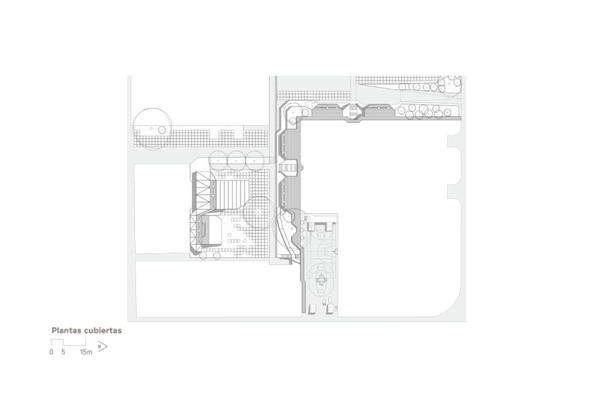 Plan of the covered floors (Plano de las plantas cubiertas)image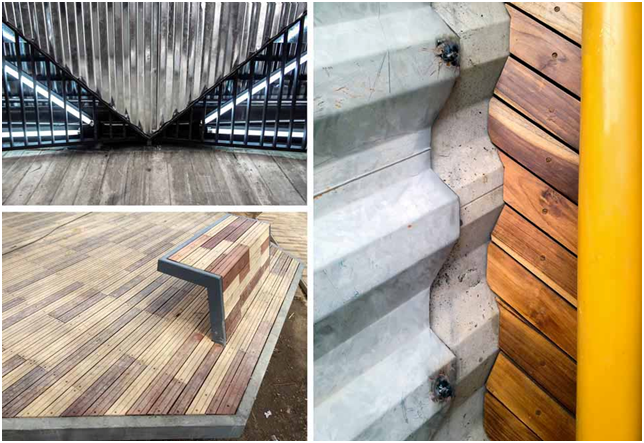 Three photos showing construction details (Tres fotos que muestran detalles de la construcción) Image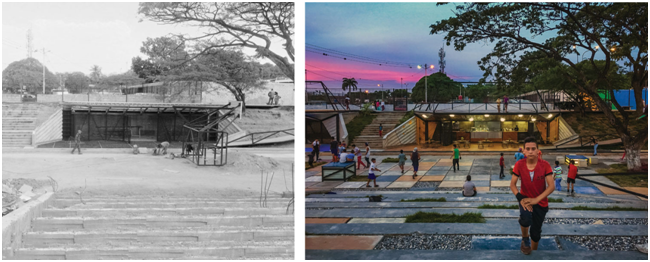 In full construction and the work already finished 2 (En plena construcción y la obra ya terminada 2) Image
---
Parque eco-industrial y cultural en Barquisimeto-Venezuela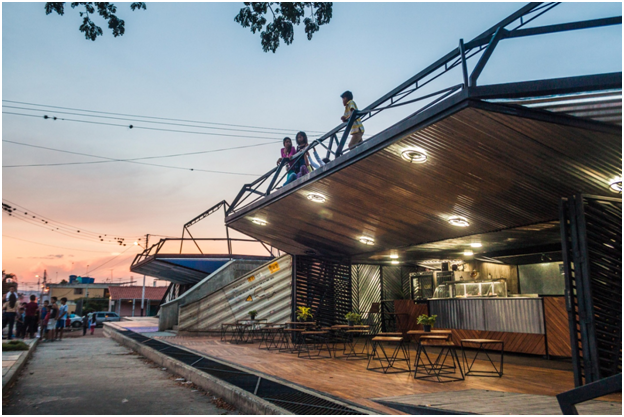 One of the containers serves as a bar-restaurant (Uno de los contenedores funge de bar-restaurante) Image
     Estimados amigos de esta red descentralizada HIVE para quienes les presento hoy un espacio público que fue modificado para el beneficio de los miembros de una barriada popular ubicada en las afueras de la ciudad de Barquisimeto.
---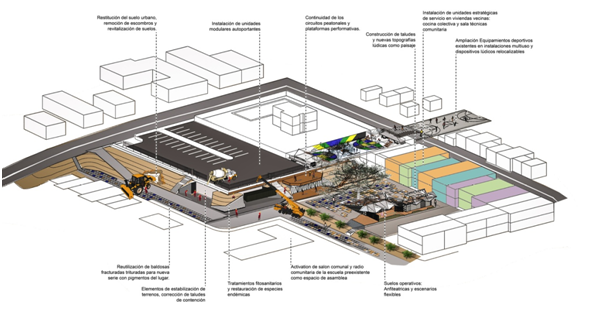 Building project with multiple details (Proyecto de la edificación con múltiples detalles) Image
     Podríamos decir que esta es la construcción de un espacio lúdico, deportivo y cultural, que además incentiva el trabajo productivo en un espacio de 2568 metros cuadrados, no exento de dificultades para su manejo estructural, que se inició en 2015 en la Avenida los Cerrajones en Barquisimeto-Venezuela. El proyecto fue contratado por el gobierno con la empresa Yemail Arquitectura + Lab.Pro.Fab + Insitu, cuyos arquitectos, encabezados por Antonio Yemail, Felipe Cuartas, Alejandro Haiek, Rafael Machado y Fabio Andrés López acometieron el reto de esta edificación, con el apoyo decidido de la comunidad local.
---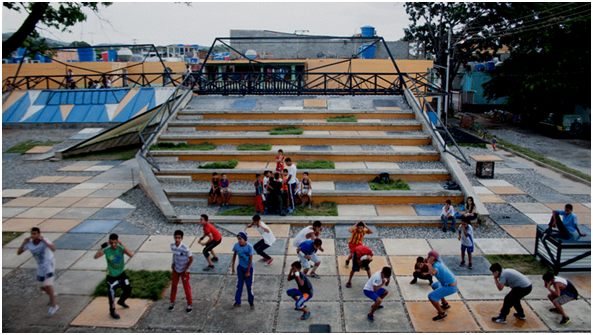 A choreographic essay in the open spaces of the complex (Un ensayo coreográfico en los espacios abiertos del complejo) Image
     Este proyecto ha sido pensado para el desarrollo de infraestructuras civiles y espacios colectivos con reingeniería urbana, política y económica-cooperativa, teniendo como finalidad la renovación de paisajes inactivos y sin ninguna regulación legal, para el disfrute de niños, adolescentes y adultos en una zona urbana que hasta ahora estaba divorciada de obras de infraestructura social que permitieran que los colectivos sociales pudieran adueñarse de sus espacios vitales, dejados a la suerte del hampa y el crimen organizado.
---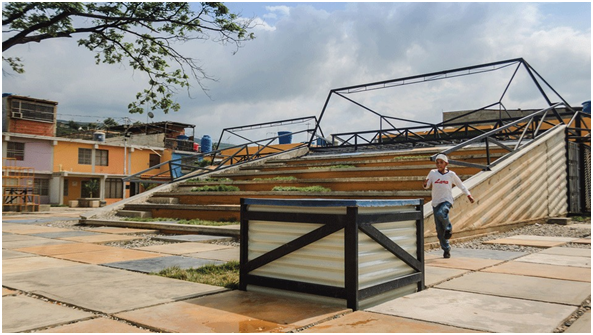 Area for the enjoyment of children (Zona para el disfrute de los niños) Image
     El proyecto tiene como objetivo desarrollar infraestructuras civiles así como espacios para el deporte, los actos culturales, de asistencia social y la recreación de los habitantes de la zona, a través de nuevos modelos de micro economías que permitan el cambio económico-social de los habitantes y el florecimiento de talentos escondidos entre la gente joven de la localidad, lo cual se espera produzca grandes beneficios desde muchos puntos de vista, comenzando por la movilización económica de los participantes.
---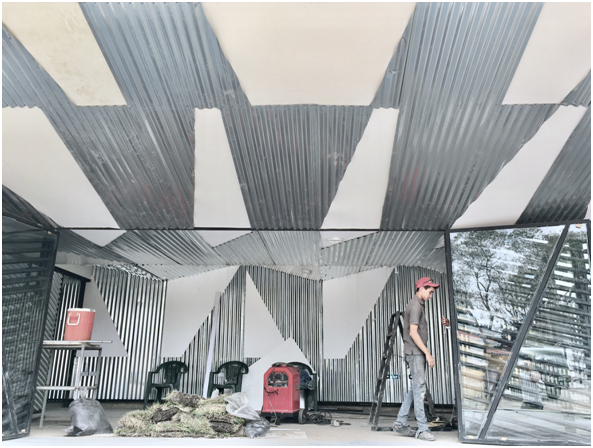 Finishing of the containers, resembles a kinetic work (Acabado de los contenedores, se asemeja a una obra cinética) Image
     Para comenzar los trabajos de la estructura debía resolverse el problema de que el terreno, donde se pensaba construir, poseía una pendiente que obstaculizaba su edificación, ya que debido a la falta de drenaje en la parte superior de la pendiente, se producían inundaciones periódicas en el parque y las casas adyacentes que ya mostraban las raíces de los árboles circundantes y los ponían en peligro de derrumbarse en cualquier momento. Para solventar este escoyo se estabilizó la pendiente mediante excavaciones, inserción de unidades prefabricadas y la construcción de un muro de contención.
---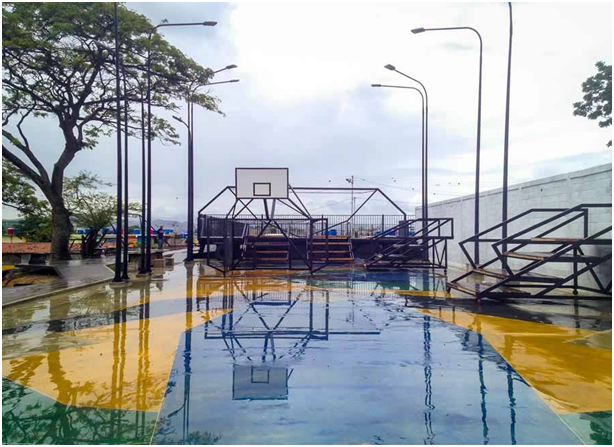 Sports area of the complex (Espacio deportivo del complejo)
Image
     Las modificaciones del terreno y la creación de nuevos espacios utilizables fueron hechas a partir de la compactación de la tierra excavada que se utilizó en un segundo conjunto de unidades socio-productivas que sirven de soporte para el desarrollo de al menos 6 programas de actividades culturales, deportivas y productivas del parque. Al final podemos ver como fue posible crear un espacio lúdico en forma de teatro al aire libre donde se expresaran y desarrollaran las costumbres culturales del lugar.
---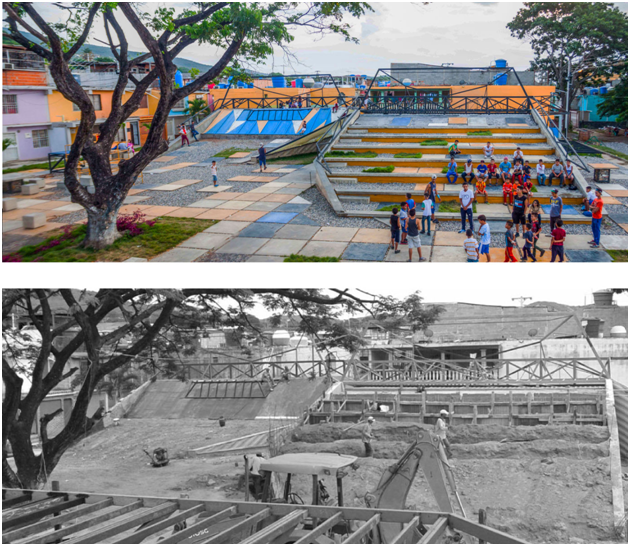 Up the work already finished, down in full construction (Arriba la obra ya terminada, abajo en plena construcción) Image
     Los arquitectos aprovecharon las pendientes del terreno para estratificarlo mediante la creación de pasajes y vías peatonales que permiten la comunicación en forma rápida y segura Construyendo una serie de contenedores -forma de construir relativamente barata, rápida y probada, desde hace años, en diferentes países- donde se colocaron las unidades productivas que se realizarán en el parque, tales como, un restaurante-bar, un centro de información, talleres de fabricación de muebles, textiles, confección de ropa, equipos para el montaje de escenarios, todos ellos colocados en forma estratégica en los límites del terreno, que sirven de muros de contención de la tierra, dándole más seguridad a los espacios construidos.
---
Four shots of kids enjoying the park (Cuatro tomas de niños disfrutando del parque) Image
     Bibliografía consultada
1.- Parque Eco-Industrial / Alejandro Haiek / LAB PRO FAB + Yemail Arquitectura + InSitu: https://www.plataformaarquitectura.cl/cl/952142/parque-eco-industrial-alejandro-haiek-lab-pro-fab-plus-yemail-arquitectura-plus-insitu
2.- Parque industrial y Cultural Barquisimeto-Venezuela 2015:
https://yemailarquitectura.co/portfolio/parque-industrial-y-cultural-barquesimeto-venezuela-2015/
3.- Experimentos colectivos de una arquitectura progresiva:
https://revistas.uniandes.edu.co/doi/full/10.18389/dearq29.2021.09
---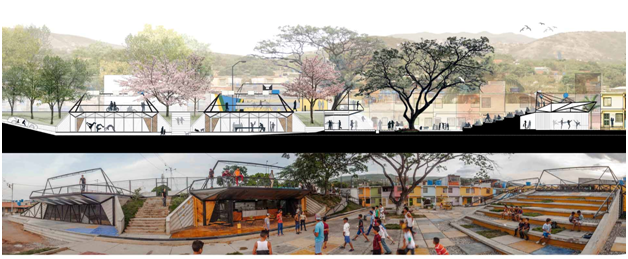 Up the idea of construction, down the actual construction (Arriba la idea de la construcción, abajo la construcción real) Image
     Galería de fotos:

Part of the recreational spaces (Parte de los espacios lúdicos)Image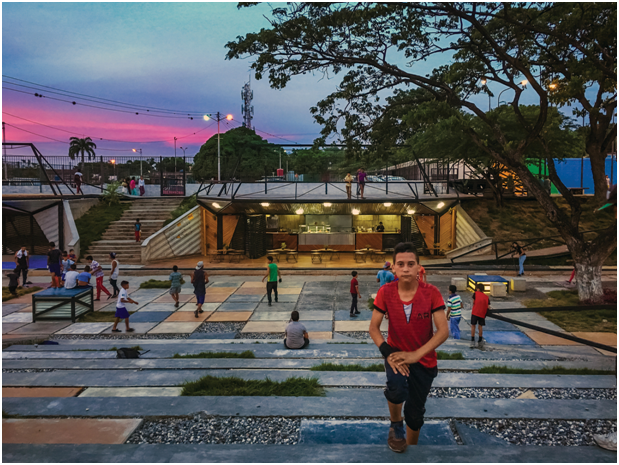 Enjoyment of the complex in the evenings (Disfrute del complejo por las noches)
Image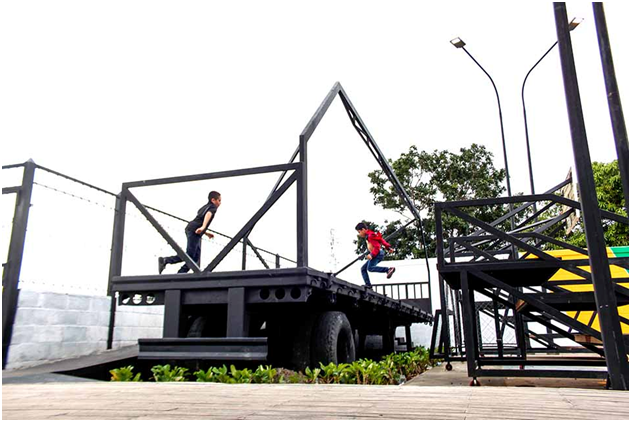 Another playful area of the complex (Otra zona lúdica del complejo) Image

The walls with their colors embellish the environment (Las paredes con sus colores embellecen el ambiente) Image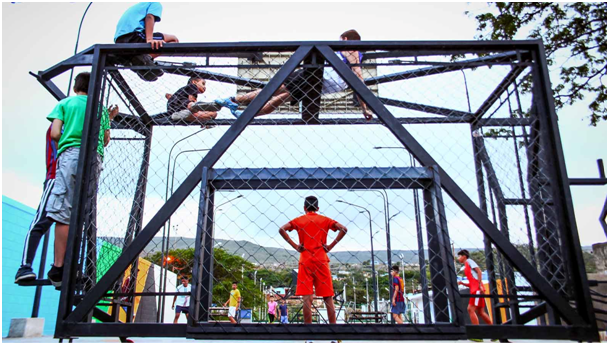 Enjoying the soccer field (Disfrutando de la cancha de fútbol) Image