A visit to Segovia and its colossal aqueduct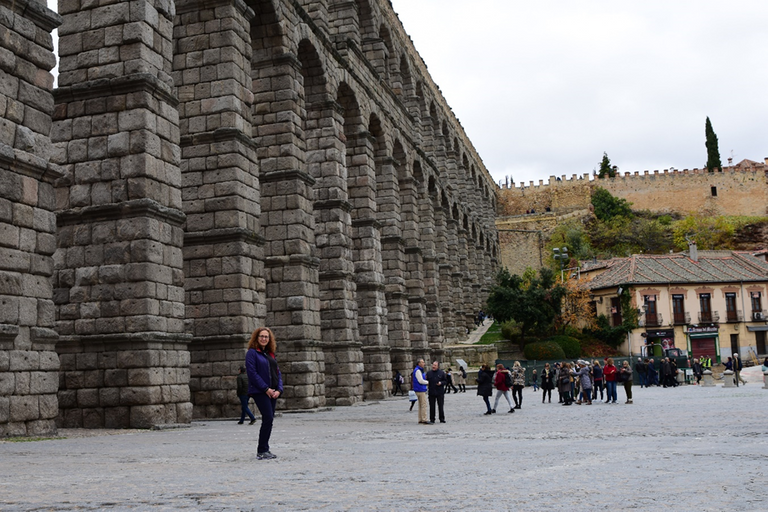 "Plaza del Azoguejo" at the foot of the Aqueduct (Plaza del Azoguejo al pie del Acueducto)
     Dear friends, readers and members of the communities who do me the honor of reading and evaluating my posts. Continuing with the use of the series of photographs that my brother-in-law Alfonso has made in his countless trips, on this occasion, I have the pleasure of sharing with you the photos, taken in 2016, of the city of Segovia, in Spain, which I was lucky enough to visit in 1985. Those that are accompanied, as necessary, by an introductory text and footnotes to the photographs that give substance to this writing that I hope you will read with pleasure. Here I send you the link of Alfonso so you can see the quality and variety of his photos
Alfonso Celi @alfceli en Instagram
---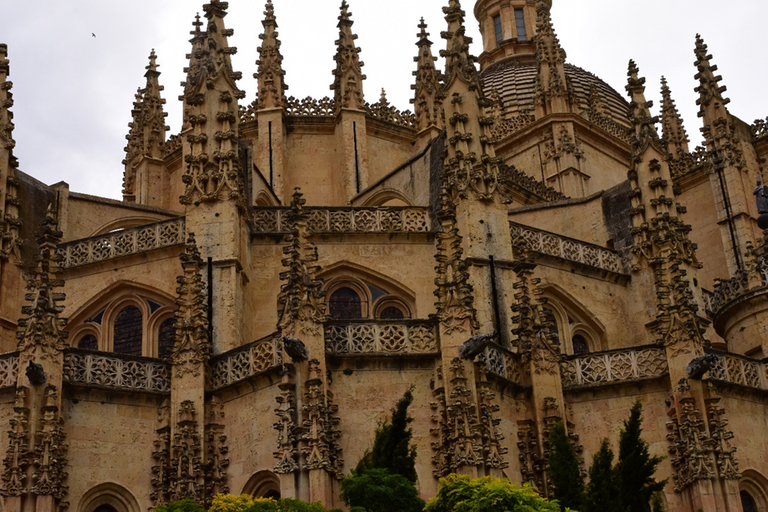 Segovia Cathedral (Catedral de Segovia)
     At the junction of the Eresma and Clamores rivers, under the shelter of the Sierra de Guadarrama, the city of Segovia rises, about 92 kilometers from Madrid. It is incredible that a small city such as Segovia has so much history within its walls, in it you can appreciate the cultural and patrimonial legacy left by the coexistence of Muslims, Jews and Christians, all of which can be known walking through its streets, preferably when the weather is mild.
---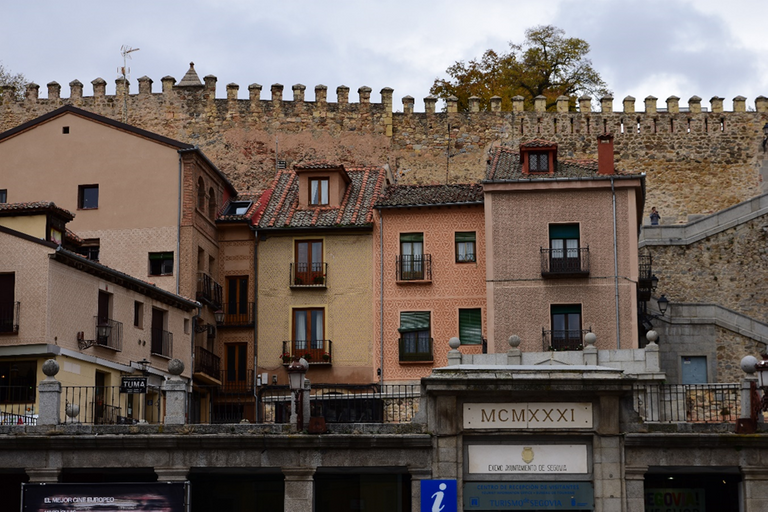 Surrounding the streets of the historic center you can see the old wall of Segovia, with a perimeter of just over three kilometers (Rodeando las calles del casco histórico se puede ver la antigua muralla de Segovia, con algo más de tres kilómetros de perímetro)
     Segovia encloses, within its walls: towers, Romanesque churches, synagogues, convents, squares, gardens and narrow, twisted streets, like a fortress. However, the most internationally known icon of the city is its aqueduct, which is even part of the city's coat of arms, an impressive work of Roman civil engineering that was built at the beginning of the second century, whose purpose was to carry water from the Sierra de Guadarrama to Segovia, to supply the city's inhabitants with the precious liquid. In total, it covers about 17 km with low channels, flush with the ground and even that have become underground today. The aqueduct then rises in the center of Segovia forming 166 arches, at its feet squares such as Azoguejo have been built from where you can see an arcade of the Aqueduct that reaches 28 meters.
---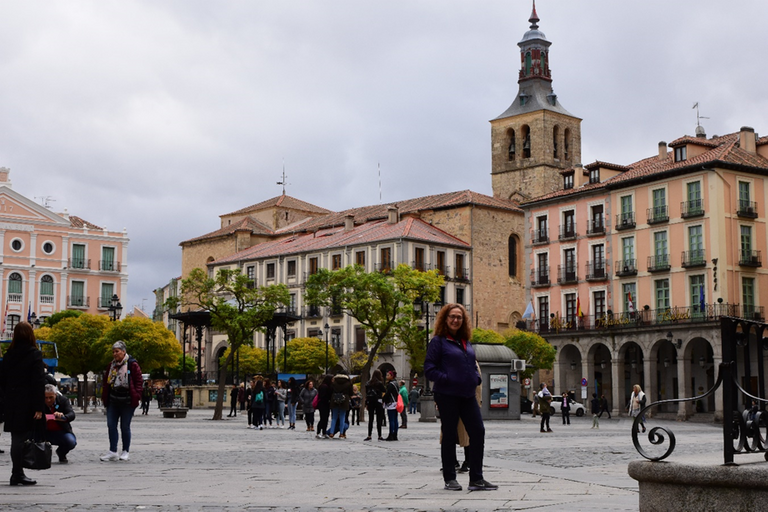 My sister-in-law in the Plaza Mayor of Segovia (Mi cuñada en la Plaza Mayor de Segovia)
     It is impressive that in the construction of the Aqueduct no type of cement or mortar was used between the granite blocks that make up its structure, so that it is held together only by the balance of forces. In Spain, a country of great legends, it is said that there was a young woman in charge of bringing water to the city, but she got tired of doing such an arduous task, so she thought that there should be a way for the work to be done alone, then, made a pact with Satan: if the aqueduct was finished the next morning, she would give him her soul. The young woman was fortunate that at dawn the devil still had a stone to place, so she saved her soul and also achieved her goal of taking the work off her.
---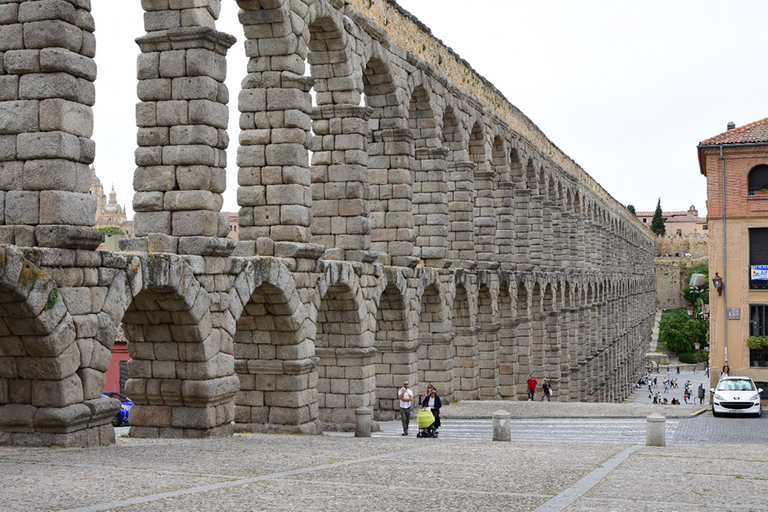 The aqueduct stopped carrying water to the upper part of Segovia for about 40 years, at present the water flows through its channels again (El acueducto dejó de llevar agua a la parte alta de Segovia por unos 40 años, en la actualidad de nuevo fluye el agua por sus canales)
     After leaving the emotion produced by the imposing Aqueduct, one enters the city. Upon reaching the Plaza Mayor, you can see the Cathedral, known as the "lady of the cathedrals". It is a church built between the 16th and 18th centuries, in a Gothic style with some Renaissance features, the City Hall palace and the bust of the poet Antonio Machado that adorn the Plaza.
---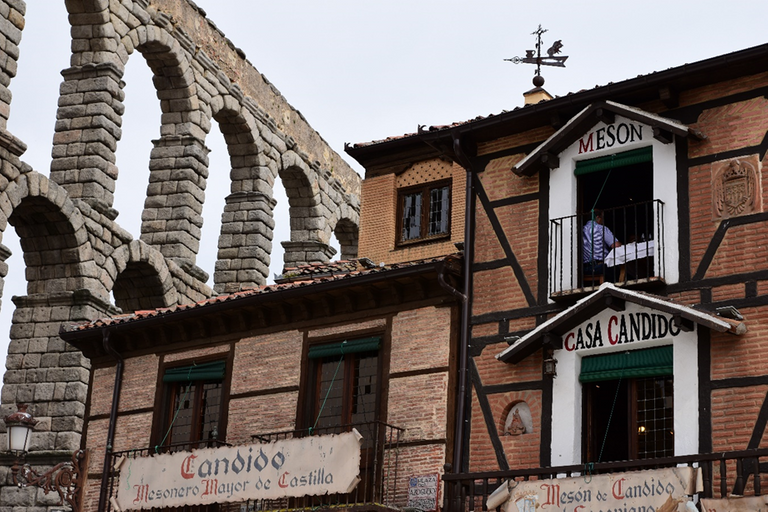 The well-known and visited Mesón "Casa Cándido" next to the Aqueduct of Segovia (El conocido y visitado Mesón "Casa Cándido" a un costado del Acueducto de Segovia)
     The city is surrounded by a Wall of 3 kilometers, 80 towers and 5 gates, from the time of Alfonso VI. Built in granite, today it runs through the old town with only three of the five original doors. The part that is still intact is around the Puerta de San Andrés from where you can climb the walls and see the place where there was a Jewish necropolis.
---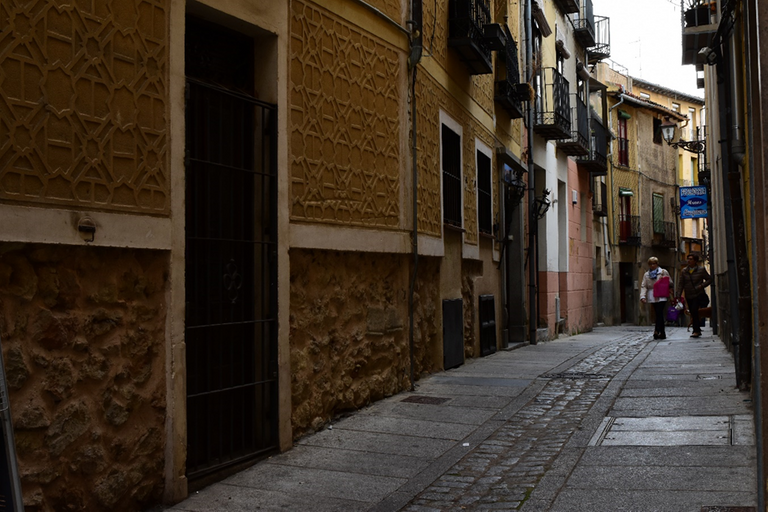 Typical cobbled street in the historic center of Segovia (Típica calle empedrada en el casco histórico de Segovia)
     The center of the city of Segovia, together with its Aqueduct, have been declared, by UNESCO "World Heritage" in 1985.
---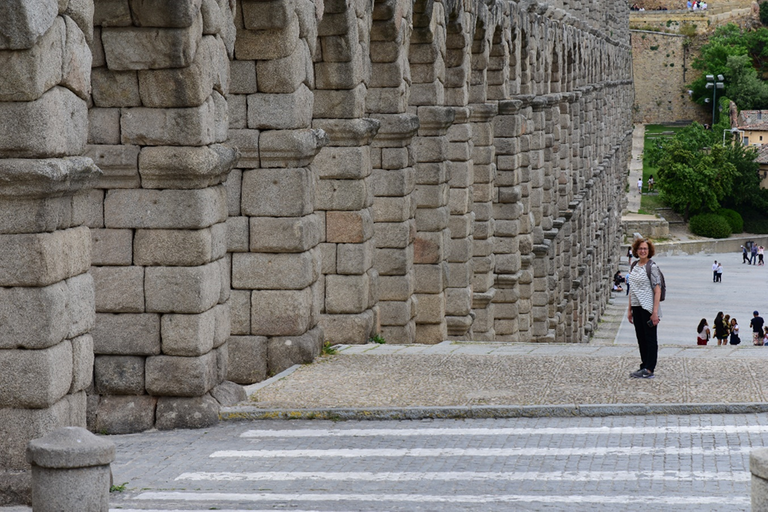 The slope of the Aqueduct is only 0.3% on the bridge and 5% continuously throughout its entire length (La pendiente del Acueducto es de tan solo un 0,3% en el puente y de un 5% de manera continuada a través de todo su recorrido)
     Bibliographic references:
"Un poco de historia de Segovia": https://www.viasegovia.com/turismo/segovia-ciudad-patrimonio/un-poco-de-historia-de-segovia/
"Historia de Segovia": https://queverenelmundo.com/que-ver-en-espana/provincia-de-segovia/guia-de-segovia/historia-de-segovia/
"Acueducto de Segovia: historia, descripción y construcción": https://www.fundacionaquae.org/ciudad-vieja-y-acueducto-de-segovia/
---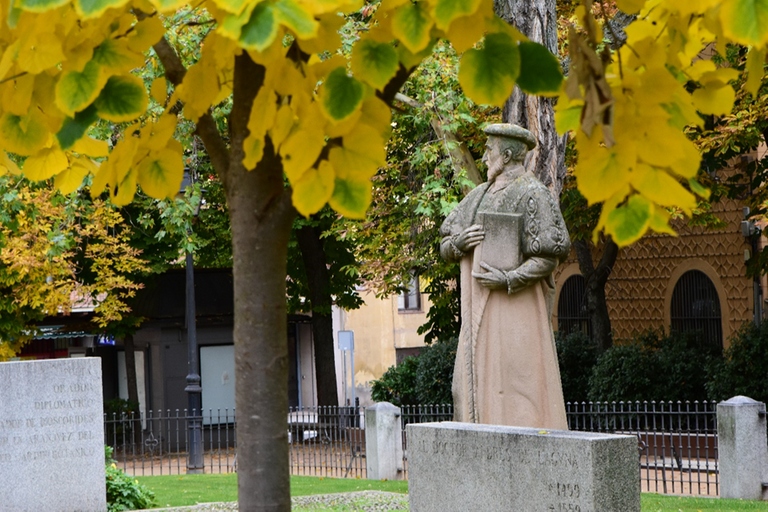 Statue of Cervantes in the street of the same name (Estatua de Cervantes en la calle del mismo nombre)
---
Una visita a Segovia y su colosal acueducto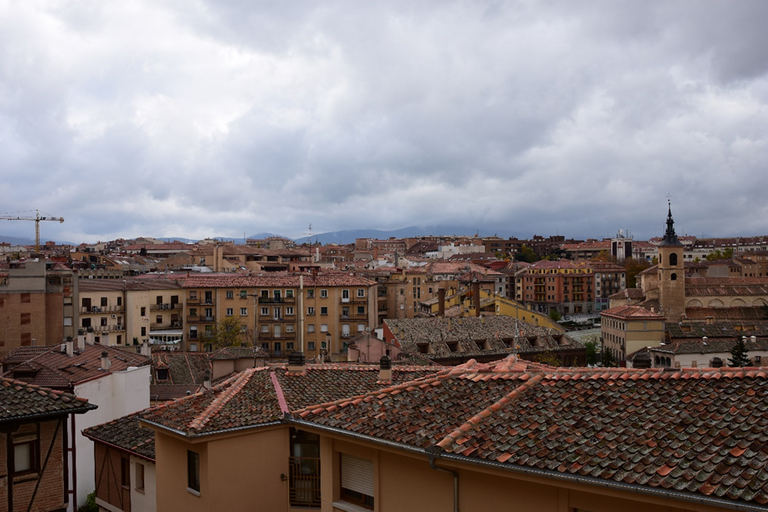 Panoramic of the city of Segovia (Panorámica de la ciudad de Segovia)
     Estimados amigos, lectores y miembros de las comunidades que me hacen el honor de leer y evaluar mis posts. Siguiendo con la utilización de la serie de fotografías que mi cuñado Alfonso ha realizado en sus innumerables viajes, en esta oportunidad, tengo el placer de compartir con ustedes las fotos, tomadas en 2016, de la ciudad de Segovia, en España, la que tuve la suerte de visitar en el año 1985. Las que van acompañadas, como es preciso, de un texto introductorio y notas a pie de las fotografías que permiten darle cuerpo a este escrito que espero lo lean con agrado. Aquí les envío el enlace de Alfonso para que puedan ver la calidad y variedad de sus fotos Alfonso Celi @alfceli en Instagram
---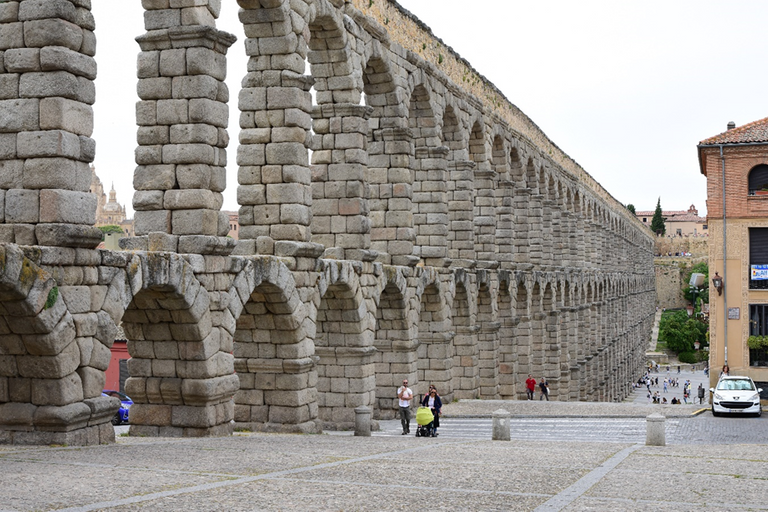 In the area with the highest arches there are two holes (niches), one on each side of the aqueduct. (En la zona de arcos más altos se abren dos huecos (hornacinas), uno a cada lado del acueducto)
     En la unión de los ríos Eresma y Clamores, bajo el cobijo de la Sierra de Guadarrama, se levanta la ciudad de Segovia, a unos 92 kilómetros de Madrid. Resulta increíble que una pequeña ciudad como lo es Segovia tenga entre sus murallas tanta historia, en ella se puede apreciar el legado cultural y patrimonial dejado por la convivencia de musulmanes, judíos y cristianos, todo lo cual se puede conocer caminando por sus calles, preferiblemente cuando el clima sea benigno.
---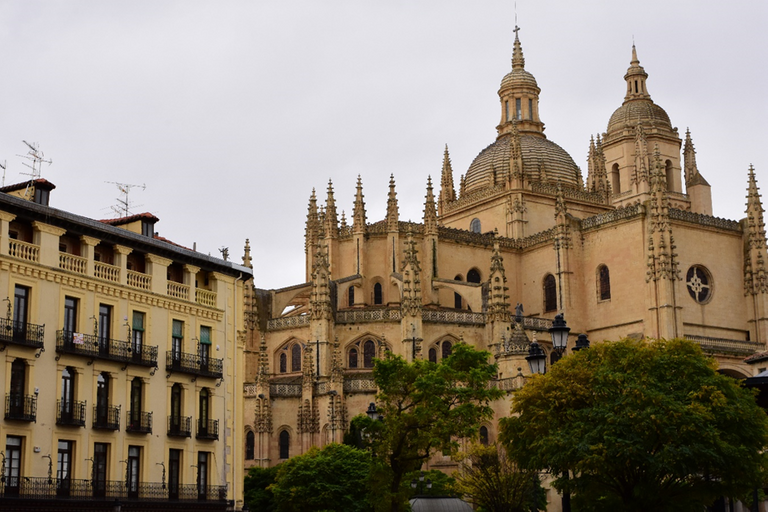 Segovia Cathedral, despite having been built in the Renaissance, this magnificent building was erected in an old Gothic style (Catedral de Segovia, a pesar de haber sido construido en el Renacimiento, este magnífico edificio fue levantado en un estilo gótico antiguo)
     Segovia encierra, entre sus murallas: torreones, iglesias románicas, sinagogas, conventos, plazas, jardines y estrechas cuan retorcidas callejuelas, al igual que un alcázar. Sin embargo, el ícono más conocido, a nivel internacional, de la ciudad es su acueducto, que incluso forma parte del escudo de la ciudad, una impresionante obra de la ingeniería civil romana que se construyó a principios del siglo II, cuyo fin era llevar el agua desde la Sierra de Guadarrama hasta Segovia, para abastecer del preciado líquido a los habitantes de la ciudad. En total hace un recorrido de unos 17 km con canales bajos, al ras del suelo e incluso que se han convertido en subterráneos en la actualidad. El acueducto luego se eleva en el centro de Segovia formando 166 arcos, a sus pies se han construido plazas como la de Azoguejo desde donde se puede apreciar una arquería del Acueducto que llega a alcanzar los 28 metros.
---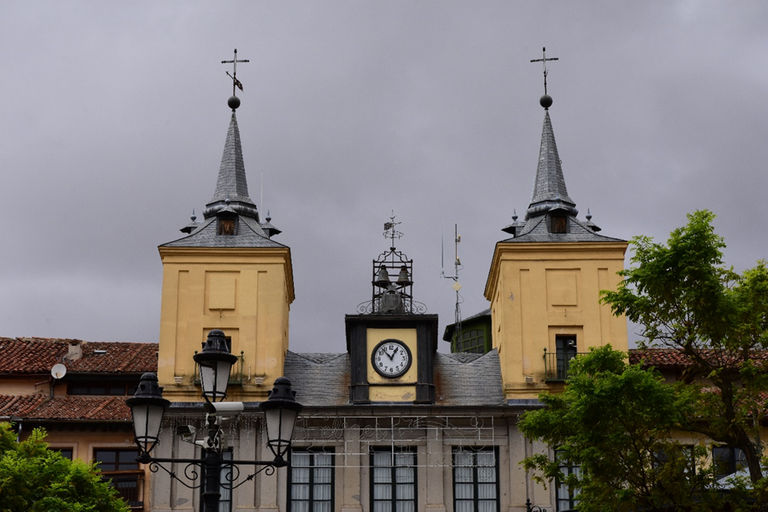 City Hall building in the Plaza Mayor of Segovia, designed by the architect Pedro de Brizuela at the beginning of the 17th century (Edificio del Ayuntamiento en la Plaza Mayor de Segovia, diseñado por el arquitecto Pedro de Brizuela a comienzos del siglo XVII)
     Impresiona el hecho de que en la construcción del Acueducto no se utilizó ningún tipo de cemento o argamasa entre los bloques de granito que conforman su estructura, de manera que se mantiene unida solo por el equilibrio de fuerzas. En España, país de grandes leyendas, se cuenta que había una joven encargada de llevar agua a la ciudad, pero se cansó de realizar tan ardua tarea, por lo que pensó que debería haber una forma de que el trabajo se hiciese solo, entonces, hizo un pacto con Satanás: si el acueducto estaba terminado a la mañana siguiente, ella le entregaría su alma. La joven tuvo la suerte que al amanecer al diablo aún le quedaba una piedra por colocar, por lo que salvó su alma y además logró su propósito de quitarse el trabajo de encima.
---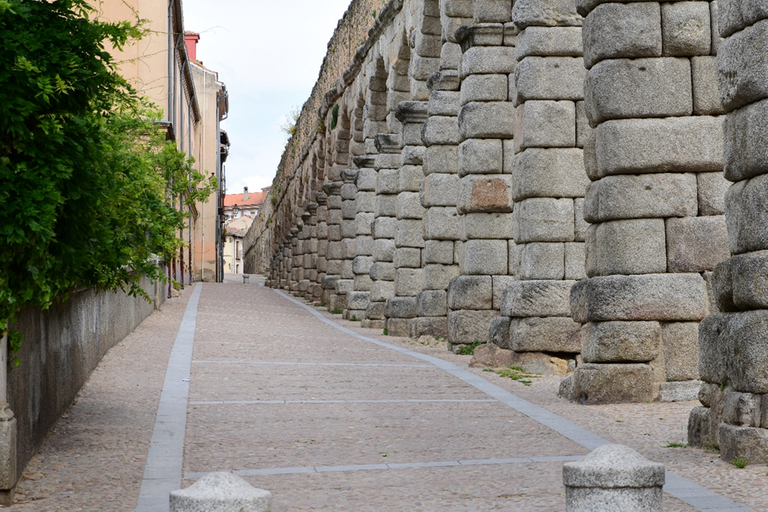 20,400 stones or granite ashlars were needed for the construction of the Aqueduct (Se necesitaron 20.400 piedras o sillares de granito para la construcción del Acueducto)
     Luego de dejar la emoción producida por el imponente Acueducto, se adentra uno en la ciudad. Al llegar a la Plaza Mayor se observan la Catedral, conocida como la "dama de las catedrales" es una iglesia construida entre los siglos XVI y XVIII, de estilo gótico con algunos rasgos renacentistas, el palacio del Ayuntamiento y el busto del poeta Antonio Machado que engalanan la Plaza
---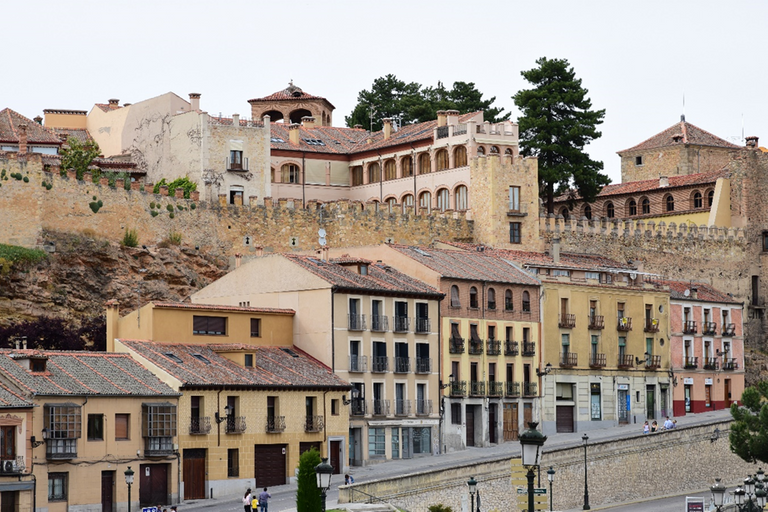 The old city wall above Calle de San Juan (La vieja muralla de la ciudad por encima de la calle de San Juan)
     La ciudad está rodeada por una Muralla de 3 kilómetros, 80 torres y 5 puertas, desde la época de Alfonso VI. Construida en granito, en la actualidad recorre el casco antiguo con solo tres de las cinco puertas originales. La parte que aún queda intacta está alrededor de la Puerta de San Andrés desde donde se puede subir a las murallas y observar el lugar donde hubo una necrópolis judía.
---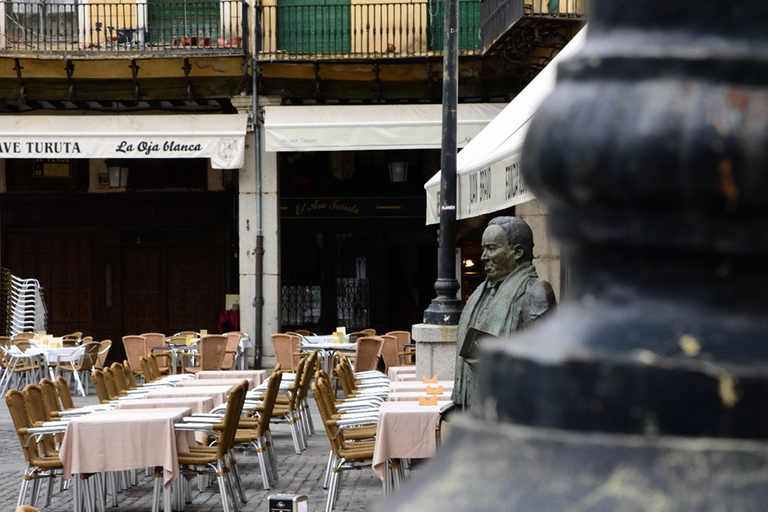 Statue of the poet Antonio Machado in the Plaza Mayor of Segovia (Estatua del poeta Antonio Machado en la Plaza Mayor de Segovia)
     El centro de la ciudad de Segovia, conjuntamente con su Acueducto, han sido declarados, por la UNESCO "Patrimonio Mundial" en 1985.
---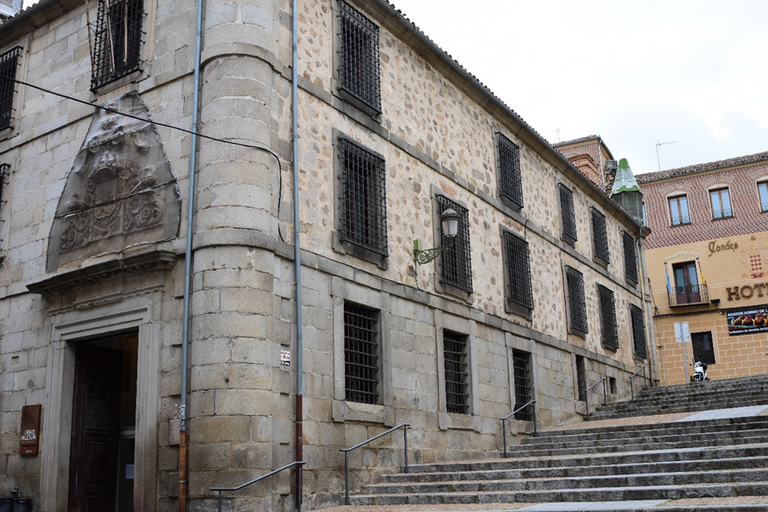 Old houses built in Segovia (Viejas casonas levantadas en Segovia)
     Referencias bibliográficas:
"Un poco de historia de Segovia": https://www.viasegovia.com/turismo/segovia-ciudad-patrimonio/un-poco-de-historia-de-segovia/
"Historia de Segovia": https://queverenelmundo.com/que-ver-en-espana/provincia-de-segovia/guia-de-segovia/historia-de-segovia/
"Acueducto de Segovia: historia, descripción y construcción": https://www.fundacionaquae.org/ciudad-vieja-y-acueducto-de-segovia/
---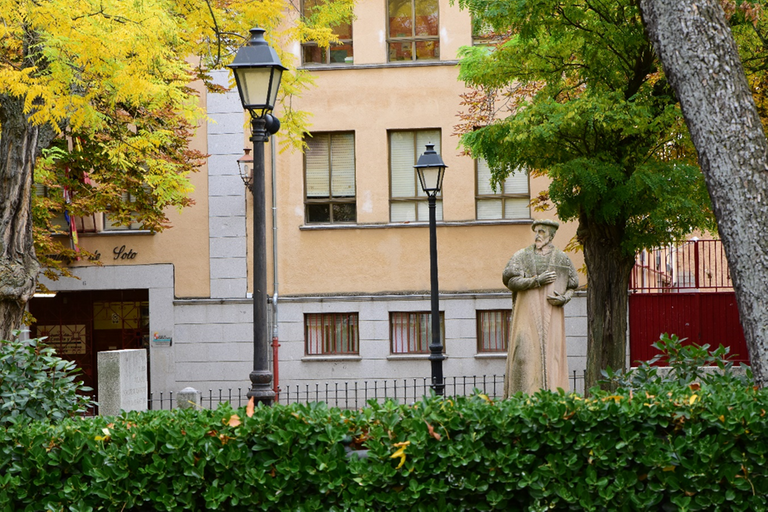 On Cervantes street is the statue of the Spanish writer of the same name, also known as "El manco de Lepanto" (En la calle Cervantes se encuentra la estatua del escritor español del mismo nombre, también conocido como "El manco de Lepanto")
---
Image gallery of the Aqueduct of Segovia with additional information (Galería de imágenes del Acueducto de Segovia con información adicional)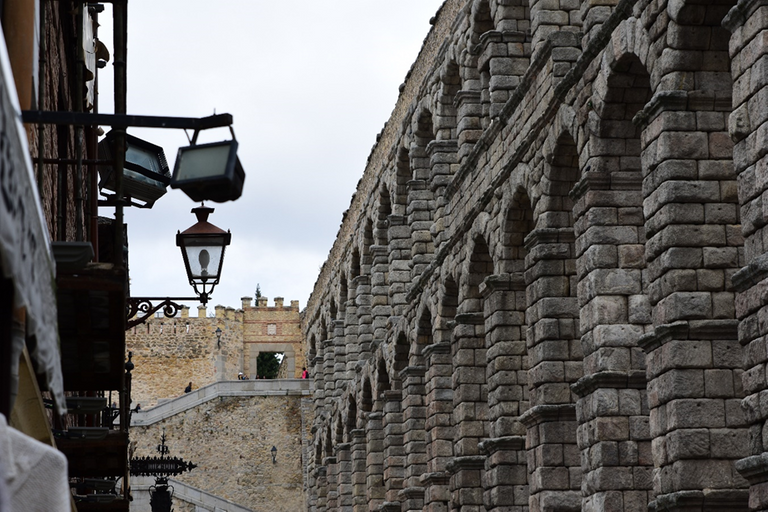 The Aqueduct has 119 arches, of which 44 are double arches (El Acueducto tiene 119 arcos, de los cuales 44 son arcadas dobles)
---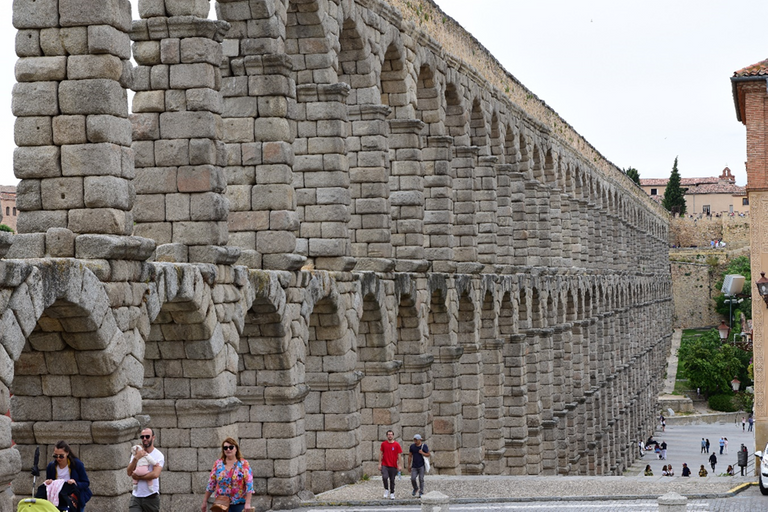 The maximum flow of the Aqueduct does not exceed 20 or 30 liters per second (El caudal máximo del Acueducto no sobrepasa los 20 o 30 litros por segundo)
---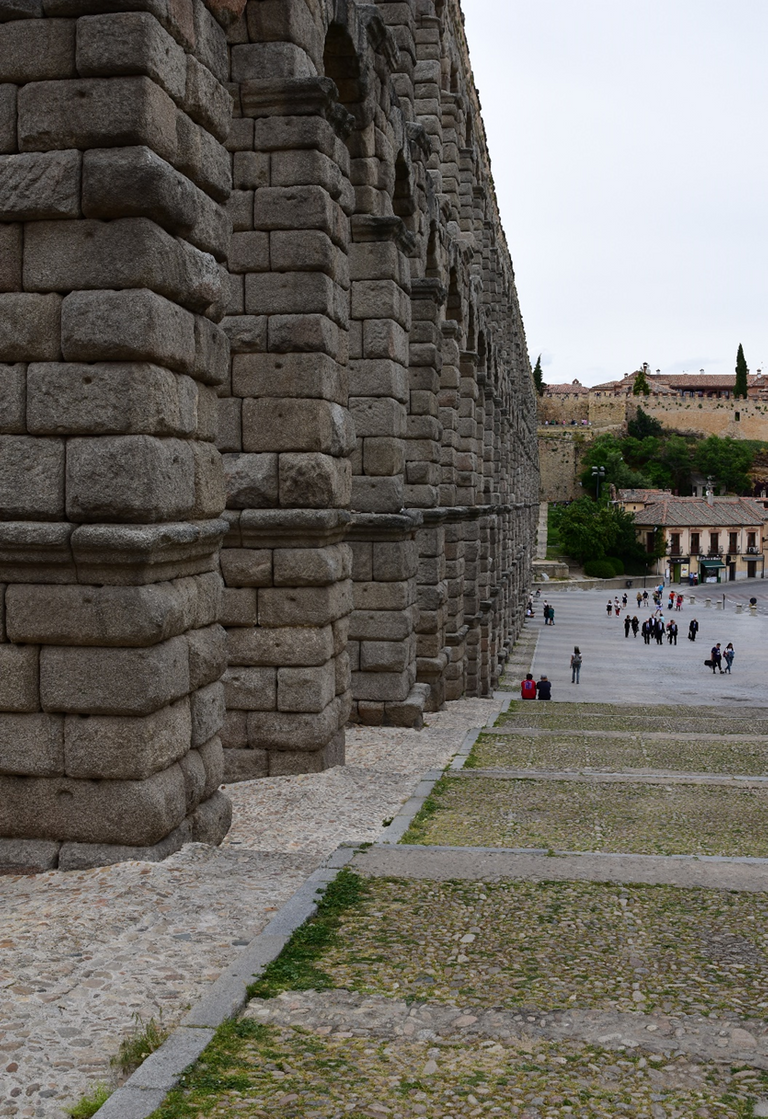 The Aqueduct, in its highest part, reaches 28 meters (El Acueducto, en su parte más elevada, alcanza los 28 metros)
---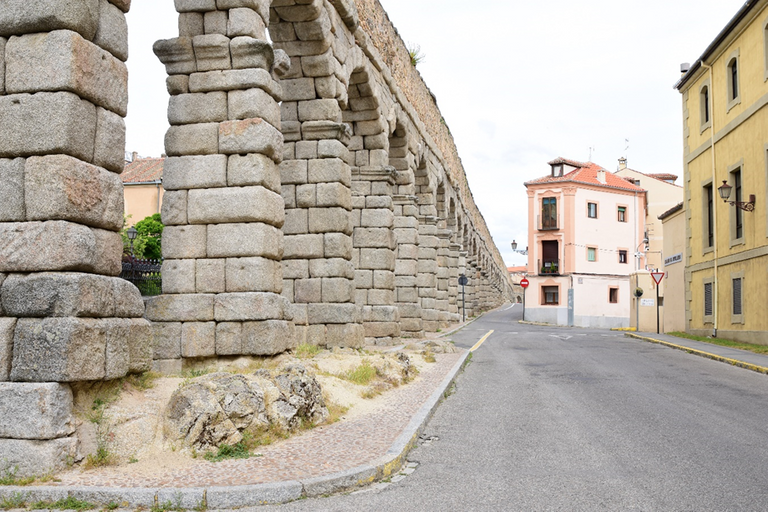 The Aqueduct has the capacity to supply water to 20,000 people and when it was built barely 100 people lived in the place (El Acueducto tiene capacidad para suministrar agua a 20.000 personas y cuando se construyó escasamente vivían 100 personas en el lugar)
---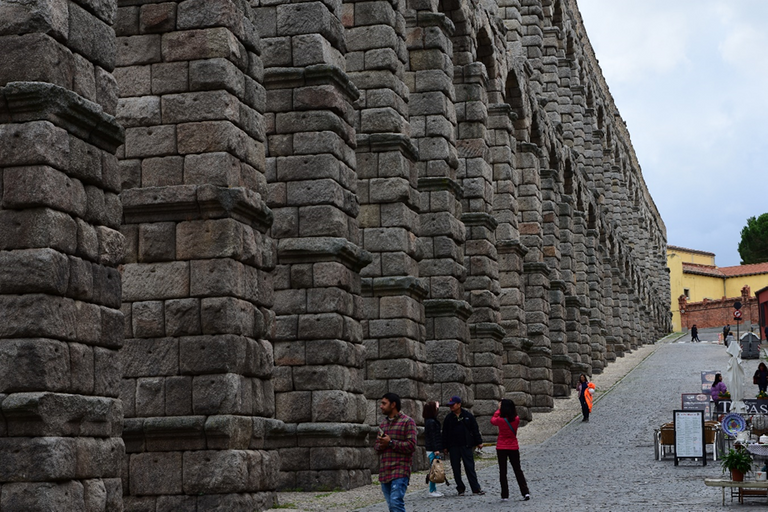 The Aqueduct is one of the most visited architectural monuments in Spain (El Acueducto es unos de los monumentos arquitectónicos más visitados de España)
---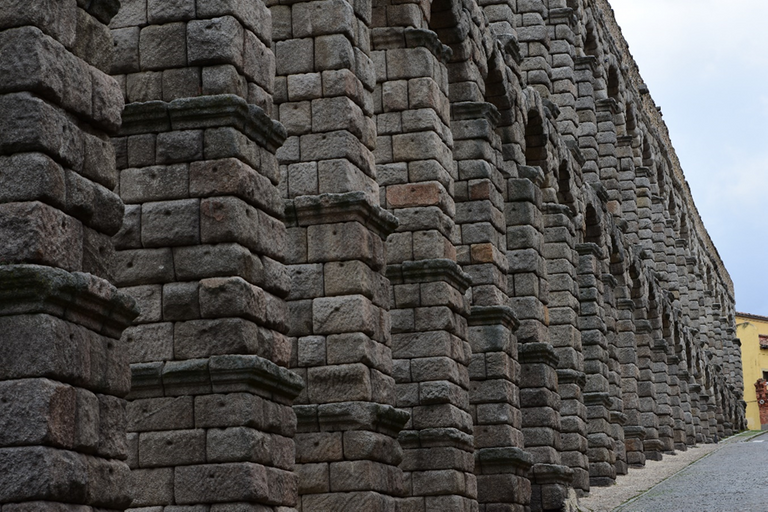 The Aqueduct is born in the Sierra de Guadarrama, an area of pine trees and crystal clear waters (El Acueducto nace en la Sierra de Guadarrama, zona de pinos y aguas cristalinas)
---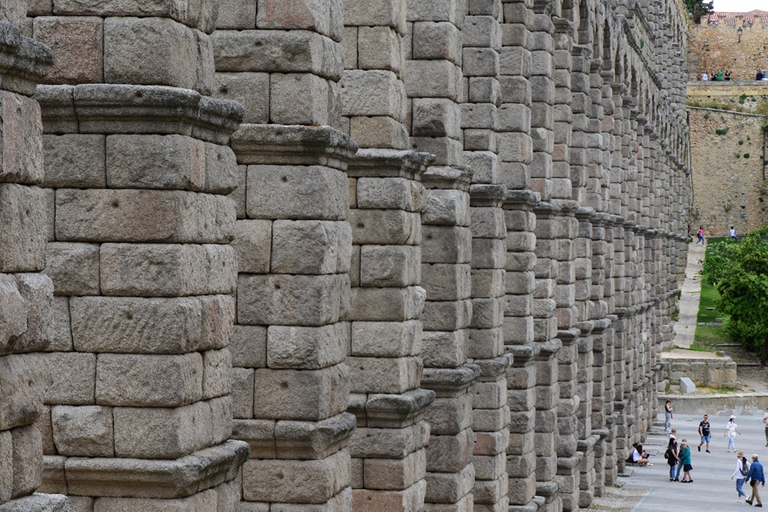 The Aqueduct of Segovia, whose name comes from the union of two Latin words aqua and ducere (El Acueducto de Segovia, cuyo nombre procede de la unión de dos palabras latinas aqua y ducere)
---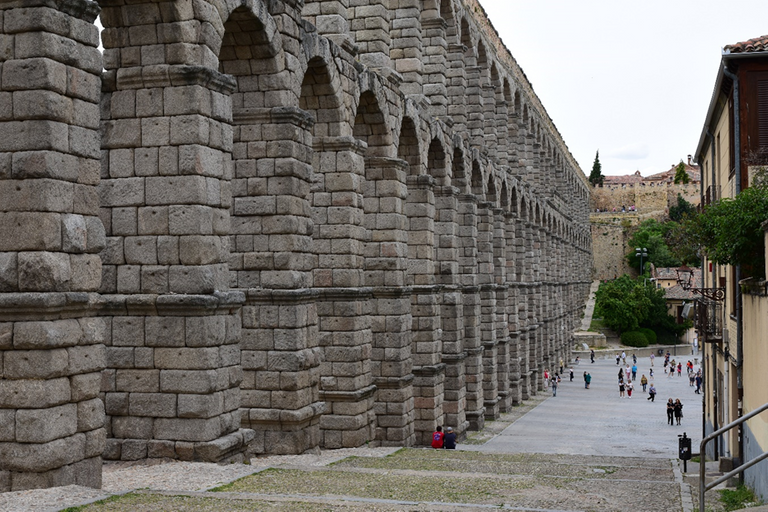 The Aqueduct of Segovia brings water from the Fuenfría spring, located about 17 kilometers from Segovia, to the city (El Acueducto de Segovia trae el agua del manantial de la Fuenfría, situado a unos 17 kilómetros de Segovia, hasta la ciudad)