On Friday last week, I got the chance to try out something I've really been looking forward to trying- Virtual Reality. I've seen it used in movies a lot, and I've also written a few things about it, but have never experienced it first hand.
The VR experience event was organized by HopIn Academy. My friend @rubilu worked there for his internship and I had planned to go there many times, but never could. Going there, I realized they were even cooler than I thought they were. Lol the place was amazing both in look and the nature of their work.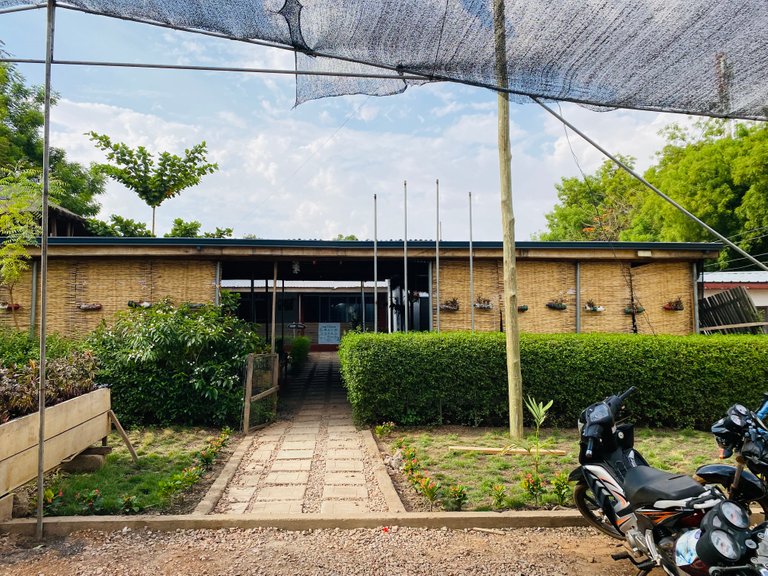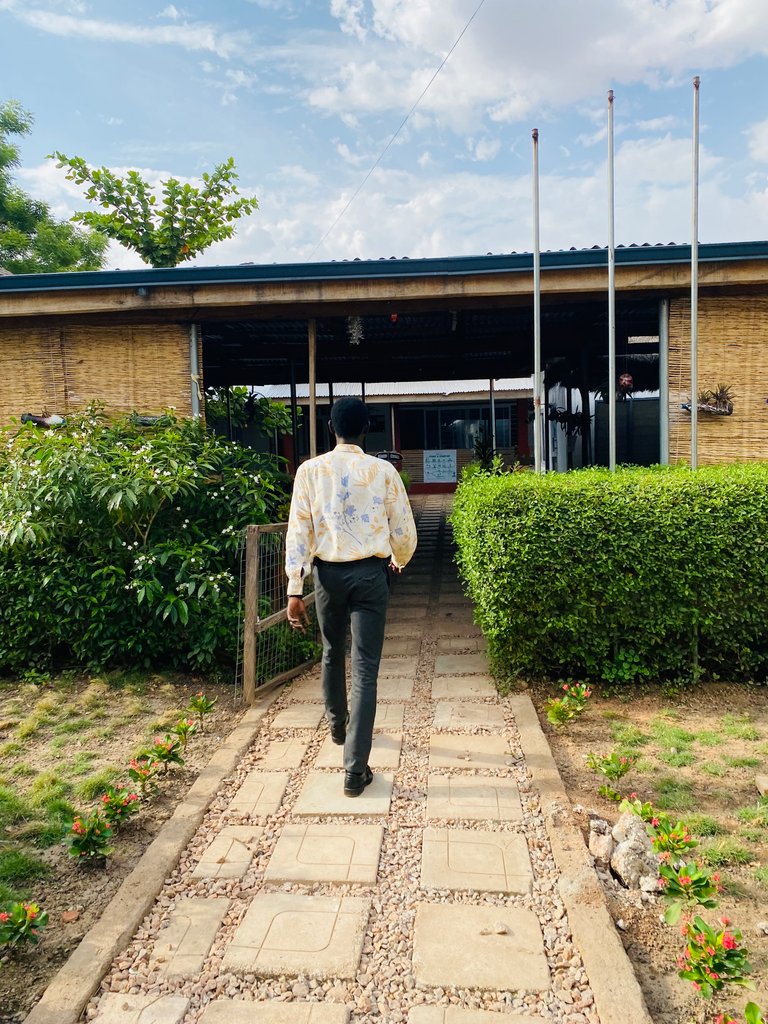 It was slated to start at 3pm, but because both @thisisnativeboy and I had to find ways to leave our jobs early, It took a little while and we arrived there a little late. We got there at 4pm, by which time the VR games had already started.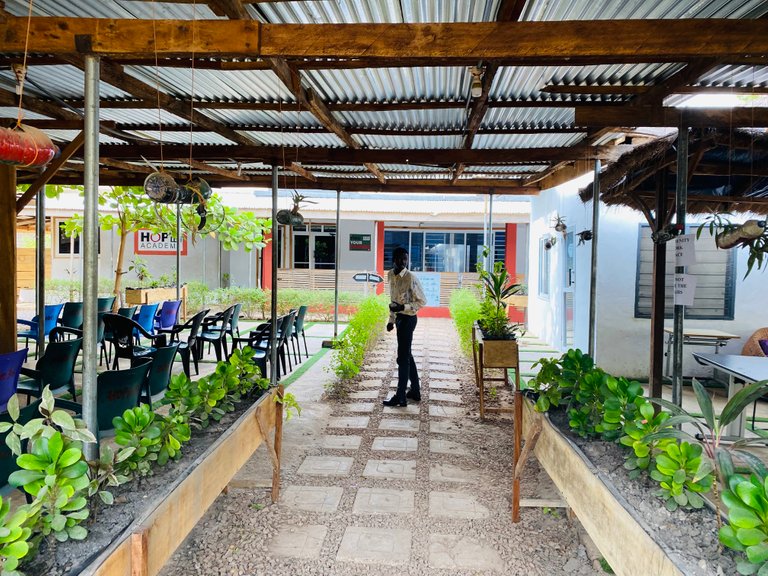 At the entrance, you get two views, one on your left, and the other on your right which I'll be showing you details of in a bit.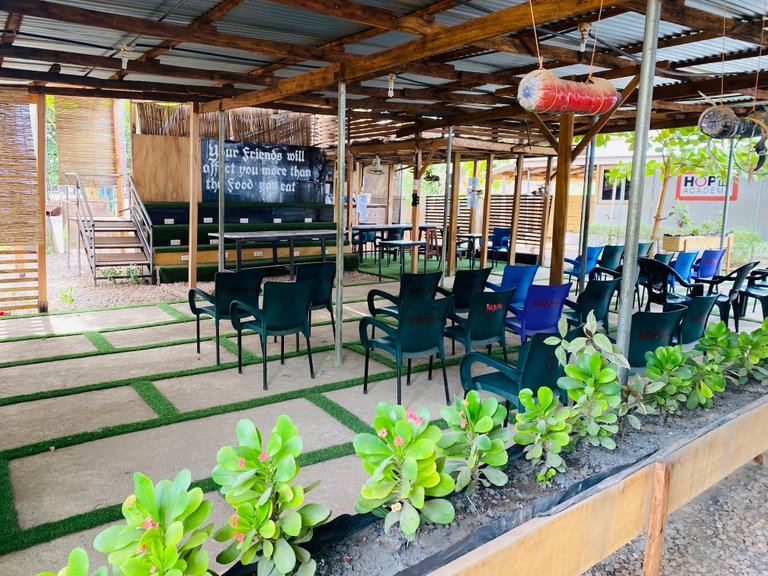 This is what you see on your left. A beautiful kind of open space sitting area. Maybe for meetings and open space seminars? It was beautiful though. I loved what they did with the floor, but what amused me especially was what they did with these bottles, filling them with soil and planting flowers inside them, and then tying the bottles to suspend in the air.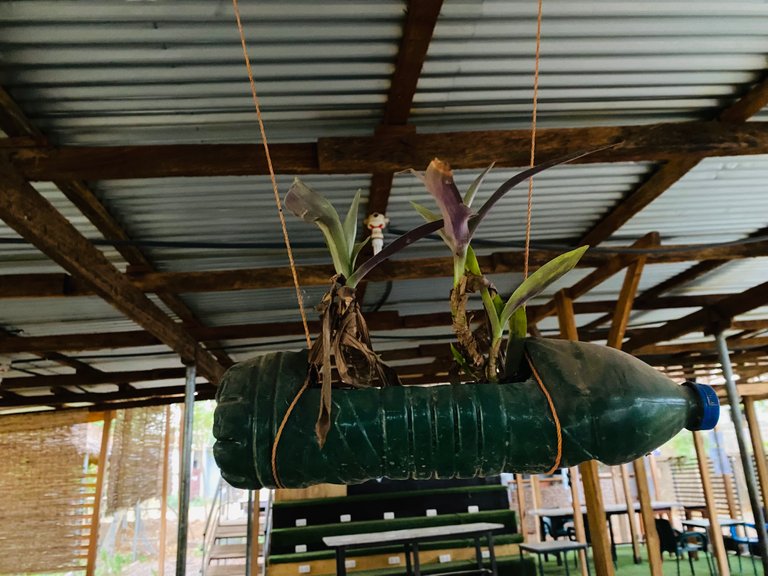 I find this quote they wrote on the blackboard
here really funny but relatable a bit.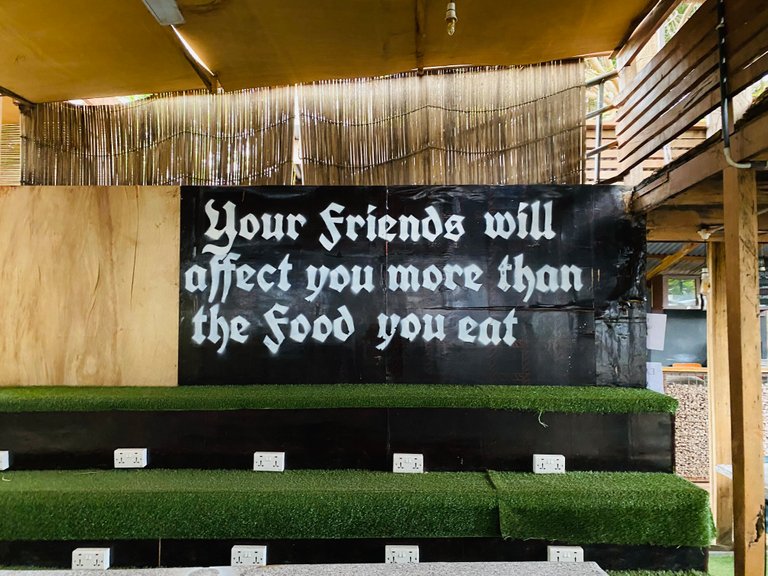 On your right, also just at the entrance, there's another cool setup here. But I think this one was a little different, as the notices suggest that space was for the staff of HopIn academy.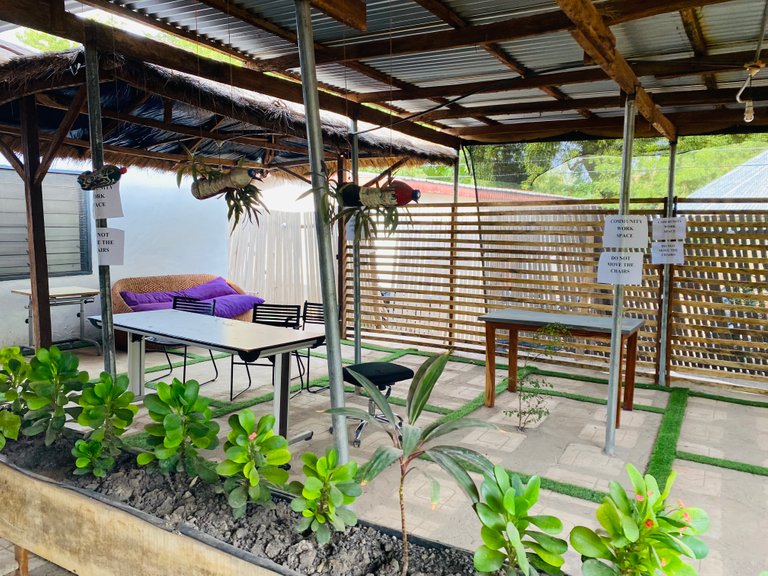 Just behind the view on your left, there's something like a bar. The bar is the part covered with the black rolled cloth. I promise you it looks 10x nicer than what I captured if you go closer. I'm not sure you'll be able to piece it together and see that it's actually behind the immediate right sitting space because I shot the bar from a much different angle. Can you see the funny but relatable quote?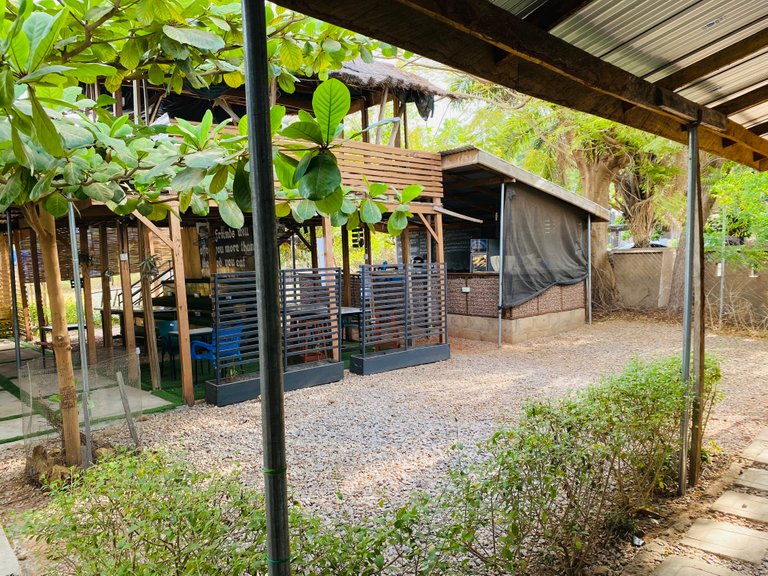 Now the inside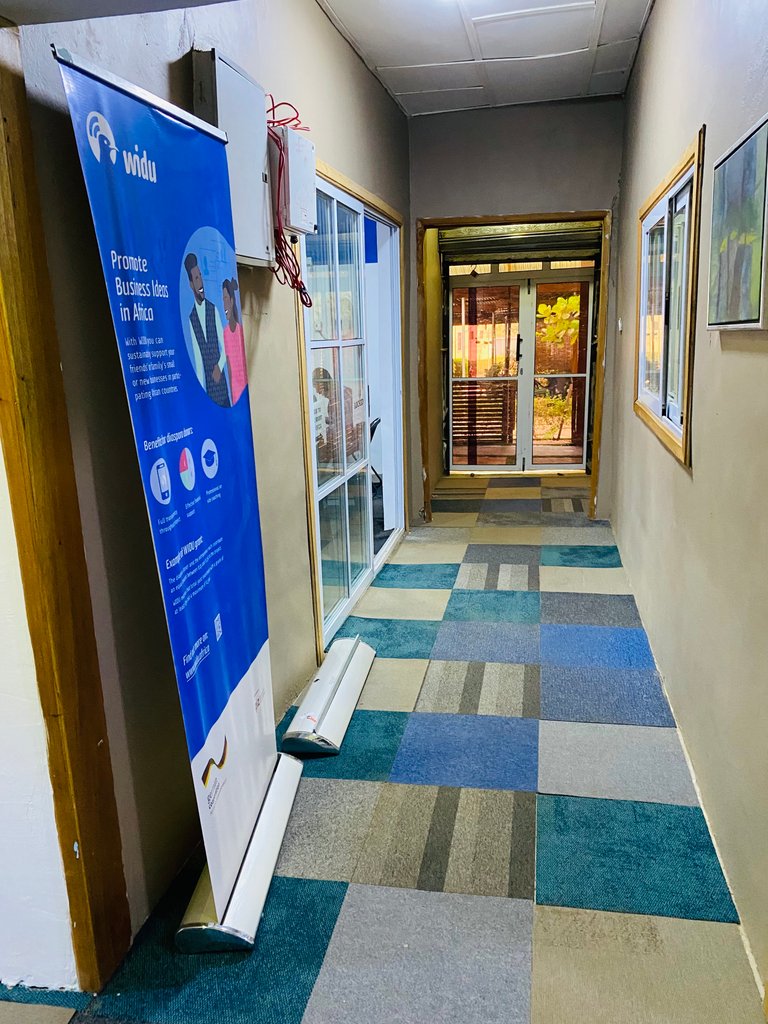 Okay so this was pretty much what the inside looked like. When you step into the building itself, you're greeted with this short walkway. You see the door on your left? That's where I'm taking you. Where the VR experience was held. I actually noticed a very cool coincidence when I shot this picture, but I'll be sharing the coincidence in a different post I'll be making soon about HopIn. So take a good look at this picture and remember it!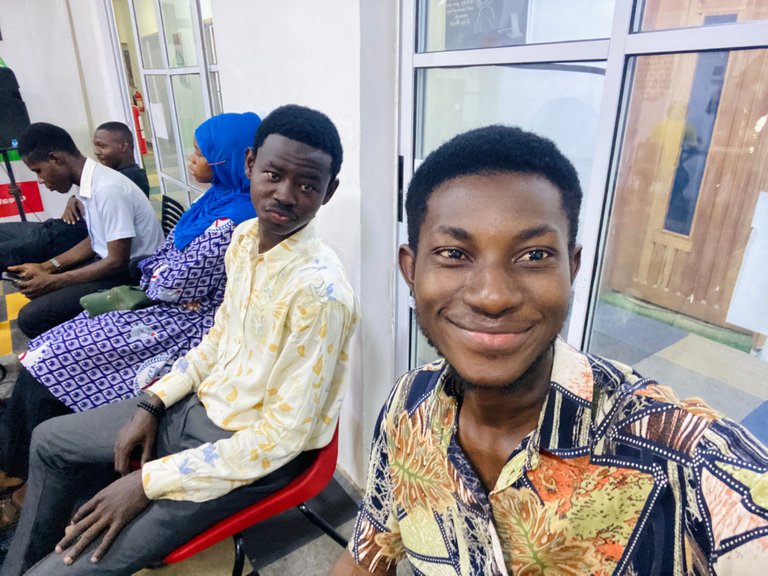 There's a door inside that opens to the outside to this very nice balcony kind of view. I don't remember how I found my way there to be honest. I think I was looking for the bathroom or something and ended up opening that door. From here, you can see the entire outside view of the place.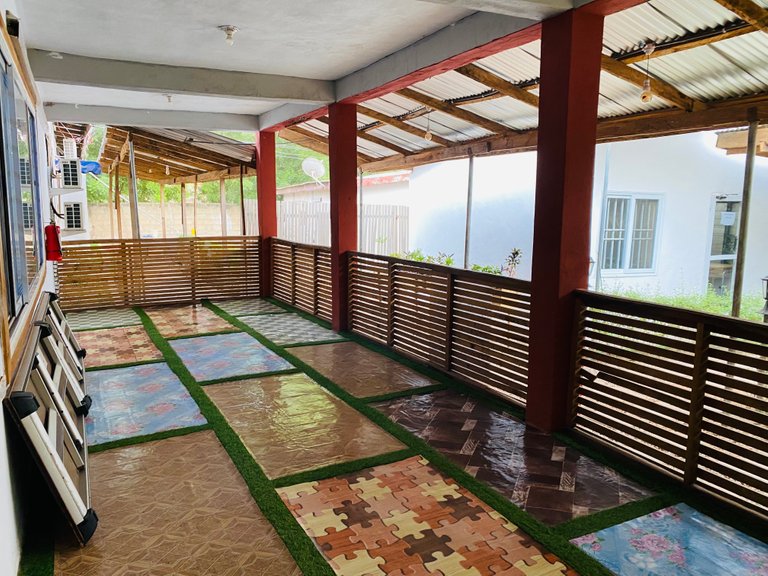 People were seated in some kind of queue arrangement when we entered the room, and we didn't wait to be told to follow suit. Lol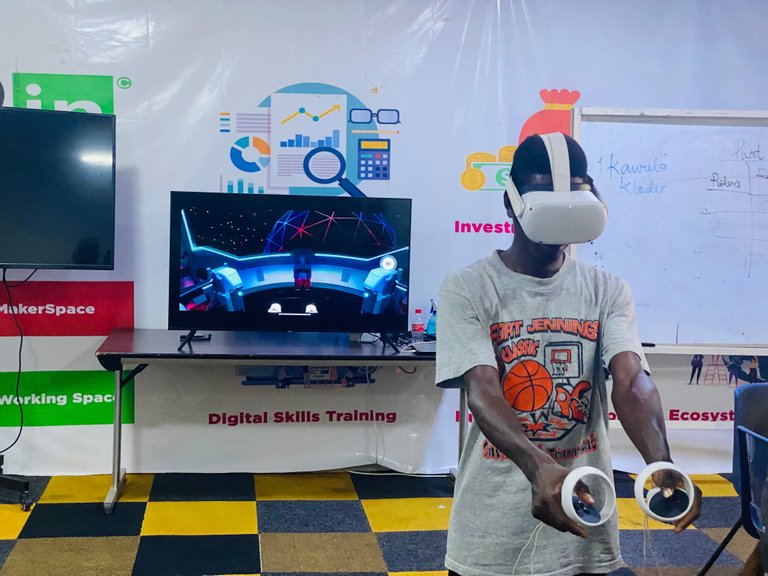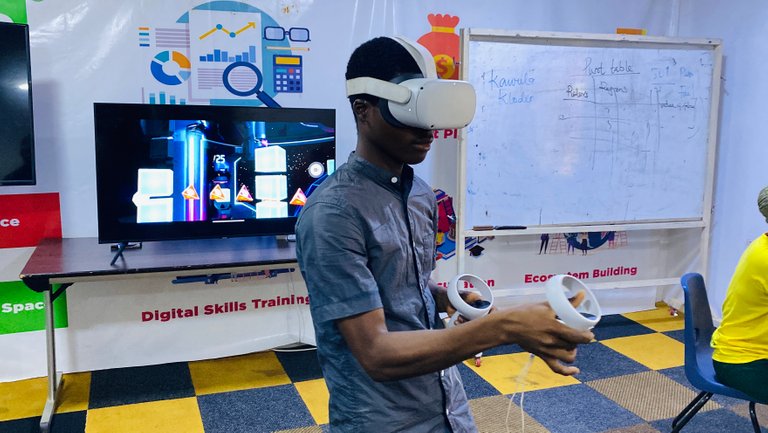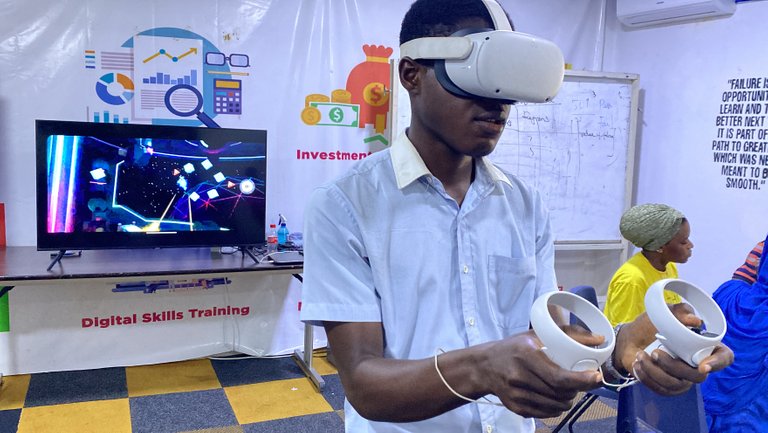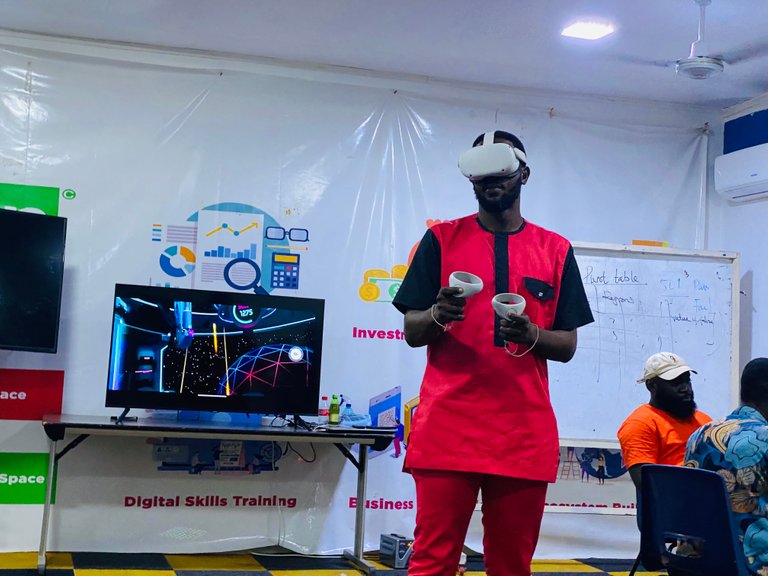 We sat and observed the others play. It was a shooting game at first. Nothing as complex (or fun) as what I see people play with VR on the internet. I was a little disappointed, because I thought it would be more of those exploring games where you simulate worlds and explore them.
After a little while, it was our turn to play but since I was the camera guy, Fataw played first. He tried his best and even set a new high school. Of course I shattered the new score and set my own when it was my turn😌.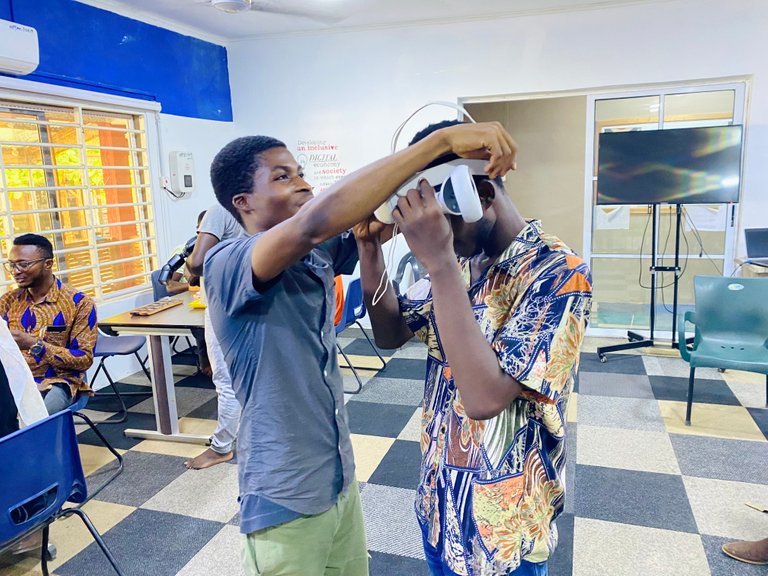 He tried to lie to in his post and made up the excuse that I used him to learn to break the high score when in reality, I was literally too busy shooting photos and videos to watch his gameplay itself. I think I even mentioned in one of the videos I took whiles he was playing that the experienced guy will have to teach me the controls when it's my turn because I don't understand. I'll post the video also to 3Speak one of these days.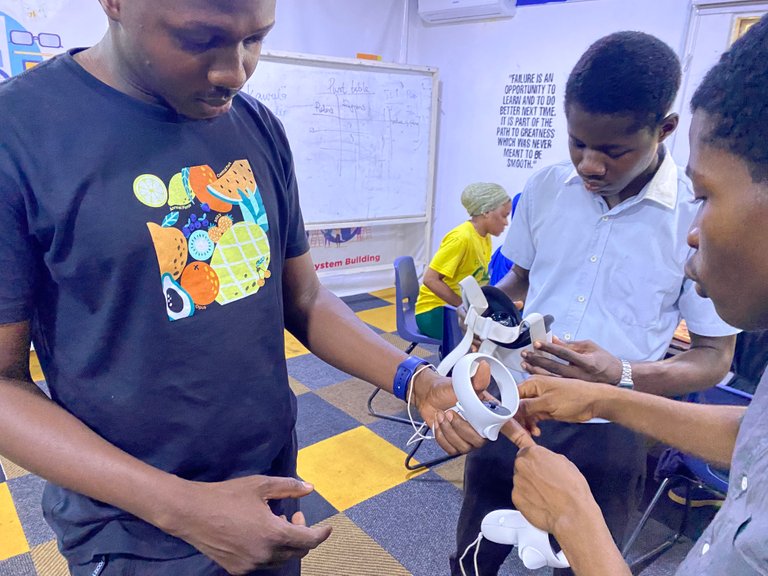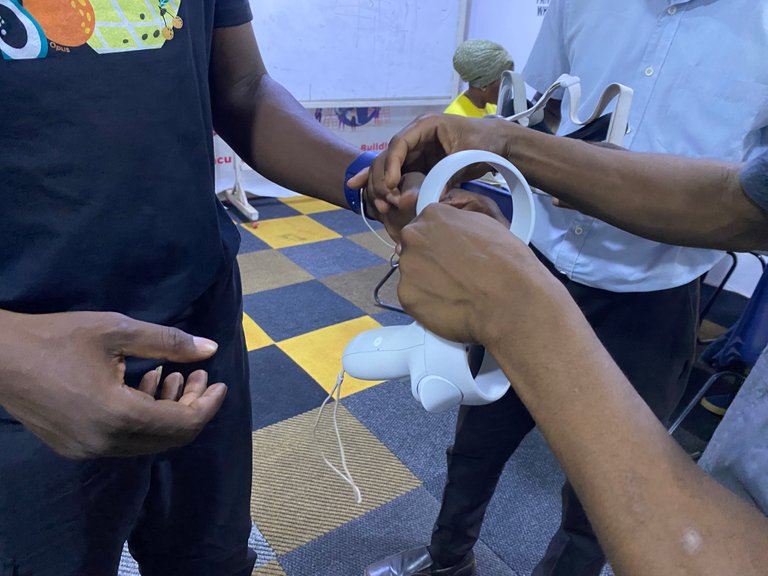 About the gameplay guide, I needed to learn the controls first. The "controller" for the game looked a lot like what I'm use to playing with an X box. If you've played on a play station before, you'll agree that the bottom key resembles the L or R keys amd the round one at the center is the arrow or direction key of a sort. It's just as soft as they are, believe me, but on this controller and for this particular game, it's used for shooting.
I always wondered how VR could "project" you into a different world or simulation. I found out that day, it doesn't. Not really. Your entire field of vision just gets covered by this really close and zoomed in world that it now feels like it's your reality.
Lol I think I'm starting to get extra. Anyways, we were mad that the guy in charge of strapping people up and taking them through VR experience lied to Fataw and I that we'd get to play a second game- one that would be more about exploring. He played us until the last minute when we had to leave because of coming rain.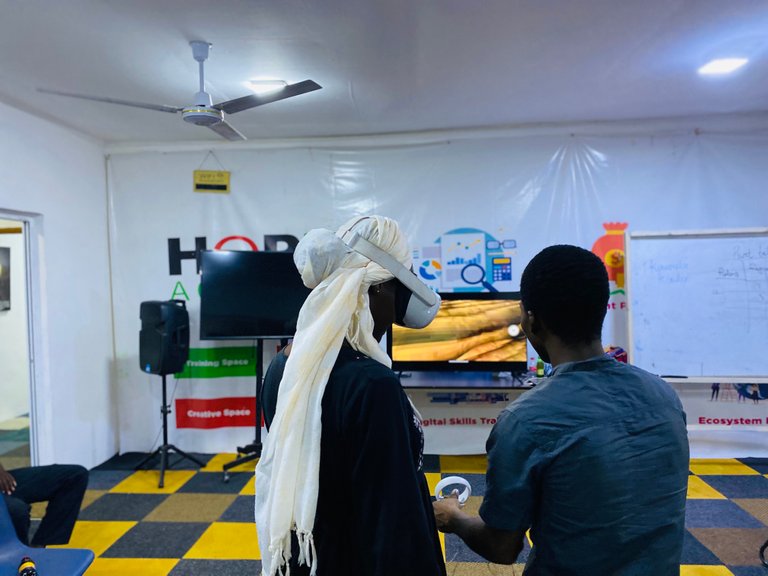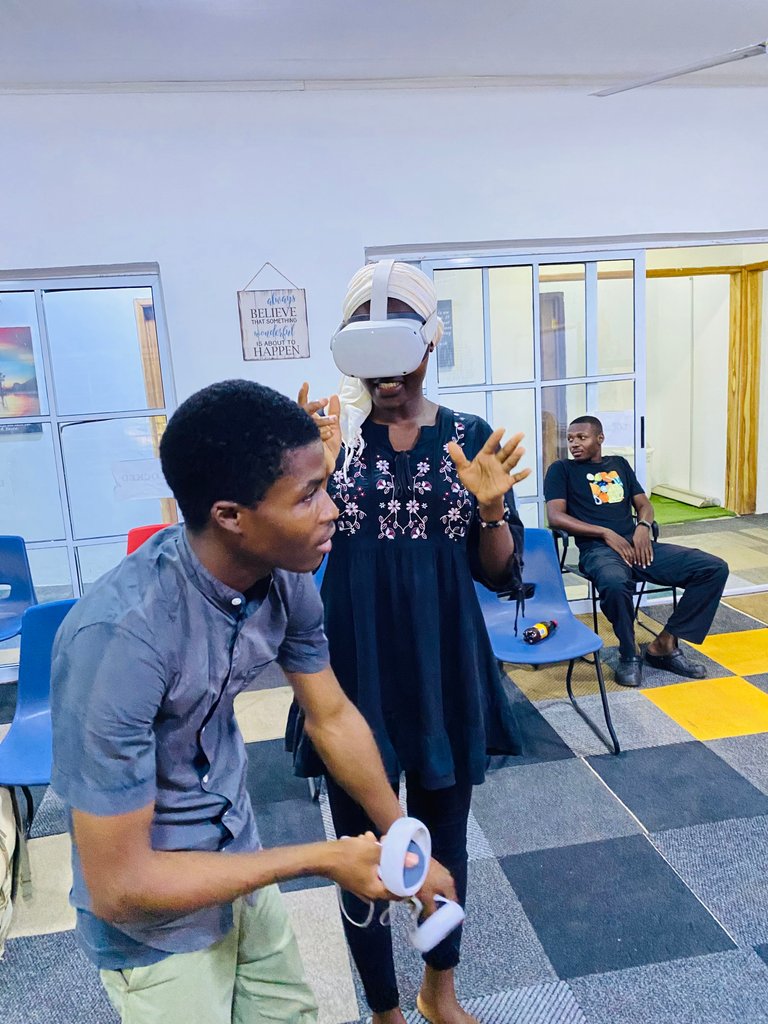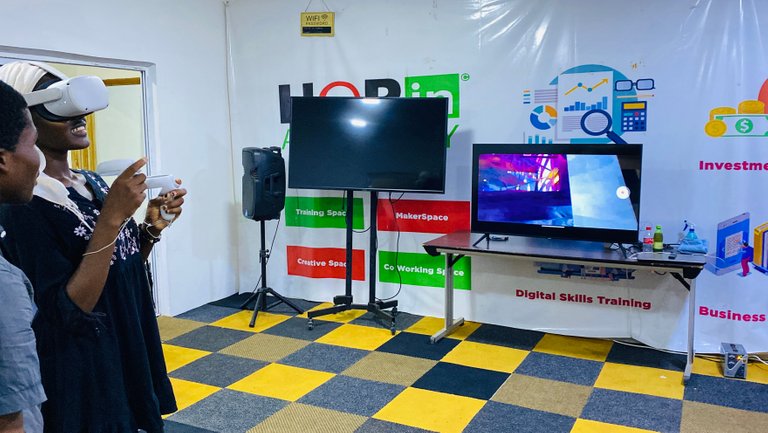 Others got to play it though. Like this lady here. She was in a simulation where she was a gorilla crawling through this channel. Not a game for my clostrophobic ass. Lol I'll share more visuals in the 3Speak video I'll be sharing of the gameplay and a short interview we did. Yes, an interview!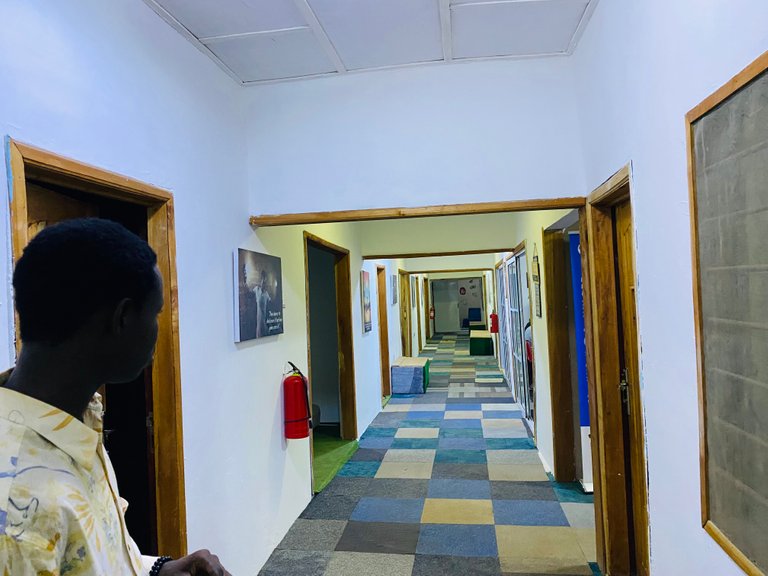 After we played our round, we left the game room to explore HopIn a bit more. There were art-like frames hang all over the walkway of the place. I'll be sharing those in a different post. But these are some pictures we took of ourselves. Lol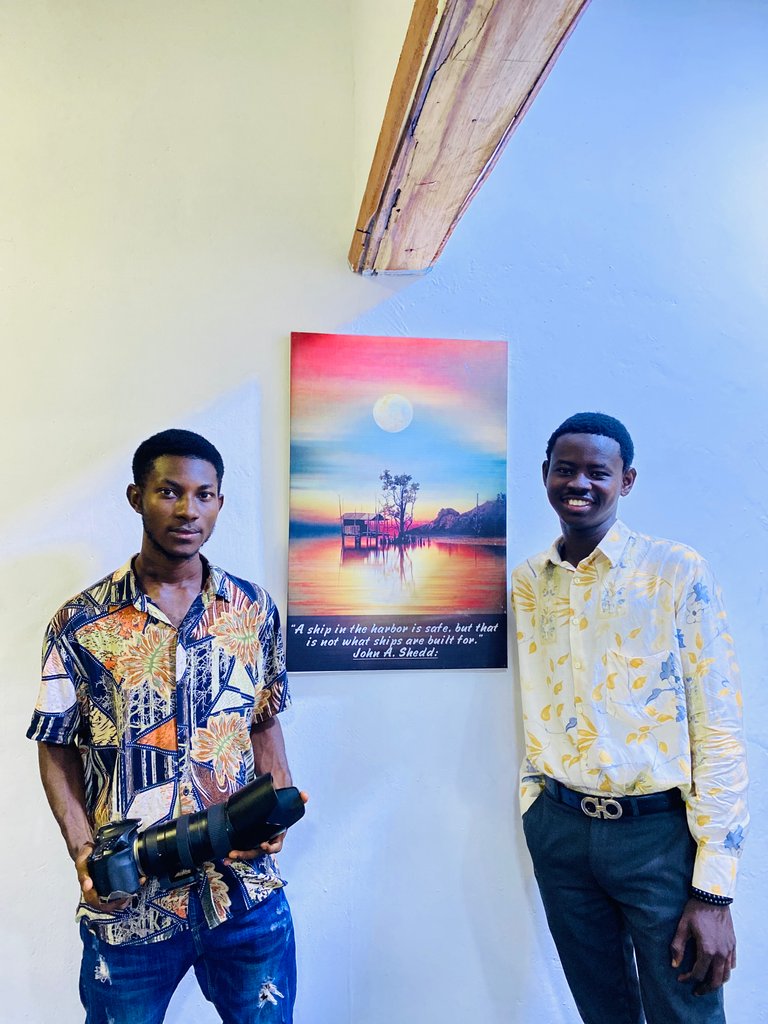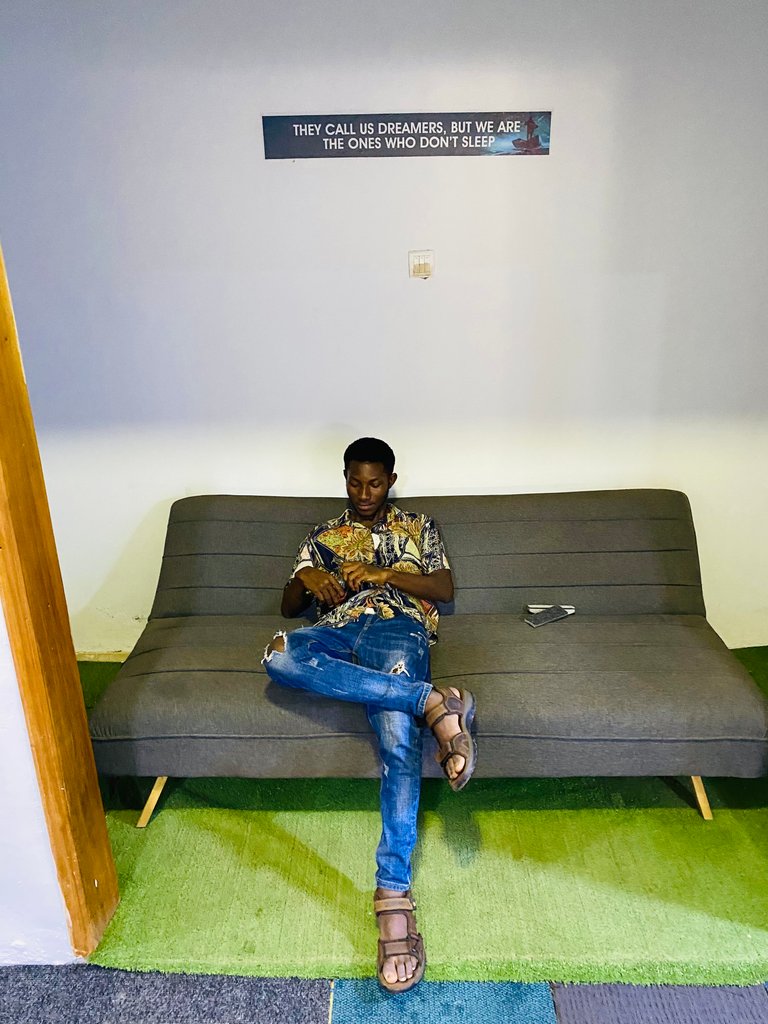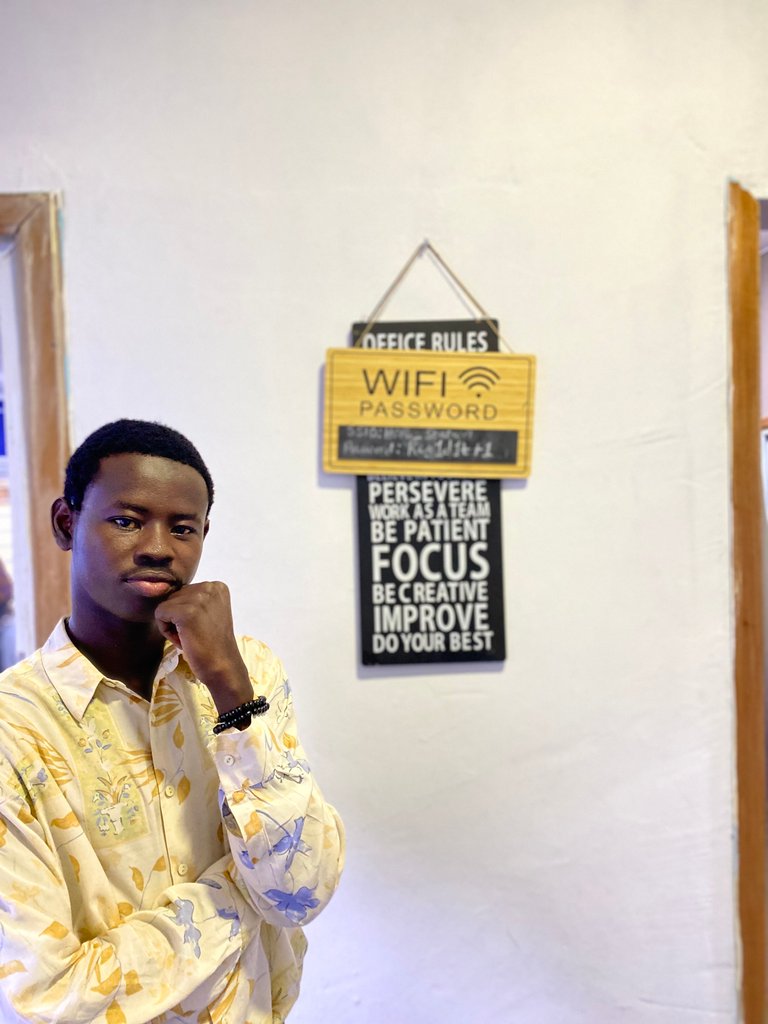 The VR experience was a really fun experience, and I'm looking forward to doing it again another time. From HopIn, we actually headed for a Tamale youth meetup in a nearby bar. Not sure if I can write about that too. That's a lot of writing because I've already said I'll write about a lot and there's still more! That has actually been why I wasn't actively posting the last couple days. If I'm able to post about that meetup too, though, you'll see in my next updates. Here's what I got for now:)