Most times humans get to work at their optimum when they're pushed to the wall. Everyone with a remarkable success story also has a record of a painful hurting time that motivated him to do the unusual. The spread of the Corona Virus which has prevented inter-country movements has helped to mine local content development on some countries.
Sad that our country is decorated with some leaders who are experts in shying away from responsibility. If the COVID outbreak started here in Nigeria, then some leaders would have traveled out for vacation in other countries with their families leaving the masses that voted for them to struggle and fend for themselves.
It was a time for accountability as the virus did hit the elites first and they had no option than to be quarantined and treated in our local hospitals. Some of them had the =shock of their lives being kept in a health facility they had under-furnished. They had no option than be there.
Now, the good news is that, since Nigeria has been left with no option than fight the virus by itself, some Nigerians have risen above the odds to improvise the development of ventilators with local materials. This is really a laudable development, which is sustained can help the country build its technology and economic capabilities.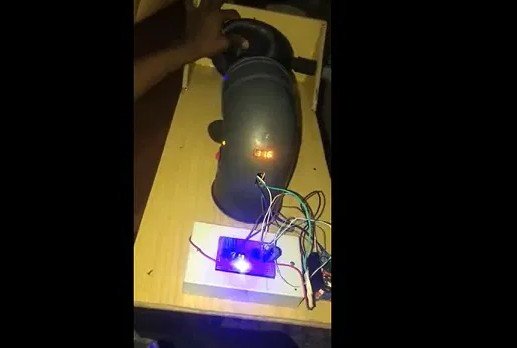 Image source
The above image is captured from a video shared by the Gombe born Usman Dalhatu, a 200-level student of Mechanical Engineering at the Ahmadu Bello University, ABU, Zaria, who designed and produced a manual ventilator for treating coronavirus patients.
The young Dalhatu, who is just 20 years old, decided to fabricate the manual ventilator as part of effort to assist the Federal Government of Nigeria to contain the COVID pandemic, that is recording increased cases in the country.
Video source
The manual ventilator produced comprises of a motor, a disk that converts circular motion into linear motion, shaft, Carbon dioxide intake and outlet, Oxygen outlet, and a voltmeter and it took only two days to manufacture and test the operation of the machine.
With this sort of development, one could see that giving adequate funding and technical supports from expert-technicians,to the young engineer could go a long way to mass-producing the manual ventilator which would be far cheaper, yet would to a great extent solve related health issues for many affected Nigerians. Here are the words of the young man:
"The 'Extra Clean Machine' has already gotten a patent and trademark certificate, and is currently been sold in Abuja and Gombe State".
"I have equally manufactured an electric cooking stove. I have several projects I am presently working on. But I am appealing to the government to patronize my products, and also assist me in any other relevant way," he stated.
Other Engineering firms such as Innoson have requested a 4 billion naira loan to build ventilators for the country's health sector too. This is therefore a wake up call for professionals to put their hands on deck to build a viable technology economy than can feed the nation.
Local content development is very important for any economy that seeks to be self - sufficient. The tenet of local content development is such that maximizes the use of non-imported materials to produce tangoble goods and systems.
Covid now seems to be making a global call for local content development. what are your thoughts on this?