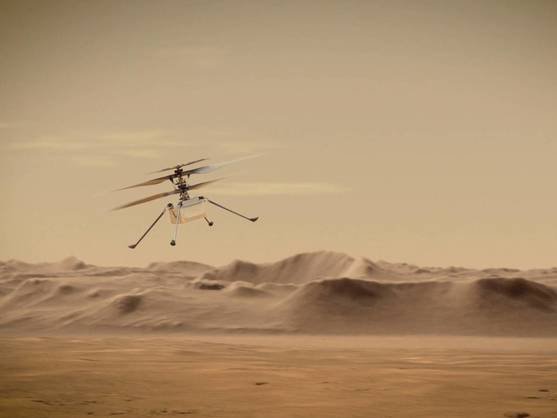 Source
As if immersed in a video game where you can control a simulator of any vehicle, April 19, 2021 will be remembered as the first day in which an aircraft flew over the ground of another planet.
Parodying the words of Neil Armstrong "A small flight for man but a giant leap for mankind".
Technology has joined human creativity to initiate a new path towards the exploration of other stars, not only from satellites around their orbits or from vehicles on the surface, but with devices that can travel at low altitudes and cover more distances in less time.
This may in the future create accurate maps of unexplored spaces and give us a clearer view of what was previously known from farther distances and with less precision.
The "Ingenuity", a drone with a helicopter design, measures 0.80 centimeters in height and its propellers measure 110 centimeters, spinning at revolutions per minute between 1900 and 2800.
It reminds us of those remote control helicopters that were part of our childhood games.
Its body is shaped like a box or trunk, and its energy is provided by six lithium-ion batteries that are charged by a solar array placed on top of the rotor.
It has flexible legs that provide a soft landing, two cameras, one in black and white for navigation and one in color to take images of the terrain.
Its weight on Earth is 1.8 kilograms but in the Martian atmosphere it weighs only 680 grams.
Since radio images take minutes to travel through space and reach earth, the spacecraft flies autonomously thanks to a 4-core Cpu with a Qualcomm Snapdragon 801 processor, a Gpu and a 55-megapixel image processor.
Its initial flight was just 40 seconds, rising 3 meters and making some turns and displacements, something that may seem simple but thanks to the thinness of the Martian atmosphere, the propellers have a hard time taking air to lift the apparatus.
Victory is still in its infancy, the successes in the space race are small in relation to the challenge but all these technological advances end up impacting over the years on the human way of life here on earth.