Greetings to the Community @Project.Hope and The Owner @Crypto.piotr and other members and my friends❤❤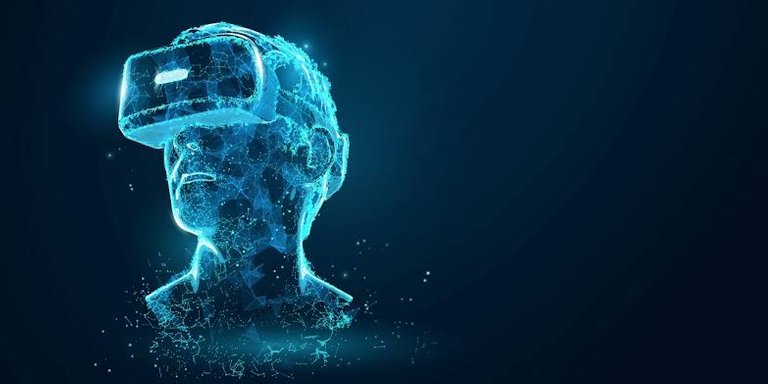 Today i would like to bring under consideration the recent buzz word VIRTUAL REALITY that has been evolving as one of the major technologies and people hover it over their heads considering it as complicated as the neural networks 😉. But its actually not, so lets consider this as our todays topic and see where it evolved and where it stands today👇
Virtual reality has taken over the world since 2010 and since then it has been coming up a lot.
Many people around the world got amazed by the concept of Virtual reality. Businesses have started acquiring VR based softwares in order to train their employees to deal with different situations under different circumstances. Many have started the trends to build games completely based on VR Systems.
The Air Security forces of many countries have created such bigger platforms where they train their pilots to deal with some of the worst conditions that can happen while in a flight and test their abilities.
Although Virtual Reality came to the world in 2010, but it has a completely different story. While researching on virtual reality, I found interesting information which I thought I should share with all of you.
An American science fiction writer used the concept of Virtual reality in a short story in 1930 remembered as PYGMALIO's SPECTACLES.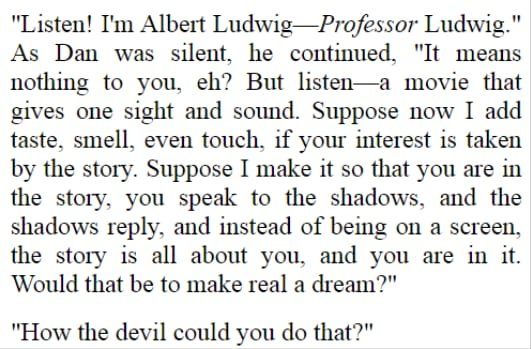 An image of text snipped from the book
Book reference
Until recently Virtual reality was a fantasy for the story tellers. Current era technologists might still be working with the concepts of smell and touch but the magical spectacles of Professor Ludwig brought into the minds the current headsets and 360 degree games that are now getting designed.
However, After Professor Ludwig, the first headmounted VR System came in 1960s and later as a commercial product in 1980s.Also VR was mainstreamed by a Hollywood Movie The Lawnmower Man afterwards.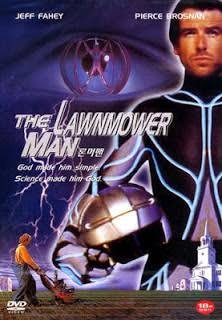 reference
Although the Current age of Virtual Reality began in 2010 when Palmer Lucky, another American Teenager created a prototype of a virtual reality Headset that gave rise to Oculus Rift.
Right after 2 years, He launched $250,000 crowd-funding campaign to commercialise his product and raised $2.4M of pledges later. This is where the real interest of the Industry woke up.
This company was later on bought by the very known Facebook Owner, Mark Zuckerberg. He bought it for $2billions.
------------------------××××××××××××-------------------------
AS I HAVE COMPLETED THIS RESEARCH ON MY OWN, I CAN SAY THAT THIS POST IS PLAGIARISM FREE❤❤❤❤❤❤❤❤
And would to Advice you to Avoid Posting Plago in this Community😍❤❤❤
❤❤❤❤❤❤❤❤❤❤❤❤❤❤❤❤❤❤


❤❤❤❤❤❤❤❤❤❤❤❤❤❤❤❤❤❤
Moreover, I promise to stay active in this community and will continue to share fruitful content in the community.
Also, i want apologies as i was ill and couldnt interact with the community in this time.
I hope you would pray for me and we all will stay together and grow together❤❤❤❤❤❤❤❤
In the end, i would like to thank @crypto.piotr and @Project.Hope community to give me another chance to stay in tge society and grow with all of you.
And to all other members for showing support❤❤❤❤
Greetings from my side and a very good day to all of you❤❤❤❤❤❤❤❤