The world changed as we knew it, but the advancement of society cannot be stopped, the human being has demonstrated through history his capacity for resilience overcoming many unfortunate and catastrophic events throughout the history of humanity .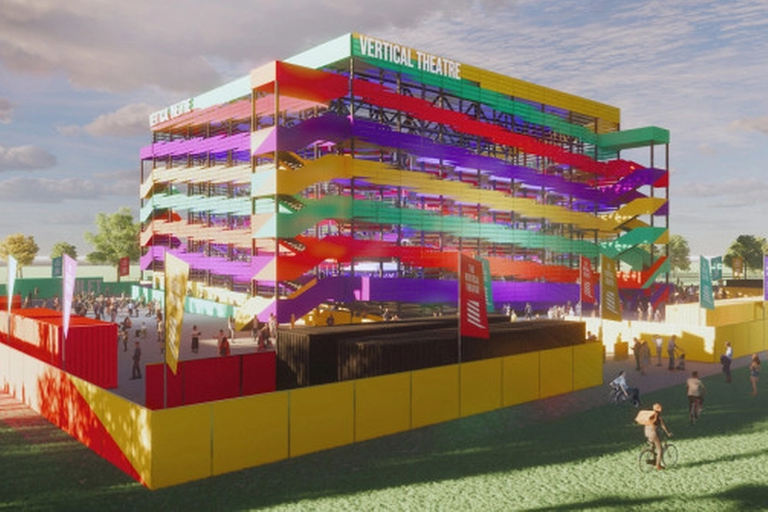 Sourse
Today, many countries began their immunization process against Covid-19, while poor countries wait to see that the struggle of the powers to take control of vaccines for their people will end. In the middle of this process, developers in different areas continue to innovate and seek solutions to different challenges that we face after the pandemic.
In search of solutions
One of the areas most affected due to the need for social distancing is the area of ​​large events and shows, such as: concerts, presentations, sporting events, theater, cinema among others; This need has become a source of inspiration for some engineers who have managed to design an ingenious solution to the problem of grouping people in shows of this nature.
Vertical Theater.
The company Vertical Theater Group, and the group Stufish Entertainment Architects designed a "vertical theater anti covid"; It is a removable structure that can be moved from city to city and seeks to solve the problem posed by the lack of bio-security elements in shows that host large numbers of people.
The new theater has the capacity to hold 2,400 people at its maximum capacity, but it has the facility to be adapted to receive many more people in case social distancing is not necessary.
"We believe in the vital importance of art and culture and that they are an essential part of the human experience, of what makes us who we are. And we are very excited to be able to bring this innovative new offering to the world of live entertainment at this crucial time for the world of the arts, "the founders of Vertical Theater Group said in a statement.
The seats were designed in the shape of a social bubble in the form of independent boxes and have a capacity of 4 to 2 people. The roof and side areas are exposed so that they can perfectly allow air flow throughout the theater.
"We are very excited to bring this innovative new venue offering to the world of live entertainment at this pivotal time for the future of the arts." They said.
Conclusions.
Although the company and designers are managing the financing to bring the project to fruition, it is nevertheless an ingenious solution that aims to secure the future of the entertainment industry, even if Covid-19 is with us for a long time.
This is the world we have, it is our home and at the moment we have no option to go elsewhere, so this shows that in the face of events such as the pandemic, even in other situations, we get up, adapt and continue our journey.
Let me know your opinion!
---

---
Visit our website

---