Greetings dear friends of Project Hope.
In the search for renewable sources of energy, many scientists have seen in the photoelectrochemical splitting of water a huge potential to produce renewable, clean and storable chemical energy in the form of hydrogen.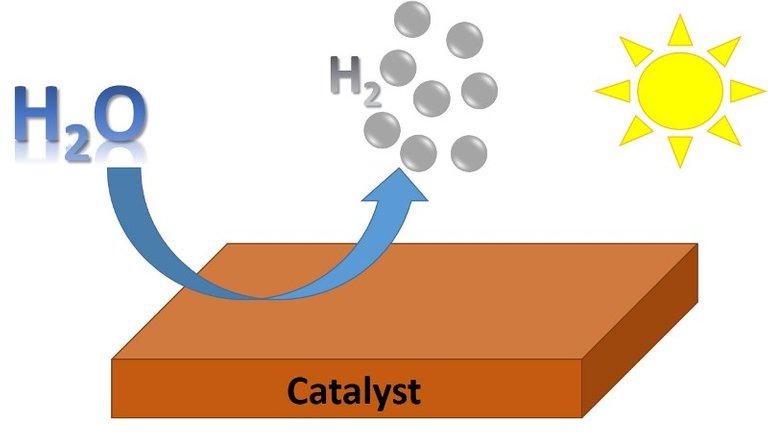 The photoelectric production of hydrogen fuel has the potential to produce clean energy. Image credit: @emiliomoron.
But to achieve efficient water-to-hydrogen conversion using sunlight, semiconductor photoelectrodes are needed that meet certain requirements such as: a moderate band gap in which visible light can be absorbed efficiently and electrons can be generated with sufficient energy to generate water splitting, ideal band positions that lie between the redox potentials of water, high water splitting activity with low overpotential and long-term resistance to corrosion. But to date there are no economically cost-effective materials that meet all these requirements.
Well, researchers at Linköping University (Sweden) have developed a new material that has shown promising properties for capturing solar energy and using this energy to split water and produce hydrogen, the material was dubbed nanoporous cubic silicon carbide, and the results of the research were recently presented in the journal AcsNano.
As a fuel, hydrogen has a higher energy density than gasoline and can be used to produce electricity using a hydrogen cell, and hydrogen-powered vehicles are already being marketed, since when this gas is used to produce energy the only by-product obtained is water. The problem is that currently to produce hydrogen fossil fuels are used, so to produce it carbon dioxide is generated, which obviously is not solving the problem of generating energy in a clean way.
But producing hydrogen from water using solar energy for the process is a sustainable approach, as it would allow us to obtain hydrogen gas in a renewable way and without producing gas emissions that contribute to global warming. In addition, it would also solve one of the major problems of solar energy, its storage, since it would allow us to collect solar energy and transform it into a fuel that is easier to store.
As we know, conventional solar panels can only capture solar energy during the day, which is transformed into electricity that can be used immediately or stored in batteries for later use, for example at night. But hydrogen could be stored as is done with natural gas and transported like any other fuel to where it is needed.
But splitting water into its components, i.e. oxygen and hydrogen, using sunlight is not so simple, as mentioned before, very specific materials that can capture sunlight in both the ultraviolet and visible spectrum are needed to produce the charges with sufficient energy to generate the water splitting. Most of the materials investigated, such as TIO2, WO3, ZnO and semiconductors have band gaps too large to collect visible light.

In the new nanoporous material there is more charge diffusion compared to a planar photoanode. Image credit: @emiliomoron.
But these researchers have produced a form of cubic silicon carbide, identified as 3C-SiC, that has extremely small pores, which has been shown to have the necessary characteristics to collect ultraviolet and most visible sunlight. And its nanoporous structure favors the separation of the necessary charges while the pores function as an active surface, which enhances energy transfer and increases the active sites for the reaction to occur.
With this new material, scientists hope to contribute a new system to produce energy in a sustainable way, to address energy needs and global environmental challenges, such as curbing greenhouse gas emissions.
---
Thanks for coming by to read friends, I hope you liked the information. See you next time.
---