Greetings Project Hope friends.
We know that many of our tools and machines depend on a good lubricant to operate perfectly during long hours of operation, for example the engine of vehicles need a good lubrication to prevent friction from wearing out its parts as well as the chain of a bicycle so that friction does not make the rider's work more difficult. But, although these machines need a good oil, just imagine what kind of lubricant a conveyor belt carrying materials to a furnace or the lubricant needed by the moving parts of a space vehicle needs.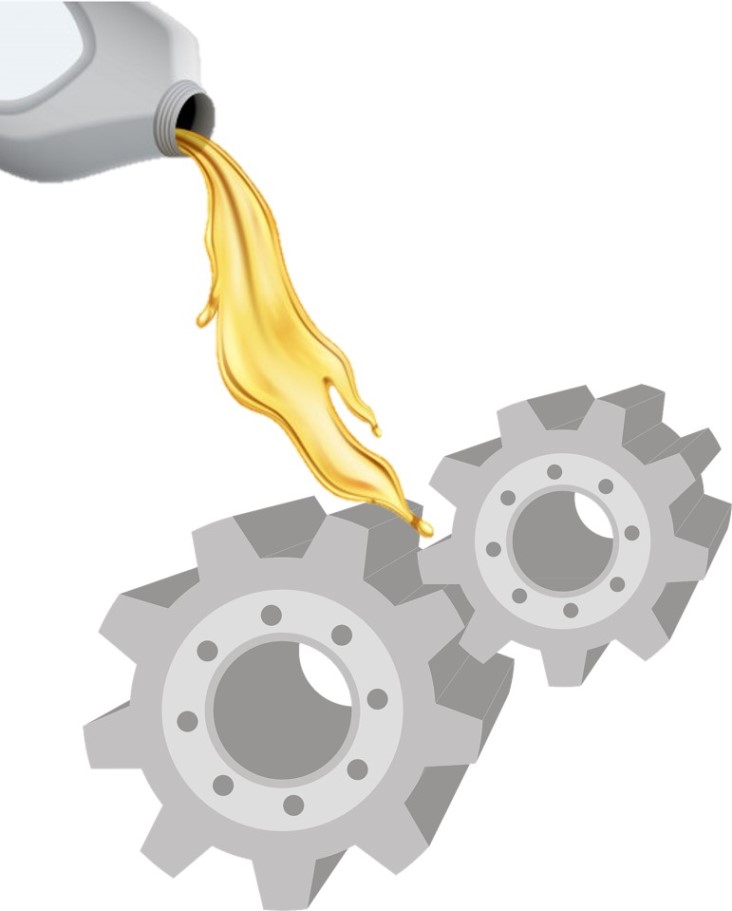 All moving parts need lubrication to avoid wear. Source: image edited usingpublic domain images: gear, oil.
The materials known as MXenes are the newest members of the two-dimensional (2D) family of materials, of which the best known is graphene. But these are formed by two-dimensional crystals of transition metal salts. Although they initially caused quite a stir because of their applications related to energy conversion and storage. But recently it has been discovered that it turns out to be an excellent solid lubricant capable of doing its job even in the most extreme conditions. These properties were recently reported in the journal ACS Nano.
Like graphene, the main characteristic of MXenes is that they are made up of ultra-thin layers, the width of a molecule, which do not establish strong bonds with the layer above or below, similar to a stack of overlapping sheets of paper. This makes it very easy for the layers of the material to move on top of each other.

Ultra-thin layers of material with almost no interlayer interaction allow the layers to move over each other without resistance. Source: @emiliomoron.
It seems that this ability to move one layer over another is what gives the material the ability to be used as a dry lubricant, making it possible to slide between two parts with almost no resistance. Results indicate that friction between steel surfaces can be reduced to one-sixth with incredibly high wear resistance - after 100,000 cycles of movement, the MXene layer continued to function smoothly.
This is certainly a breakthrough and shows clear advantages for use in truly extreme conditions, for example, a conventional liquid lubricant cannot be used in the extreme vacuum of space. So, this material could be used under these conditions as a fine powder between parts.
This field of solid lubricants appears to have wide-ranging advantages, as the industry could benefit from another of its properties, such as heat resistance. Steel furnaces need to be fed by conveyor belts, under this intense heat normal liquid lubricants oxidize and degrade very quickly, whereas MXenes remain stable even under the intense heat of the steel industry where moving mechanical parts can reach several hundred degrees Celsius.
Undoubtedly the industry where tools and machines are exposed to severe working conditions will show great interest in this type of material, which can help their systems to maintain the safe operation of their equipment by preventing wear of these important assets and thus extending their useful life.
---
Thanks for coming by to read friends, I hope you liked the information. See you next time.
---