We had a chance to interview @heiditravels about a few interesting topics including decentralized media and censhorsip.
There are definitely more men involved in crypto than women, but I am really happy that they are some entrepreneurs like you. How long do you publish Crypto-related YouTube videos on your channel Crypto Tips? With the number of subscribers (over 56k to this date), you have a big influence in the space. When was the first moment you said to yourself "I will try to become a famous YouTuber"?
Hello, thanks for inviting me to your interview as well.
I launched my YouTube channel in November of 2016. My intentions were never to become famous. Instead, I really felt motivated to contribute to the cryptocurrency space by providing videos that helped explain the concepts of this whole ecosystem in a way that is easy to understand.
2016 wasn't even that long ago technically, but even just 4 years ago, there wasn't a very large variety of content creators, and I felt I could provide something a little bit different that would help people.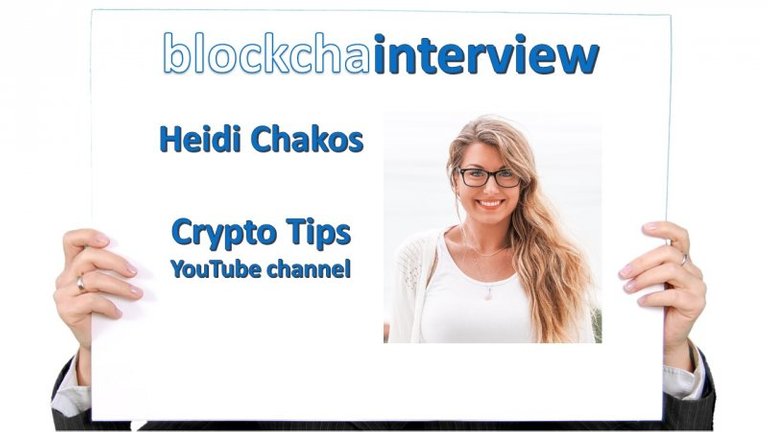 On your YouTube channel, it seems that you really enjoy travelling. Do you use crypto while travelling and also in your day to day life?
I use cryptocurrencies occasionally to book things like airline tickets.
Last Christmas, YouTubers got a very unpleasant gift from YouTube. Some of their crypto-related Channels have been banned and their videos were deleted. Or at least they received "the strike", after which there was unable to post new videos on their channels for a week. Were you also affected by this and what do you think about it?
Yes, my channel was affected, only briefly. Much like everyone else the strikes were removed after two days. I think it's also very important to note that it wasn't only cryptocurrency-focused YouTube channels that were experiencing this type of sweeping censorship. Many other "counter-culture" type channels had experienced strikes in that brief time period as well.
I think it's a perfect example that shines a spotlight on the need for decentralized social media and video hosting platforms. Additionally, events like this will do a lot to drive users who aren't necessarily involved in or aware of cryptocurrencies to find platforms that are decentralized as well.
After a few days, YouTube apologized and said, that was just "an error". But still, many YouTubers like @cryptoinvestsvk had their videos deleted and unable to post new videos. Do you see this as an opportunity to move to the decentralized platforms such as dTube, 3speak or lbry? Are you going to move there or at least co-publish your videos such as YouTuber @crypt0 is going to do, just for a case that this "error" could happen in the future?
Of course. I also share my videos on https://lbry.tv/@Crypto-Tips:b. What I like about LBRY is that they don't use an embedded YouTube video, they host the actual video which helps solidify the permanence of them. I also always keep copies of all my videos on my own hard drive so that I will always have access to them.
There is going to be a huge problem with centralized platforms in my eyes. I noticed shutting down a blogging profile of Cardano ambassadors "Cardaninans" publishing on Medium, there was also no previous notification and one day, the articles were disabled. It might really seem like some attack to people talking about decentralization. What do you think of Steemit as the main decentralized blogging platform, which pays to the content creators in the cryptocurrency STEEM, could be this the solution for the blogging platform out of censorship?
I first began posting on Steemit in July of 2016 and it seemed very promising. Unfortunately, after over 3 years I've experienced quite a bit of censorship there as well. So much so that I have decided no longer to participate on that platform. This is quite an unfortunate example of how a decentralized platform that was created to solve the censorship issues of platforms like YouTube and Reddit, yet one individual whale has the power to censor whomever they like without any recourse for the individual on the receiving end.
TL;DR, It was a cool idea at first, but they need to make some changes if they really want to address and solve the issue of censorship in social media.

Do you watch the development of the new social network Voice by block.one? It will be second social platform project by Dan Larrimer, who also invented Steemit. Do you plan to participate on Voice by publishing your content on this social network?
I did plan on participating with Voice, but once I learned that they will be requiring KYC my plans quickly changed. I believe other decentralized social media platforms will continue to sprout up and they will continue to improve over time. Requiring KYC however is a huge red flag for me.
The content on your YouTube channel is quite educational. Have you thought about some educational course like Ivan on Tech is doing with his Academy? This seems to me like a good idea from which can benefit all.
I actually started a project called Learning Crypto and its goal is to spread information about crypto and blockchain technology. In this space is and will be a lot of scammers and subjects, who wants to trick you and get your buck. Education and research are the most important things what you can give to yourself. So, if you are interested, check out LearningCrypto.com and give me some feedback!
Thank you for your answers and I wish you good luck with your YouTube channel.
You can find content from Heidi on those media:
https://steemit.com/@heiditravels
YouTube Channel Crypto Tips
https://twitter.com/blockchainchick
https://www.instagram.com/RealCryptoTips/
https://lbry.tv/@Crypto-Tips:b
http://learningcrypto.com