Dear readers, warming is a topic that has been talked about a lot because of its influence on the sudden climate changes that the planet has suffered. It is necessary to start by pointing out that there is a natural phenomenon known as the greenhouse effect that is caused by a group of gases that accumulate in the atmosphere creating a kind of protective layer, which allows the sun's rays to penetrate, but prevents part of the heat generated on earth from returning to space, maintaining a pleasant warm environment on the planet, the problem is that for years has been increasing the amount of greenhouse gases (carbon dioxide, methane, among others), causing overheating of the earth, known by all as global warming.
Nowadays, global warming apart from COVID-19 is the biggest concern in the world, it is a problem that has been debated by politicians, artists, scientists, it has become an uncomfortable truth for many industries and different documentaries have been made about it, most people think that these gases only come from industries, cars, airplanes, but it is a surprise for some when they discover that the livestock sector is one of the ones that contributes a considerable amount of methane gas from cows (ruminants).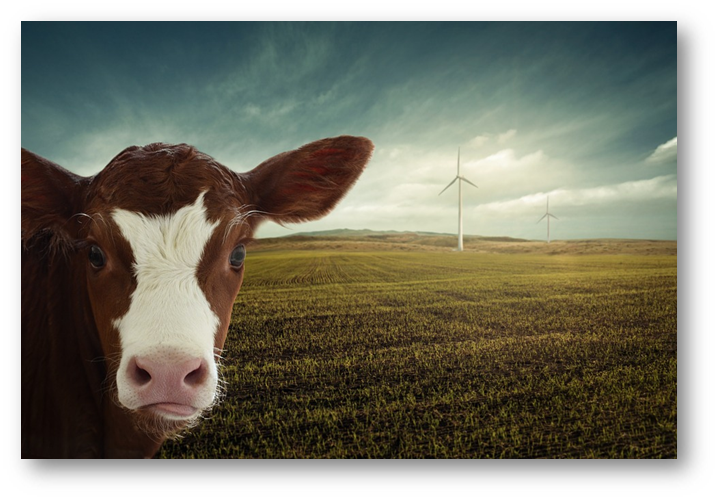 Image of public domain
All this is because ruminants have a complex digestive system, composed of several compartments, which is capable of degrading plant fiber, but for this they need a large number of anaerobic microorganisms that is in the absence of oxygen, producing many products among which is methane gas, which according to some researchers like Lopez (2013), is 21 times more powerful than carbon dioxide, as it is more effective at trapping heat.
Cows, according to some scientists, can produce between 500 and 700 liters of methane per day. These animals release the gas into the atmosphere when they defecate and generate gases and when they are consuming food, since ruminants regurgitate the ingested food to re-chew it and salivate it. The ideal is not to confine the animals in stables, it would be advisable to let them consume grasses at free will and thus avoid an excessive production of methane, there are many campaigns against this animal category, but the consumption of meat and milk is very high worldwide.
Dear readers, we must make a rational use of natural resources, because apart from cows there is an imbalance in livestock ecosystems with deforestation, which results in the loss of biodiversity and effective capture of carbon dioxide, one of the ecological alternatives that can be implemented in livestock systems are silvopastoral systems, which consists of the integration of trees or shrubs in these systems that provide organic matter, atmospheric nitrogen and apart from that serve as food for these animals, so we can have more sustainable ecosystems.
López, V. (2013). Climate change and global warming. Mexico: Trillas.