Dear readers, in previous articles I have addressed aspects concerning sustainable development in companies and the effect that methane gas from the metabolic process of cattle can have on global warming. As we all know, one of the most important economic areas is agriculture. There are many agricultural companies that implement conventional methods and technologies, but currently they have begun to implement agro-ecological alternatives that seek to achieve sustainable development where production does not significantly affect the environment, within these technologies are the biodigesters that are containers where the bovine manure is stored mixed with water and sealed, which causes anaerobic fermentation obtaining methane gas (biogas) and the liquid can be used as fertilizer.
Biodigester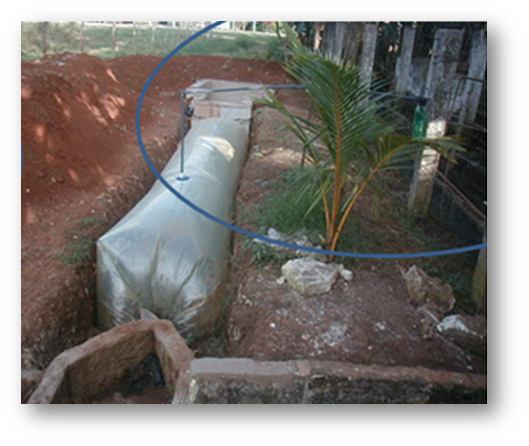 Image used by @amestyj in the article Gas problems? Produce it on your farm in an agroecological way (biogas).
As previously mentioned, the organic material for the implementation of the biodigester is manure, so to design a biodigester the number of animals present in the production systems must be taken into account. Some researchers, such as Elizondo (2005), pointed out that a cow can produce approximately 7 kg of manure for every 100 kg of live weight, This means that a cow weighing approximately 400 kg can produce 28 kg of manure, although this type of alternative can be considered artisanal, the technology has been improved with the use of special 1 mm plastic and a series of connections that allow the efficient output of biogas.
As far as biogas production is concerned, it is estimated that when bovine manure is used, around 35.3 liters of biogas can be produced for every kilo of fresh manure. The biogas produced allows for a reduction in costs and some research indicates that its caloric value is lower than propane and butane gas, which means that cooking food can take a little longer, apart from this, the gas produced can also be used to light commercial gas lamps and when large quantities are produced it can be used for heating.
On the other hand, from the biodigester is also obtained fertilizer, generally known as biol, this product is obtained after the fermentation of the manure in the biodigester, the liquid obtained can be applied diluted in water at different concentrations depending on the crop, its nutritional content can vary depending on the quality of the manure that is the reflection of the feeding of the animal, with this liquid organic fertilizer it is possible to fertilize vegetables, fruit trees and pastures where excellent results have been obtained that have been obtained in different investigations carried out in the Universidad Nacional Experimental Sur del Lago "Jesús María Semprum" UNESUR por los profesores Amesty José y Pineda Carmen.
Dear readers, there are different alternatives that allow a sustainable management of crops, the idea is to manage agricultural enterprises as a system where each component can be integrated and used, as in this case the animal component (cattle) provides the manure that can be used to generate gas and fertilizer, thus reducing the risk of pollution.
Elizondo, D. (2005). The biodigester. National Institute for Innovation and Transference of Agricultural Technology.