Voice Assistant devices like Amazon Alexa and Google Homes are getting more attention from the people and its resulting in more revenue for these companies. Nowadays we can see the increase in digital voice assistant devices like Amazon Alexa and Google home and I hope many of you might be using these devices at home. As of now two devices are easily available and one is Amazon Alexa and Google Home, both are available in many countries and even online platforms. In this race, I think Amazon Alexa is way better in terms of kind of services and functionality provide along with the market share and I have also seen that in the last few years it has grown tremendously.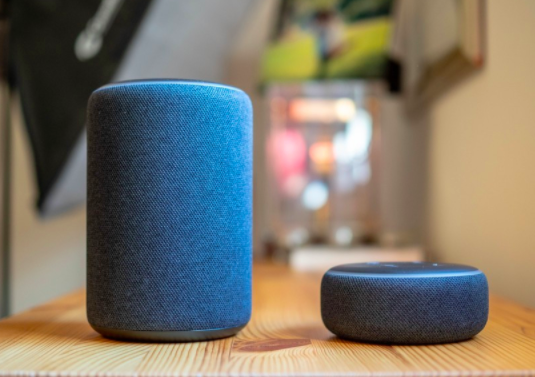 I have been using Amazon Alexa for the last one and half year and I am happy with the overall user experience because they keep on adding various functionalities quite frequently. I can't say whether it's required or not required because it totally depends on everyone's interest. I purchased it because of my son and I think it does a lot or him because he can ask multiple questions related to his studies. I also give a couple of commands every day and most of the time its about music and related to news and current updates. I like the way it responds and its sun.
I also use the Amazon website for shopping and so I can easily check the order status just by giving it a command and even I can book a cab through Amazon Alexa that is something I like. I never use Google homes but I believe Google device should also be offering an experience similar to Amazon Alexa however Google market share is not that big as compared to Alexa.
Alexa devices are designed in a way that looks good, portable, and quite sensitive because whenever I just say the word "Alexa" it gets activated within a range of 15 meters approximately. Things are getting smarter and such digital voice assistant devices are making our life easy and convenient because we get various tasks done by these devices easily and it just takes a couple of seconds to give the command.
Here I am sharing a snapshot of overall market share and comparison between Amazon Alexa and Google home which may help you to understand what growth path they are going on. Alexa Alexa's market share is going slightly down but still its more than double as compared to Google home.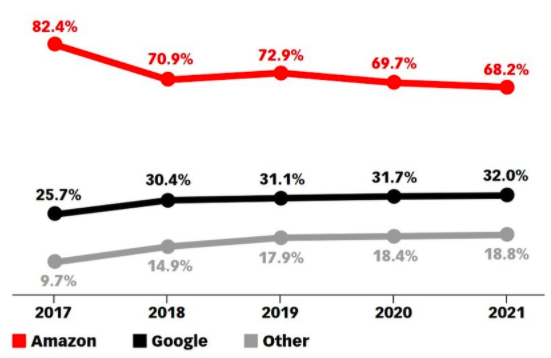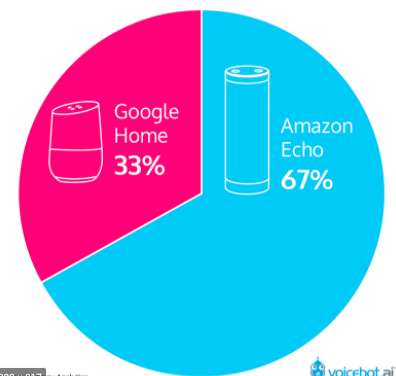 src
Artificial intelligence technology is evolving and getting implemented in various forms of devices and we can see much more coming in a few years which will be simplified with the implementation of AI technology. Many projects are working on it and once they are live with full fledge then they will offer great platforms for various services and we are going to have something amazing output which we can't even expect. I think that artificial intelligence will make the research segment quite improved with the least human efforts and it will read human behavior that will make a do a lot of things easy and can be done just with voice command and this way we can save time and energy for sure.
---
America is the biggest market for voice assistant devices but in other countries also now numbers are increasing and its good sing for this segment work and introduce many more features.
---
I am a proud member of @project.hope found by @crypto.piotr and 20% reward from this post will go to @ph-fund
Please visit https://www.projecthope.pl for more information about the working economy of PH and connect with us on Discord as well.
Thank you so much.