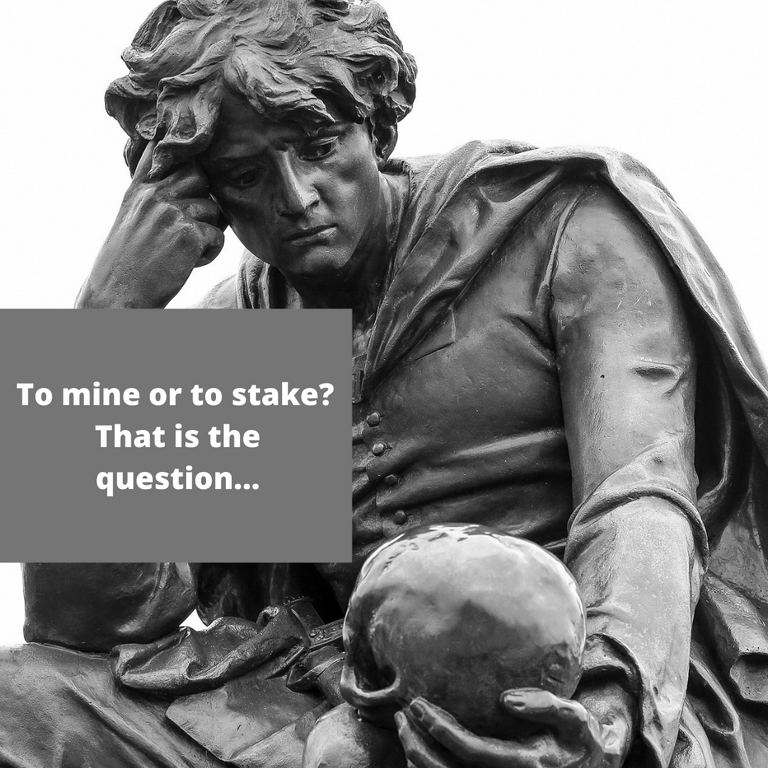 For a lot of hive-engine community tokens there are two ways to generate new tokens.
The first way is to stake the tokens and curate posts and thereby earn curation rewards. The second way is to buy miners that you can activate and that will make you earn passive income. It is quite difficult to understand how the mining works and it's even more difficult to know what brings the better return.
To mine or not ?
Through some posts of other people, I started to understand how the miners of Hive-Engine tokens work. It is a kind of lottery and every hour 30 miners among all the miners are selected by luck to get a reward.
For each miner that you own, you have a chance to get a payout every hour. The more miners you have, the more chances you have to win. However your chances get smaller, the more miners are in circulation. Let's say you have 1 Miner and there are only 30 miners in circulation. You have a 100% chance to get a payout every hour. However, if there are 60 miners in circulation, your chances diminish by half. Since you can't control the numbers of miners out there, you can only increase your own number of miners to keep your earning potential identical.
The longer a token exists, the more miners are sold and active, the lower are your chances to earn with miners. So mining is especially interesting when a token is new.
To stake or not ?
The second alternative to earn tokens is to stake them and use them to vote on posts that carry the specific tags. Like that you can earn curation rewards. The more tokens you have, the more you will earn in the long term. Staking alone won't give you rewards. In order to generate them, you need to use your voting power for the token in question. If you have only one account and you have to manage your hive voting power and your token relevant voting power, this can become a bit tricky. There are however quite efficient ways to do it. More about that in another post...
So what should I do mine or stake?
Personally I have a preference for staking. The more stake I have, the more I will earn. With mining, my chances to get payouts will diminish over time and if the number of my miners gets insignificant, the miners might end up not paying at all. The money invested in them would then not bring any return. With staking this will not happen as long as I vote on posts with the appropriate tag.
For miners there is a maximal output of 720 payments per day. This is a threshold that can't be surpassed. The more miners are active, the more these payments will be split and the smaller your part of the pie will become. There is no such limitation with staking. There are almost no limits how much you can earn with your stake. That's why I'm a staker :-)
What about you? Do you mine or stake Hive-Engine tokens?
---
Let's connect on Hive, Lbry or on Publish0x
My free e-mail course: The 100'000 satoshis a week strategy