Hello LMAC community!
I was pleasantly surprised to see the announcement for Art and Science, an LMAC Special - Teaming up with STEMsocial.
I am also pleased that LMAC is working with the STEMsocial community, which is working on science. I agree that science and art are setting the milestones for today and I am sure for the near and distant future of us as a human race.
I don't know much about dark matter, but as a layman I understand it to be the antipode to the matter we exist in and (being a big sci-fi fan) the theory that black holes and wormholes are fast passages through dark matter from one star to another. This is the only way to travel through space over big distances. The speed of light is too slow for our lifetimes.
Not sure if this theory is scientific. :) 😁
Coming back to the LMAC contest, this is the first time I have used neural networks or artificial intelligence in a collage. Modern interfaces are already sophisticated enough and easily understandable to be used by laypeople and not just programmers.
When I was doing this, it was interesting to see how the AI understands my initial image, how it connects this to the text prompt, and finally generates an interpretation.
Personally, I think that AI is a key interface between science and art and that the universe will be better understood with the help of AI, which in these modern times is present in every field of human activity.
👽 📷 😎 📷 👾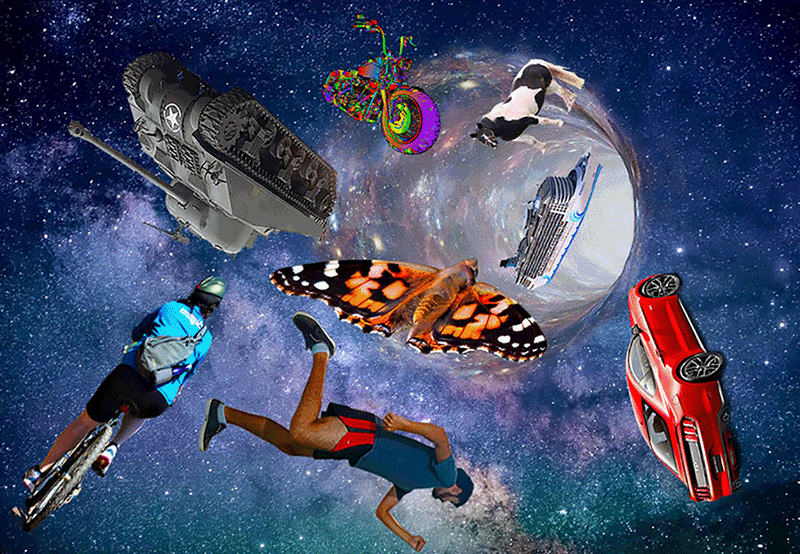 👽 📷 😎 📷 👾
Sources used for the collage:
LMAC gallery
Pixabay
PurePNG
Ford Mustang by UploadNow/PurePNG
Ship by PNGStock/PurePNG
PurePNG terms: Free for commercial use, no attribution required.
👽 📷 😎 📷 👾
Proces of creating the collage:
A basic collage image is created in Photoshop. I prepare all mentioned elements and put them as layers in the collage.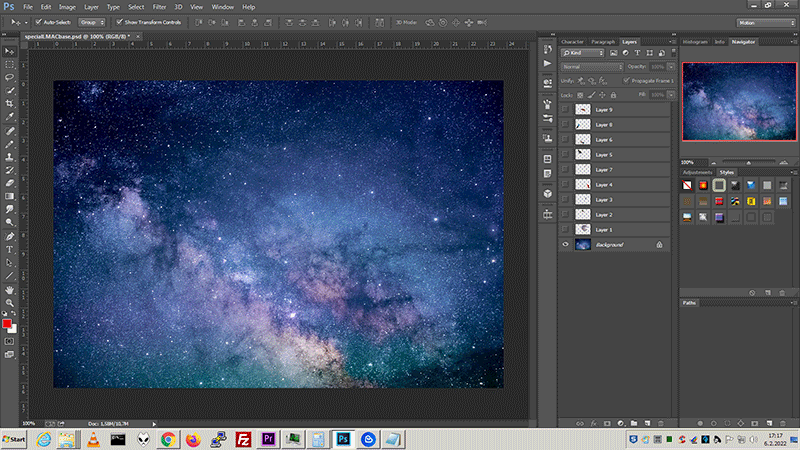 After that, I upload the basic collage image to NightCafe AI Art Generator which uses VQGAN and CLIP machine learning technologies. These are two neural networks, VQGAN (Vector Quantized Generative Network) which can find similarities between two images, and CLIP (Contrastive Image Language Pretraining), which can find patterns between text and images.
The text prompt used:
"Art and science colorful humans and animals and vehicles into a wormhole".
AI made 200 iterations - picture transformations related to the entered text.
Then I downloaded key iterations and, again, in Photoshop create gif animation.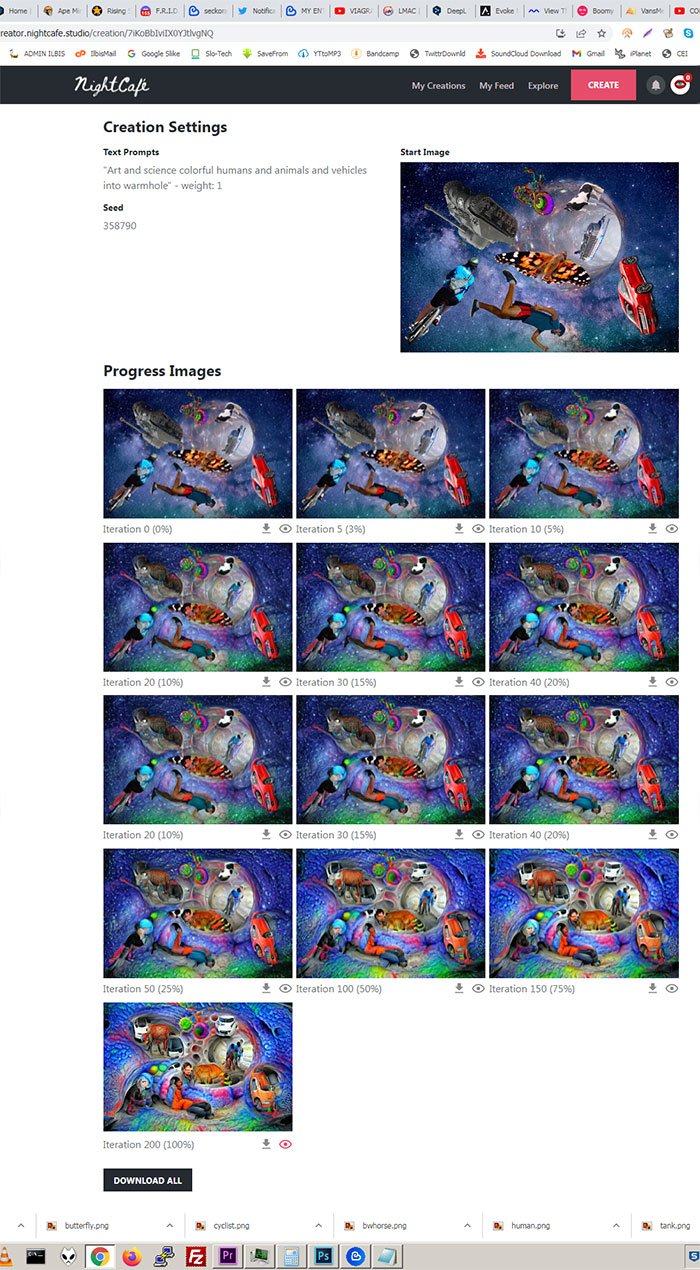 Hope you have fun!
👽 📷 😎 📷 👾
LIL Beneficiaries:
Take a look at my previous LMAC collages:
Surreal, Crash, Divergence, Dropped, Danger Zone, Happy 2022, Reality, Picnic, Expedition, Collector, Special, Exercise Zoom, Vibrations, Halloweenish, Wormhole, Triangle, HyperLoop, Victimizing, FlowerPop, MixZone, New Season, Relax, They're Coming, Laugh, Bad Dream, Nuclear, Climbers, Holidays, Drama, Magic, ChimpKong, Modeler, Beerland, SteamPunk, Hypnotized Frogs, The Recipe, The Nest, Hippo AR, Kindergarten, Beasts, Attack, White Dust, After Hours, Penguins In The Ice, Witch In Town, Rescue, Christmas Special, PiP, Something Is Watching Us, Deep Sea Mermaids, All Of Them Smile, Chicken Is Coming!, Pumpkins And Devil, Turtles And More, Horses & Hamsters.
📷 😎 📷
Stay Healthy!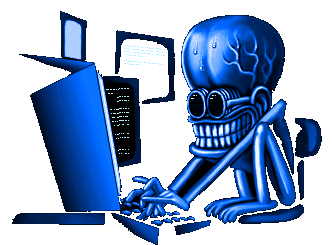 @seckorama
My NFT Showroom Gallery
Watch my 3Speak Channel
Take a look at my DTube Channel
Check out my DSound Channel
Live Music playlist
VJing playlist
Ready for Web3