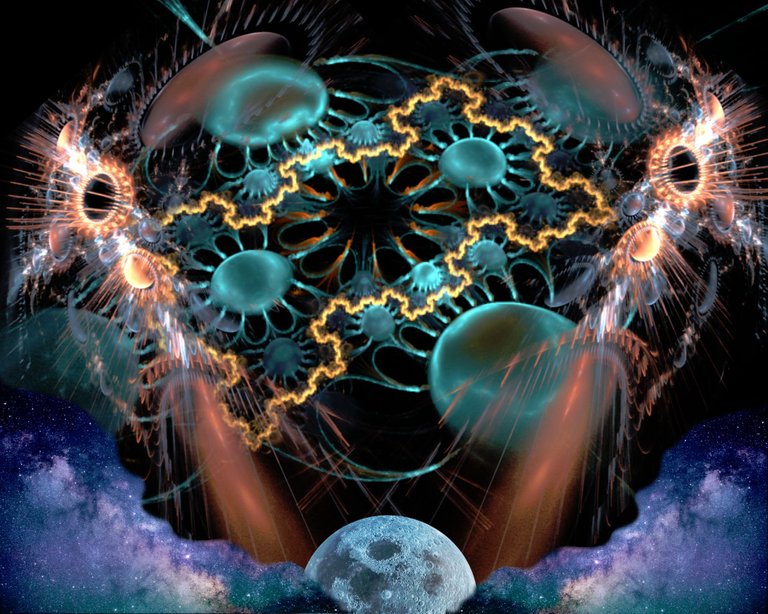 Hello Hive, LMAC, and StemSocialmembers. My name is FRACTAL. And I'd like to tell you my story. I'm not proud to be named after something people view as being broken or fractured. But that is exactly how my name came into being when the mathematician, Benoit Mandelbrot, created me from a complex mathematical formula. In fact, it was a geometric formula.
In my complexity, I'm self-similar on different scales and an infinite pattern created by iterations. Stunning digital images are visual representations of my mathematical formulas produced by rendering flames.
Now, both Mandelbrot and I are famous. And my set of fractals is the most enduring fractal set ever. But I'm not just beautiful to behold, I'm valuable in ways you haven't imagined.

Missing. It's what humans call objects on Earth they know exist but can't find or readily see. Many objects exist in the universe that man can see and does know. There are millions, perhaps billions of other objects or particles that man cannot see and does not know. First, these missing objects or particles were called "missing".
Today they are known as "dark matter". These objects or particles are perhaps the most threatening as mankind venture into the universe. Dark matter can't been viewed directly because it's comprised of particles that don't absorb, reflect, or discharge light. Therefore, it can't be detected. The study of dark matter is accomplished by observing it's effects on objects that can be detected. 1
Many theories exist about dark matter. What quantity and type of objects are they and in what shape and form? What is their effect on the galaxies as a whole?
How will scientists know if the universe continues on or at some point ends? How will they know whether friend or foe awaits?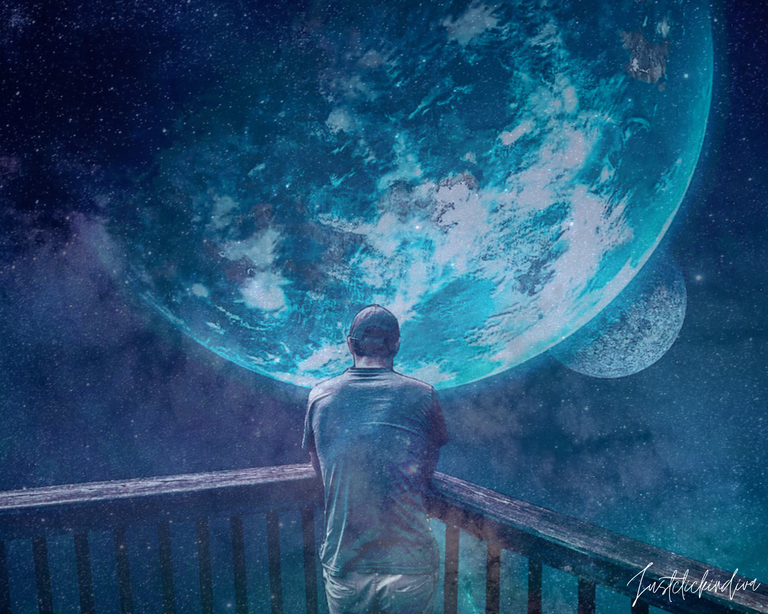 Free Image at PxFuel
That's where I can help. But I must tell you my history first so you understand how I can help humanity in this dark matter debacle.

Once discovered by Mandelbrot, I was able to assist in numerous disciplines by:
describing landscapes, such as mountains and rivers; in nature, such as trees. But perhaps I'm mostly associated with snowflakes and clouds;

computer modeling in medicine of the human body;

advancing engineering, technology, and the arts, including music; 1 and

exposing unknown or complicated mechanisms with empirical models. 2
However, the most important advances, I feel are in cosmology by helping scientists unlock dark matter. Some of the particles or objects that have already been revealed. Other dark matter may consist of other dark matter that could be 250 times great than what's visible, such as unknown galaxies, cold gases, objects of varying sizes, and even black holes: 1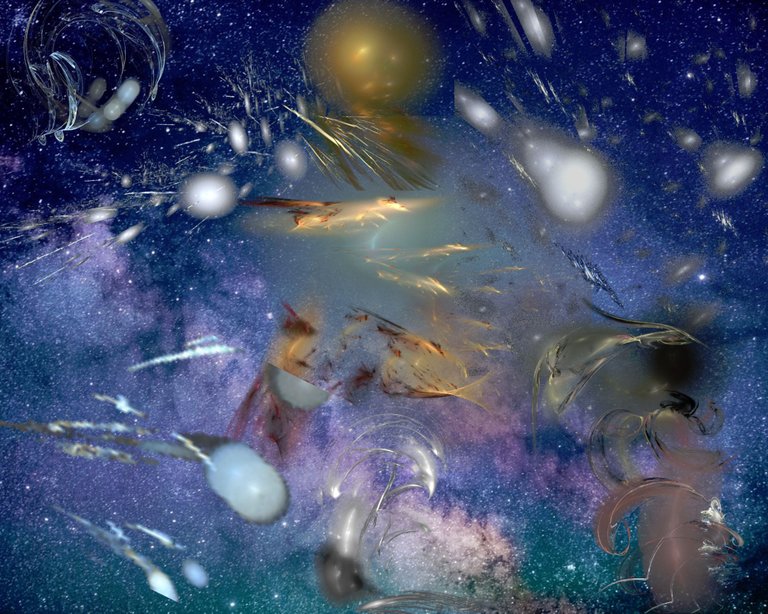 "Dark Matter Particles" image created by me in Canva with fractals designed in Apophysis 2.09

As a fractal, I may be able to crack open the universe.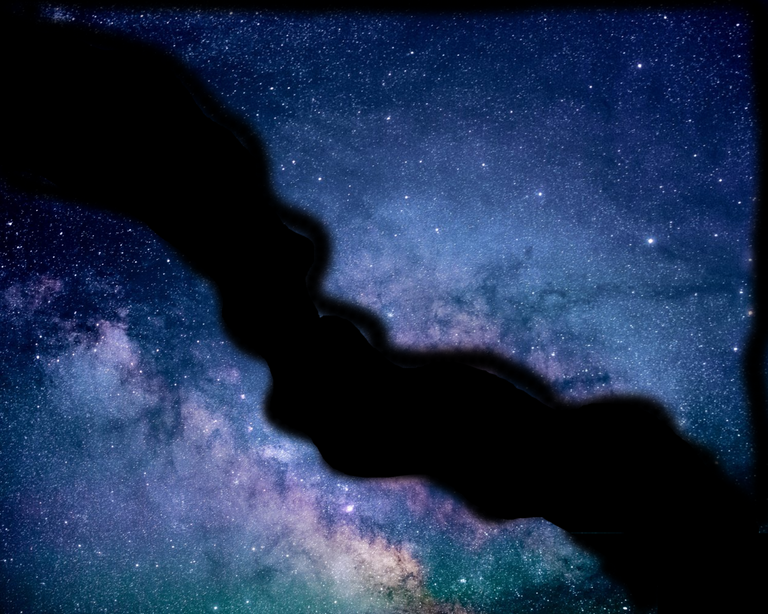 Image created by me in Canva utilizing contest photo
Then, I'll allow scientists to identify and determine the secrets within the dark matter by utilizing my complex mathematical equations.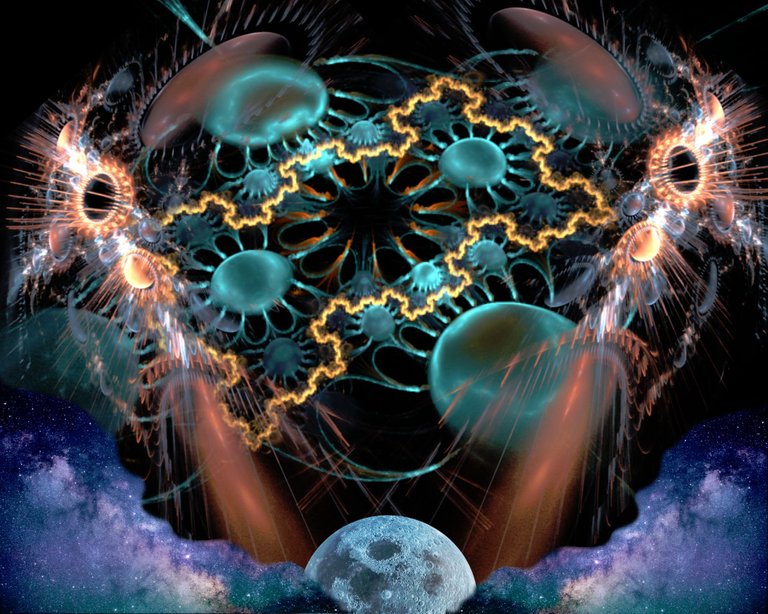 "Contest Image of Fractal Finding Dark Matter" created by me in Canva with fractals designed in Apophysis 2.09

I don't wear rose-colored glasses. What scientists have already discovered disturb them when considering the amount of gravity required to keep the galaxy intact. What I might discover I may not wish to know. Did I accidentally tamper with and unlock the destruction of the entire universe?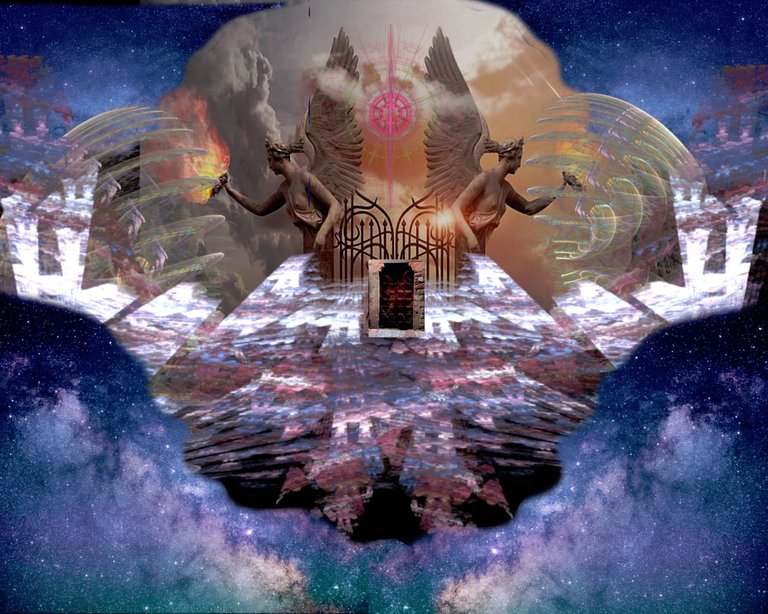 "Fractal Finding Destruction" created by me in Canva with fractals designed in Apophysis 2.09

Or, did I find the most amazing hidden beauty in the universe?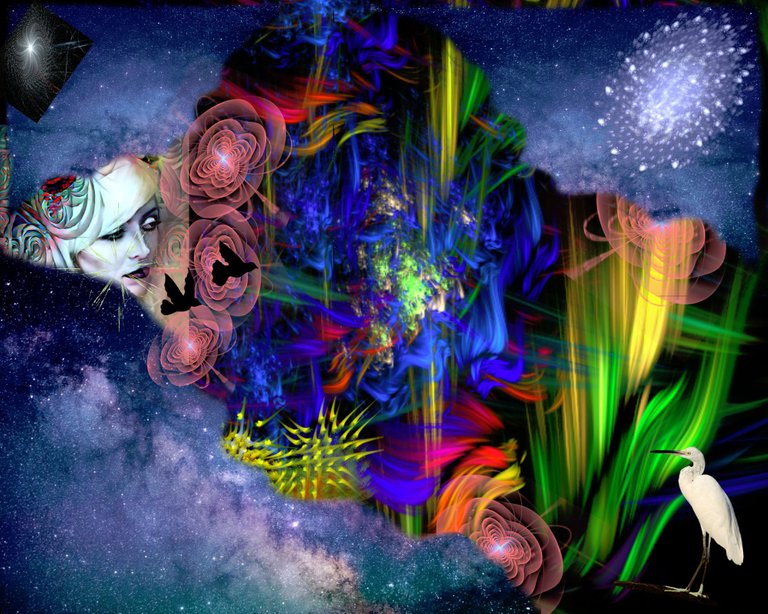 "Fractal Finding Hidden Beauty" created by me in Canva with fractals designed in Apophysis 2.09

What I haven't told you, though, is that scientists don't utilize me to the fullest extent because I'm not everywhere. For example, I'm not found in the arrangement of atoms in typical bulk solids. or the shapes of large astronomical bodies. These are crystalline and spherical. I can't be found in honeycombs nor orbits of asteroids. 2
But the single most important reason scientists don't utilize me to the fullest is that I can only describe. I can tell them how objects are shaped. I can't tell them how or why the objects are shaped the way they are, or what is the underlying cause of an object's shape. To scientists, this is the most important aspect of their work. 2
I do recognize my limitations. However, I also know my strengths. If I'm useful to scientists in providing a description of what the universe actually contains and how all is connected, then I'm ready. Whatever I help scientists discover, I can be proud of the fact that now dark matter can be identified and documented.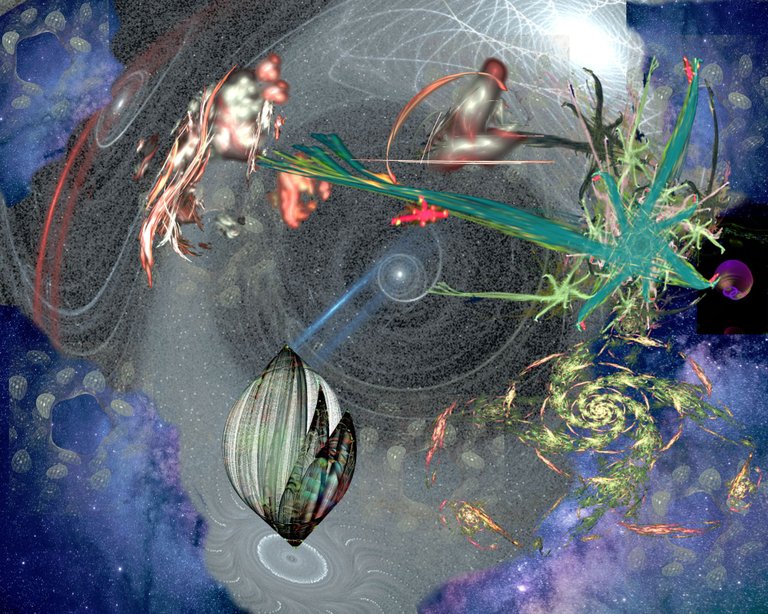 "Fractal Finding How Particles Are Connected" created by me in Canva with fractal designed in Apophysis 2.09

So, let's peel away the layers and discover what lies behind Dark Matter.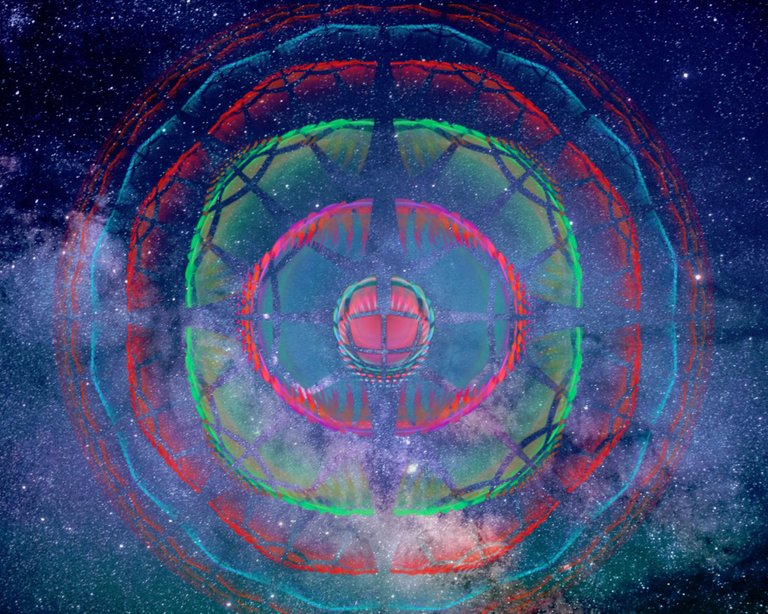 "Fractal Peeling Back Layers In Universe" created by me in Canva with fractal designed in Apophysis 2.09
And, whether we're alone in the universe.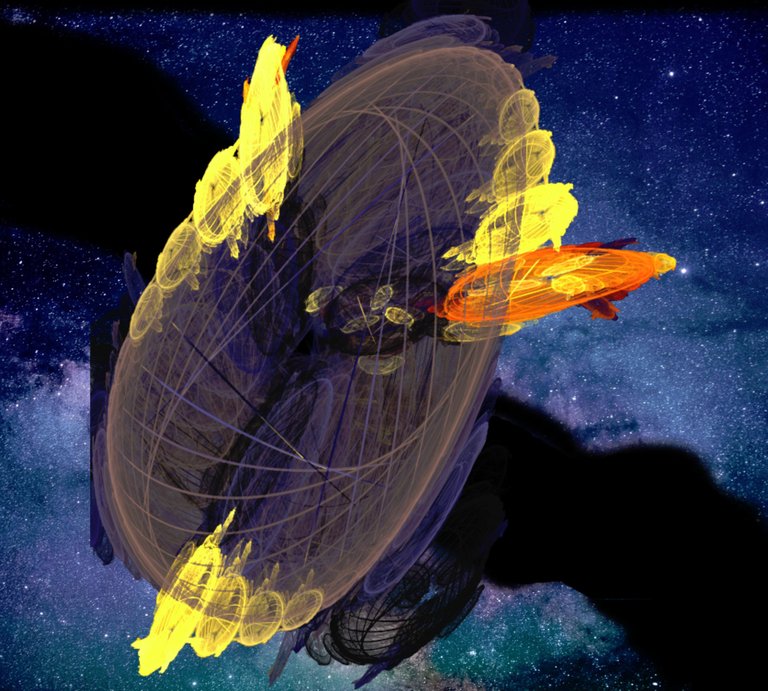 "Fractal Showing Humans Are Not Alone" created by me in Canva with fractal designed in Apophysis 2.09


Hello everyone and welcome back to Let's Make a Collage ("LMAC"). I love creating digital images, especially fractals. That's why I found this week's challenge one I definitely wanted to participate in. A bit of deviation from the normal contest as @stemsocial suggested a collaboration to bridge science and art.
To create the setting, I started with the photograph courtesy of @stemsocial in their collaborative contest post and given to @shaka: Art and Science, an LMAC Special - Teaming up with STEMsocial.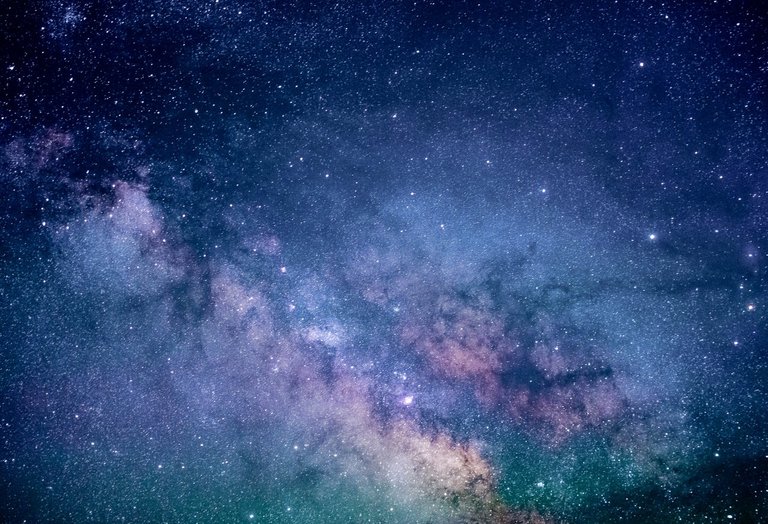 Image used with permission of stemsocial

Next, I created various collages utilizing the contest photo and other free images, including those created by members of LMAC and contributed to the LMAC Image Library (LIL). I appreciate the images as they enhanced the various themes for each collage. However, my primary focus for this LMAC round was to highlight what fractal are and the numerous designs I crateed over the past two years.
I uploaded all images into Canva to utilize the features in my Annual Pro Membership Subscription. For each theme included in all the collages below, I have have indicated the images used:
Dark Matter Particles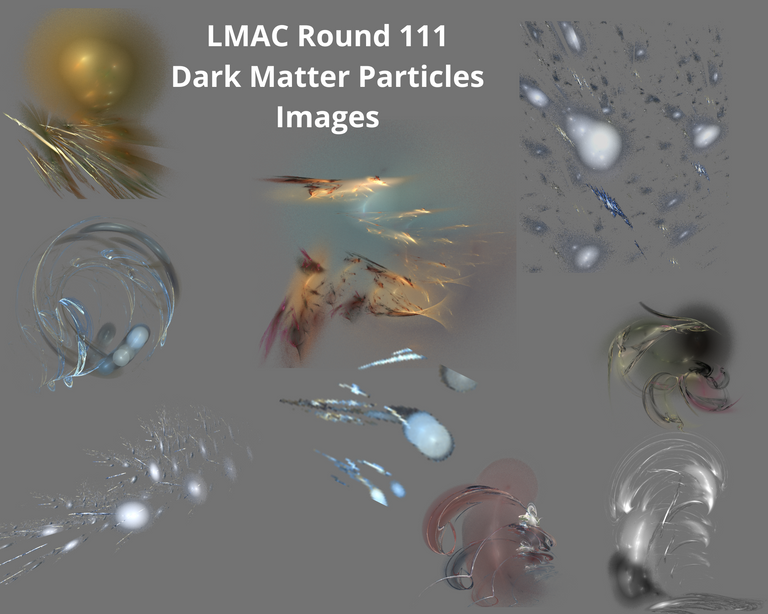 Contest Collage Image-Fractal Finding Dark Matter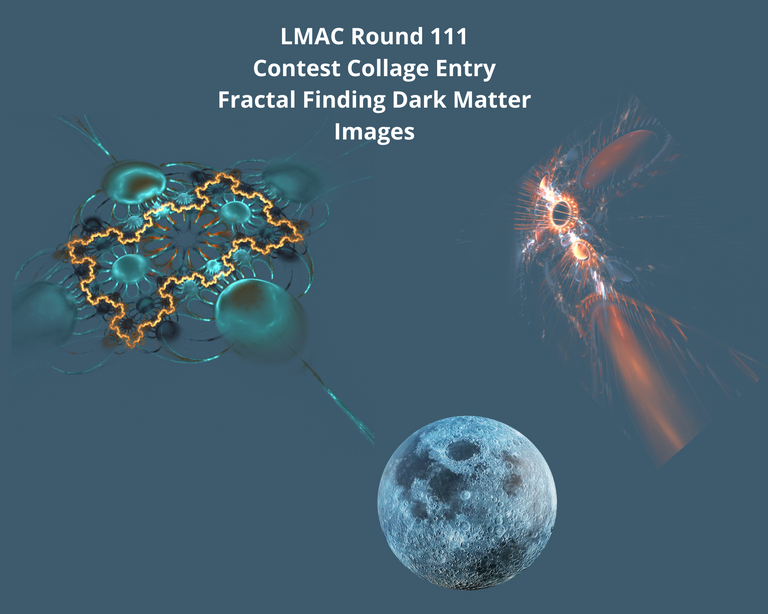 Fractal Finding Destruction

Fractal Finding Beauty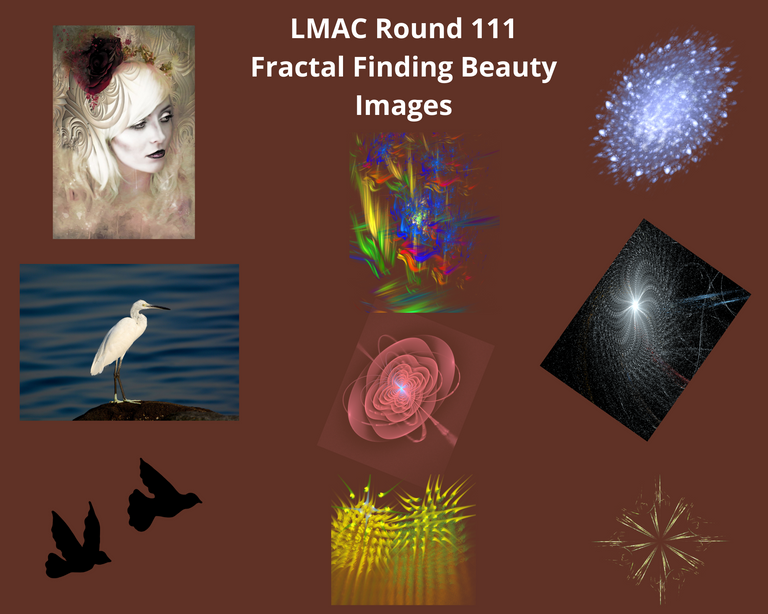 Fractal Finding How Particles Are Connected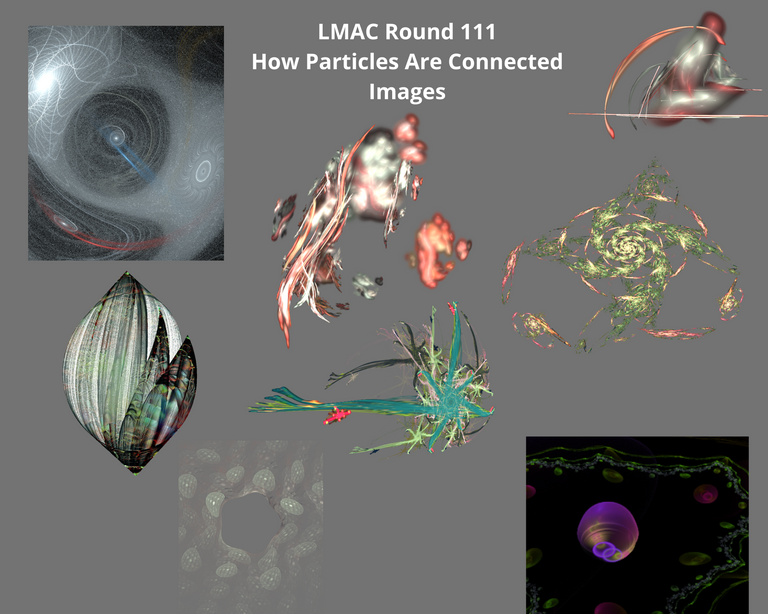 If you'd like to preview the indices for the LIL, take click on each link to see the awesome images our LMAC members contributed:
LMAC IMAGE LIBRARY INDICES:
LIL Index post 1 of 8:
Miscellaneous
LIL Index post 2 of 8
Sky, Cloud, Landscape, Sun, Mountain, Lake, Beach, River, Nature
LIL Index post 3 of 8
Insect, Animal, Pet, Cat, Dog, Cow, Bird, Nature
LIL Index post 4 of 8
Flower, Plant, Tree, Organic, Leaf, Fruit
LIL Index post 5 of 8
Stone, Rock, Gravel, Boulder
LIL Index post 6 of 8:
House, Home, Garden,Wall, Window, City, Town,Street, Avenue

CONTEST RULES
IMPORTANT NOTICE:
It is imperative that you read the post LMAC School - Public Domain Picture sources (Free Materials for creating collages) by @quantumg, which discusses public domain issues. The post offers valuable information on images for commercial use. Links are included to sources that offer public domain images and other images that are free for commercial uses. Using public domain pictures and free pictures for commercial use are requirements for all collages that are submitted as entries in the LMAC contest and the LMAC Image Library (LIL).
| What is Let's Make a Collage? | It is a weekly photography and collage contest. |
| --- | --- |
| Who created the contest? | @shaka is the contest owner. |
| What type of contest is it? | This Contest utilizes a single photo provided by the contest owner as the basis for you to create your own photo collage by adding to the photo provided. |
| What are the rules? | 1. Use as your starting point for your collage the photography provided by the contest owner. It is located on the contest owner's post for free use without any copyright protection. |
| | 2. Entries need to be posted to the LMAC community and should contain a reference to this post. |
| | 3. Entries need to set the LMAC account (@lmac) as 20% beneficiary to be eligible for the dynamic component of the prize pool.; |
| | 4. Extra support with the LMAC trail to all collages where LIL assets have been included AND the respective LIL-contributors set as 2% beneficiaries; |
| | 5. By submitting your contribution you agree that your artwork remains public domain and that it can be copied, modified and distributed, even for commercial purposes, without requiring further permission. |
| | 6. Any graphical element that is added to the photography either needs to be your own original work (e.g. own artwork or photography) OR needs to derive from the public domain (having no copyright protection). |
| | 7. IMPORTANT: Indicate the source of all materials used in your accompanying post. Otherwise your entry can NOT be put up for the final vote. |
| | 8. All sort of editing, modification and/or manipulation is allowed as long as no copyright is affected. |
| What do you win? | Prizes listed on the contest owner's post. |

Thanks,
@justclickindiva
Happy rest of the week everyone with whatever your endeavors.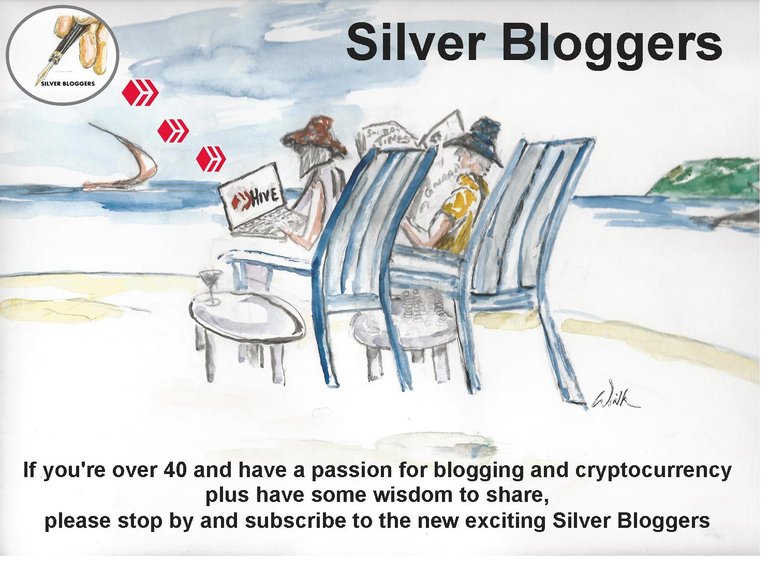 SOURCES:
a) JustClickindiva's Footer created in Canva utilizing its free background and images used with permission from discord admins.
b) Unless otherwise noted, all photos taken by me with my (i) Samsung Galaxy 10" Tablet, (ii) Samsung Phone, & (iii) FUJI FinePix S3380 - 14 Mega Pixels Digital Camera
c) Purple Butterfly part of purchased set of Spiritual Clip Art for my Personal Use
d) All Community logos, banners, page dividers used with permission of Discord Channel admins.
e) Ladies of Hive banner used with permission of and in accordance with the admin's guidelines.
f) Image created in Canva by @justclickindiva utilizing one of its free templates.
1 "Dark Matter". Starchild.gsfc. Nasa.Gov Online at: https://starchild.gsfc.nasa.gov/docs/starchild/universe_level2/darkmatter.html
2 "Why don't cientists use fractal concepts more considering that fractals are everywhere?" Baird, Christopher S., Dr. Science Questions with Surprising Answers. 11/26/2013. Online at: https://wtamu.edu/~cbaird/sq/2013/11/26/why-dont-scientists-use-fractal-concepts-more-considering-that-fractals-are-everywhere/

Your Personal Terminal Discord Invite