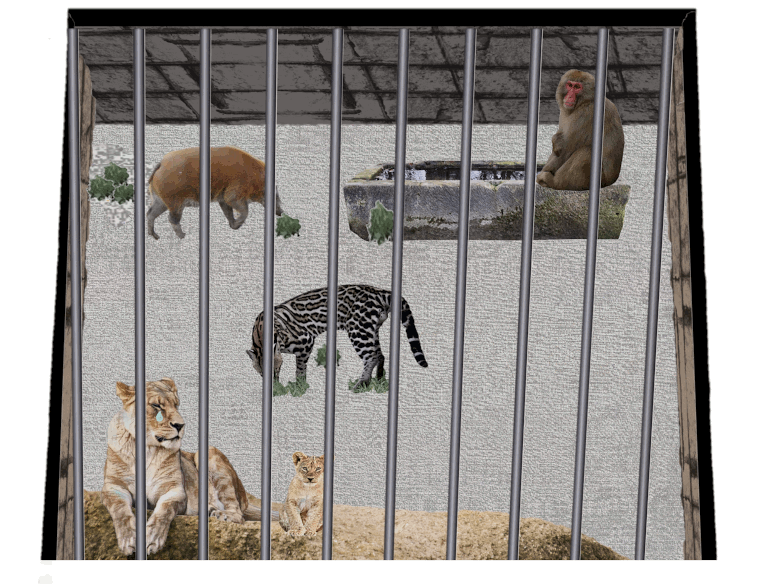 When I saw @shaka's striking picture of a lion sitting peacefully on a rock, I imagined the animal had to have been in a zoo when the photo was snapped.
@shaka's picture: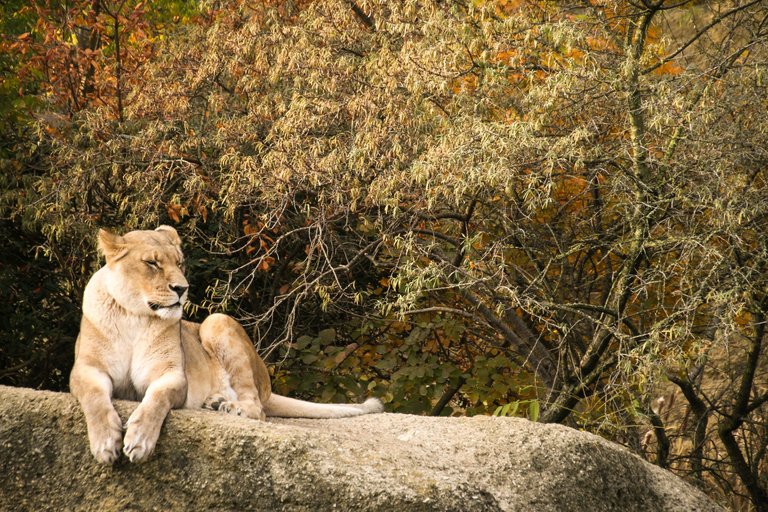 Years ago my husband and I would go to a zoo whenever we visited a new city. Then it hit me that zoos were really sad places and I decided never to support the institution again. We'd go to the movies, or visit museums (lively ones) instead.
Are zoos ethical? Is the idea of a zoo a concept that has grown old with time, and heightened awareness? I'll look at the issue, briefly, in my blog today.
Zoos: Ethical, or Not?
Most of us have seen at least one iteration of Planet of the Apes. If nothing else, this series of movies gives us pause. By turning the tables on the caged species, we gain an enhanced perspective on the ethics of caging for the sake of caging.
An egregious example of bad zoo behavior (in my opinion) might be the episode at the Copenhagen Zoo some years ago when a young giraffe was killed because he represented a common gene pool. He was useless for breeding, in the minds of the zookeepers. Not only did they kill the giraffe, but they dissected him publicly for the education of children.
Giraffes at the Copenhagen Zoo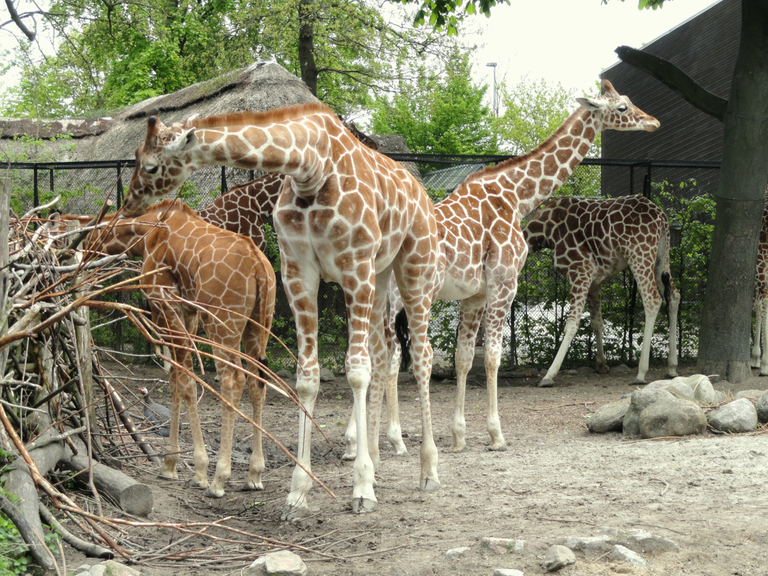 Credit: daderot. Used under 1.0 license.
Most zoos would not do what the Copenhagen Zoo did, but even the best zoos state as a worthy purpose, the conservation and breeding of animals, especially endangered species. I read several articles that reasonably discuss the merits of zoos and the potential ethical problem with them.
The existence of zoos is justified often by citing the role these play in education and conservation. It is suggested that if people know more about animals they will empathize with them and be interested in protecting them. This indirectly supports the conservation goal of zoos.
The Association of Zoos and Aquariums, for example, states:
AZA-accredited zoos and aquariums play a vital role in educating over 180 million visitors, including 51 million students, each year, about wild animals, their habitats, their related conservation issues, and the ways in which they can contribute to their preservation. Over the past ten years, AZA-accredited institutions have also trained more than 400,000 teachers with award-winning and proven science curricula.
Zebra Enclosure, San Diego Zoo, USA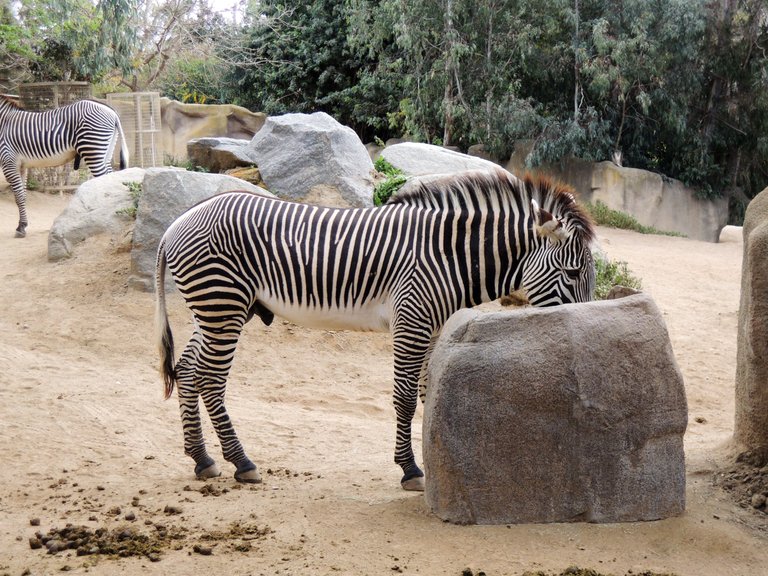 Credit: Abujoy. Used under CC.3.0 license This zoo is accredited by the AZA.
An article published by the American Veterinary Medical Association (AVMA) asks the question: Is it ethical to keep animals in zoos? The answer provided in the article is, only if conservation and animal welfare are the focus. This very thoughtful article asks if it is ethical to cage a wild animal for entertainment or educational purposes. The article quotes Michael Hutchins, PhD, past director and William Conway Chair of the Department of Conservation and Science for the American Zoo and Aquarium Association. Dr. Hutchins states (2002):"Conservation alone is not enough to justify the existence of zoos." Dr. Hutchins adds, "A strong commitment to individual animal welfare is equally important."
Baby Giraffe, Birmingham Zoo, Alabama, USA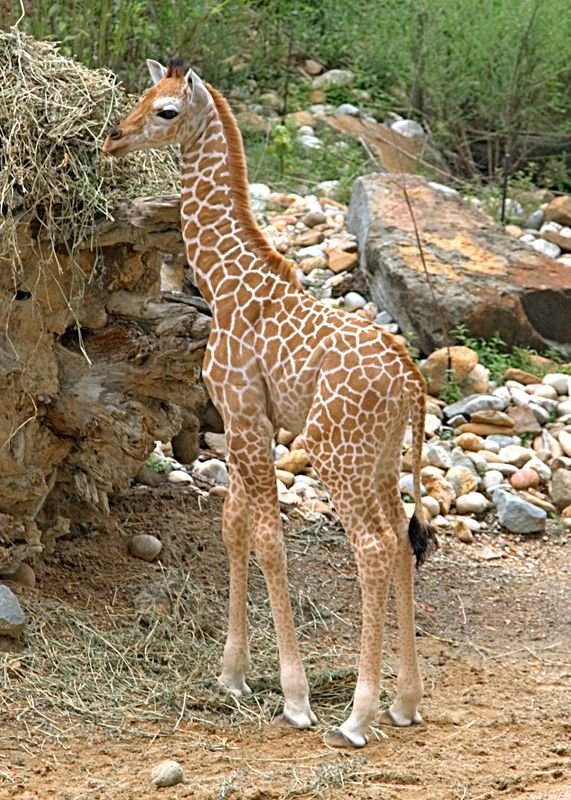 Credit: Alby Headrick, Birmingham Zoo. Used under CC 2.0 license.
Some arguments against zoos (From the Animals of the Pacific Northwest blog):
"Even with enrichment activities, complex exhibits that attempt to mimic the animal's natural habitat, or even larger safaris, animals in confinement can suffer from boredom and stress and may develop physical tics".
"One reason why some zoo animals develop zoochosis is the size of their exhibit. In the wild, polar bears, for example, have been known to have a home range of 31,000 square miles".
"Intergenerational and familial bonds are broken when individual animals are sent to other zoos, a practice that's sometimes done in the Species Survival Plan Program to encourage mating and genetic diversity in the species".
My Take on the Pros and Cons:
If we look at the arguments for having zoos, they really boil down to one principle: It's good for us to have them there. We learn more about the wild animals. Breeding the animals encourages ecological diversity (good for us, on this planet). When it comes to caring for individual animals, that really isn't the goal. The happiness of the individual animals is sacrificed for the greater good. Whose good?
My Collage for LMAC 135
I want to begin by thanking my fellow artists who contributed photos to the LMAC Image Library, LIL:
@seckorama: the African Pig
@muelli: the Floor
@quantumg: the Tear
@mballesteros: the Ocelot
@onyechi: the Walls
I also borrowed images from Pixabay:
I had trouble getting the cage to look like a room but consulted a Youtube video about making walls, and that helped.
As always, I used GIMP, Paint and Paint 3d to manipulate the pictures and frames.
LMAC, the Community, the Contest and the Library
I don't compete in the LMAC contest, but I do make a collage just about every week. It is a rewarding experience. Voting for this week's contest winner is going on now. Everyone can join in and vote here. Thursday we begin again, with round #136. Many of the artists have borrowed images from our image library, LIL. This is a unique Hive resource. All Hiveans may contribute to it and may borrow from it. Procedures are spelled out here.
I want to thank @shaka, community founder and leader, the LMAC team, collage creators, and this week, especially @balte, who has contributed 50 Hive to the prize pool.
I wish all my readers a peaceful, healthy day.
Thank you for reading my blog
Hive on!