The beautiful picture offered by @shaka in this week's LMAC collage contest deserves a more attractive rendering than what I offer here. However, this is what came to mind. Maybe it's because I'm cleaning out my house: forty-eight years of accumulated possessions. We're giving away what we can, but so much of it is trash. Where does that all go? Someone, somewhere will have to deal with it. In a way, we all have to deal with it, eventually.
Template Photo by @shaka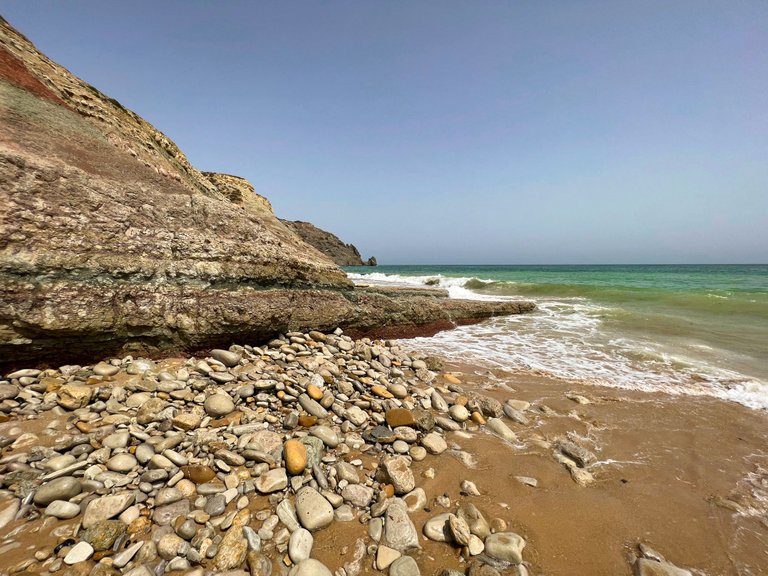 Garbage Dump Communities
There is a picture in my collage of a woman collecting trash. The picture from which this is derived showed children in the dump. I couldn't bring myself to include them in the collage. It bothers me to show that picture here.
An article in International Samaritan reported that in 2017, an estimated 15 million people lived and worked in garbage dumps around the world. In 2019, the Borgan Project reported that in many parts of the world, non government agencies are in charge of waste disposal in unregulated dumps. "These companies employ a large percentage of children under the age of 18."
What is the difference between a garbage dump and a landfill?
According to Dumpster.com Blog, "A landfill is a government-regulated place where waste is treated, monitored and properly layered. A dump is most often an illegal site where people take their trash that is unregulated and poses a risk to the environment".
Waste Generation Per Day Per Capita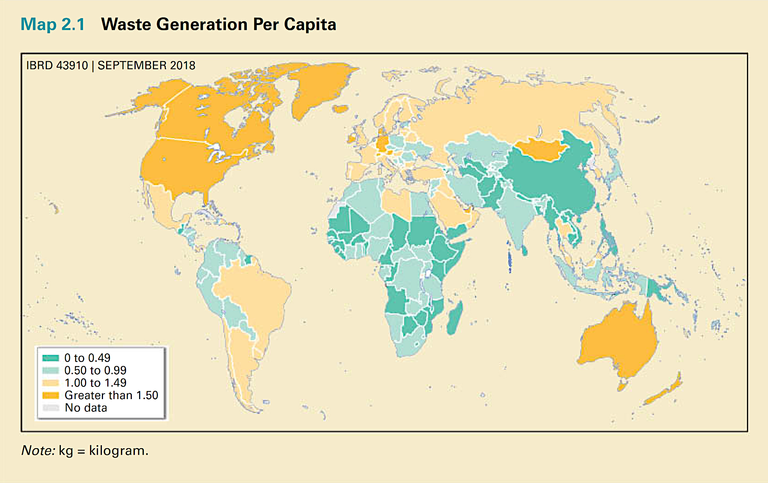 Credit: Kaza, Silpa; Yao, Lisa C.; Bhada-Tata, Perinaz; Van Woerden, Frank. Used under CC 3.0 license
Landfills are more likely to be found in developed countries, and dumps in less developed countries. Up until 2018, China received a lot of the trash, particularly plastic trash, the rest of the world didn't want. In 2018 China enacted the "National Sword" policy and thus closed its doors to most of that refuse. Since then, much of the world's exported plastic waste has been redirected to countries not equipped to handle it. These countries include Bangladesh, Laos, Ethiopia, and Senegal, (info from The Guardian) and India, Malaysia and Indonesia (info from rePurpose).
Projected (2025) Mismanaged Plastic Waste, by Region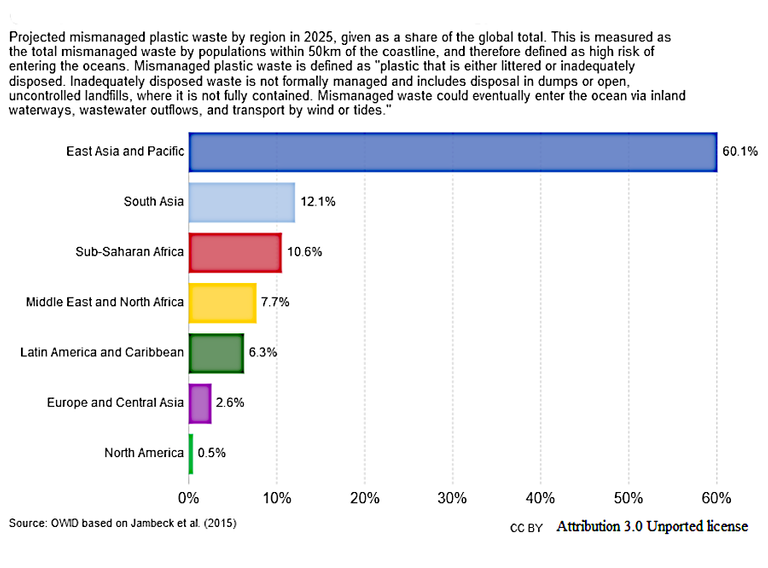 Credit: Our World In Data. Used under 3.0 Unported License
According to the Borgen Project the countries to which the waste has been redirected, "...have since become overwhelmed... greatly amplifying the plight of the children" who live and work in the trash heaps.
Most consumers have become conscientious about 'recycling': disposed plastics are placed in designated recycled bins. What happens to it after that? According to the Plastic Pollution Coalition, "Most plastic items collected as recycling are not actually recycled. ...plastic is not designed to be recycled." Our disposed plastic becomes part of the global waste industry. "$500 billion...is generated annually in the global waste market".
Residential garbage trucks dumping a load in Savage, Minnesota, USA.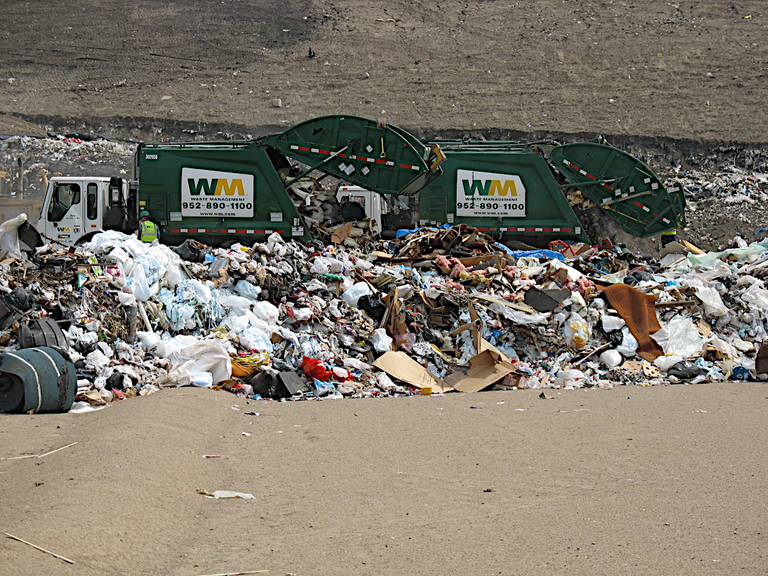 Credit: Redwin Law. Used under CC 2.0 license
Even before the plastic reaches its destination, whether that is domestic or abroad, it begins to pollute the environment. Plastic escapes. It gets blown away. Falls off a vehicle. Gets carried away by gulls and is absorbed into the environment.
Throwing Stuff Away
I grew up in a time when we used to throw stuff away. There was garbage, we put it out and someone took it away. Then there was a period when we all thought we could recycle, and that would take care of our refuse. However there is no 'away'. If we don't want to be stuck with plastic pollution in our air, our oceans and even our bodies, then we simply have to stop using the stuff.
That is the only sure path to making plastic go 'away'.
My Collage
I want to thank my friends who contributed to the
LIL Gallery.
I couldn't have made the collage without them.
@muelli
contributed the grafitti
trailer.
@redheadpei
contributed the
gull.
@quantumg
contributed the
soda cans.
@mynatash
contributed
random items
in the garbage
I borrowed also from Pixabay: the Bear with a plastic cone on its head, from Wildfaces, and from Mumtahina01 the remarkable picture of the children gathering garbage.
Here are a few steps I took in making the collage:
1.Broaden the frame; add garbage pile and bear.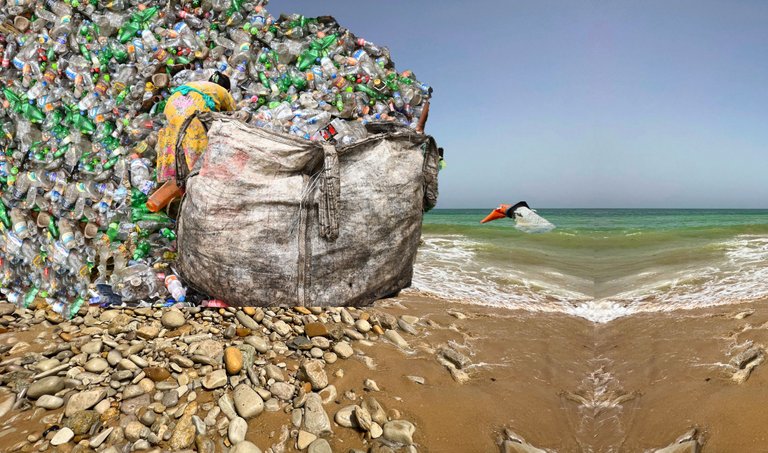 2.Add @muelli's trailer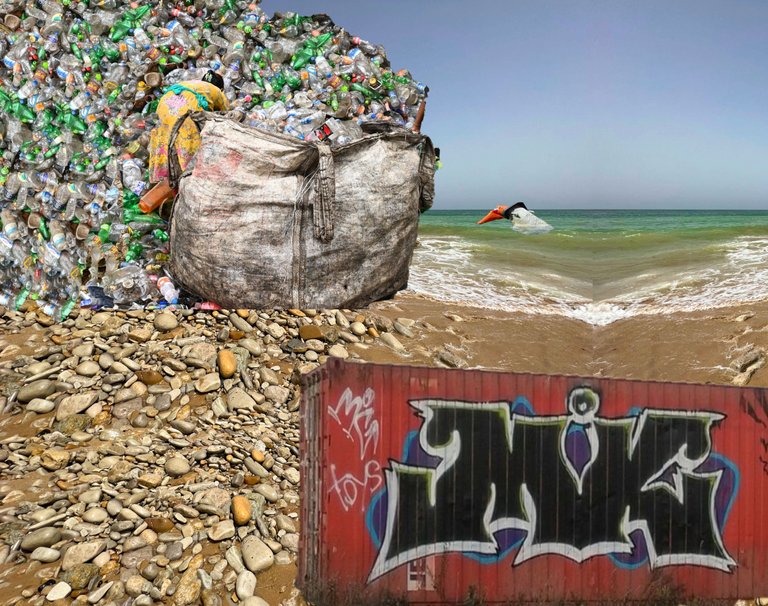 3.Add @mynatasha's trash, @quantumg's cans, @redheadpei's gull and a can I had contributed to LIL some time ago.


4.Make the frames (many tries) that show the bird, the bear, woman's head, and the soda can moving (synchronized).
Here is my first try, where only the bird and the trash move:

Can you see I enjoyed myself in making this, as unpleasant as the subject was? I recommend the exercise. The 144th round has concluded now, all but the voting. Please join us in picking winners for this week. Prizes are significant. You can vote here. Our new round, #145, starts Thursday. Check out @shaka's blog for procedures. (I do not compete because I am on the jury.)
Also, please check out our Gallery, LIL. Anyone on Hive may borrow from LIL (all public domain images), and anyone may contribute images to the gallery. Procedures explained here.
Thank you for reading my blog. I wish all of my readers peace, and health.