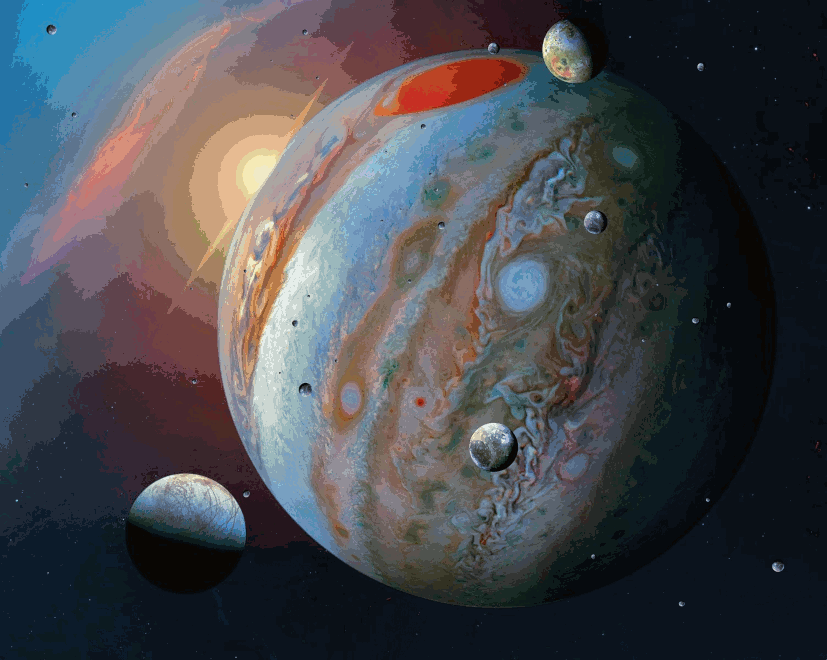 When I saw @shaka's lovely template photo this week I thought of space colonies.
Template Photo by @shaka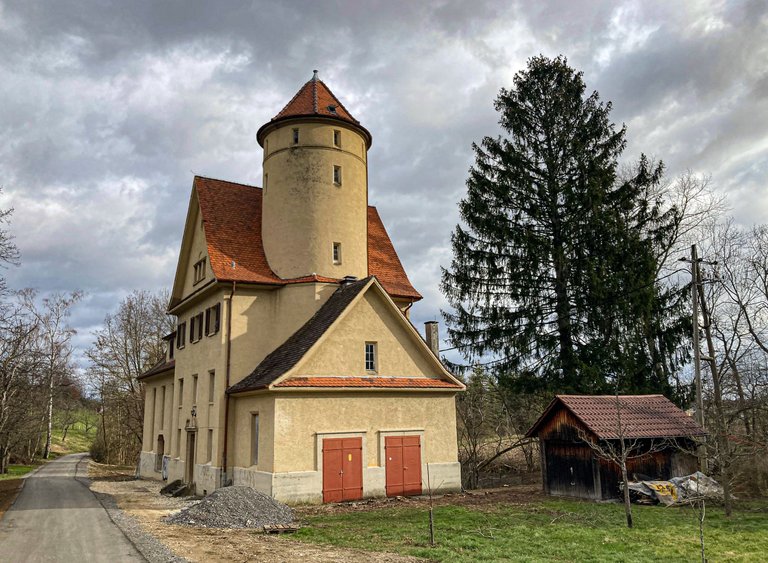 I'm not sure why I made that association, but once it had taken hold I knew the direction my collage would follow. I started to read and discovered that three of Jupiter's moons may actually be candidates for colonization one day (though Jupiter itself is not a candidate.) The notion of colonizing Jupiter's moons is highly speculative, but nonetheless intriguing.


The Four Largest Moons of Jupiter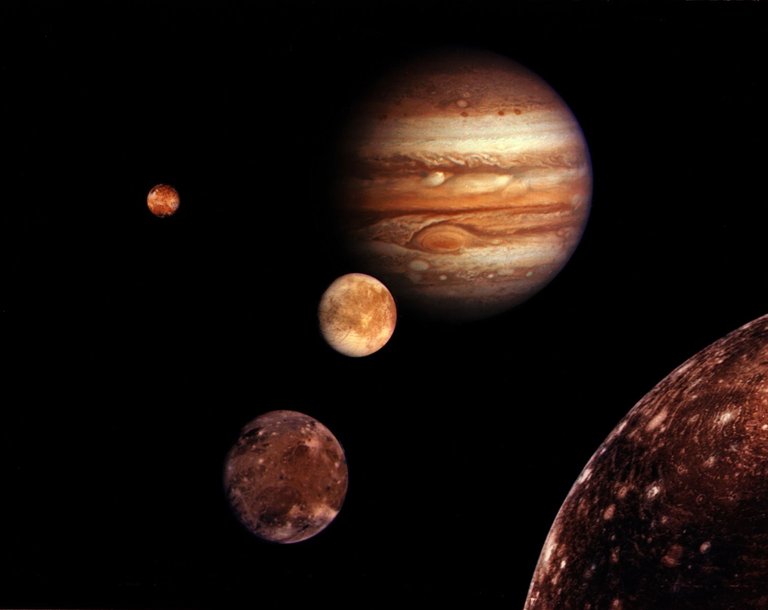 Image credit: NASA/JPL. Public domain
It is believed that Jupiter has 79 moons. The four largest are called the Galilean moons. These are Ganymede, Callisto, Europa and Io. Ganymede, Callisto and Europa, it is believed, have oceans beneath the surface.
The four moons are called Galilean because Galileo is credited with discovering them (January of 1610).
Original Manuscript: Galileo Describes His Discovery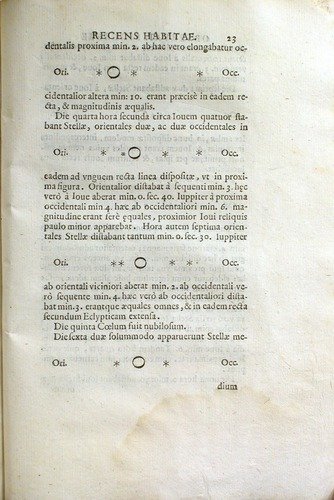 Image credit: History of Science Collections, University of Oklahoma Libraries. Original: Galileo Galilei. Public domain.
Although Galileo was the first to publish his observations, another scientist, Simon Marius, claimed to have detected the moons earlier. Galileo at first called the moons Medician Stars. The nomenclature was in honor of his patrons, the Medici family.
The Galilean Moons
Ganymede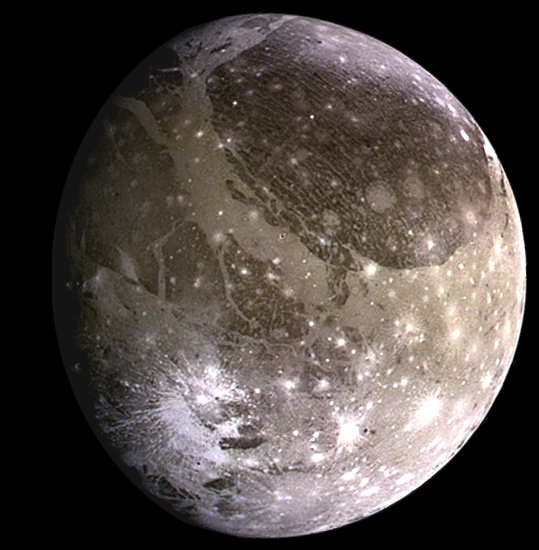 Image credit: NASA/JPL/DLR: Public domain.
The image of Ganymede featured here was captured by the Galileo Spacecraft in June of 1996. The photo represents the moon's true color. The Galileo spacecraft orbited Jupiter for about eight years.
Ganymede is not only Jupiter's largest moon, it is also the largest moon in our solar system. It is believed to be the only moon in the solar system that has a magnetosphere. Its atmosphere is thin and is believed to have oxygen. Ganymede is covered in ice.
Ganymede Going to Jupiter's 'Dark Side'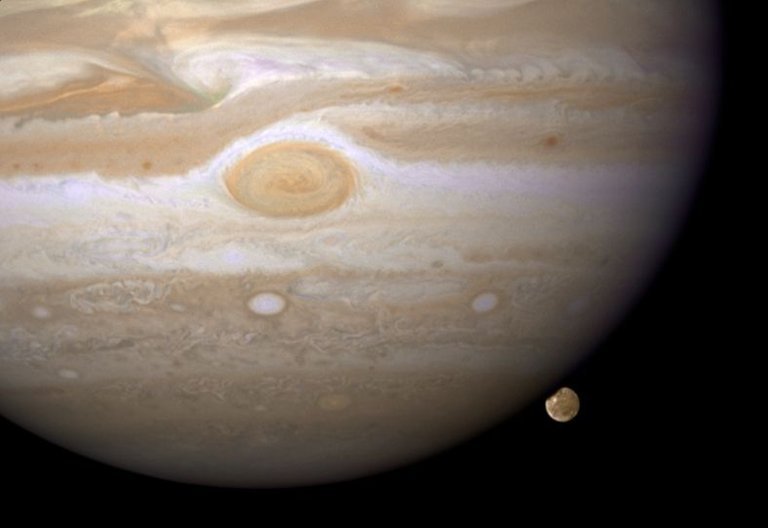 Image credit:NASA Goddard Space Flight Center from Greenbelt, MD, USA. Used under a CC 2.0 license.
Jupiter is the largest planet in the solar system. Ganymede completes its orbit around the giant planet in seven days.



Europa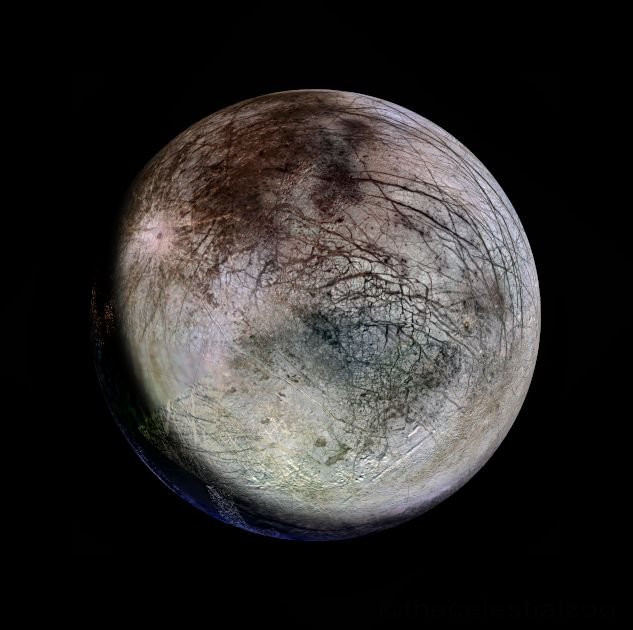 Image credit" Pablo Carlos Budassi. Used under a CC 4.0 license.
The image shown here was captured by the Galileo spacecraft in 1996. The icy surface on Europa makes it one of the most reflective in the solar system. On several occasions, scientists have observed what they believe to be plumes of water on the surface of Europa. If these are plumes, then water from the underground ocean may be jetting to the surface of the moon.
It is really, really cold on Europa. Temperatures vary, depending on location, between -260 degrees and -370 degrees Fahrenheit. Based on the premise that Europa has a plentiful water supply, some scientists believe extraterrestrial life may exist on this, the smallest of the Galilean moons.
Geysers on Europa?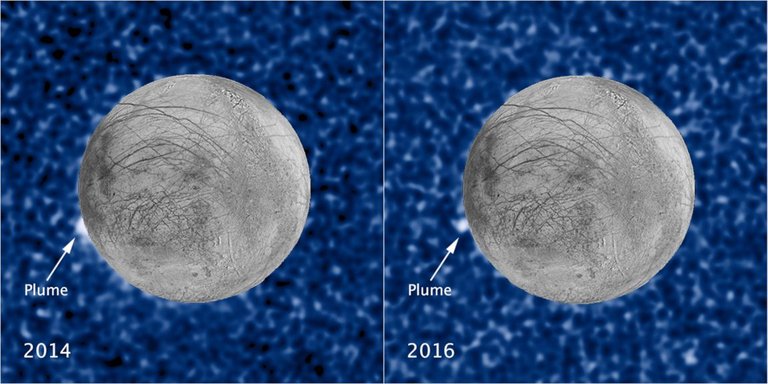 Image credit: NASA Hubble. Used under CC 2.0 license.
The images show what appears to be a geyser in the same place on two different dates: 2014, and 2016. According to the caption under this image, the first geyser was about 30 miles high and the second was about 60 miles high.


Io


Image credit: Pablo Carlos Budassi. Used under a CC 4.0 license.
The image shown here was captured by the Galileo spacecraft. Jupiter's moon Io is the most volcanically active world in the solar system. Although the average temperature on Io is -202 degrees Fahrenheit, its volcanoes can reach a temperature of 3000 degrees. Because of this, the moon has been called a "celestial body of fire and ice".
Tvashtar Volcano on Io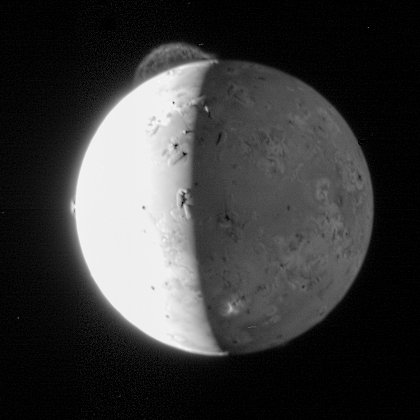 Image credit: NASA (http://pluto.jhuapl.edu/gallery/imageUsePolicy.php). Public domain Image captured by the New Horizons Probe in 2007.


Callisto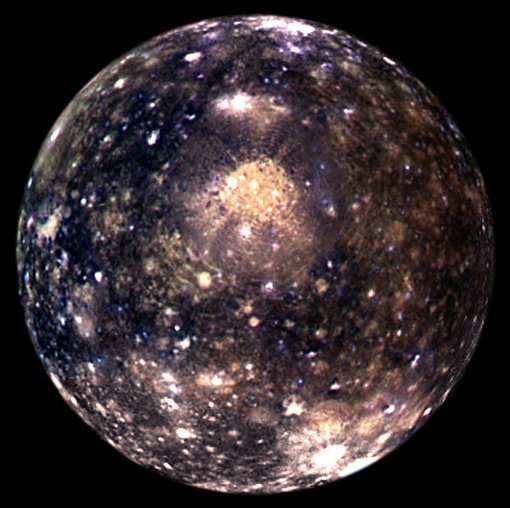 Image credit: NASA. Public domain.
This image was captured by the Galileo spacecraft. Of the four Galilean moons, Callisto is farthest from Jupiter. It was once considered to be a 'dead' moon, but images captured in recent years suggest the presence of underground water. Because of that it is believed life may exist on Callisto. According to NASA, Callisto's surface is the oldest and most heavily cratered in our solar system. Callisto's thin atmosphere may contain oxygen, hydrogen and carbon dioxide.
Gipul Catena Chain of Craters on Callisto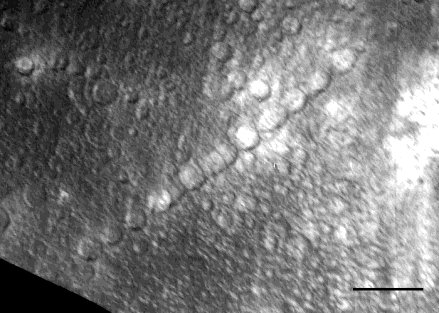 Image credit: NASA. Public domain.
This 620-kilometers-long chain of craters is located near Callisto's north pole.


My Collage
The collage shows my little aliens living on Jupiter, which we know from my blog is not likely to happen. However, there was that lovely blue sphere in which to place the house, so I went there.
Elements in the collage, besides @shaka's template picture, are all public domain images. These are:
The image of Jupiter and its Galilean moons: ParallelVision on Pixabay
The canoe:Greyerbaby on Pixabay
Alien woman (leaning against the house. I dressed her and gave her hair!):TheDigitalArtist on Pixabay
Alien plants: Jazella on Pixabay and Pixabay
Octopus: OpenClipart-Vectors Pixabay
Alien bunny: MARanna on Pixabay
The tree and wings derived from the tree were a blend of two Unsplash sources:marcbabin and Alexis antonio
The butterfly:Elisa Riva on Pixabay
The cat (I colored it in): StarGlade on Pixabay
Small Alien with wings (I added the wings):KELLEPICS on Pixabay

It's a good thing there is a deadline for this collage, or I would have kept going. As you can see, @shaka, and everyone who reads this blog, I had a lot of fun. Before I created this collage, I knew nothing about Jupiter or its moons. I had no idea where the collage would take me. That is the adventure of LMAC, and every week is a new adventure.
The rules for @shaka's contest may be found on his blog. LMAC is a contest, and it is a community of amateur and skilled artists. Obviously, I fall into the first category. Fortunately, we have a school (run by the inimitable @quantumg) where you can pick up tips on how to make your collage. And, we have a Discord channel where you can touch base with community members.
As always, thank you @shaka, and thank you LMAC community for the fun.

Thank you for reading my blog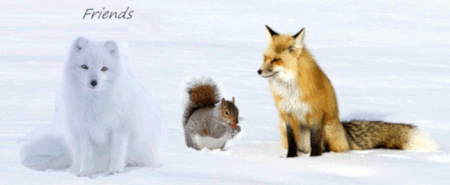 Hive on