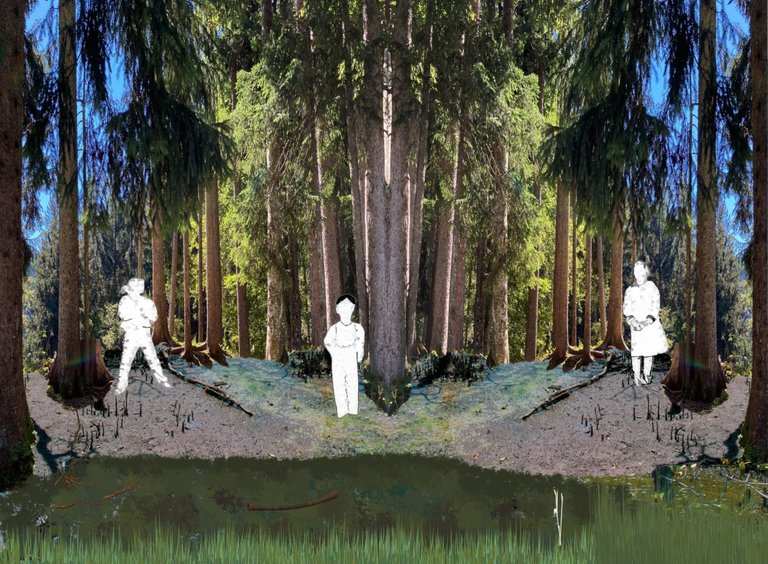 It's that time of the week again: another amazing photo by @shaka for the LMAC community to manipulate. This week's photo is of a country scene, which is always particularly evocative for me, because I spent most of my childhood in the country.
Here is @shaka's photo: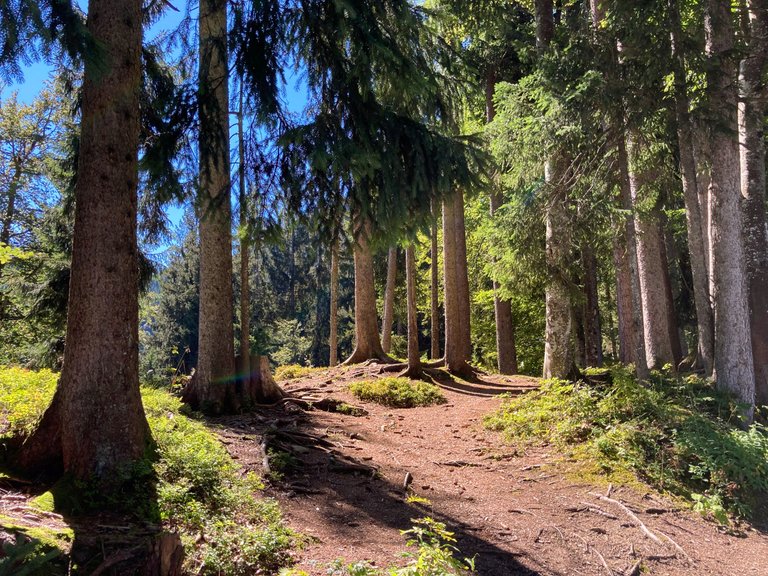 Near my childhood home there was a place in the forest where my brother claimed we could find quicksand. One day, he took my sister and me to that place.
Quicksand in Lower King Bridge, Albany, Western Australia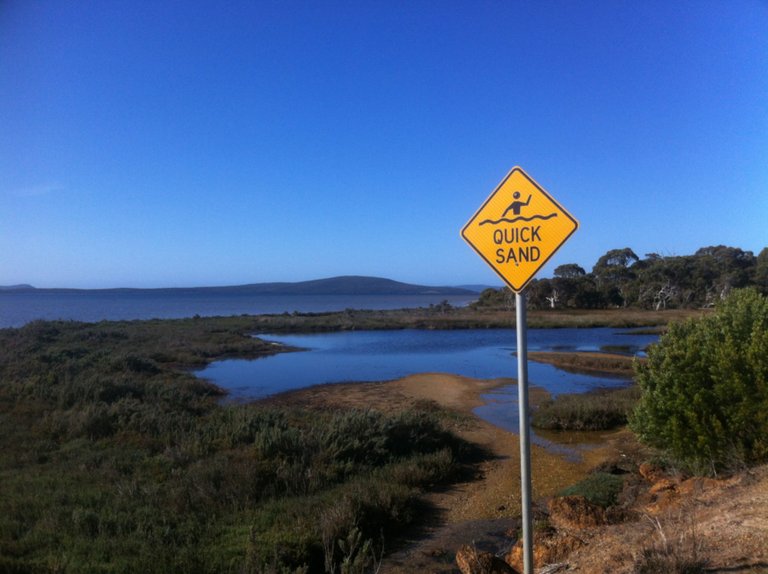 Image credit: Hughsdarren. Used under a CC 4.0 license.
I've always wondered, was it truly quicksand? I have found several mentions of quicksand in areas surrounding my home--we lived in the foothills of the Shawangunk Mountains. One thing is certain: the black pool of mud my brother took us to did act like quicksand on the day we hiked there.
Shawangunk Ridge in New York State, USA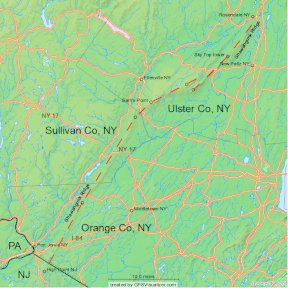 Image credit: Bob K. Used under CC 3.0 license
What Is Quicksand?
There are some myths about quicksand, and there are some realities. Quicksand looks solid, but changes in response to stress and can liquify. As an article in ThoughtCo explains, quicksand is a non-Newtonian fluid. If you put weight on it, it becomes less viscous (more liquid). Thrashing about increases this liquifying tendency. That's why movies show thrashing victims being consumed by quicksand.
However, thrashing about and being pulled down is not likely to happen in real life--though death is possible, (see this news article) because you can get stuck.
Quicksand: Vertical Column of Water Filled with Very Fine Sand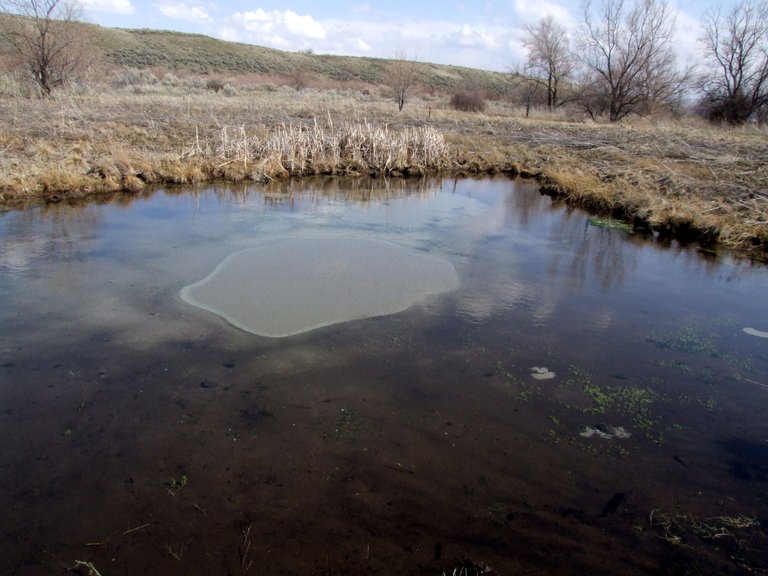 Image credit:Panoramio user 4805004 JF Hobbs. Used under CC license 3.0 Picture taken near near Chubbuck, Bannock County, Idaho.
According to ThoughtCo,quicksand "can be a mixture of sand and water, silt and water, clay and water, sediment and water, or even sand and air". There also is the phenomenon of dry quicksand, which may form in the desert and may be quite dangerous. Dry quicksand forms when very fine sand settles upon more granular sand.
It is believed astronauts face the danger of dry quicksand when they explore Mars and the Moon. (Information derived from ThoughtCo)
Moon Soil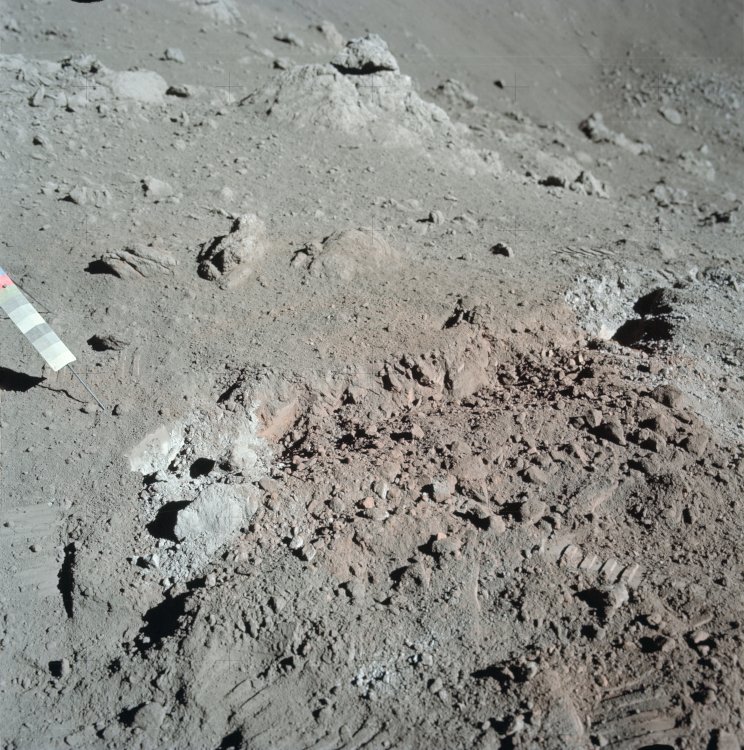 Image credit: NASA. Public domain
Thought.co lists several ways you can conceivably die if you get stuck in quicksand--though none of these are likely to happen: drowning (if you are near water and the tide washes over you), hypothermia, suffocation, crush syndrome (!), dehydration and predators.

My Collage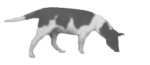 The picture of the dog above was extracted from a larger photo. We had many dogs when I was a child. I don't remember this dog, but all of them were important to us.
One day we found one of our dogs had been poisoned. We needed to conduct a proper ceremony, a burial. However, it was winter and the ground was frozen. So my brother thought of the bog in the forest.
We took our dog, Hortense, up to the bog and decided to let the quicksand be her resting place. The process was slow, but Hortense did eventually disappear from view.
The collage is my impression of that day.
The Figures
Two of the figures are me, extracted from photos and manipulated. The center figure represents my brother. His image was also extracted from a photo and manipulated significantly. I wanted the children to look spectral.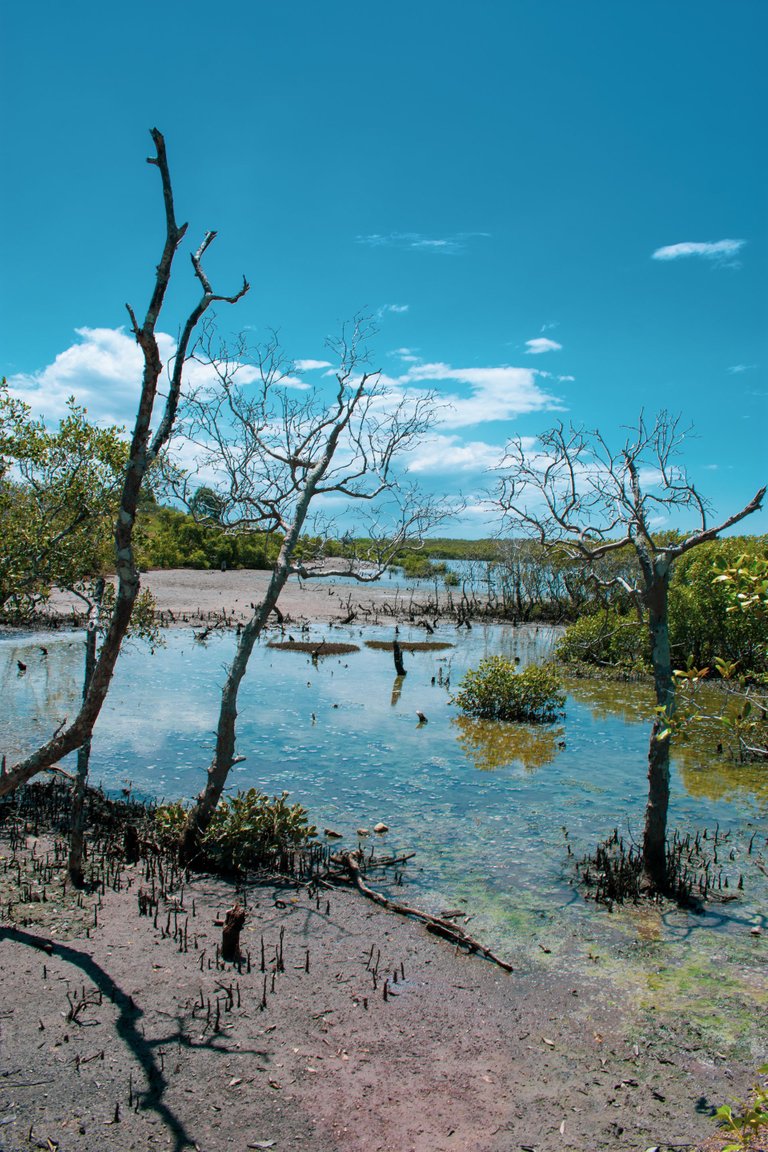 In order to place the collage in a bog, I made a mirror image of @shaka's photo to broaden the view. Then I superimposed the trees on a swamp photo found on Unsplash. I worked with that a bit and filled in the water with mud (painted with GIMP). Accents, such as grass, a twig and a log came from Paint 3D.
An Alternate Version of the Collage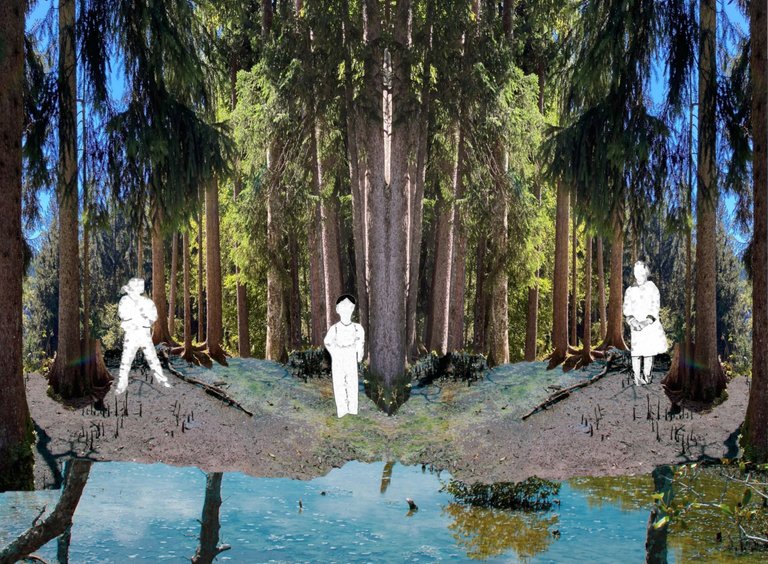 Thank you @shaka for the adventure, again. I used a new tool in Gimp this week, waterpixels. Every time I make a collage, I learn :) Readers of this blog, I invite you to join in. Check out the rules on @shaka's blog. Check out the dizzying array of collages on LMAC. There are prizes, and a school with lessons created by one of our artists, @quantumg. Did you ever want to paint a cloud? @quantumg shows us how to do that in his latest lesson.
Finally, there is a community. All are welcome. Try it one week.

Thank you for reading my blog
Hive on