I start off today by offering my apologies to @muelli. He claimed the oil spill/pollution theme brilliantly in his collages this week (yes, he does more than one!). However, I had already finished mine, except for the animation, when I saw his.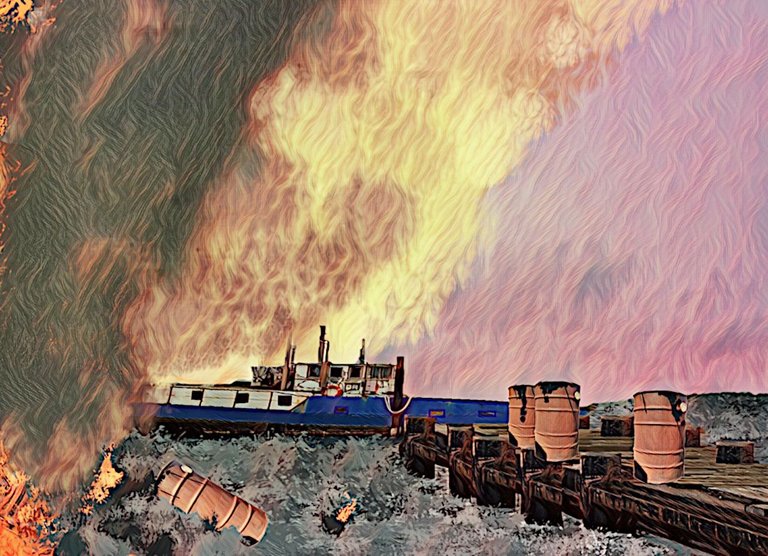 I wasn't about to start over. But, since I don't compete, the similarity of our themes doesn't have any practical significance.
Both of us were inspired by @shaka's evocative picture of a rusting hulk. I found the rust unattractive (although the picture was startlingly expressive) and so I eliminated the rusty part of the boat before I did anything else: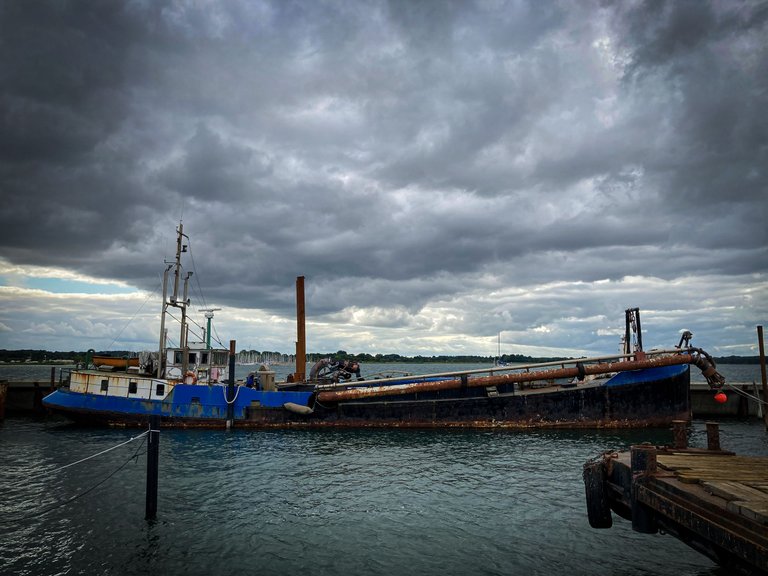 My collage was prompted by current events. There is a spill/leak right now that the people of California are cleaning up from their beaches. But isn't there always a spill somewhere? When will people stop measuring the price of a barrel and start measuring the toll this fuel, and other fossil fuels, take on the planet?
Cleaning Up a Spill
A 2010 article in Livescience offered some data about the amount of oil that spills into our seas. The U.S. Department of Energy reported that "1.3 million gallons of petroleum are spilled into U.S. waters from vessels and pipelines in a typical year". If there is a major oil spill, such as the 1991 Persian Gulf spill and the Exxon Valdez spill, that amount could double.
Is there any way to prevent these spills? Yes. Stop drilling for oil and stop transporting oil.
Bald Eagles Rescued After Exxon-Valdez Spill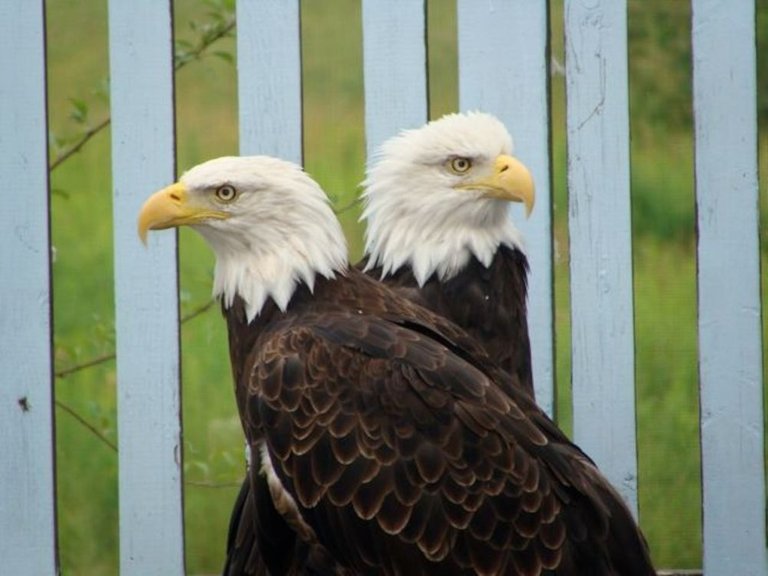 Image credit: Mckennagene (talk). Used under CC 3.0 license. According to the National Wildlife Federation, approximately "250 bald eagles, 22 orcas, 300 seals, 3,500 sea otters, countless fish and marine species, and as many as 250,000 seabirds" were killed because of the Exxon-Valdez spill.
It is true that a certain amount of oil in the seas is natural in origin. Another article in Livescience explains that over a period of hundreds of thousands of years, an amount equal to 80 Exxon-Valdez spills has leaked from the ocean floor.
How do we clean up all that oil, both oil that comes from human activity and oil that is of natural origin? One way is to burn it off right after a spill. Oil must be burned before it has spread over a large area.

Deep Water Horizon Burn-Off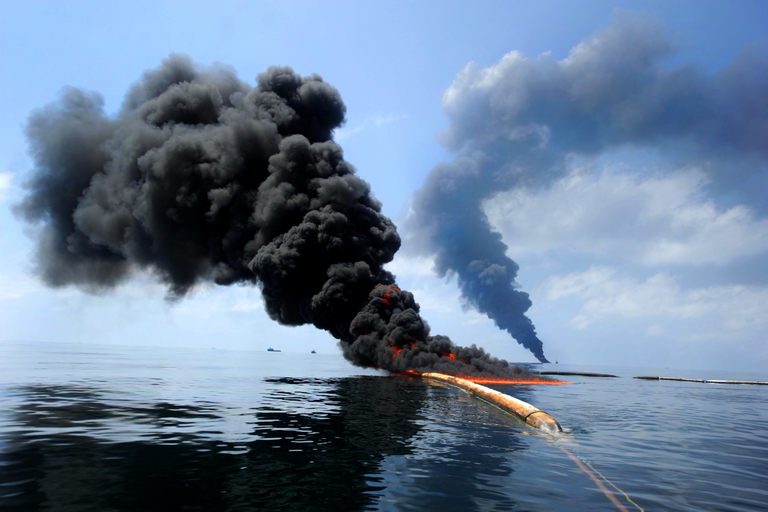 Image credit: U. S. Government. Public Domain
One organization,
Oilspillprevention.org
(I don't know if this is a pro-industry site or not), compares the benefits/harm of burning freshly spilled oil with not burning it. According to this
site,
the greatest danger posed by a controlled burn is particulate matter from the smoke spewing into the air.
Oilspillprevention.org
claims that the particulate matter is a localized issue and is short-lived. The site also claims that most toxic elements in the spilled/leaked oil are eliminated in a burn-off. As for wildlife, it is suggested that, "Birds and animals will generally avoid fire if able to flee". The conclusion drawn by this organization is that a burn-off significantly limits exposure to toxic elements for both wildlife, and humans.
What about all that other oil, the oil that leaks naturally into the sea and oil that remains after a spill/burn-off? According to yet another article in LiveScience: in time, some of the oil washes up on beaches as tar balls; some of it evaporates in the air; some of it is broken down by microbes; and some of it dissolves in water. The gradual degrading of oil is called 'weathering'.
Fusobacteria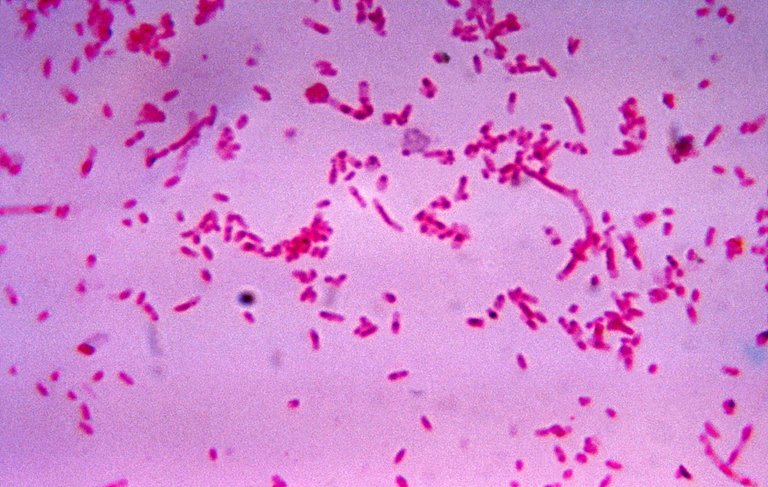 Image credit: U. S. CDC: Public domain. After the Deep Water Horizon spill, a large number of Fusobacteria were detected, to the surprise of observers. These microbes seem to have a great appetite for oil and are considered a potential tool for degrading future oil slicks.
Oil that is not weathered (does not evaporate, get degraded by microbes or dissolve in water), falls onto ocean sediment.
LMAC and Creative Coin
Creative Coin community and LMAC have formed a relationship that will contribute to the dynamic growth of each. This alliance is a natural evolution. Creatives work well together and fuel each other's energy.
If you look at @shaka's announcement post, you will note that Creative Coin is sponsoring this week's contest to the tune of 10k liquid CCC from the Creative Coin Fund (to curate and award contributions in this round). Additionally, Creative Coin has delegated 70K CCC to LMAC. This will be applied on an ongoing basis, along with our Hive support, as posts are upvoted. Finally, I have been delegated (through January), personally, 98K CCC. This applies every time I upvote a post. So, please use the Creative Coin tag when you post in LMAC. There are lots of goodies waiting for you if you do.

Where can you discover your Creative Coin balance? Check out
Hive Engine
in your wallet. There you will find tokenized coins listed. Watch your balances as they accrue. An amazing number of tokenized coins are listed in Hive Engine, some you may not be aware of. There is a universe of crypto possibilities, all built on the Hive blockchain.
Check it out.
Thank You
Thank you
@shaka
for creating and leading the amazing LMAC community. With the addition of
#LIL
, our
image library,
the potential for community growth is tremendous. Thank you
@quantumg
for always being a resource and for doing magical coding that gives function to our library. And, finally, thank you to three
#LIL
contributors whose images give life to my collage:
The sky
@jedigeiss
The fire
@donroberts
The barrel
@muelli

(Oh no! I just realized I forgot to name my #LIL contributors as 2% beneficiaries!! That will be remedied on post payout, I promise. This is a courtesy collage creators extend to all #LIL contributors who help to make our creations sparkle)

To all my readers: I wrote a long one this week, didn't I? :)) Thank you for reading. I hope you check out all the wonderful collages on the LMAC
site.
Find LMAC on Discord, and connect with us.