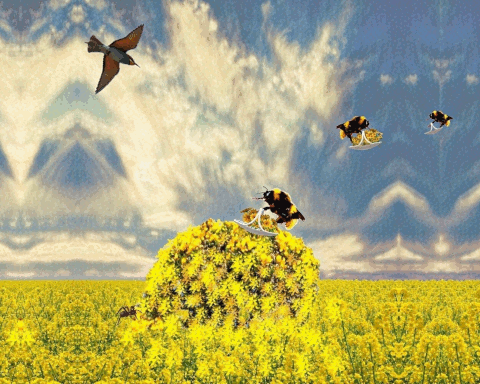 Who doesn't love bumble bees? We all know these insects are important to the food chain. In many ecosystems, bumble bees are a keystone species. According to the Xerces Society for Invertebrate Conservation, "four species of formerly common North American bumble bees have experienced catastrophic declines over the past decade". When it comes to pollinating, bumble bees are even more effective than honey bees.
Pesticides are commonly pointed to as a cause of bumblebee distress. However, other causes are loss of habitat, introduction of non-native diseases, and climate change.

Bumble bees, however, have always had natural enemies. Among these are several varieties of birds that have adapted to eating bees, despite the dreaded stingers.
Swallow-Tailed Bee Eater Merops Hirundineus Chrysolaimus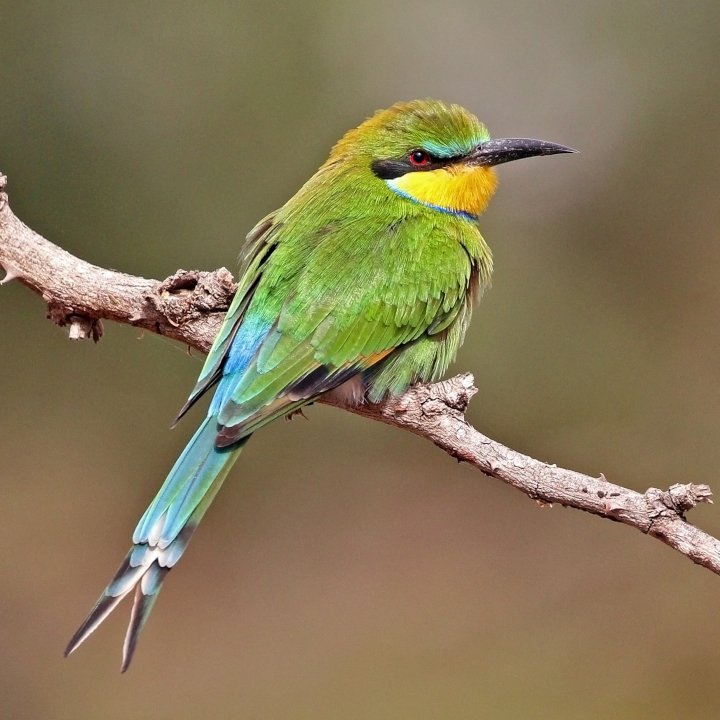 Image credit: Charles J. Sharp. Used under a CC 4.0 license. The breeding grounds of this colorful bird are in the sub-Sahara savannah woodlands of Africa. If given a choice this bird would prefer to feed on a honey bee. It catches its prey by flying from a perch and intercepting the bee mid-flight. (Information derived from Wikipedia).

Cinnamon-Chested Bee-Eater Merops Oreobates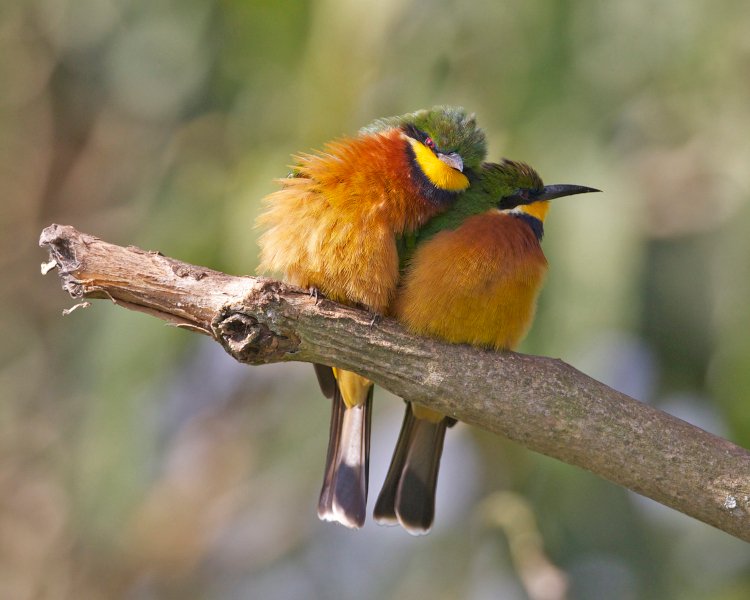 Image credit: Lip Kee from Singapore, Republic of Singapore. Used under CC 2.0 license These birds are displaying nesting/mating behavior. This species may be "found in Burundi, Democratic Republic of the Congo, Ethiopia, Kenya, Rwanda, Sudan, Tanzania, and Uganda."
Spiders also, especially crab spiders, feed on bumblebees.
Crab Spider Thomisus Female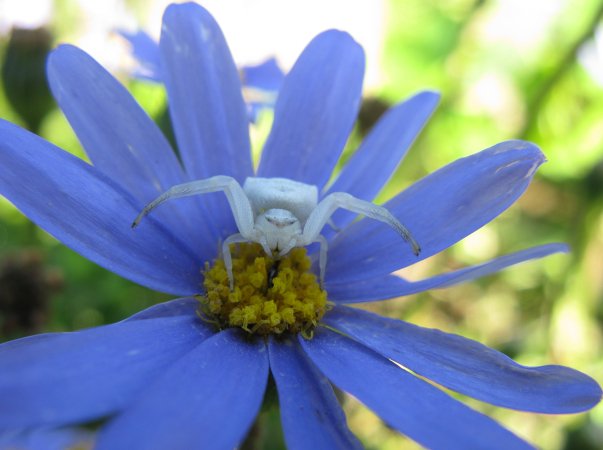 Image credit:JonRichfield. Used under CC 3.0 license. A crab spider may lie in wait on a flower until a bumblebee is within striking distance. The spider paralyzes and kills the bee by injecting venom. The spider pictured here is known as a flower spider. Some flower spiders can actually change color to blend with the flower in order to be more effective predators. This blending also helps to protect the spiders from predators.

Flower Crab Spider Diaea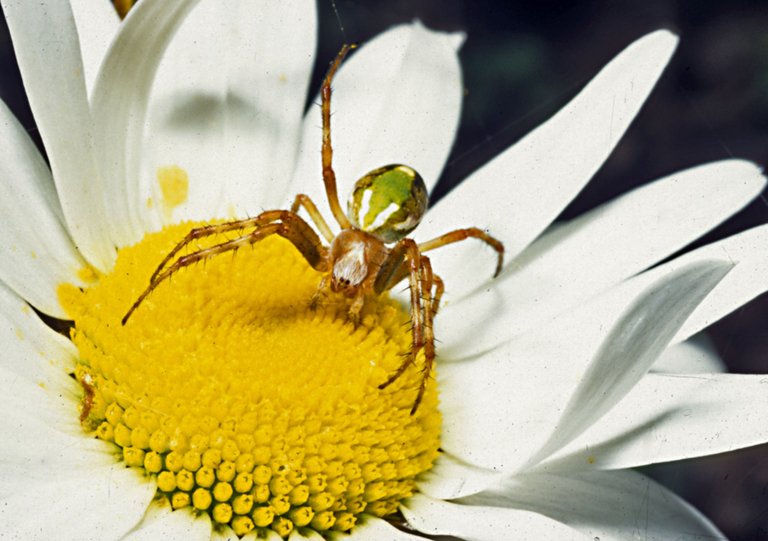 Image credit: Don Home. New Zealand Arthropod Collection. Used under CC 4.0 license. Though this spider is common in several parts of Australia, it is not often seen because of its ability to camouflage by changing color.

Two Bumblebee Predators Not Featured in My Collage
The Badger and the Fly
Badger
Most bumblebees nest underground, although some species nest in trees and in places above ground like bird boxes. Sometimes the bees find a ready-made hole that has been abandoned by another animal. Underground nests are convenient targets for badgers. Badgers have been accused of eating not only the bees, but the whole nest.
Here is a YouTube video showing a badger destroying a bumblebee nest.

Although there are people who believe badgers have a significant negative impact on bumblebee populations, other voices in the conservation community challenge this view. One conservationist website, Brockwatcher's Blog, asserts:"Badgers are major predators of bumblebee nests on the reserve, but the bumblebees thrive despite their depredations."

Fly
Florida Bee Killer Mallophora Bomboides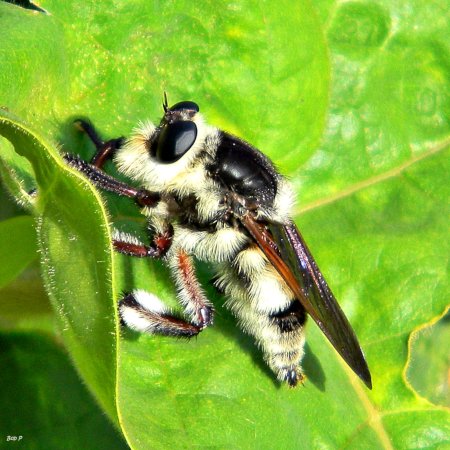 Image credit:Bob Peterson from North Palm Beach, Florida, Planet Earth! CC 2.0
This kills by perching on the end of a reed or shrub and swiftly launching into a mid-air attack. Bumblebees are its favorite food.
Naturalists have theories about why the fly looks so much like a bee. It is either aggressive mimicry, which means its appearance allows it to get close to prey. Or, it is a case of defensive mimicry. If the fly looks like a bee, which can sting, some predators might find the insect unappetizing and move on to more harmless prey.

Bumblebees are prey to many species of animal. The list is almost inexhaustible. I featured here a few of the more interesting and influential of these predators.

My Collage
The template photo @shaka provided this week was a spectacular nature scene: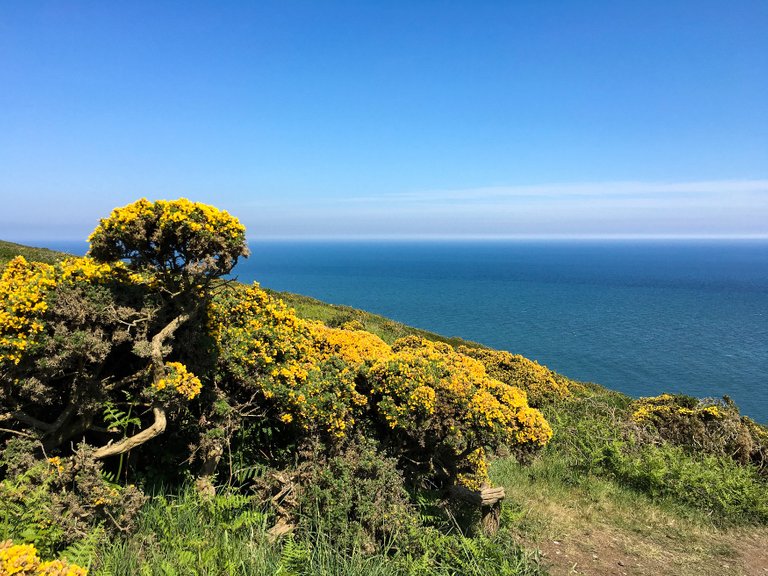 I knew right away I would focus on the flowers and that bees would be part of it. My bees are collecting flowers in baskets, to represent pollen. Two predators are present: a bee-eating bird and a crab spider.
Elements:
Bumblebee: krzysztofniewolny on Pixabay
Bee-eating bird: makamuki0 on Pixabay
Field of flowers: Hans on Pixabay
Basket, flowers in the basket and spider came from Paint 3D
I added filters from Lunapic to each frame in the GIF
Gimp, Paint and Paint 3D were used to manipulate the pictures and make the GIF (many times !)
I painted in (with Gimp) some elements digitally, such as flowers.

Thank you, @shaka for another art excursion. Readers of the blog may find many amazing collages featured in the LMAC community. Rules for entering the contest are described on @shaka's blog. Lessons on how to used art tools in making a collage are provided by @quantumg in the LMAC school. And, LMAC even has a Discord channel where the community can meet casually.
I warn you though, weekly collage exercises is addictive. Join us!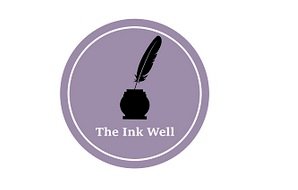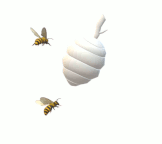 Hive birthday GIF made by me, and anyone can use it.