LMAC Round #98! We are almost ready to celebrate our centenary edition. Every time @shaka offers a template picture for the community to manipulate, there are surprises. The surprises come from us. That is the joy of creating, of making something new, something no one has ever seen. The template this week is a stunning underwater scene.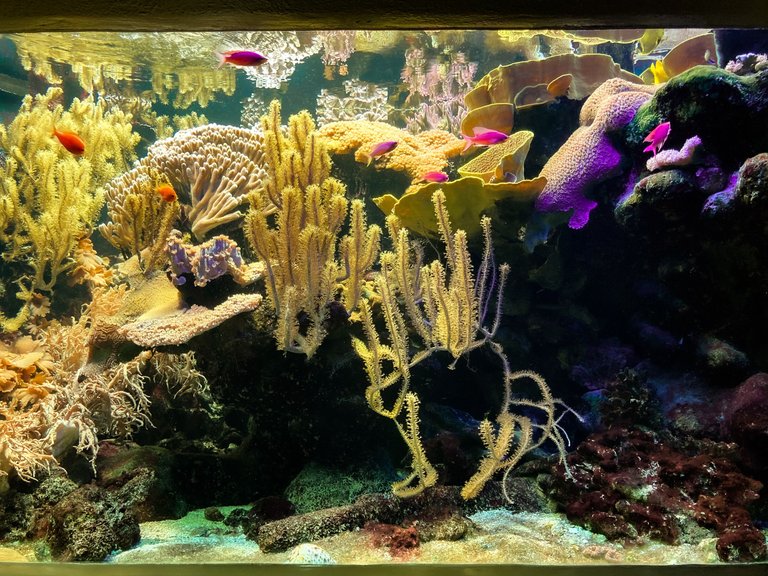 There was no way I could make this image more beautiful, so I settled for telling a sort of story. The story? Two underwater creatures of rare (actually unknown) species meet, fall in love, and propagate. This is the way of all life, and so it is in my collage.
But, is it really the way of all life? While all life has the urge to reproduce and pass on DNA, physical contact and the sharing of genetic material is just one way of doing that.
I wondered, as I wrote this blog, if it was more common to have sexual reproduction (exchange of genetic material between partners) or asexual reproduction (one creature reproducing a sort of clone of itself). It turns out that not only is sexual reproduction more common, but it seems to give a species an evolutionary advantage.
Spawning
We've all seen pictures showing millions (hundreds of millions) of salmon spawning.
Salmon in a Spawning Bed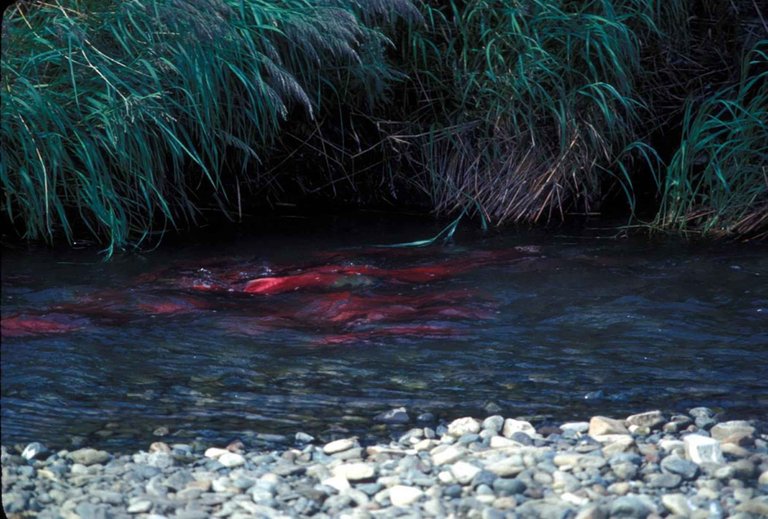 Image credit: US Fish and Wildlife, public domain
As most of us have seen in dramatic photos (and in the photo above) sexual reproduction can occur without partners having direct physical contact. This happens most often in aquatic environments. Eggs are laid in water and fertilized by sperm that has been deposited in the water. In the case of my collage critters, there likely would not be a physical union but a more impersonal exchange of genetic material (because my critters live in water).
White-barred Goby (Amblygobius_phalaena)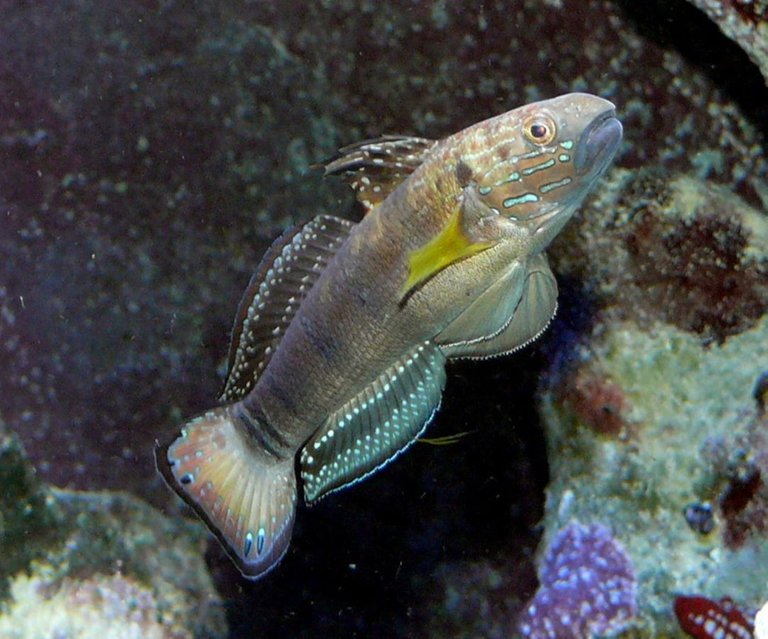 Image Credit: Haplochromis. Used under a 1.0 generic license. There are five goby species that spawn monogamously.
However, even in the case of spawning, or seemingly impersonal external fertilization, there may be a relationship between partners. Some aquatic species that spawn are monogamous. The puzzle of why some species are polygynous (male sperm fertilizes eggs of multitple females) or monogamous has a lot to do with environment. Always, the form of reproduction is an adaptation to favor long-term survival of the species.
Since the critters in my collage are imagined, I imagine them to be monogamous for life. Isn't that the kind of love fantasy humans prefer? My critters may, in fact be like the seahorse. Seahorses join together in order to mate, and stay together for life. Not only that. The male carries the offspring.
Seahorse Mating Dance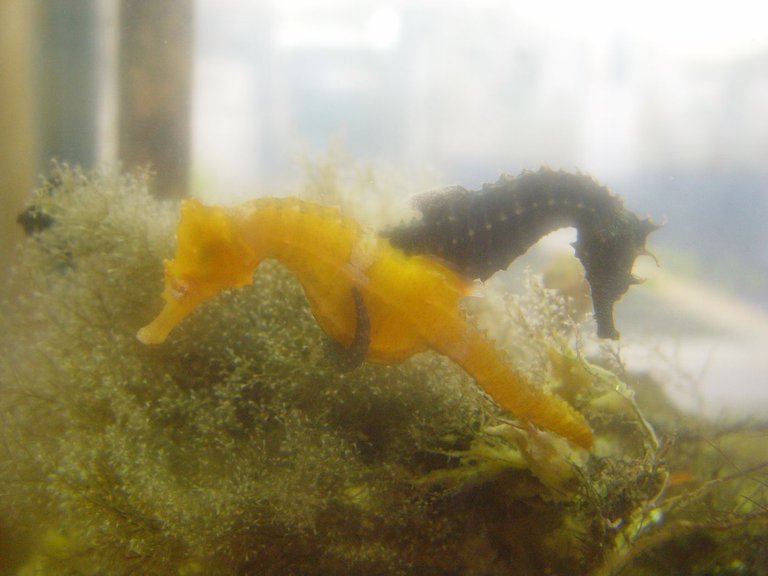 Image credit: Gulf Specimen. Used under CC 3.0 license.
My Collage
I thought I wouldn't be able to make a collage this week, because I was plagued with a backache. Then I realized I could use my iPad to draw on
@shaka
's template. In this way my critters were born.
There is something about the sea that suggests life to me, propagation. After all, it is said that our earliest ancestors emerged from the sea.
Besides my critters, I wanted to populate the environment. Where better to find fascinating creatures but in #LIL, the LMAC image gallery. #LIL offered me two fanciful animals contributed by @artsugar and a lovely imaginary umbrella contributed by @justclickindiva.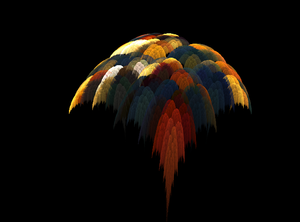 The animals:
#1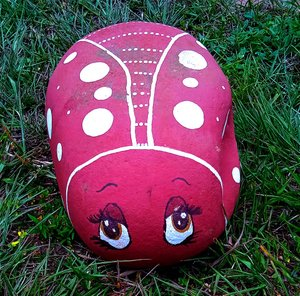 And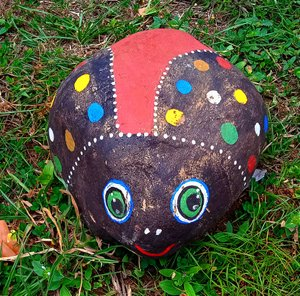 Paint 3D was used to arrange the elements and make frames. I used Gimp to make layers and create color in the final animated collage.
I've made a decision to use no images besides those I can create on my own and those I can borrow from #LIL. It's fun to find ways of operating within these boundaries.
The Personification of LIL, in LILY, Our Librarian/Search Bot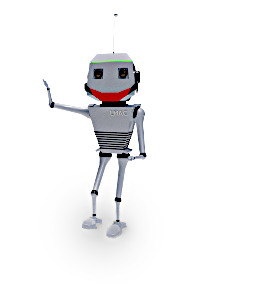 Image credit: (public domain) @quantumg, LMAC's master coder
Everyone on Hive is invited to contribute to #LIL, and everyone is invited to borrow from #LIL. Those who contribute will receive support from the LMAC community. Procedures and rules for participating are described here.
As for this week's collage challenge: the rules and template photo may be found on @shaka's blog here.
I hope readers not already engaged with LMAC will be tempted to join our community. We are welcoming and extremely interested in engaging with creative Hivers. Connect with us on Discord.
As always, I thank @shaka for doing all the work maintaining the community demands. Please, everyone reading this, be safe and peaceful. Always have fun.
Thank you for reading my blog. Hive on!