This week the world witnessed the safe landing of NASA's Mars Perseverance Rover. It was perhaps this event that led me to see something extraterrestrial in @shaka's template picture for LMAC round #69.
Shaka's Template Picture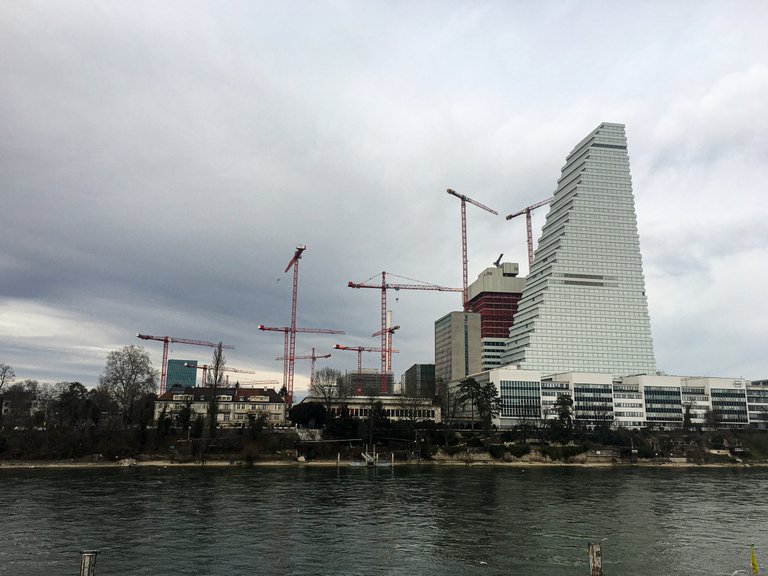 I lifted the building off the ground and made a space station out of it.


Precursor to the International Space Station
In 1971, the Soviet Union launched the first space station, Salyut 1, into orbit.
Solyut 1 Diagram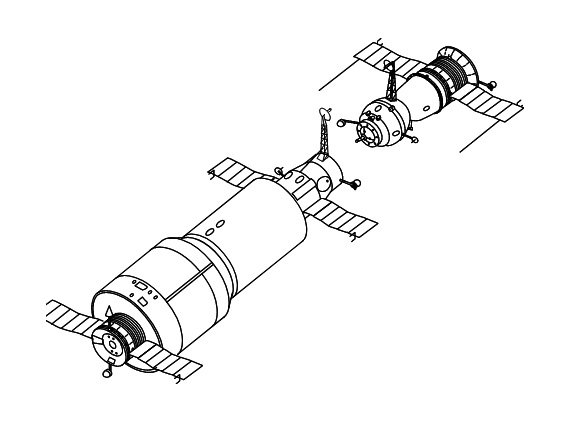 Image credit: NASA. Public domain
Solyut 1 stayed in orbit for 175 days. It departed from earth unmanned, but two manned Soviet space vehicles attempted to dock on the station. The first one, Soyuz 10, had trouble with its hatch and the cosmonauts never actually were able to get onto the space station. The second vehicle, Soyuz 11, docked successfully and the three cosmonauts on board spent about three weeks on the station. Unfortunately, as they attempted to return to earth, there was difficulty with their reentry capsule and all three cosmonauts perished.
Stamp Commemorating Cosmonauts Who Perished on Soyuz 11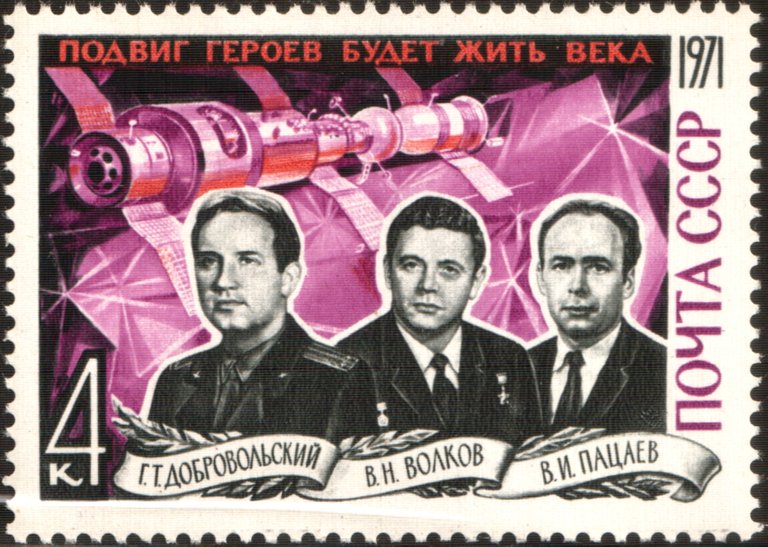 Image credit: USSR Post. Public domain

U. S. Space Station Skylab 1, Prior to Launch
The U. S. sent its first space station into orbit on May 14, 1973. There were near calamities, but none disastrous.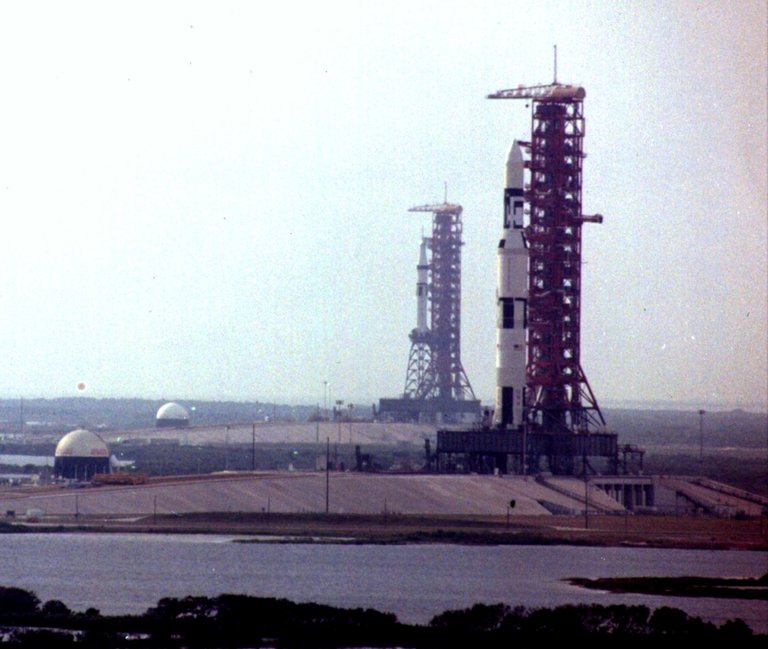 Image credit: NASA. Public domain
A crew reached the station on May 25 and repaired the damaged structure. Sklyab disintegrated on July 11, 1979, and pieces of it fell to earth in a debris field.
Skylab in Orbit, 1973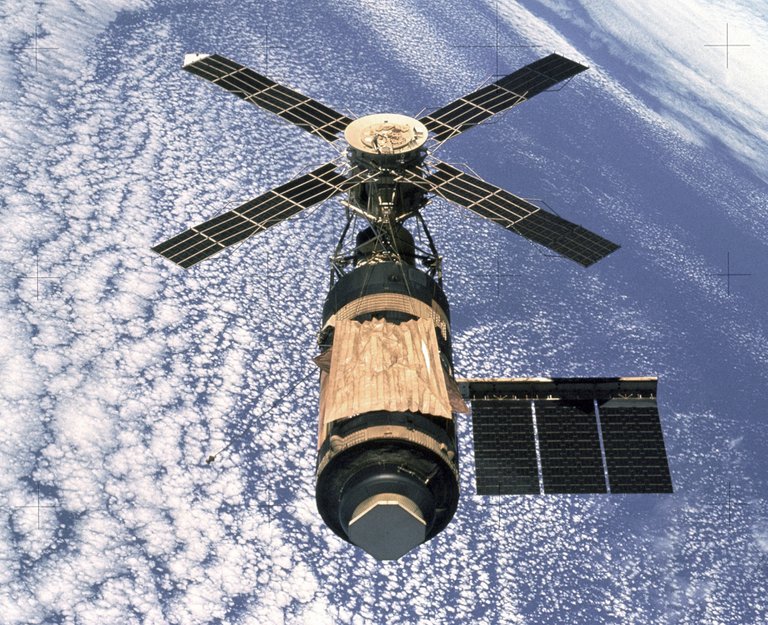 Image credit: Photo taken by Skylab 4 command module crew in the final fly around before heading home, November 16, 1973. Public domain.

The International Space Station
The International Space Station was launched in November of 1998.
International Space Station, As Seen From the Departing Space Shuttle Atlantis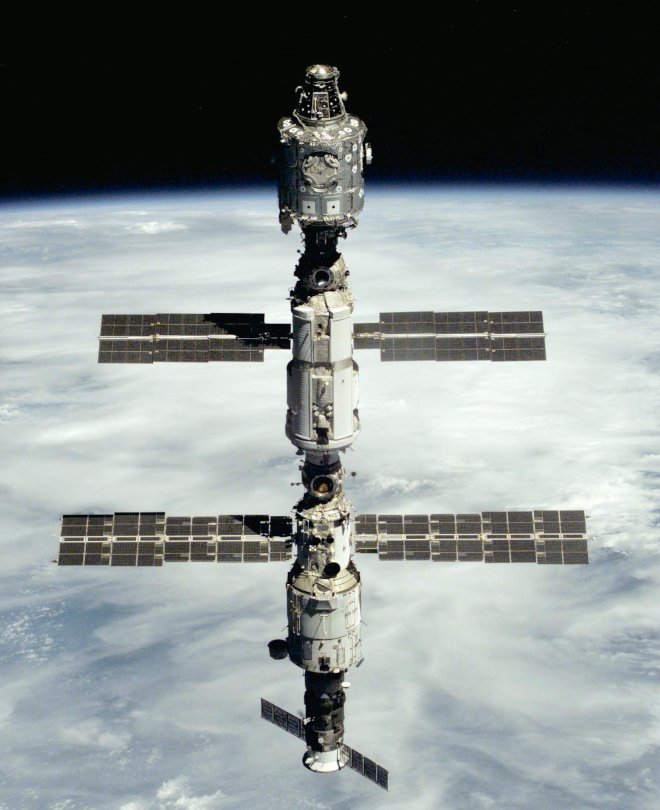 Image credit: NASA. September 18, 2000. Public domain
First a Russian Rocket launched the Russian Zarya control module. A couple of weeks later the U.S. space shuttle Endeavor met Zarya in orbit. Endeavor was carrying Unity, a node that would be attached to the Zarya control module.
Though the space station was designed to accommodate people, it would not be habitable for another two years. (Information on the International Space Station derived from NASA)
International Space Station, 2002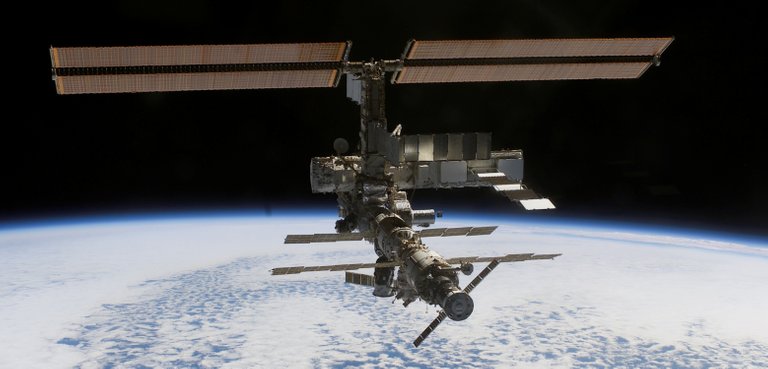 Image credit: NASA. The description under this photo: "Backdropped against the blackness of space and Earth's horizon, the International Space Station was photographed through an aft flight deck window following separation from the Space Shuttle Atlantis. The orbiter pulled away from the complex at 8:13 a.m. (CDT) on October 16, 2002." Public domain

Today, as the Station orbits, crews from around the world continue with its construction. Countries that have worked on the Station, in space, include: U.S., Canada, Russia, Japan, Belgium, Denmark, France, Germany, Italy, Netherlands,Norway, Spain, Sweden, Switzerland and the U.K.
Astronaut Nicholas Patrick Making Repairs on the Space Station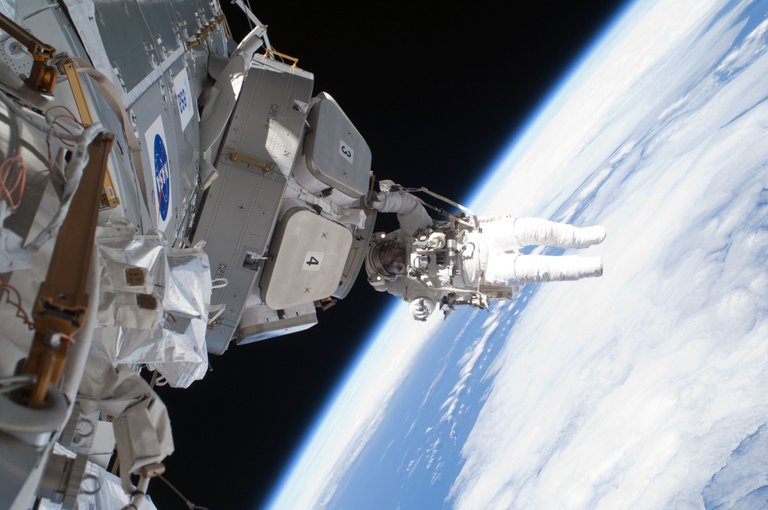 Image credit: NASA Astronaut Nicholas Patrick performs repairs on the International Space Station, February 17 2010. Public domain.
According to NASA, most crew members stay at the station for about six months. The longest U.S mission, 215 days, was made by Mike Lopez-Alegria. A Russian cosmonaut, Valeri Polyakov, spent 437 days.
Health Impact of Long-Term Space Travel
An 2019 article published in
Science Reports
discussed some of the changes noted in long-term residents of the Space Station (six to twelve months). "The composition of the intestinal microbiota became more similar across astronauts in space." Also, as a result of alterations in the skin microbiome, there was an increased incidence of rashes.
Crew Inside the Zvezda service module on the International Space Station, 2011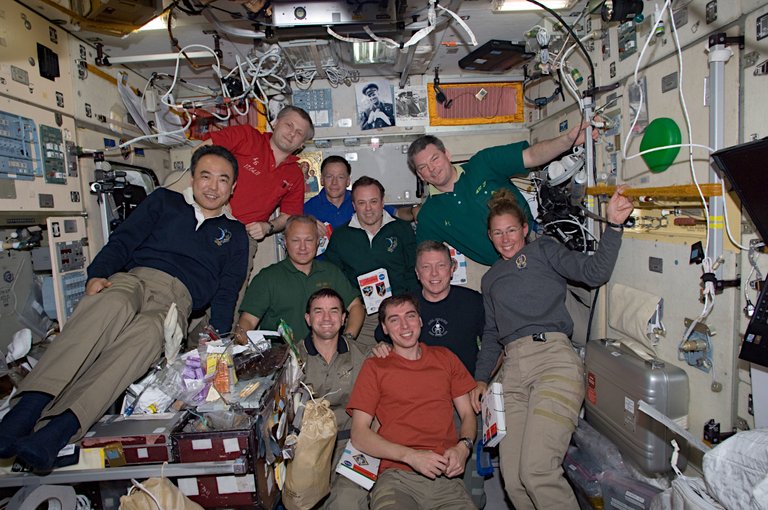 My Collage
I knew I wanted to create the illusion of a space station, but I wasn't sure how that would look. First I had to extract the building: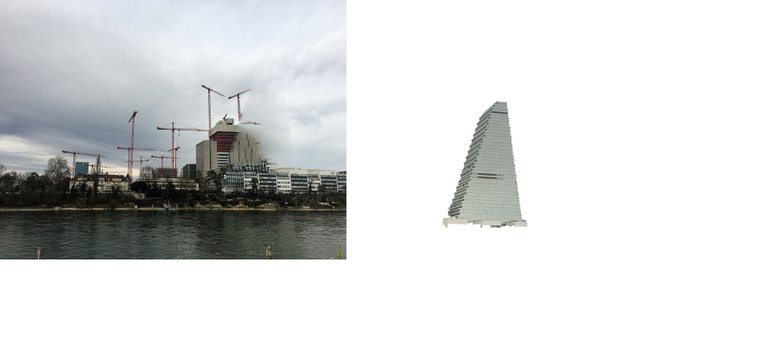 Then I had to duplicate it and put it together in a pinwheel, adjusting the lines in the center so it looked as though there was a hub from which a crew member could exit to make repairs on the station.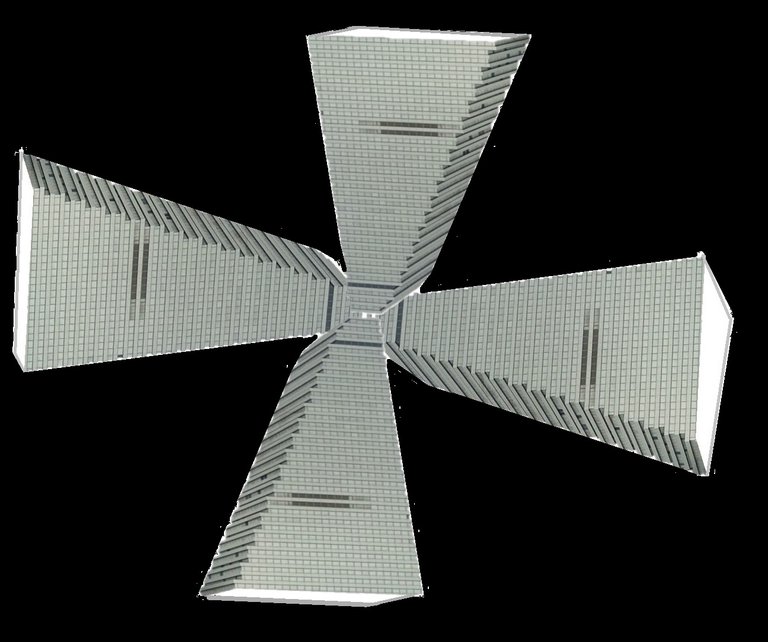 I found a pinwheel galaxy on Pixabay, SarahRichterArt, and used that as a backdrop.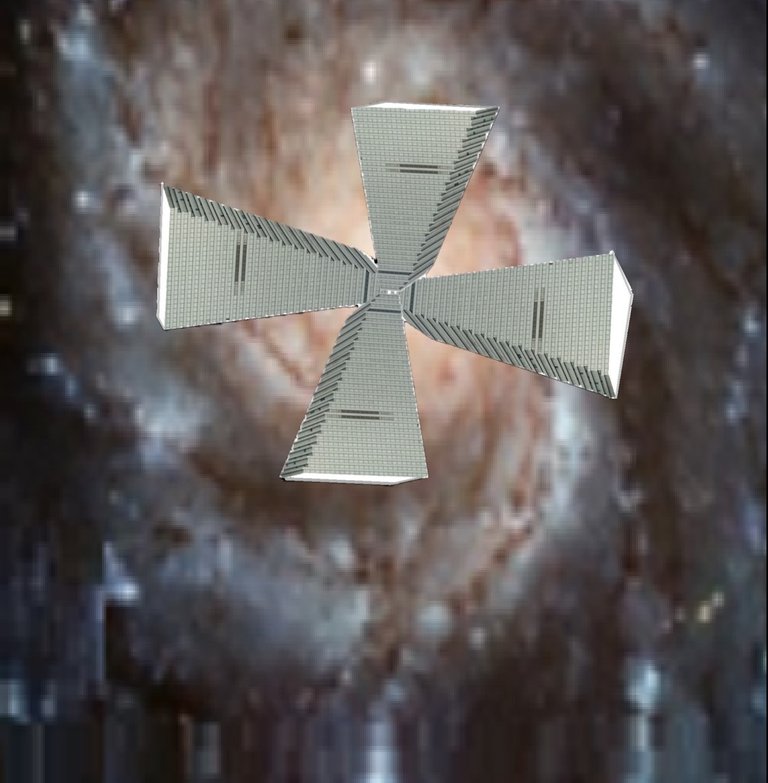 After that, it was a matter of adding dramatic background, an astronaut (fromm Paint 3D), and making frames in Gimp to simulate motion for the GIF.


I was busy this week, and a little tired, so I wasn't going to participate. Then I visited @muelli's blog and couldn't resist the challenge. He has that effect on me :)).
Thank you @shaka, and everyone in the LMAC community. Environment is important to me. The LMAC environment is conducive to creativity.
Please check the LMAC school (@quantumg our wonderful teacher), the collages, and @shaka's blog for rules of the community. LMAC has only one entrance requirement: have fun!


An Invitation to All Creatives
If you love to write stories, try the Ink Well community. We love writers.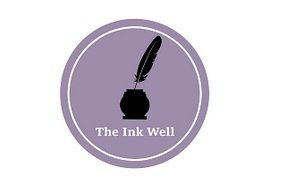 Thank you for reading my blog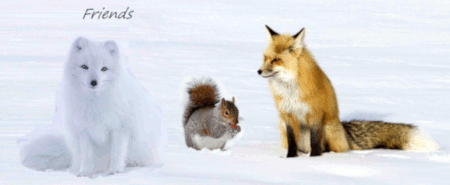 Hive on!