This week @shaka offered a stunning photo to the LMAC community.


Underwater Photo, by @shaka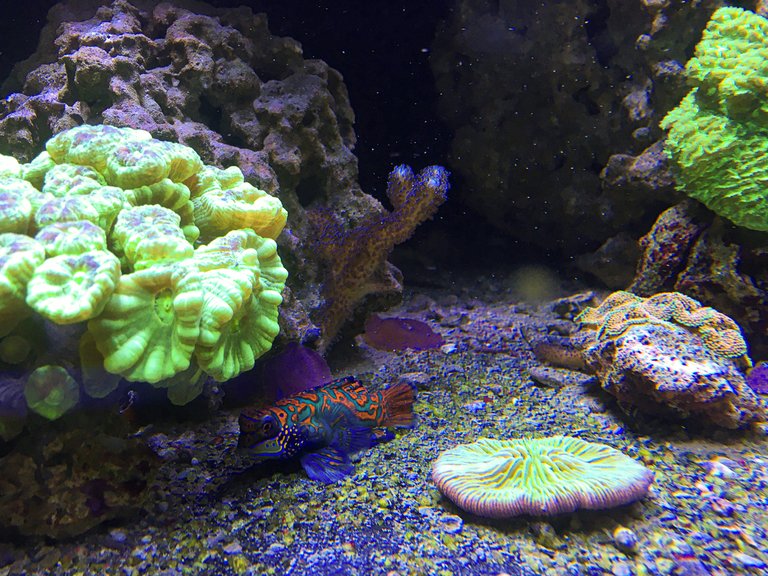 Life. Immobile and at the same time dynamic. The scene in @shaka's photo suggested to me primitive forces. An eternal battle between predators and prey, winners and losers. All the while, the sea bears witness, with stark indifference.
And so my collage took shape.


Stealth Predators of the Deep
In preparing to create my collage, I did a little reading about marine predation, and came across a class of predators called ambush hunters. These predators may be found on land and in water environments. For me, they embody both action and passivity, qualities I tried to convey in my collage.
Stealth Predators
At the end of this blog I offer links to videos that show each of these ambush hunters in action. I didn't watch the videos to the end...the more squeamish of my readers may not want to, either.
The Bobbit Worm (Eunice aphroditois)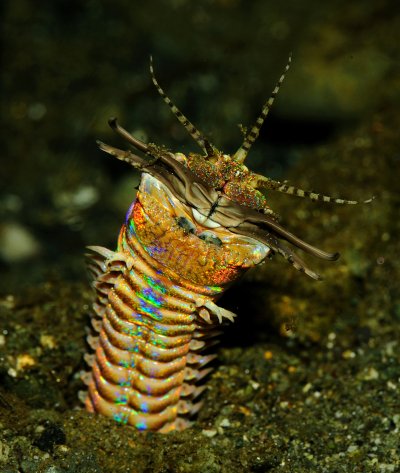 Image credit: 'Jenny' uploaded to Flikr and Dream of Shadows published the picture on Wikimedia Commons under a CC 2.0 license
The Bobbit worm may be one of the most gruesome-looking predators in the marine environment. This creature (it's not technically classified as a worm) hides its long body below the surface. The Bobbit may be as long as ten feet. Only the top of the head is visible as the worm lies in wait for prey. The creature has no brain, and is blind. Antennae and perhaps a shadow alert the killer to the presence of prey. The Bobbit's lurch has such power that it can subdue an octopus.

Orange Coral (Astroides calycularis)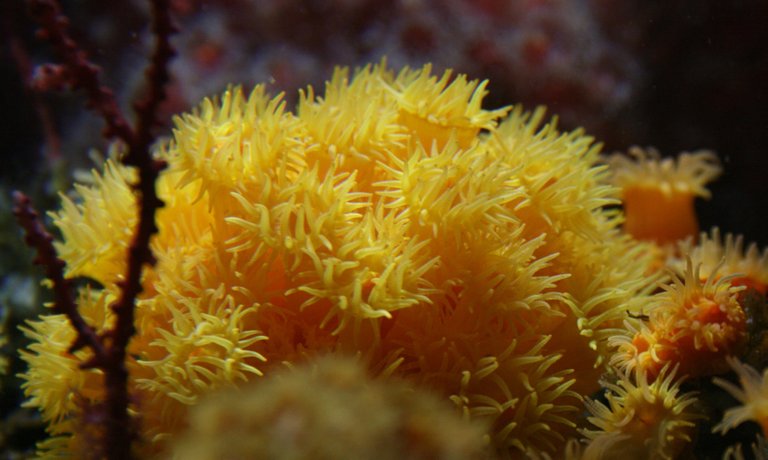 Image credit: Manfred Werner/Tsui. Used under CC 3.0 license.
Most of us think of coral as immobile--a passive, opportunistic consumer of plankton and minute forms of life. Recently it was discovered that the Orange Coral, found in the Mediterranean, actively hunts prey, and does so in cooperation with a community. The Mauve Stinger Jellyfish is the target of these coordinated attacks. When the jellyfish is carried by currents past the coral, a few corals grab the head of the prey. Nearby corals latch onto the victim's arms and begin to feed. Sometimes a jellyfish can escape this trap, but a great many perish, as numerous jellyfish bodies below the coral suggest.

Mantis Shrimp (Stomatopoda)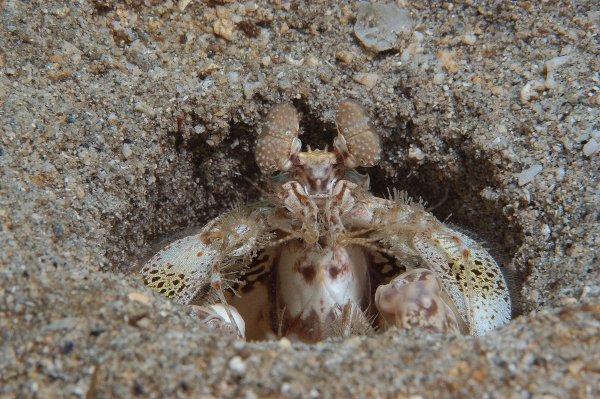 Image credit: Barry Peters from Greer, SC. Used under CC 2.0 license
Ordinarily, shrimp are bottom dwellers that feed on detritus. The Mantis Shrimp defies the ordinary. This is not a true shrimp. It is classified as a stomatopod, and may be 1 1/2 feet long. When it hunts, the Mantis hides most of its body below the surface and leaves only eyes and antennae visible. As prey pass by, the shrimp thrusts it body forward and, using praying-mantis-like forearms, captures and holds its victim. The species is about 400 million years old, lives for about 20 years, and mates for life.

My Collage
Almost everything I added to @shaka's picture came from Paint3D.
One eyeball

came from Pixabay.
It took many attempts to get all the pieces working together in a way I imagined. I wanted the scene to be both beautiful and cruel, as I often find nature to be.
Thank you @shaka for once again offering the Hive community an opportunity to create. Colorful, imaginative collages are already appearing on @shaka's blog. Readers should go over there and take a look.


Videos (Beware: Gruesome Scenes of Predators at
Work)

Bobbit Worm




Thank you for reading my blog
Hive on!