In my collage for LMAC #105, a chubby bear climbs a skinny tree and the inevitable happens: the bear comes tumbling down. Maybe that bear will be afflicted in the future with a fear of heights--acrophobia. If so, the bear would have a lot of company. According to a cross-cultural analysis of research studies (published in Cambridge University Press, 2017), specific phobias are "common". Numerically, 'common' translates into a (lifetime) occurrence in 7.4% of the world's population. The data may be somewhat compromised because it is subject to research limitations, which includes under reporting/diagnosis, especially in low and middle income countries.
Depiction of a Person with Arachnophobia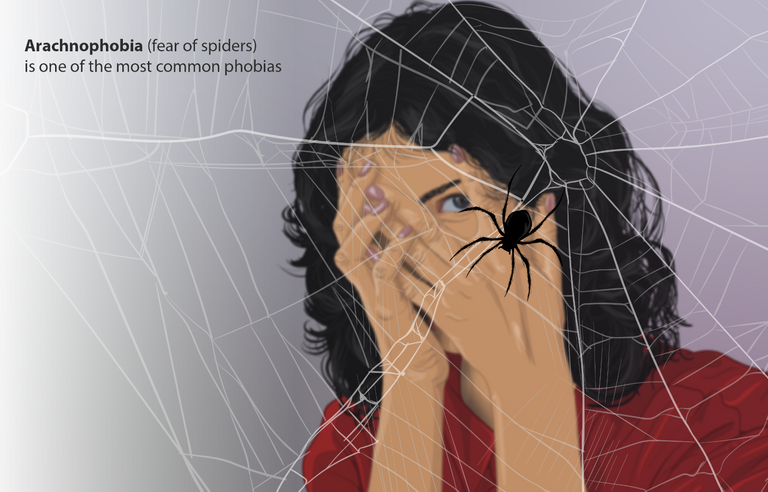 Image credit:https://www.myupchar.com/en, used under CC 4.0 license. One of the most common types of specific phobia, this fear may also include fear of spider webs.
What is a Phobia?
According to the DSM-5, in order to be diagnosed as having a phobia, a person has to demonstrate certain characteristics. The fear has to be irrational--that is, significantly out of proportion to the feared event or object. The fear occurs instantaneously when the phobic is confronted with the object or situation. And this phobic reaction has to have been present for more than six months. It also has to result in avoidance. That is, the person with the phobia will actively avoid exposure to the feared object or situation.
Fear of Flying: Aviophobia, or Aerophobia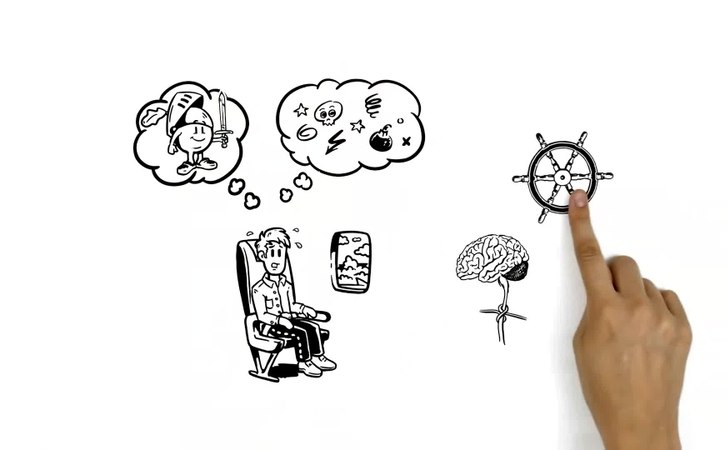 The video is used under a CC 4.0. license.
The illustration above links to a brief video, produced by lIlya at Simpleshow Foundation (http://www.anxietycoach.com/fearofflying.html), which explains, "what fear of flying means and which simple tricks you can use to be able to better control the physical symptoms at least".
Phobia Causes
Sources I consulted suggest a likely genetic association with the development of phobia, coupled in most cases with a negative, fear-inducing experience. Twin studies show that twins raised in separate environments may both develop the same specific phobia. This is strongly suggestive of a genetic link.
One of the most interesting factoids I came up with in my research is an apparent genetic association with the development of a phobia: blood injury injection phobia, otherwise referred to as BII phobia. This has been observed in approximately 3-4% of the general population. (Again, these statistics are influenced by reporting and diagnosis issues in different cultures).
Fear of Needles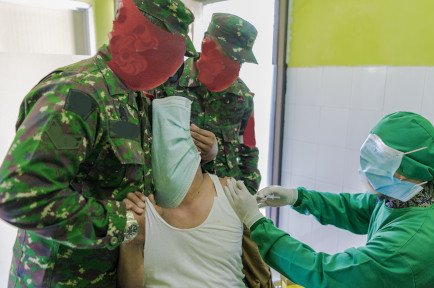 Image credit:M Joko Apriyo Ptro. Used under CC 4.0 license The caption under this picture reads: "A member of the public who receives the dose 1 vaccination must be held by 2 members of the army for fear of needles."
People who have BII phobia are "likely to faint at the sight of blood, the anticipation of physical injury, or the anticipation of an injection"(From the journal Behavioral Neurology) The physiological response in BII phobia is quite distinct and can be severe. Hindawi Journal reports that such people may "...experience a diphasic cardiovascular response of an initial tachycardia, followed by bradycardia, hypotension, shock, vertigo, syncope, diaphoresis, nausea, and seldom asystole and death..."
Enochlophobia: Fear of Crowds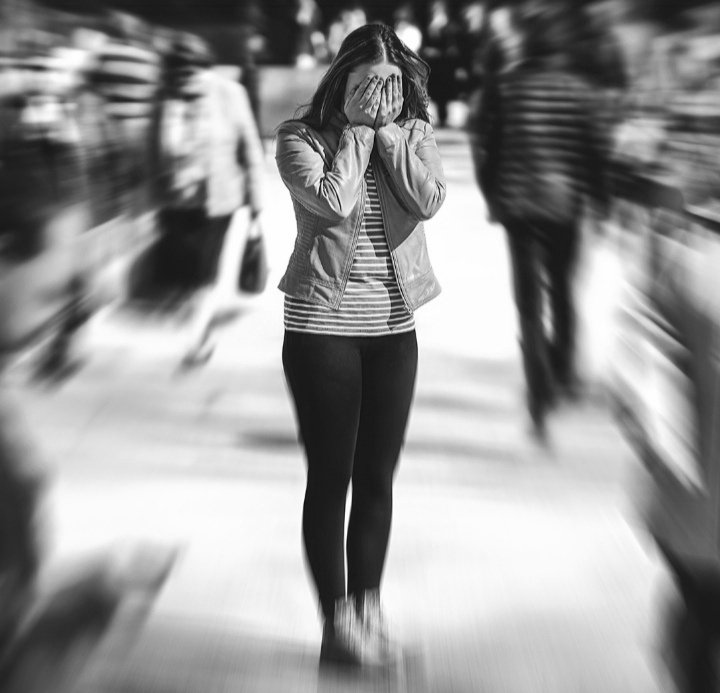 Image credit: colocreator. Used under CC 4.0 license. According to one phobia-centered website, Fearof.net, this phobia is closely related to agoraphobia.
What are the Most Common Phobias?
(The information presented in this list is derived from the Psychiatry Associates of Baton Rouge. LLC.)
The most common phobias are:
Arachnophobia:Spiders, said to be the most common phobia.
Ophidiophobia:Snakes--according to the Baton Rouge website, this is believed by some to be rooted in our evolutionary past, and in experience.
Acrophobia:Heights, often associated with panic attacks and avoidance behavior.
Aerophobia:Fear of flying.
Cynophobia:Fear of dogs--"one of the most commonly treated phobias (usually stemming from a traumatic experience with a dog".
Social Phobia:"Fear centered around social situations and interactions".
Agorophobia:Includes fear of confined spaces, crowds, or airplanes--anyplace "where a quick escape is not possible".
Treatment
In most cases, treatment does not eliminate the fear completely. The treatment goal is to make the fear less limiting. According to the Mayo Clinic, exposure therapy and cognitive behavioral therapy are the most effective treatments. Medication is also used to control symptoms and related anxiety.
Exposure to Snakes to Limit Fear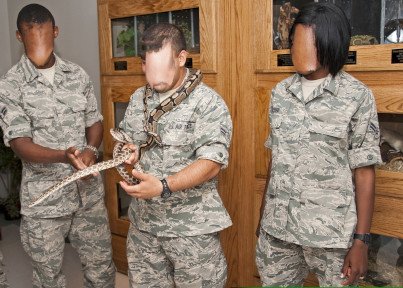 Image credit: U. S. Airforce. Public domain. Military personnel handle a rat snake "to overcome the fear of nonvenomous snakes".
One new treatment the Mayo Clinic doesn't discuss (with regard to phobia treatment) is EMDR. (Eye Movement Desensitization and Reprocessing)but one that works with post traumatic stress is EMDR. (Eye Movement Desensitization and Reprocessing) This treatment has been used with patients who have PTSD, but is less commonly used to treat phobia.
While exposure therapy is a treatment favored by the psychiatric community, it has been shown to be effective more in the short term. than the long term.
My Collage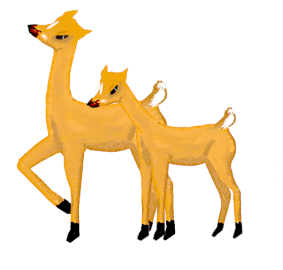 The elements in my collage came from three sources: @shaka's template photo, images in the LIL Gallery, and my own resources.
Template Photo by @shaka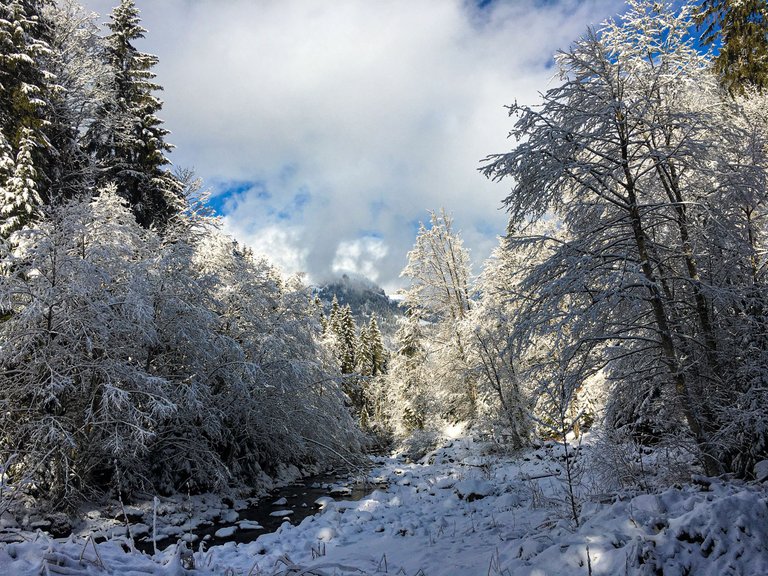 This picture was so beautiful I made a decision not to mar it. Therefore I had to introduce elements that blended with the scenery. Thank you @reheadpei for the squirrel, the raccoon, and the fox. These three critters were borrowed from the LMAC Image Gallery, LIL. (@redheadpei is a 4% beneficiary on this post because I used three of her images and these were indispensable).
I created the deer on my own by using a photo I took last week of a lawn decoration. This was the model upon which my deer were based: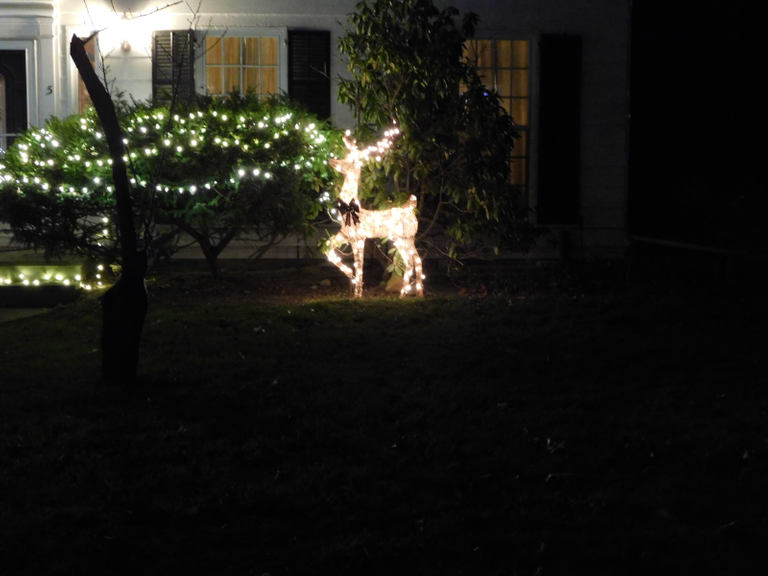 The bear is also from the LMAC Image Gallery, LIL. I contributed this picture some time ago.
Join Us
LMAC is a welcoming community of people who like to create. Some of us are artists and some are not (me). However, we all have fun and everyone has the chance to win a prize. It's hard to tell which collages will end up as a finalist.
Although I do not compete in the contest, every week I make a collage. It is like a tonic for me.
This week's template photo and contest rules may be found at @shaka's blog here. Our image gallery welcomes contributions from all Hive bloggers and everyone on the platform is invited to borrow from the gallery. Rules and process are described in @shaka's blog here.
Thank you @shaka for creating the community and doing the work necessary to keep it vibrant.
Thank you for reading my blog
Hive on