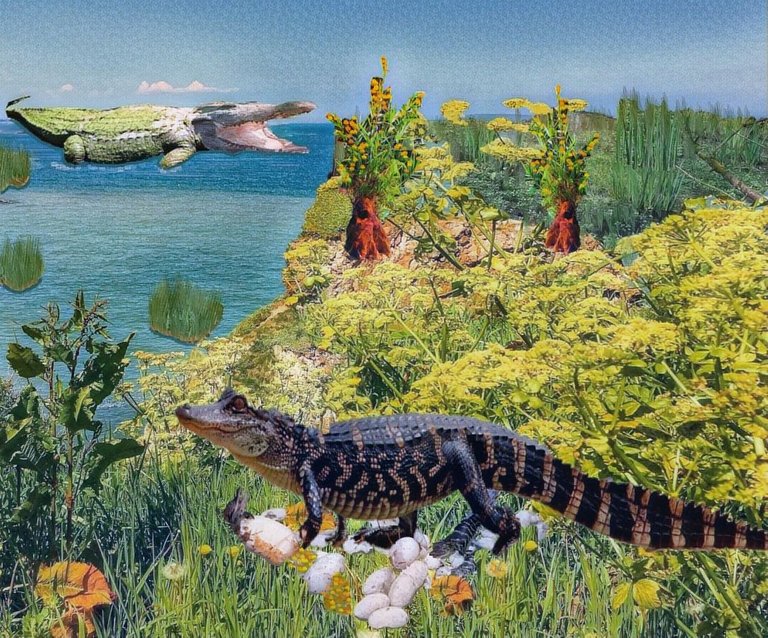 Alligators have a well-deserved reputation for being ruthless killers. Basically, alligators will eat anything they can swallow. This is why I found it surprising that an alligator mother is a devoted parent. The father, on the other hand, will not likely be asked to babysit. He might consider his offspring a tasty meal.


As soon as I saw @shaka's template photo this week I thought of an alligator. The island in the background looked like an alligator relaxing in the sun.
@shaka's photo: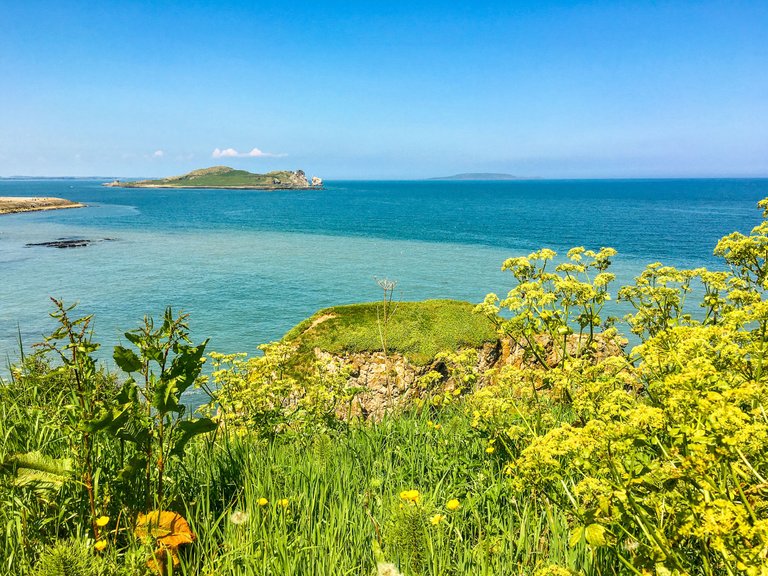 I knew then that the theme of my collage would be alligators and I thought mother alligators would offer a neat perspective.
Mother Alligator With Her Young at an Alligator Farm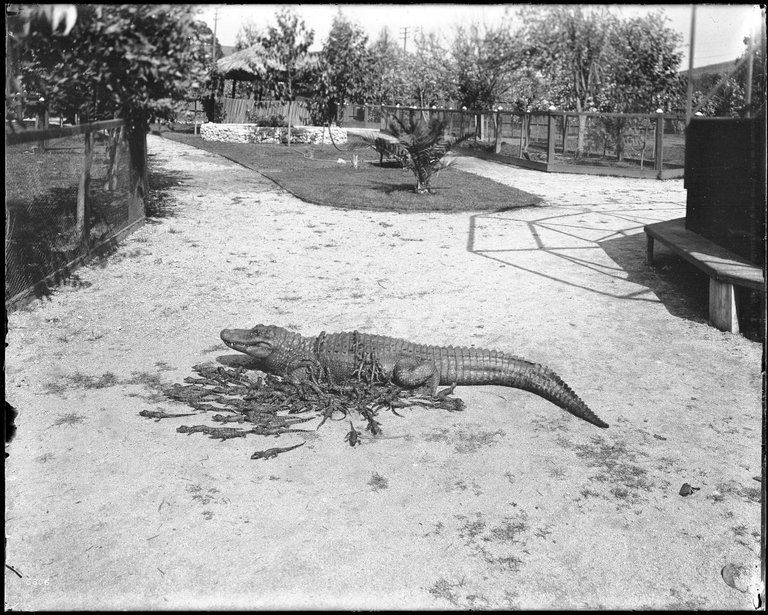 Image credit: Unknown. 1910. Public domain.
There are two types of alligators in the world: the Chinese alligator and the American alligator.
Chinese Alligator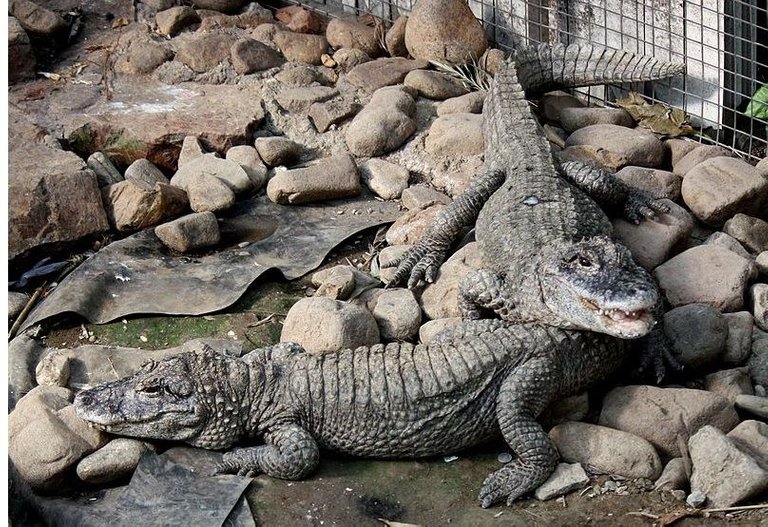 Image credit:J. Patrick Fischer. CC 3.0 license.
The Chinese alligator is smaller. The female on the average is 4 1/2 feet, the male 5 feet. American alligators are much larger: females average 8 feet and males average over 11 feet.
American Alligator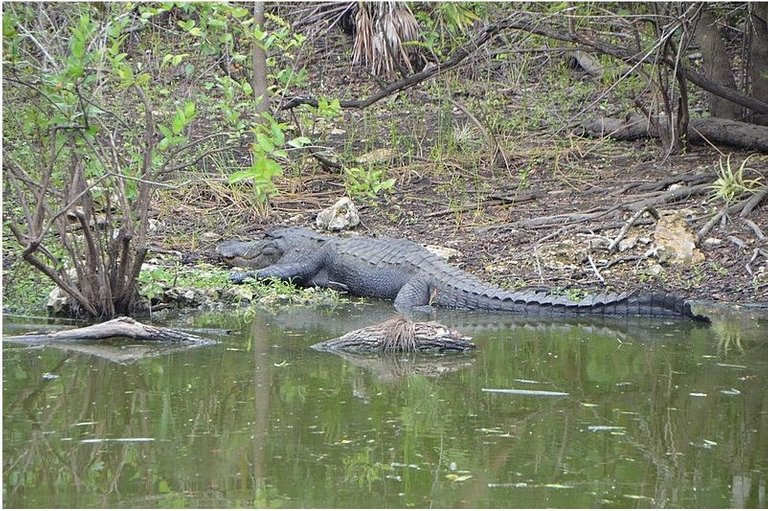 Image credit: Bobyellow. CC 4.0 license
The information I have here is about the American alligator, although I understand Chinese alligators mothers are attentive, also.
The Nest, Everglades National Park, Florida, USA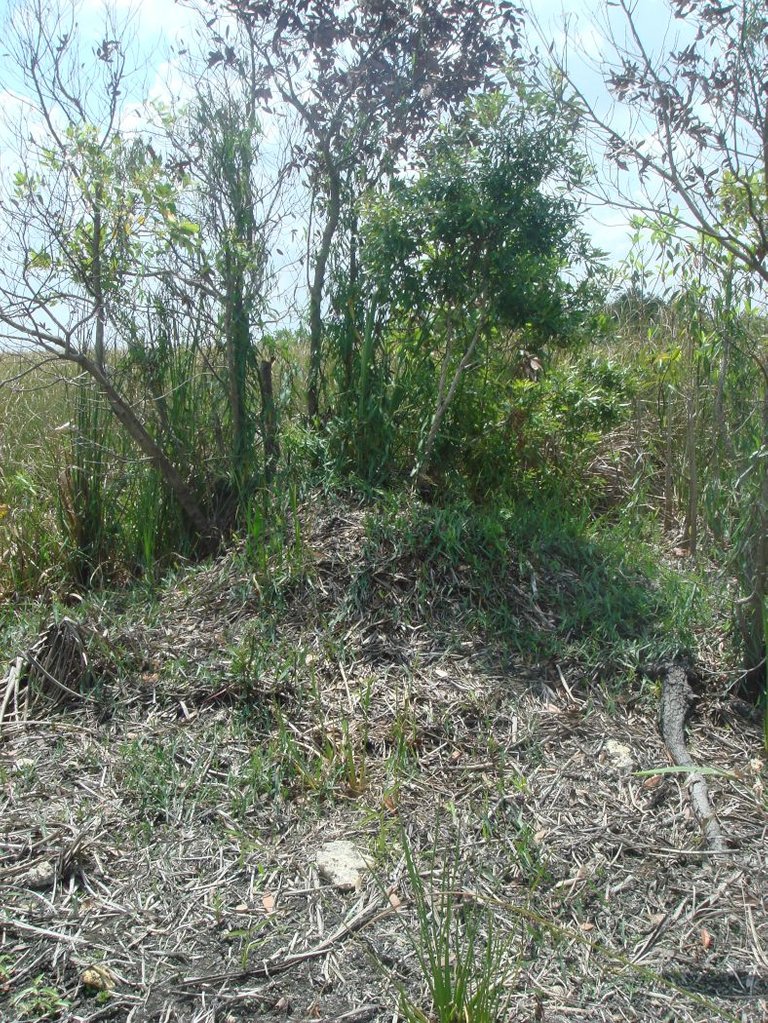 Image credit: Nancy Heise. Public domain
Female alligators are monogamous (one mate each season). Male alligators are polygamous. Males compete for the females. Mating takes place usually in early May and egg laying occurs in late June or early July. The mother has spent the weeks between mating and laying building a huge nest which may be ten feet in diameter.
Alligator Eggs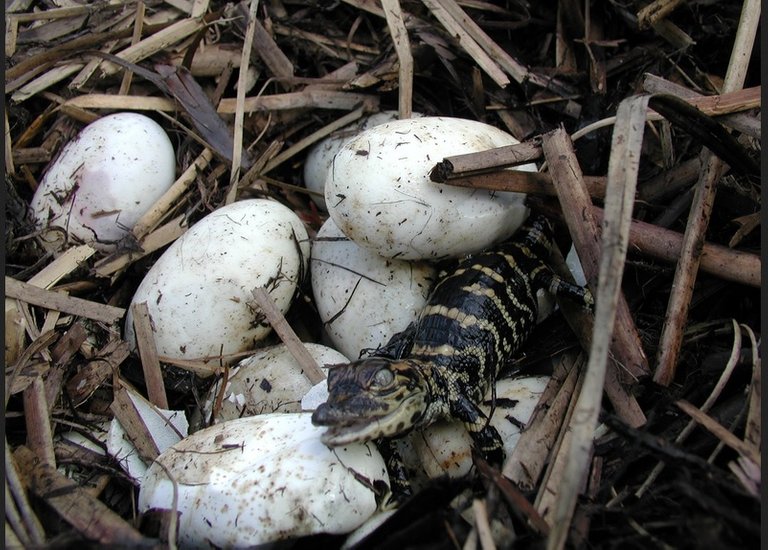 Image credit: NPS Everglades. Public domain.
The alligator can lay up to 90 eggs. She keeps them warm for about 65 days. When it's time for them to hatch, they may start chirping to alert her. Also, it is said the chirping helps to establish a bond between mother and babies before they are born. She may assist them in hatching out.
This Youtube video shows a mother trying to protect her eggs and her young, in what seems to be a very dangerous neighborhood.

The sex of the hatchling is determined by the temperature of the nest. Warmer temperatures, around 93 degrees Fahrenheit, yields male offspring. Cooler temperatures, around 86 degrees yields female offspring. Temperatures in between may yield a mix of female and male.
Baby Alligator in Water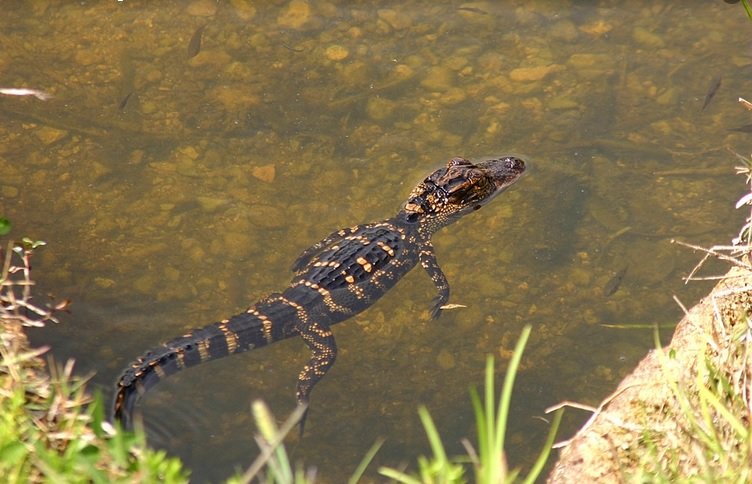 Image credit: Manne1409 on Pixabay
Alligators reach maturity (live on their own) when they are about six feet long. The life span of an alligator is between 35 and 50 years in the wild and may be as much as 70 or 80 in captivity. But first alligators have to make it out of the nest and into water. It is estimated that about 42-73% of the eggs hatch successfully. Of those hatchlings it is estimated that maybe 1% manage to reach maturity.


My Collage
I don't compete in the contest, but throw myself into this exercise every week with great enthusiasm.
I tried to give the alligators a home that resembled a marsh. Alligators don't really like saltwater environments that much. In the end, I couldn't decide whether to add more color (with flowers) but decided against it.
Here's the picture with color: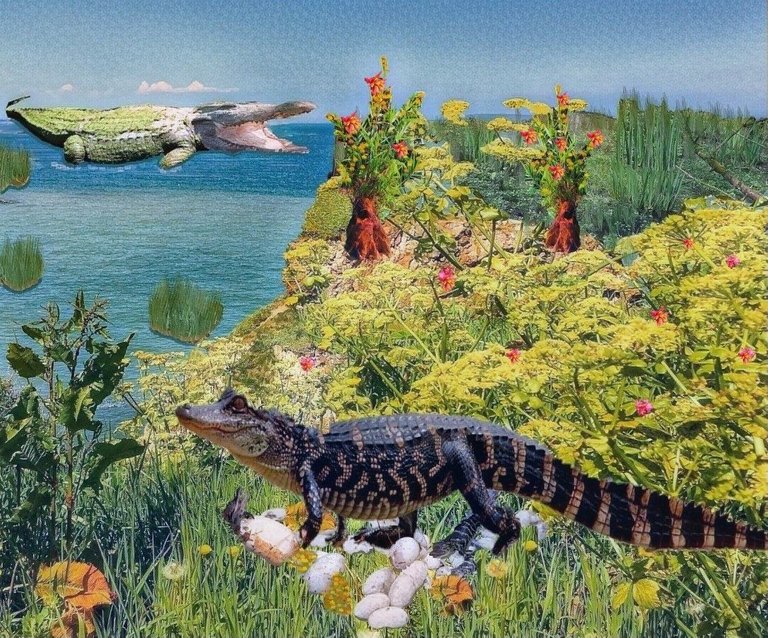 Alligator RJA 1988 Pixabay
Alligator mouth Rajeven MSN Unsplash
Alligator eggs public NASA Wikimedia Commons
National Park Service alligator and eggs public Wikimedia Commons
Eggs New Students reference work 1923 public Wikimedia Commons
Baby alligator Michelleroponi Pixabay
Swimming baby Manne1409 Pixabay
Walking baby jchoutx Pixabay
Swamp michael gaida Pixabay
Swamp trees terimakahsi0 Pixabay
Tropical flower MadebyNastia Pixabay
Tropical flower yellow hernanvargasp Pixabay
I used a Lunapic filter to soften the overall image.


Thank you,
@shaka
for another exercise in creativity. And thank you, LMAC community, for your enthusiasm and engagement. LMAC is a welcoming community. Anyone who wants to create may join. Rules may be found on
@shaka
's
blog
. We have a teacher,
@quantumg
, who posts lessons in our
school
and answers questions. If you drop in our
Discord channel
you can meet some members.
Important
Please read this blog,
LMAC School - Public Domain Picture sources (Free Materials for creating collages),
written by
@quantumg
, which discusses public domain issues. The blog offers links to sources that offer public domain pictures. Using public domain pictures is an absolutely essential requirement for all collages submitted in the LMAC contest.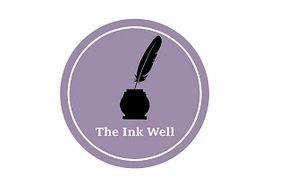 Thank you for reading my blog
Hive on!