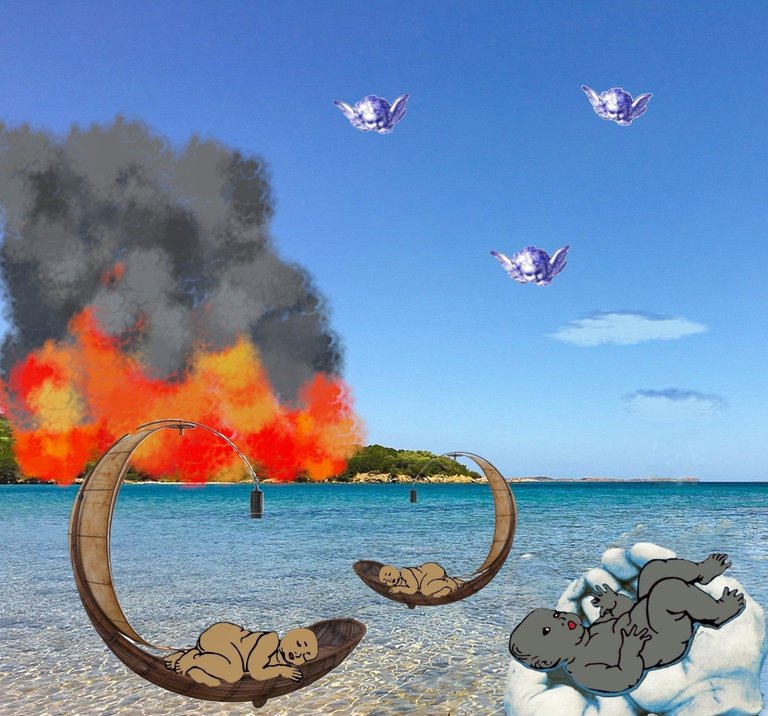 As I wake up this morning I read about catastrophic flooding in Germany, Belgium, Luxembourg and the Netherlands. I read about fires of biblical dimension raging in the western part of the United States. Is nature conspiring against us, or are we conspiring against ourselves?
My collage this week was no doubt inspired by natural disasters. When I saw @shaka's serene template photo, I imagined the beautiful island consumed by fire.
The Template Photo by @shaka: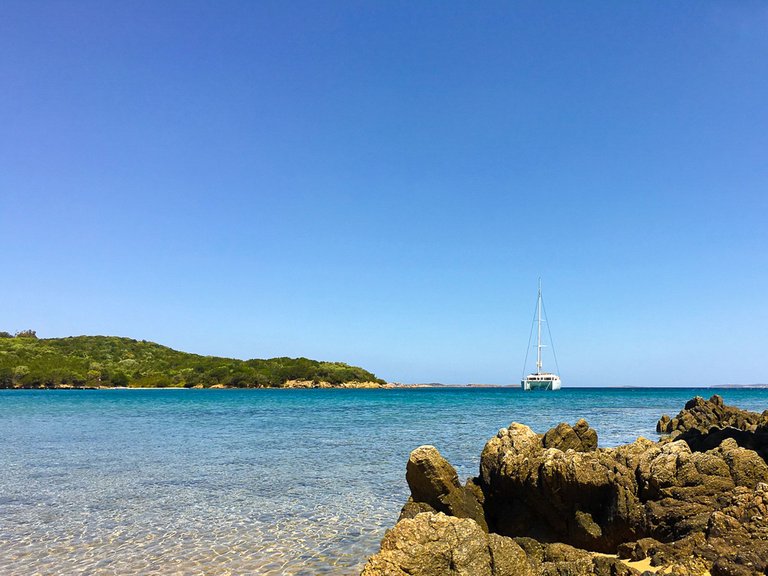 Then I imagined all the rescue workers who sacrifice themselves to save life--our angels on earth. So in my grim image of cataclysmic fire, I offer the possibility of divine intervention, the saving of the innocent. We cannot hope on earth for such intervention, though. We must be our own angels. We must save ourselves, as much as possible, from a future of fire and flood.
While the cause of extreme weather conditions may be argued by some, there can be no doubt that human activity contributes to the disastrous turn of nature.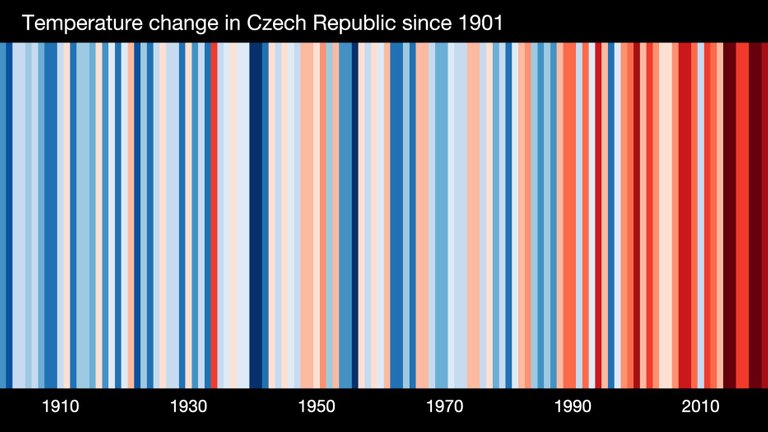 Image credit: Professor Ed Hawkins, University of Reading. Used under CC 4.0 license. The text under the graphic reads: " These 'warming stripe' graphic from ShowYourStripes.info is visual representations of the change in temperature as measured in Czech Republic over the past 100+ years. Each stripe represents the temperature averaged over a year."
Human Activity and Climate Change
It used to be argued by some that the earth's climate was not warming. As irrefutable evidence of an increasingly warmer earth mounts, the argument has changed. Now many who oppose environmental reform suggest climate change is little affected by human activity. Or, this faction against reform suggests, such action will be too costly. Let's look at these arguments.
63 Years of Climate Change, 1950-2013


Image credit: NASA. Public domain.
Those who argue against taking action claim that climate change has a long history, and temperatures on earth have fluctuated over its long history. However, it is precisely by studying these periods of change that scientists have discovered the role carbon dioxide plays in the earth's climate. Overwhelmingly, it is the burning of fossil fuels that releases the greatest amount of carbon dioxide into the earth's atmosphere.
Difference From Historic Average Temperature Since Last Ice Age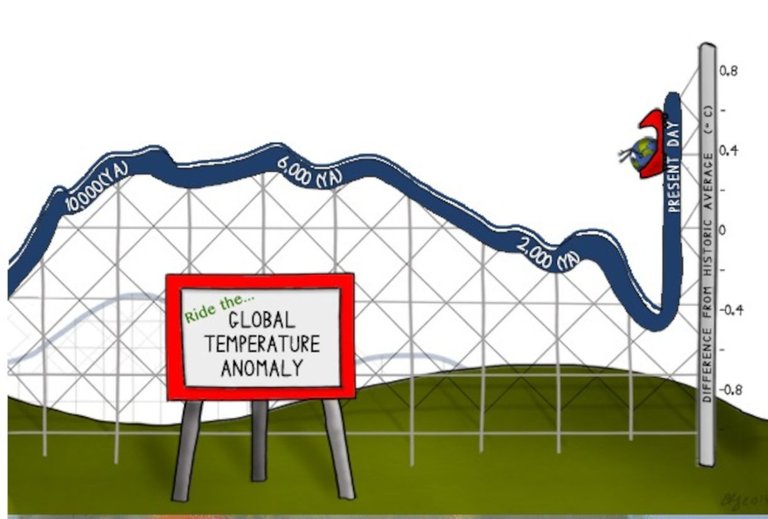 Image credit: Emily Greenhalgh for NOAA Climate.gov. Public domain, with attribution.
The text accompanying this graph states: ...the last decade has brought global average temperatures higher than they have been for at least 75 percent of the last 11,300 years. And, the text continues, recent increase has been...so abrupt compared to the rest of the time period that when the scientists make a graph of the data, the end of the line is nearly vertical.
In other words, the rapid rise in temperature over the past century is unprecedented in earth's history. (Information derived from What's the Hottest Earth Has Been "Lately"? on climate.gov)
Effect of Climate Conditions on Farm Business, 2000-2019, Australia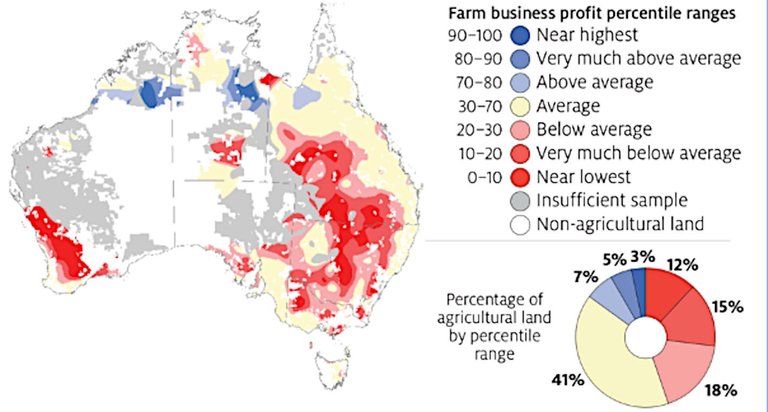 Image credit: Australian Bureau of Agricultural and Resource Economics and Sciences. Used under CC 4.0. license.
In 2019 the Brookings Institute issued a report, Ten Facts About the Economics of Climate Change and Climate Policy. The Institute found that the damage to the U. S. economy will accelerate with every degree of warming. The effects will be spread across many sectors. Affected will be: "agricultural productivity, mortality, crime, energy use, storm activity, and coastal inundation." In the words of Brookings, the changes will be 'nonlinear'.
Colorado River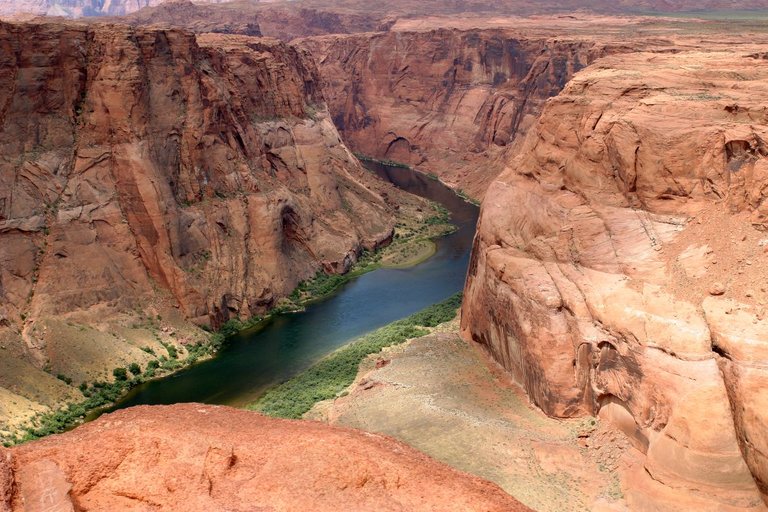 Image credit: Adrille (edit by Aqwis). Used under CC 3.0 license. According to the webside AZcentral, multiple factors are affecting the health of the Colorado River, which provides water to several states through the Southwest (USA). Reduction in snow cap melt, fires, and the eroding flow of tributary streams are among the conditions that are decreasing water volume in the Colorado.
The Brookings Institute estimates economic losses in U. S GDP, and in per capita income will depend on the amount and rate at which global temperatures rise. If, by 2099 the increase is as much as 4 degrees Celsius, GDP loss will be around 2%, annually. These losses will be the effect of, "rising mortality as well as changes in labor supply, energy demand, and agricultural production."


The few aspects of climate change I have addressed here don't even scratch the surface that the impact a warming earth will have on life. The implications go beyond these few examples. There are novel diseases that will certainly appear (because of a change in proximity to wildlife, for example). There is social and civil unrest, competition between nations for scarce resources that will contribute to war, and mortality/death from a decline in air quality.

My Collage
I knew what I wanted to do from the start. The cupping hands and the baby were the beginning. And I knew I wanted angels watching over the baby. I'll admit I'm not satisfied, but I spent a lot of time on this and have to recognize when that is just getting obsessive.
After I found the hand sculpture (Antranjas on Pixabay), I looked for a baby (Prawny on Pixabay), extracted and colored the baby (hard!),desaturated @shaka's picture and then put the hands and the baby together. Resaturated @shaka's picture. Put the sculpture/baby back in @shaka's altered photo. Found some angels (GDJ on Pixabay,) separated the angel (hard!) and colored. Found another baby (Prawny on Pixabay,) separated and colored again. Found a boat (Jazella on Pixabay.) Put the baby in the boat, and then started to play around. (Bird accent in the blog is credited to almeidah on Pixabay)

Of course there were missteps. I couldn't find a fire so I made my own with a GIMP brush. Clouds I added also with GIMP brushes. I kept moving the babies around, adding filters,etc, but finally decided my plain picture was the best I could do.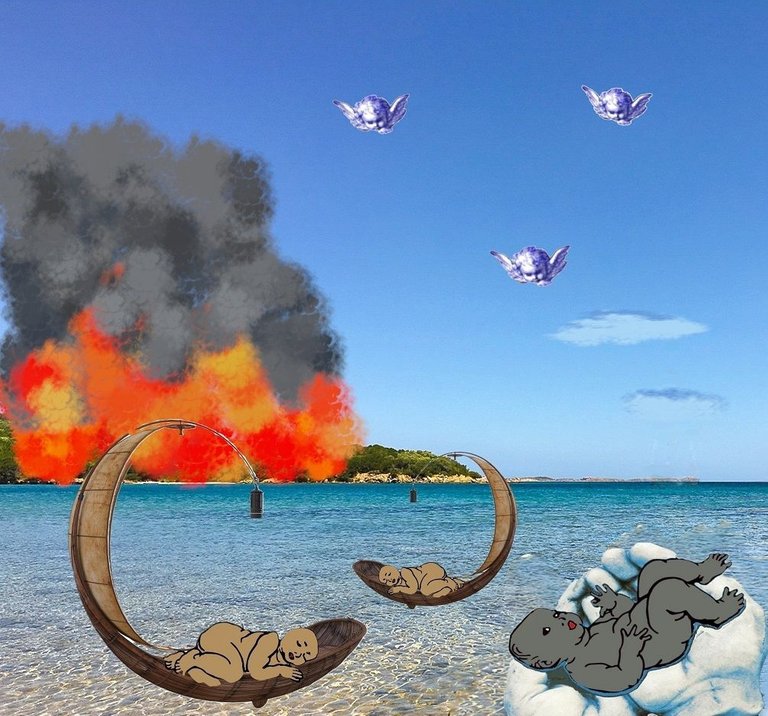 Thank you @shaka for another creative excursion. Readers can see these excursions take me onto unplanned paths. I don't enter the contest, but make a collage because I learn something every week. Plus, LMAC is a really nice place to hang out.
LMAC may be one of the most accessible communities on Hive. Anyone can join, and anyone can manipulate a photo. The rules may be found on @shaka's blog. We have a school, a list of resources, Discord channel and a teacher, @quantumg, who answers questions with patience and grace. There is still time to enter this round, which doesn't end until Monday evening.

IMPORTANT
Please read this blog, LMAC School - Public Domain Picture sources (Free Materials for creating collages), written by @quantumg, which discusses public domain issues. The blog offers links to sources that offer public domain pictures. Using public domain pictures is an absolutely essential requirement for all collages submitted in the LMAC contest.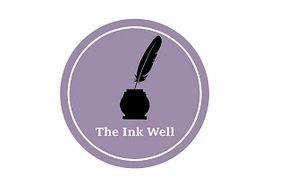 Thank you for reading my blog

Hive on!