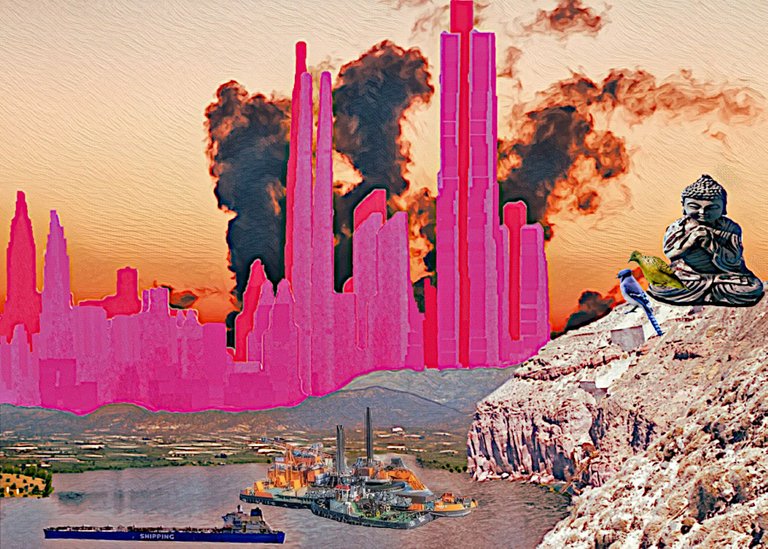 My collage this week for LMAC collage contest #129 (although I don't enter the contest) represents an intersection of art and science. Is that not often the case? I find it is for me, because science is life and art is one of the best parts of life.
The template photo offered by @shaka was a kind of palette, cut from life.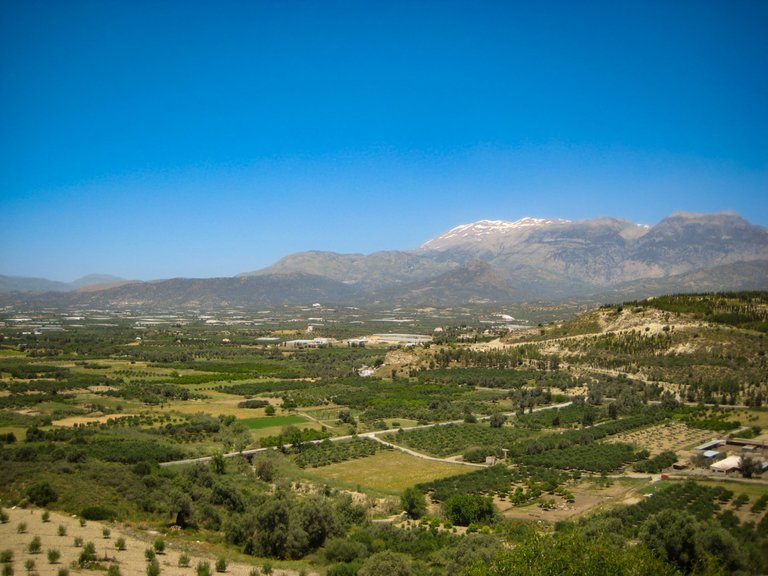 Usually, when I look at one of these templates, I focus on a small part and expand that. This time I had a more holistic reaction.
---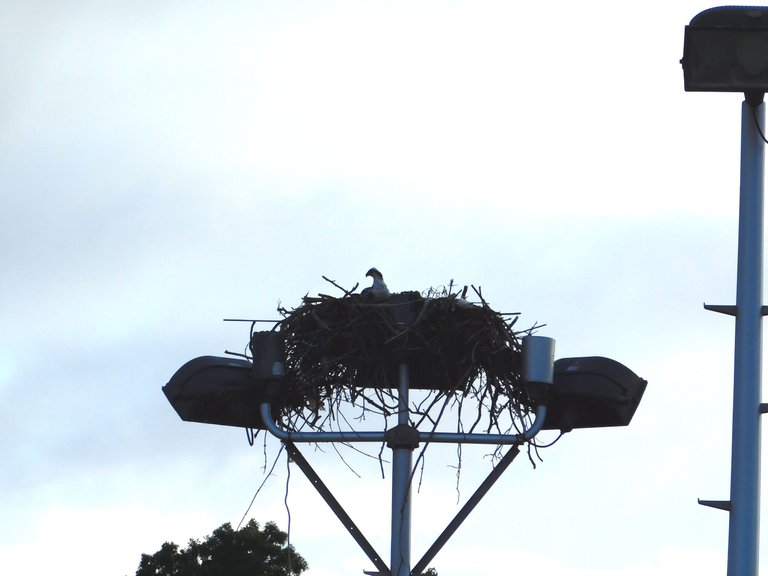 agmoore
The picture above shows an osprey (I believe) in a nest it has built on top of a light pole. I captured this shot yesterday as I strolled on Bar Beach, which is located on the shore of Hempstead Town Park, New York.
Oil Docks, Glenwood Landing, Opposite Bar Beach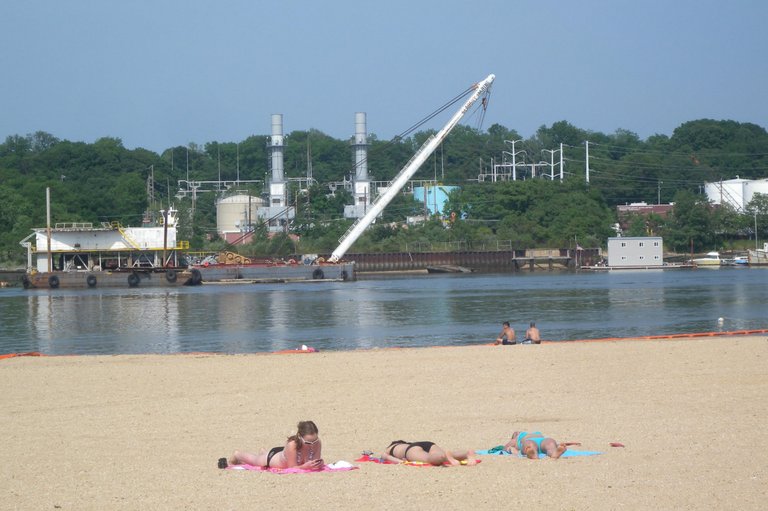 Image credit: Jim Henderson. Public Domain.
According to the Global Partner's (company that runs the oil dock featured above) website: "Global's Glenwood Terminal is a barge-supplied gasoline and distillate terminal conveniently located on the North Shore of Long Island, approximately 30 miles from New York City".
Here is a picture I snapped yesterday from Bar Beach shores. I'm not sure if it is the same rig. Certainly looks the same, to this unschooled eye.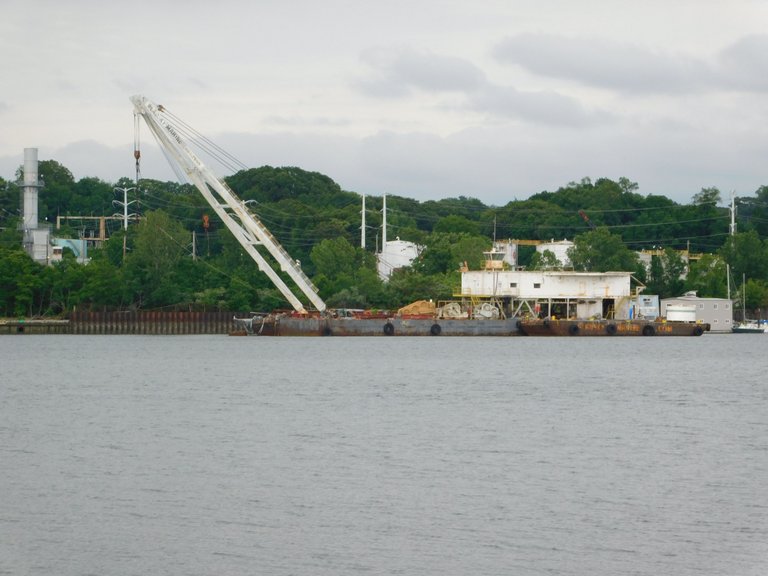 agmoore
Here is a picture of what appears to be a barge, parked within swimming distance (for a strong swimmer) of the shore.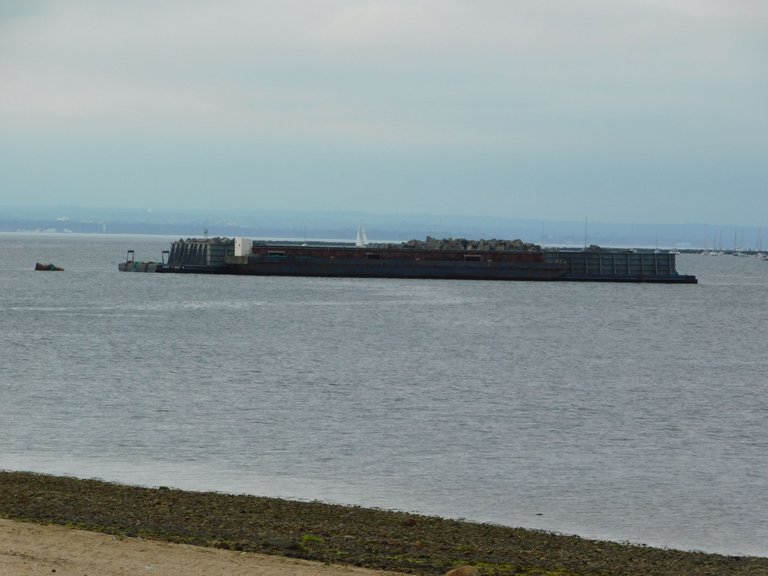 agmoore
In case you are wondering as you read this: NO. I never swam at this beach, or even wet my feet.
Let's go back to my osprey. I'm guessing it's an osprey because there have been headlines in the last few years about the reappearance of the osprey on Long Island. The decline in osprey population was due originally to DDT in the environment. According to one source I consulted (Journal of Toxicology and Environmental Health): "Reduced productivity, eggshell thinning, and high DDE concentrations in eggs were the signs associated with declining osprey populations in the 1950s, 1960s, and 1970s".
The returning birds today are nesting in some unlikely places. The light pole is one of the better places. Utility poles, electrical transformers and electrical wires don't work out as well. The local utility company has teams out relocating the nests to man-made perches.
I believe I saw one of those perches recently but didn't realize what I was looking at. I found the perch interesting and snapped a picture. Looks like the nest in the picture below is no longer used by the birds.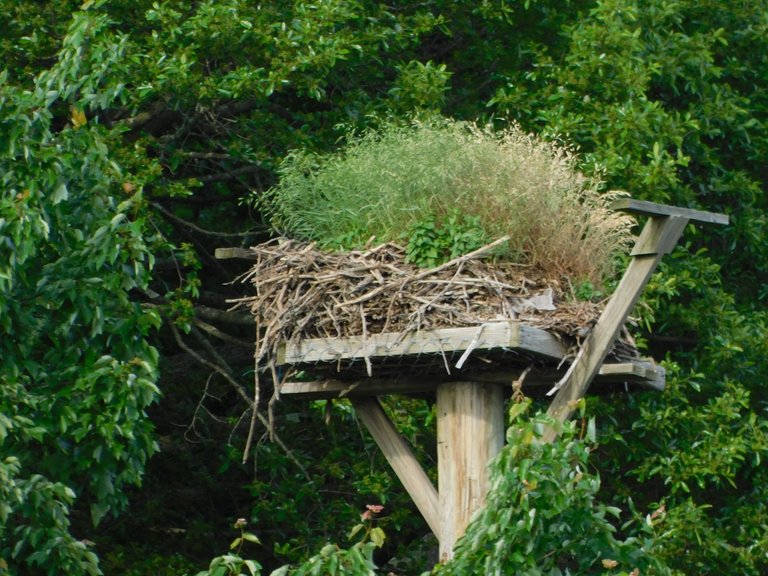 agmoore
This picture was snapped at a local pond that feeds into Little Neck Bay, a neighbor of Hempstead Bay. Both bays feed into Long Island Sound.
Three Neighboring Bays: Hempstead, Manhasset and Little Neck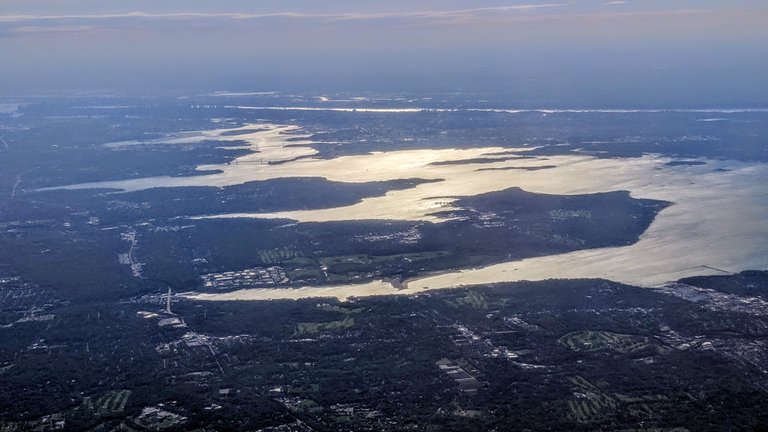 Credit: Dicklyon. CC 4.0 license.
The Legacy of Pollution in Hempstead Harbor
In 1986 the New York Times published
an article:
Legacy of Waste Haunts a Harbor
. A biologist, Josephine Becker, stated at that time: "Hempstead Harbor is probably one of the most polluted harbors on the North Shore." In the same article, Harbormaster Capt. George Foggan stated, "''They pillaged this land. We have reached a crossroads where we must determine which is more important, profit or people".
Glenwood Electrical Generating Station, East Shore 1936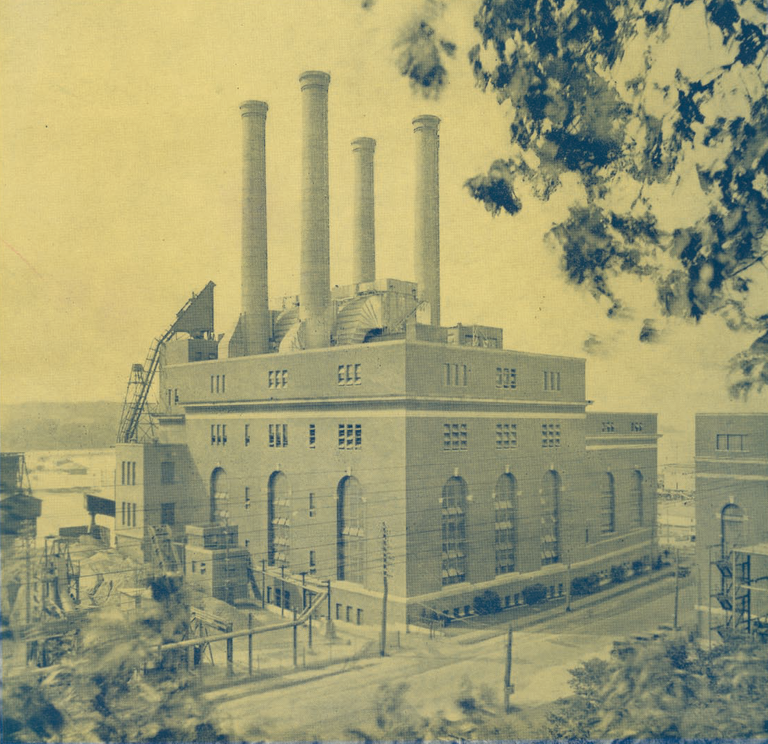 Credit: Long Island Lighting Company. Public domain.
More recently, community leaders have organized to save the Harbor from noxious development. One of these organizations, Coalition to Save Hempstead Harbor, is trying to prevent over development of the Harbor coastline. So far, this organization has helped to prevent the construction of an incinerator on a closed landfill. At the moment it is trying to stop more residential construction along the coast.
One of the ongoing programs of the coalition is a water monitoring program, to identify contaminants. Another is to control and limit stormwater runoff, which represents a significant source of pollution not only for Hempstead Bay, but ultimately Long Island Sound.
The runoff carries with it contaminants from lawn fertilizers, weed killers, and even pet waste. According to the website Save the Sound, the runoff,
...is one of the largest sources of pollution in Long Island Sound. Excess nitrogen and phosphorus ...contribute to depleted oxygen levels that smother aquatic life, while bacteria contaminate water... Additionally, many stormwater and sewer systems are combined, causing...untreated sewage into Long Island Sound.
Green Roof, California Academy of Sciences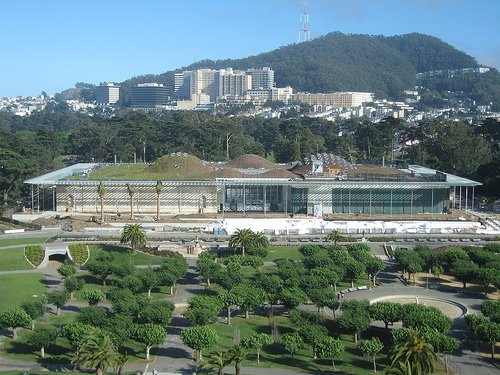 Adamsofen at English Wikipedia. Public domain.
One way to address stormwater runoff is to promote green infrastructure. This includes "building rain gardens and bioswales, pervious pavements, and green roofs".
Hempstead Harbor, Bar Beach, and the Osprey
My collage, and this blog, were precipitated by the obvious contradiction between the Osprey nest and the oil rig visible from the nest's vantage point. What were they thinking when they polluted the harbor, when they abused the gifts nature bestowed on my community? Maybe wiser heads will prevail in the future.
A parting picture of my Osprey: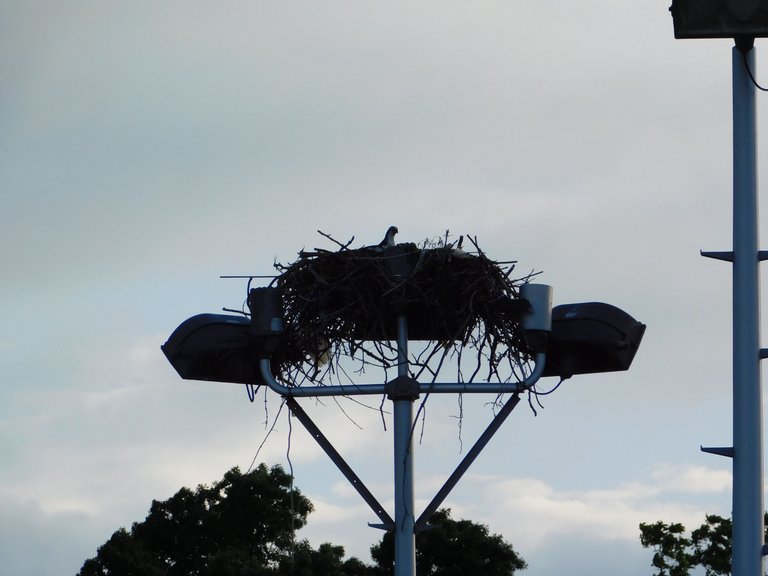 agmoore
Making My Collage
As always, I must thank my colleagues in LMAC who contributed to the LMAC Image Gallery, LIL.
With these three items, you have the very heart of my collage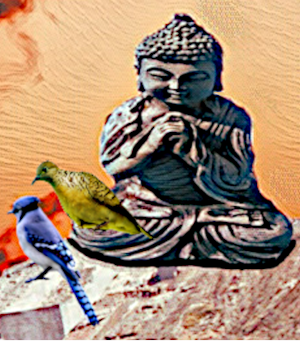 Other elements used were first of all from @shaka's photo:
Two small people barely visible. I placed these over in the left corner on a patch of ground. This patch of ground was also taken from @shaka's photo. Also some trees to border the ground and place in other parts of the collage. I needed the people to support the message of my collage.
Then I used a skyline picture of Manhattan (NY) that I had taken one day recently. This may end up in LIL, if I can get the quality of the photo better. In the foreground is the picture of a pond, which I recently contributed to LIL: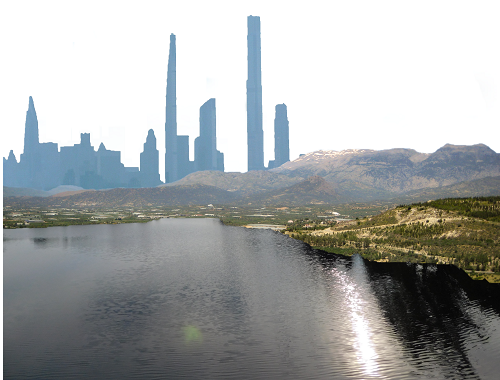 I went to pixabay and borrowed a cliff from Bluestones, an oil rig from Michelle_Riponi, a tanker from Capt-M, and a pollution-filled sky from SD Pictures.
In creating the collage, I manipulated the elements, used paint brushes in GIMP to highlight and change colors of elements. At one stage I used Lunapic (very gently) to soften the appearance. Paint and Paint 3D were also helpful.
This is a little more realistic than most of my collages, but sometimes life does intrude.
@shaka, LIL, LMAC and the LMAC Team
I am sometimes amazed at what @shaka has created here: an opportunity for people to participate in the Hive community and an invitation to create. The LIL library is an outgrowth of his vision. Of course Lily, our librarian/bot owes her personality and facility to our master coder/developer, @quantumg. And, the community would sputter without the attention of our bilingual moderator/curator @mballesteros.
I invite everyone who reads this blog to join in our contest. when the next round (#130!) begins on Thursday.
I've put a few reference sources at the end of the blog for anyone who wants to read more about the ecological issues discussed in this blog.
---
---
Long Island News: https://www.longisland.com/news/03-03-22/conservationists-osprey-population-on-li-on-the-rebound.html
Aplic.org: https://www.aplic.org/Nests
New York Times: https://www.nytimes.com/1986/02/09/nyregion/legacy-of-waste-haunts-harbor.html
L. I: Herald: https://www.liherald.com/stories/coalition-to-save-hempstead-harbor-holding-fundraiser,129213
Coalition to Save Hempstead Harbor: https://coalitiontosavehempsteadharbor.org/wp-content/uploads/2017-Water-Quality-Report-for-Hempstead-Harbor.pdf
Save the Sound.org: https://www.savethesound.org/what-we-do/ecological-restoration/green-infrastructure/
Osprey Nest Cam: https://hempsteadny.gov/357/Osprey-Nest-Cam
Long Island Sound Study:https://longislandsoundstudy.net/2012/10/hempstead-harbor/
The Island360.com: https://theisland360.com/opinions-100/earth-matters-reclaim-hempstead-harbor/
Journal of Toxicology and Environmental Health: https://pubmed.ncbi.nlm.nih.gov/21170810/
Port Washington Library: