I don't buy much often, but now that I am going to be mostly at home for the next couple months and it coincides with Tokyo Olympics, I decided to splurge a little on a new TV to replace the Panasonic plasma I got in 2006.
I went with the LG OLED55CX 55" 4K Ultra HD OLED, which is last year's model. I was ready to spend for the 2021 upgrade, but for the difference it offered me, I couldn't warrant spending the 600€ more for a gen4 processor, considering I don't game at all and pretty much will only use this TV streaming.
I also figured that the upgrade from what I had to this is so large, that the difference between whatever the new one offered wouldn't be overly significant, especially since I am not the kind of personality that needs to have the beat of anything and I don't feel special based I what I own... Even though I like gadgets.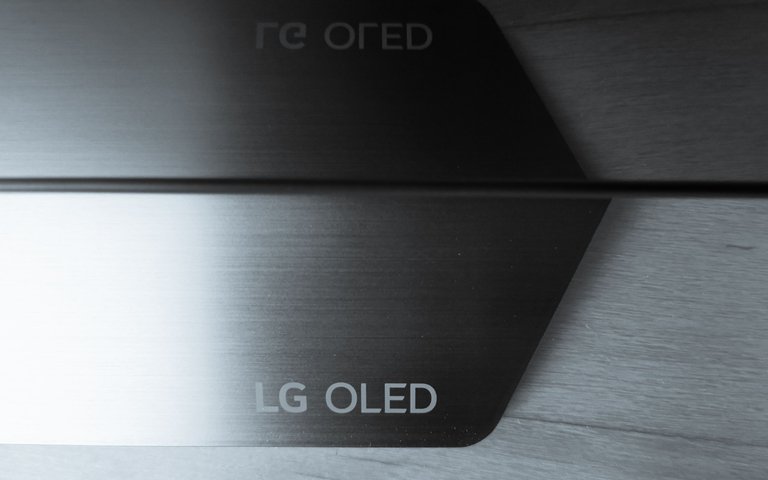 Which is the other reason I chose the cheaper option, as since I was ready to spend more but didn't, I now have a "free 600" euros to spend on other things if I choose to and there are definitely a few things on my list of needs and wants.
For once, I really have no justification for this purchase at all, as I could definitely manage with the screen I had and a chromecast. However, it is really easy to come up with excuses, especially "for work" as I can now use this as a monitor, as my other just couldn't cut it.
This is the back of my old one.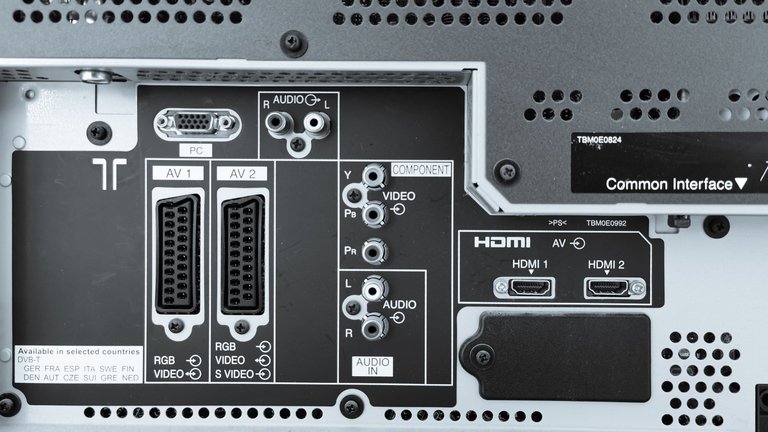 A friend came to get me last night after he finished work to go check out TVs and grab a bite to eat - which was a playdate arranged by my wife as I can't drive, nor carry the TV by myself at the moment. He is in the market for one two and messaged me today that he'll likely end up with the same.
It is pretty good.
While we were looking at the various models, we were talking about all the people buying TVs on credit and had a look at the terms they were offering. According to him, "As an American, he prefers the 6-month interest free payment, than the lumpsum upfront". It isn't about the money.
They don't do that here though generally and the terms were insane. Monthly payments came with a 28.3% interest per year over 36 months, effectively doubling the price of the purchase in three years. Think about that for a moment, considering that interest rates are they lowest they have ever been on housing and earnings on savings. It really is no wonder they are driving consumption any way they can.
I find it insane that people buy this kind of stuff on credit and even more insane, that they are willing to do it on those kinds of terms, yet they do. It is one of those examples of how our intuition does us a disservice, as we do not fully comprehend what these kinds of decisions mean over time and they really add up. People see the "only x€ a month" and sell to themselves that it isn't that much, only a couple coffees a week and make the decision, yet the same argument in the other direction gets no play. When it comes to investing that coffee money instead of spending it, very few are interested.
Gadgets are generally terrible investments unless they are used for work, and this TV is no exception. My wife and I don't even watch that much, but it sitting here watching the football is quite nice, as not only is the screen quality an upgrade, the size has gone from 42 to 55, which is a significant change. I was looking at the 65, but I am glad I didn't, as it would have been too large for the space and luckily my wife doesn't subscribe to the "bigger the better" paradigm.
For me, I prefer the make a difference to life reasoning for purchases, but this one really doesn't make that much of a difference, other than making my Olympic viewing more pleasurable. Past that, it will make my Teams calls more immersive when I finally get a chance to go back to work.
With the money left over... We'll see.
Taraz
[ Gen1: Hive ]