In the quiet words of the Virgin Mary... come again.
Snatch
I think that this is an interesting point to explore today:
So many users from 1-2 years ago have disappeared. Was it because of entitlement and not being satisfied by what they could get out of it? Or they just got tired of chasing the moon? Or they got bored. A good advice a friend once gave me about Hive was don't focus on numbers and you will be happy. I mean, sure, some people find it exciting, game, but also isn't that very tiring? Constant rat race?
@m31
Why do people leave Hive? I think that it is likely these reasons and more and in my reply to M,
Not focusing on numbers is a good approach for most, though some are inspired by the numbers too - depends on the person. I think that "depends on the person" is why most people leave - they have personal expectations about what this place is and what it can do for them and ultimately, the person will be disappointed when it is not what they expected it to be.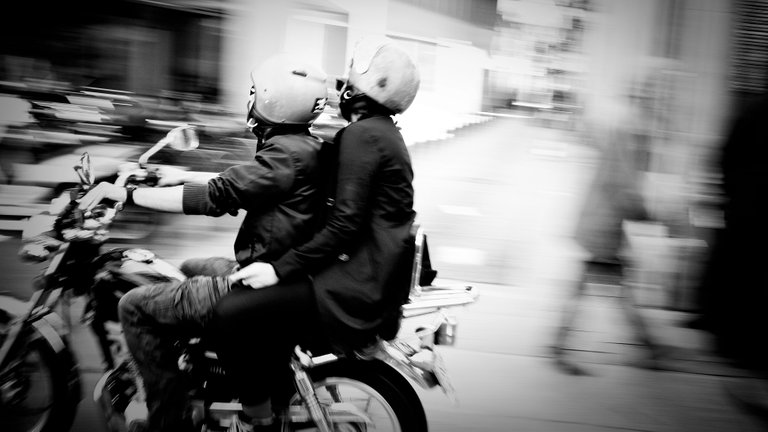 Expectation is a precursor of entitlement, as one builds and attaches oneself to what is expected, then believes that it is owed in some way and we get disappointed when what is delivered is not what we expected. Of course it is possible to be pleasantly surprised from time to time also.
But, we all have personal preferences, needs and wants. We all live in different circumstances, have variation in skill and will, and we all have a range of personalities and these are not static, they change with experience and time and are affected by our conditions. A sunny disposition is not always so, a negative outlook can turn positive - a bad mood doesn't last, neither does a good one.
I have mentioned for years now that Hive is open for anyone, but is not suitable for everyone. What I mean by this is that while anyone can join, it is not the kind of place that is going to fit all of the needs of those who join - it is essentially a startup business in a startup industry and that is an environment very few are suited for, which is why there are far more employees than businesses. Not everyone has an investor mindset, not everyone is willing to work for free, not everyone is able to look long.
There are many reasons for this. For example, to invest capital, a person has to have available capital to invest. If there is no extra at the end of the month to put into an investment, it isn't possible. Then, even if it is invested, if it isn't invested to some point of maturity and is constantly being pulled out of the investment to pay for life, it isn't going to build into something greater than it was. Investment growth requires some period of time in order for that growth to happen, just like a child is not born an adult, complete with adult experiences. Living a life is an investment too.
But, there are other factors other than the financial, for example, personality. While investment mindset is one point, personality in general has a very wide amount of variation, with things like ability to cope under pressure, level of patience and persistence and emotional response all come into play. Some people survive under pressure, some people thrive - some die.
Because anyone can join Hive but it isn't set up to cater for the entire range of personalities, there is going to be a greater degree of churn than if their was a higher degree of selection bias.
Perhaps to illustrate this, we could look at an education path like that of becoming a doctor. While everyone might want the salary of a doctor, if the degree was open and they let anyone in, how many would actually have the skills, mentality and ability to deal with the study and practical requirements to make it through? Sure, anyone could try, but you probably still want there to be a level of learning accomplishment before a doctor operates on you or someone you love.
Hive fortunately isn't a degree program though, it is a heavily upgraded social media that integrates an open economy into the mix. An open economy doesn't mean everyone will earn, but it does give the opportunity for anyone to earn. Whereas the medical degree requires prerequisites before admittance, Hive has no such gateway other than having an internet connection - but there is probably still some kind of selection bias - as Hive has the potential to be paid for participation - which means that many of the people who join, want to be paid.
But, wanting to be paid and doing something that gets paid are two different things. For example, a job comes with a set of tasks and an employee fulfills those tasks to get paid. An entrepreneur sets their own tasks and may or may not get paid, based on a number of factors. Either way, tasks need to be done in order to get some kind of reward for them and, no matter how important the tasks are to an individual, it doesn't mean that those tasks will get paid by others.
So, because people come in with a preconceived idea of Hive and their expectations of results without necessarily considering their own place in the ecosystem and the tasks that might be required to reach their results, there is going to be a lot of disappointment. Factor this in with things like differences in personalities, willingness to adjust approaches, skillsets and emotional positions, and it is pretty obvious why a lot of people come and go - also why a lot of people will come again.
As I see it, Hive is not ready for all kinds of people, but all kinds of people are also not ready for Hive. The world is a mess and it is us who create this world, which means, we are messy and many are struggling in multiple ways simultaneously and have a lack of all kinds of resources. While I believe that taking responsibility and agency to own one's own existence is important, not everyone is in the same mind and there are many who will seemingly always be the victims of life itself, as if they have no control over their direction. People are always going to be critical when their expectations are left unmet and not everyone will be willing to consider their role or change their approach to better suit the environment.
The saying is that "when in Rome, do as the Romans do", but Hive is a decentralized city that can be expanded in many ways. If what one wants to do can't be done at present, most leave, whereas some try to build a new suburb. Participation in the Hive environment is voluntary at every level, no one has to stay, no one has to leave either - it is a decision. Everyone will justify the decisions they make differently and other people will judge them favorably or unfavorably for it, but it is the individual who has to live with their existence.
I think that many of the people who have left over the years will come back once the platform is more aligned with what they want from it - often this is tied to price, but it could be that if it picks up in social popularity, they will come here as they have to so many other platforms over the last 20 years.
It could also be that in time, something in their own life clicks and what wasn't attractive on Hive before becomes compelling and value adding. People come and go from Hive for many reasons, just like people buy some products over others and then move on, change their diets, get new haircuts and buy a different style of shoes - it is about consumption and reward on that consumption and what people value is unique to them.
Remember though - people also wear clothes that don't suit them, eat food that is bad for them and buy products that are a waste of money. Making our own decisions doesn't mean they are good decisions for us.
Some people like myself might be consistent in participation, but change my approach and thinking multiple times across the years - other people might consistently try the same thing over and over even if it doesn't get them the results, some might try something once and then make a decision that it is not a space for them - and they are right. It isn't a space for them if they decide it isn't - but it doesn't mean it isn't a space for others now, and it doesn't mean that at some point in the future, it could be the perfect space for them to be a part of.
We are all at different stages and positions of life and therefore, it is up to us to make the decisions on what is best for who we think we are - and live with the consequences of being wrong - or right - as the case may be.
Taraz
[ Gen1: Hive ]