I saw a post in trending and from what I could decipher, it was asking whether a social network with an economy is possible. I find the question quite strange, because - social networks are the only reason money can work at all. The only thing that gives any currency value, is a social understanding in the network that it can be traded for something else. Sure, the person likely meant a digital social media platform, but what is the difference - it is just another type of marketplace.
Well, the difference is obvious - the users of the digital platforms have been kept out of the economic loops, "protected" from the value they create. The reason that these free platforms are worth so much is because there is already a working economy on them, it is just that endusers do not have access to it.
That economy is literally worth trillions yearly through not only the data mining and add sales, but all of the applications and third-party products and services that leverage them to generate income. Trillions.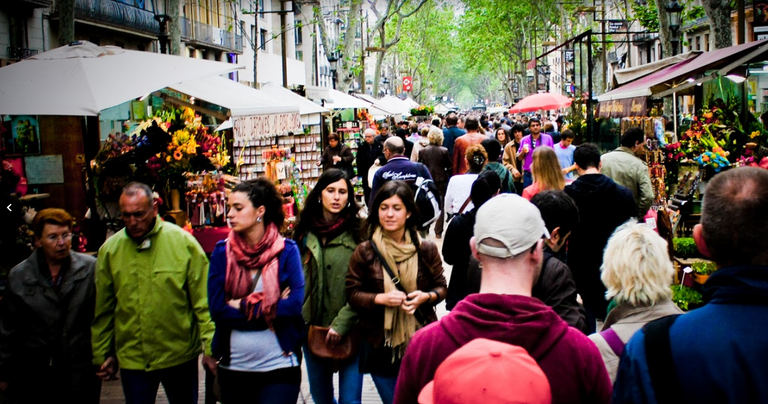 However, introducing the end users to the potential to earning on these platforms is troublesome, not because it is impossible, but rather that we as users have been conditioned that we do not earn on them at any level. Not only are we the product, we are also the consumers that give the product value yet, the amount we generate gets skimmed off the top - and the middle and the bottom. All of it.
The problem with introducing value into the social networks is of course us as users with habits and scarcity mindsets. For example, the person who asked the question is an investor here on Steem, and one that has consistently supported themselves through alt accounts for years. Perhaps they think that everyone is the same as they are, and that obviously that is not going to work if everyone does it.
The reason it isn't going to work is that they have missed what gives a currency value - a social network. Without that distribution of currency throughout the community and without mechanisms to distribute it unevenly based on activity, the currency doesn't have value at all. There is zero point in being the richest person on earth holding every cent available, because there would be no liquidity nor reason for anyone else to participate in that system.
In that kind of scenario, what people would do is create a new type of currency. Anythin can become a currency. For instance, my father used to trade cigarette packages as a kid growing up in Malacca during the second world war. Because the packages couldn't be faked,they were ideal as a currency. They tokenized them. Does this sound familiar?
Currently, a tiny amount of people who an be counted on two hands have the same wealth as the poorest 3.5 billion on earth. It is very bad for business when you have a decreasing market due to fewer people being able to afford your products. But, the game can keep going on for a long tie as long as we play, because those rich people and the institutions that control even more wealth, do not hold cash.
They give us cash so we can spend it and pay interest on it, and then they buy real resources with what they earn using cash that is worthless, other than the collective social psyche that says it holds value. This means that they hold title of what is real, while prolonging the delusion that the currency is what holds value. Again, people need to understand that a currency does not have any value itself, what you can buy with it does.
While they buy real estate and businesses that have the potential to store and generate value, we buy consumables that will invariably go down in value and, the gap is continually increasing. The reason is pretty simple, because while we might be lucky to invest 10% of our income, they invest everything they possibly can and hold as little cash as they possibly can.
I wonder what would happen if everyone on earth said;
from now on, I want to be paid in Bitcoin.
Ah, but you aren't allowed to be paid in Bitcoin in nearly everywhere that matters, because that would make the currency that they use to control the population valueless, and Bitcoin highly valuable. Sure Fort Knox might have a bit of gold in it, but how many Bitcoin are stored there?
They'd have to buy off the markets.
But, perhaps I have got off track from the start and whether social platforms can have working economies. The short answer is:
Yes.
What people seem to fail to come to terms with however, is that an economy is never a smooth process, it is always a tug of war between supply and demand to find an equilibrium that is cross-referenced across a competitive environment all vying for what they believe are scarce resources, just like the account who posed the question.
People tend to forget that the "working economy" is highly volatile, and while currencies might not swing too much normally, the competitive nature of the environment leaves the marketplace filled with the bones and dying corpses of business and industry that didn't make the cut or are being made obsolete as we speak. Billion dollar companies being reduced to rubble, billion dollar companies being created from thin air.
Yet, most of us do not operate at the high levels of the economy and only feel the effects as endusers there too; taxes, interest rates on houses, job losses and the price of bread. We complain about the system, but have no control over it as we do not have any say over what we deem a valuable currency or not, they do. Crypto changes that.
Because we as the endusers decide on whether one cryptocurrency has value over another, we have the power to empower and dis-empower at a much greater level. While this sounds tumultuous, with enough participants it could be a much smoother ride as there is less opportunity for centralized manipulation and therefore, less opportunity for any one person to have a great deal more than anyone else in the same rate as it is in the world today. The reason is that due to the mobility and opt-in status, if the social network decides that they do not like the conditions, they opt-out.
Unlike a national currency, no one is tied to crypto.
What this can eventually lead to is a world where communities can form around currencies, or currencies around communities like could be the case with SMTs, and that community will be the deciding factor in the value of the currency they use, not some centralized authority that has no care about their community at all. If a Beanie Baby community wants to add a BB NFT they can and eventually, they won't be priced in centralized currencies, they will be tradeable across cryptos depending on needs.
I think a large part of the initial reason for centralized currencies was technological as it was only really possible to start trading widely across groups and varying products with a consistent marker. However, blockchains are able to not only track one currency, but could be used to compare values across multiple concurrently, being able to give a spot price at any given moment.
I can take a payment in Bitcoin, transfer it to Ethereum, buy a cryptokitty (Schrodinger's cryptocat project - is it alive or dead?), sell that cryptokitty for Enjin to play a game on a Samsung platform and after pwning, convert it into a token with which I can do my grocery shopping. The grocery store accepts the token because that is what they are going to convert into whatever needs they have for salaries and supply chain payments.
This was impossible for individuals to do until very recently - so we outsourced it to centralized authorities who then opted us into the system automatically with no built in opt out mechanism, other than the biological switch of death. Now we have the capabilities, the only reason we still stay in the systematic cage created for us is, we are scared to take the responsibility for ourselves and leave.
Yes, this process isn't going to be smooth, nor is it going to happen over night, but the transition and its success depends on the same laws of supply and demand that have always been in place. That which is in demand holds value and therefore, gets supplied. Stop demanding centralized currencies and at whatever rate we can, opt into decentralized options. Sure, there is a risk that we will fail and be left with nothing in the real world, but that is where we are headed anyway.
Do you take the smooth path of certain death, or the fork into the unknown?
If you do not think that a community on a social media platform can handle their own economy, Facebook is waiting for you. And they are only too happy to manage the finances so you don't have to.
Taraz
[ a Steem original ]