Dear Hivers,
March was an important month for several reasons. First, Hive was officially launched.
But at the same time, there was something else going on.
Not only did Hive materialise after the hardfork but it also walked into a new issue.
Hive received a legal threat.
What is it?
On March 23rd, an unexpected press release went out on the Internet. And a lot of crypto websites picked up this news.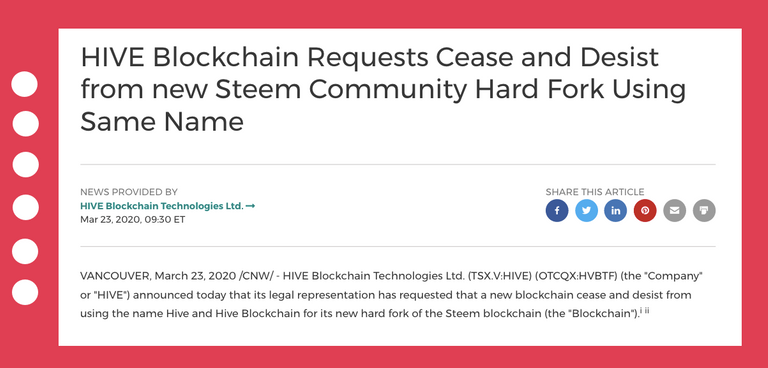 It comes from a company where a bunch of corporate executives got together to publish a cease and desist letter against us.
And this company is called the Hive blockchain.
That's right — Hive against Hive.
Two projects with the same name. Who would have thought?
And so the conflict continued for days — and a lot of attention was transferred between both the platforms. As you would expect, some of us here started questioning the next move.
---

---
For clarity, let's call the other company HHive.
Recently, as I started diving deeper, HHive isn't something new. It has been around for a while. It is not even small as many once thought.
In fact, I have gathered some fascinating facts:
HHive was founded in 2013.

It is in partnership with giants like Genesis Mining and Fiore Group.

Has less than 50 employees.

It went on an IPO on The Toronto Stock Exchange. (Big deal)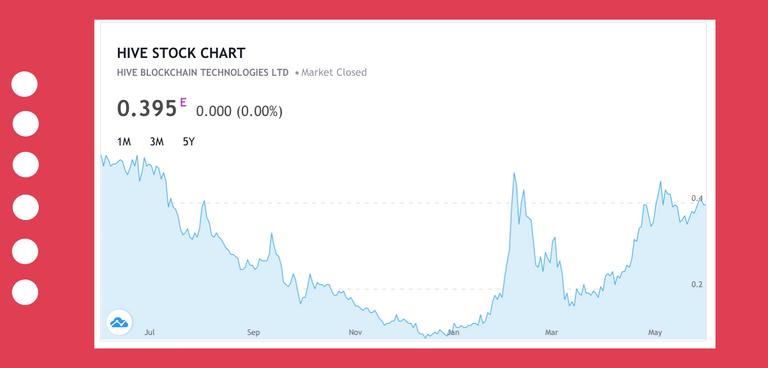 Soared to 220% in its trading debut — moved from 30 cents to 97 cents in a single day. (Now back to ~40 cents)

Has an inactive Twitter page with a decent following of 3500+

Investors include Genesis Mining (largest mining company) and SchindlerAM Ventures (Switzerland-based venture firm)

Acquired companies like Kolas data centre for $9.9 million.

Raised more than $115 million in funding.
The last one. Now that's something, isn't it?
Because of the naming issue, a lot of media sites reached out to HHive to know what exactly is happening.
Frank Holmes, the interim executive chairman at HHIVE, offered a reasonable response:
"We have no issue with the proposed blockchain beyond its name."
But then he also added this:
"However, for legal reasons, we have no option but to seek to protect our interests, dispel the ongoing confusion and avoid any potential damage to our reputation."
Now Frank is perhaps doing his job.
Because taking our side would be meaningless. Which brings us to the most important question:
---

---
Filing this case isn't HHive's primary objective.
In the last one month, the company has been sending out press releases to share its achievements.
You can see two of them here: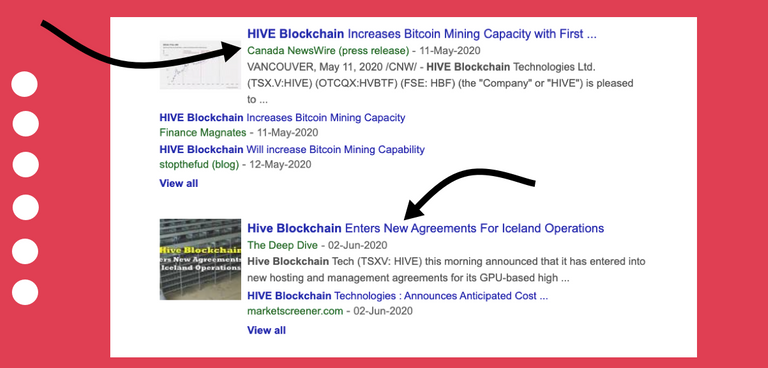 They are increasing their mining capacities and expanding their reach in the blockchain industry.
On the other hand, our own Hive is continuing to focus on its mission — to manufacture a platform that was never manufactured earlier.
Both of them are operating on their own.
The earlier cease and desist letter has no life anymore (assumption).
Even then a part of me was curious to know if anything can be done here. Can two "projects" with the same name co-exist?
So I spoke to a lawyer friend who puts it technically:
"Sid, under the statutory and common law, there is a provision. And this provision allows users to use a similar trade name or brand identity. Even if it is in the same country.
So as long as both the companies are not targeting the same type of consumers in the same location… it should be fine."
If you think about it, both can actually co-exist.
It is almost like two good fishes in the same bowl.
And both are going to swim.
But any party can take action if required. And it can lead to unknown results. That's my biggest fear.
Another fear is the growing popularity of both the platforms. For example: If you told your friend to check out Hive, and he goes to Google, this is what he will find: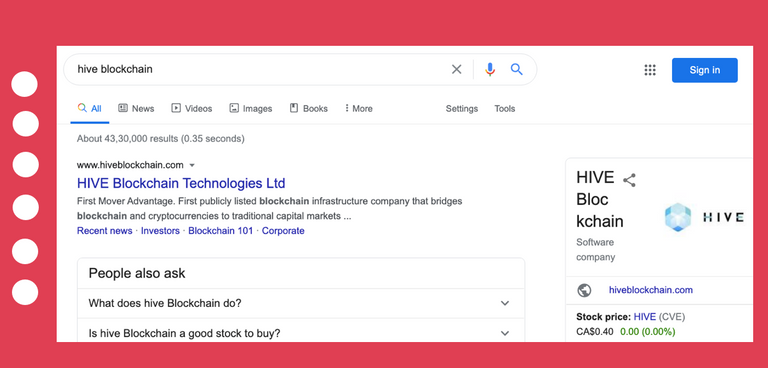 For a new user, it can get confusing unless you share the direct link — Hive.io — or we start ranking for this particular term.
For now, we simply have to live with this fact: that both will co-exist.
And the curious case will remain unsolved.
Cheers,
Sid
---
Liked this article? Feel free to comment and upvote and reblog.