Hola amigos amantes de la Blockchain.
Hoy quiero compartir mi experiencia colocándome la Vacuna contra el Covid-19.
Hello friends Blockchain lovers.
Today I want to share my experience with the Covid-19 Vaccine.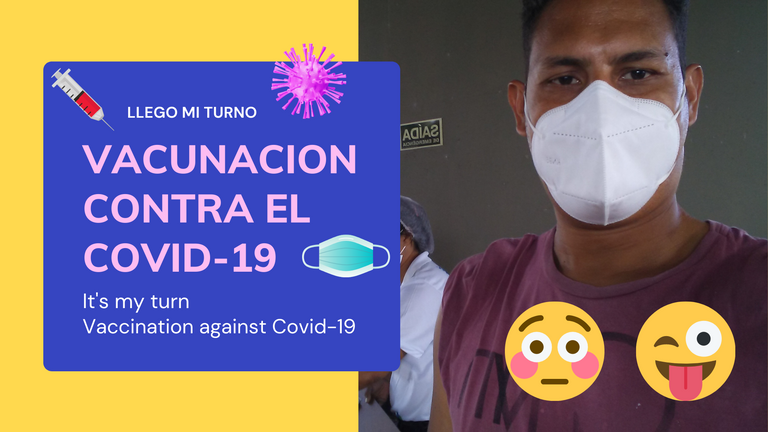 Como todos sabemos esta Pandemia del Covid-19 ha causado muchos estragos a nivel mundial, afectando profundamente a los países de Latinoamérica. De ahí la gran urgencia de encontrar una solución a la grave crisis causada por este virus.
Y la solución a estos males siempre han sido las vacunas. Aunque existe más de un escéptico que no cree en las vacunas y a otros que no les gusta colocárselas (yo me identifico con el segundo grupo ya que les tengo pavor a las agujas e inclusive se me llega a bajar la tensión y me mareo), las vacunas siempre nos han protegido de diversas enfermedades y hasta han ayudado a erradicar muchas.
Debido a que la implementación de vacunas contra el Covid-19 está ayudando de a poco a controlar los casos de contagios y de muertes, entonces decidí ser valiente y ponérmela porque ya es mi turno.
Aquí en Brasil están vacunando por edad. Comenzaron desde los más viejitos y fueron de forma regresiva. Ayer miércoles llegaron a las personas con 37 años o más y por supuesto que me toco.
Aquí en la ciudad donde vivo están colocados varios puntos para vacunación con las vacunas de la marca CoronaVac, Pfizer, Janssen y Oxford/AstraZeneca. Yo sentí un poco de preocupación respecto de cual vacuna me iba tocar porque de cada una de ellas hay historias acerca de su efectividad para crear anticuerpos y combatir el virus.
Por ejemplo, si tomas la vacuna CoronaVac no vas a poder viajar a países de Europa porque según la unión europea no cumple con los estándares de eficiencia; para las personas con reacciones alérgicas fuertes no es recomendable que tomen la de Pfizer y la de Oxford/AstraZeneca produjo en casos muy aislados cuájalos de sangre lo que llevo a la compañía a recomendar su administración solo para personas menores de 50 años.
Sin embargo, con todo eso en mente mes dispuse a suminístrame mi primera o única dosis dependiendo de la marca que me tocara.
Ahora voy a pasar a relatarles un poco de cómo fue mi bitácora para poder tomar la vacuna.
As we all know, this Covid-19 pandemic has wreaked havoc worldwide, profoundly affecting Latin American countries. Hence the great urgency to find a solution to the serious crisis caused by this virus.
And the solution to these evils has always been vaccines. Although there are more than one skeptic who does not believe in vaccines and others who do not like to get them (I identify myself with the second group since I am afraid of needles and even my blood pressure drops and I get dizzy), vaccines have always protected us from various diseases and have even helped to eradicate many of them.
Since the implementation of vaccines against Covid-19 is helping little by little to control the cases of contagions and deaths, I decided to be brave and get it because it is my turn.
Here in Brazil they are vaccinating by age. They started with the oldest children and went backwards. Yesterday, Wednesday, they reached people 37 years old or older and of course it was my turn.
Here in the city where I live there are several vaccination points with CoronaVac, Pfizer, Janssen and Oxford/AstraZeneca brand vaccines. I was a little worried about which vaccine I would get because there are stories about each of them about their effectiveness in creating antibodies and fighting the virus.
For example, if you take the CoronaVac vaccine you will not be able to travel to European countries because according to the European Union it does not meet efficiency standards; for people with strong allergic reactions it is not recommended that they take the Pfizer vaccine and the Oxford/AstraZeneca vaccine produced in very isolated cases blood clots which led the company to recommend its administration only for people under 50 years of age.
However, with all that in mind, I was ready to get my first or only dose, depending on the brand I got.
Now I am going to tell you a little bit of how my log was to be able to take the vaccine.
Me levanté a las 6 de la mañana y salí de casa a las seis y media rumbo a la estación del Metro Imbuí. El Metro me dejo en la estación Mussurunga y justo a la salida de la estación queda uno de los puntos de vacunación más grandes de la ciudad. Allí llegué a las siete de la mañana y comencé a hacer la fila. Delante de mí calculo que había unas 800 personas dispuestas a vacunarse al igual que yo.
Mi intención era Vacunarme y después irme a trabajar, así que me lleve mi uniforme dentro del bolso. Y qué bueno que me llevé mi uniforme ya que tuve que colocarme la camisa encima de la cabeza por que el sol que estaba haciendo era muy fuerte.
I got up at 6 a.m. and left the house at 6:30 a.m. on my way to the Imbuí subway station. The Metro dropped me off at the Mussurunga station and just outside the station is one of the largest vaccination points in the city. I arrived there at seven o'clock in the morning and started to wait in line. In front of me I estimate that there were about 800 people ready to get vaccinated just like me.
My intention was to get vaccinated and then go to work, so I took my uniform with me in my bag. And it was a good thing I took my uniform because I had to put my shirt over my head because the sun was so strong.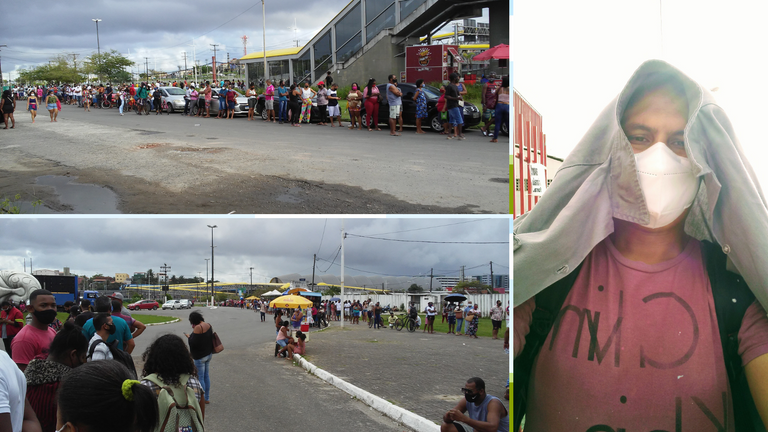 Así pasaron los minutos y las horas en la fila siempre de pie y sin poder agarrar un poco de sombra.
Debido al inclemente sol que estaba haciendo empezaron a aparecer los vendedores de agua y helados. Así que aproveche y compre dos paletas de helado que aquí llaman "Picole", para poder calmar un poco el calor. Compre una de maní que es muy sabrosa y otra de coco.
Minutes and hours passed in line, always standing and unable to get a bit of shade.
Due to the inclement sun, the water and ice cream vendors began to appear. So I took the opportunity to buy two popsicles, called "Picole" here, to calm the heat a little. I bought a peanut one, which is very tasty, and a coconut one.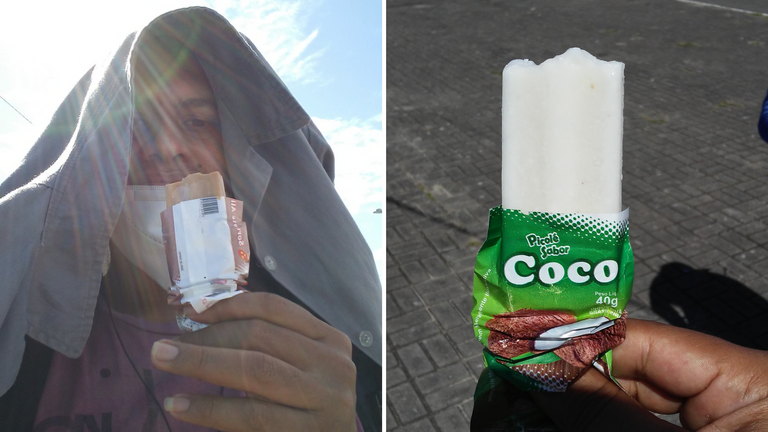 El sitio donde está el punto de vacunación se llama "Parque de exposiciones agropecuarias de Salvador" y es utilizado para realizar eventos que tienen que ver con la actividad agropecuaria.
The site where the vaccination point is located is called "Parque de exposiciones agropecuarias de Salvador" and is used for events related to agricultural activities.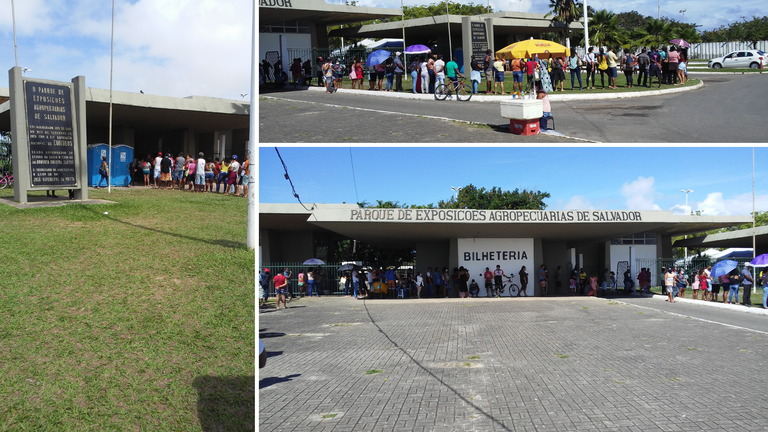 También puedo mencionar que está habilitado un espacio para la vacunación dentro de tu carro llamado drive thru. Esto les permite a las personas que tiene vehículo poder hacer la fila dentro de su propio carro y ser vacunado sin necesidad de bajar del mismo.
I can also mention that there is a space for vaccination inside your car called drive thru. This allows people who have a vehicle to line up inside their own car and be vaccinated without having to get out of the car.
Para alegrarnos un poco el medio día que la mayoría de los presentes pasamos para esperar la vacuna, llego un artista de calle local con una corneta y comenzó a hacer danzas estilo capoeira y break dance. Fue un rato muy entretenido así que quise resaltarlo.
To brighten up the midday that most of us spent waiting for the vaccine, a local street performer arrived with a bugle and started doing capoeira and break dancing. It was a very entertaining time so I wanted to highlight it.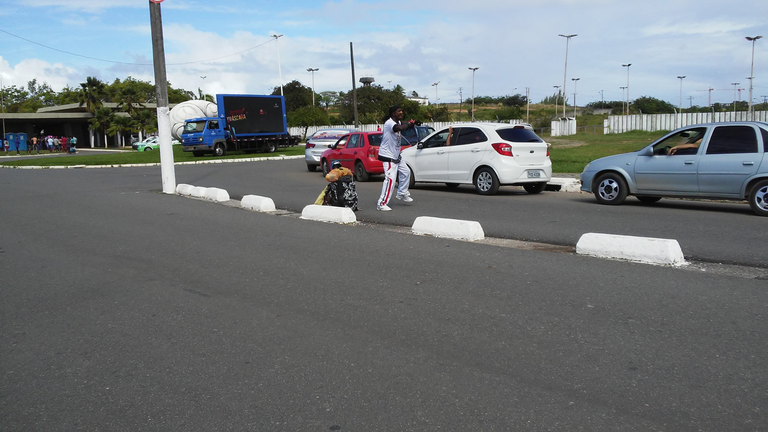 Ya como a eso de las 12 del medio día después de 5 horas de fila por fin se acercaba mi turno de tomar mi primera dosis de la vacuna lo cual hizo que me pusiera muy nervioso y ansioso primero porque no me gustan las vacunas y segundo por saber qué marca de vacuna me iban a colocar.
At about 12 noon, after 5 hours in line, it was finally my turn to take my first dose of the vaccine, which made me very nervous and anxious, first because I don't like vaccines and second because I didn't know what brand of vaccine they were going to give me.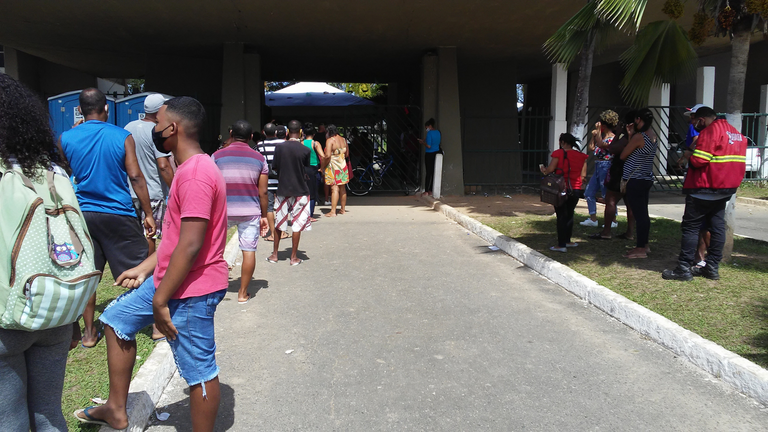 En la entrada me esperaba una enfermera que me pregunto si estaba registrado en la página de la secretaria de salud para poder tomar la vacuna, a lo que dije que sí y solo procedió a chequear y listo, me mando a una mesa donde me llenaron mi cartón de vacunación y de ahí con la enfermera que me esperaba con inyectadora en mano.
At the entrance a nurse was waiting for me and asked me if I was registered in the page of the Secretary of Health to be able to take the vaccine, to which I said yes and only proceeded to check and ready, she sent me to a table where they filled out my vaccination card and from there with the nurse who was waiting for me with injector in hand.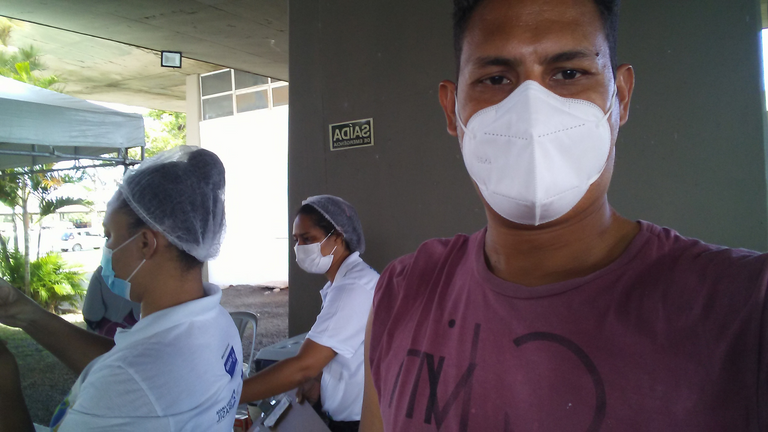 La enfermera me dio algunas indicaciones y me vacuno. Mi sensación en ese momento fue nerviosismo y a la vez de alegría porque había conseguido algo en lo que muchos están esperanzados para que todo vuelva a la normalidad.
The nurse gave me some instructions and vaccinated me. My feeling at that moment was nervousness and at the same time joy because I had achieved something that many are hoping to get everything back to normal.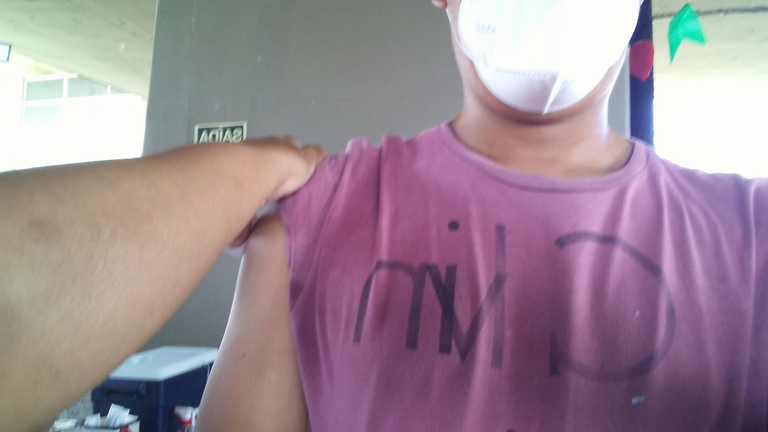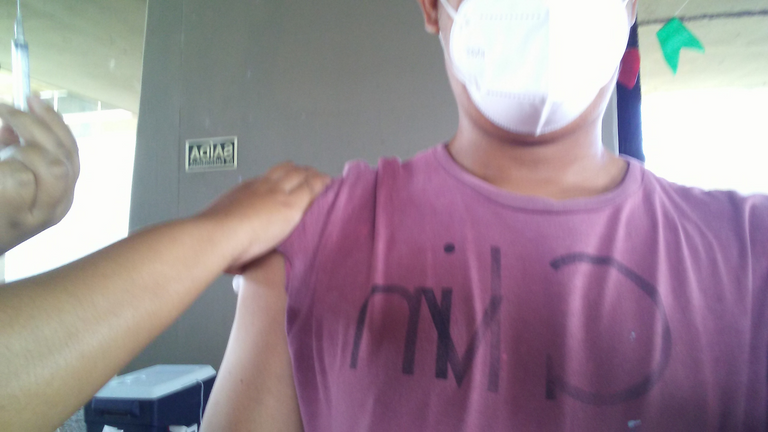 Y la vacuna que me colocaron es la Oxford/AstraZeneca, que consta de dos dosis. La próxima dosis me va a tocar en el mes diez, por lo que voy a tener que hacer la misma bitácora nuevamente. Hasta ahora no he tenido ninguna reacción fuerte, solo un poco de dolor en el brazo.
And the vaccine I got is the Oxford/AstraZeneca, which is a two-dose vaccine. The next dose is due in month ten, so I'm going to have to do the same log again. So far I haven't had any bad reactions, just a little pain in my arm.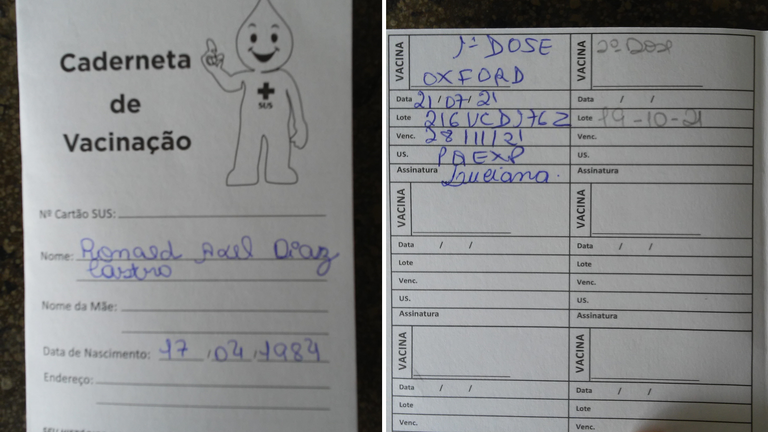 Gracias a todos por leerme y nos vemos en otro Post con otra historia que de seguro va ser interesante.
Las fotos fueron tomadas con mi teléfono Lg style.
Todas las imágenes fueron editadas en canva.
Thank you all for reading and see you in another post with another story that will be interesting for sure.
The pictures were taken with my Lg style phone.
All images were edited in canva.
Translated with www.DeepL.com/Translator (free version)