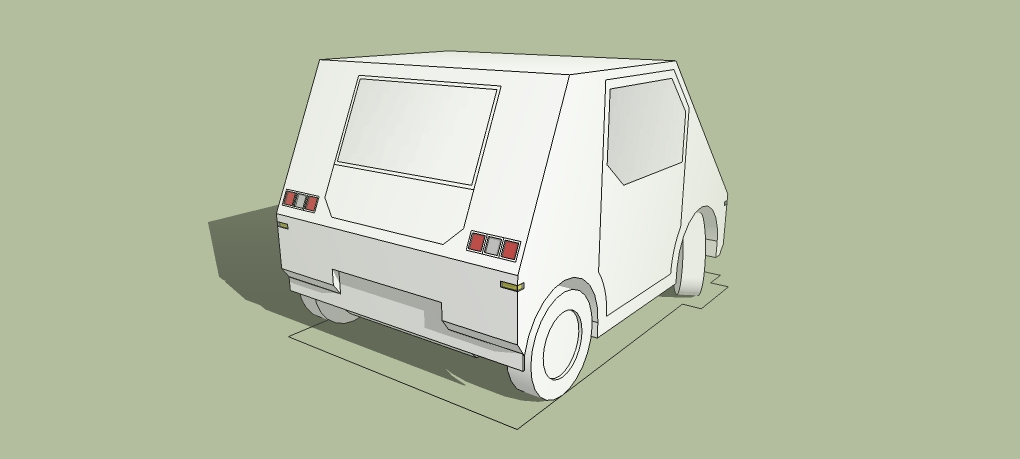 Hace Exactamente 12 días publiqué mi primer Post en esta plataforma, se trataba de un auto ecológico, económico y completamente funcional y practico para uso en la ciudad. Pensé que no iba a gustar o que iba a recibir opiniones negativas, pero para mi sorpresa, mi loca idea tuvo sentido para muchos!
Just 12 days ago I published my first post on this platform, it was an ecological, economical and fully functional and practical car for city use. I thought I would not like or who would receive negative reviews, but to my surprise, my crazy idea made sense for many!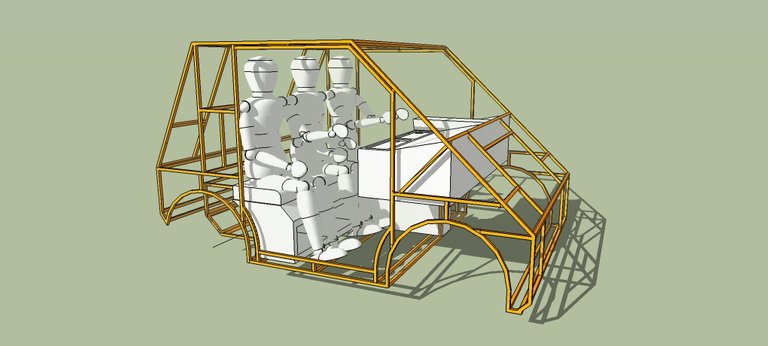 Una de las cosas que mas me preguntaron mis amigos fue "¿como moverás tanto peso con tus piernas? ya será difícil aun si no van contigo mas personas". Les costaba imaginar lo que para mi era obvio o fácil de solucionar, así que en este post, intentare aclarar dudas que surgieron en el post anterior e iré mostrando progresos e ideas que han surgido a lo largo de estos últimos días. por que si. publiqué, y me olvidé del proyecto por casi semana y media. F
One of the things that most friends asked me was "How much weight will move your legs? And will be even harder if you are not more people". They could not imagine what for me was obvious or easy to fix, so in this post, I will try to clarify doubts that arose in the previous post and I'll show progress and ideas that have emerged over the last few days. because if. I published, and I forgot about the project for almost a week and a half. F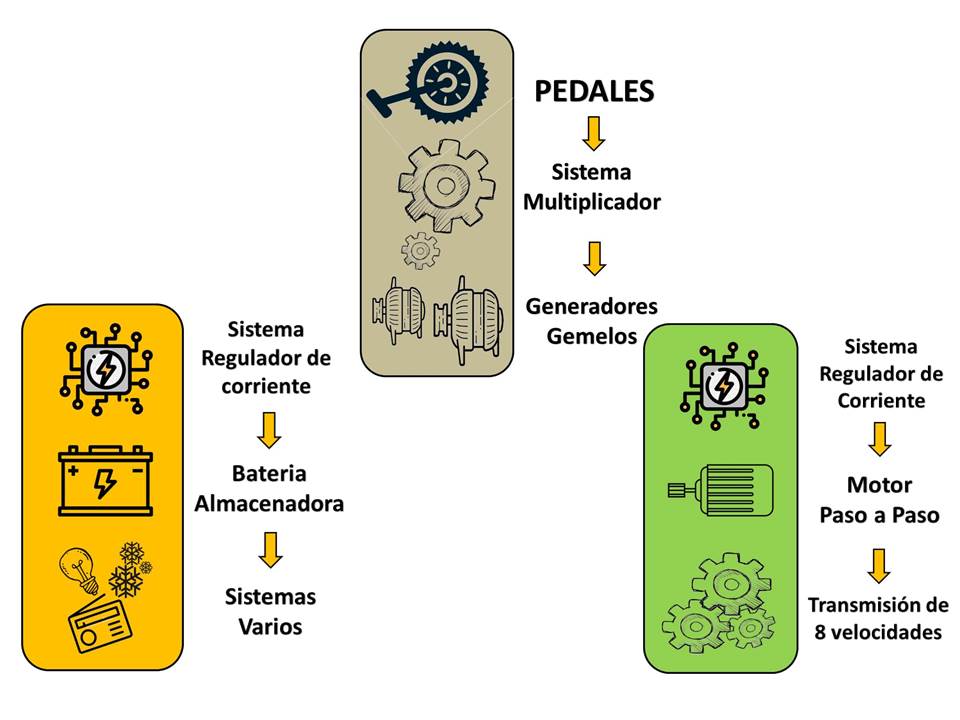 Hagamos un recuento. Habíamos quedado que la energía iba a ir de mis piernas a un sistema multiplicador y luego a generadores. Ahí surge la primera duda "¿que es un sistema multiplicador?" para esto no hace falta colocar una foto para explicarlo, es bastante simple, mis piernas harán girar un plato grande que hará girar a uno mas pequeño, esto hará que cada pedaleada que yo dé (revolución), se multiplique y equivalga a digamos 10 vueltas del plato mas pequeño.
Let us count. We agreed that energy was coming from my legs to a multiplier system and then generators. Hence the first question arises "what is a multiplier system?" for it is not necessary to place a picture to explain, it's pretty simple, my legs will spin a big plate that will turn a smaller one, this will make each pedal stroke I give (revolution), multiply and amounts to say 10 laps of the plate smaller.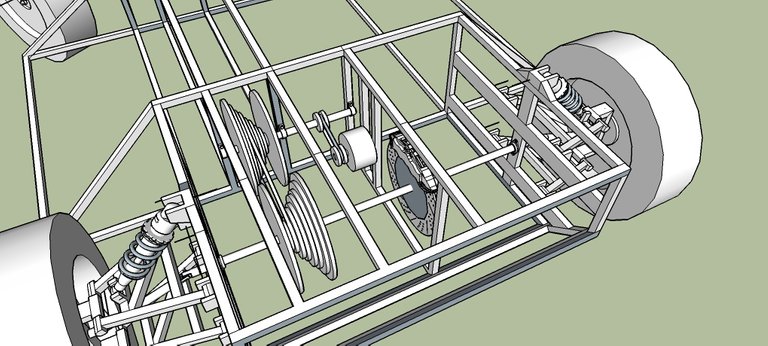 La siguiente duda era sobre la caja de cambios de 8 velocidades. Tengo que decir, que no me quemé mucho la cabeza pensando al respecto, la forma mas simple de hacerlo fue simplemente diseñar poleas de distintos tamaños y colocarlos en cierto orden, conectados por una cadena. la cadena se moverá de un conjunto de platos a otro con sistema que aun estoy diseñando, pero créanme, que es bastante simple, es tecnología utilizada en bicicletas.
Dicho eso, he estado pensando en la idea de colocar todo en una especie de contenedor de aceite, a modo de reducir la fricción que pueda llegar a generar la cadena.
The next question was about the gearbox 8-speed. I have to say, I really do not burn your head thinking respect, the simplest way to do this it was to simply design pulleys of different sizes and place them in a certain order, connected by a chain. the chain will move a set of dishes to another system that I'm still designing, but believe me, it's pretty simple, is technology used on bicycles.
That said, I've been thinking about the idea of putting everything in a kind of oil container, so as to reduce friction that can potentially generate the chain.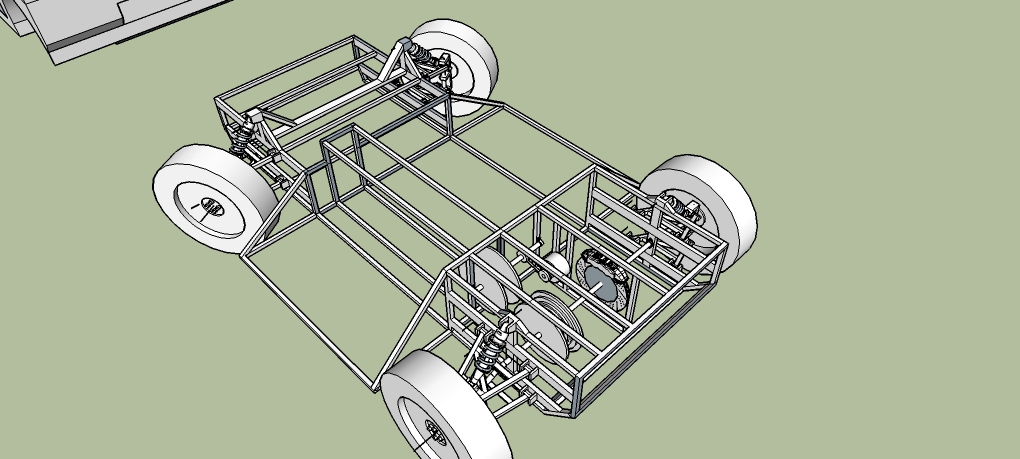 En la imagen anterior pudieron notar que cree un chasis desde cero, y lo hice por dos razones fundamentales; La primera, re-formular ciertas características mecánicas y tener una mejor visual del modelo y la segunda que planeo aligerar peso omitiendo algunas partes que no eran necesarias en el modelo anterior, pero en general, la visualización general, será la misma del diseño original.
In the picture above you might notice that you create a chassis from scratch, and did so for two main reasons; First, re-formulate certain mechanical characteristics and have a visual best model and the second glide save weight by omitting some parts that were not needed in the previous model, but in general, the overall display will be the same of the original design.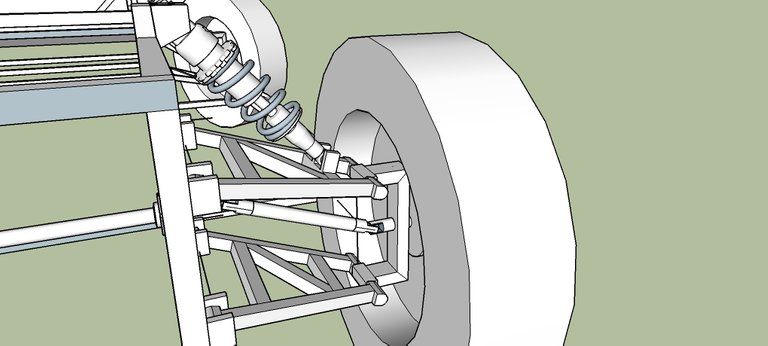 En el caso de la suspensión trasera, de nuevo, aposté a lo simple, iniciando por eliminar frenos a discos en las ruedas traseras y colocar un solo disco central como vieron en la imagen anterior, todo con el fin de aligerar peso y debido a que el diseño no cuenta con un sistema motriz de alto caballaje por decirlo de alguna manera, pues HASTA LOS MOMENTOS, no considero que sea necesario un segundo disco en la parte trasera. En cuando a suspensión como tal, debido al bajo peso del proyecto, considero que no hace falta muy elaborado, pero no por ello debemos menospreciar la robustez de dos simples triángulos.
For the rear suspension, again, I bet simple, starting by removing disc brakes on the rear wheels and place a single central disc as viewed in the previous image, all in order to save weight and because the design does not have a high horsepower motor system as it somehow, because until now, I do not consider it necessary a second disc at the rear. As for suspension as such, due to the low weight of the project, I think you do not need very elaborate, but not belittle we robustness of two simple triangles.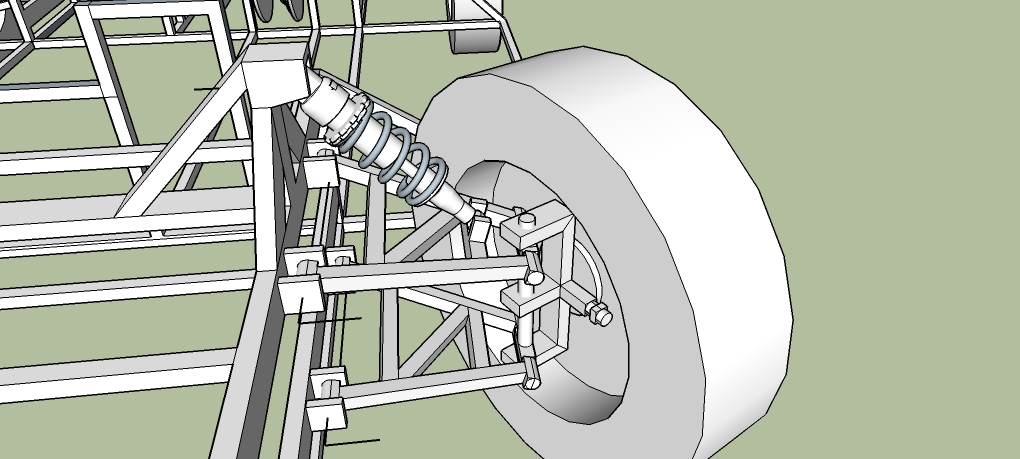 En el caso de la suspensión delantera es básicamente mas de lo mismo, apostar a lo sencillo, por que no es necesario mas. la única diferencia en el caso delantero es que si contará con frenos a disco en ambas ruedas y para la dirección debe tener una barra adicional. la parte delantera aun no está completamente diseñada debido a que para ello debo diseñar detalles de la columna de dirección, cosa que haré cuando termine el interior y logre definir el sitio exacto donde irá dicha columna.
For the front suspension it is basically more of the same, play it simple, it is not needed. the only difference in the front case is if it will have disc brakes on both wheels and the direction must have an additional bar. the front is not yet fully designed for it because I design details of the steering column, which when finished will achieve inside and define the exact spot where will this column.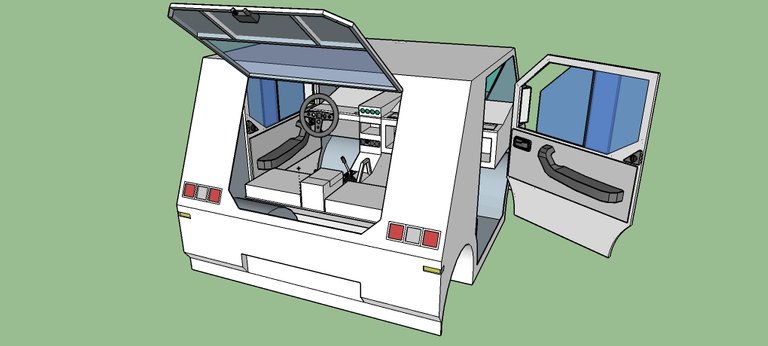 En cuando al interior y estética en general, no he hecho cambios significativos, solo he ido añadiendo cosas. Cerraduras, espejos, volante, un sistema para abrir y cerrar la ventana..
As for the interior and aesthetics in general, I have not made significant changes, I've only been adding things. Locks, mirrors, steering wheel, a system for opening and closing the window ..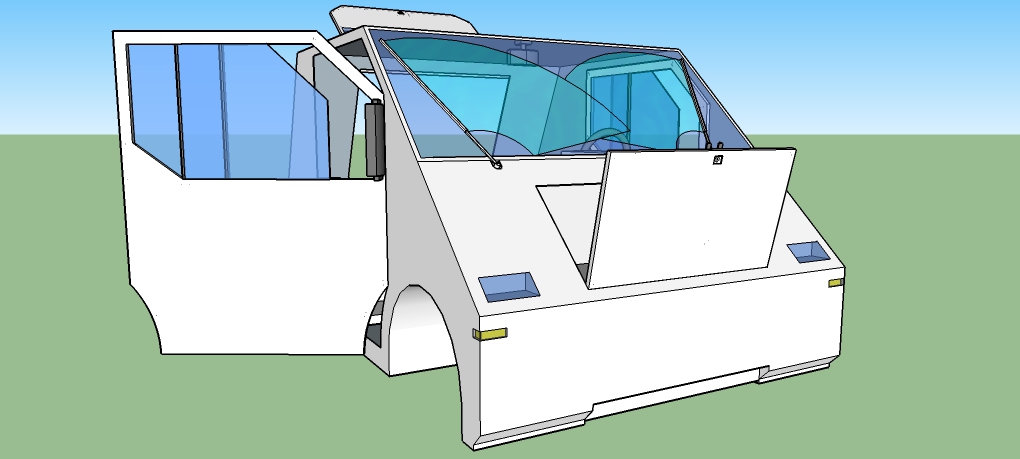 Actualmente me encuentro trabajando en el interior, revisando y rectificando lineas sobrepuestas, tamaño y posición de objetos.
Luego planeo adentrarme mas en profundidad en el sistema eléctrico y en los sistemas de almacenamiento de energía, pero lamentablemente, eso quedará para el próximo post, donde les explicaré cosas que considero interesantes sobre la generación de energía, hablaremos sobre otros modelos de autos a pedal a nivel mundial y nos iremos poco a poco adentrando en la parte asociada a herramientas, materiales, presupuestos y mercado en general.
I am currently working inside, checking and correcting overlapping lines, size and position of objects.
Then I plan to delve more deeply into the electrical system and the systems of energy storage, but unfortunately, that will be for the next post, where I will explain things that I consider interesting about power generation, talk about other models of cars pedal worldwide and we will we gradually moving into the part associated with tools, materials, budgets and market in general.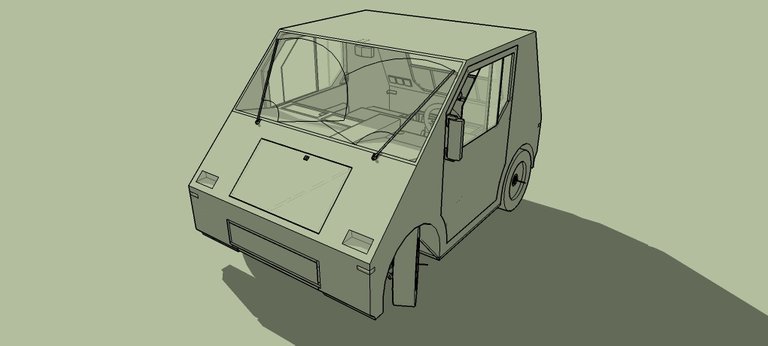 Por ahora me siento bastante conforme con como ha avanzado el proyecto y la aceptación que está teniendo entre muchos de mis amigos. Considero que es momento de tomarlo un poco mas en serio y organizar todos los números y formulas matemáticas que tengo en mi cabeza, plasmarlas en un papel y hacer un verdadero proyecto escrito con el cual recaudar no solo recursos, sino también recaudar ideas nuevas, criticas y objeciones y aprender algo nuevo a modo de retro-alimentación.
For now I'm pretty happy with how the project has advanced and acceptance that is having among many of my friends. I think it's time to take a little more seriously and organize all the numbers and formulas math in my head, putting them into a role and make a real project writing with which to raise not only resources but also raise new ideas, criticism and objections and learn something new as a retro-feeding.
PD: Necesita un nombre.